Top 10 UX Design Trends to Watch in 2023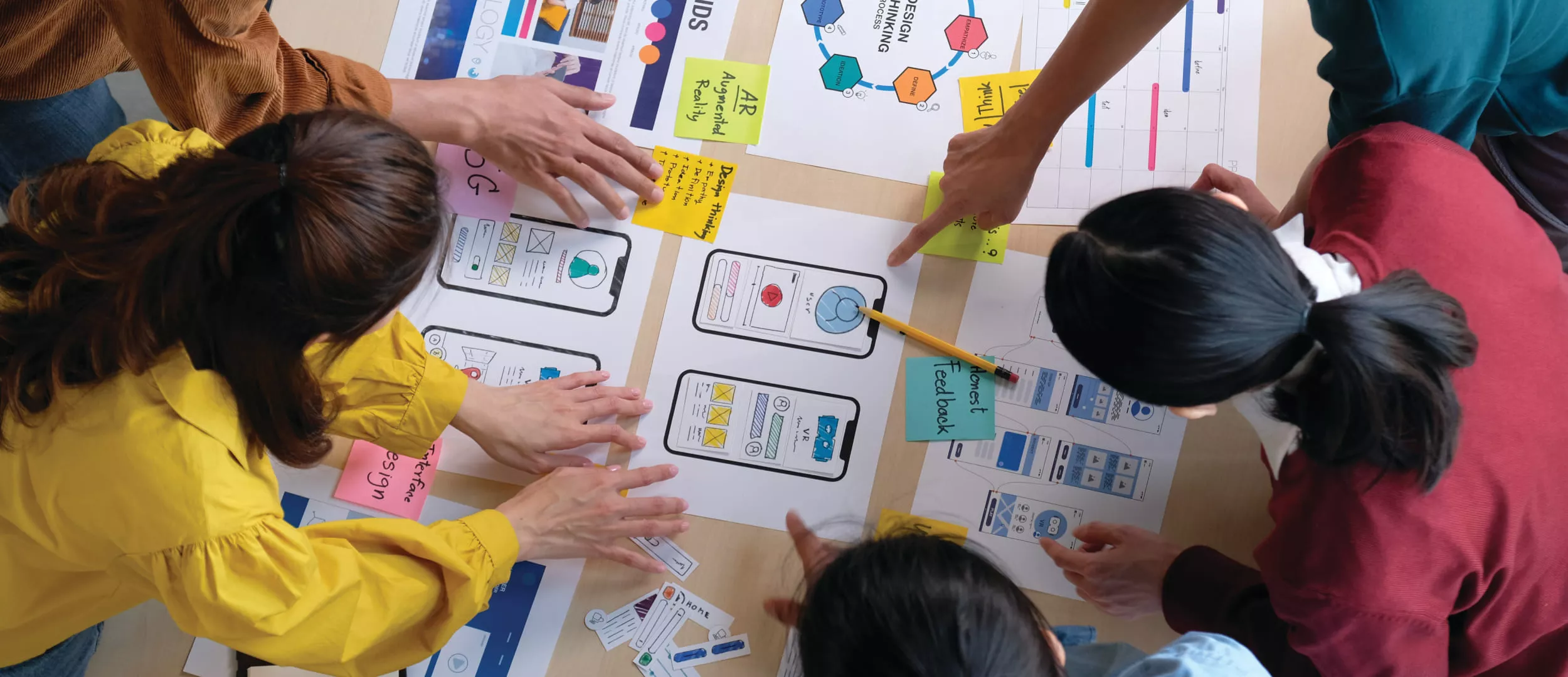 In the past ten years, UX design has become crucial to the success of websites. Professional user interface designers continuously develop new features and set the trend. Innovation and distinctive design are the current UI/UX trends.
According to Forbes experts, there is currently a 9,900 percent return on investment for good UX design. If brands want to outperform their rivals in terms of engagement and conversions as we head into 2023, a UX/UI-focused strategy is crucial.
Read on as we discuss the significance of UX design in 2023 and reveal the top web design trends marketers should adhere to as we approach the new year, from prioritizing personalization to optimizing a mobile interface.
How can marketers ensure their UX strategies are up to par in a competitive online environment? Continue reading to learn the latest UX design trends and to stay ahead of the game.
The most recent trends in UX design highlight what we have all noticed over the years: that simplicity is more important than sophistication, wearables, and mobile-first. More than just making digital products is required, but this time around, designers are attempting to build the user experience around the user rather than the product. The UX trends for 2023 are evidence that personalization is the name of the game.
Content Personalization
Did you know that 74% of users say they won't interact with a website if it's not tailored to them? Every year, a newly engaged online audience makes a fresh set of accessibility, interactivity, and engagement-based demands. Marketers must put a lot of effort into tailoring web content for users with different needs and abilities to maintain a competitive advantage.

Mobile Optimization
Mobile conversions will become more critical in e-commerce in 2023, with mobile devices accounting for 54% of Google's traffic. In a world where the most recent smartphone technology is king, customers now expect brands to develop a site experience optimized for mobile browsing. Users anticipate that mobile sites will load quickly and be widely accessible on various smartphone devices.
Google's search ranking algorithm favors sites that prioritize a usable mobile experience. Brands that put forth the effort to develop a mobile-optimized version of their website are likely to earn a higher SERP score and rank higher in organic search results.
Rise of Visual Content
A trend among UX designers in 2023 is predicted to be a data visualization. Marketers are beginning to give their customers data to encourage them to have an information-focused experience.
Never before have there been as many options for presenting data to audiences, from interactive infographics to video content. Consumers of the future anticipate a streamlined interaction with a website or application.
Due to post-pandemic trends, marketers display data in novel ways when conveying a string of information to their users.
For instance, Spotify Wrapped shows users' top artists and songs from the previous year. Spotify provides its customers with access to this app-based data and motivates them to anticipate seeing their Wrapped results by utilizing interactive infographics.
Device Synchronization
This UX design trend is particularly significant because it is the foundation for all subsequent trends. People want to use applications because they are readily available, not because they are excellent. There are many products to choose from: less functional or more functional, more expensive or less expensive. There are no issues with options. The point is whether a user can sync content and settings between a laptop, personal computer, phone, tablet, smartwatch, and any other device connected to the internet.
In 2023 and beyond, "usability" will be defined as the ability to browse the web, personalize the experience, and have everything work flawlessly on any device.
Design for Wearables
Wearable computing is the next big trend in UX design. It becomes more significant as more people use their bands, watches, and other gadgets for personal, professional, and social purposes, which pushes designers to make advancements on an entirely new level.
A "mirror design," which forces teams to architect applications in a remarkably similar way for various devices, is a strong trend. If something happens on a smartphone, it should show up (or even be possible to do) on a tablet or smartwatch — also the opposite.
It is also crucial to prioritize contextual design. A smartwatch should enable you to listen to music or a podcast while running if you want to record it — just a couple of taps away.
Even further will be achieved by using voice recognition or a straightforward emoji to quickly reply to a message or text without a full-sized keyboard. Quick in-app and cross-app interactions, combined with the mirror design already mentioned, will take several applications to a new level.
SEO Optimization
As Google prioritizes websites offering the best user experience, 2023 will significantly shift toward UX-based ranking.
Google has started incorporating a variety of user testing metrics into its algorithm to ascertain the likelihood that users will value their experience on a website. This is done to achieve a single, consistent goal.
As a result, it's time for SEO experts and UX designers to work together. All facets of a website must be Google-friendly to rank highly, from optimizing your copywriting services to giving fast page loads top priority.
Micro-Interactions
Each minor site interaction must be taken into account by UX designers to deliver a level of customer service that is competitive with a sea of rivals. These small details are called micro-interactions, described as the feedback a site visitor gets after a quick action, like a click or a swipe on a page.
Micro-interactions are a great way to help customers find their way around a website physically by pointing out important areas to interact with and giving feedback on whether a particular action is right or wrong.
Micro-interactions increase user retention, according to studies, and can keep site visitors interested for longer because they get immediate gratification. Inserting various triggers within your UX design makes the experience more interactive for the user and lowers the bounce rate on a page. These triggers can be anything from sound-based feedback to highlighting a button.
Biometrical Authorization
Imagine remembering a password over 15 characters long with capital letters, special characters, and numbers. You must replace it every 30 to 90 days, which is a worsening circumstance.
One of the most significant issues with traditional passwords is that they are challenging to remember, so you either write them down or use a weak password that hackers can crack in seconds.
Therefore, one of the most practical UI/UX design trends for us consumers is the ability to log in without remembering your password. Your life can be simplified using a fingerprint scanner, facial recognition software, an iris scanner, or even your phone's unlock pattern.
Scrollytelling
The new inside joke claims that scrolling is tedious. People want to avoid reading the boring parts of the page in the hopes that they will eventually contain valuable something while searching for pertinent information.
You can accomplish that through scrolly-telling. It's a collection of techniques that energize users and encourage them to view a page freshly. As you scroll, you'll notice several animations appear next to the text in the center. Or another image explains what you just read. By enhancing content with dynamic elements that entice users through movement, color, and contextualization, Scrollytelling aims to provide more context, emotions, and explainers. You can see scrolly-telling examples by following the link to understand this UX design trend better.
Emotional Design
The time when a helpful product was all that was required has long since passed. Today, design influences the user experience by boosting customer loyalty, user satisfaction, and trust. Additionally, it hastens the adoption of a product by consumers.
Creating products to elicit emotional reactions from a user, such as excitement or delight, is known as emotional design. Making products in this manner allows you to produce functional, practical, and appealing goods.
For example, a user might receive the following notification: "You just set a new personal record on a one-mile run. Keep it up!" These messages help users achieve their objectives by saying, "Congratulations!". Customer loyalty is also produced by it. In the upcoming months, the emotional design will only become more critical.
Wrapping Up
Modern UX/UI trends emphasize the needs of people very deliberately. Products are not created by businesses for themselves but instead for customers. Users are picky and becoming more aware of their needs and the daily tasks they want to perform on their devices. Today, personalizing a product while maintaining its original purpose and ensuring that it is universally usable is the only way to make it successful for anyone.
As they are constantly involved in the software development process, Stfalcon's UX designers know for sure what the current trends in website design are. Whether you're looking to update an existing website or app or create a new one from scratch, these trends should be on your radar as you begin the design process. If you need practical advice, consult with our experts.