How to Create an NFT Gallery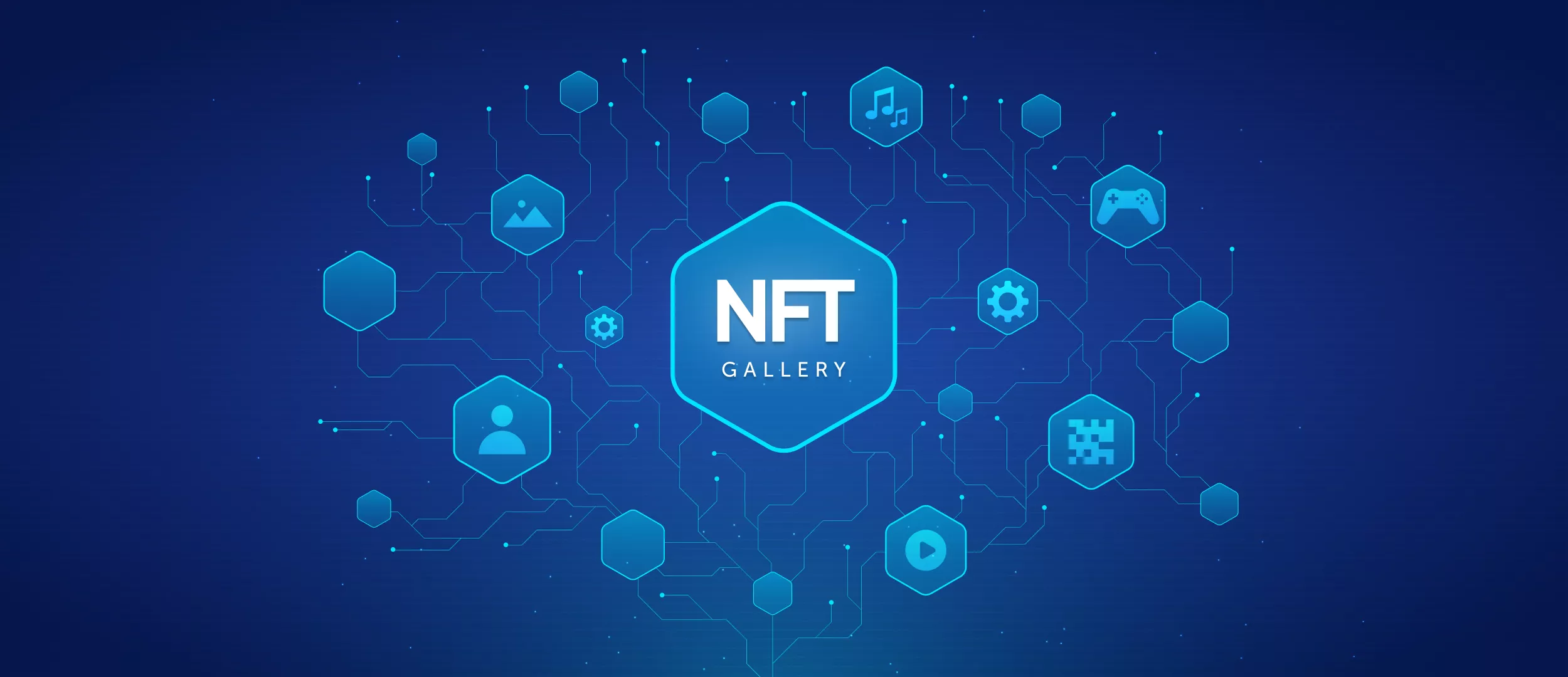 After Beeple sold The First 5000 Days for $69 million, many people started to wonder how they should display their NFTs. Many buyers try to collect rare NFTs, and putting them on display is a great way to share your collection with the world.
The NFT Gallery is a technique that curators use to showcase NFT collections and even increase sales. But what is an NFT gallery and is it right for you? Keep reading and we'll walk you through the full breakdown of the NFT art gallery.
What is an NFT Gallery
NFTs - non-fungible tokens - are unique images or other media that are connected to the blockchain. Due to this, NFTs cannot be exchanged for other NFTs, as happens, for example, with Bitcoin tokens. Blockchain technology provides proof of ownership that is immune to editing. The technology tracks the creation, sale, and purchase of NFTs. In theory, this should help artists earn royalties every time their work is resold. However, in the real world, this does not always work, for example, due to fraud.
A digital work of art tied to an NFT acquires new properties. The value of the original work is assumed by its certificate, that is, NFT. For example, a digital image can be easily reproduced and therefore has no value by itself.
While traditional digital art reproductions are designed to replicate the value of the real original in virtual space, the display of NFTs in galleries is an attempt to replicate the value of the original that it has in the real physical world.
At its simplest, an NFT gallery is an organized publication of related unique tokens and related media on a specialized Web3 resource, such as one of the top NFT platforms - OpenSea marketplace.
Keith Grossman, president of American Time magazine, recently spoke to Cointelegraph about his experience with NFT galleries. Time has created almost 30,000 NFTs, Grossman stated that during this time, the fan community has grown to over 50,000 people.
In September 2021, Time magazine launched a Web3 community called TIMEPieces. This project is a digital gallery space hosted on the OpenSea marketplace, featuring 89 artists, photographers, and musicians.
An important aspect of this event is the difference between the audience and the community. According to Grossman, very few people in the publishing business make a distinction between the two groups. He explained that the audience gets involved in the content within a very short time, while the community is built around common values and tends to become more and more involved in the life of the project.
How the NFT Gallery Works
NFT is analogous to securities. Buying an NFT token secures a person's right to own a digital object on the Internet: gifs, paintings, photos audio, or any other file he has purchased. And the cost of these objects varies from mere pennies to tens of millions of dollars.
If you need an NFT gallery where anyone will be able to list their tokens, then the operation of such a platform will be similar to the work of online marketplaces: the user registers and then lists his NFTs or creates a separate gallery for his needs.
How to create your own NFT gallery
As we have figured out what NFT galleries are and how they work, you can learn a step-by-step guide to developing such a project. This process usually consists of 5 steps.
NFT Gallery Type
All NFT galleries can be divided into private (such as Sotheby's gallery in Decentraland) and public (such as Lazy.com or Spatial). Each type has its characteristics that must be considered when developing.
Personal NFT galleries. They are usually created to confirm that the NFTs in a person's collection are the originals. This means that the gallery must not only show the NFTs as the artist intended them but also provide proof that this particular NFT belongs to the gallery owner and is the original NFT. Proofs of authenticity are usually implemented in the form of a link to the cryptocurrency address (crypto account) of the gallery owner and a link to a transaction that confirms that this crypto address owns one or another NFT.
Why do we need personal NFT galleries:
to authenticate the NFT;
increase awareness of the artist or brand;
to increase the cost of NFT due to greater media exposure;
show off your collection of NFTs.
NFT public galleries. Act as a platform for artists to showcase their work. Any person can register on such a platform and display their NFT picture. The development of such a project is much more difficult than the development of a personal gallery NFT since in this case, it is necessary to create an entire infrastructure that will allow users to add their tokens to the platform showcases and, often, sell these tokens here. The goals of launching public NFT galleries are usually as follows:
help artists increase their popularity;
show users the best works of VR art gallery
earn on mediation between the buyer and seller of NFTs, or earn on fees for adding NFTs to the listing of the platform.
The Business Model process
If you want to create an NFT gallery not just to showcase digital art, but to earn, then before launching such a project, you need to decide on the monetization strategy for it.
Listing fee. The easiest way to monetize an NFT gallery is to charge for adding new paintings and collections to the platform. The fee depends on such features, as how the token is rendered. For example, if it is a picture or a simple animation (GIF), then the fee will be small. If it's a 3D animation with special effects that need the artwork to render (for example, a 3D space within the metaverse), then the fee can be large, since you'll need to create that artwork and integrate it into the gallery.
Sales commissions. It is available only to public NFT galleries it must have the function of selling paintings inside the platform. It charges a small fixed fee and/or a percentage of each trade.
Sponsorship. Many galleries exist only with the help of donations from users, which they get to bank cards and cryptocurrency wallets or through websites such as Patreon, Buy Me a Coffee, Kickstarter, etc.
Subscription. Another popular approach is to charge a periodic fee or a collection of NFTs in a gallery listing. It depends on the type of token and how popular the NFT gallery is.
Advertising. Advertising banners, or NFT promotions inside the gallery: on the first page or at the top of the listing, a special design for a picture, a place in recommendations, etc.
Gallery Functionality
Showcase. It is the most important feature of your platform because it is responsible for the visualization of non-fungible tokens. It can be implemented as a simple catalog of images (as in OpenSea) or as a 3D space in the style of traditional museums and art galleries (as in the Kijaidesign 3DP NFT gallery).
Registration. Onboarding your NFT gallery should involve two parts: for beginners and experienced users. The first part needs to include registration and a brief intro to the gallery's features, as well as starting the process of adding NFTs to the storefront. The second part also includes registration but without an intro to the site or application. Instead, users are immediately directed either to the main page or to the page for adding non-fungible tokens to the NFT gallery showcase.
Wallet integration. Apps that allow users to manage their NFT assets, and listing them on your marketplace, and verify the authenticity of NFTs. The most popular are Metamask and Coinbase. NFTs holders also frequently use Enjin, AlphaWallet, TrustWallet, PillarWallet, MathWallet, and Binance Chain Wallet.
Adding NFT to the storefront. It must be both simple and feature-rich so that users can choose the best way to visualize their NFTs (size, frames, additional effects, sounds, etc.).
Here are a few more things to implement here:
An editor for creating separate spaces for displaying collections of NFTs. You will need instructions that introduce users to the capabilities of your editor.
A frame for 2D images, a pedestal for 3D objects. When adding NFTs to this pedestal, they should automatically attach to it and scale to its size and team size.
Smart search function. Users have to simply and quickly find the NFT they need by title, keywords, category, cost, author, time, rating, number of views, and other filters autocomplete, and recommendations.
Zoom-in function. Zoom-in allows you to enlarge any 2D image, 3D object, or video. Metadata can be displayed next to the enlarged media file and can be pulled from the wallet.
NFT dashboard. Assets are unique since important metadata is attached to them: owner information, title, and description. This metadata is pulled through integration with cryptocurrency wallets and displayed in the Lightbox and, to a greater extent, in the card of each NFT.
Enable/disable the video. If NFT assets are represented as video, then users should be able to enable/disable audio in the video.
Social interaction. As with physical galleries, an NFT gallery should allow users to interact with the author of the artwork and other visitors. It brings artists closer to their fans.
Marketing tools. It is a set of different features that help artists and NFTs owners to promote their artwork.
Token sale option. If you decided to add the ability to sell non-fungible tokens on your site, then it will need an auction system and integration with payment instruments.
Push notifications. They will inform users about the exhibitions by a favorite artist, the sale of a token, a new message, a system update, etc.
UI/UX Design of the NFT Platform
If you are developing a 2D website or a 3D space for your artwork, you will need to think about design to emphasize all the features of the paintings and create a good atmosphere. If you want to build a public gallery where everyone can create a separate room for their NFT collections, then you will need a constructor, as well as a set of template spaces and design elements for them.
Technology Stack and Integrations
At this stage, you have to select development tools for creating the back-end and front-end parts of the NFT gallery.
Below is an example of a technology stack for an NFT gallery backend:
Blockchain: Ethereum, Binance Smart Chain, Polkadot, etc.
Frameworks: Spring, Symfony, Flask.
Programming languages: Java, PHP, Python.
SQL databases: MySQL, MS SQL, PostgreSQL, Oracle.
NoSQL databases: MongoDB, Cassandra, DynamoDB.
Search engines: Apache Solr, Elasticsearch.
DevOps: TeamCity, GitLab CI, WS CodeBuild, GoCD Jenkins, Terraform.
Caching: Redis, Memcached.
Below is an example of a technology stack for an NFT gallery front-end:
Languages for the web: Vue.JS, React.JS, Angular.JS, Backbone
Languages for mobile: Java, Kotlin, and Swift
Architecture: MVVM for Android
IDE: Android Studio and Xcode
SDK: Android SDK and iOS SDK.
Writing code
When you know what the functionality, design, and monetization model of your gallery are, you can implement it all in the program code - backend, frontend, mobile application, cryptocurrency wallet, and smart contracts. This takes from 2 to 6 months.
Product testing
When code is written, QA specialists get down to work. Testers check every line of code for bugs. They also test the performance, compatibility, usability, security, functionality, and other aspects of your best NFT platform.
Deployment
When the development of the NFT gallery is completed and the product has been tested, it is deployed on local servers or in the cloud. If the project has a mobile app, it is added to marketplaces: App Store, Google Play, Microsoft Store, Amazon App Store, and others.
Support
The process of developing an application doesn't after the release. Usually, the development team needs some time to resolve all the bugs, check the user reaction, and improve or add (or remove) some features. In addition, you also need to train staff and organize the work of the support service.
Cost of Creating an NFT Gallery
The question, How much it costs to create an NFT gallery is simple but tricky. To provide an accurate estimation of the project, we need to consider all the factors.
NFT gallery app cost is determined by the platform, whether it's a native iOS or Android or a cross-platform solution, the programming language and the corresponding tech stack, and other features and integrations to provide.
Generally, the cost of development for an NFT gallery is approximately $100K.
Final Thoughts
NFT gallery is a virtual crypto art based on blockchain technology. It implies the creation of graphic projects (pictures and animations) for which unique ownership can be issued using a non-fungible token.
Whatever assets or ideas you want to convert into crypto NFTs, we can handle it from the start or take over the project. Decide what is most important for your business - we'll help you to implement it. Targeted NFTs and smart contracts. Interoperability and optimization of transaction costs. Launch on target platforms. Deployment and maintenance contract.
We, in Stfalcon, can create high-quality NFT collections in the same style. We are ready to take a comprehensive approach to the project, just contact us.