TOP 5 NFT ART Collections in 2022

NFT or crypto art can definitely be considered one of the most popular terms of 2021-2022. Despite the fact that from April, 2021 to February, 2022, the total value of sales involving NFTs in the art segment fluctuated significantly (according to Statista), NFT art continues to generate enormous profits and brings success to its creators.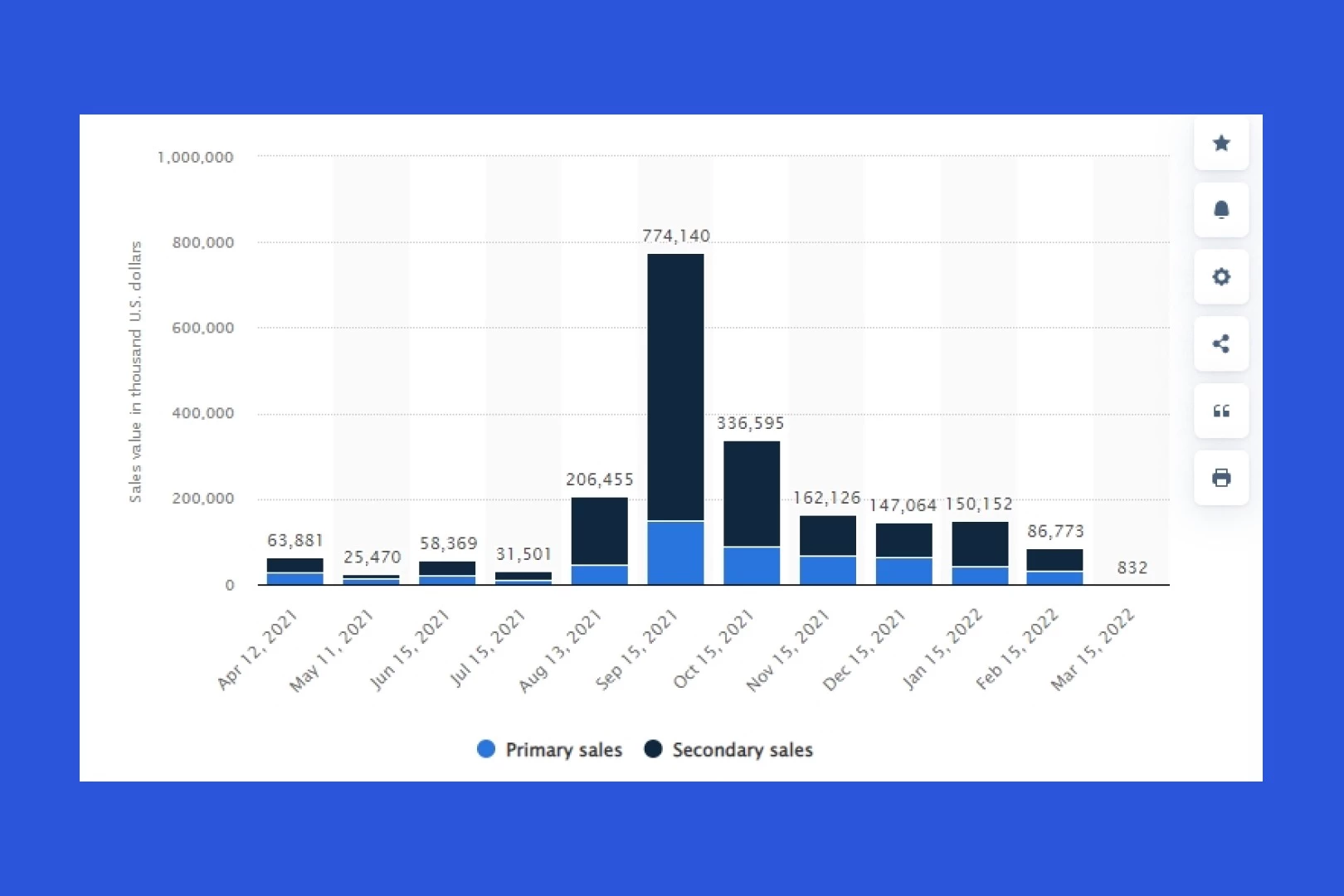 Total value of sales involving a non-fungible token (NFT) in the art sector worldwide from April 12, 2021 to February 15, 2022
The numbers are really impressive. Just imagine: according to Markets Insider, total NFT sales volume increased to $14 billion in 2021. The NFT art collections are rapidly gaining momentum, so it's a perfect time to dive deeper into this topic. Are you ready?
What is an NTF ART?
First, let's quickly get to the bottom of what NFT art is.
Here's a cheat sheet of the basic terms you need to know to sort things out:
Blockchain - is a database used to record all transactions of buying and selling currency, bitcoins, or tokens between users.
Token - a token is a virtual unit that replaces digital coins. Typically, tokens are created by a company that raises funds for its project or other purposes.
NFT (Non-fungible token) - a unique digital certificate, which is stored in the blockchain, guarantees the originality of the item and gives exclusive rights to it. NFT can be any digital asset - an image, a song, a text, a video, an audio file, etc.
You may ask: are bitcoins and NFTs the same things? The answer is - no. The thing is that all bitcoins are approximately the same and have equal value. At the same time, each NFT is unique and cannot be replaced by its counterpart because of its specific value.
The emergence of NFT gave an impetus for the creation of a new kind of art and collecting called NFT art.
NFT art (meaning) is a type of modern art represented by digital images (or audio, video, 3D files) that are published in NFT token format, making it possible to own, transfer and sell artwork in a safe and verifiable way.
By the way, memes are also being turned into NFTs and sold at sky-high prices. For example, we bet you know a disaster girl-meme or at least once in your life have sent a Shiba Inu dog image in messenger to your friend.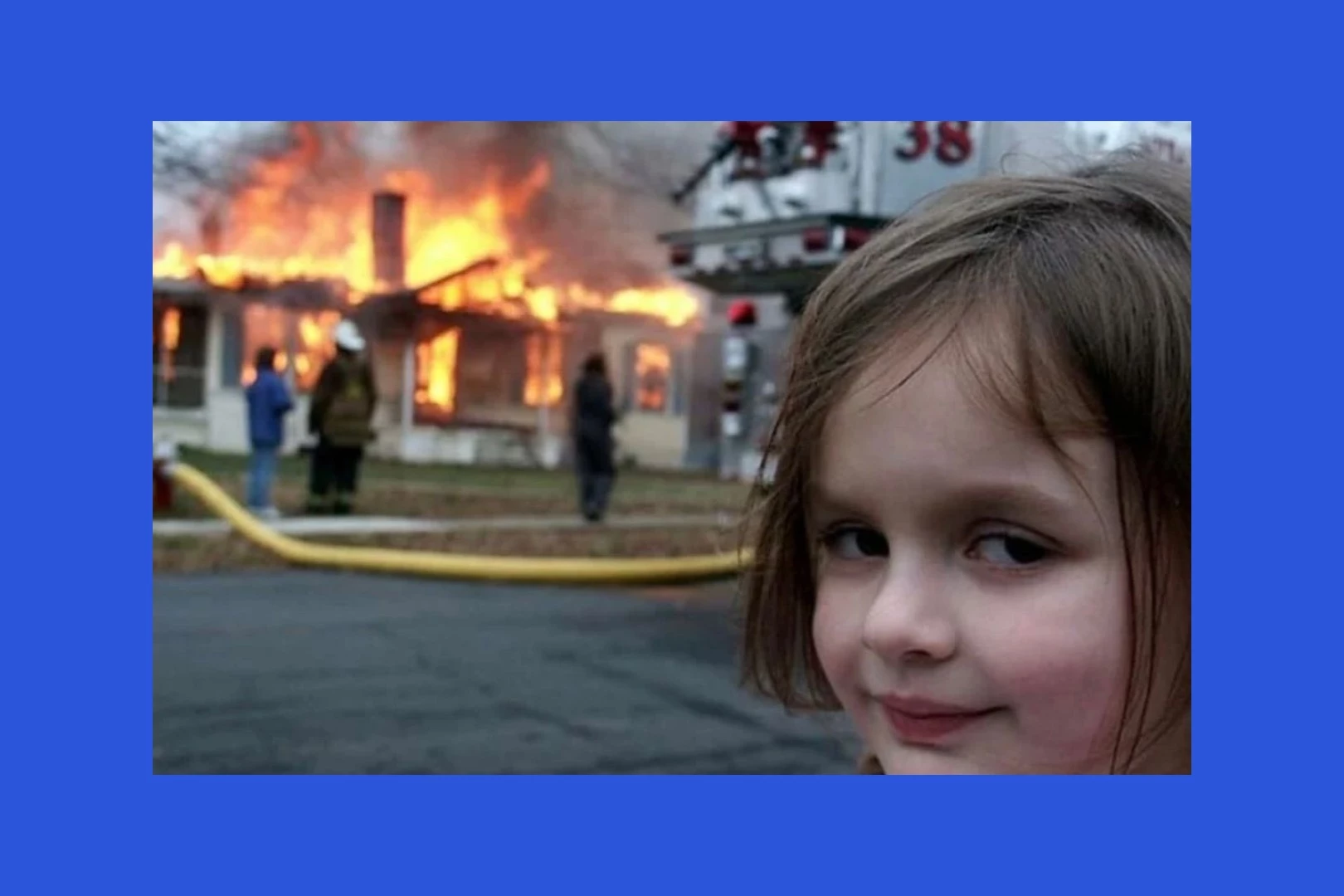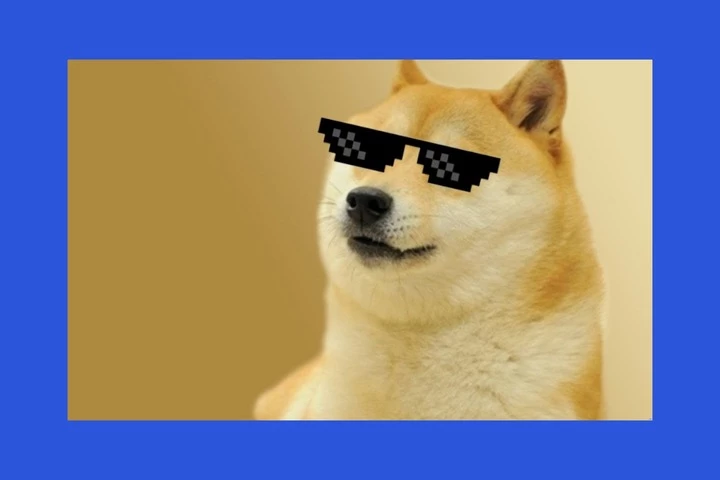 Yes, these viral images were also represented in NFT. Moreover, they are one of the most expensive meme-turned-NFTs ever.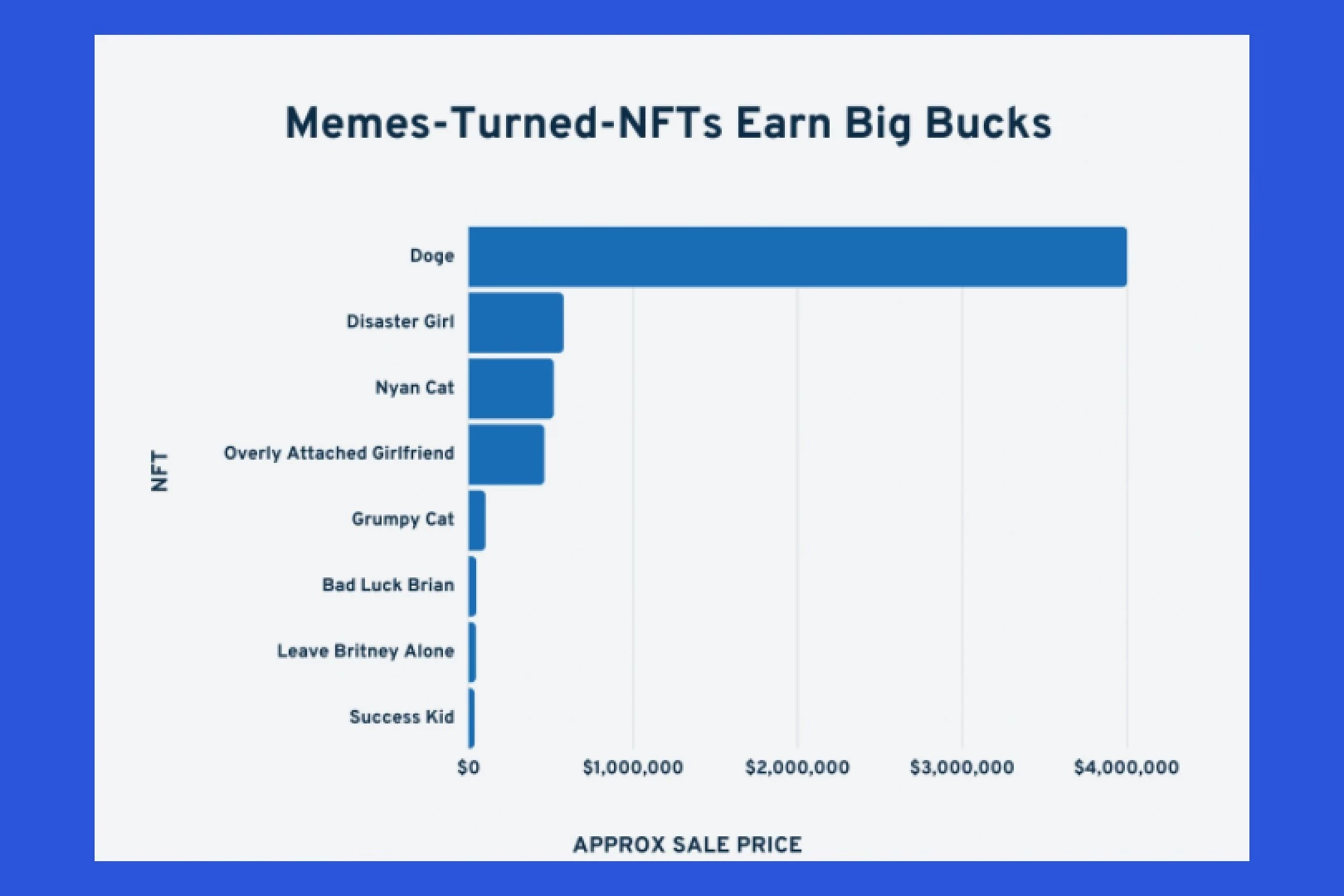 NFT makes it possible to digitize modern art of any format and collect unique pieces of art without incurring the additional costs of transportation, insurance, packaging and everything else that is required for real-life art works.
At the same time, artists can easily make millions of dollars. This is the reason for the crazy popularity of NFT art collections.
What are the best NFT ART projects in 2022?
Today it seems like thousands of new NFT projects are launching daily. We have created a list of the most sensational ones for you.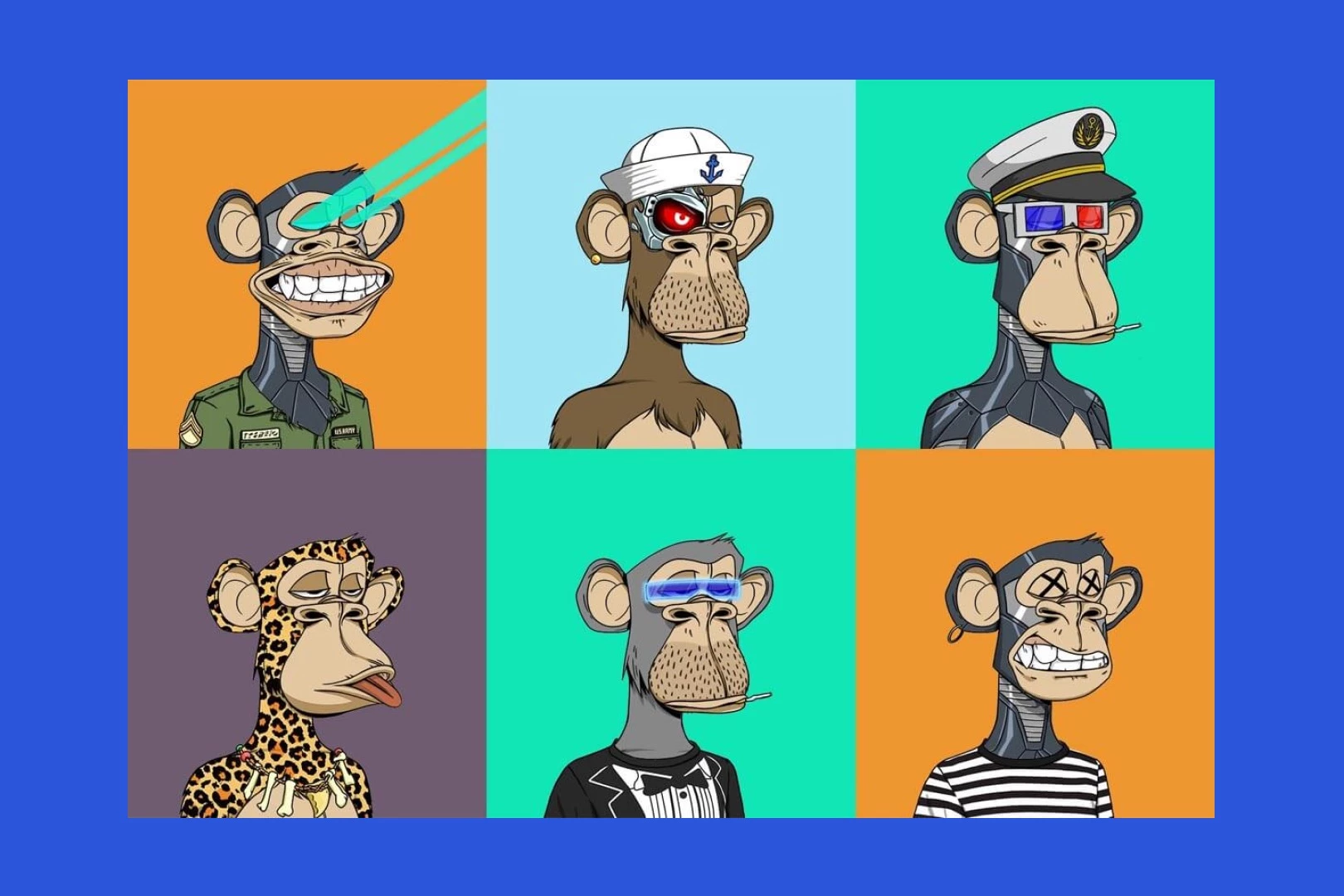 Total sales volume: $1,41B
The average price of one NFT: $56,83k
BAYC is a collection of 10,000 unique Bored Ape NFTs. It was launched in April, 2021 by the group of anonymous developers with catchy pseudonyms - Gargamel, Gordon Goner, Emperor Tomato Ketchup, and No Sass. Such celebrities as Eminem, Snoop Dog, Stephen Curry, Paris Hilton and many others possess BAYC NFT and use them for profile pictures on Twitter (PFP). Without doubt, owning BAYC NFT is a status symbol in the world of cryptocurrency today. Some people even consider BAYC NFT as the digital equivalent of the Rolex watches.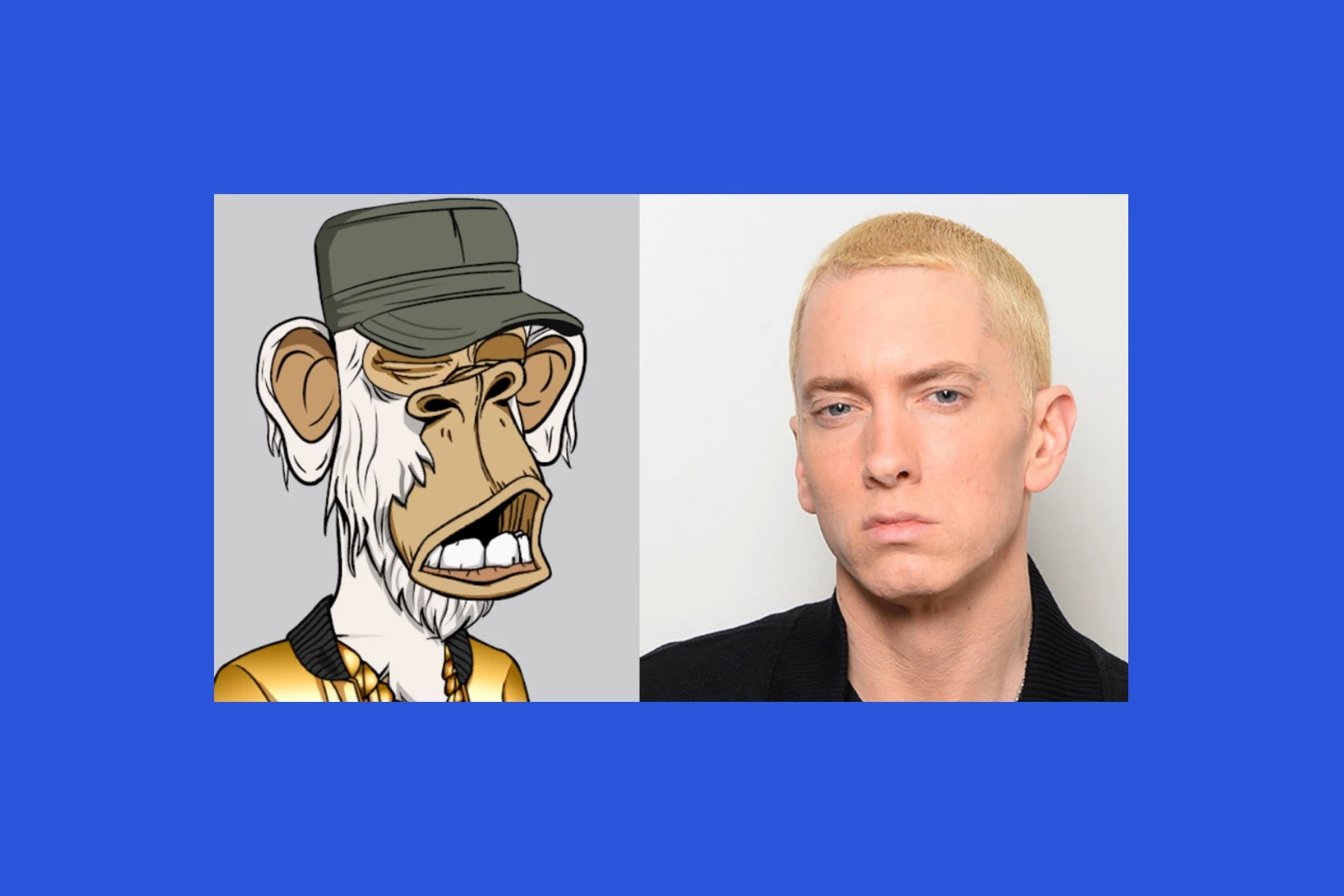 Famous singer Eminem bought his monkey for $380 000
What makes BAYC NFT collection so special and popular:
Awareness and attractiveness of the images - all bored monkeys have unique characteristics. For example, monkeys with gold fur are rarer and more expensive than others.
Membership in a closed community - by purchasing a monkey, users (former and current owners of images) will have access to a special server in Discord. Community members can communicate with each other and discuss a variety of topics, take part in special offline events and closed parties
Ownership rights and ability to use the NFT character for commercial purposes - for example, one of the BAYC club members set up a Twitter account for his virtual character. As a result, digital monkey signed a contract with a major American creative agency, Creative Artists Agency.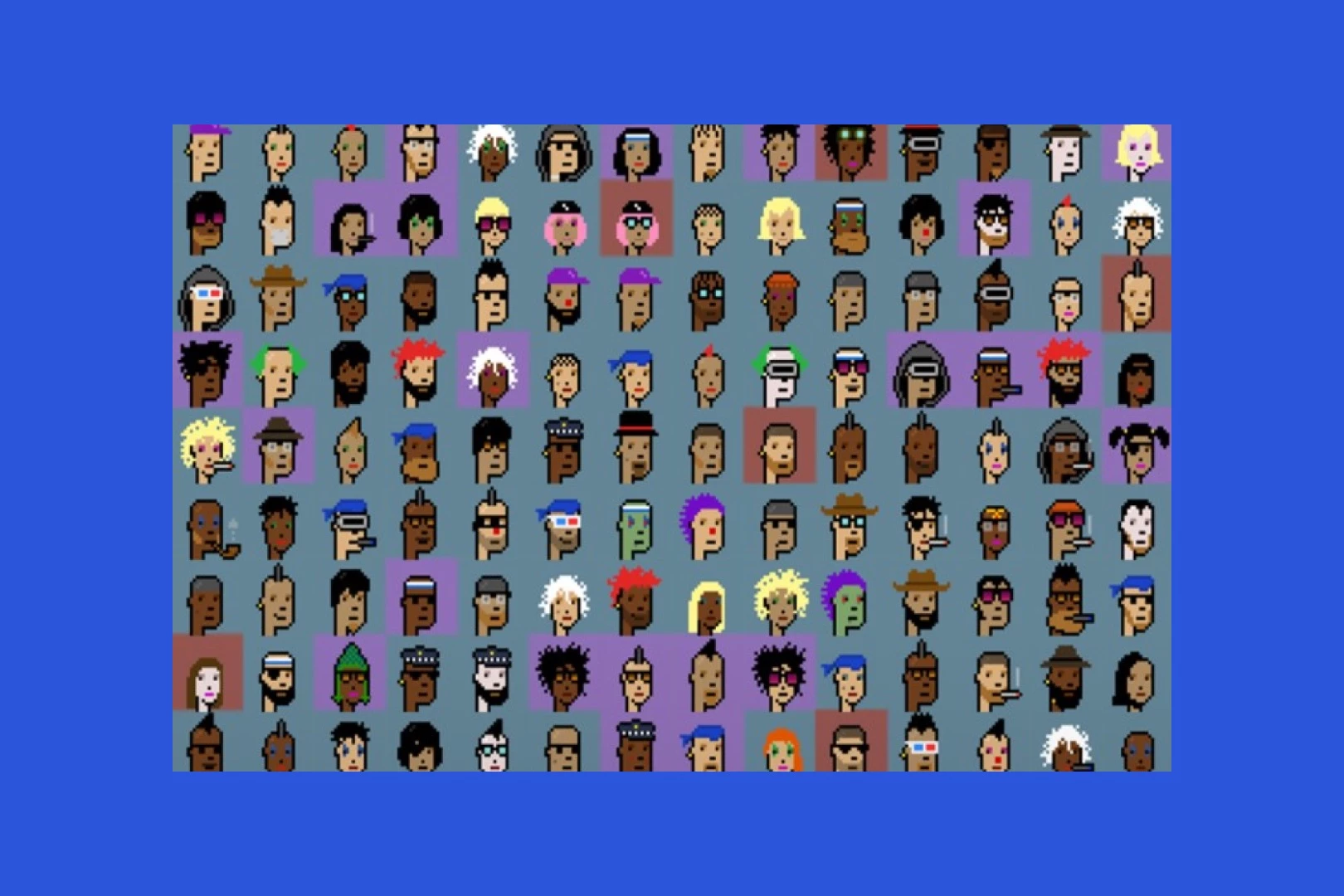 Total sales volume: $2,67B
The average price of one NFT: $129,22k
At first glance, these tiny pixelated faces don't look like anything special. There are 3,840 female characters and 6,039 male characters. Among them are apes, aliens, zombies, and these two cryptopunks in the images below that are among the most expensive NFT art works ever sold.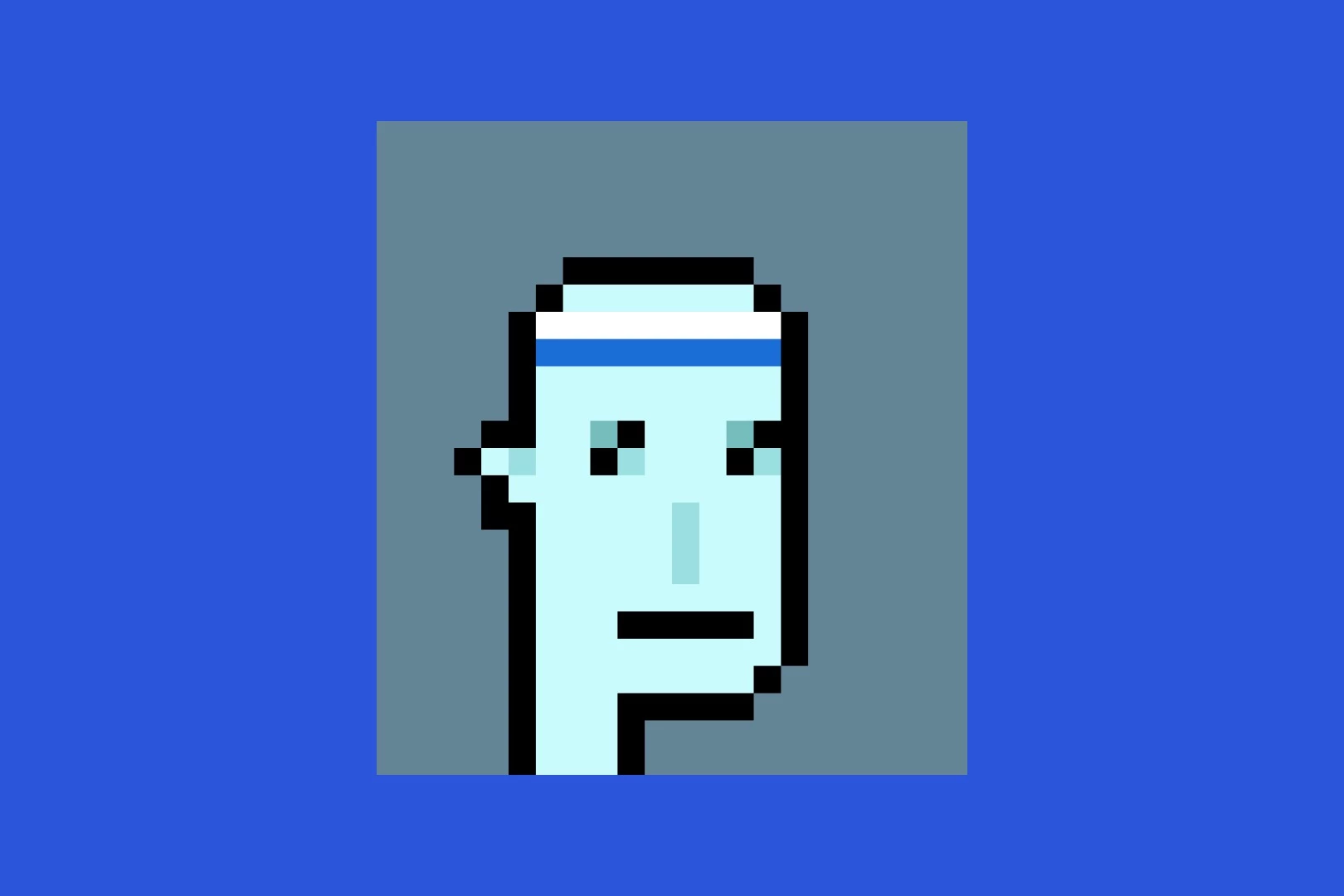 CryptoPunk #3100 - $7.58M. Was sold in March, 2021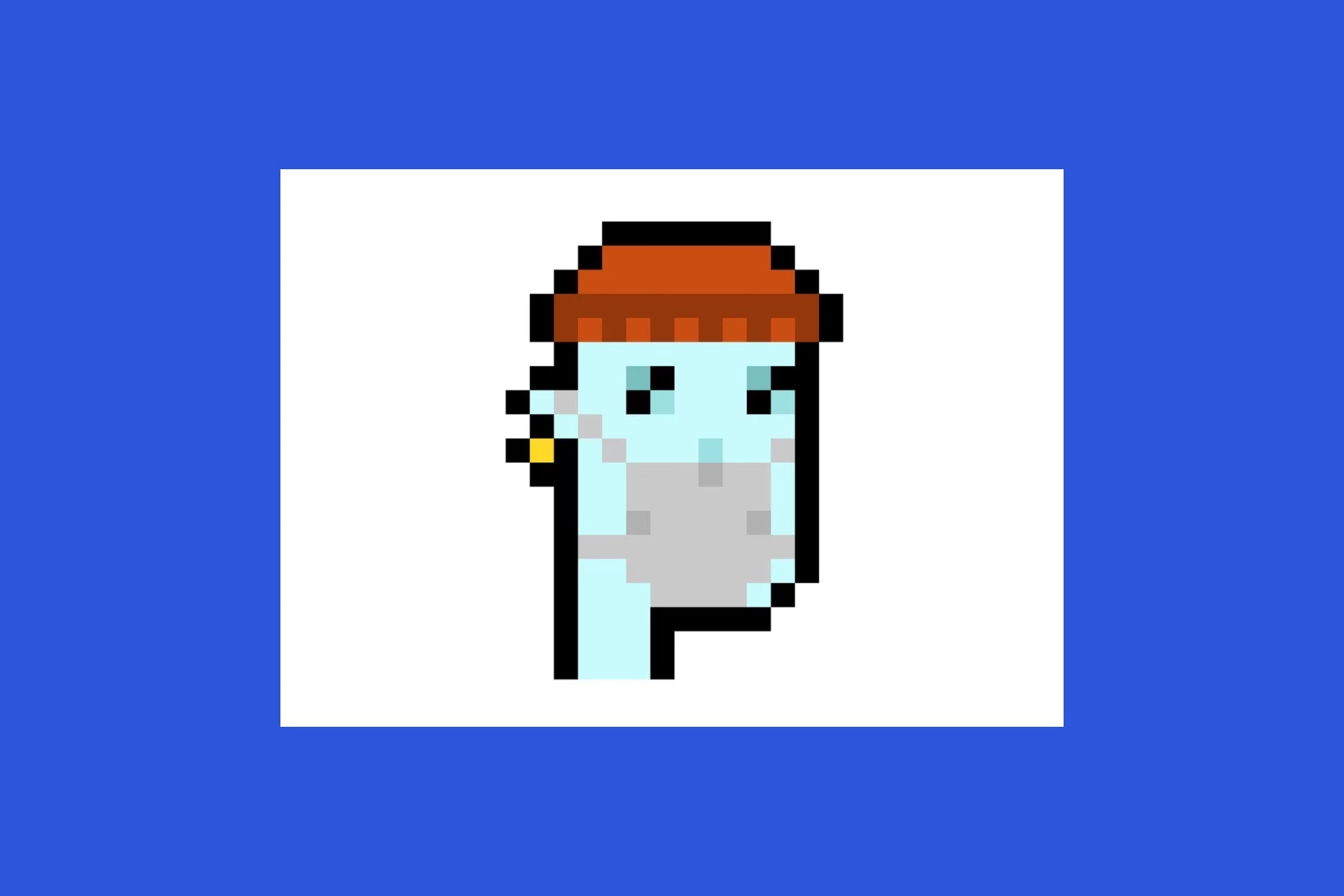 CryptoPunk #7523 — $11.75M. Was sold in June, 2021.
The Cryptopunks were created by Larva Labs, a New York-based company founded by Matthew Hall and John Watkins. The project was launched in 2017 and became one of the first NFT art collections in the world. It's hard to believe, that in the early days of Сryptopunks, users could get these NFTs for free, just paying a commision for their transfer. Today these freaky punks generate millions dollars income for its owners.
By the way, after the beginning of the Russian-Ukrainian war, an anonymous person donated to Ukrainian Cryptofund an NFT from the CryptoPunks collection. The token is valued at over $200,000.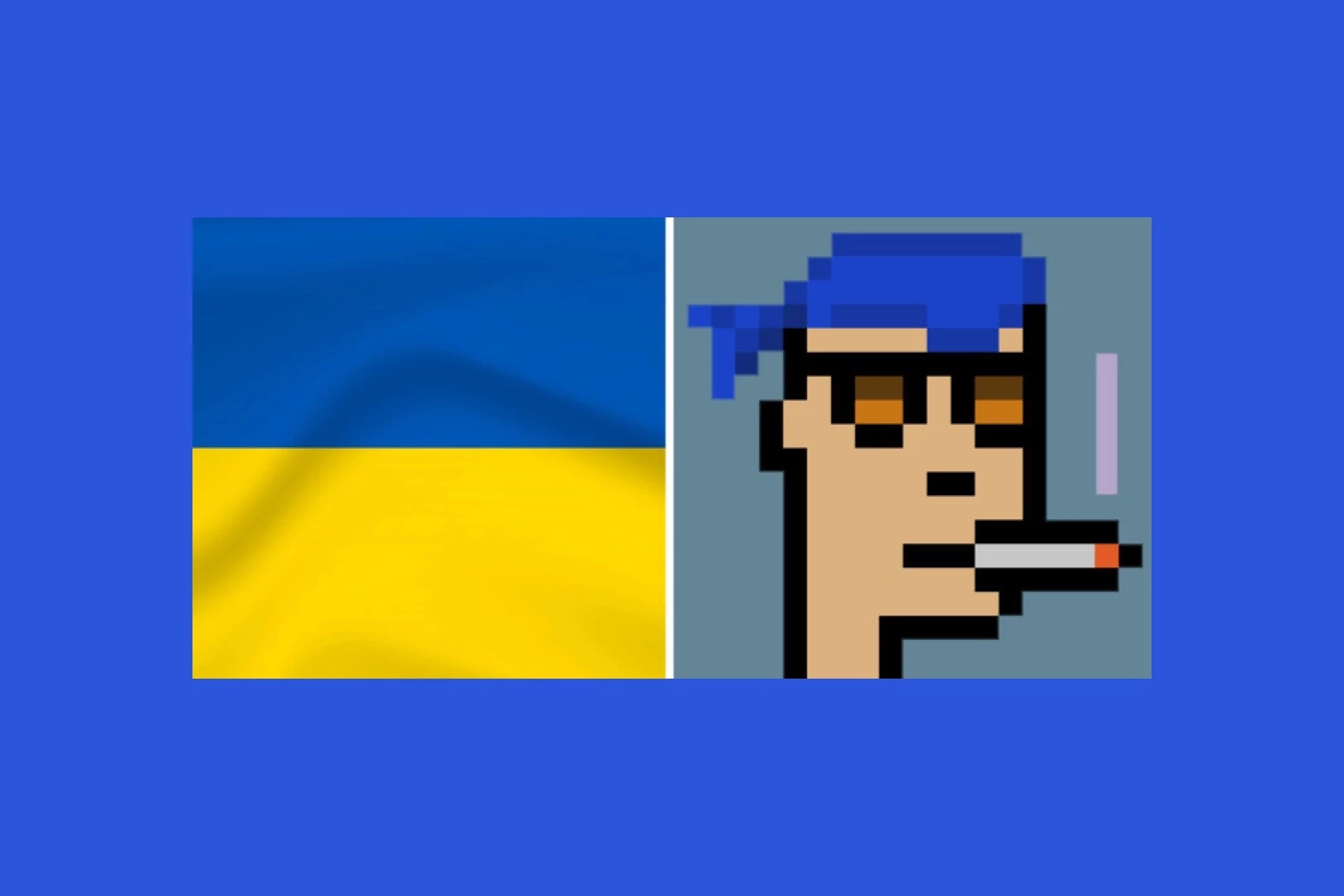 CryptoPunk #5364 - donated to the Ukrainian government
Total sales volume: $389,68M
The average price of one NFT: $3,51k
The Sandbox Game is an online multiplayer game created in 2020. It's a gamified meta-verse based on blockchain technology where players can create, possess, and monetize their game experience with the help of different types of tokens:
SAND: a token that serves as the basis for all transactions and interactions of the ecosystem.
LAND: a digital real estate object in the Sandbox metaverse. Players buy LAND to fill it with games, assets, and interactive experiences.
ASSETS: a token created by players who create/collect user-generated content (UGC).
Unlike other popular money-making games, The Sandbox does not have a ready-made game world. The users create it on their own, using various elements: water, soil, people, equipment, and so on. These elements can be traded on the internal marketplace, exchanged with other players, etc. What is great about SandBox, is that it helps creators develop and improve their brands by offering them 95% of the revenue generated by the products they sell on the platform. Moreover, 50% of all SAND revenue streams are reinvested in the Sand Foundation which is aimed to provide grants to artists, creators, and players.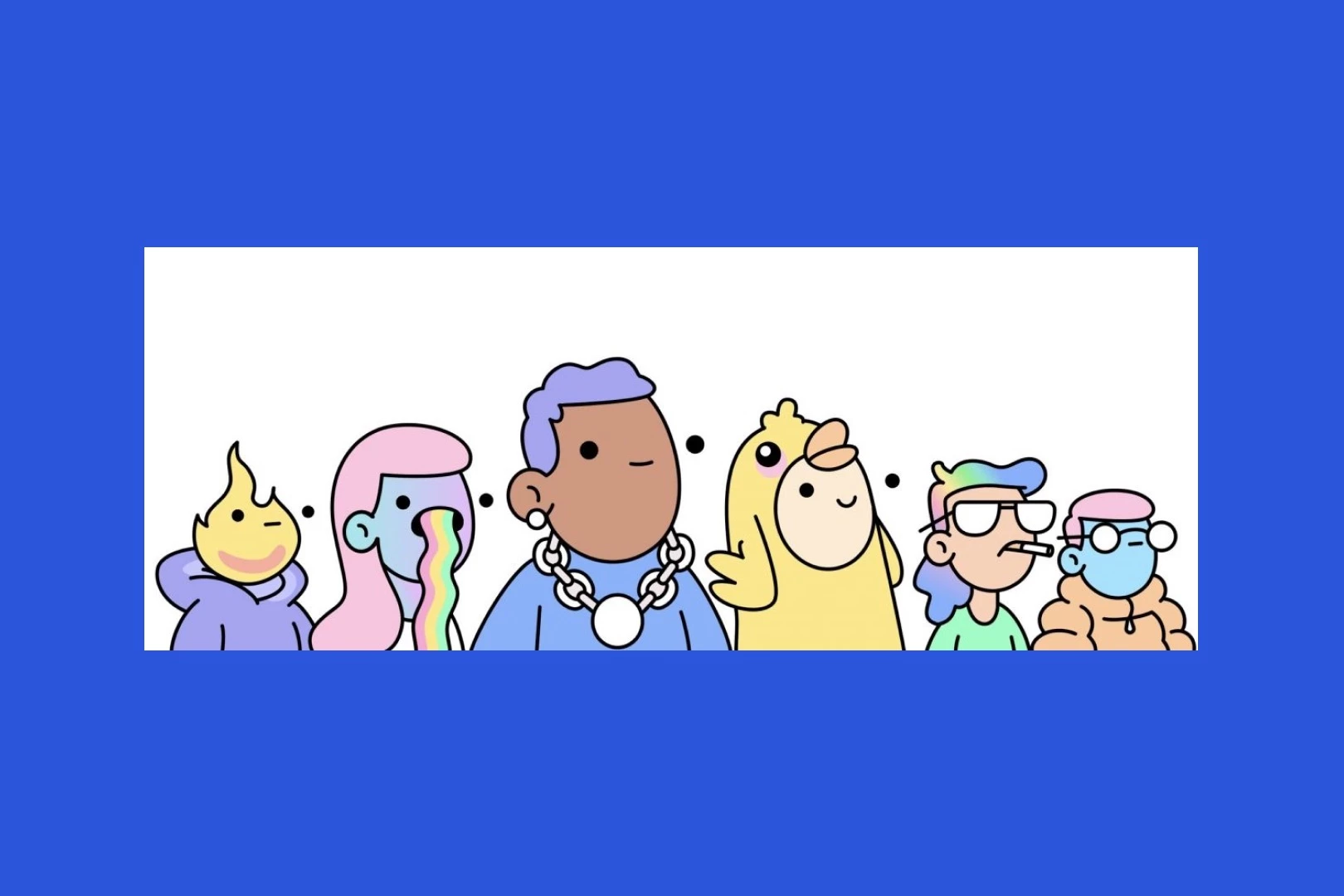 Total sales volume: $6.91M
The average price of one NFT: $31k
Doodles are a collection of 10,000 NFTs designed by the artist Burnt Toast. Doodles NFT was launched in October, 2021. Skellys, cats, aliens, apes and mascots are the main heroes of this collection. Doodles NFT owners can vote on issues related to improving the user experience and companies that benefit Doodles. It's possible thanks to Doodlebank, its community treasury, the main goal of which is to fund products and events voted on by the community. Such a community-first approach is the reason for the incredible popularity of this project.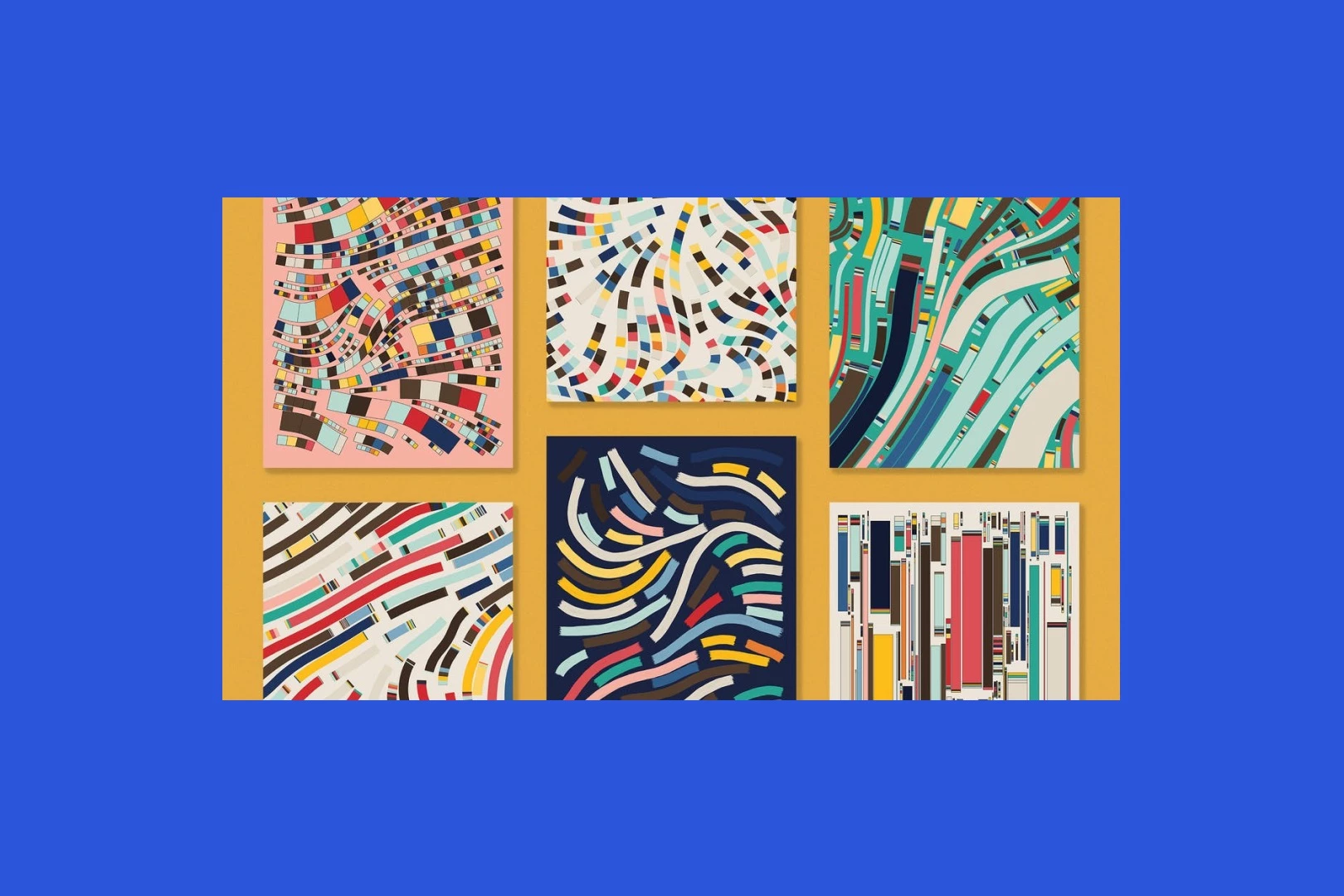 Total sales volume: $2,66M
The average price of one NFT: $7,66k
ArtBlocks was created by Erick Calderon in November, 2020. It's a platform that provides generative art content based on blockchain technology.
How does it work?
you select a style that you like most of all
make a payment
the platform's algorithm randomly generates for you a unique piece of the content (it could be a static image, 3D or interactive experience)
a generated content is sent to your Ethereum account
Each output from the work of the algorithm differs from another, so the possibilities to create unique content with this platform are almost endless.
How to create your own NFT art?
If you're inspired by the NFT art collections above and want to join the community of successful NFT creators, here is a short step-by-step guide for you:
STEP 1: Choose an NFT Marketplace
NFT marketplace is a space for selling and buying of NFT art works created by digital artists. There are many NFT marketplaces nowadays, however, these 3 are the most popular ones: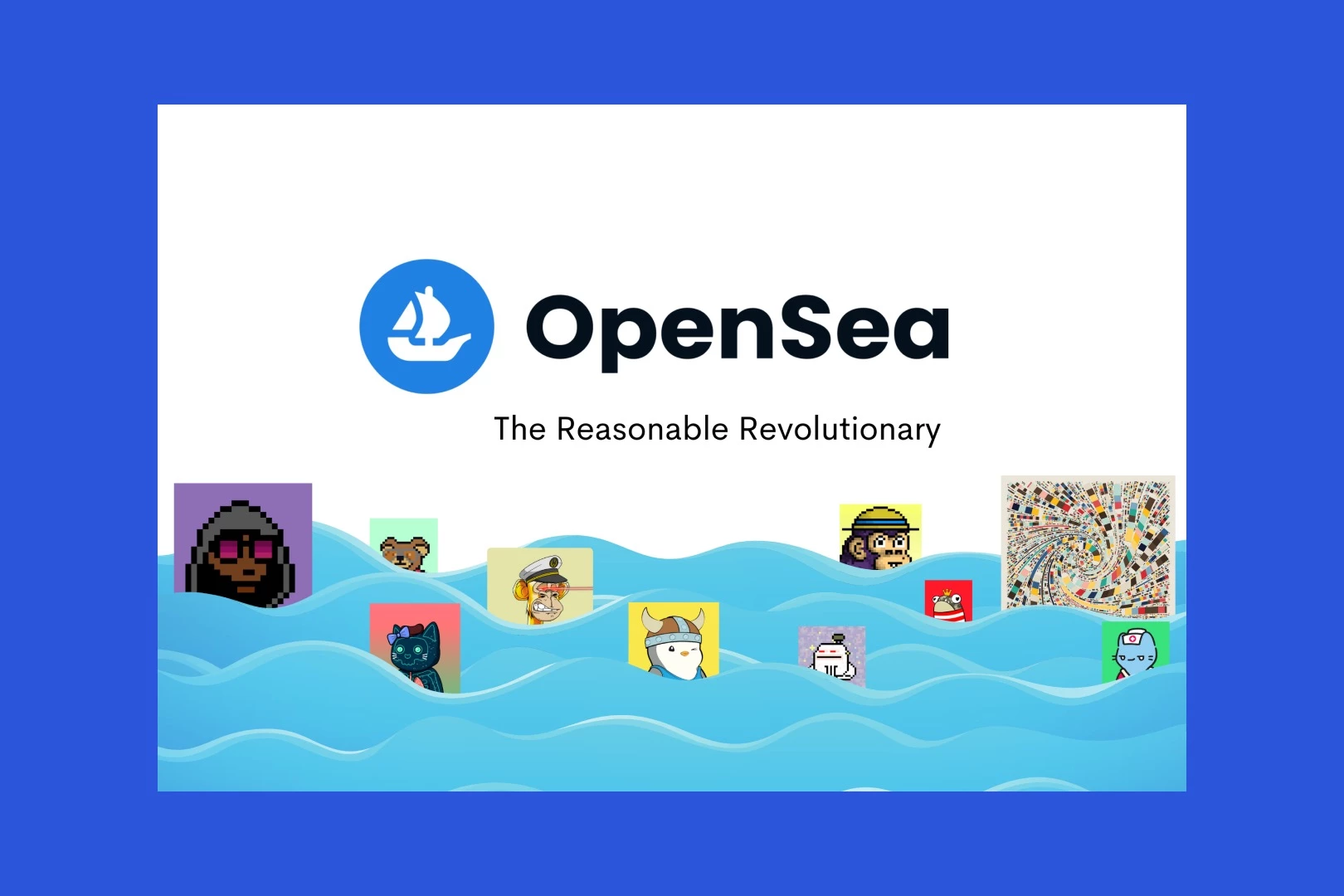 The world's largest NFT-marketplace by total value of digital assets. OpenSea has more than 600,000 users now (for comparison, in March 2020 the number of users was only 4,000). Its revenue was $365 million in 2021. On OpenSea you can find a huge pile of music, virtual worlds, collectible cards for various games, different digital items related to sports, and lots that are hard to categorize. Most of them are strange GIFs.
This marketplace works with three blockchains - Ethereum, Polygon and Klaytn. It covers all types of the NFTs and accepts more than 150 cryptocurrencies.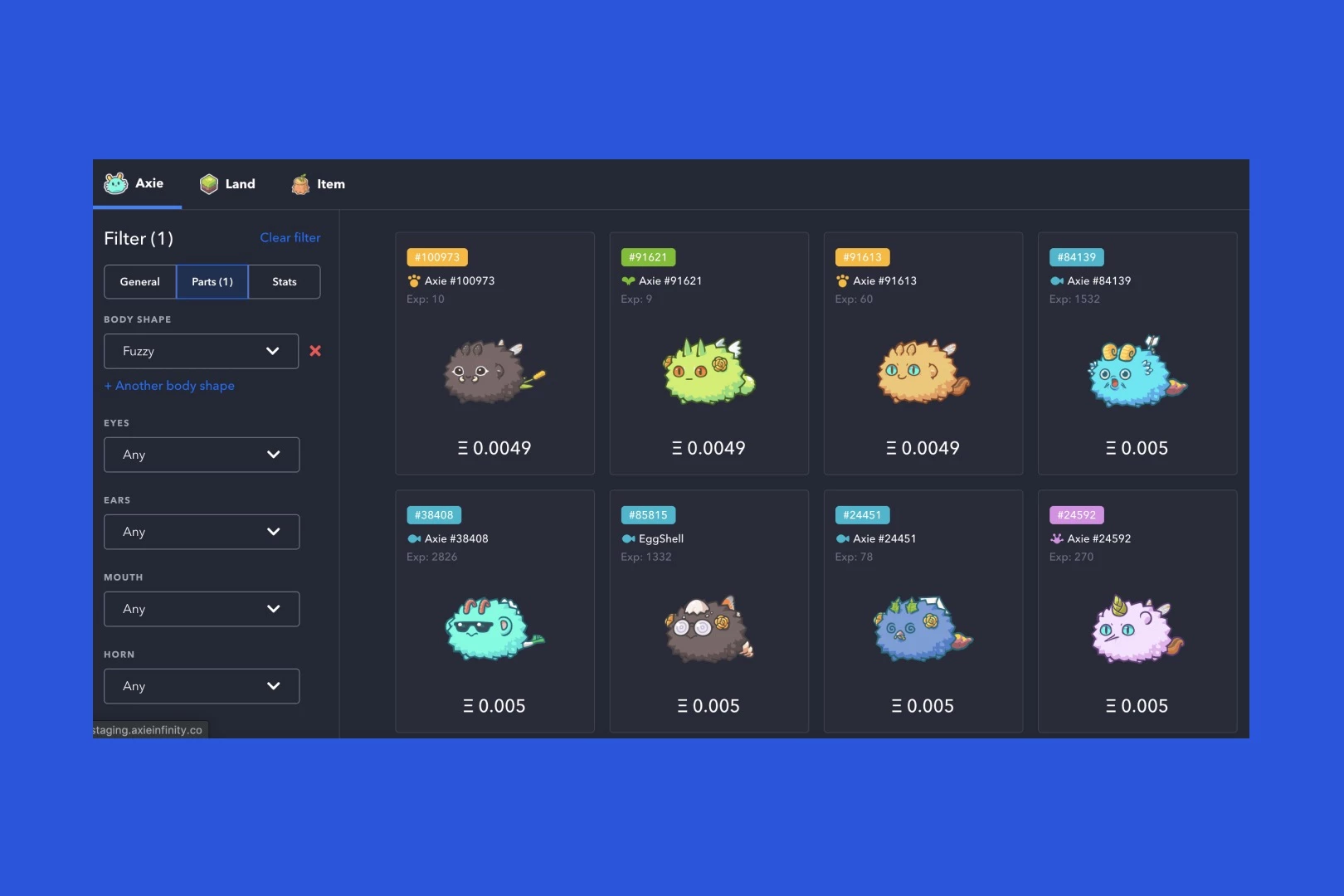 Axie Infinity is a popular blockchain-based P2E game inspired by Pokémon, in which players collect virtual creatures in the form of NFTs called Axies. According to the analytical service DappRadar, the total sale volume of this marketplace is $4,17B. The objects of purchase and sale here are creatures that can be bred and used in the gameplay, as well as game territories, items, etc.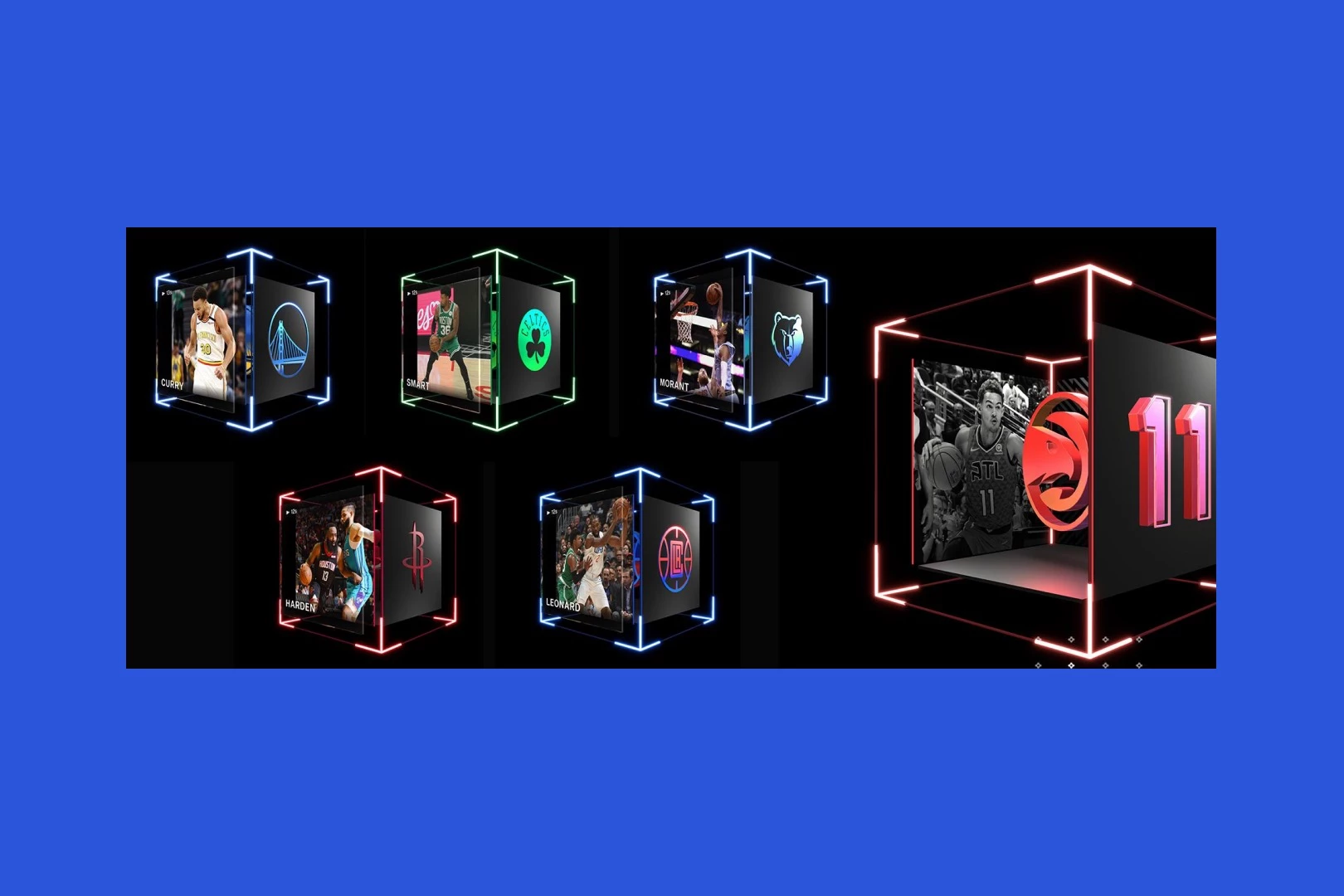 NBA Top Shot is an NFT project from Dapper Labs on the Flow blockchain that allows users to collect the best moments from basketball games in NFT format. The NBA Top Shot NFT is a card that contains a short video of some successful game moments. The names of the cards correspond to the name of the basketball player in the video.
According to DappRadar, the total sale volume of this marketplace is $885,35M.
STEP 2. Create a crypto wallet
Crypto wallet is a must-have as you need a place to store your cryptocurrency and NFTs. One of the most popular crypto wallets is a MetaMask wallet.
MetaMask is a non-custodial cryptocurrency wallet that allows you to receive, store and send cryptocurrency assets. Metamask works as an extension for Google Chrome browser.
Metamask was originally developed for the Ethereum network and tokens issued in its standard - ERC-20, but it also supports work in all networks which are compatible with the virtual machine of the Ethereum network . It means that, you can add networks of different standards to Metamask, such as Binance Smart Chain (BSC) network, and transfer all the tokens issued in the BEP-20 standard.
STEP 3. Create your collection
Be patient! You're one step closer to the creation of your own NFT! But first you need to create your collection - a store or a gallery of your digital arts on your marketplace account. Here you should name your collection, create the caption with all the required details and upload a display image.
STEP 4. Create your NFT
Without doubt, that's one of the most exciting steps of the whole NFT creation process. Start with uploading your metadata (visual/ audio/ 3D files). Then enter the name of your token. It's important to mention how many editions of the same token you want to create. From this point all tokens can be divided into:
stand-alone tokens - this implies that your digital art token has no editions and is one-of-a-kind. Such tokens are the most valuable.
edition tokens - you can create as many copies of the same token as you want.
Next you can add different properties and levels that will help your potential buyers to explore your collection and filter your works. Then you can choose the payment tokens that you prefer to accept for your NFTs and select the percentage of the royalty.
Congrats! Now your NFT is ready for sale. What's next?
How to sell an NFT art?
List your artworks for sale on marketplace
You are allowed to choose a fixed-price listing or auction and set your price. Take into consideration that you need to pay a gas fee before listing your NFT.
Also remember that your art will be immediately available to others but with the Unapproved Collection tag (as on OpenSea, for example) The approval process can take from several hours to several days. One of the important factors that marketplaces take into account to provide an approval for particular content creator is the availability of the social proof.
Use social media
Social media is a perfect way to help your potential buyers get to know your collection of digital art works. So don't hesitate to tell your social media subscribers about your intention to create an NFT collection and let them know about launching your collection as soon as you mint it. Lay the foundation for the first fanbase of your crypto art.
Final Thoughts
There are countless opportunities regarding NFT's nowadays. As a collector, you can easily get a rare piece of art. As an NFT creator, you can without difficulties create your NFT collection and promote it among potential buyers. Moreover, if you feel that creating or collecting NFT art is not what you are good at, you can still join popular NFT activities by creating your own NFT marketplace.
Stfalcon is here to cover all your NFT marketplace creation needs. If you need a reliable partner:
to advise you on the technical and business nuances of the NFT marketplace development process, how to sell and buy NFT art
who will help calculate the cost of such development and offer options to optimize the budget
that is able to develop the NFT marketplace in accordance with your requirements and the latest market trends
Be quick to contact us!