11 Steps on How to Make a Live Streaming Website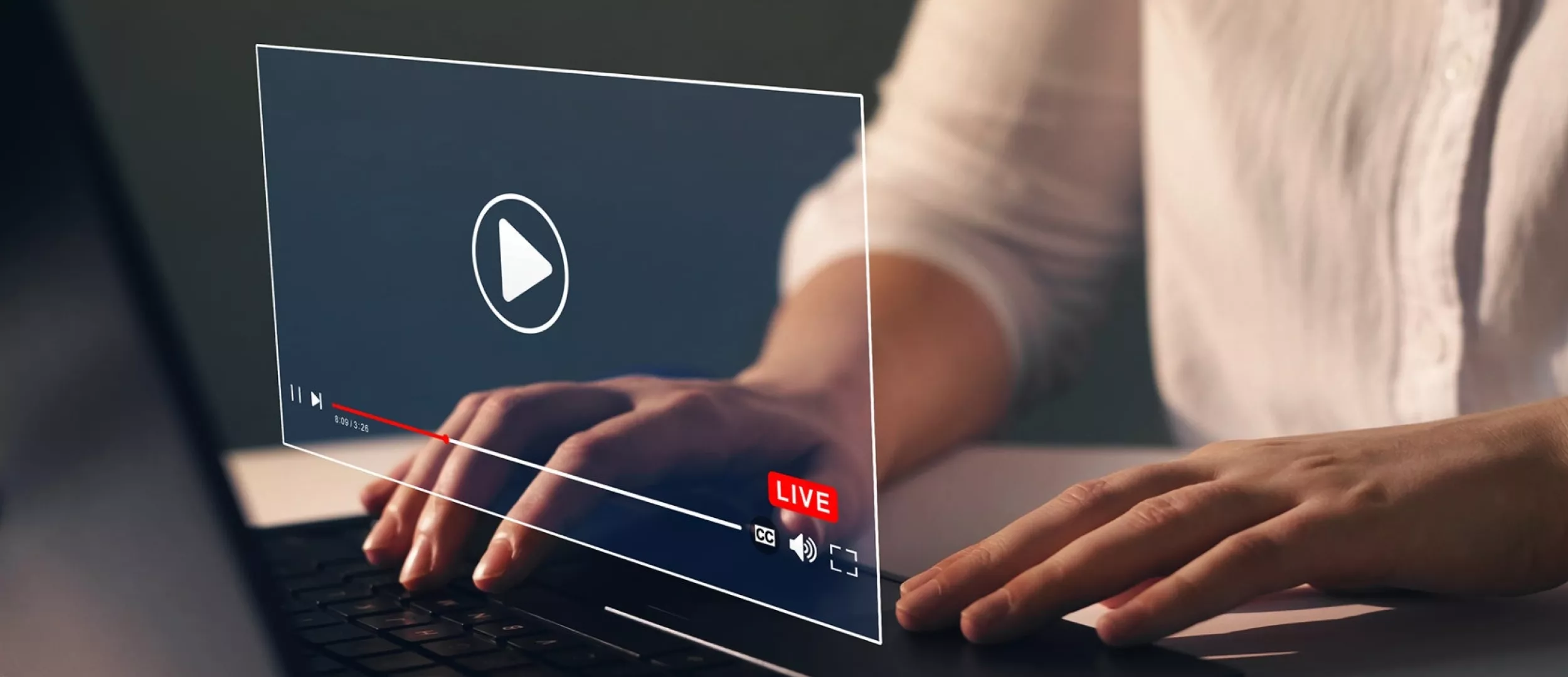 Nowadays more and more people prefer to watch videos since 90% of the data entering the brain is visual information. Thanks to this feature, most of the traffic comes from sites such as YouTube, Netflix, Twitch, and Amazon Prime. Below, we'll show you how to benefit from this trend by building your own live video streaming site and monetizing it.
What is the Twitch streaming platform and how does it work
Twitch is a service for the free viewing and streaming of video with the ability to monetize content, communicate with viewers, have a subscription system, and more. The website is popular among fans of online games (Counter-Strike, Fortnite) and MMORPG. In recent years, Twitch has also begun to be used by vloggers to connect with fans, stream ASMR, and watch movies and series together.
Features of the Twitch.tv service:
a subscription system that gives access to video content, but gives more opportunities to communicate for those who are willing to pay;
integration with various services that help viewers communicate with the streamer (display and voice-over paid messages, order music, and video);
the presence of applications for smartphones and PCs that improve the quality of the stream.

How to Set Up a Live Streaming Website
To set up video streaming on your website, you have to decide whether you will add your online streams to an existing business website or a new one involving web streaming. Which you will choose depends on your specific web stream goals.
1. Requirements for the List of Features
Your efforts to build a video streaming platform can end up being pointless if you don't take the right steps. There are several questions regarding:
Content and Niche: What type of content will you be streaming?
The process will differ if you want to stream questions and answers with industry experts instead of streaming college games.
Your Audience: Do you know your target audience?
Before creating the live streaming site, think about your target audience. That helps you to create relevant content that resonates with an audience. The essence of your live streams will depend on your target audience's size, language(s), and locations.
The Viewer's Experience and Video Quality: How crucial is streaming quality to user experience?
Some live-stream platforms need a higher streaming quality than others. Although you'd want HD quality for product demos, you can probably start with SD when streaming particular live lectures.
Access to Video Files: Who will have access to the services you offer on your platform?
When you plan how to create a video streaming website, you have to consider whether there be any barriers to entry to the content (signup page). Ensure that you include all media files in this plan, such as recent streaming data, and past live streams.
Your Online Streaming Goals: Do you consider your site with online streaming to be a source of leads for your business, a side hustle, or a full-time job? Or do you publish it for fun?
Your goals should be well-planned even before your first live broadcast. Setting plans for your video content and an exact timeline for achieving them gives you a general roadmap for your content strategy.
2. Choose a Business Model
If you would like to monetize your live-streaming website there are several proven models. You can repurpose your live-streaming when it is over as video-on-demand content. So there are three popular business models:
AVOD [Advertising-Based Video on Demand]:
It generates money through ads. With the help of this business model, your streams will be in front of as many viewers, and the videos tend to be access-free. Commercials can provide ads, ad breaks, banners on your website, affiliate programs, or sponsored content.
SVOD [Subscription Based Video on Demand]:
In this business model, you don't need many views as you do with AVOD. You can have a good amount of income from not a large, but loyal audience.
But the monetization model is perfect for broadcasters with sizable audiences and larger content choices as it has access to a larger viewer base. Users can access the whole video library by paying a subscription fee.
TVOD [Transactional Video on Demand]:
On the pay-per-view model (PPV), you charge a fee per transaction. In exchange, the users get lifetime or limited-time access to your content. If you have a small audience in a particular category, this model will help to generate revenue from content.
TVOD model can be good for content creators working in small niches. Users are willing to pay to have access to videos that are specific to a certain topic or time-sensitive.
Hybrid
You don't need to pick just one monetization strategy for videos. Many live-streaming services use their hybrid monetization models to enlarge their revenue. For example, an SVOD-based video website can charge a premium fee for streaming the latest releases.
Also, you can make money starting a range of designed merchandise and selling your items advertising your services, and accepting donations.
3. Get Domain Name and Web Hosting
You need to choose a domain name. This domain name can be the brand's name. You will need to register your domain name with a hosting service. For example, the services GoDaddy and BlueHost. A lot of web hosting services nowadays offer much different top-level domain (TLD) options.
Newer TLDs include suffixes like .video and .stream. If you want to create a live-streaming website, having a .stream URL is an ideal way to achieve that goal.
4. Invest in Live Recording Equipment
Video streaming website development cost includes the hardware and software for an excellent video streaming service. You need to invest in professional audio and video filming equipment that will improve your live-stream quality.
Training sessions, webinars, and other simple broadcasts will work ideally with a simple camera setup. More advanced streamings need more professional setups, with TV-grade equipment. For visually engaging content or content in which several cameras are needed, you will need to invest in a higher-quality camera.
Look for a high-quality camera with an HDMI connection because HDMI-compatible cameras can produce a broadcast-quality stream. You will also need audio recording equipment. External microphones provide quality audio.
5. Choose an Encoding Software Program
Many broadcasters face a challenge: many cameras are created to record not for the live stream. So you will need to choose a hardware or software encoder that suits your camera. Format changes by encoding, optimized for storage and recording to format designed for transmission over the web. That ensures users can have access to web live-streaming videos without a problem.
Hardware encoders can convert a live or temporal visual event into digital media. Hardware encoders are designed particularly for encoding, so their output quality is often state-of-the-art.
Software encoders are more affordable than hardware encoders. Small-scale broadcasters prefer this alternative to hardware encoders. You can even choose free and open-source streaming software or RTMP encoders that use the RTMP (real-time streaming protocol).
6. Secure a Reliable Internet Connection
Producers also need a fast, reliable internet connection to create a high-quality live stream.
Cable internet speeds are sufficient for web streaming.
There are a few upload speed requirements related to internet connection based on the quality you are aiming for when you set up a video stream. It is recommended that an upload speed easily renders half the quality at which you are planning to stream. For example, if you plan an HD, 3 Mbps stream, you will need a 6 Mbps upload speed.
Statistics show that low video quality and excessive buffering can seriously affect your video's viewing experience. It is recommended to check your internet speed on testmy.net before you start video streaming over the web.
Also, you have to avoid streaming while other viewers use the same video streaming server's bandwidth for other activities, as that could cause a lot of quality issues. Consider the programs you will be running simultaneously, guest speakers that might tune in, and background software needed for a flawless live stream.
7. Choose a Live Website Streaming Video Platform
You will need to find a professional live-streaming platform to stream content. It will help you to create a responsive live-streaming website.
If you want to fully own the rights to your video streaming business, you have autonomy over your video content. You need to invest in a professional video streaming website or streaming platform. YouTube Live is one of the most popular and simple streaming video hosts for live events.
But YouTube Live and Facebook Live have serious limitations for live streaming video. Those services are not created for uploading live videos but for live and managing content. It is better to use a video streaming solution such as Twitch, Dacast, IBM Cloud Video, or Livestream. They provide better streaming services and give you more control, video monetization, privacy, recording, branding, and other factors.
The chosen live streaming software solution also provides you with particular information about your live channel. You will need this info to set up your encoding software or hardware. That way, you can be sure of the security of the video uploaded for your viewers.
8. Ensure Security and Privacy Settings
This step is crucial, especially if you have decided to monetize your content.
Set up the privacy and security settings of your online platform. Use a password if you decided to have a website with private live streams. Additionally, consider setting location controls on your stream if you know who will visit your platform and where they're located. You can white-list the location if you know the audience so that others can't gain access.
9. Generate an Embed Code
You will need to generate an embed code for providing your website live-stream broadcast. First, you need to navigate the streaming website to the admin dashboard. Then, schedule a live-stream event. After scheduling it, you will have access to the embed code options.
Choose the live stream you have created to find the embed options in Dacast. After that click "Publish Settings." You will see 2 code options in the left corner of the screen, one will be labeled iFrame, and the other one is JavaScript (JS).
JS is more widely supported on browsers and devices than the iFrame, and it includes more convenient features for users. When you choose one of these 2 embedding options, take the code in the box and copy it to the clipboard.
10. Embed a Live-stream Into a Webpage
Next, you will need to embed an online video stream into your website. You need to access the code editor on your site's management dashboard. Each site hosting platform has its unique code-editing display.
For example, on a WordPress site:
Click "Edit" on the post or page
Click "Text" to enter the code editor view
Paste video code from the clipboard on a new line
Click "Update" to save your changes
That's all. Most website editors have similar tools for embedding code simply
11. Rinse, Improve, Repeat
You have to learn how to make a streaming website grow as a content creator.
One option to improve the process is to gather user feedback, by monitoring comments or sending surveys afterward.
Another option to monitor how good is your live stream is to look at analytics. A lot of live streaming platforms offer to analyze your stream in real-time. You can also set up Google Analytics for further insights.
Examples of insights include live viewer count, information about the gadgets they are using, the locations, and much more. It'll help to optimize the next live streaming for the best user experience.
Live Streaming Trends, Statistics, and Predictions
By 2027, the online streaming industry to be worth $247 billion
Live content holds users' attention 20 times longer than on-demand video content
Live streaming increased by 300% in the first half of a year of the Covid-19 pandemic
Websites with videos are 50 times more ranked in SERPs than those with only text content
Multistreaming was a big idea in 2022
87% of marketers report that video has increased website traffic.
Bottom Line
The popularity of live video streaming is steadily growing because streaming is one of the best ways to capture the attention of your audience. Live streaming video is relatively easy, making it a great option for businesses looking to promote their business to the next level by connecting with their audience through this engaging type of content.
Once you understand how to stream video live on the Internet, the only thing left is to make the content quality and memorable. In Stfalcon we can help you to set up a live-streaming website or develop it from scratch, just contact us, and a free consultation is available.