What Are NFC Tags? — Complete Guide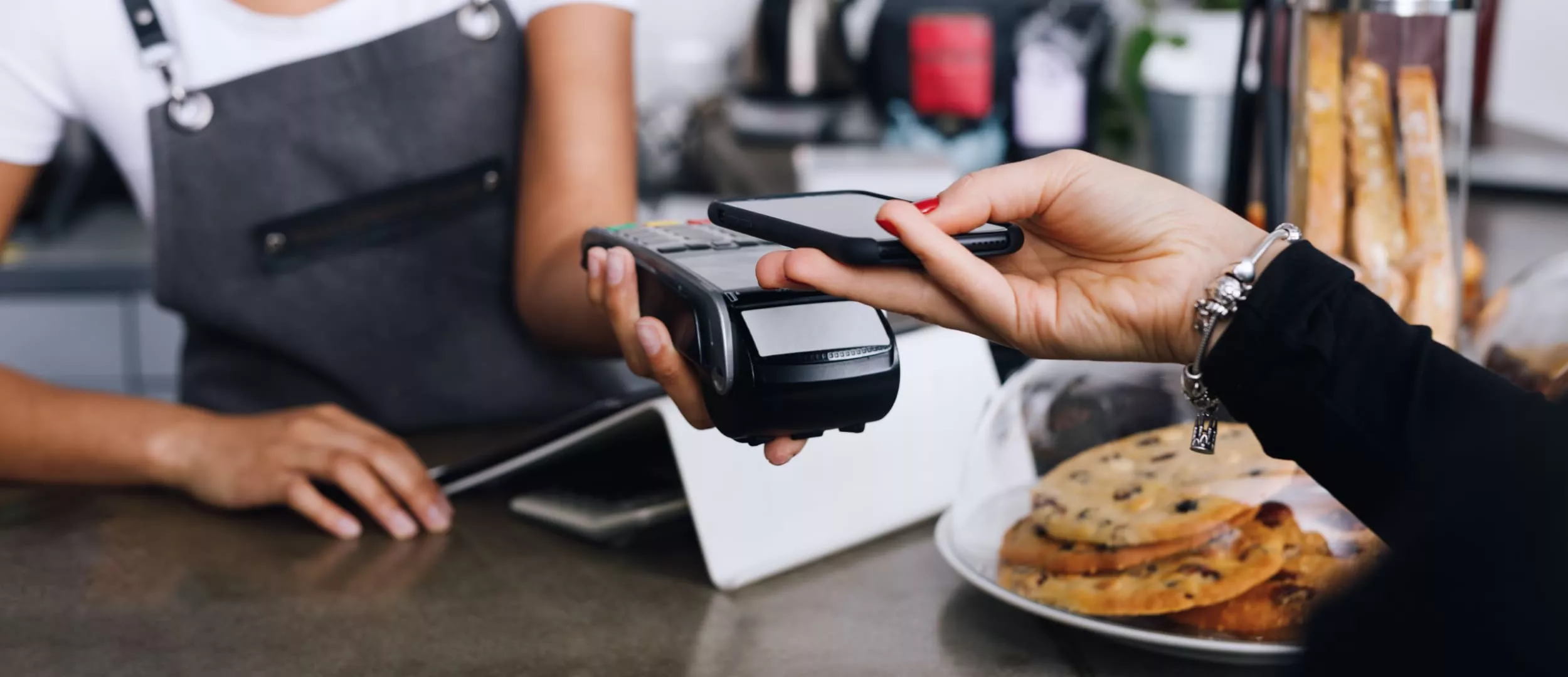 In recent years, NFC technology has been especially actively used in various areas of our lives. You may not even suspect that you are an active user. We are talking about the NFC technology with which you can pay for purchases in the store over the phone. But its possibilities are not limited to this.
NFC and NFT make it feasible for each physical object to have an exclusive blockchain ID.
The use of both NFC tags and their inherent duality enables the smooth transfer of an object's worth into the metaverse while providing reliable protection from counterfeiters.
By employing the proprietary technological DNA afforded by NFC+NFT applications in artworks and beyond, one could avert any possible attempts at falsification.
What Are NFC Tags?
NFC is part of radio-frequency identification (RFID) and part of Bluetooth. NFC tags work only closely for more precision, unlike RFID. It doesn't require manual device synchronization as Bluetooth. The RFID tag has only a one-way communication approach, so an RFID-enabled element sends a signal to an RFID reader.

NFC devices have one- and two-way communication methods, which gives the NFC technology an advantage in use where transactions are dependent on data from two devices. Mobile wallets like Samsung Pay, Android Pay, Apple Pay, and others all include NFC technology.
NFS tags expand the functionality of gadgets by contacting other devices at a max distance of 3.9'. Sharing files, managing electronic payments, connecting home appliances - now it's all done with one touch. In addition, the use of such tags will protect files and information from being intercepted by malicious devices.
What is Near Field Communication
The abbreviation NFC stands for Near Field Communication. This is a technology for wireless data transmission over a short distance: the communication radius doesn't exceed 3.9'. Information from objects is read using a radio signal.
The main advantages of NFC technology:
high speed of establishing a connection between objects (the process takes a fraction of a second);
the small size of the device;
low power consumption.
Thanks to these features, NFC tagging can be integrated into small gadgets. It should be noted that the speed of information transfer through this communication protocol is relatively low, and the amount of data is small. Despite this, the NFC function in a smartphone is convenient and multifunctional.
What are NFC Tags and What does an NFC tag look like
NFC tags are miniature stickers that allow a smartphone to execute a specific command when approached. They are very cheap and allow you to easily perform many tasks. To write information on NFC tags you need special applications. To write and read data from them, of course, you need a smartphone equipped with an NFC chip.
You can stick a tag on a laptop or computer and program it so that the smartphone turns on the distribution of mobile Internet via Wi-Fi. If your computer loses access to the Internet, bring your smartphone to the tag - tethering will turn on, and you will be able to access the network again.
Difference Between Passive and Active NFC Tags
NFC tags come in two varieties: active tags and passive tags. A typical NFC tag is a passive NFC tag that communicates with active NFC tags or other NFC-enabled devices. An active tag (controller) is installed directly in the phone, and tags that are placed on connected surfaces or devices are called passive.
NFC passive tags contain information other gadgets can read. They do not have a power source and cannot read and transmit data.
Passive NFC (Near-Field Communication) tags are often used in supply chain management, keeping track of documents, and access control. Active NFC tags have a built-in power source, transmitter, and receiver that enable them to receive and transmit signals.
Components of an NFC Tag
An NFC tag includes three main components: a chip, an antenna, and something that holds it together.
NFC chip. It is a small microchip and contains a memory that stores information. An NFC chip stores various data such as images, email addresses, phone numbers, and website links. This data is stored in NFC Data Interchange Format for ease of transfer.
NFC antenna. This is the part of the NFC tag that detects radio waves. It is shaped like a loop of wire engraved on the NFC tag.
The part that holds it together. This part holds the NFC antenna and NFC chip together. The biggest part of the NFC tag can be in plastic or sticker, depending on the type of NFC tag.
You can choose from NFC stickers, NFC tabs, and NFC discs.
How NFC Tags Work
NFC tags communicate over radio waves. You will need 2 devices: the NFC tag and the NFC reader to exchange information in NFC data format. It works only over a very short distance - 3.9 inches without a battery and draws power from another device.
An NFC reader connects to one NFC tag reducing accidental transactions. When payments are done, encrypted data exchanges between NFC chips. For example, users can pay without a card, it can be stored on the mobile phone. Information is written to the tag using a mobile application: NFC reader, NFC Tools, and others from the AppStore or Google PlayMarket.
Main Types of NFC
Different NFC chips have different memory capacities and different settings. This affects the amount of information that you can store on a particular chip, as well as its lock type and other important factors.
NFC device chips are divided into the following types: Ultralight, Ultralight C, Standard (Classic) 1K, Desfire 4k, and the new NTAG203. Each NFC tag differs in the amount of memory, and the speed of writing and reading NFC tags, as well as in protection against collisions that occur when data is transmitted simultaneously by two sources.
How did NFC tags become popular?
When Philips, Sony, and Nokia created their own NFC forum in 2004, this technology was known only among enthusiastic techies. The three whales of the electronics industry set themselves the goal of researching, promoting, and of course, commercial profit from the introduction of new contactless data transmission technology. But they did not achieve much progress - all their achievements seemed to be nothing more than a toy.
In 2011, Google joins them and that's when the real flowering of technology begins because NFC chips began to be supplied with most Android smartphones. Users immediately appreciated the convenience and security of Google Pay - no need to enter passwords for everyone; card reading was fast and error-free.
And most importantly, there was no need to get a bank card at all - all data is stored in the smartphone's memory.
How to Write Data on NFC Tags
To get the most benefits of NFC, it is essential to learn how to program NFC tags. Luckily, the NFC programming process is quite simple.
What is NFC Tag Programming?
Programming an NFC tag means writing the actions you want your tag to perform. You can use a free app from the Play Store that you can download and run on your device. And at first, you will need to enable the NFC on your smartphone.
NFC Programming Requirements
If you want to start programming an NFC tag, you should have:
Blank NFC tag. You need an empty NFC tag or a tag that you no longer need. It's very cheap and you can buy it on eBay or other online stores.
An NFC-enabled Android device or iPhone. To verify this, check the specifications of your phone. Also, please note that only iPhone 7 and newer can write NFC tags.
An app to program your tags. There are many free apps in the Play Store such as Trigger, NFC Tools, and NFC TagWriter by NXP. And we will take "NFC Tools" as an example to show you how easy it is to program an NFC tag. Compared to other NFC tag writer apps, NFC tools are easier to use.
NFC Programming for Android
Turn On NFC on Your Android Device. To switch it on, you need to visit settings-Bluetooth & Connections-Connection Preferences-NFC-Toggle and click ON. In some smartphones, you may see the NFC settings under the "Network and Sharing" option.
Install an NFC tag Writing Application on Android. After turning on your NFC, you need to go to the Google Play Store and install an NFC tag writer app, for example, NFC Writer by Trigger.
Launch the Trigger App. After the installation, you need to Press YES to launch. After opening the app, continue with tag writing. Click on the "plus" located on the extreme bottom right. It will create a new task, which is the initial phase of writing the Android NFC tags.
How to program the NFC Android tags with "Write" (NFC Tools)
Open NFC Tools APP. Choose NFC Write
Add a record, You will see various options of what to write to your tags. For example, the URL so select the URL/URI option to enter a URL.
Enter Your URL, It is recommended to "Select the protocol "https://", and write the URL: https://www.google.com. Then click OK.
Click Write, and Choose to Write.
Write the Tag, Now, place the prepared NFC tag on the smartphone's NFC chip location
Add a Task, Here are many task options, and you can choose whatever you want. But first download NFC Tasks APP,
Read NFC tags, Now put your phone on the NFC tag to see all the beauty of NFC technology.
Read Tag Details, You can scan the tag and you will know the type, serial number, size, memory information, data format, etc.
NFC Programming for IOS
First, you need to install an NFC app from Apple Store. You can choose NFC Tools or NFC Writer by NXP. In this guide, we choose NFC Tools.
When the installation is done, you have to open the NFC tool application. You'll be able to select WRITE.
In the next stage, you'll be able to create a record. Click on it to enter the data.
Add your record. There are a lot of records you can add depending on your needs. For example, you can add a website's URL, a command, or other information you want.
Confirm Your Data. After the confirmation of data, it's time to write your NFC tag.
Prepare the iPhone NFC tag. After confirmation, place a blank NFC tag on iPhone's NFC chip location. Then click on WRITE.
Process Complete! You'll get a notification that the writing was successful.
What is an NFC reader?
An NFC device operates at a frequency of 13.56 MHz and consists of an NFC tag reader and an antenna, or a tag and an antenna.
How do NFC readers work?
The reader generates an RF field that can interact with the tag or with another reader. A reader is an NFC device that operates in active communication mode. The tag is an NFC device that operates in passive communication mode.
NFC Advantages
Everyone knows NFC as a technology for contactless payment using a smartphone. However, this is simply the most popular way to use the wireless interface - its scope is not limited to this.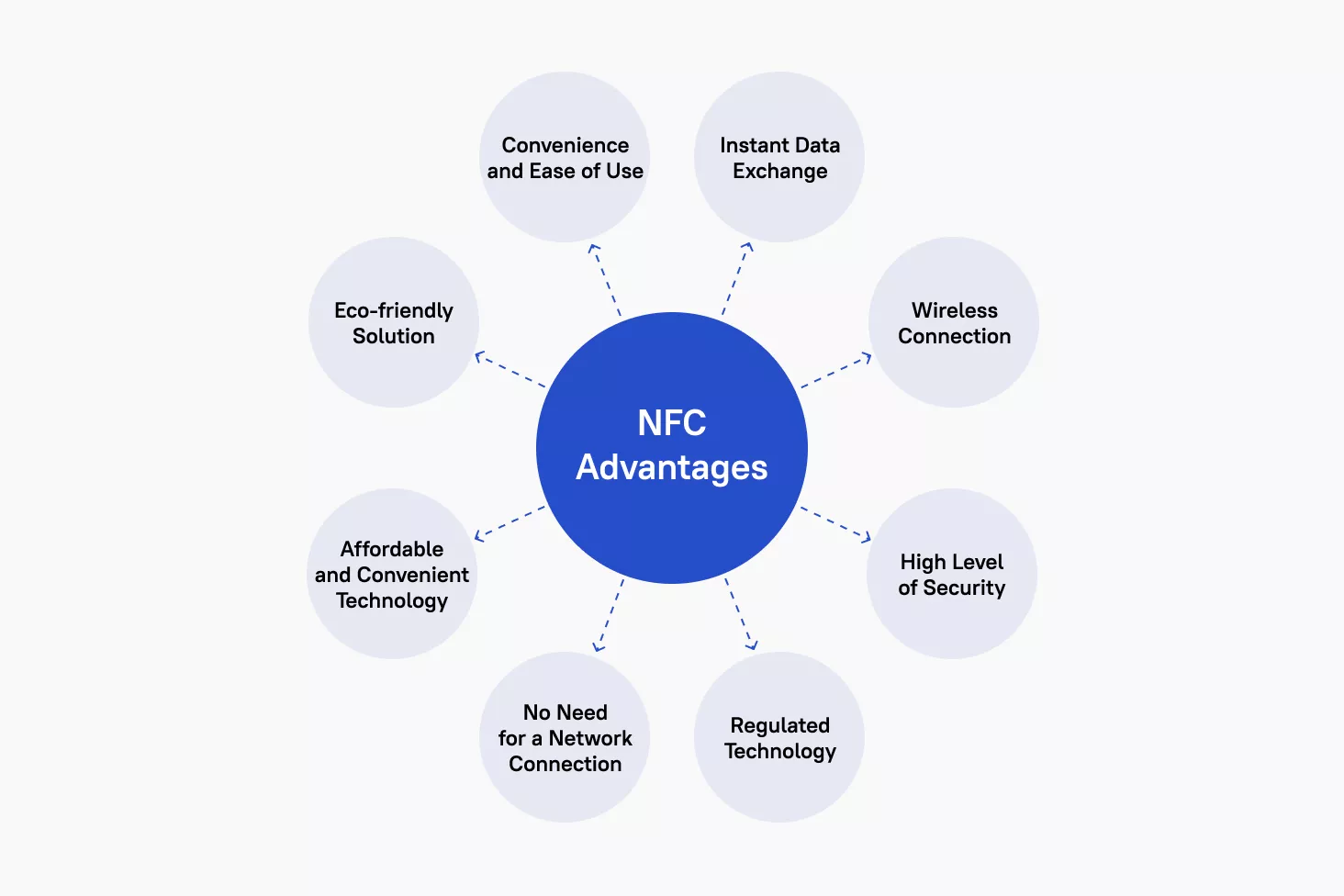 Instant Data Exchange
The connection speed between devices is approximately 0.2 seconds. That is why we decided to use the interface in the contactless payment system - it's fast.
Wireless Connection
For example, pair your smartphone with NFC-enabled headphones and speakers. The connection takes place literally in one touch, it is safe, and the audio is transmitted without interference. Minus one - too small a range.
High Level of Security
NFC uses encryption to keep data safe. For example, applications such as Apple Pay, use NFC and protect your data. The NFC chip is turned into a signal jammer.
No Need for a Network Connection
NFC tags work without WiFi, 4G, 5G, or LTE connectivity. It means users can transfer data, pay, access areas, and use NFC-enabled services while there is no internet connection.
How Businesses Are Using NFC Tags?
It is easy to increase profits and keep the customer's habit of paying for purchases by phone. NFC has much more benefits.
Contactless Payments
The microchip works on the principle of PAY services: one-touch payment with a smartphone. By providing customers with a similar payment method, you will solve the problem of customers not having a bank card.
Data Transfer
You can select multiple data and tap on Android Beam in the Share menu. Data transfer is possible via Bluetooth or Wi-Fi.
Ticketing
NFC-enabled devices can be used for concert tickets, movie shows, or even transit. Many businesses and even public transportation services have added NFC technology to their operations.
Identification and Access Control
NFC is used for identifying team members who access select areas. People can use their devices to open doors at the office - no need access card.
Conclusion
In this blog post, we looked through what is NFC and how does it work, and ways to use it. NFC tags are an awesome and cheap technology, and now a lot of smartphones have NFC functions. As an individual, you can try different ways to explore NFC tags. As an entrepreneur, you can think about how to use NFC technology to make your products stand out, if you are interested, just contact us.