A Stfalcon Quick Insight on Digitalization farm trends

The growing population of the Earth makes innovations in the agricultural sphere more important than ever before and going digital is a means of meeting the challenges arising in the sphere. They are variable and the growing costs of supplies, labor shortage, and consumer preferences changes and requirements for sustainability and transparency are just a few to mention.
Agricultural technology has witnessed a huge investment increase in the last decade. The major innovations are in the sphere of greenhouses and livestock farms, which are becoming tech-heavy, using automated control systems and modern software.
Let's now take the point of emerging trends in agricultural technology further.
Modern trends in agriculture
Precision agriculture is a new approach where technology is an indispensable part of farming. Technologies help farmers to control crop farming variables such as moisture levels, soil conditions, pest stress, and micro-climates. Due to the fact that precision agriculture businesses have huge opportunities for growth, innovative more flexible and faster startups are emerging in the sphere. The precision agriculture market is predicted to reach about 45 billion USD by 2025.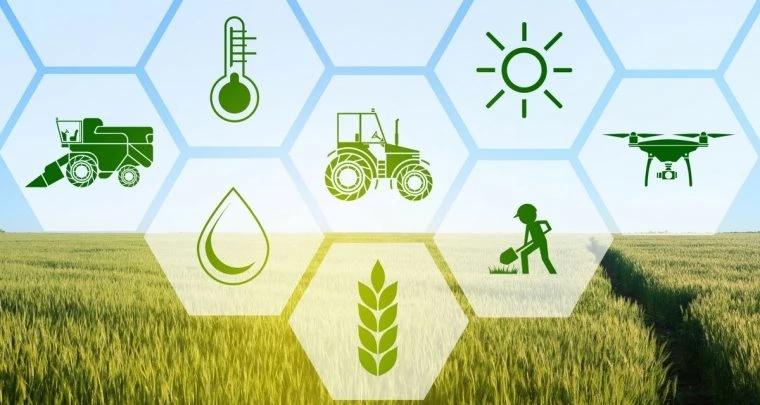 Large platform solutions
"We're also seeing a rise in technology-enabled food production through the deployment of… data management in farming. This technology is providing advanced analytics, helping farmers to manage their land for the future." Emma Weston, CEO and Co-Founder of AgriDigital
One of the aspects of the shift to digital agriculture is developing an efficient, site-adapted style of farming. It will involve the interaction of various segments and heir intelligent handling. The use of big data and its proper analytics are offering attractive opportunities for the purpose. The digitization, however, should go hand in hand with small tech start-ups developing groundbreaking technologies. It may be drone-based surveillance, robotics, satellite imaging, decision support, Farmers Business Network.
It's reasonable to bundle technologies for creating all-inclusive digital platforms, which will facilitate end-to-end services for growers—from selecting harvests, through optimizing planting times and seeding rates, as well as fertilizer application and growth-regulator regimes based on plants' actual needs and harvesting crops at the ideal time.
The data received may be compared to the similar info gathered by the other growers. Then the best results and experience may be shared with the farmers working in similar conditions.
Another example of the all-encompassing solution may be a platform, which allows tracking food from farm to table. It may help in detecting allergens and pathogens before they reach customers. Such developments go in tie connection to the supply chain enhancements as well.
Naturally, the investments for developing such platforms should be huge. At the state level thy may be ranging somewhere between 15-20 billion US dollars. Yet, lots of counties have already made the digitization of agriculture their official national strategy and it means the investments will be guaranteed. The large challenge today for the industry and the governments is to create a proper roadmap and to arrange the due development activities. Meanwhile the entrepreneurs and startups should be alert to take their place in this game-changing system and propose their competencies beyond the traditional business at the right time.
Social networks
«We will witness more and more farms being affected by the generational change. Younger, more technically fluent, generations will take place and start running their farms. Those generations are also digital natives — they will likely look for ways to incorporate technology so they can improve their production and profitability.» Vibor Cipan, CEO and co-founder of Point Jupiter
The digital revolution is underway and social networks are already becoming the starting point for engagement for agricultural producers. The main reason for social media usage is its mass influence.
Farmers get a voice and an opportunity to connect with customers directly through SMM. Besides, it's a chance to benefit from personal mass communication. Certain agricultural groups on Facebook already reach hundreds of thousands of users. Established by the representatives of a young and progressive generation of farmers they facilitate sharing tips, experience, successful stories and encouragement in the communities.
Mobile agriculture apps
«A major trend shaping the agriculture sector is automation, resulting in the growth and adoption of digital tools including farm management software, digital grain marketing services, and agronomic decision-making models that use various data sources and various levels of integration.» Darcy Pawlik, VP Global Agriculture at Understory, Inc.
Agriculture mobile apps also show significant potential for the modernization and optimization of the sector.
Mobile solutions, can, for instance, help to increase income through supply and distribution transaction costs reducing, traceability and quality criteria improving for consumers. The number and the variety of smartphone mobile apps in agriculture is constantly growing and to succeed you have just find the right niche.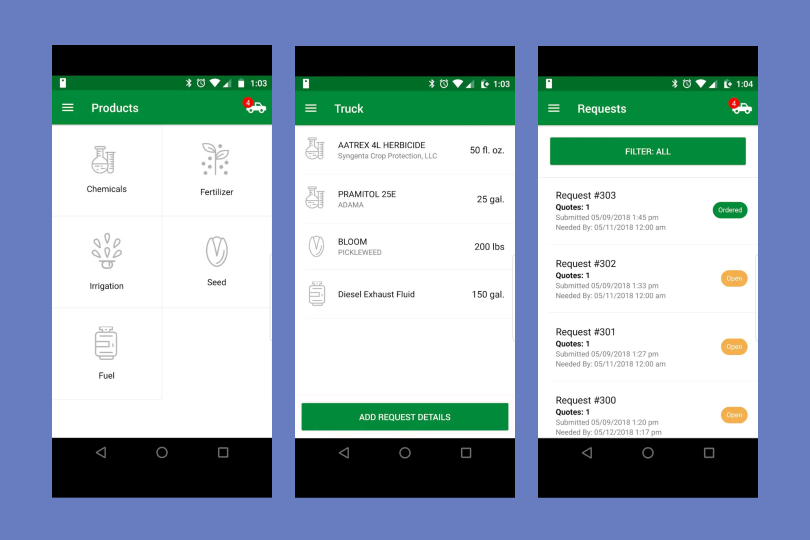 Let's in short review the best farming apps existing in the market already, just to see the opportunities and the potential behind them.
Best farming apps 2019
Conclusion
Taking into consideration the wide opportunities and expanding prospects in the agricultural sphere, it's quite natural that we can now witness more funding, more collaboration, and more startups on the global stage. In case you are eager to take the chance of entering this fruitful ground with your digital product, this is the right time to do it. Our company will gladly assist you in the matter since we can offer the due digital competence.