How to Hire Blockchain Developers in 2023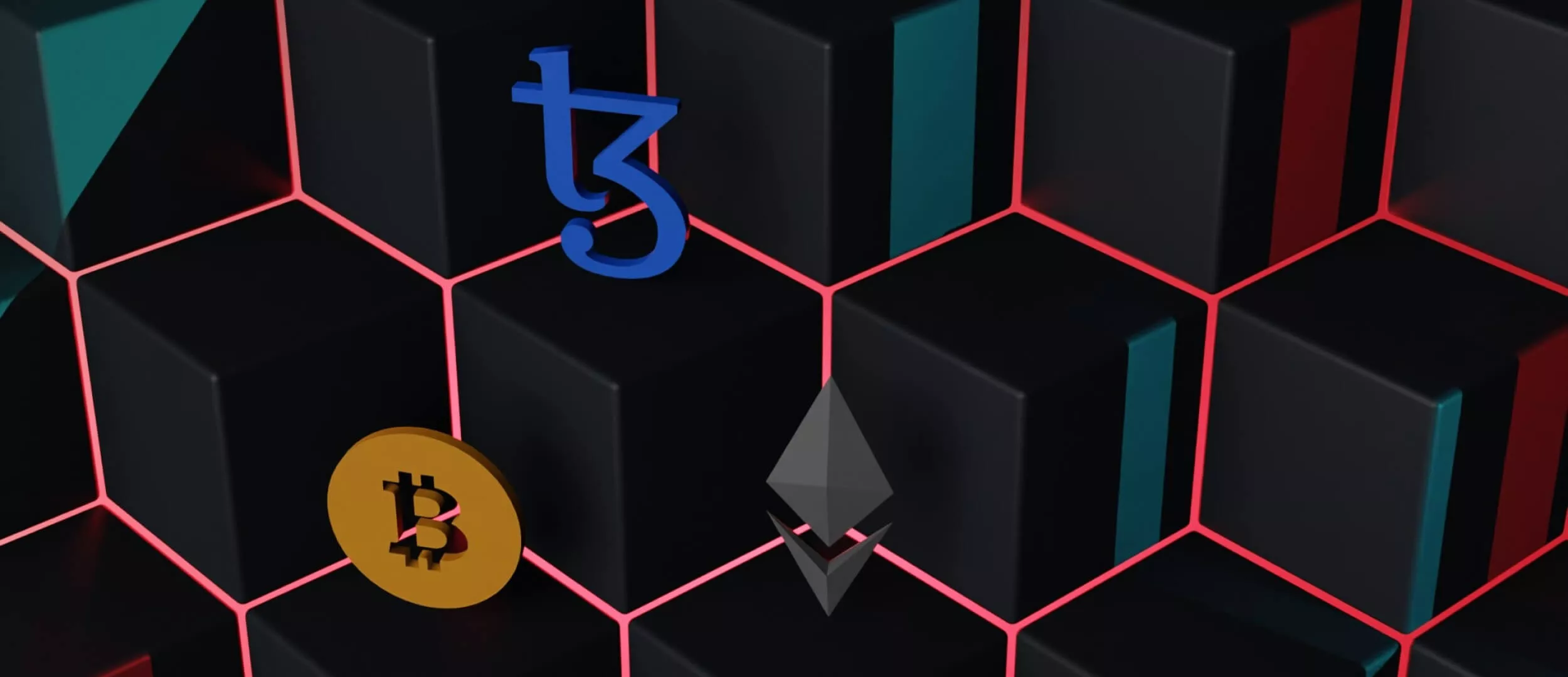 According to Grand View Research, in 2022, the size of the global blockchain technology market constituted $10.02 billion. Till 2030, it's still expected to expand at a CAGR (compound annual growth rate) of almost 88%. The market growth is subject to increasing investments in blockchain technology companies. In May 2021, a blockchain technology provider, Circle Internet Financial Ltd. publicized that it raised $440 million from investors, used for organizational development and market expansion.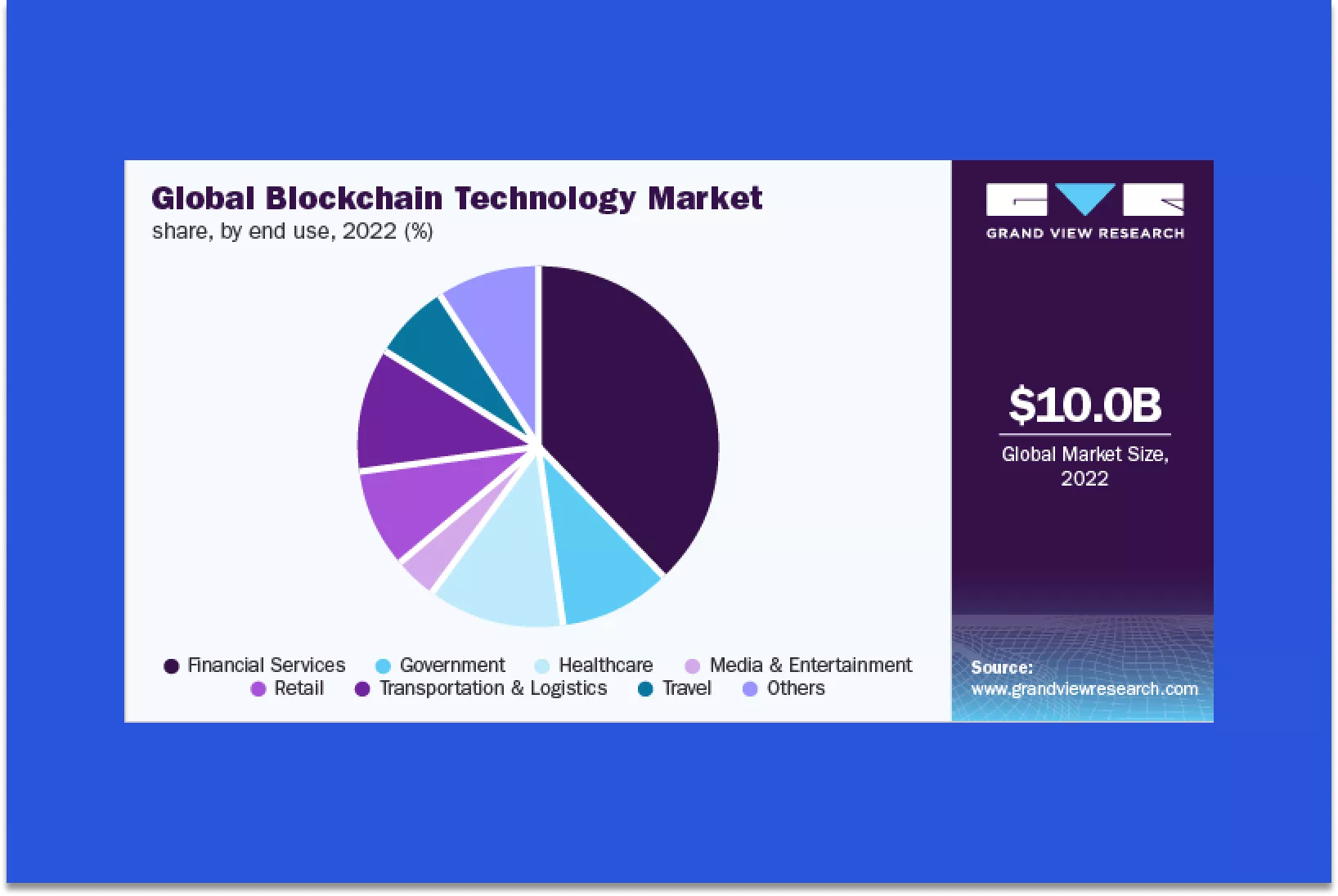 No wonder, worldwide spending on blockchain solutions will grow. The technology provides an extremely secure method of transaction realization and data storage. Since more activities are now moving online, security is a pressing issue. More than that, IoT technology continues to gain acceptance and usage, it also increasingly adopts blockchain technology. Around 50 billion IoT devices are predicted to be in use around the world by 2030, which means greater demand for blockchain and consequently more companies hiring blockchain developers.
However, there are several options for how you can hire blockchain app developers at present, and we are going to discuss them further on, just go on reading. Let's start from the very beginning.

Who Is a Blockchain Developer?
Blockchain is an append-only peer-to-peer network based on a secure distributed cryptographical ledger. A blockchain developer is someone able to apply this technology to solve business goals and meet end-user requirements. In most cases when speaking about a blockchain expert we think of a specialist who can design, craft, and maintain blockchain solutions and systems.
However, there are two types of blockchain developers, and they are different. They are core and software blockchain developers. The first design protocols, architecture, and security of a blockchain system and maintain the blockchains that already exist. Blockchain software developers in their turn create new blockchain solutions, dapps (decentralized applications), web apps, games, NFTs, and so on. The latter is responsible for the products' UI/UX design, front and back-end development, features, and maintenance.
When looking for blockchain developers for hire, you should consider what you exactly need and the technology required. Then select the specialist with a relevant skill set and expertise.
Blockchain Developers Types by Skills and Expertise
Blockchain developer jobs differ based on the programming language used or the type of product created. Let's get straight into it.
Solidity developer
These blockchain specialists use the Solidity programming language and can create solutions based on it. Solidity developers are required for EVM-compatible blockchain projects like Binance Smart Chain, Ethereum, or Polygon.
Rust developer
This language of programming covers the needs of projects based on Solana, NEAR protocol, Polkadot, etc. That's why it's critical to define the blockchain your project will ground on, and then search for a developer based on your technical needs.
Ethereum developer
Ethereum is the golden standard of project development on blockchain technology. In case you are going to work with it, look for a programmer having profound expertise with Ethereum and an in-depth understanding of Solidity.
Some other categories of experts you may be looking for are:
Blockchain solution architect
This is a high-level specialist, responsible for the dapp architecture creation and integration. It's critical for the smooth and secure operation of the applications based on the blockchain platform, so such a specialist is vital for any blockchain development team.
DeFi coder
There are developers dedicatedly to working with Decentralized Finance solutions. Their expertise may cover liquidity protocols, DeFi protocols, DEXs (decentralized exchanges), farming and liquidity pools, staking startup solutions, and much more.
NFT developer
Coders specialized in NFT creation and with in-depth knowledge of ERC 1155, 4907, and 721 can benefit your NFT-related project if you are eager to implement this innovation.
Blockchain game creator
This kind of expert can enhance your game through tokenomics integration. They do not develop games but just integrate blockchain architecture in an already developed game to make it operate in the blockchain space.
No matter what type of specialist you are looking for, every blockchain coder should have:
A profound understanding of blockchain technology,
Knowledge of smart contract logic and coding experience,
A good mastery of at least one high-level programming language, the more the better,
Experience in dealing with distributed systems and peer-to-peer networking.
Exceptional cryptography and cybersecurity knowledge.
Then you should ensure such a developer can configure a solution you have in mind based on your technical requirements. But what about the costs? Let's look at the average salaries in a blockchain development segment.
Blockchain Developers Salary
In light of blockchain popularity and the increasing adoption of the technology, the demand for blockchain engineers and developers is soaring. Naturally, the salaries of such specialists, according to CNBC, are skyrocketing, being comparable with Artificial Intelligence (AI) developers.
The salary of developers depends on their skill set, level of expertise, and region. According to seniority, the programmers are classified into juniors, middles, and seniors. Naturally, their salaries differ. We've researched blockchain developers' salaries based on the country in detail, below you can find a median for each region, all sums are in US dollars.
The average annual salary of a blockchain developer in the US is over $104600, while in Canada it's around $70000.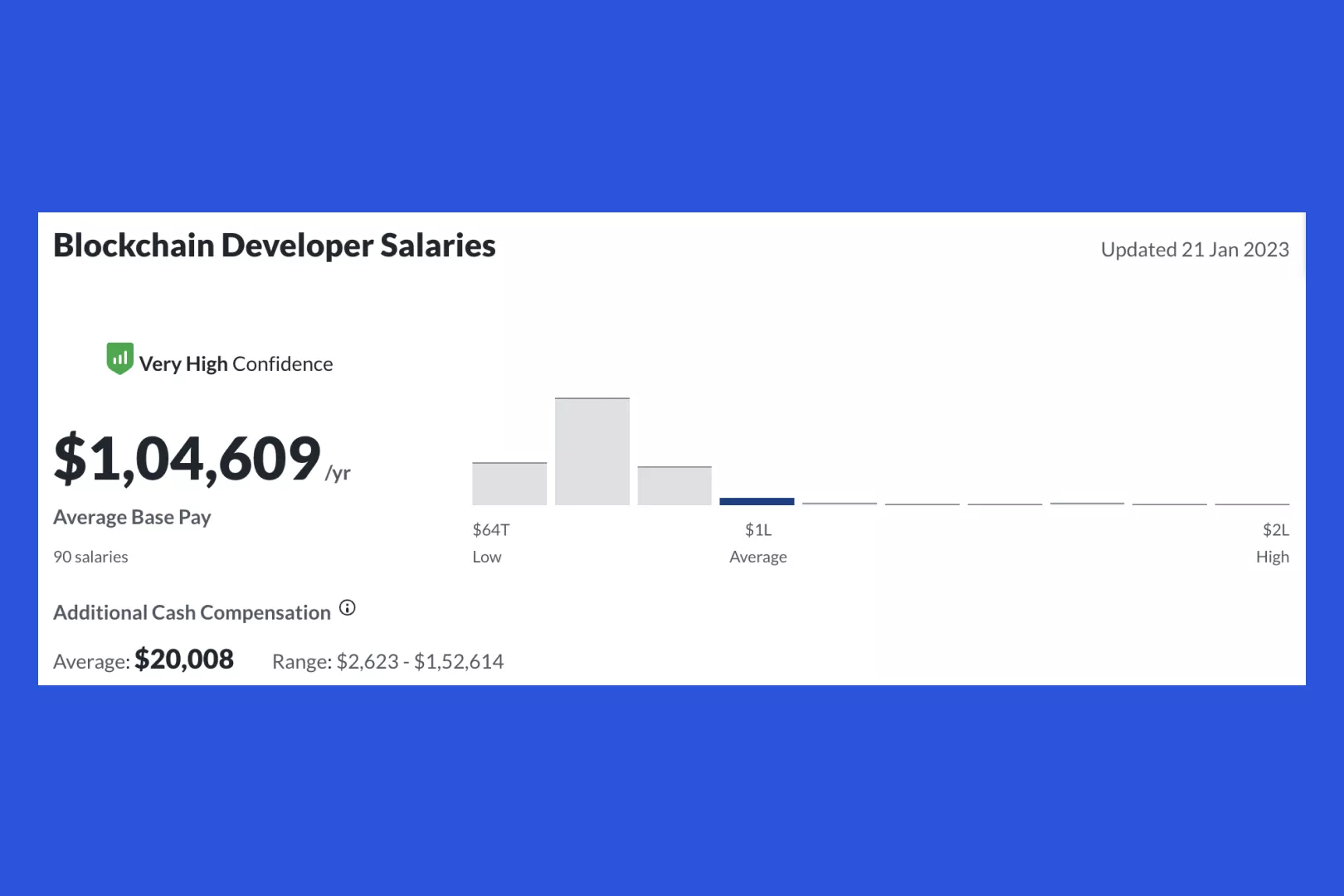 In the United Kingdom, it is over $65000. In West European Germany a blockchain developer can expect around $77000, while in Switzerland it's higher – somewhere about $80300. The average annual salary of a blockchain developer in Singapore is around $60000, in China, it's $58600. Only India demonstrates an amazingly low level of compensation to blockchain developers of just $8500 a year.
An ideal region to hire a blockchain developer is Eastern Europe. According to DOU, an average blockchain developer's salary in Ukraine is still below $50000. However, Ukrainian developers outperformed their American and Israeli counterparts in 2021, so you can hire professionals in Ukraine at a significantly lower cost without sacrificing the quality of your product. Let's check what the options are.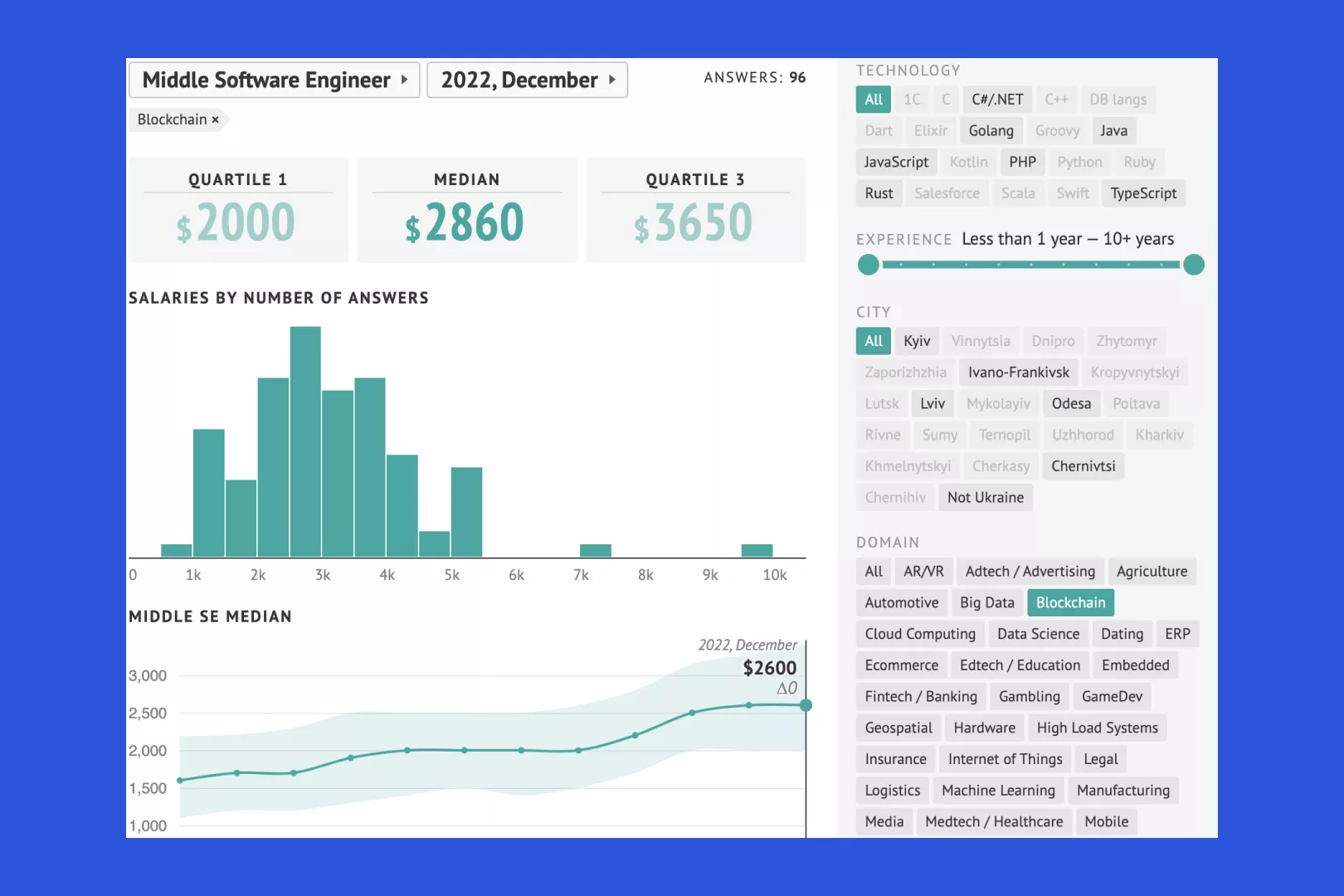 Ways to Hire Blockchain Developers for Your Projects
If you consider a blockchain development project and want to get something in the market, you have several options to hire your team. We are going to discuss the pros and cons of each variant.
In-House blockchain developers
An in-house team means working under the roof of your company. The obvious advantages of this approach are full-time availability and the commitment of the developers to your project. At the same time, the specialists quickly integrate into your company and share your corporate culture and values.
The drawback of this type of cooperation is the high costs and much time needed. What is more, you are restricted by your location; you need to find developers in your region. Otherwise, you will have extra costs for relocation.
Your regular expenditures for an in-house team will comprise office space and equipment costs, expenses for software, training, salaries, taxes, and operational charges.
Freelancers
Hiring freelance developers is a feasible option because you can look for a specialist anywhere, you can pay him for only the work done and get the solution you need. Lots of real experts prefer to stay independent and work in their schedule, that's where you can feel a lack of control and have certain communication issues.
However, if you manage to find a good specialist, you will get a good job done, usually at a lower cost. Freelancers often charge lower rates than agencies. Another advantage of hiring a freelancer is that you can find a developer with a specific tech stack, no matter where he is.
Development Company
Outsourcing a development project to a company can be a win-win situation if you do not have the expertise for blockchain product development. Then you can cooperate with a dedicated team formed by the company for your project. It's just one of the options, but the most favorable. A ready-made team with a full tech stack necessary for your project can work from anywhere but be exclusively dedicated to your task.
The usually mentioned drawback of the overseas team is the time difference. However, it can be easily solved with the right management, planning, and scheduling. Communication issues can also become a sensitive issue, but try to hire people from a similar culture and with similar values to minimize them. The cost of the team's maintenance may be higher compared to freelance teams because of the provider's fee. Nevertheless, you save on legal, taxation, or social package expenses as well as on office, hardware, and software.
So with a company, you will surely reduce your blockchain development costs and access field-specific expertise. If you are looking for a blockchain development partner for your project, read a little about how we form teams at Stfalcon. With us, you are sure to get a competent blockchain developer team that can help you achieve your goals and drive growth for your business.
How We Select Candidates for Blockchain Developer Jobs at Stfalcon
At Stfalcon, we are very careful with our employees. Our company is already a kind of a family. That's why we need to share the same values and the same approach to project development. Hiring new candidates, we keep to the following procedure:
1 Step – Our recruiter checks the values of the team.
2 Step – English level checking follows if it's necessary for the project.
3 Step – Stfalcon's technical lead finds out the tech stack and the level а expertise of each candidate. If the decision is positive, we sign an NDA with every employee. So, you may be sure your data is confidential.
As a company, we are responsible for our developers' comfort, because it allows them to work quickly, efficiently, and with minimum errors. To eliminate even the slightest ones a team lead conducts a code review. That's why you get the blockchain developer job properly done.
Stfalcon has all kinds of specialists, and we are ready to form a team for your exclusive needs, or you can choose the one that is already formed.
Below, you can find Stfalcon's case of a successful software development kit creation for a crypto wallet.
Stfalcon Blockchain Development Case
Our company got a project to create an SDK for a crypto wallet for both Android and IOS mobile platforms.
We used Kotlin Multiplatform technology to use the same business models, processes, queries, internal data processing, and encryption for both target platforms. Combining business logic has allowed us to use the same methods to obtain and present data and to identically handle errors and intermediate states on iOS and Android.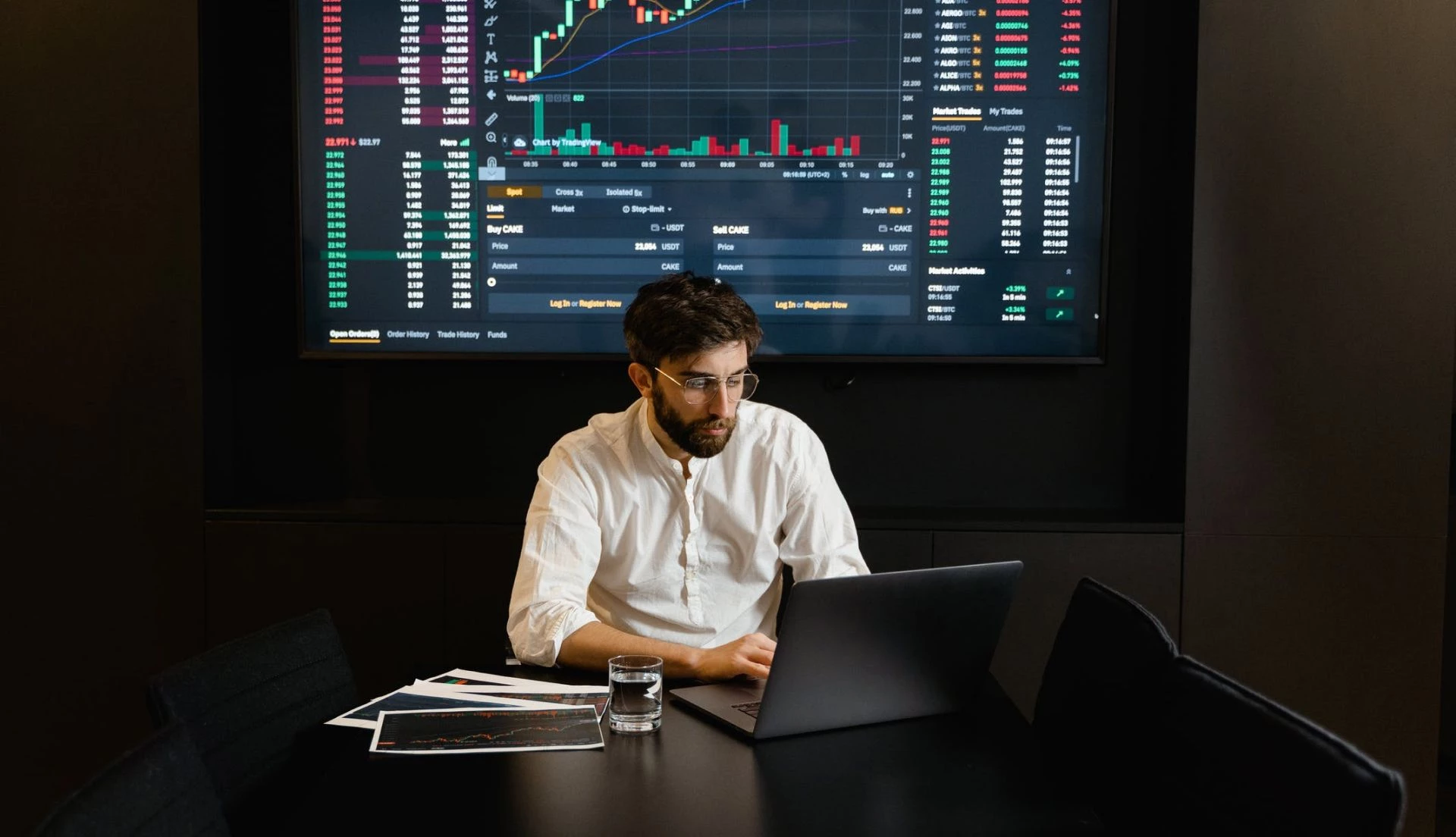 Read the full case study
The most important flow was SDK architecture development, we used Clear Architecture with Interactors and had to separate the platform-dependent code into a separate submodule with external implementation directly on the platforms.
Integration of the SDK on the platform was difficult because the principle of generating and exporting the iOS module has changed in a new version of Kotlin, but we solved it. More details are here.
Stfalcon developed a ready-to-use SDK that integrates business logic and encapsulates all internal processes responsible for encryption, storage, and authorization.
Final Thoughts
Some people divide development companies and blockchain companies, but at Stfalcon our expertise allows us to successfully realize blockchain projects. So, if you are looking out for an expert blockchain development team, feel free to contact us for a detailed discussion. We are always ready to take on a new challenge.