Best Health Insurance Software: Top Picks in 2024 for Agents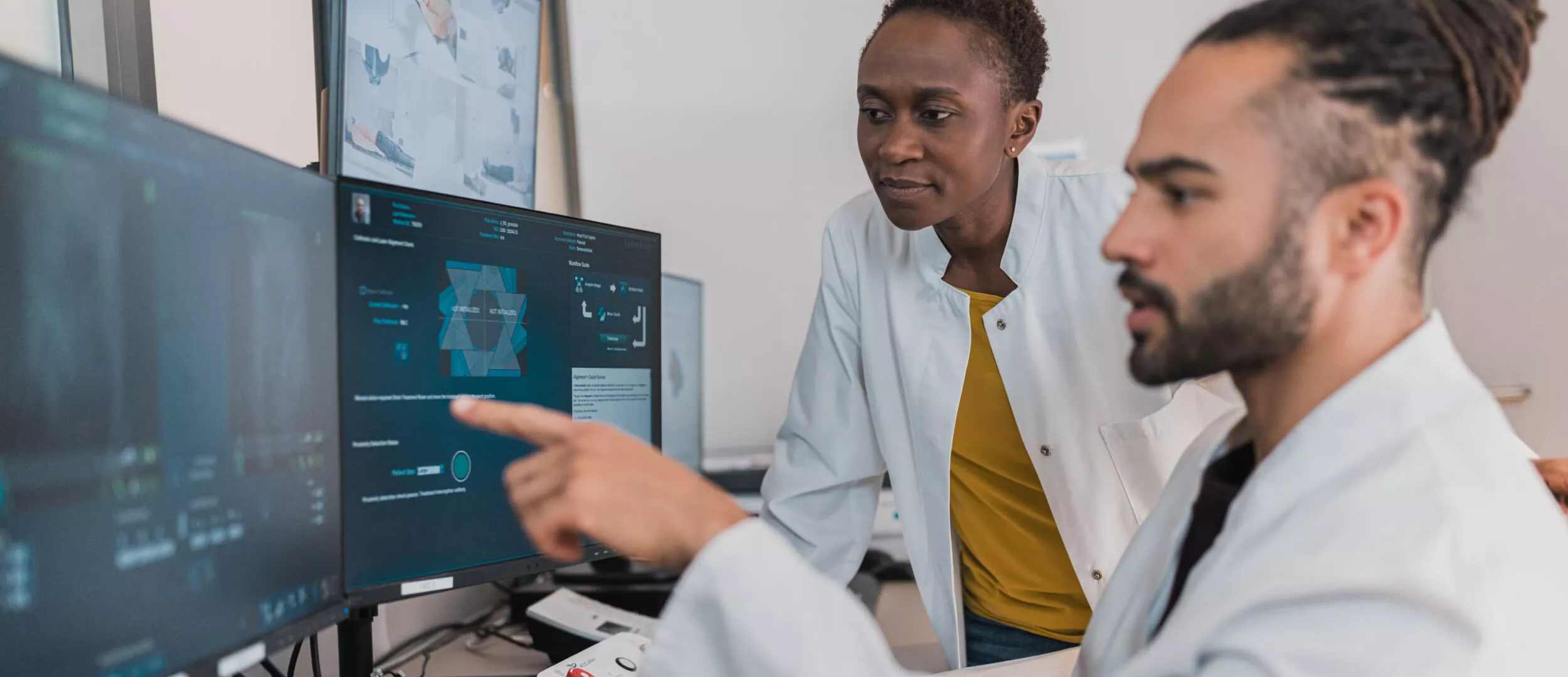 In the world of health insurance, every second counts and every relationship matters. Here, agents are the navigators of an intricate journey toward coverage and care. To remain competitive in the insurance industry, agents must be efficient and communicate with clients. They also require access to the latest technology and software tools. These tools can streamline your operations and help you stay ahead of the curve.
One of the most important tools in your arsenal is health insurance software for agents. With the right software, you can manage your clients' policies, claims, and other important information with ease. Plus, you can stay up-to-date with the latest industry trends and regulations. This ensures that you are always providing the best possible service to your clients.
In this post, we'll explore the top 5 health insurance software options for agents in 2024. Each software has its own unique features and benefits. They can help you navigate the complex landscape of the insurance industry.
What Is Health Insurance Software?
Health insurance software is a type of software that helps insurance agents manage their businesses. It can automate tasks, track leads and sales, and provide access to important data.
This tool also assists the agents in charting the most suitable course for their clients. It empowers them to navigate the choppy waters of administrative tasks and policy comparisons.
However, this innovative software isn't just about streamlining processes. It's about elevating the entire health insurance experience for agents and their valued clients.

TOP 5 Health Insurance Software for Agents in 2024
AgencyBloc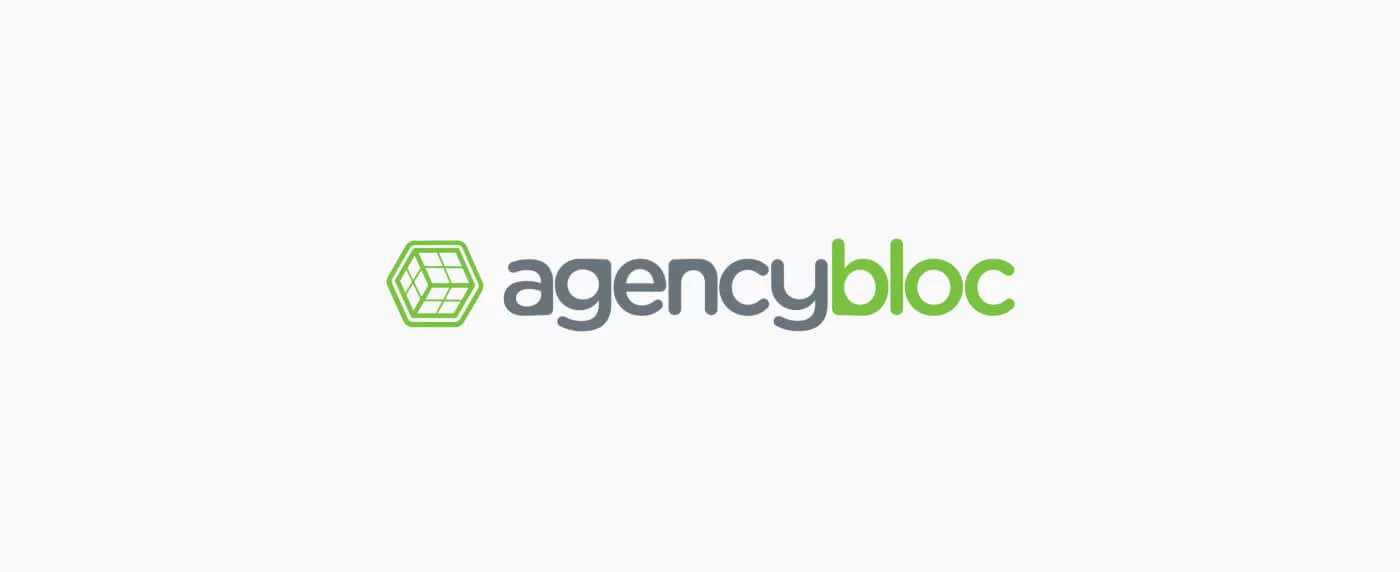 AgencyBloc is a cloud-based CRM software designed for the health insurance industry. When it comes to effective client management, this software stands out. Its intuitive interface offers an organized platform to manage client base, policy renewals, and claims. It results in streamlining your workflow.
With automated communication, task scheduling, and detailed reporting, AgencyBloc streamlines administrative tasks. This allows agents to focus on building lasting relationships with clients.
The software's secure document storage ensures that sensitive client information remains protected. It also maintains compliance with industry regulations.
Some of the critical features of AgencyBloc include:
Contact management. Store and track contact information for clients, leads, and prospects.
Lead management. Create and manage lead generation campaigns, track lead activity, and prioritize leads.
Commission management. Track commissions earned or missed and reconcile them with your carrier statements.
Policy management. AgencyBloc helps you manage your policies from start to finish. You can create new policies, track renewals, and generate reports on your policy portfolio.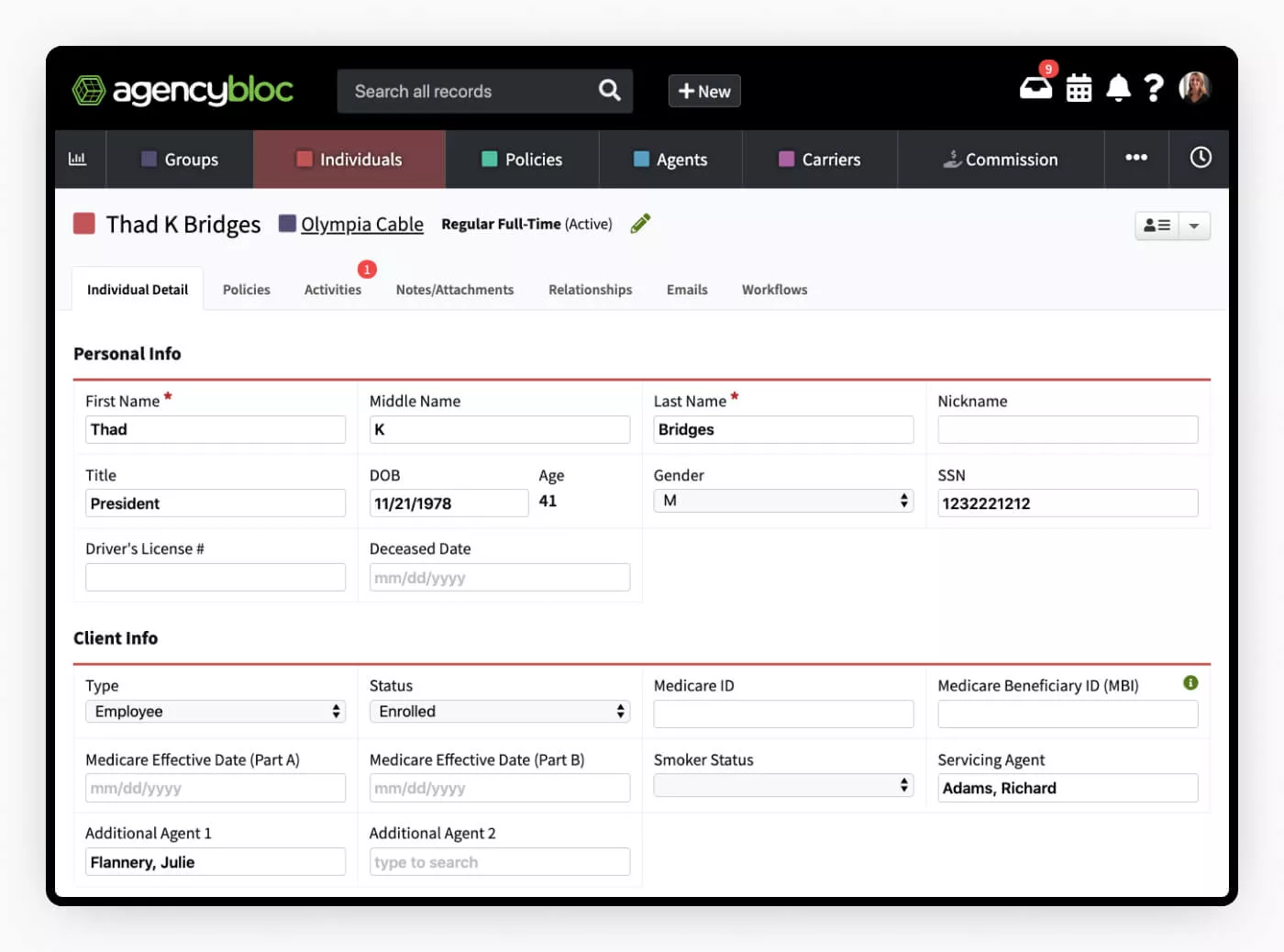 Indio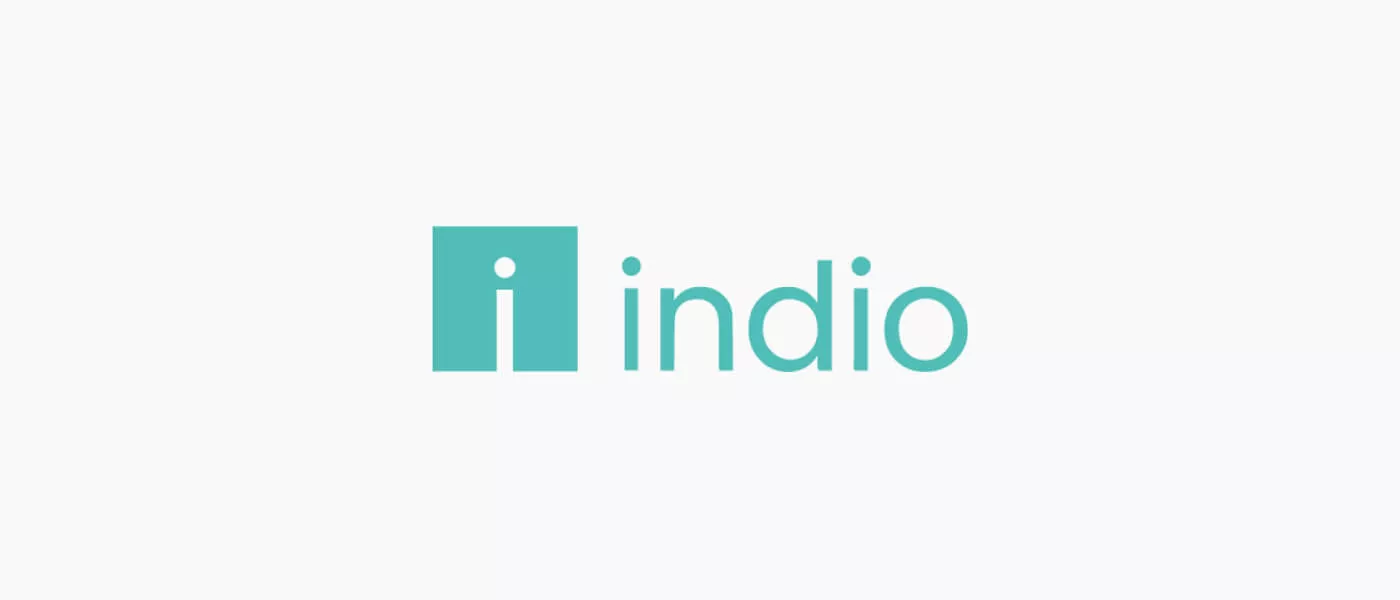 Indio takes the hassle out of paperwork. It provides agents with a digital solution for client onboarding and data collection. This software offers customizable insurance application forms. They allow agents to gather accurate client information efficiently.
This software for health insurance agents and brokers has a schedule workbook feature. With it, you can upload existing schedule workbook data into the portal. Thus, you'll turn your client's schedule data into an interactive online table.
With Indio, agents can eliminate manual data entry, reduce errors, and speed up the policy application process.
Here are some of the benefits of using Indio health insurance software:
Fast, simple, and easy application and renewal process. Indio's "smart" forms are designed to be easy to use, even for clients who are not tech-savvy.
A vast library of forms. It includes supplemental carrier forms, ACORD forms, custom agency forms, and business questionnaires.
Schedule workbooks. Collaborate with clients easily by uploading existing schedule workbook data into the portal.
Management system integration. Integrate it with your existing management system. Thus, the information is accurate and up-to-date.
Intelligent activity tracking. Indio keeps you informed of when your clients log into the portal. You can see when they fill out the information, sign forms, and submit data.
E-signature technology. The software uses e-signature technology for your clients to sign forms electronically. This eliminates the need to print, scan, fax, or mail forms.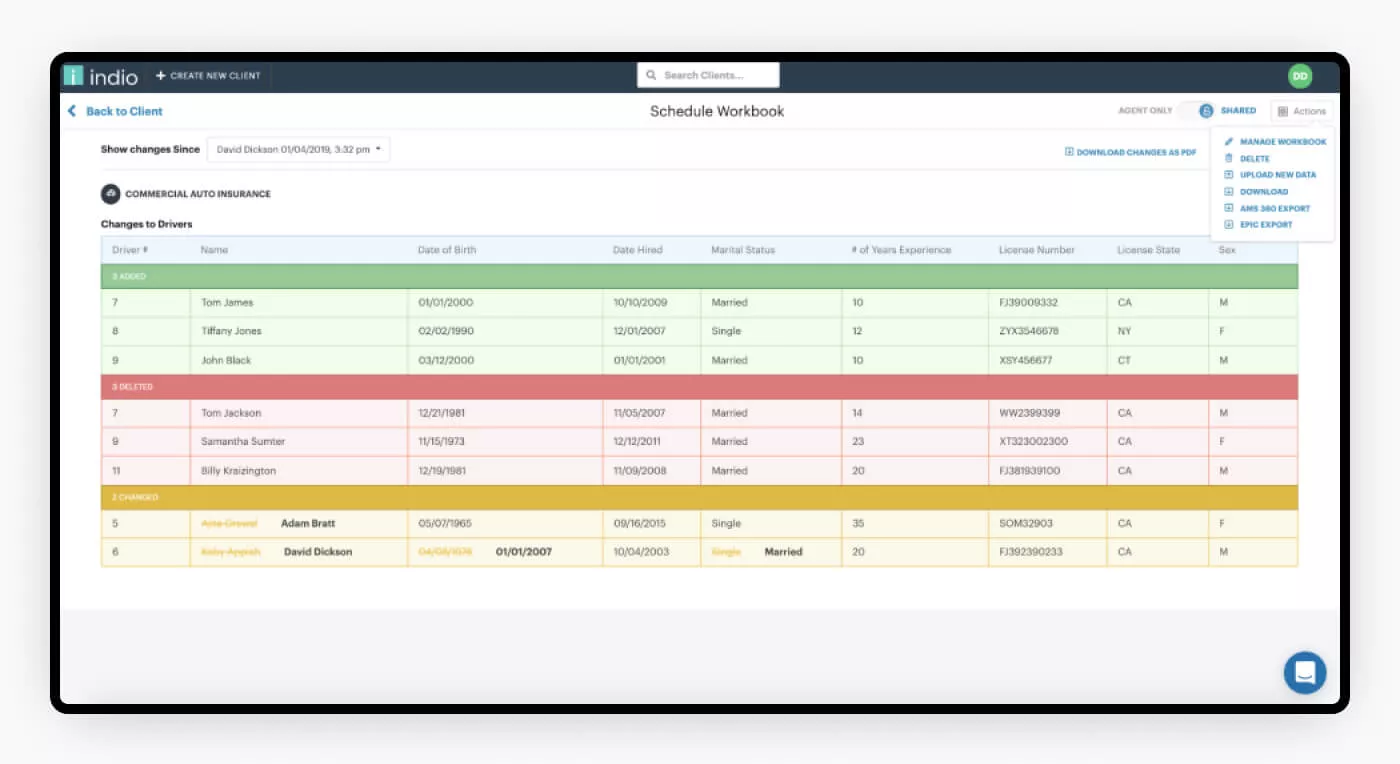 Jenesis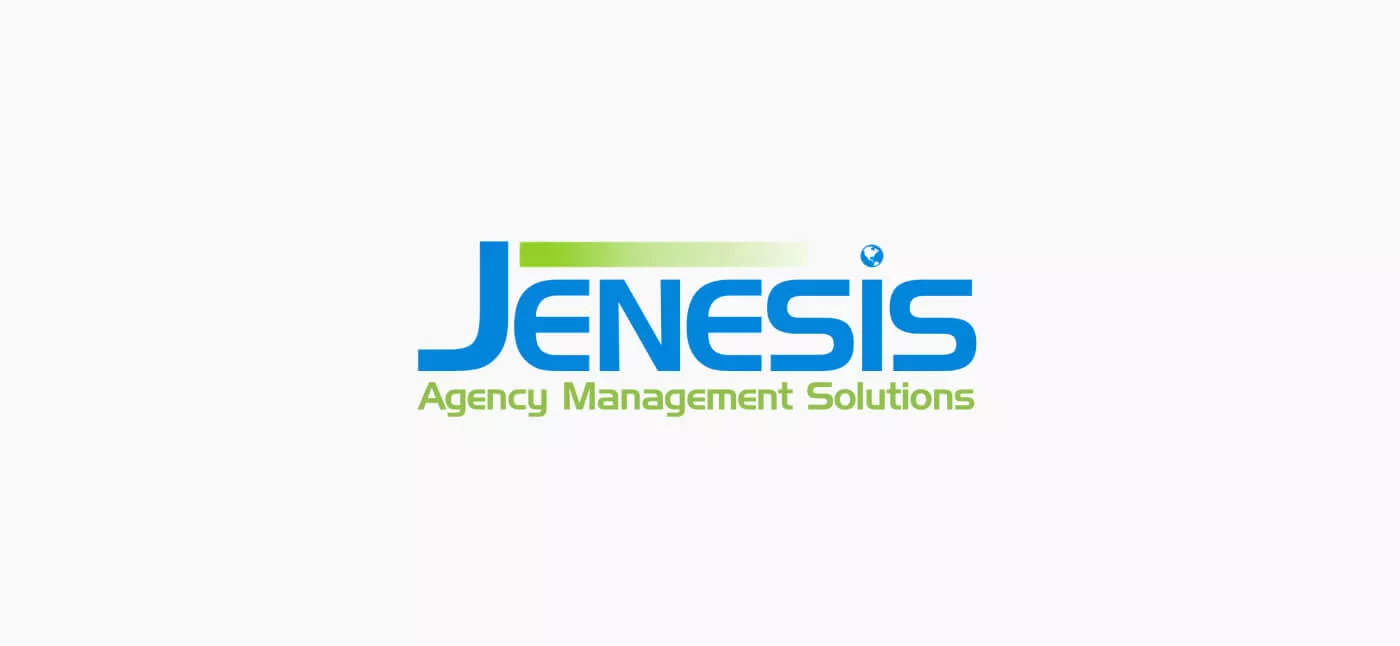 Jenesis is a comprehensive insurance agency management software. It helps businesses streamline their operations, improve efficiency, and provide better customer service.
Jenesis empowers health insurance agents with a robust management system. This system spans the entire insurance lifecycle.
This web-based software offers a wide range of features, including:
Acord forms library. The software comes with a library of commonly used Acord forms. So you can create and manage your insurance policies with ease.
Automated marketing campaigns. Automation is the name of the game when it comes to saving time and boosting revenue. You can automate your marketing campaigns with this software. This will save you time and money while increasing your reach.
2-way emailing and texting. Jenesis allows you to send and receive emails and texts from within the software. So you can stay in touch with your clients and prospects quickly. It's like having a direct line of communication that's both automated and personalized.
VOIP integration. It integrates with VOIP phone systems. This allows you to make and receive calls from within the software.
Accounting. The integration of Jenesis with Quickbooks is a match made in financial heaven. Keep your accounting aligned, and your books balanced with ease. Generate receipts, invoices, and payment detail reports, leaving no room for financial headaches.
Commission manager. For insurance professionals, commission tracking and downloads are paramount. Jenesis helps you track commissions and generate reports.
Unlimited data backup. Jenesis automatically backs up your data. So you can rest assured that your information is safe and secure.
Customizable reports. With them, you can make informed decisions about your business.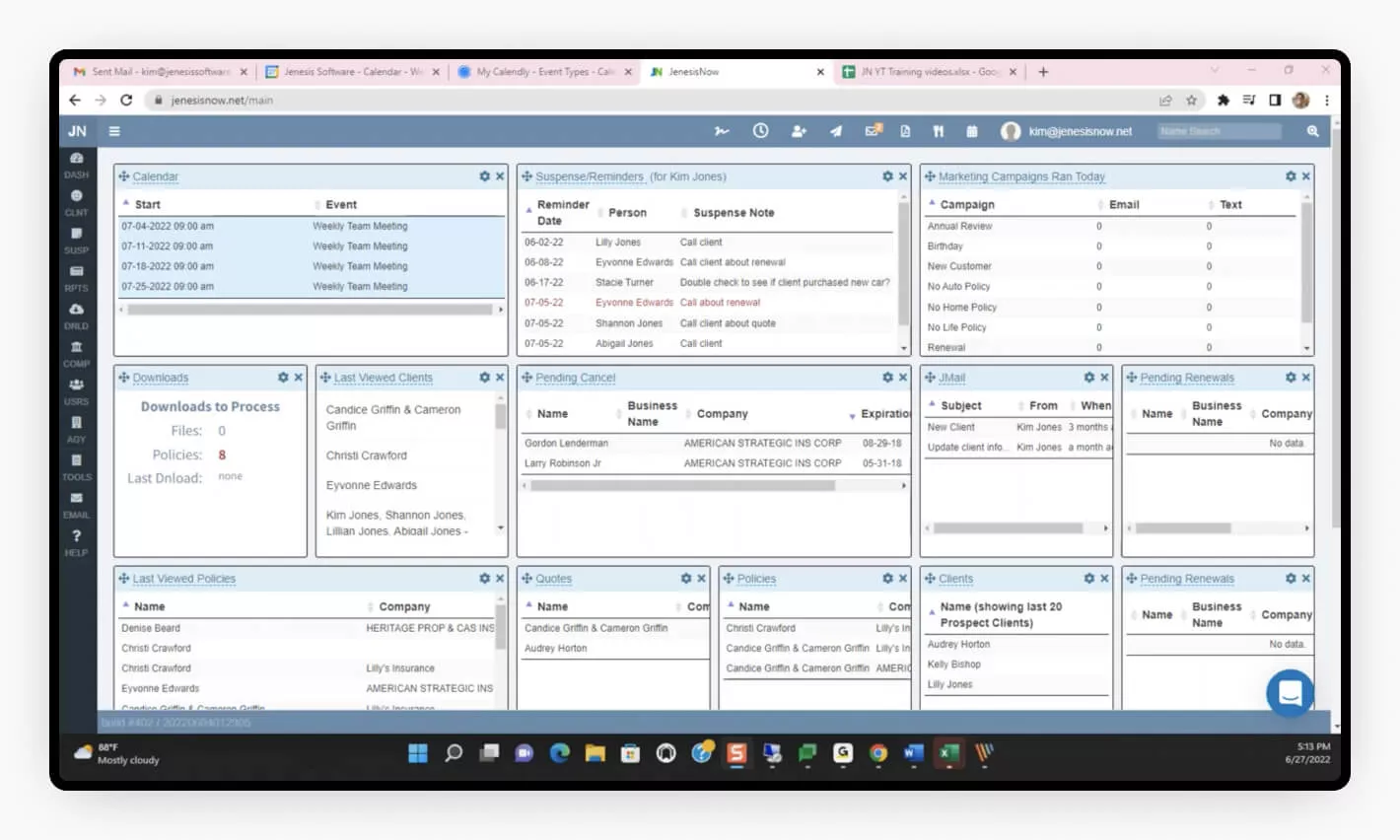 Insly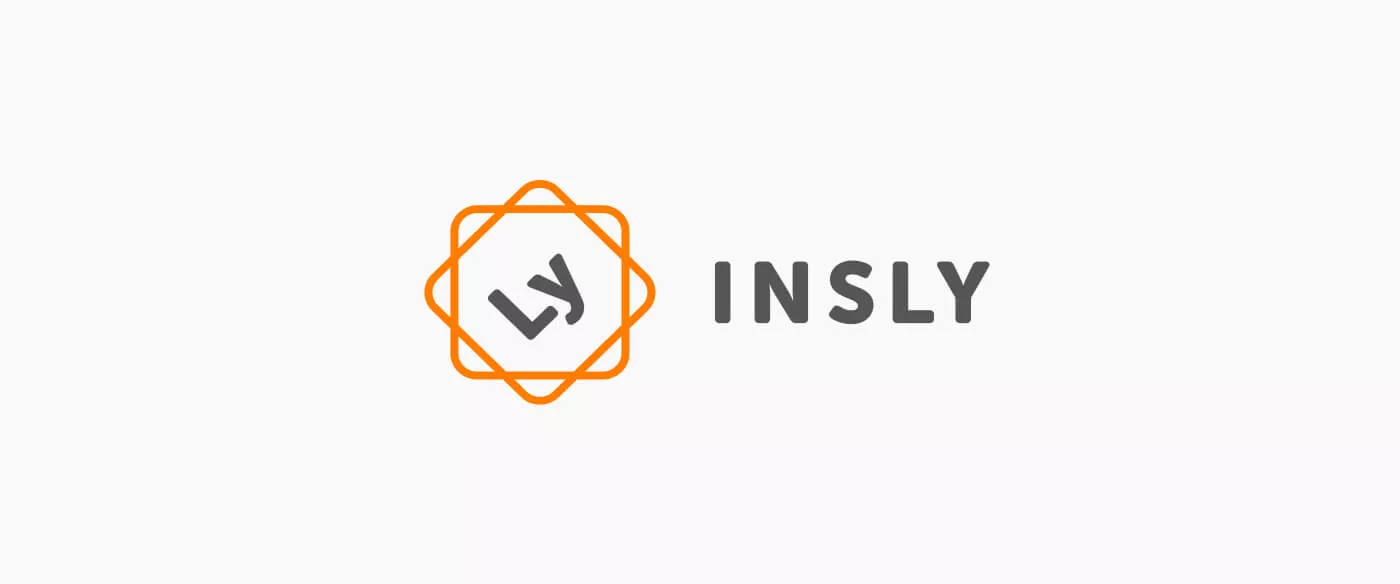 This cloud-based insurance broker software helps businesses streamline their insurance processes. With a comprehensive suite of features, it's designed to seamlessly manage your existing clients.
Low-code product builder. It offers an intuitive platform replete with form creation and workflow management. You can also find there a dynamic rating engine, document template editing, and much more.
Integrations. The software acknowledges the importance of informed decision-making. By integrating third-party data, underwriters can make more informed choices. This leads to smarter policies and increased client satisfaction. The software aligns with your existing tech stack, be it legacy systems or modern tools.
B2C model support. In an era where user experience reigns supreme, Insly steps up to the plate. Through APIs, the entire policy system is exposed. This allows you to craft an unparalleled consumer experience.
Document management. The software simplifies the process of document generation, uploading, and storage. Integration with OneDrive creates a smooth bridge between Insly and your Microsoft applications. This ensures that all your files are always in sync.
Streamlined template updates. Keep your business agile by updating your quote and policy document templates. With this software, the process involves nothing more than uploading a new file. This approach ensures that your documentation remains accurate and in line with your strategies.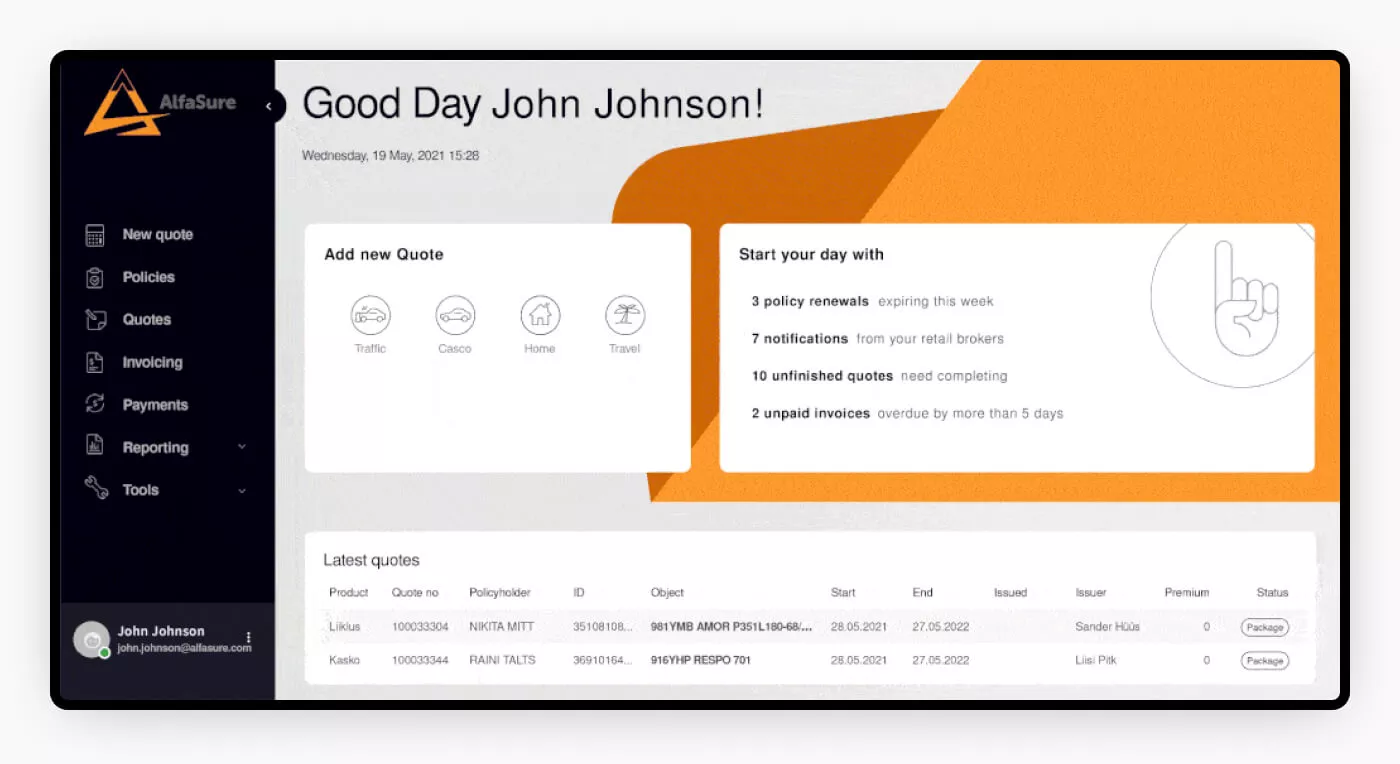 Applied Epic

Applied Epic is more than a management system. It's a strategic partner in driving success for your agency.
Here's a breakdown of some standout features that set Applied Epic apart.
Integrated benefits management. Applied Epic takes a tailored approach to benefits management. It offers dedicated screens to capture essential plan information, coverages, and eligibility criteria. There are even stop loss and TPA information. Additionally, compliance is a breeze with government-mandated summaries of benefits and coverage.
Sales automation and customer relationship management. Applied Epic integrates with CRM to give agencies a 360-degree view of the customers. This information can be used to improve sales and marketing efforts.
Process management and automation. The platform's innovative capabilities allow you to automate and adapt workflows. This ensures consistency across users and locations. With the power of myEpic, the pre-built workflows become your trusty sidekick. They help streamline tasks and maximize productivity.
Policy management. This feature provides real-time access to policy information. As a result, agencies can service their customers quickly and with ease.
Document management. Customization meets simplicity in Applied Epic's document management system. Adapt your document organization process to your agency's guidelines or create your own.
Omnichannel customer service. Customers expect convenience and choice. Applied Epic delivers it by integrating with customer self-service portals and mobile apps. This empowers your customers to access policy information on their terms. As a result, you deliver a personalized and responsive customer experience.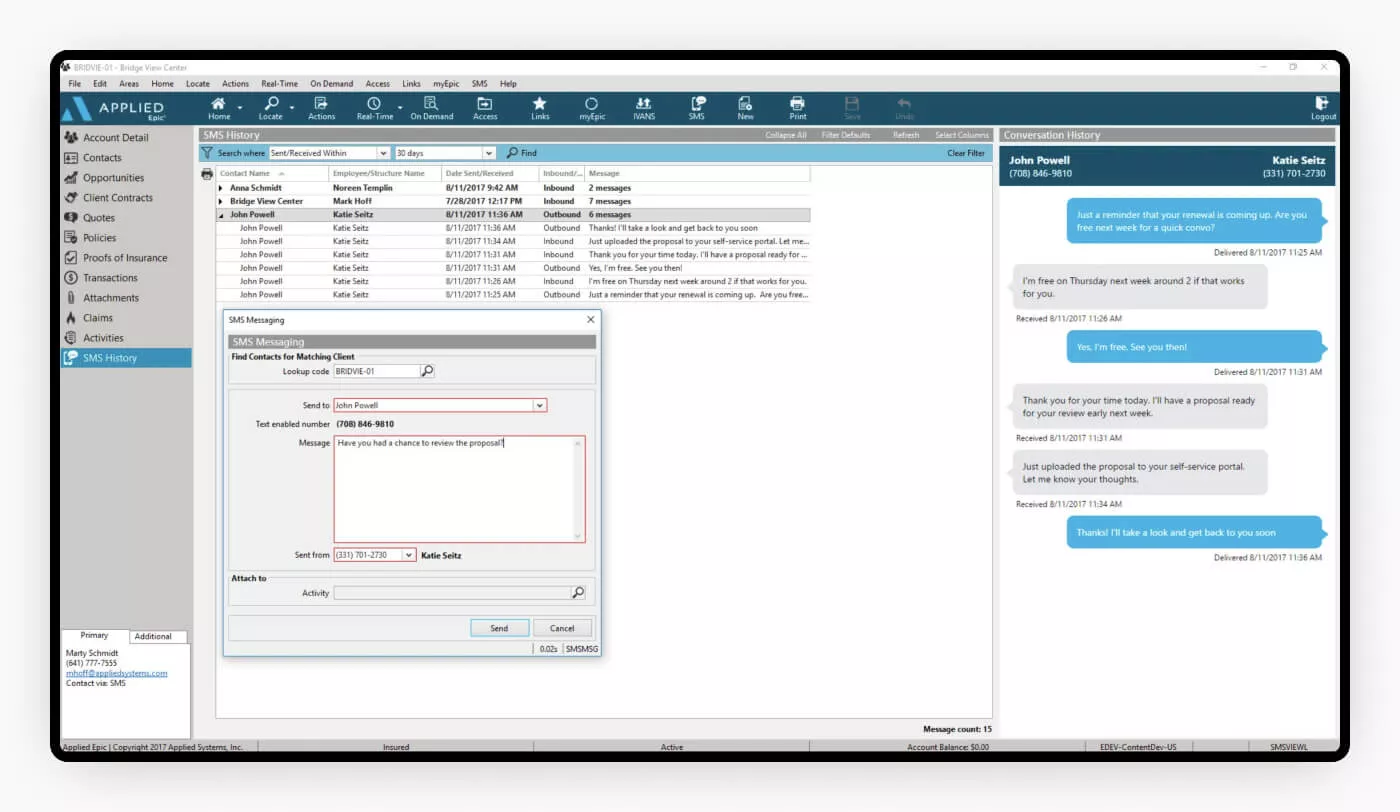 FAQ
Find the answers to popular questions about health insurance software below.
What core features are included in health insurance software?
Health insurance software for agents comes equipped with a comprehensive array of features. They are designed to streamline and enhance the management of health insurance policies. Some core features include:
Client Management. Agents can efficiently organize and manage client information, policies, and claims. This allows agents to offer personalized assistance.
Quoting and comparison. Generate accurate insurance quotes and facilitate easy comparisons of different plans.
Policy management. This feature allows tracking policy details, renewals, and updates in real time. It ensures that clients are always informed about their coverage.
Document management. Store and retrieve important documents, such as policy documents and claim forms. This way, you will provide clients with quick access to essential information.
Claims processing. Streamline the claims process by digitally submitting and tracking claims. Thus, you can reduce paperwork and improve client satisfaction.
Customer relationship management (CRM). This feature helps agents track and manage their customer relationships. It includes contact information, policy history, and notes.
Lead management. Agents can generate and qualify leads. They can also track their progress through the sales pipeline.
Reporting and analytics. This feature provides agents with insights into their sales performance, customer demographics, and marketing campaigns.
Integrations. Many health insurance software platforms integrate with other business systems. These usually are accounting software and customer relationship management (CRM) software.
How to choose the right health insurance software?
Selecting the appropriate health insurance software for agents is a critical decision. It can significantly impact your business's efficiency and customer satisfaction. However, consider developing your own health insurance software.
Off-the-shelf solutions may come with unnecessary features or lack certain functionalities you need. A custom software solution is designed to address your precise needs. You can integrate specialized tools and adapt the software as your agency evolves. All this contributes to enhanced efficiency and customer satisfaction.
To make an informed choice, consider the following factors:
Customization. Look for software that allows you to tailor processes and workflows to align with your agency's unique business practices.
Scalability. Choose software that can accommodate your agency's growth over time. Make sure it can handle increasing volumes of policies and clients.
Integration options. Ensure the software can integrate with your existing systems to avoid data silos. These can be CRM, accounting, or communication tools.
Security measures. Go for software that offers robust data security features. You should safeguard sensitive client information and maintain regulatory compliance.
Vendor reputation. Research the software provider's reputation and read user reviews. It is also important to consider their track record in delivering reliable solutions.
Customer support. Choose a vendor known for responsive customer support. Timely assistance can be crucial in resolving issues and optimizing your software usage.
Cost analysis. Consider the software's pricing structure and whether it aligns with your budget. Factor in both the upfront costs and any ongoing subscription fees.
What do you need to create your own health insurance software?
Opting for a custom solution can offer distinct advantages. Custom health insurance software is tailored to your specific needs. It ensures seamless integration with your existing processes. This solution also offers unique features customized to your agency's requirements.
Creating your own health insurance software involves several key steps:
Identify requirements. Begin by defining the specific features and functionalities you need in your software. Consider aspects like policy management, customer communication, claims processing, and reporting.
Choose a technology stack. Select the appropriate technology stack based on the complexity of your requirements, scalability needs, and your team's expertise. This includes programming languages, frameworks, databases, and more.
Security measures. Implement robust security measures to protect sensitive client information and prevent data breaches. You should adhere to regulatory standards like HIPAA.
Integration. Ensure your software can integrate seamlessly with external systems. These are CRM platforms, payment gateways, and third-party data sources.
Training and support. Provide training to your agents on how to use the software. Offer ongoing support to address any queries or issues that arise.
Summing up
The top 5 health insurance software discussed earlier offer remarkable tools and features. They can streamline operations and enhance customer experience. Partnering with experts becomes crucial when it comes to creating a customized solution that reflects the distinct needs of your agency.
This is where Stfalcon's expertise shines through. With a proven track record in developing custom software, our team has deep technical knowledge and industry insights.
Don't settle for the ordinary. Strive for the extraordinary by entrusting your software development needs to Stfalcon, just contact us, and let's do it.