How to Develop a Telemedicine App: Market Research, Process, Costs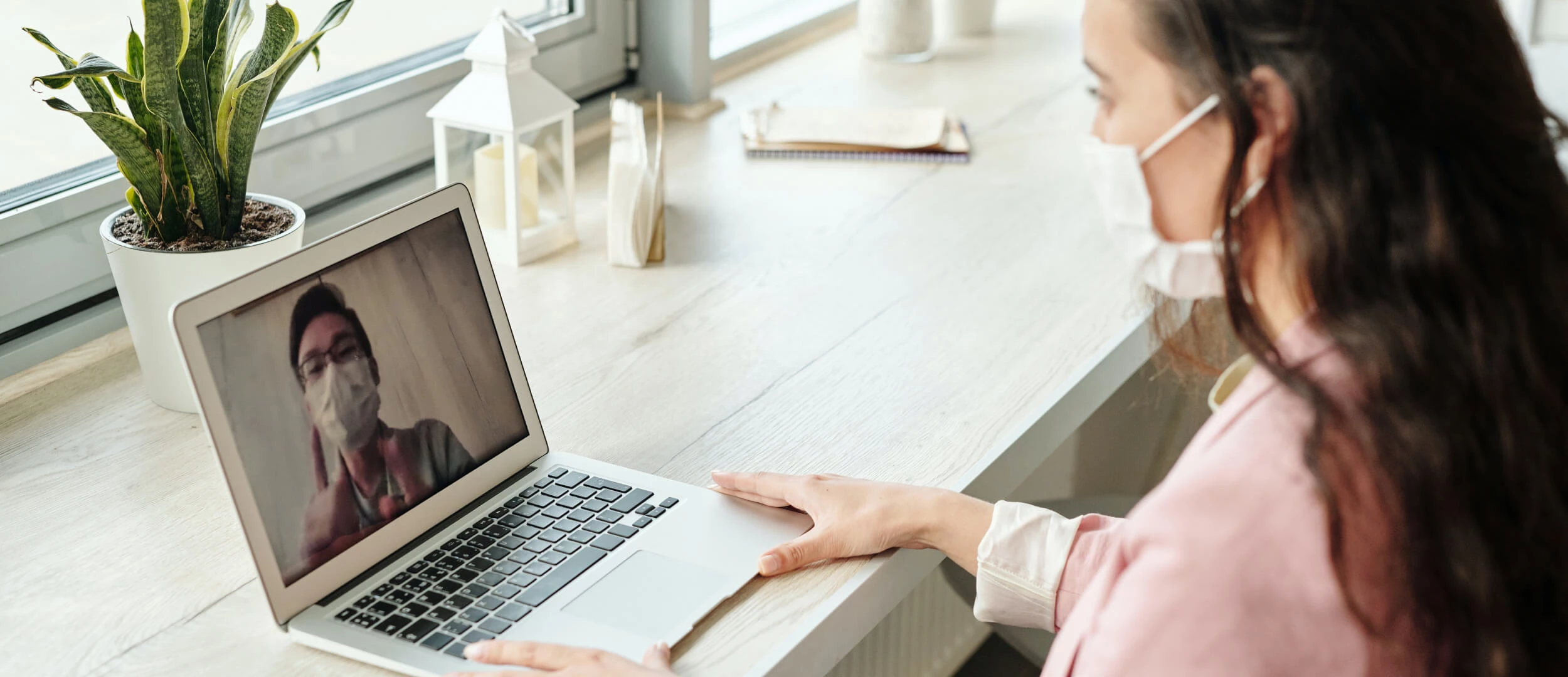 The advent of mobile and internet technology improvements has resulted in telemedicine breakthrough at the beginning of the 21st century. Tele-consulting services made up above 40% of the market share, and the overall size of the Telemedicine Market exceeded 45 billion USD in 2019.
More than that, they expect to witness 19.3% CAGR between 2020 and 2026 even before the COVID 19 outbreak. But it's not all. The worldwide quarantine turned the healthcare industry landscape upside down and augmented the growth for the market and telemedicine app development even more.
With a large number of self-quarantined population, we have already witnessed the tele-consulting services at work. Strict rules of self-isolation, nation-wide lockdowns, and the increasing importance of social distancing made billions of patients avail virtual doctor consultations and healthcare services, whenever possible.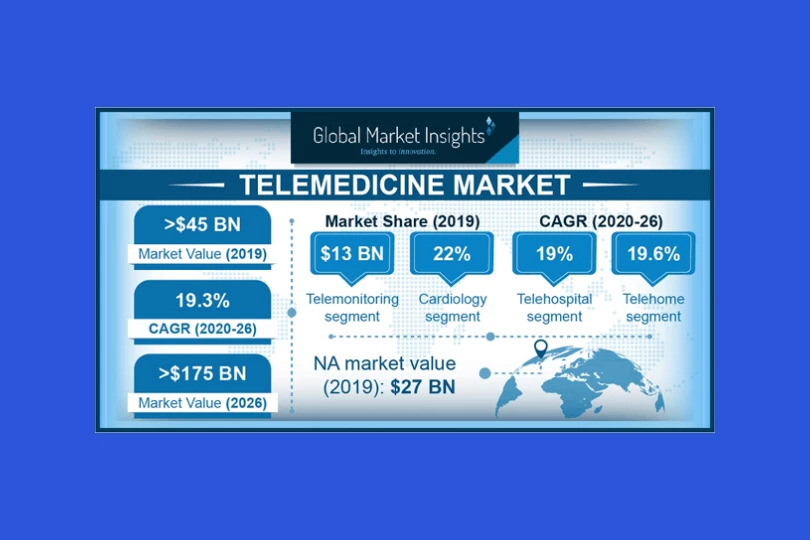 Now, the world is braced for the further COVID situation outcome, and it is the best time for creating a telemedicine app and making investments into telehealth solutions development.
Why create a telemedicine app now?
Telehealth solutions are able to bridge the gap between patients and doctors, make their interaction effective, smooth, and hassle-free.
A US investigation in 15 biggest cities revealed that a new patient needs to wait on average three weeks to get an appointment with a physician. About 70% of the respondents would prefer virtual consultation to an offline visit. Over 75% would like to have an opportunity to text their doctors. Not enough reasons? Let's look at this from the medics' point of view.
A telemedicine application may help
solve the challenge of cut costs in healthcare,
respond to emergencies more effectively,
minimize wasted time because of traffic jams or other issues,
get more control over the working schedule,
and maintain the overall doctors' work-life balance.
In a nutshell, innovative mobile solutions introduce a «care anywhere» model and become a win-win option for both doctors and patients, allowing better and faster health service at lower costs. Additionally, medical providers can offer new amenities to the patients without brick and mortar offices, and reduce their operating costs.
Telemedicine — what is it?
Telemedicine is the type of healthcare services, which can be provided distantly by means of the innovative web or mobile solutions both in hospitals and at homes. It brings healthcare extremely closer to the patients, who can be treated without hospital visits.
Telehome service allows monitoring and assisting patients with respiratory and chronic diseases, limiting the spread of communicable infections and personal interaction with medical staff. The usage of telemedicine solutions brings financial benefits to the patients, at the same time it lowers the burden on physicians.
What is more, the pandemic has affected and continues to influence people not only physically but also mentally. Mass hysteria and panic, which are spreading, also require appropriate medical attention that can be provided through telemedicine app development solutions for mental health.
At present doctor-on-demand platforms allow schedule an appointment with a doctor online right away, receive a voice or even video consultation, get the necessary prescription and receipt, and even pay for such a service. Let's find out the major telehealth app features which make patients' and doctors' life easier.
Key telemedicine app features
If you consider entering the healthcare market with an innovative solution, there are things you should know before you create a telemedicine app. The key aspects you should see into are the app functionality to implement, ideally, you should satisfy the market demand prior to its appearance.
Since the major aim of building a telemedicine app is to connect patients and medical specialists on demand, there should be three interconnected parts — patient solution, doctor application, and an admin panel to manage it all. You can consider either creation of the two separate applications united by a single backend, or make two types of profiles in one app. It will determine the architecture of your solution and its business logic.
A list of must-have features for patients
This list would definitely start with a registration and profile.
Registration
The option should be simple, quick, and smooth. The longer the process, the fewer users will go through it. Also, to increase the number of registered patients in your app, provide several ways to register in it. Email or phone numbers are most advisable in case of telemedicine solutions, since the account may keep sensitive data and should be secure.
Profile
The new patients should have an opportunity to create a secure account with personal data, such as name, sex, age, medical history, address, contact details, and more.
Cloud-based storage
Immediately on profile creation, a patient should be able to store his or her e-Medical record safely in the cloud, it should contain all the details important, including examination and test results, sensitive medical data, prescriptions, and communication history. These records should be kept secure, but also have the option of sharing with other healthcare specialist or patients' family members if it's necessary.
Insurance plan
A sound idea is to allow insurance plan attachment to the user's profile, it will help your customers keep everything in one place and adjust automatic bill sending to the insurance company.
Search and filter options
In search of a particular specialist in a telemedicine app, a user should be able to apply various filters to choose a doctor best suited according to certain criteria, like language, specialization, rating, and so on.
Ratings and reviews
One more important feature to implement to help patients search the best specialists and make better choices based on real feedback of the users and at the same time give their opinion about the consulting doctor is rating and reviews section. Besides, the best-rated physicians can be automatically shown first in the list of the doctors available.
Appointment booking
Besides rating and reviews, every user should be able to check the list of doctors and times available, view the profiles of the specialists consulting, their availability, and book an appointment best suited for him. Therefore, take care of consultants' list and calendar integration for patients' more convenience.
Video calling
This feature is essential for the cases when the examination is needed so that a doctor could make a visual examination of a patient in real-time. Video conferencing option should be implemented with a clear image and smooth connection to ensure an accurate diagnosis.
Voice calls
A common option, for those patients who either do not want to demonstrate their physiological problems, when it's unnecessary or prefer to communicate incognito. Take care of a secure channel for doctor-patient voice communication.
Built-in chat
It is reasonable to include a secure chat into the telemedicine solutions you develop so that the users can turn to the doctor with urgent queries, get a second consultation, or clearing out certain questions concerning prescribed treatments.
Medication tracker
Starting a telemedicine app, consider the medication tracker, in which the prescriptions are stored and reminders can be set on medicines taking.
Geolocation
For some countries, like the USA, where the physicians are licensed within certain states, geolocation is an important feature of a telemedicine app, which facilitates the patient's connection with the right doctor or finding the nearest pharmacy for prescriptions' pick up.
Payment options
Payment gateway integration is convenient for everyone. The patients get the opportunity to pay the services right in the app, the service provider gets his fee and the doctors receive their payments for consultations. The more proven services you include, the more users you will attract.
Notifications
Notifications are the primary to communicate with telemedicine app users. Send push notifications or SMS to remind them of the upcoming appointments or mediation taking, as well as notify of successful transactions and incoming messages.
Most essential features for doctors
The features for doctors that guarantee fast and helpful consultations are:
Registration and login
Like patients, doctors should have the opportunity to register with their email or phone number, but they should also go through additional verification before account creation. A scan of a doctor's license may be an option.
Profile
Besides general data, like name, address, photo, specialization, and availability, a doctor's profile should contain essential details about his or her education, experience, credentials.
Calendar and schedule
Calendar integration will allow a doctor to mark hours available for remote consultations and see when an appointment is taken in real-time. After a patient requests an appointment, the medic should confirm it.
Appointments management
Every specialist should be able to see the full list of appointments scheduled and requested and accept or reject them.
Medical history review
Doctors should be granted access to the patient's scheduled medical history and be able to add fresh results to it after the consultation.
Video, voice, and text chats
These features are the same for both parties, so consider the best and most secure options to implement for the purpose.
Session recording
To control the quality of the service, make it possible to record video and audio consultations. It will help you protect both patients and doctors in case of disputes.
E-prescriptions
Allow your doctors to prescribe treatment right in the app so that patients could buy medicine or to get other health services at medical establishments based on in-app prescriptions.
Keep in mind that scarcely 11% of modern telemedicine applications satisfy the users at present. The greatest challenge is UX, which is often far from intuitive, smooth, and user-friendly. Try your best to build a telemedicine app, which is clear, intuitive, highly functional, and accessible for people with disabilities, like colorblindness, poor sight, or deafness, for instance.
Besides, your users' sensitive information security should be guaranteed with the due encryption, access granted to authorized users only, and third-party servers usage compliant with all the laws and regulations in force in your target area.
Stages of a telemedicine app development.
Stfalcon's app development process is standardized: after a client comes to us with his idea, we start the discovery stage.
Discovery
The aim of this stage is to gain an understanding of how the app should look like. We perform the market research, the competitors represented there, their solutions, and unique features required to have an advantage over their products.
At this stage, we define the target audience, location, preferred platform, users' uncovered pains, etc. When the key points are figured out and the general concept of how to develop a telemedicine app is defined. Stfalcon's team agrees on it with the client and proceeds to design stage.
Backend
Every mobile product needs an external server, which centralizes the whole business logic. Therefore, we develop a reliable backend for the purpose. With a telemedicine app, it's especially important to make sure that the application is secure, the sensitive information is properly encrypted, and compliant with the present-day regulations.
App development for IOS, Android, or both
The actual app development is realized in accordance with the client's choice of platform and other technical requirements. An MVP may be developed at this stage to test the solution and get feedback from the target audience.
An average time to develop a telemedicine app is up to half a year. The entire process includes the stages described above, testing, QA, and adjustments necessary.
A telemedicine app development cost depends on multiple factors: tech stack, features' and design complexity, third-party services integrated, and more, so the budget should be estimated and discussed individually.
However, based on our previous experience in healthcare, we advise you to start approximation with 60000 USD in mind for the basic solution. Besides, you should always have a vision of how the product should evolve in the long run and take care to make it simple to realize later on.
Our Experience
As you know already Stfalcon has certain experience in TeleHealth solutions development for European hospitals and clinics. Our tools based on the on-demand model have already become a huge support for medical organizations. Just to mention a few, let's look at Notkarnan and Vethem applications.
Online booking system for making appointments with the doctors
Medical center required an online booking system for making appointments with the doctors, besides, the Stfalcon team designed a landing page for this system. The developed booking system allows logging in with banking ID, picking out a free time slot of the doctor, choosing an interpreter (since the system is refugees — and native-oriented), payment realization with Klarna, or use FreeCard.
Read full case
To simplify and speed the developer's work up the design team created a flexible system, which allows adapting screens quickly from mobile to tablet and desktop.
Stfalcon's own know-hows and experience in the REST API systems realization and integration with BankID and Klarna payment system allowed us to significantly decrease the time of development from the first line of the code and to the first working app version.
Vethem
Vethem is an app for Swedish pet-lovers. It helps them to get a vet consultancy online or schedule an appointment with a specialist in no time. More than that, the application can store the pet's health diary, to keep notes with photos, and to create reminders about the scheduled vaccination or next visit.
Read full case
During the project fulfillment, we faced the challenge of Scandinavian local payment systems integration, debugging, and operational testing. Though they are not used worldwide, we managed to adjust both systems' flawless functioning.
Conclusion
On the one hand, the healthcare system direly needs innovative solutions. On the other hand, you should provide the users with a unique value proposition since the copies hardly ever leave the originals behind.
Stfalcon has an out-of-the-box approach to every project we face, and we are sure to find the way how to make a telemedicine app for your unique, engaging, and technologically advanced. Come up with your ideas and let's discuss!