How can web solutions improve logistics business efficiency?

Global logistics costs amount to 10% of GDP — that is about $7T, a huge total indeed. If to compare this sum — America's GDP in 2016 was $18,5T. Nevertheless amount of money in the logistic and shipping industry is huge, the needs for software logistic automatization is everywhere. How can web solutions for logistics help to prevent the delay of freight and low shipping cost estimates?
The most visible part of the shipping and logistics market are carriers — owners of the transportation models, such as trucks, planes, ships and trains, as well as those who run the warehouses and ports. For now, the connecting link between these asset-based carriers often is asset-light 3PLs — third-party logistics providers — they help move the cargo, but then add extra services, such as storing cargo between transport steps and processing shipments. Working behind the scenes, 3PLs have more than $700B industry worldwide.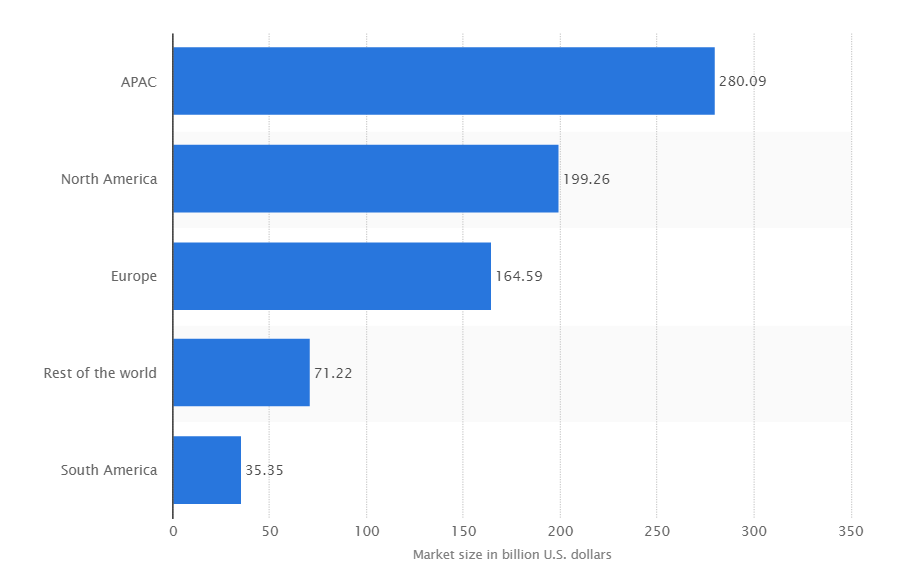 3PL market size in 2016, by region (in billion U.S. dollars)
Low workflow automation causes delays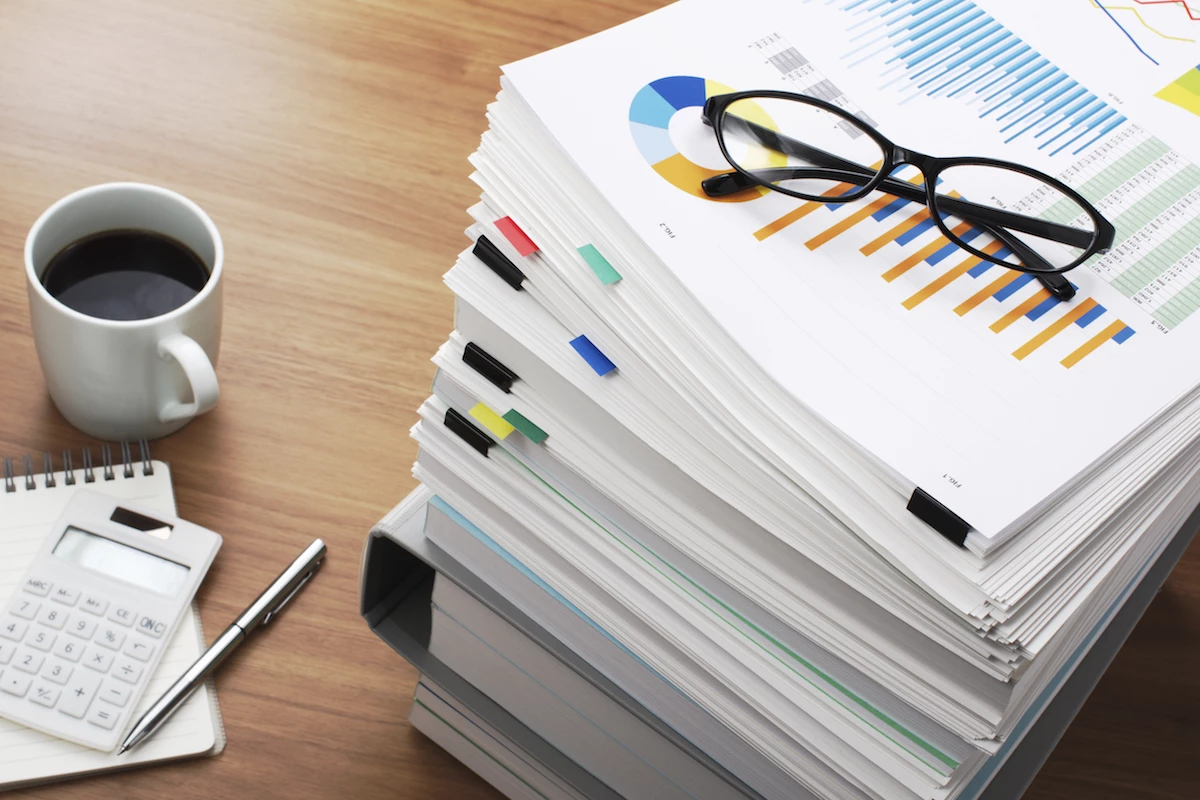 To get a shipment quote from a traditional freight forwarder takes from 24 to 48 hrs. If you get raw materials from Asia to the US, for example, it should go through several stages. Firstly, your freight forwarder needs to find a truck to get your goods to the port, secondly, company needs to find a ship to carry your goods to the US, and finally, it needs to find one more truck to get goods to your warehouse at destination, before you ship it downstream in your supply chain. Also, it is obligatory to:
file with the relevant government agencies;
clear customs;
go through inspections;
be insured ;
locate intermediary warehouses, if needed.
Today, all these manipulations are done via phones and faxes in a very decentralized network of relationships.
Saving time and budget with web logistics services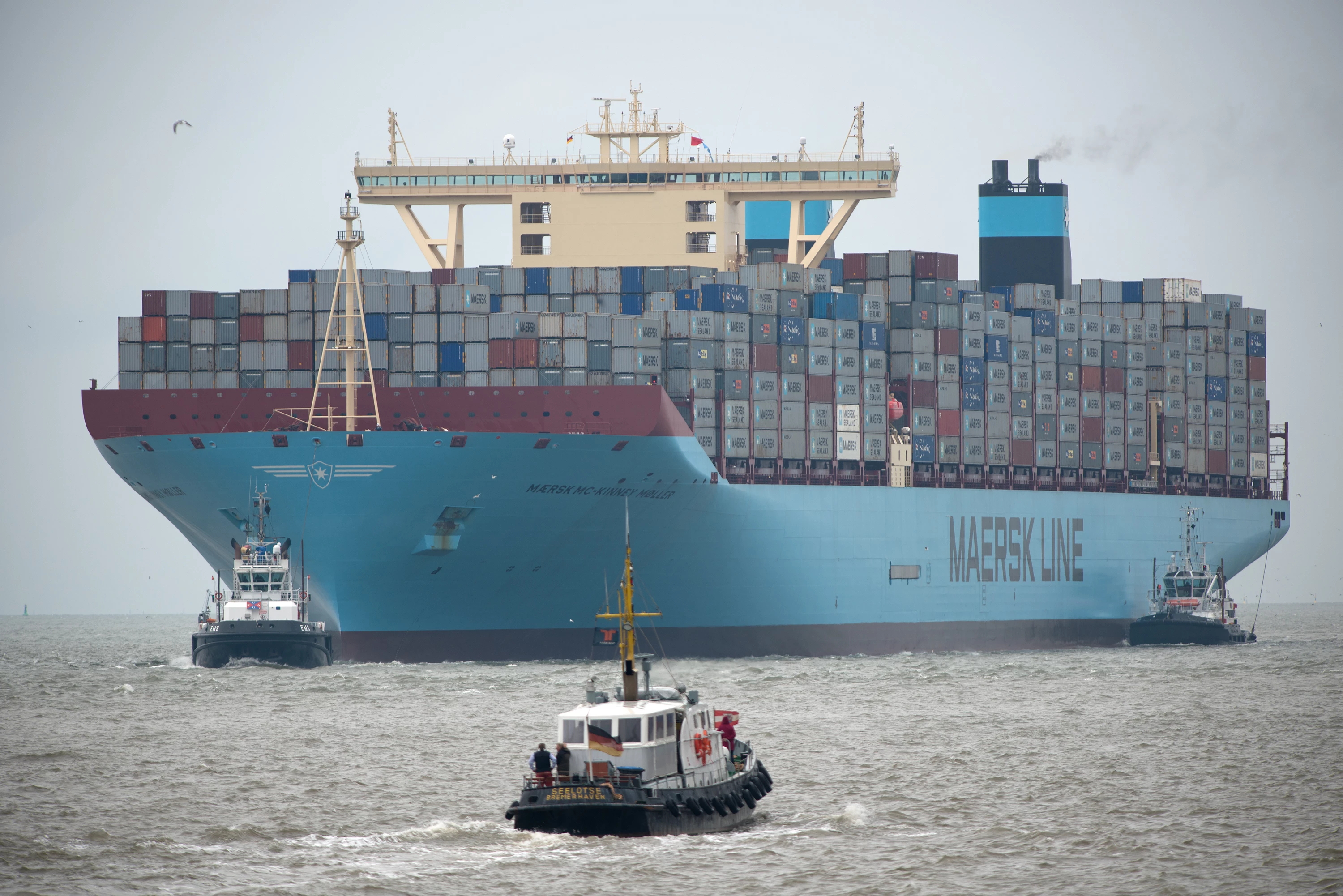 Internet of Things, Reverse logistics and automation have created a necessity in rethinking, refining, and improving internal processes to keep up. The right web-solution for effective data exchange and communication is crucial for logistic companies, that want to adopt new ideas, be prepared for changes in their supply chain and to monitor progress against new plans. A web-based logistic service is decisive if you need to control data in real-time.
Opportunities of individually designed web logistic services:
the base of available transport, documents and specifications;
business logic, that counts the optimal way, norms of weight and number of km to be passed during the day, indexes of cargo wastage during transportation;
the easy and fast connection between all participants of transportation process via messaging services;
geo-informational service;
various other options, according to your business needs.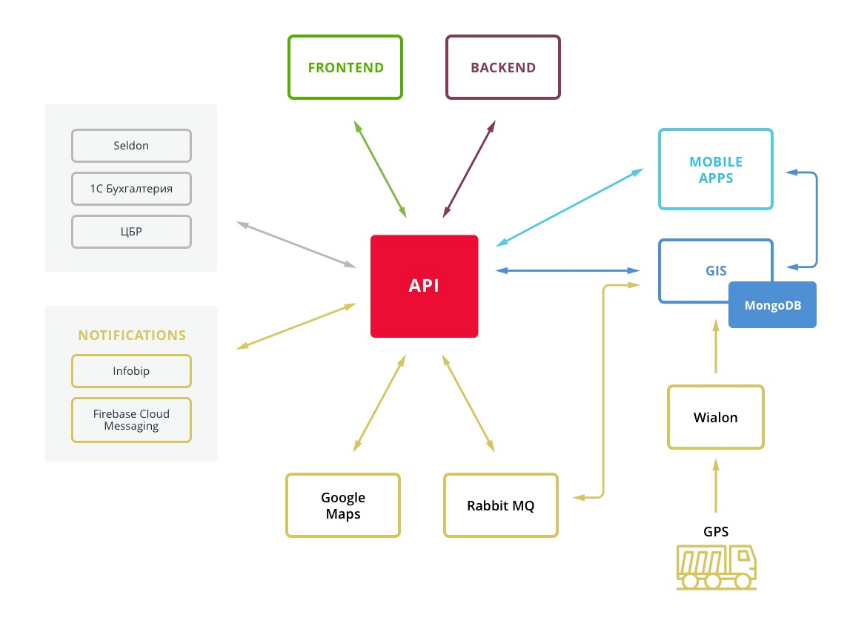 Architecture and components of the Smartseeds project
Web solutions for transporting industry have a complex structure and includes many external functions, so their development takes much time, but the result worth it. For example, the Smartseeds — project, that we have developed for effective cooperation of cargo owners and carriers, according to the forecast will get the half of country's transporting market — it is more than 20 thousands of trucks.
What are the participants of a freight forwarding process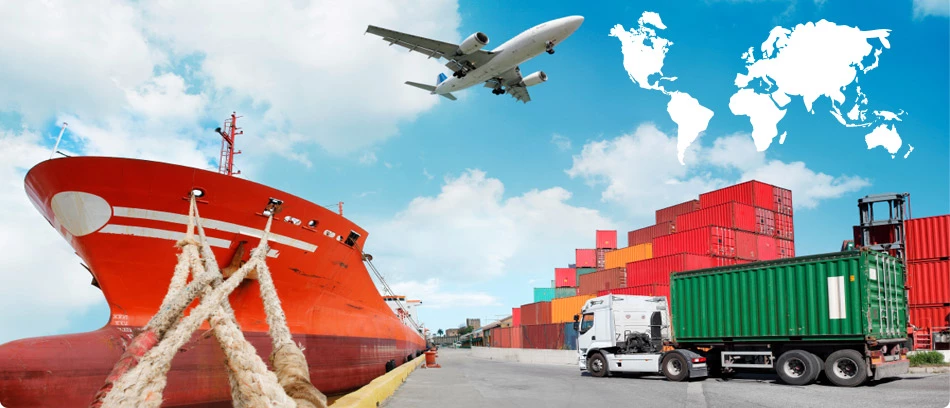 There can be very many participants in cargo delivering process, but the key men are:
Cargo owner — a company or a person, who needs to deliver cargo to some destination point;
Carrier — a company or a person, who has transportation facilities, for air freight, ocean shipment, railway cargo delivery etc;
If you work with the freight forwarding company (a 3PL), then all interactions go through it;
Also, there are representatives of the terminals, working in ports and willing to receive information about transport that is about to arrive at the port for disembarkation.
If the cargo owner wants to minimize his transportation budget, he works straight with the carrier (without 3PL) — the cargo delivery often becomes more complex in this case. Not every carrier has enough facilities to transport all cargo volume, that cargo owner needs.
To make cargo delivery effective and available for all, there should be carefully thought over web-solution for each cargo delivery process participant. For example, we have developed three versions of Smartseeds: for carriers, cargo owners and drivers, while designing Smartseeds — a system, that helps cargo owners to find trucks for big volumes of cargo.
Version for cargo owner — the main task is to simplify and systematize search of carriers and to minimize the volume of bureaucratic procedures while organizing transportation process. Its interface can be similar to a Uber-like app. For example, in Smartseeds the cargo owner only needs to choose a place of departure, place of destination, indicate loading date and type of cargo.
Version for carrier should help owners of trucks (or other transport) to perform transporting. One carrier is rarely able to carry all the request. And there are various reasons explaining this: short terms, big cargo volumes, no vehicles available at the moment. For example in Smartseeds, cargo owner doesn't choose any carrier precisely because he shouldn't be much concerned about it. He just publishes the request and waits 'till it is performed in time. Carrier has only to have a free truck available and answer the request. So few carriers may carry one order.
How to increase driver effectiveness in transportation process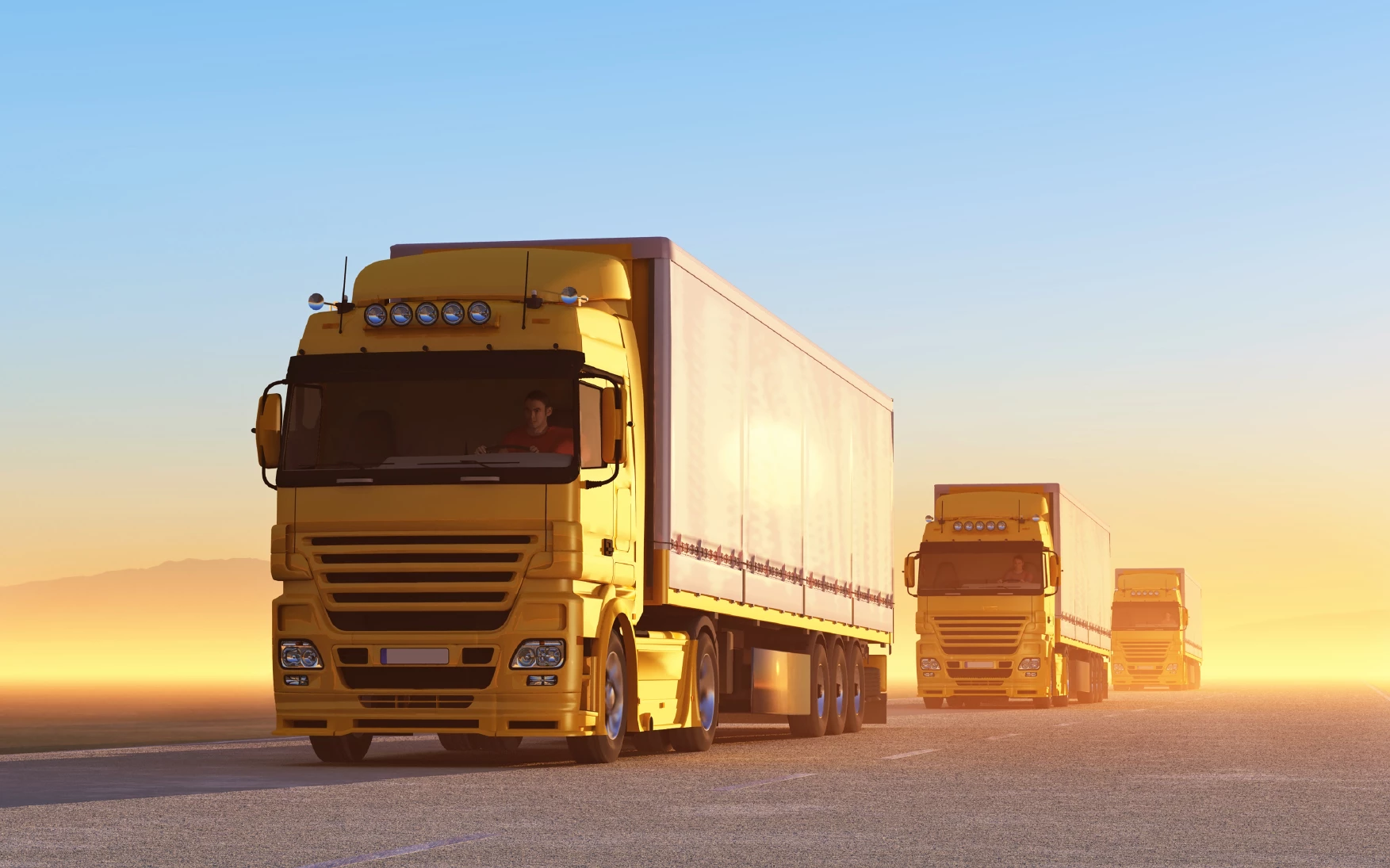 In 2015, there were a total of 66.56 trillions of ton-miles of freight. The highest share of freight was moved by truck. Whether cargo owner uses air freight, railway shipment or the sea shipment, he also needs a truck to deliver cargo to disembarkation point. Driver's task is simple, he has to load the cargo on the loading point, transport cargo to disembarkation point. But this simple task should be done in time, If he doesn't — the cargo can be spoiled, or even, the delay of truck may cause delays in all shipment process — all that will cause money lost.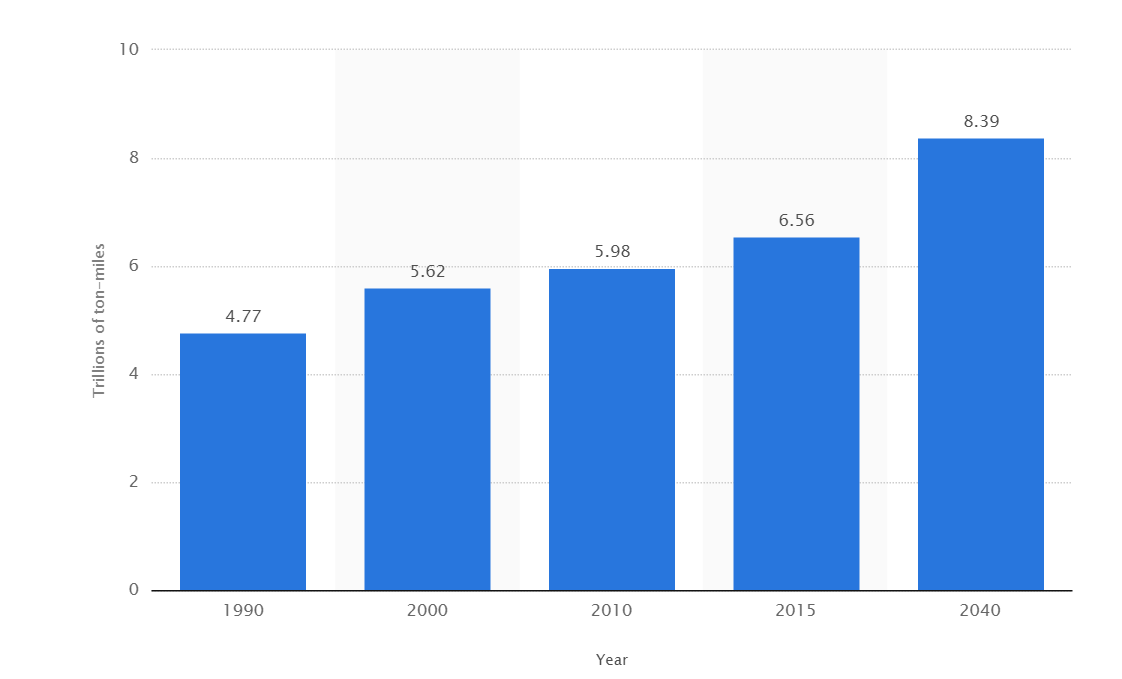 Total U.S. ton-miles of freight from 1990 to 2040 (in trillions)
To manage the transportation process from the driver's side we have designed special mobile app in frames of the Smartseeds project. Driver can change current stage of request completion and exchange information with the support service in case of unexpected circumstances. To monitor vehicle's moving there is a GPS sensor installed on each truck, which periodically sends coordinates to our GIS, to monitor truck's movement in real-time.
In case you consider investing in a logistic service or startup study our latest whitepaper "How Modern Digital Trends Reshape Logistics" and make sure you take only the right decisions.