Mind mapping tools for designers

Mind mapping principles can be used for performing a lot of tasks: from planning home repair to creating designs. The only difference is that when choosing mind maps for arranging your design ideas, it's better to stick to professional solutions.
In this article we have gathered the best mind mapping tools that have everything you might need for creating a full featured easy-to-share mind map. But before proceeding to the tools themselves, allow us to remind you how to use mind mapping tools in order to keep all ideas well-organized:
In the heart of the map you place its central object (such as your thought or product) around which the map will be built.
The central object should have at least 3–4 branches used for collecting ideas.
Group ideas using color or special icons.
Use fonts of different size for identifying the importance of objects and creating hierarchy.
Insert images and charts if they can help to better demonstrate your point.
You shouldn't be too concerned with clutter created in the process: after you have moved all the ideas from your head into the map, it will be easier to understand how they are connected, what is going to work and what simply doesn't fit into this particular project.
Now let's take a look at mind mapping tools available on the market. We start with more on-budget and end with more expensive solutions so that everyone could find a suitable mind mapping tool.
Google Drawings (web app, Chrome)
It might come as a surprise, but solution from Google is quite good for drawing mind maps: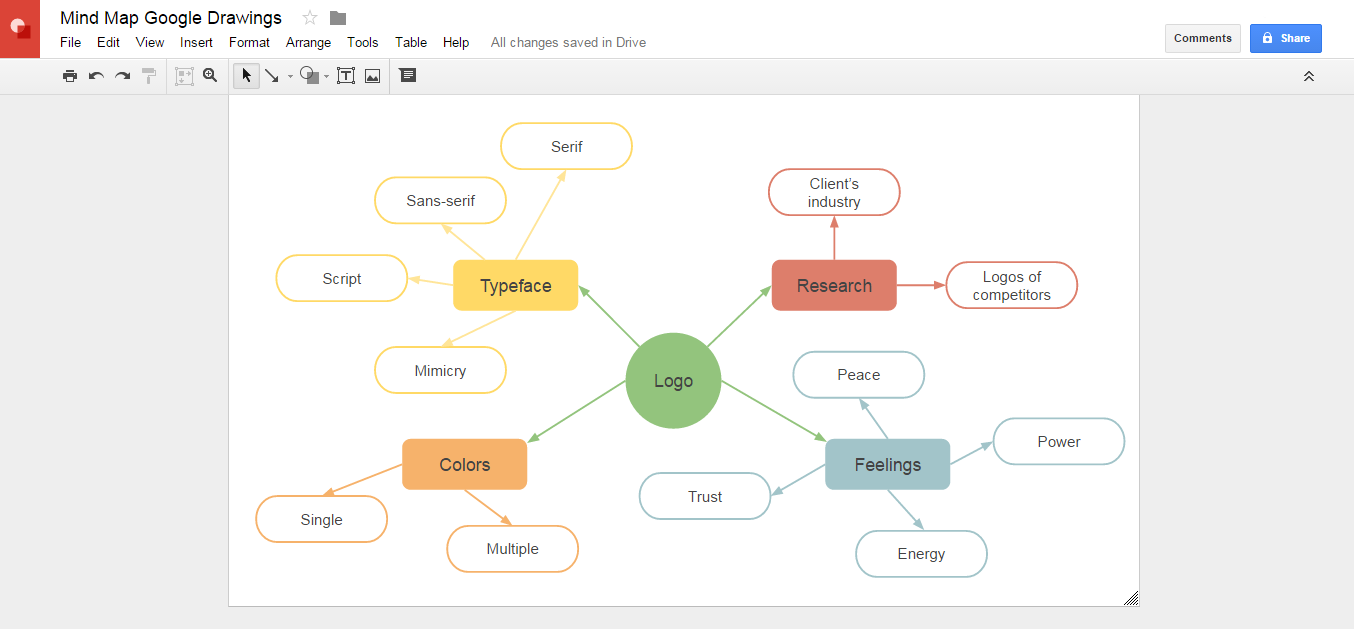 It has a necessary minimum:
Several types of arrows and a set of various geometrical figures.
Customizable color of arrows and figures, as well as line type and weight.
It is possible to use images on the map itself and on its background.
Tables for data rich maps.
Standard features for working with texts.
Object grouping.
Price: free.
Coggle (web app, Chrome)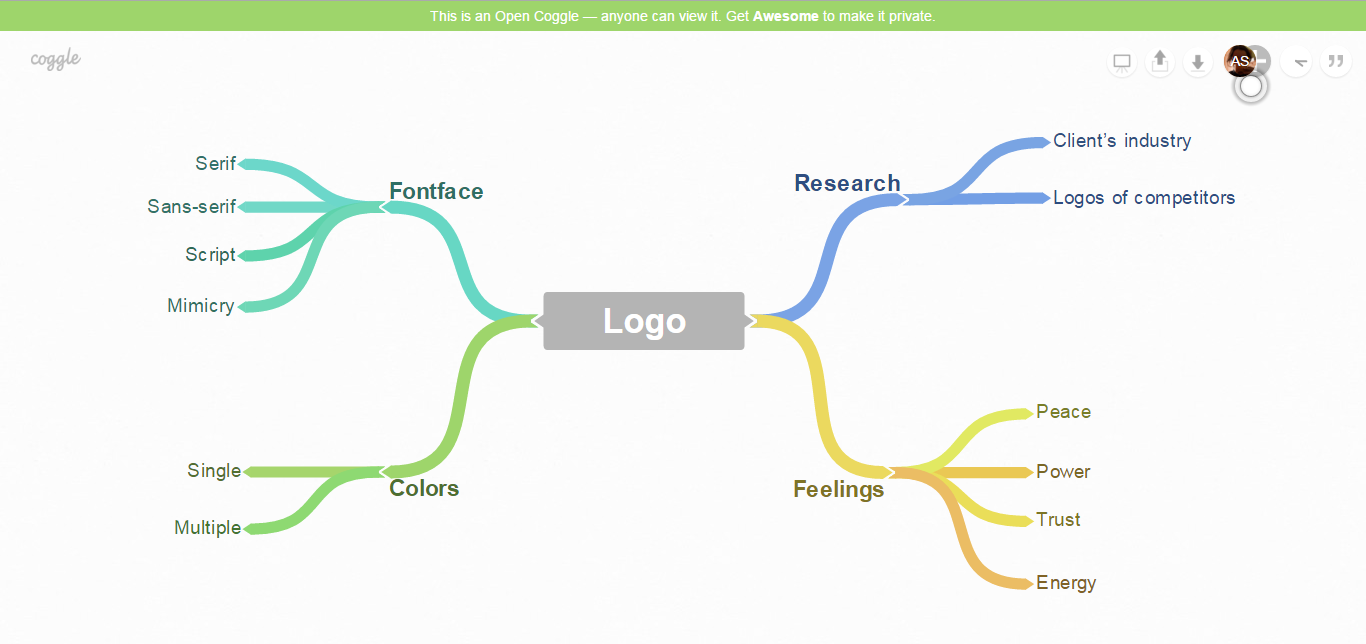 Coggle is platform-independent (just like Google Drawings) since it's working from the browser. It doesn't have as much features as iMindMap or MindNode but it's a product you can use for free.
Main features:
Collaboration mode that allows your team members to work on the map simultaneously and see its previous versions.
Inserting images, links and checkboxes.
Different color is automatically used for each new branch.
Export into PNG, PDF, text or MM.
If you don't need a lot of export formats but is interested in collaboration mode, this is one of the best mind mapping tools available to you.
Price: free but with limitations, for example you can create only public maps. Subscription with other features costs $50/year or $5/month.
MindNode (OS X, iOS)

Unlike the previous tool, MindNode is available only to users of Apple desktop and mobile products.
Main features:
Easy to remember keyboard shortcuts for working faster: Enter creates new node of the current level, Tab — new child node, and with arrow keys you can quickly move between the objects on the map.
Pre-installed and custom themes for diagrams.
Smart Layout function for creating perfectly arranged diagrams.
Inserting images and links to external files into the diagram.
Collapsing and expanding nodes.
Map synchronization with iPhone, iPad and even Apple Watch.
Downloading files from Dropbox and iCloud Drive and importing files from Freemind, OPML, TXT, RTF.
Export into FreeMind, OPML, RTF, TXT, PDF, PNG and TIFF.
Price: $29.99 for Mac, $9.99 for iOS.
MindMeister (web app, iPhone, iPad, Android)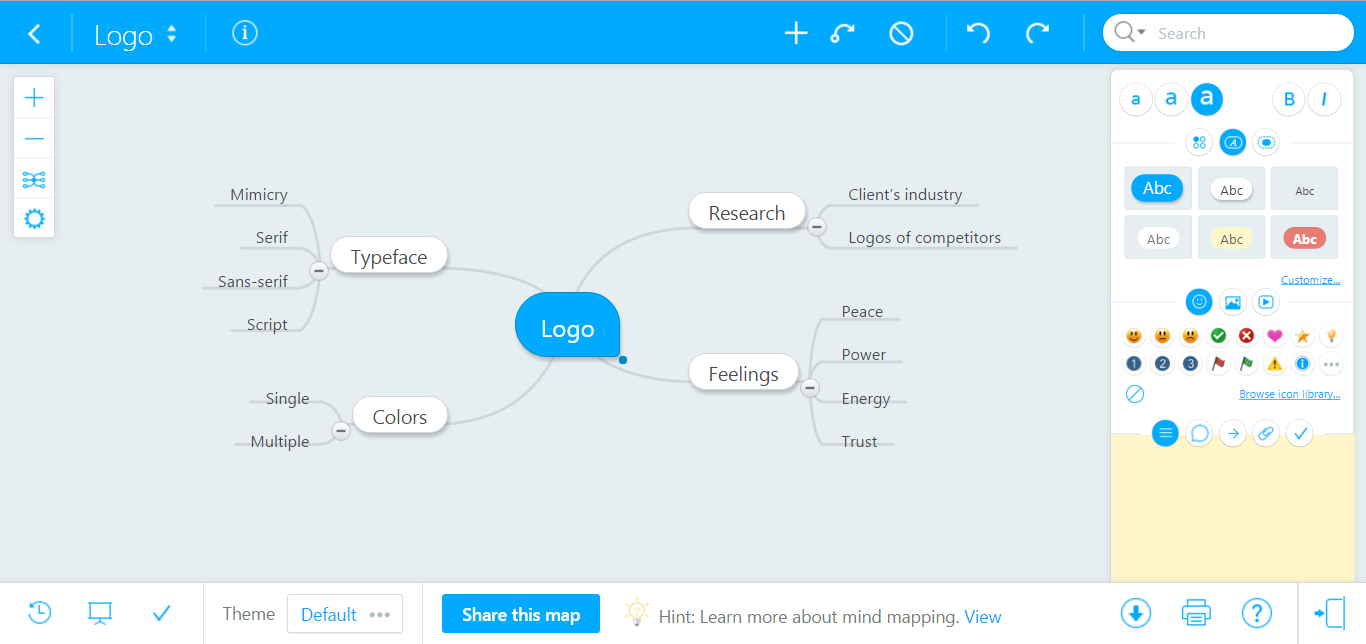 Main features:
Real time collaboration.
Saving changes and returning previous versions of map.
Inserting links, images and even videos.
Inserting interactive maps into the web pages.
Themes for diagrams that can be changed to create your own.
Wirelessly connecting iPhone and iPad with Apple TV for making presentations.
Map export into MindMeister XML for backup purposes, FreeMind, Mindjet MindManager and XMind formats, as well as into Word, PowerPoint, PDF, GIF, PNG and JPG.
You can try MindMeister for free but in this case you will be able to create as little as 3 maps and export into PDF, PNG, JPG and GIF only.
Price: starting from $60/6 months.
XMind (Windows, OS X, Linux)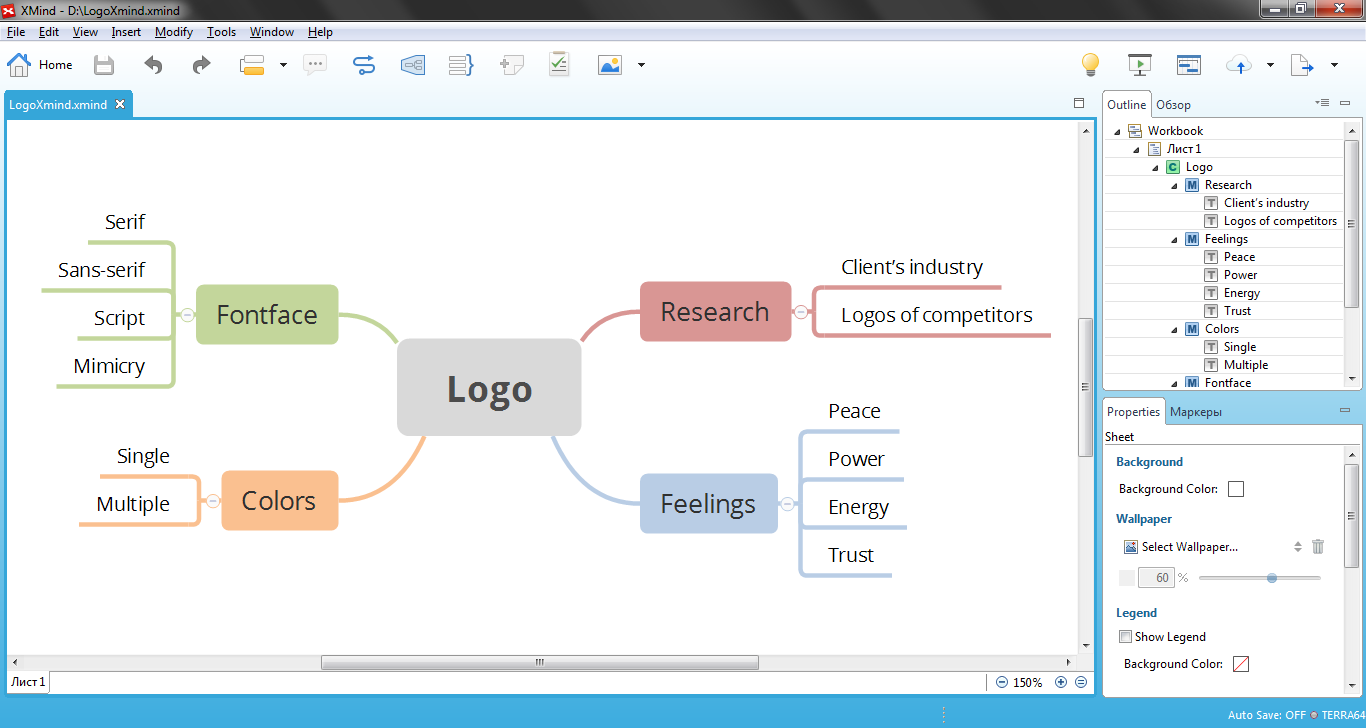 This mind mapping tool works on all three popular desktop platforms. Main features:
Saving maps into Evernote.
Sharing maps via local network.
Drill Down mode for working with separate branches.
Export into PNG, JPEG, Word, PowerPoint, Excel, PDF, Plain Text, RTF, SVG, CSV, HTML, Open Office and Microsoft Project format.
It is possible to import maps from Freemind, Mindjet MindManager and Word.
Price: starting from $79. Free version allows map sharing via link or Evernote but you can't export maps.
iMindMap (Windows, OS X, Android, iOS)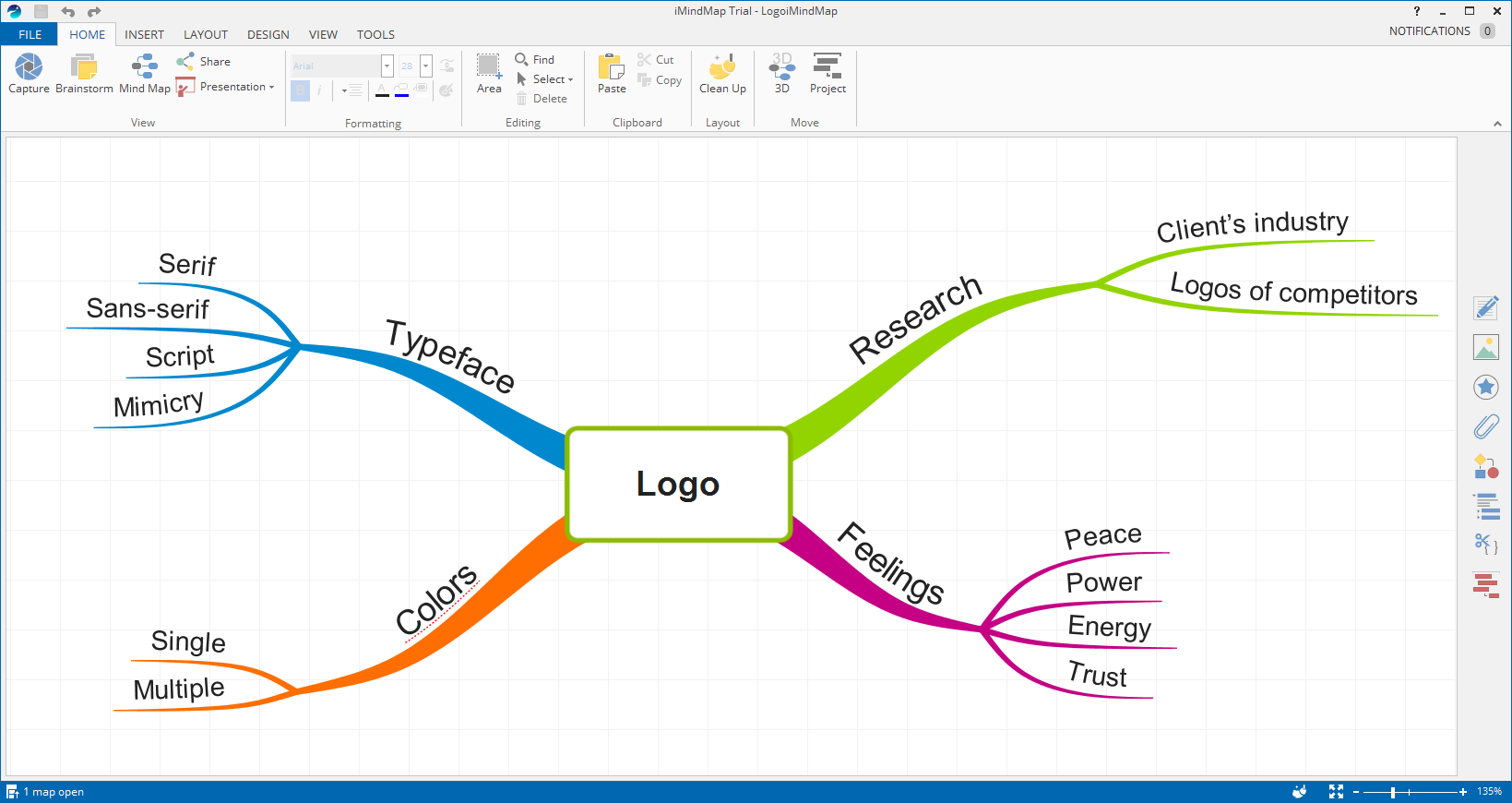 iMindMap was created under supervision of Tony Buzan, the founder of mind mapping method. Main features:
Automatic re-arrangement of the map — after you have finished working with your map, you can make it look more organized with a press of a button.
Changing color and form of branches, placing text inside various figures or along the branches and connecting branches with each other.
Adding images and diagrams to the map.
Beautiful 3d view of the map.
Integration with Drop Task (task management service similar to Trello).
Saving maps as images (JPEG, PNG, PDF, SVG), text documents (DOC, ODT), presentations (PPT, ODP), videos (MOV, AVI), spreadsheets (ODS, XLS), OPML, MPX and XML files and uploading them into the cloud (iMindMap or DropTask).
Import from OPML, Mind Manager files, Novamind, Freemind and Microsoft Word.
Drawback of iMindMap is its price: starting from $100.
As you can see, there're several functional mind mapping tools on the market and your personal choice will depend on how much features you actually need for your design project. If it doesn't require much of the bells and whistles, you can probably go with free or less expensive solutions.
Learn How to use one more mapping technique - impact mapping.
At Stfalcon.com we always allow time for planning designs that will perfectly fulfill our client needs and expectations. When working with us, you can be sure that the end product will meet all modern design">design standards and current trends and empower your business.