How Much Does it Cost to Develop a Mobile App for Real Estate?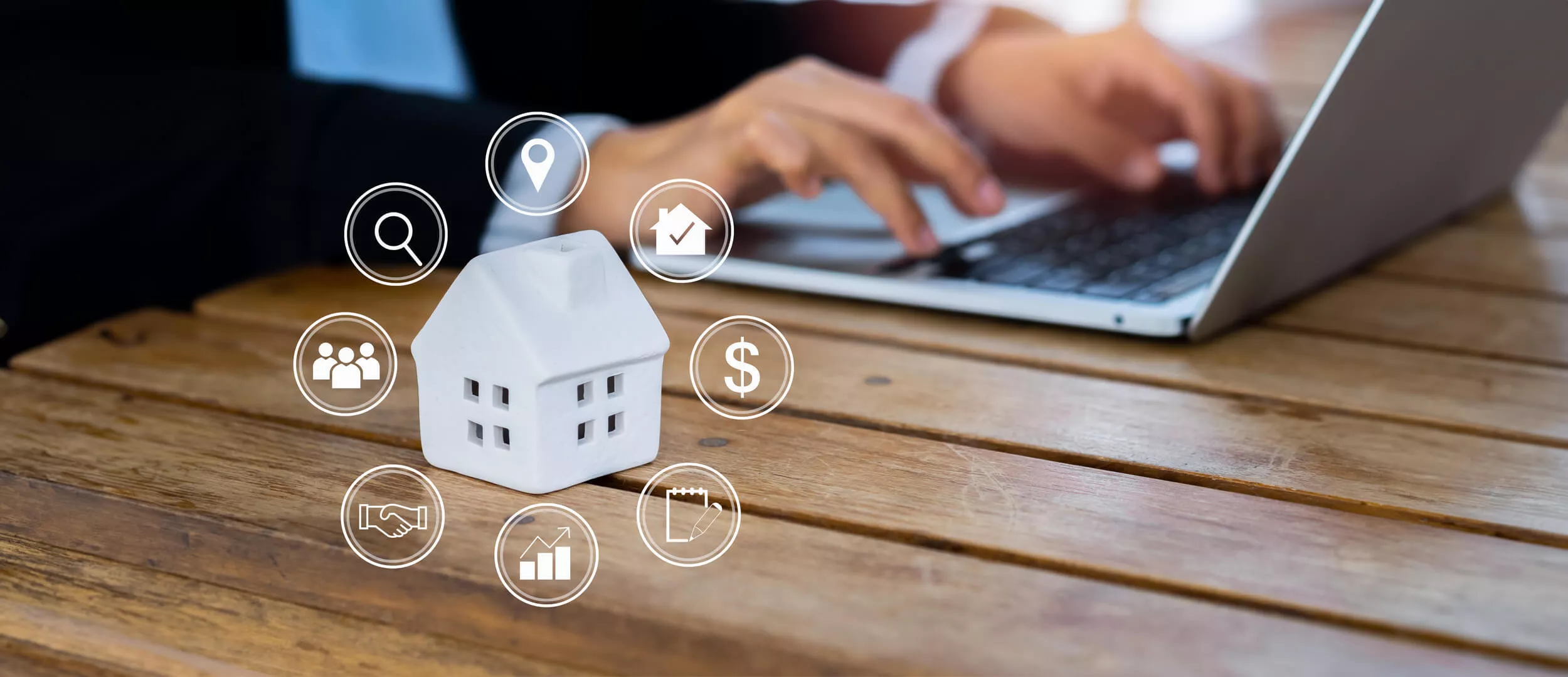 Our digital age made mobile apps an essential tool for businesses of all kinds. And the real estate industry is no exception. 76% of homebuyers admit they use their smartphone or tablet search device in their search for a new home. 57% of agents use social media apps daily.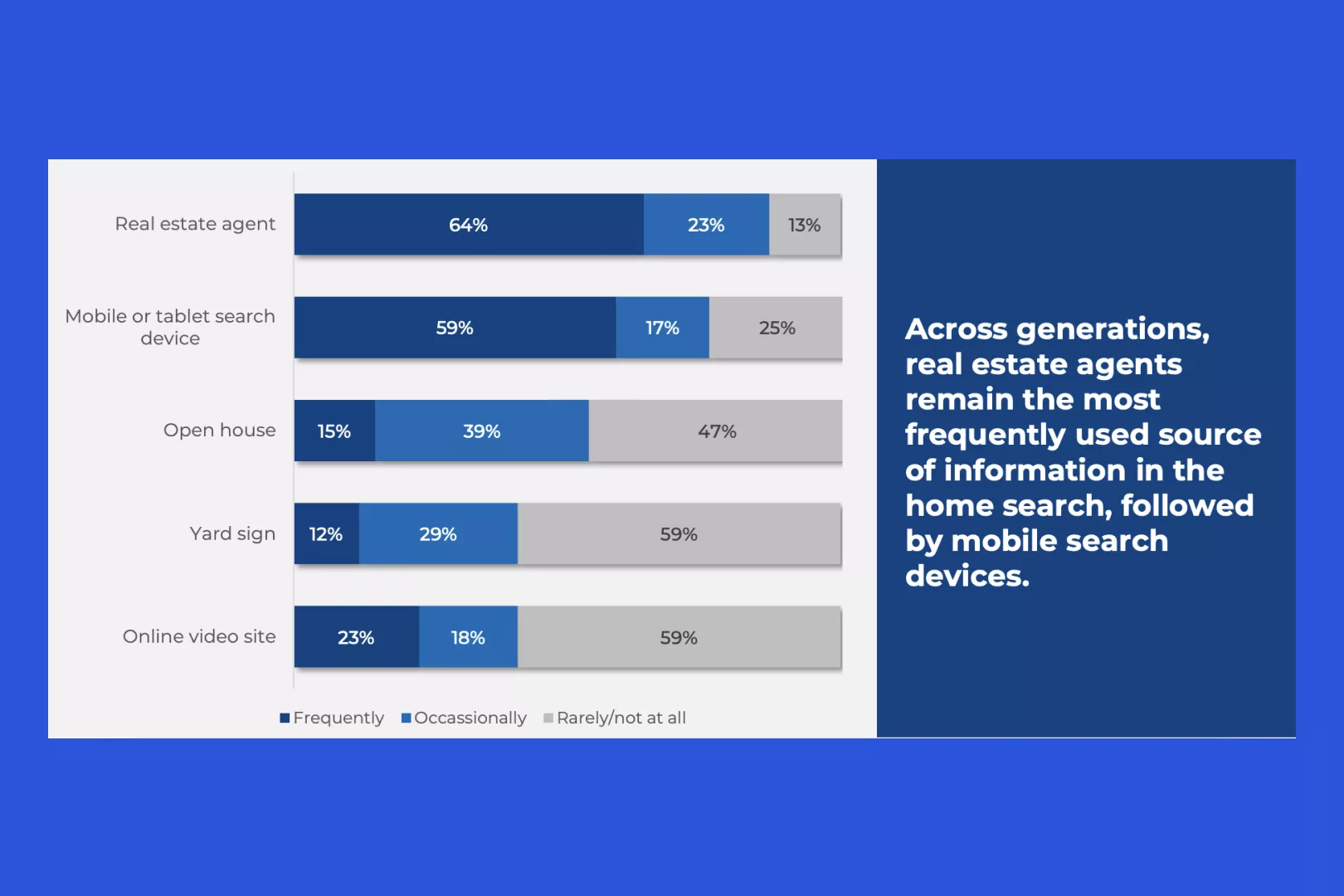 So, a mobile app development for real estate can provide a convenient and efficient way for agents and brokers to connect with clients, manage properties, and close deals. Today we'll explore different types of mobile apps in the industry, their must-have features, and the costs associated with the development of a mobile app for a real estate company.
Real Estate Mobile App Ideas and Types
Real estate mobile solutions offer a variety of functionalities that cater to the needs of both buyers and sellers.
Property search (listing)
Listing apps are essential tools for anyone who is looking for a new home. They allow users to easily find properties that meet their specific criteria, such as location, price, and features.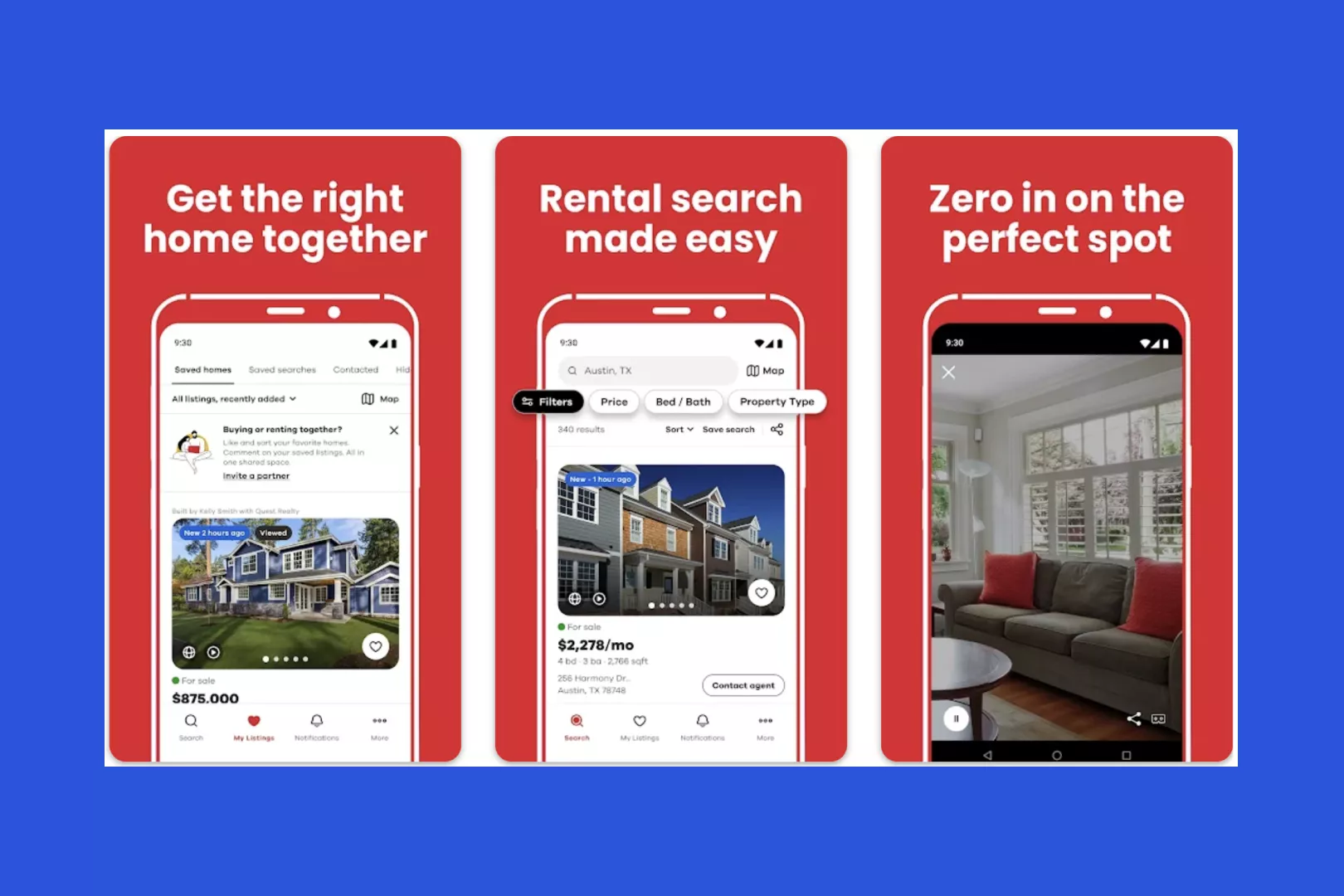 The best mobile real estate apps should provide users with a wide range of property listings to choose from. These programs also offer a variety of convenient features that can help users make well-weight decisions about the properties they are interested in.

Users can view detailed information about each property: photos, virtual tours, and other important details. This can help in getting a better sense of what each property has to offer.
Real estate agent assistant
These apps are designed to help brokers and agents manage their properties more efficiently. They can help streamline the process of scheduling showings, tracking leads, and managing contracts. They are particularly useful for agents who are managing a large number of contracts. Assistant software helps agents save time and focus on what matters – closing deals.
In addition, real estate agent mobile apps allow agents to keep track of important dates, such as lease expirations. They can also send notifications when certain tasks need to be completed. This makes the life of an agent easier and ensures that everything is done in a timely and efficient manner.
Moreover, real estate mobile app services are also helpful for those who are working with multiple clients at once. By having all the necessary information in one place, agents can easily keep track of everything and ensure that nothing slips through the cracks.
Furthermore, mobile app for real estate agents often comes with additional features. They include analytics and reporting tools. These can provide valuable insights into the performance of an agent's business.
Mobile apps for real estate appraisers are also becoming increasingly popular. They provide efficient tools for conducting property valuations on the go.
With all these benefits, it's no wonder that more and more professionals are turning to these solutions to help them succeed in today's competitive market.
Buying or renting apps
Another sphere where real estate mobile app development is beneficial is renting properties. These programs help users find properties that are available for sale or rent. They allow users to search for properties based on location, budget, and other preferences.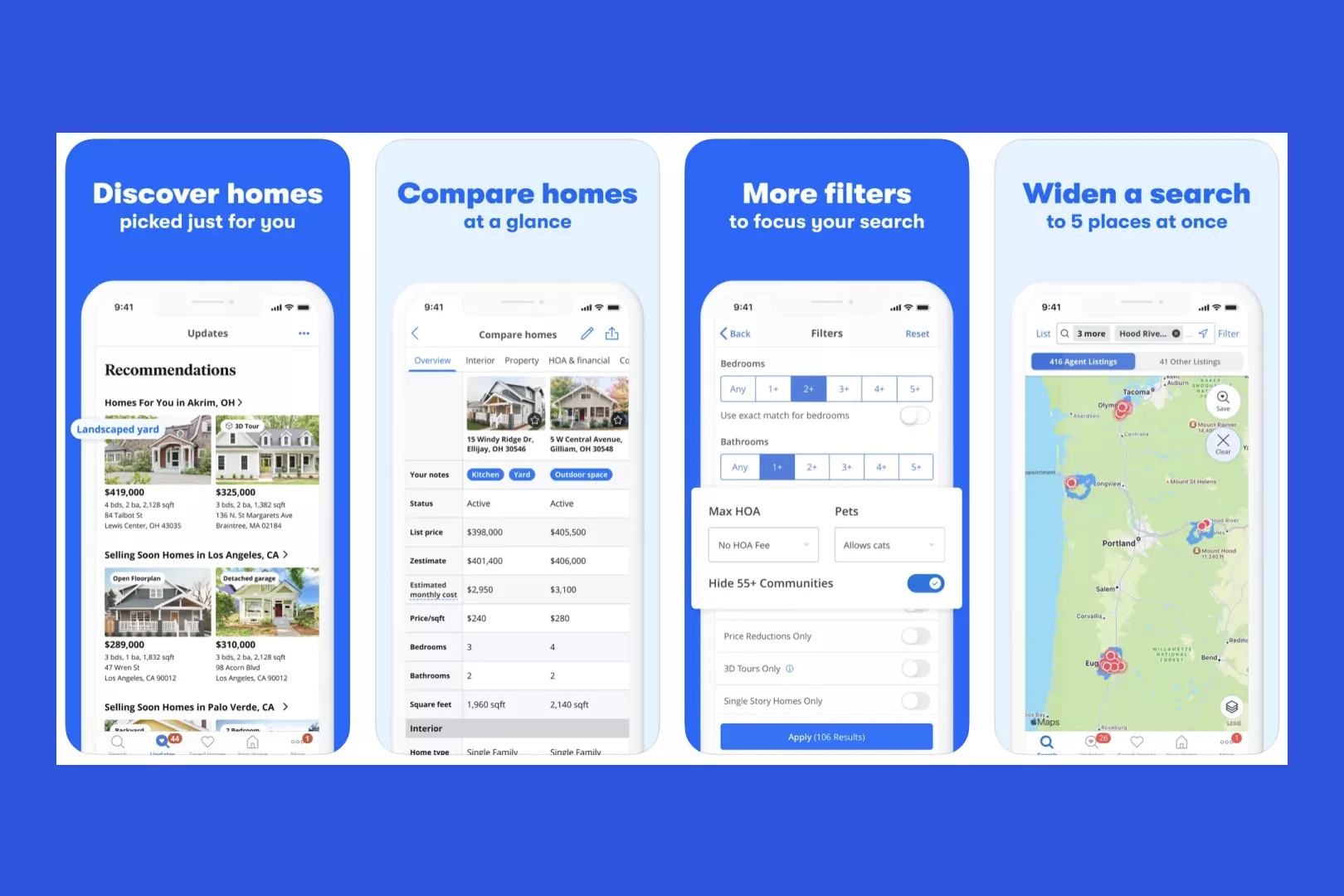 Users can also read reviews from other people who have rented or purchased properties through the application. This can be very helpful when trying to decide on a property.
Additionally, some companies offer features such as the ability to schedule property viewings and communicate directly with property owners or managers. With so many useful features, rental apps are rapidly becoming the go-to resource for those looking for a place to live.
Virtual tour
These solutions utilize advanced 3D modeling and virtual reality technology to create a virtual environment that users can navigate through using their smartphones.
Virtual tours can include a variety of features: high-resolution images, 3D models, and interactive floor plans that provide users with a comprehensive view of the property.
These applications offer a wide range of benefits to real estate agents. Agents can use them to showcase properties to potential buyers. Now it is possible even if the buyer is located in a different city or country. By creating a virtual tour, agents can provide potential buyers with a more detailed and interactive view of the property. Consequently, this increases the likelihood of a successful sale.
Mortgage calculator
They calculate monthly mortgage payments based on factors like property price, interest rate, and down payment. Thus, providing an instant estimate for budgeting. They also help users determine how much they can afford to borrow based on income and expenses. This way, setting realistic budget expectations.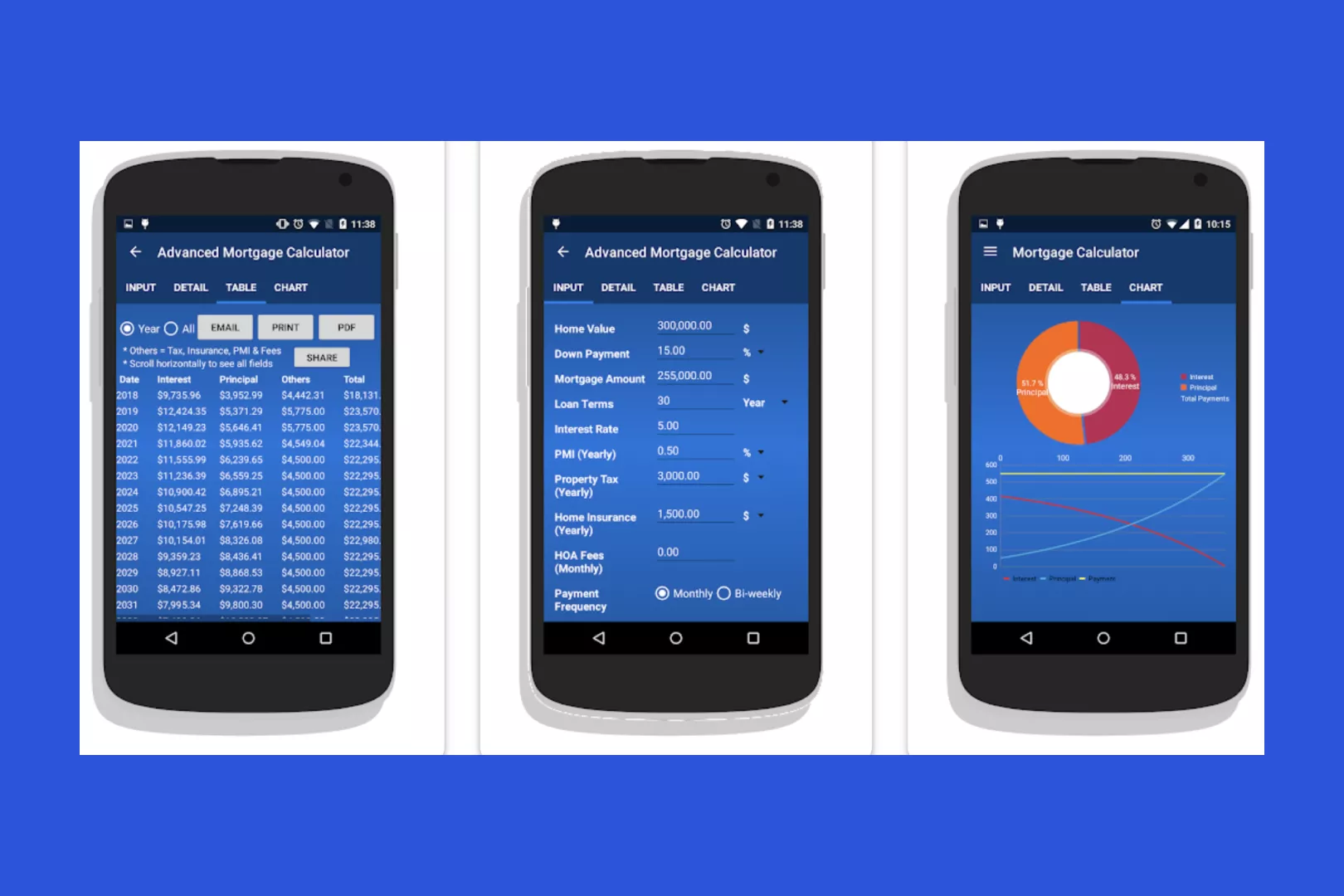 A mobile app real estate may also give users a list of potential lenders or financial institutions to work with. Other solutions may offer advice on the types of mortgages that are available in the current market.
Investment property analysis apps
Investment property analysis programs are powerful tools. They can help real estate investors carefully consider their investment decisions. These solutions are designed to analyze the potential return on investment (ROI) of a specific property. As well as provide users with an in-depth understanding of the property's financial performance.
With the help of these applications, users can quickly and easily calculate important financial metrics such as:
cap rate,
cash-on-cash return,
IRR (internal rate of return).
These calculations can provide users with valuable insights into the potential profitability of a property. And, as a result, help them make informed investment decisions.
Real Estate App Must-Have Features
Regardless of the type, several features are essential for a successful mobile real estate app.
Property listings. Providing buyers with the ability to search for properties based on various criteria such as location, price, and other relevant factors is crucial. To enhance the user experience, each property listing should be accompanied by a detailed description. High-quality photos and even virtual tours are also necessary today.
Map integration. Maps are essential for property search programs. They allow buyers to search for properties based on location and see nearby amenities. Ensuring that the map integration is seamless and user-friendly will greatly enhance the usability of your app.
Advanced search. An advanced search feature helps users find properties that meet their specific requirements. It can include filters for property type, location, price, size, amenities, and other essential features.
Push notifications. Keeping people engaged with your application is key to its success. One way to achieve this is by implementing push notifications. They alert users to new properties or changes in the status of existing ones. This feature can greatly enhance user engagement and keep your app top of mind.
Mortgage calculators. They should be easy to use and provide accurate estimates of monthly payments based on the down payment, purchase price, and interest rate.
Contact agent. A contact agent feature can allow users to get in touch with the property agent or owner to ask questions, schedule a viewing, or make an offer. Additionally, chatbots are becoming increasingly popular. They provide users with an even quicker and more convenient way to get the information they need. With chatbots, users can even receive personalized recommendations based on their preferences.
Favorites. A favorites feature can allow users to save properties they are interested in for later viewing. This feature makes it easier to compare and contrast different options.
Real Estate App Development Cost
So, how much does it cost to create a mobile application for real estate? The answer depends on a variety of factors, such as:
The complexity of the application. More complex projects will require more development time and resources. Some complex features that might increase development costs include advanced search functionality, real-time updates, or integration with third-party services. However, these features can also make the product more valuable to users. And this might justify the higher development cost.
The platform(s) you're developing for. Developing an app for both iOS and Android will be more expensive than developing a solution for just one platform. However, if you expect to have a large user base, it is often worth the investment to develop for both platforms.
The location of your development team. Costs can vary significantly depending on where your team is. If you hire a team from the US or Western Europe, expect to pay higher rates than for a team from Eastern Europe or Asia.
The average cost of a mobile app development starts from $60000. Generally, the estimate includes the extensive planning, design, programming, testing, and deployment phases. Developing a mobile application also requires a significant investment of time. A typical project can take anywhere from 3 to 6 months to complete. It depends on the complexity and scope of the project.
In addition to the initial real estate app development cost, there are ongoing costs associated with the app maintenance and updating if the client decides to. These include server costs, bug fixes, and regular updates. It helps ensure the app remains compatible with the latest mobile operating systems. It's important to budget for these ongoing costs as well to ensure that your app remains functional and up-to-date.
It is crucial to work with an experienced real estate mobile app development company. At Stfalcon we always help our clients navigate the complexities of the development process. As well as ensure that their product meets all of their business needs. The case below is an excellent example of a complex solution for our client.
Our Experience: Discovery Phase for a Real Estate Company
A client requested a web dashboard to manage the existing tenants, a real estate marketplace for agents and clients, and a mobile app for existing tenants' service orders and payment maintenance.
Stfalcon team had to work with 3 major roles: a property owner or agent, an existing client (tenant), and a potential client (a new visitor). To gather all the details, we initialed research that included: Lean Model Canvas, CJMs for a property owner, a potential client, an existing client, prototypes for a dashboard, a marketplace and a mobile application, product vision, user stories, and estimation.

As a result, the client got a complex solution for both the MVP and the 2 release versions of the future product, including web and mobile apps. We created detailed prototypes, user stories, product vision, and a budget plan. More details can be found here .
Final Thoughts
Overall, real estate mobile apps are an indispensable tool for anyone looking to buy, sell, or manage properties. While the cost of developing a real estate app can be steep, the benefits of having it for your business are well worth the investment.
By providing your clients with an efficient and convenient way to connect with you and manage their properties, you can increase customer satisfaction, streamline your operations, and ultimately grow your business. Stfalcon is always ready to take up a new, exciting project and craft a top-notch solution for you. Contact us for a more detailed discussion.