How Mobile Apps Are Transforming the Healthcare Industry?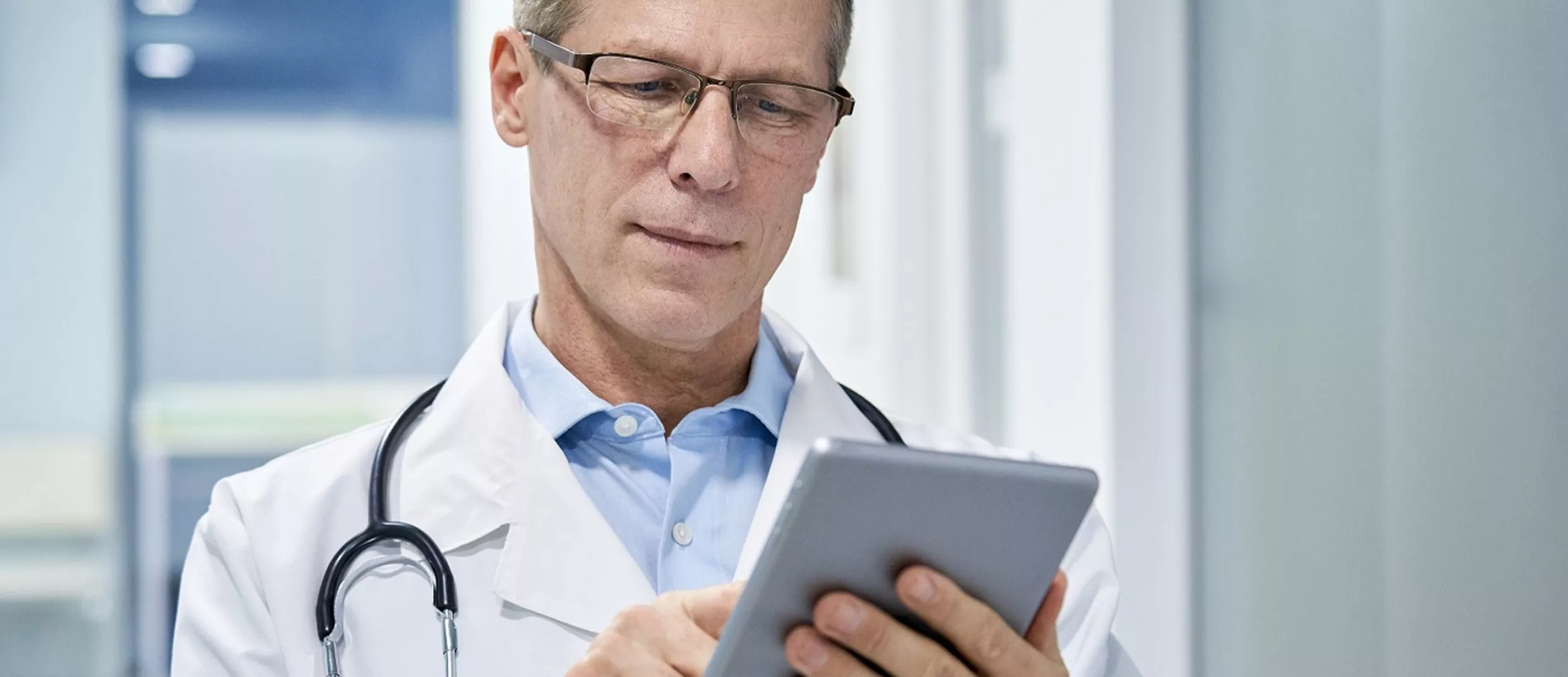 The use of mobile technology in healthcare is the medical and public health activity carried out through mobile devices and patient monitoring devices.
Nowadays digital technologies are developing at a rapid pace, it would be surprising if these innovations didn't touch the healthcare sector. You may wonder what is an app in healthcare. Mobile healthcare or mHealth helps physicians and pharmacists provide safer and more effective patient care while allowing patients to self-monitor their treatment and improve adherence to therapy.
Using mobile healthcare app development technologies in medicine, patients can more easily receive medical assistance remotely, and clinic employees and self-employed doctors can organize their work more efficiently.
Mobile Health Market Overview
The COVID-19 outbreak has placed enormous pressure on healthcare infrastructure around the world.
Mobile healthcare is a secure way to provide online healthcare to patients with chronic and other serious illnesses during a pandemic, Keeping doctor consultations without additional risk of infection for doctors and patients. In addition, mobile technologies can be useful for medical students.
The functionality of the healthcare application involves:
providing access to medical care for a wide range of patients,
improving the quality and efficiency of medical care,
ridding the patient of queues and unnecessary trips to clinics,
the ability to view patient records without being in a medical facility and store examination results in mobile devices or other means of communication.
The scope of mobile applications for healthcare is wide for both doctors and patients. Using the medical application, any user will be able to receive various clinic services, for example, viewing a medical record or consulting with an attending physician while in another city or even abroad.
According to Accenture, the use of digital healthcare tools is increasing, 74% of patients are satisfied with digital health services.

Benefits of Healthcare Apps for Patients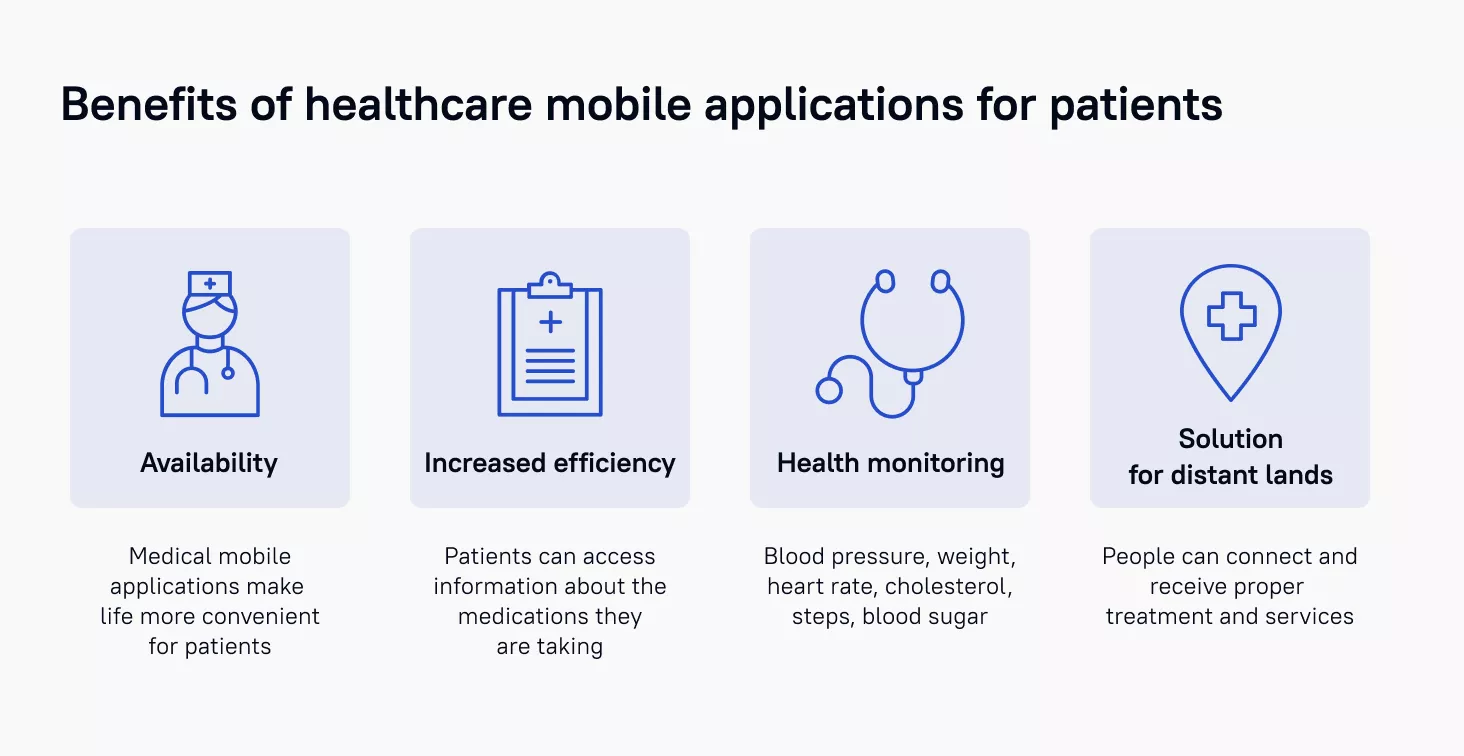 Applications are developed for a private network of clinics and are intended for patients who want to receive quality medical services. This is an application for finding doctors, with which you can:
make an appointment with a doctor of the required specialization in any of the clinics;
get an online answer to an exciting question, if this does not require the patient's presence in the clinic;
maintain a medical record, keeping records of the doctor; pay for medical services via the Internet.
The main advantages of applications:
a large number of useful options, such as canceling or rescheduling a visit to the doctor, adding the time of the visit to the calendar, or opening additional profiles for family members;
simple and intuitive interface;
the ability to pay for services for all your accounts from one account;
compatible with devices of any brand.
Those who wish to use such applications must download them to their smartphone from Google Play or the App Store, register a profile and enter it using the login and password selected during registration.
How Healthcare Apps Help Medical Professionals
Professional healthcare app allows you to establish a virtual contact between the patient and the doctor, who can remotely monitor the patient's health by:
consultations via video and text chat;
online checks of the patient's condition using special tests and health trackers;
control of prescribed medications.
The application will be useful for patients undergoing outpatient treatment or requiring constant care. Why are some medical applications popular with both patients and doctors, while others are not? The point is that the best products include all the features users need.
Types of Healthcare Mobile Apps
The best way to avoid the massive spread of viral infections is to provide the opportunity to consult with doctors without visiting medical facilities. Mobile apps are ideal for this task.
Apps for Patients
Mobile medical applications for patients allow registration at the clinic, an appointment with a doctor, online doctor consultations, postoperative monitoring, and other useful features
Applications for patients help them to measure heart rate, blood sugar, weight, etc.
To schedule an appointment in comfort at home;
People living far receive high-quality service via mobile apps;
Access to online reports at any time.
Mobile applications for health are excellent tools for monitoring patients' condition and maintaining health, accelerating and improving the treatment process. But at the same time, one should not refuse personal consultations with a doctor and regular examinations in the clinic.
Medical & Healthcare Apps for Businesses
The company develops medical apps that help both the doctor in his medical practice and advanced training and the patient.
Medical mobile applications include:
reference books of medicines and symptoms of diseases;
medical books and publications;
fitness apps;
services for storing medical data;
applications for caring for the elderly and sick people;
applications for informing pregnant women;
health forums and portals;
corporate applications of clinics and hospitals.
Medical Apps for Doctors
Nowadays, people are increasingly using smartphones and tablets, and medicine is one of the areas where mobile applications for doctors and patients are becoming increasingly important.
Improving patient care. Mobile applications allow doctors to monitor the health of patients, even if they are far away (for example, when going on a business trip, you will still be in touch with the doctor). Doctors can help patients without a personal visit, which saves time and allows patients not to spend energy on visiting the clinic but to focus on recovery.
Accelerated diagnostics. Thanks to the many different sensors on today's smartphones and wearables, patients can share health-related data with doctors, making diagnosis easier, faster, and more accurate.
Convenient data processing. Maintaining patient records in an e- form greatly simplifies the work with patient data, and allows, if necessary, to exchange of information with other attending physicians.
Remote treatment of patients. Social distancing has become of great importance in 2020 when humanity is faced with a new virus. Remote healthcare allows doctors to see patients faster while avoiding time to turn and unnecessary social contact.
If you add all these features to the application, it will be in demand for a long time.
How Mobile Apps Transforming Healthcare Industry
While mobile healthcare apps have been around for several years, the COVID-19 pandemic has made it clear that quick and easy access to insurance plans, medical history, upcoming or current expenses, and competent representatives is vital. The pandemic also requires companies in the MedTech industry to expand the scope of services offered through their mobile healthcare applications to ensure patient needs are fully met.
Expanded Access to Medical Care
According to Reportlinker's report "Mobile Healthcare Global Market Report 2022" - the market for mobile monitoring and diagnostics has grown from $65.56 billion in 2021 to $83.71 billion in 2022 at a compound annual growth rate(C) of 27.68%. The market will grow to $250.50 billion in 2026 at a CAGR of 31.53%.
This medical care category includes:
Monitoring systems: work of the heart, pressure, glucose, brain work, sleep, etc.;
Multiparameter monitoring systems;
Apps for remote interaction with a doctor;
Wearable, implantable, and ingestible sensors of various vital signs;
Diagnostic systems and rapid analysis systems (blood, saliva, urine, breath, etc.);
Care systems for the elderly, the chronically ill, and children;
Applications for health monitoring, drug use control, treatment planning, educational systems, etc.
Better Remote Patient Monitoring
With the help of mobile devices, healthcare professionals (HCPs) nowadays have access to monitor patients when it is needed. Applications for healthcare transformed many aspects of clinical practice. A large number of apps are assisting HCPs:
health record maintenance and access;
patient management and monitoring;
information and time management;
communications and consulting;
reference and information;
clinical decision-making;
and education and training.
Smartphone use in healthcare provides help to HCPs with access to point-of-care tools, that make better clinical decision-making and improve patient outcomes.
Immediate Access to Healthcare
When you download the healthcare mobile application on your device, you get immediate access to secure online healthcare features such as bill payments and telehealth services.
The online health management tool gives you access to your health record from anywhere you have an Internet connection - 24 hours a day, 7 days a week.
Improved Coordination
Mobile apps are targeting patients to be engaged in aspects of their care coordination. Developers of such applications adopt human factors approaches and methods in the design.
Mobile health applications assist patients and providers in coordinating care represented by a large number of developed applications to facilitate patient participation and communication. Human factors methods are often adopted in the design, development, and evaluation of mobile applications.
Efficient Handling of Emergency Cases
Mobile health apps are changing the current situation in health care overall. Internet and mobile computing technologies are changing people's life.
The use of medical app can facilitate the exchange of information between health professionals when a health emergency occurs.
For example, Emergency Management Mobile Application (EMMA) is the first integrated software and mobile app solution that helps onlookers, incident managers, and 911 systems to improve communication. It gives basic assistance in preventing and managing critical emergencies before the arrival of 911 Emergency.
Accurate Reports
The use of mobile technology in healthcare that calculates the severity of disease-based clinical scoring systems provides reliable and accurate reports that "can confidently be used in clinical settings," according to research in the Journal of Medical Internet Research.
The free apps that are 100 percent accurate and have the most functions useful for doctors are CliniCalc, Calculate by QxMD and Medscape.
Virtual Medicine
Virtual Reality is a next-generation technology with the help of which the revolution of the healthcare sector can be made.
George Washington University is already using a VR tool for neurosurgery and thoracic surgery, they virtually explore a patient's brain and body before executing a procedure. As a result, surgical efficiency is improved. Patients and their families can better understand operations ahead of time. According to a Harvard Business Review study, virtual reality training improved surgical performance by 230% in comparison with traditional methods.
5 Best Apps For Health in 2023
Stfalcon selected the most convenient, useful mobile health app that helps improve health.
Doctor on Demand
The app Doctor on Demand provides 24/7 access to online doctors, psychiatrists, psychologists, therapists, and other healthcare professionals. The care is available to you, anytime and anywhere. You can select and see your favorite specialists again and again, right from your smartphone via an app, tablet, or computer.
Teladoc
The mission of Teladoc Health is to give the full spectrum of health and well-being. But not only when patients get sick but also throughout their lives to achieve better health.
Teladoc Health technology and clinical expertise provide access to a wide range of physical and mental healthcare services. Help people with decisions that accelerate better well-being, and do a clinical collaboration that leads to high-quality care
HealthTap
HealthTap believes that everyone deserves affordable primary care.
HealthTap is the largest network in the USA of volunteer doctors with 140+ specialties, With the help of doctors, a database of millions of trustworthy answers is created.
Each doctor of HealthTap Medical Group is US-licensed, board-certified, and trained through an online care program. The doctor you choose is with you on every step of treatment.
BetterHelp
BetterHelp is the largest online platform for therapy in the world. They are helping people with mental health issues and changing the perception of mental health overall. Therapists help to tackle life's challenges by providing affordable care. BetterHelp provides a message option for a professional anytime, anywhere.
You will match to one of 29,000 licensed therapists according to your condition and problems.
MyTherapy
MyTherapy is a pill reminder and medication tracker app. No matter what it is - to remind you to take pills, measurements, or exercise, MyTherapy will help you to control your health. MyTherapy documents your health and allows you to visualize patterns. You can have an overview and recognize the areas of your treatment that need improvement.
How Can Stfalcon Help You with Mobile Healthcare App Development?
Health problems are urgent, so they are all solved with the help of mobile applications. If a person needs the services of a clinic and has to choose either to search and make an appointment by calling or use a simple and understandable application, then the choice will fall on the second one.
For those who provide medical services, their mobile application won't let them lose an audience. The application saves time that would be spent trying to get an appointment in the standard way. In the application for registering in the hospital, it is enough to make a couple of clicks on the smartphone screen. The user can get an online consultation at any time or learn more about the doctor by viewing his profile.
Our Experience
Online booking system for meetings with the doctor
Our team has experience designing and custom mHealth app development. The technology we have used provides easy and fast authorization in the application. We have chosen BankID, QR code, and confirmation of personal data in the application because it was a client from Sweden. In the development process, we used progressive JavaScript frameworks.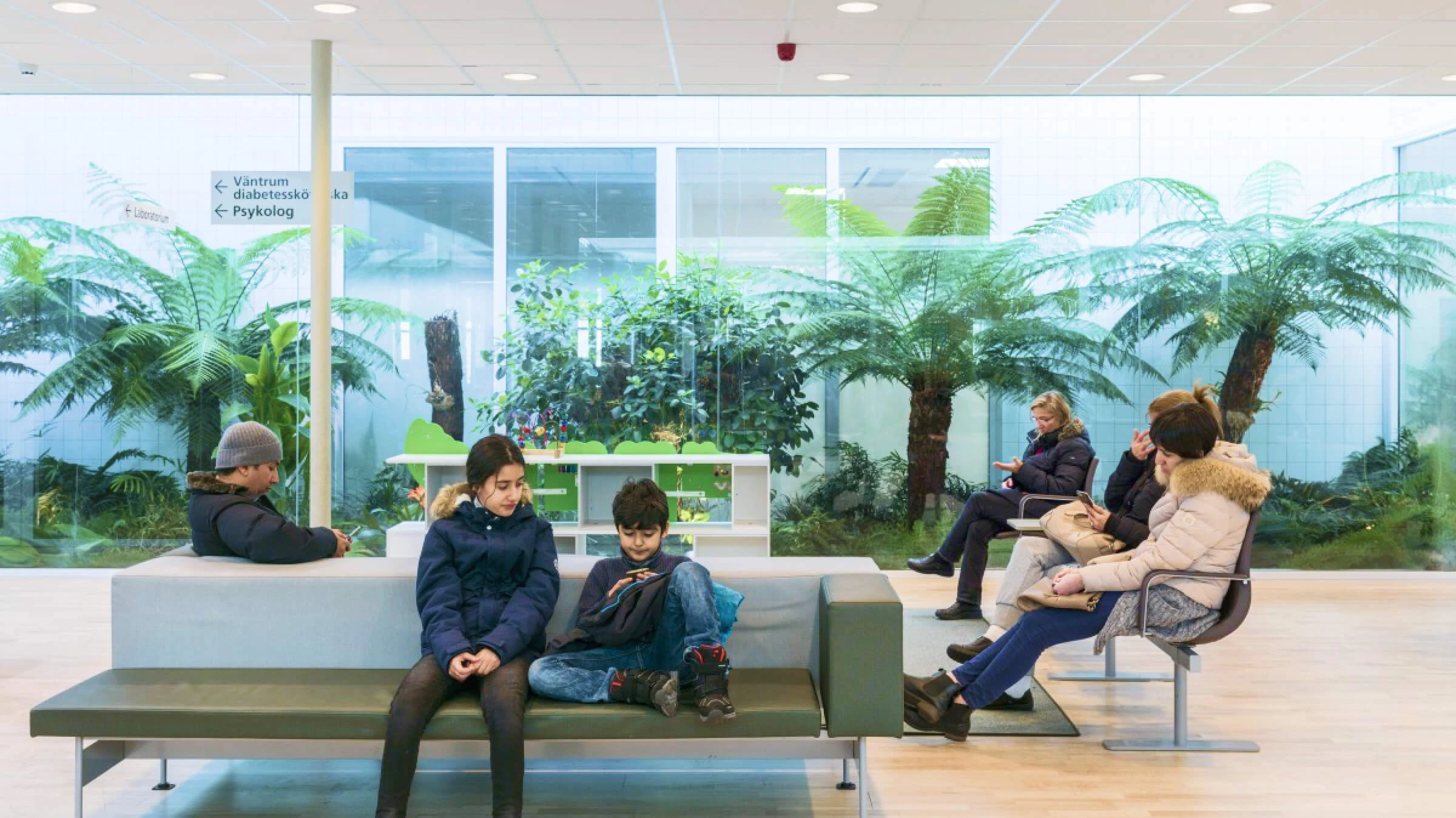 Read the full case study
HospApp — task manager for hospitals
The Stfalcon team developed a demo Android application for hospital staff that included key features. Our team provided comprehensive services including user interface design, Android development, manual testing, quality assurance, and implementation.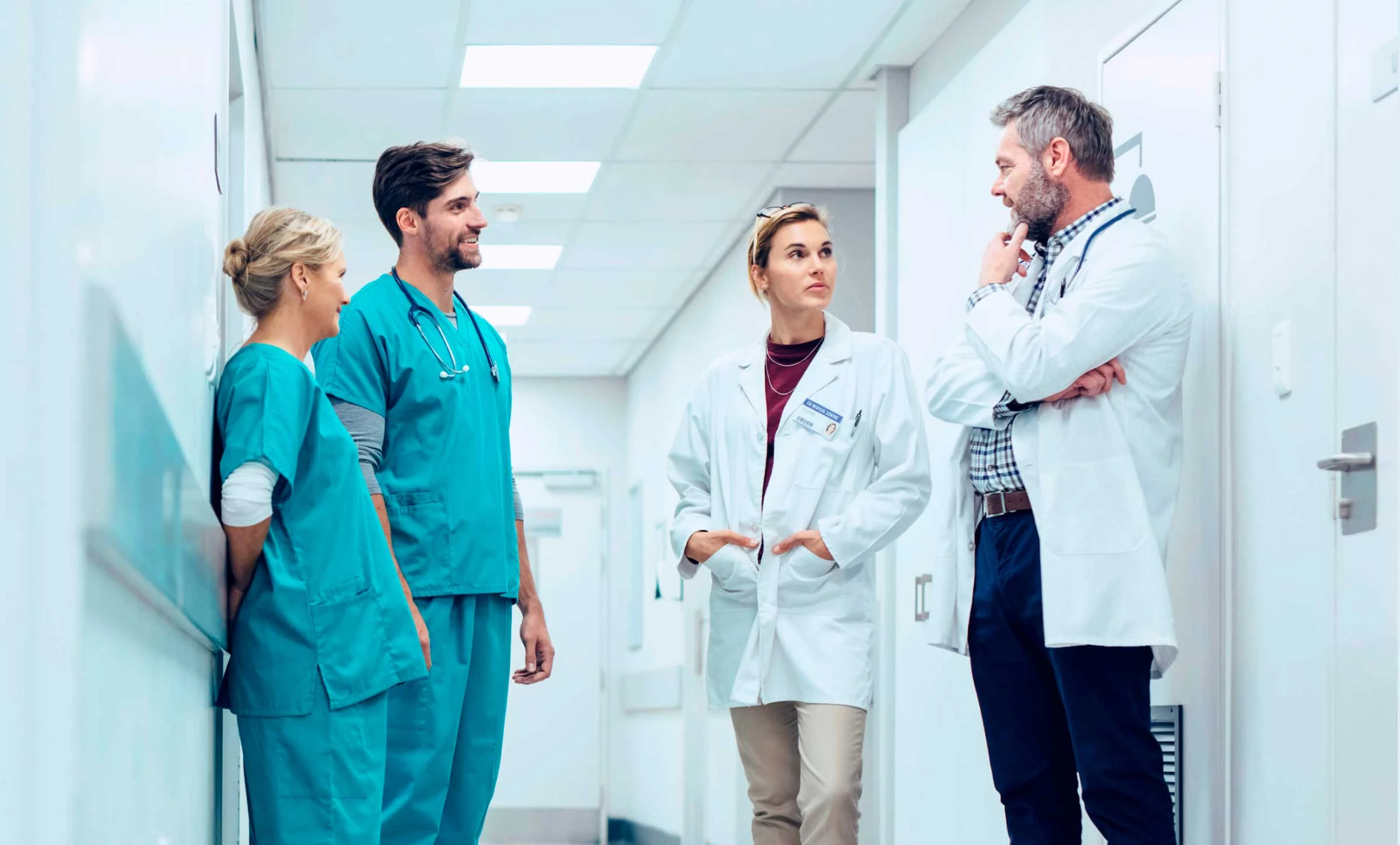 Read the full case study
However, our work was focused only on specific screens, namely:
Messages
Chat room/group
Tasks, which featured essential functionalities for both chatting and task management.
Final Thoughts
Healthcare mobile application users want to be sure they can access their health records or health insurance documents anytime, anywhere. They also want to know that they can easily contact a doctor when they have important questions about their health. And also get to know about services they are eligible for and what costs they can expect without wasting time.
As the pandemic pushes healthcare providers and insurance companies to the limit, healthcare applications can fill that gap. The features included in a mobile medical application should be easy to use for users of all demographics.
Stfalcon's team can build and test the healthcare app using modern technologies and development methodologies, ensuring that it is reliable, secure, and scalable. If you are interested in creating a top-notch product, just contact us.