Staff Augmentation: How to Scale Your Team Effectively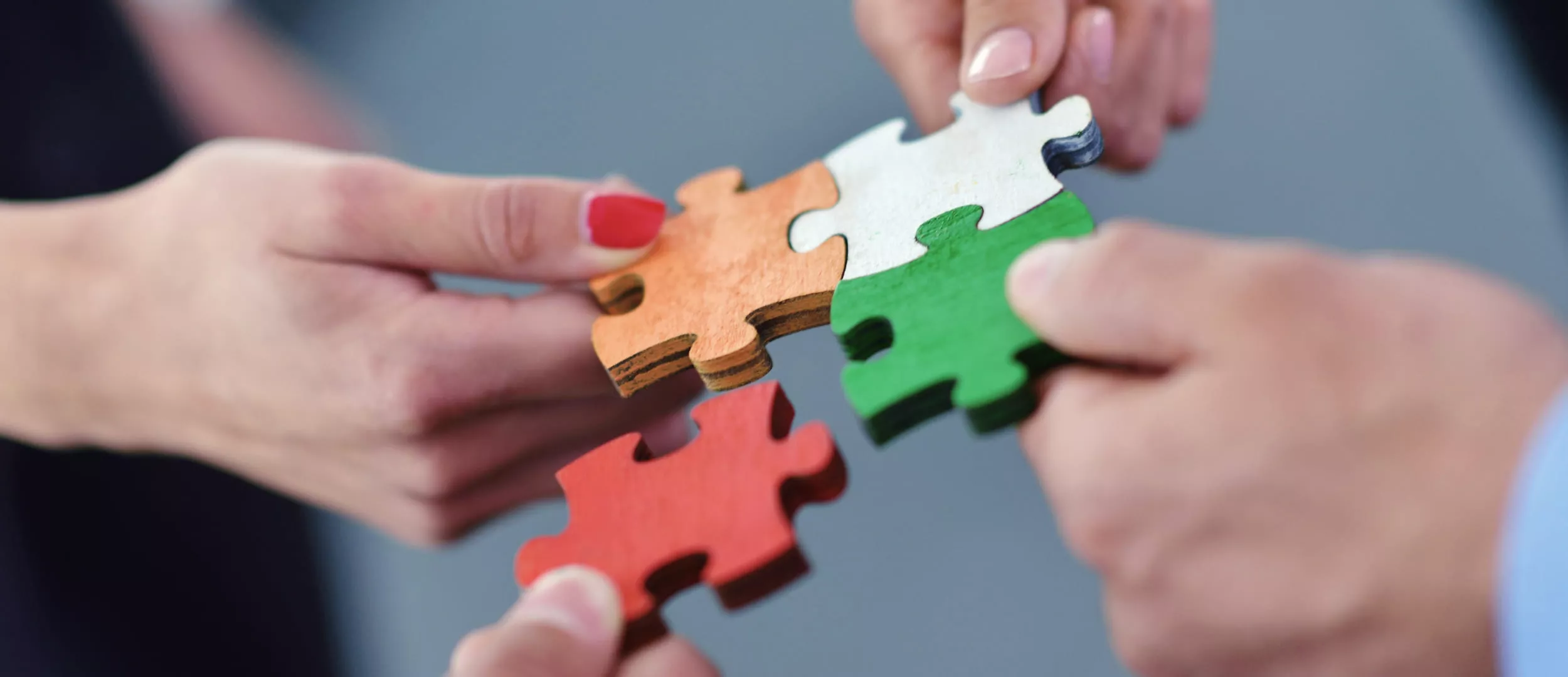 A rapidly evolving market and constantly changing business models force us to look for new, flexible staffing solutions that save not only money but also time and labor costs. Many modern companies have already appreciated one of these solutions - staff augmentation.
What is Staff Augmentation?
Staff augmentation defines as a kind of personnel decision, one of the offshoots of the personnel outsourcing strategy, which allows you to quickly staff the personnel if it is necessary to expand it for a short or long term.
In other words, this method allows you to quickly recruit workers for a particular project if there are not enough of them. For example, during the high season or in the place of a sick employee.
IT Staff Augmentation
IT Staff Augmentation is the process of adding additional employees to an existing team to achieve a specific goal.
How Staff Augmentation Works
IT Staff Augmentation is convenient to apply in both cases: both when workers are needed for a short time and long-term work.
Short-term staffing increases are typically used by companies during the high season or during peak days when their staff resources are not sufficient to meet demand; during vacations when you need to replace an employee at his or her workplace; to replace an employee who is on vacation or sick leave.
Long-term team augmentation is used for more global strategic purposes, for example, when a company needs to take on additional developers for a large project. This is typical for software development companies. Often, as part of a long-term expansion, highly specialized employees are attracted, specialists in rare technologies, which are meaningless and expensive to keep on staff.
Staff Augmentation vs Managed Services
Managed services include delivering services as well as consultations to help the client use services. A managed IT services model means that a third party runs a project and doesn't include consultation services.
Staff augmentation includes the rapid scaling of functions. Managed services, in contrast, are best for such processes as infrastructure and security over the long term.
Staff Augmentation vs Consulting
Companies need experts, and hiring and maintaining them can be difficult, especially in the world of software development. When you urgently need a workforce for specific software development projects, you tend to more cost-effective and flexible solutions, such as staff augmentation and consulting.
Staff augmentation is often used when an expert is needed for a project already in motion while consulting is more likely about hiring a whole team to work on a project from start to finish. Consulting agencies often have employees with different knowledge and expertise that include many stages of software development: from conceptualization to support.

Staff Augmentation Types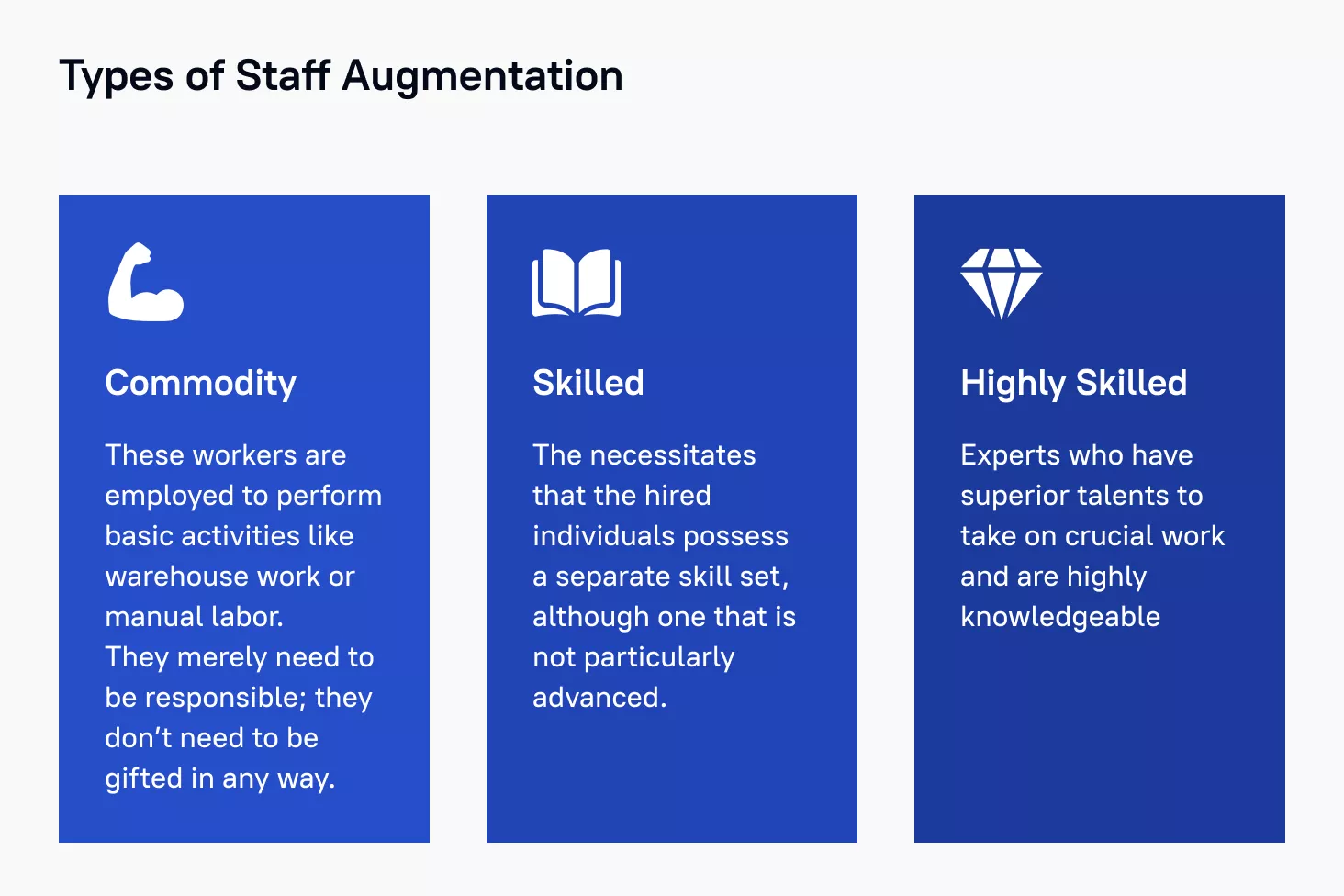 The staff augmentation model can differ depending on project needs. There are 3 types of staff augmentation: commodity, skill-based, and highly skilled.
Commodity
The staff augmentation model of the commodity doesn't need specific specializations. It is more about urgency than sharpening certain skills.
This type of staff augmentation includes manual labor, factory work, or retail.
Skill-Based
Skill-based staff augmentation requires more skilled personnel. But, the level of skill of staff augmentation is not demanding.
Data entry or typing is an example of skill-based staff augmentation.
Highly-Skilled
Highly-skilled staff augmentation requires experience and includes work in IT or software development.
Benefits of Staff Augmentation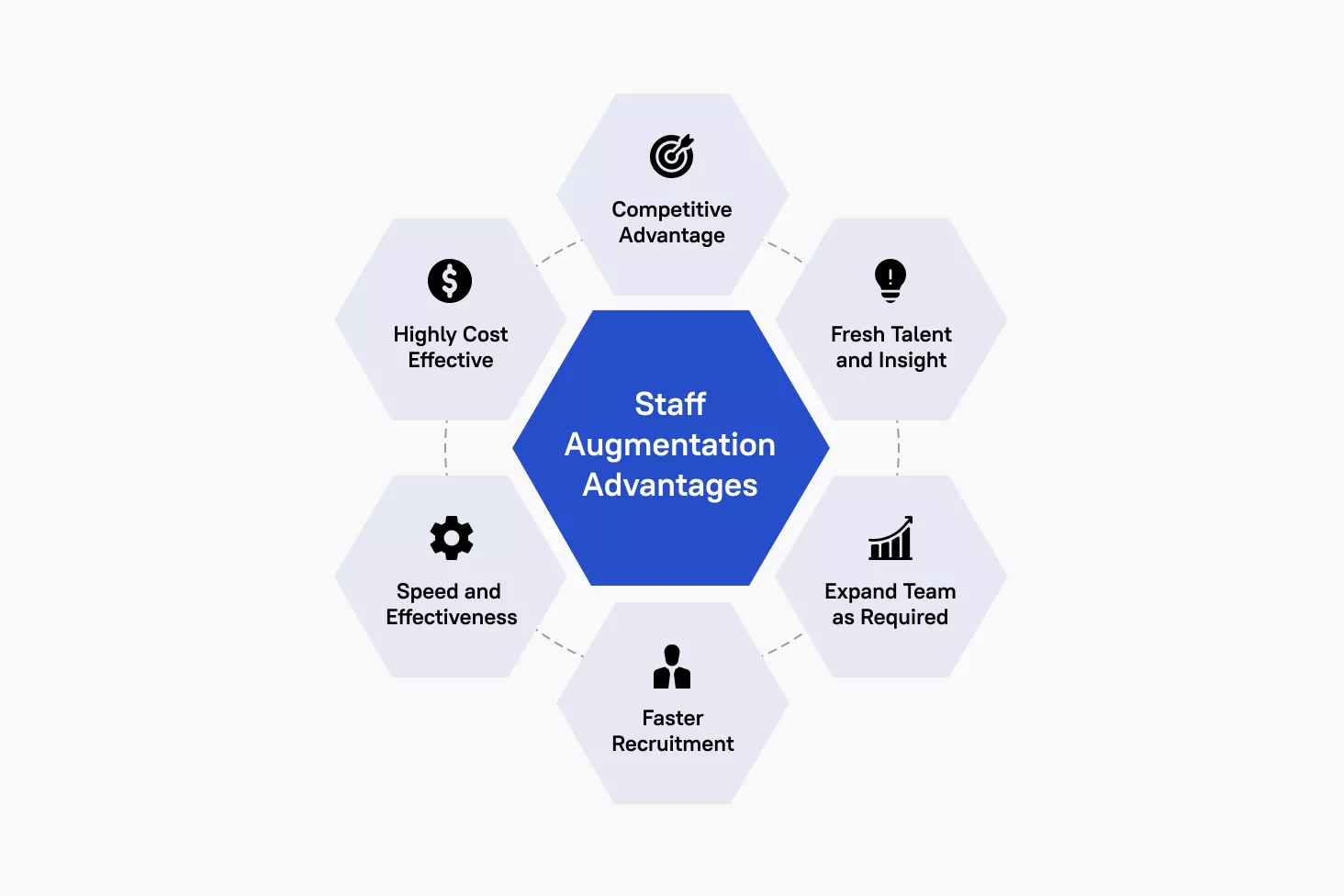 Such a personnel optimization solution as an augmented staff has several advantages:
Allows you to close the gap in certain skills. If the staff lacks specialists who are strong in certain technologies, then employers often follow the most common, but far from the easiest path - they begin to select such specialists on their own. However, in many cases this leads to high costs both for the selection itself and in the future when it turns out that the company doesn't need such a specialist all the time;
Reduces recruitment time. Self-selection of employees is a long and difficult process, and if it is delayed, then the company will inevitably begin to lose money. A staff augmentation services company is professionally engaged in staff augmentation - you don't have to spend your resources on recruiting, and the right employee will quickly and on time come to work;
Reduces recruitment costs. If a specialized company is engaged in the selection, but the costs are significantly reduced;
Reduces operating costs. Employees who are part of the company's staff are much more expensive than those who work as part of outsourcing. In short, an augmented staff allows you to use human resources in the same way as if workers were included in the staff, but without the cost of their maintenance;
Makes the hiring process flexible. With resource and staff augmentation you can hire the right number of workers quickly and exactly when you need them without spending a significant amount of money and time. For example, it is convenient for short-term promotions and advertising campaigns, closing urgent projects, or replacing a sick employee;
Allows you to think about business, not about personnel routine. The outsourcing company assumes all responsibility for maintaining personnel records management for the provided employees.
Staff Augmentation Drawbacks
There are also some cons to consider when choosing a staff augmentation strategy:
Increased costs in the long term. Staff augmentation can save your company money, in the long run, but if the project takes longer, it can include more labor costs. In general, you are paying for highly experienced specialists which may cause higher overall costs.
Lack of internal knowledge. Some of the projects require knowledge from the previous project or the company, and only existing employees have it. That's why it is important to share all the information with the staff augmentation company which will provide the knowledge to the augmented staff.
Project management. The out-staffed employees are much easier to manage but still, you need to manage the additional staff.
Training. You hire skilled people for the project but you do need to train them from the technical point of view. Often they need to follow your company's processes, tools, or company culture.
When to Choose Staff Augmentation
IT staff augmentation services are used when a development team needs developers with specific skills for a current project. The company may require those developers due to new project requirements or an employee leaving the company.
In most cases, the project's principles are already set by the team, and the staffed developers are there to fill in the job.
How to Apply Staff Augmentation Model
The key to how to use staff augmentation is an adaptation of the method to the specific needs of your business.
Define your goals. What do you want to achieve by augmenting your staff?
Identify the needed expertise and skills. What skills and expertise will help to achieve goals with software development?
Find the right company provider. It requires research to find the right provider that has an excellent reputation to work with and build a development team.
Communicate clearly with the company provider. Once you have found a provider, make sure you communicate your goals. It will help to meet your needs.
Set realistic expectations. Staff augmentation isn't a magic pill. It will help achieve goals, and it's important to set realistic expectations of what can't be done.
You have to invest time and resources. Staff augmentation isn't an easy fix. It takes time to find the perfect provider. Be prepared to invest time and resources to make a successful solution.
What to Consider When Choosing Staff Augmentation Company
You need to look through the IT staff augmentation market before deciding what and when to use staff augmentation.
Figure out what are your goals and make them the main point for all your searches.
The price should be reasonable but always keep in mind that expertise costs money.
Review and if possible try to test your candidates' skill sets. In addition, you need to test the soft skills of candidates so you can collaborate effectively.
A negotiation should take place to learn all the details of your contract.
Be honest about what you need, but also you need to have rational requests.
When you choose the staff augmentation service you should sign a contract.
Staff Augmentation with Stfalcon
Stfalcon specialists will help you with staff augmentation for long-term projects or one-time jobs. We always select an individual personnel solution for each client, taking into account the specifics of the business, and are ready to advise you for free!
Conclusion
Staff augmentation is not just an increase in staff in general, it is an expansion precisely by attracting third-party workers for a while.
You should understand that staff augmentation is not always just a solution for personnel optimization, but is often a crucial decision. When the company has no technical or other ability to reduce job processes by fitting them to the existing staff, then there is no other option than to expand the staff by choosing the augmentation.
If you would like to create a project and need an expert team, just contact us, a free consultation is available.