How Do Free Apps Make Money? — 12 App Monetization Strategies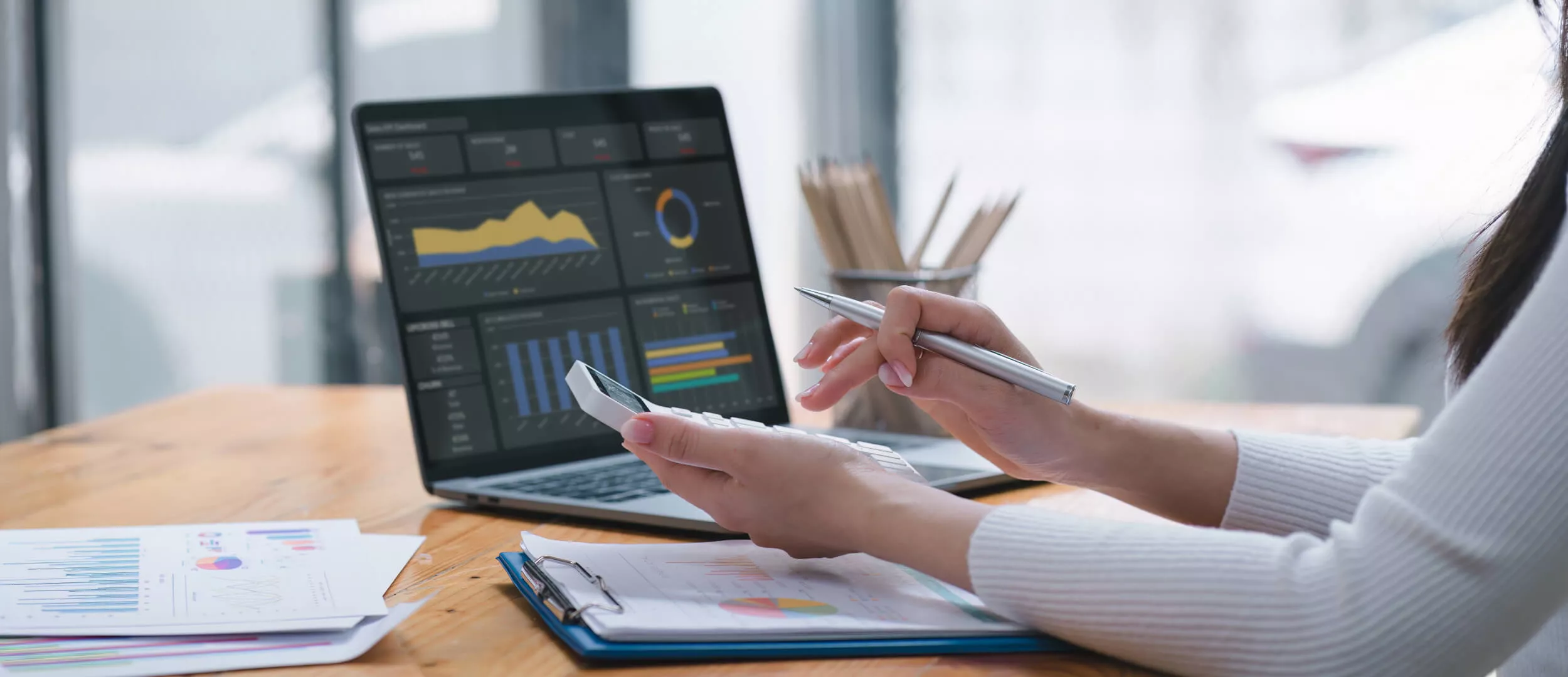 A mobile application is created as an addition to an existing business or as a separate source of income. Most large companies have mobile apps that complement their physical or digital product ecosystem to create added value. Even if no purchases are made in such applications, they generate revenue for the company indirectly. For example, through increasing loyalty and involvement. But let's look at options for how app developers make money.
What is Mobile App Monetization?
Free app monetization is a way for the developer (owner) to receive income during the use of the software product by the target audience. Some monetization methods allow you to start earning immediately after the publication of the product, while others will bring income only as a result of its growth in popularity.

How do Free Apps Make Money?
If you decided to create an app and don't know what to start with, you should start with a business plan. After that, you can hire developers to build an app for both iOS and Android.
But first, you need to think over the methods you can use to generate revenue. For example, a free app.
The user base of the free apps is large
Users will download a free app than a paid one
With the right business strategy, you will make a profit
97% of apps in Google Play are free. Free apps help to attract more users to businesses and increase loyalty to your product. So customers are more willing to buy additional services and tolerate ads.
How Much Do Free Apps Earn?
On average, 25% of iOS app developers i and 16% of Android apps earn around $5k per month with free apps. We can conclude that only 20% of the apps are of high quality and produce revenue, while 80% aren't so effective. This is implemented for free apps with advertisements.
App Monetization Strategies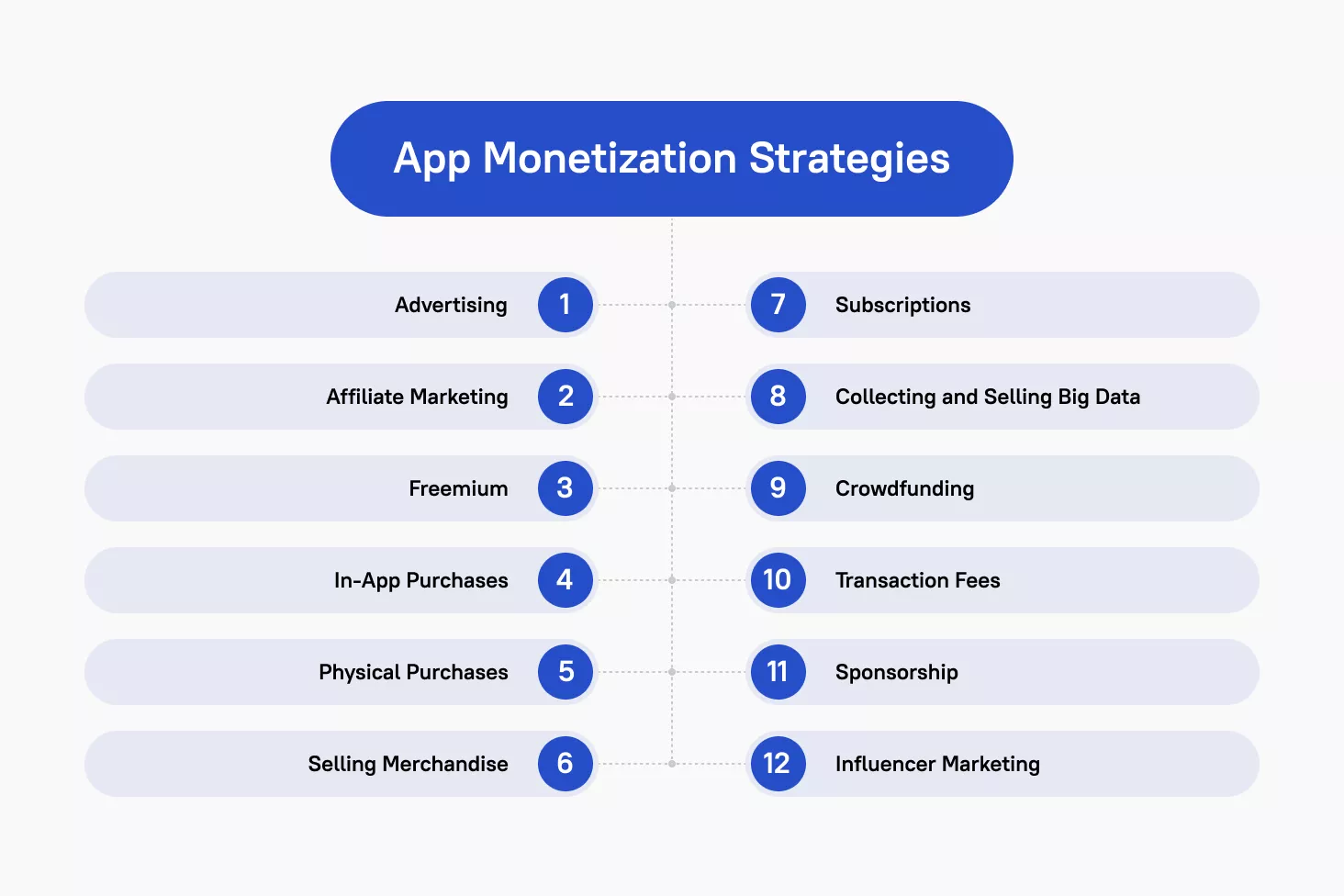 An app monetization strategy is a plan that helps you generate income. These approaches convert your app users' interactions into revenue. However, your strategy must be flexible to fit your goals, product, market, and users as they change over time. Effective app monetization strategies convert the user without breaking the user experience.
Advertising
Mobile advertising is currently the most common monetization method used in making money from android apps. The income of the developer (owner) is formed from affiliate deductions for showing ads for various goods, services, and other software, clicks on ads, and completed purchases. In this case, you can also earn money by disabling ad impressions for users who have paid for it.
The owner of a mobile application will be able to make money on ad impressions only if the product is sufficiently popular and mass-produced since users have already developed "banner blindness" and are willing to close advertising windows.
Don't abuse advertising in niche applications used to solve immediate problems, for example, in navigators, and taxis. For such software products, it is better to provide other ways of monetization.
Niches that advertisers prefer to cooperate with:
games for mobile devices,
online dating,
application software for smartphones,
food delivery,
travels
Affiliate Marketing
Affiliate Marketing is another app monetization model that includes promoting a third-party service or product as a method to optimize revenue opportunities. App owners can sell or promote affiliates' services or products based on the number of installs or clicks. You can use pop-up ads to promote your partner's app or advertise products.
Freemium
Freemium is a way to monetize applications that provide free access to basic features and charges for additional features or functionality. This approach allows you to collect a user base in a relatively short time. It's important to strike a balance. If you initially provide access to the most requested functionality, then the likelihood of purchasing additional features is minimal. On the other hand, too limited access is unlikely to give new users the right impression of the application's potential.
In-App Purchases
In-App Purchases are a monetization strategy based on the sale of virtual goods, and game currency inside applications. This business model is typical for the gaming industry. Typically, app catalogs take a portion of the virtual goods sales revenue.
Physical Purchases
eCommerce and startups use free applications for selling their products or physical goods via developed apps on the app store. Free applications can increase the profit from branded products. This approach can help to make convenient profits with the lowest risks.
Selling Merchandise
Another quite new method is to sell merchandise. Often eCommerce businesses build free apps to sell physical goods. These products can be sold directly to the app.
To encourage app owners to use this approach, Amazon has launched a service Merch by Amazon which allows app owners to upload artwork to the platform and promote their products. To simplify the process, Amazon takes care of the payments and delivery of items.
Subscriptions
Subscribe is a method of monetization of mobile applications, a subscription-based on the collection of a periodic subscription fee for access to regularly updated content of a mobile application.
User is willing to buy a subscription not only for the quality of the content but also for the comfort of use. A subscription can provide a stable flow of funds to the product owner, which allows you to plan development.
Collecting and Selling Big Data
Everybody knows that apps collect a lot of users' data. So those who do that can sell it to companies who display their ads to relevant audiences. Such information is also useful for the research of behavioral data.
Crowdfunding
Another way how do free apps make money is crowdfunding, which is quite new. In this strategy, startups and companies share their idea on platforms like Kickstarter, Patreon, Crowd Supply, Fundable, Indiegogo, and Chuffed for donations to fund the development and promotion of an app.
Non-gaming mobile apps are the most preferable in crowdfunding, According to Mobile Growth Stack.
Transaction Fees
The best way to make money on free apps is through transaction fees. It is especially convenient with apps that involve a platform, where transactions occur regularly.
If your mobile app gives the opportunity to third parties sell their products and purchases can be carried out online, you can take transaction fees. A small fee for every transaction within your app can make a lot of money.
Sponsorship
The sponsorship strategy in free apps that makes money includes finding a sponsor relevant to your niche and creating a compensation structure. For monetary compensation, an app can advertise its products, and the sponsor's brand, or send users to the website of the sponsor.
For example, if you have created an app for calorie intake, you should look for nutrition brands for a deal. It is not so easy to enter into a contract for a sponsorship deal, that's why most apps prefer other monetization strategies.
Influencer Marketing
Influencer marketing is also a way of sponsoring, but you will deal, with an individual opinion leader, who is well-known within your target audience. With this strategy, an opinion leader will talk about your app and attract new users. The influencer can become an ambassador for your app, which is a good strategy among brands.
How to Pick the Best App Monetization Strategy
The main monetization strategy is usually laid down at the design stage of a mobile application. Even if revenue generation is not expected at the start of the product, certain functionality will be required later, so it is important to provide for its presence or absence of restrictions for quick implementation.
It is not at all necessary to be limited to one source of income, you can combine several ways of monetization, for example, showing ads in the basic free access and paid expansion of the functionality with disabling ad impressions. With the growing popularity of the intermediary application among end users, it is possible to introduce payment for suppliers for placement at the top of the list (catalog), of premium positions.
To choose how to make money with an app, consider the characteristics of your target audience. Determine the real solvency of the majority of users of the product. How likely is it that they will pay to add features or enhance the app experience, or will they be limited to free access?
Be careful when choosing advertisers. The direction of the advertisement should be, at a minimum, compatible with the theme of the application, and at the maximum, corresponding to the interests of the target audience. Inappropriate and overly intrusive advertising will reduce the number of users of the product.
Tips for Getting More Users and How to Make Money from Free Apps
1. Review your in-app promotions and user acquisition goals You may already be seeing a decrease in conversion rates in IAPs (in-app purchases) and in-app promotions. If this happens, you probably need to rethink your in-game price targets and start actively discounting.
You can also change the content of promotions. You can A/B test in-game total discounts and promotions (in-game bundles), keywords you use in special offers, or tweak other aspects of in-app bundles to make the offer more attractive to users.
2. Refresh your App Store Pages to Increase Organic Downloads
This month, some mobile games and apps are updating their product pages on the App Store.
The app description in the App Store is the easiest thing to change. Add information about updated in-app events and promotions, or reach out to new users. Your main competitors have probably already updated their product descriptions. Check out their app pages and think about how you could improve your app description.
3. Update the app to increase organic growth
When you decide to upgrade your mobile app and launch a new version with new features, you will be attracting new organic users at the same time.
4. Proudly promote your app on social media
People relate to social networks in different ways. Some of them inspire and motivate others to action, while others are exhausted. But there is no difference. If you're an app developer, being active on social media is your #1 rule.
5. Start the domino effect
Get at least one well-known publication to review your application. Then use the post to get more free reviews.
6. Use mutual advertising to promote your app
If you are starting from scratch and on a minimal budget, be creative and reach out to everyone you know. Find out if you can work on barter - you advertise the partner's application, and they promote yours accordingly.
7. Use Soft Launch to Promote
65% of users forget about the app on the second day after download, and 95% within the first week. Demo users are three times more likely to purchase the paid version.
Use the fact: let the user try all the premium features of the application before buying. To do this, generate a promo code with a short expiration date or limit the demo version in time.
Bottom Line
Developers create mobile apps with various goals such as helping people or creating a positive user experience, but generating revenue is often the primary goal. However, some owners are struggling to find effective ways to make money with their apps. We have looked through app monetization strategies that definitely will generate income.
Start working with a reliable mobile app development company, and take the app structure and market research into account before choosing the monetization method.