The 2 Ultimate Issues Charity Startups Should Never Compromise

Charities have a vital mission worldwide. Modern society is increasingly turning its eyes to the nonprofit sector to cope with the burning problems of the society, environment and the world. People apply imagination to craft new products, services, and businesses that disrupt entire industries.
It's no surprise that charity goes digital. Multiple charity startups marketplaces and crowdfunding platforms can be found on the world wide web space. The two key aspects which stand out at present for charities are possible funding models and effective software solutions.
Charity Funding Strategies
Non-profits cannot operate the term business model since they deal with funds and not profits. So their funding models have to be viewed independently from those of the world of commerce.
The leaders concerned with the charity are usually more anxious about creating programs, than engaged in discussions about long-term strategies of funding. However, an idea may stay just an idea without proper implementation. That's why it's vital to choose the model best matching the tasks of your startup. It will help you support the chosen program more effectively, become more disciplined about investments and realize the impact your donations make better.
So, here are the ten funding strategies according to Stanford Social Innovation Review research worth considering.
Heartfelt Connector is the model with a focus on a certain cause resonating with the concerns of a large number of people. It connects them all through a created a structure, possibly a network of branches to fund research grants, support education, and community projects. Even though every single donation may be small the rapid process of raising funds is driven by reaching out to a wide and growing base of support.
Beneficiary Builder is the strategy of reimbursement for services provided to individuals belonging to a specific group. Most characteristic for universities and hospitals. The funding is built by the aids of people who previously benefited from these services or communities.
Member Motivator is mostly used in the domain of environment, arts, religion, or culture. Under such a model means are donated by the people who believe they draw a collective value.
Big Bettor. The non-profit relies on rather large grants from several individuals or organizations to fund its operation. It is often launched with significant financial backup or gets the support of the main benefactor. The latter has as a rule once made up his mind to fund a pioneering approach to solving some problem which he or she is personally concerned with.
Public Provider. Nonprofits providing social services for which the government allocated funding previously. It may be lodging, education, or human services. At times the authorities may outsource service delivery but set specific requirements for receiving means.
Policy Innovators. The entities which develop the innovative approach of addressing social issues in a way more effective and less expensive than the programs, which already exist.
Beneficiary Broker. The strategy allows nonprofits to compete for the opportunity to deliver the services, which are government-backed to recipients. The latters are free to choose the body they want to get the service.
Resource Recycler model presupposes collecting in-kind aids from companies and individuals and distributing them to needy beneficiaries.
Market Maker connects an altruistic donor of a good or service and a recipient who needs it but cannot purchase.
Local Nationalizer. Some nonprofits grow large creating a national network of locally-based operations. Most of the means are raised locally, either from individuals or businesses and through special events.
As you can see some charities are funded by many donators, some by a single person or a few people or foundations, some by the government or corporate funding, and some have a combination of benefactors. It's important to make it clear where your charity funds will come from and choose the corresponding model then.

Charity Technological Advance
It's no less important to choose the proper software for your charity project. However, you can do this only after you have made up your mind as to the funding model applied. Firstly you will then know the resources you have in disposal and the budget, which can be used on a software solution.
Besides, the funding strategy of a non-profit to a great extent determines the future functionality of the app, platform or marketplace developed for charity purposes. So it's the key question, you should know the answer to before the development or the choice of your IT product starts. Fortunately, the task has become much easier today than it was some time ago. At present, you cannot only benefit from multiple apps to raise money for charity but consider a charity giving app for your non-profit.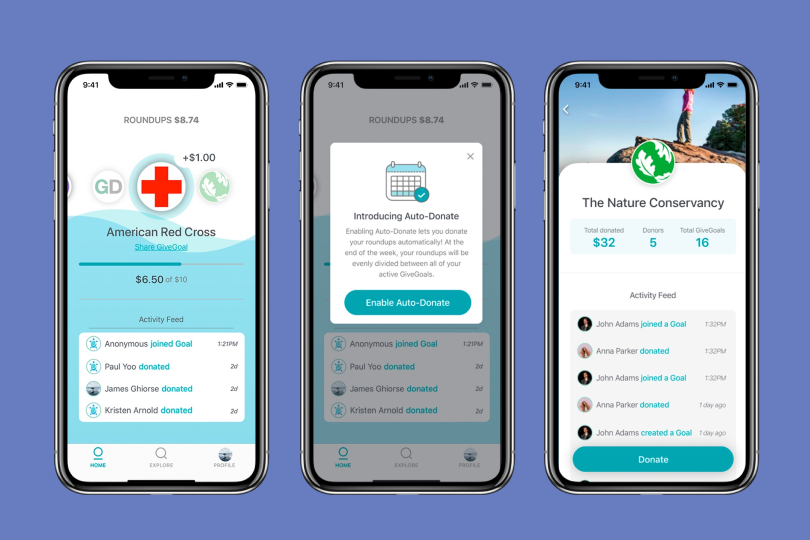 There are also public organizations, like TechSoup, which connect charity projects with technological products and services. Such companies help non-profit entities and foundations optimize their philanthropic impact and share technology resources and knowledge. So the charities could operate at their full potential.
Entrepreneurs are also concerned with charity donations. They often develop the services, which facilitate donations, making them easy. Freewill is one of the online solutions of such kind. It provides a web-based will-writing service and offers opportunities for charity donations. The startup, by the way, is included in the Forbes Cloud 100 list.
Fintech is also beginning to establish itself in this sector and businesses develop new, exciting products able to increase donations. To name just a few of the initiatives, we'll mention Pennies, KryptoPal, and Cleo.
The first is a UK registered fintech non-profit, in fact, a digital charity box, initiated in 2010 and having raised almost £ 20 million in 75 million small donations to more than 400 charities.
KryptoPal an innovative startup created a single platform that can be integrated into any charity collection app for accepting donations in cryptocurrencies.
Cleo is not a charity money app but an AI-powered chatbot. It takes care of the user's means and has a charity-giving function built-in.
How The Application Of Fintech Is Transforming The Not-for-Profit Sector
The non-for-profit sector is experiencing a transformative impact through the application of FinTech. Traditionally reliant on donations and grants, not-for-profits are now leveraging FinTech solutions to streamline fundraising and financial management processes.
In the past, the notion of philanthropy and charity often evoked images of wealthy donors or persistent street fundraisers. On the administrative front, not-for-profit organizations found themselves overwhelmed by cumbersome paperwork, diverting valuable resources from their core mission.
Fortunately, FinTech charity digital products are revolutionizing the landscape, offering both donors and nonprofits a more efficient and empowering experience. Charitable giving has become seamless, with online donation platforms enabling global contributions. Moreover, mobile donation platforms cater to specific markets, such as millennials, who prefer donating through their phones.
By embracing FinTech, not-for-profits are freeing themselves from administrative burdens, allowing them to focus on delivering real aid to those in need. This tech-driven approach also fosters greater engagement from the millennial generation, encouraging active involvement in philanthropic causes like never before. As FinTech continues to evolve, its impact on the not-for-profit sector will undoubtedly grow, ushering in a new era of efficiency and inclusivity in the world of charitable endeavors.
The examples above are just several good examples of how the opportunities can be seen and chances taken for charity. Below, you can find some more ideas to inspire your charity startup.
Charity Startup Ideas
Reduction of food wastage through a charity giving app. An app connecting the restaurants and cafes having excess products with the needy households and individuals can solve two problems at a time and result not only in reduced food waste but a noble deed.
Calories donation. Creation of a charity donation app or a platform, which will encourage people who are eager to lose weight to donate their extra calories to those who need food. It may be either in the form of real foodstuff or monetary help. The essence is that the needy receive a really basic healthy nutrition, while the donators stay healthy and get fit.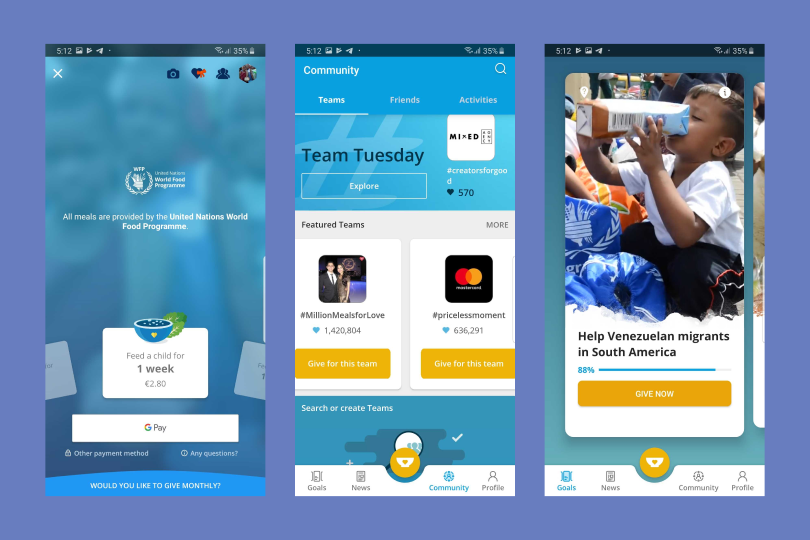 Doing charity and getting free stuff. Crafting a solution that can connect the sponsors and the grantees who receive benefits for the work done. It may be free stuff of some kind as well as a line in a resume, which at times may be even of greater importance.
CauseEDU is a US-based startup dedicated to revolutionizing student financing solutions. With a focus on simplifying college financial planning, CauseEDU has developed a crowdfunding app and platform that empowers students to register and raise funds for their college fees and education expenses.
The platform offers a variety of tailored financial planning packages, catering to individual needs. Students can choose between a self-paced program or opt for a cohort option, ensuring flexibility and personalized support throughout their college journey.
CauseEDU's innovative approach facilitates direct communication between students and donors, fostering meaningful connections and promoting transparency. Donors can also make recurring contributions directly to the colleges, enhancing the impact of their support.
To disclose a bit of our personal experience, we can mention a project we are involved in right now. A client from London came to us with the idea of a charity app for homeless people. So, we are working on a mobile app, which allows scanning the homeless personal info and donating some money to his account. To our mind, it's a simple, yet groundbreaking solution, our team is proud to be involved in.
Conclusion
Philanthropy is put first today due in no small way to the shift of generations and the priorities they set. The present-day consumers are interested in a donation to a respectable cause and the difference made by this. The social consciousness results in the attempts to create the best charity apps ever, and to think about the long-term effects of what is being done.
Ultimately, the integration of FinTech in the not-for-profit sector is bridging the gap between charitable endeavors and members of society, making it easier for people to get involved in what truly matters - contributing to a better world and positively impacting the lives of those in need. As FinTech services continues to evolve, its role in the not-for-profit sector will grow stronger, propelling philanthropic efforts to new heights of effectiveness and impact.
In case you are concerned with the issues of charity and eager to launch a startup and develop a software solution for the purpose, welcome to Stfalcon for consultancy and advise. We are always eager to create social goods.