How to hire the right dedicated Flutter app developer?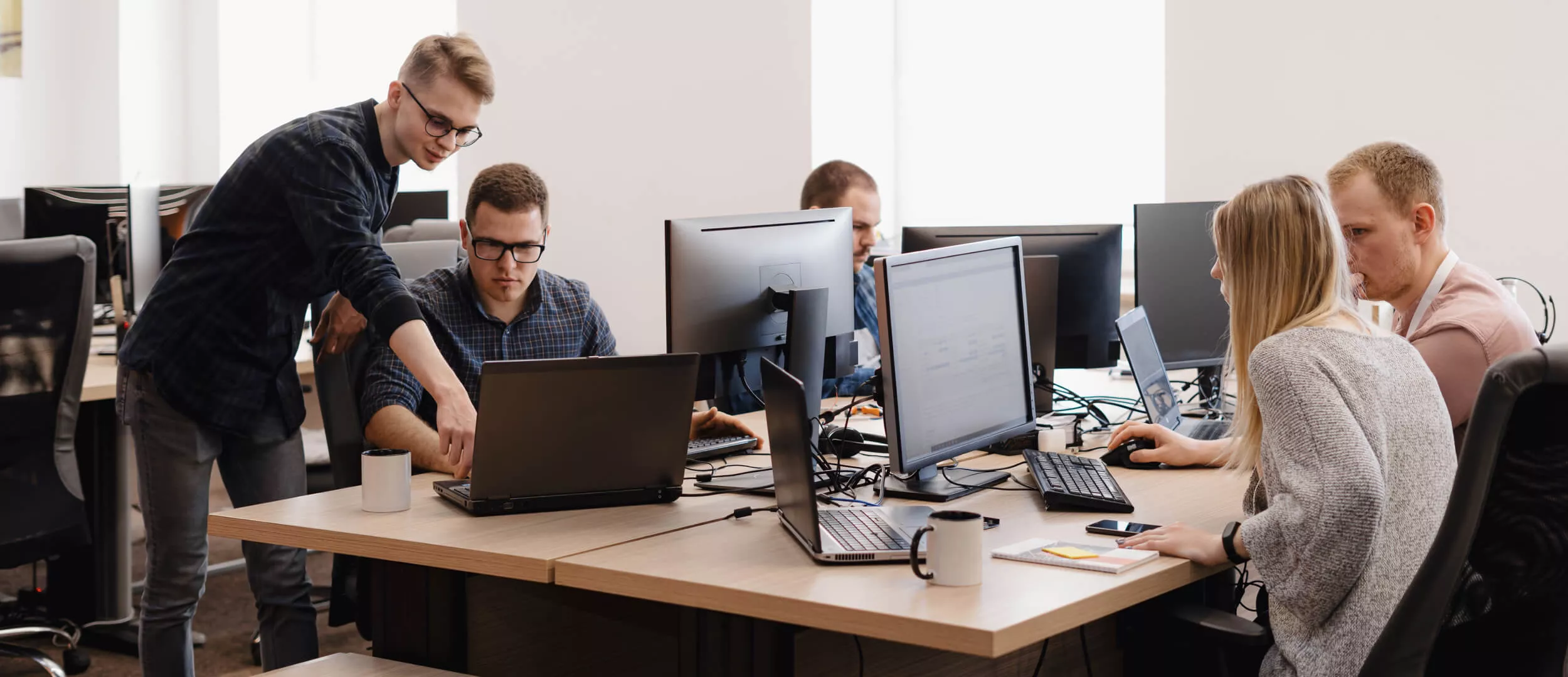 Starting to speak about Flutter, the first thing we need to mention is its history and the fact that it was run in 2018 by Google. Today, in 2022, it has already become a reasonably well-known framework between creators, which is used by almost all of Europe now. Many companies and IT companies use Flutter because developers catch it as an optimized digital key, which is why it is being studied so actively.
In general, around the world, developer interest in Flutter has been increasing for several years: according to Statista, its popularity increased by 12% from 2019 to 2021. And, in turn, React Native, on the contrary, has become less in demand - by 4%.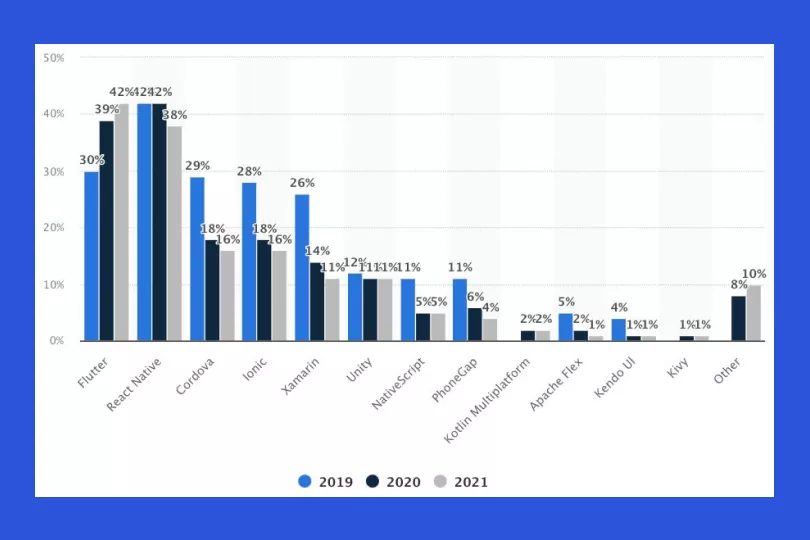 It should be also noted that Flutter is quite complex and recent, so it is not easy to find an expert who knows how to perform with the SDK perfectly. The demand for such specialists is growing exponentially, so if you are going to employ Flutter developers, you need to be prepared to rival others for an engineer. However, if you are not against the thesis about remote development, for example, there is a way out. There are enough teams that will be ready to accept all the terms of your project. If we are talking about a good and favorable price, then Ukraine can become such a good option.
Therefore, in this article, we are going to consider the following issues:
what is a Flutter development?
reasons to hire Flutter developers
how to hire Flutter developers
where is better to hire Flutter developers?
what are the benefits of hiring Flutter developers in Ukraine?
what are the advantages of hiring a Flutter app developer from Stfalcon?
our experience
At the same time, even though there's a ton of Flutter app development information popping up on the web every day, we are digging a little deeper. This article will discuss how the Flutter framework is rapidly evolving and provides particular opportunities for cross-platform app development.
Thus, without further ado, let's begin our exploration!
What is a Flutter development?
Flutter thrives and helps develop dynamic and feature-rich applications for mobile, desktop, and the web. Flutter is a framework that uses only one codebase, and companies use it to build apps for iOS and Android. That is why Flutter enables them to save money. Companies need to build the app just once. The latter will work on both platforms, managing devices that creators may reuse in the app, and building development techniques much faster, similar to other cross-platform technologies. All of the above makes Flutter the most interesting and attractive framework for mobile development in 2022-2023. Then keep reading!

Reasons to Hire Flutter Developers
Flutter, launched by Google 4 years ago, outperforms React Native considering productivity, compatibility, and price. In addition, it is easy to use, and also has tons of widgets, APIs, and other tools for development, integration, and testing. A uniform code is beneficial to both creators and their customers. Flutter is a goldmine for companies of all sizes because of:
Faster development
Flutter significantly speeds up a time to market gratitude to the versatility of its code and influential characteristics such as widgets and hot reloading. Therefore, Flutter app creators can quickly build full-featured apps for multiple platforms without renouncing quality. A Flutter mobile app creator may quickly involve changes (get rid of bugs, test the user interface, or add features) without failing the present condition of the app. Eventually, less testing is needed because applications on various platforms act the same established on the same code. As a result, companies begin selling their programs faster.
Economically efficient
With a shorter development phase and time-to-market, Flutter apps reduce development costs. Fewer test automation (50% less in the iOS + Android strategy) decreases the demand for quality control. This completes Flutter especially useful for startups the financing of which is too limited for native solutions.
Site development support
Now Flutter also supports the Internet. Experts can develop influential PWAs (progressive web apps) with interactive features similar to native apps. Flutter has been noted to work notably well for content-driven sites with many dynamic design features. Flutter creators can build a prosperous, interactive user interface.
How to Hire Flutter Developers
To put it straight, there are three models for engaging Flutter developers: hiring internal experts, contacting freelancers, and hiring third-party Flutter developers. Of course, it is necessary to mention the exclusive platforms that facilitate the search for talent by connecting companies with candidates. It should be understood that each approach has strengths and limitations depending on the project. Just find out how to hire Flutter developers in your country and elsewhere.
Outsourcing companies
Сompanies may find the best candidates in offshore (remote) or nearby (neighboring) places relying on their region. Hiring Flutter outsourced creators provide you with fast access to the right talent and permit you to hire developers on a contract basis. The difference in time zones does not interfere with the timely implementation of the project and fluent communication. Your firm may significantly decrease expenses by outsourcing to a region with lower hourly rates for Flutter developers. For instance, Ukraine has evolved into one of the most famous destinations in current years because of the large number of talents and full support for the development of Flutter applications.
Freelancers
Businesses can apply to find freelancers using platforms to find specialists for a project or task at an affordable price. And the freelance developer, in turn, can be paid by Flutter on an hourly basis or according to the completed assignment. It is also necessary to consider the fact that experts perform work without direct control, so coordinating work with their own teams can be difficult. Fiverr and Upwork are some of the best sources to find freelancers.
Internal development team
The first thing you should pay attention to when choosing this type of cooperation is the labor-intensive and the most expensive type. Such collaboration also has its pros and cons.
Among the advantages: you have a team that is wholly committed to the task and always ready for change. The most popular full-time and part-time job sites are Glassdoor and LinkedIn. On the other hand, full-time developers can expect a higher payment than, for example, freelancers. They can claim the same benefits as your other staff. And of course, you do not ignore the fact that you will have to pay for equipment, Internet connection, electricity, etc.
Let's go further!
Where is better to hire Flutter developers?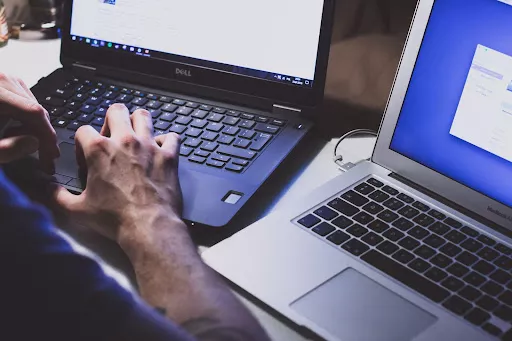 Speaking about the issue of where it is better to hire an engineer for collaboration, of course, it is necessary to state that the location has become an essential factor for hiring the services of a Flutter developer. However, it is of course obvious that companies have a choice. If we talk about the most popular places for hiring Flutter developers, it is necessary to mention: China, India, the United States of America (USA), and Europe. Each place has its advantages and disadvantages. Companies must take the most profitable place for them.
Developers in Ukraine, however, get by much cheaper without a significant loss of quality, but at the same time developer have a strong engineering school. It is about $30-60 per hour, while in China - $40-$55 per hour, in India - $35-$40 per hour, United States of America (USA) $75-$120 per hour, Europe $70-$90 per hour (Western Europe), $45-$65 per hour (Eastern Europe). This is mainly due to the significantly lower cost of living. If you are looking to hire a Flutter app developer, you will not find a better choice.
What are the benefits of hiring Flutter developers in Ukraine?
As already mentioned above, Ukraine is the best choice for searching for a dedicated Flutter app developer on the market today. Let's take a closer look at why.
The first thing to mention is education. Ukrainian developers have the opportunity to study at various technical universities of their choice, of which there are enough in Ukraine. It is impossible not to mention the communication skills of Ukrainian engineers, in general, they all have a fairly good level of English, which simplifies communication. And we have already talked about the ratio of price to quality above. Compared to the USA and other Western countries, hourly pay in Ukraine is very pleasant, and the quality of work is high.
What are the advantages of hiring Flutter app developer from Stfalcon?
We bring to your attention a list of advantages if you decide to work with Stfalcon:
More than 13 years on the market, where about 325 successful projects are worked on by our best developers (more than 50 specialists)
Rated 4.9 on Clutch
The client has the opportunity to control specialists and the development department
Completing tasks from start to finish
The possibility of remote work
Nice price for cooperation
If you are interested and you are interested in the price for our services, make an appointment for a call and our managers will give detailed answers to all your questions.
Our experience
For many years, our company has been one of the global service providers in the field of mobile device development. If we talk about Flutter development cases, the following examples are for your attention.
One example is BingeBooks, an online community created by authors to help users discover new works and recommended authors at a good price.
The client asked us to develop a mobile application for the iOS and Android platforms, for which the Flutter framework was selected. In this way, 2 applications were created at once, which significantly decreased the price of the development project.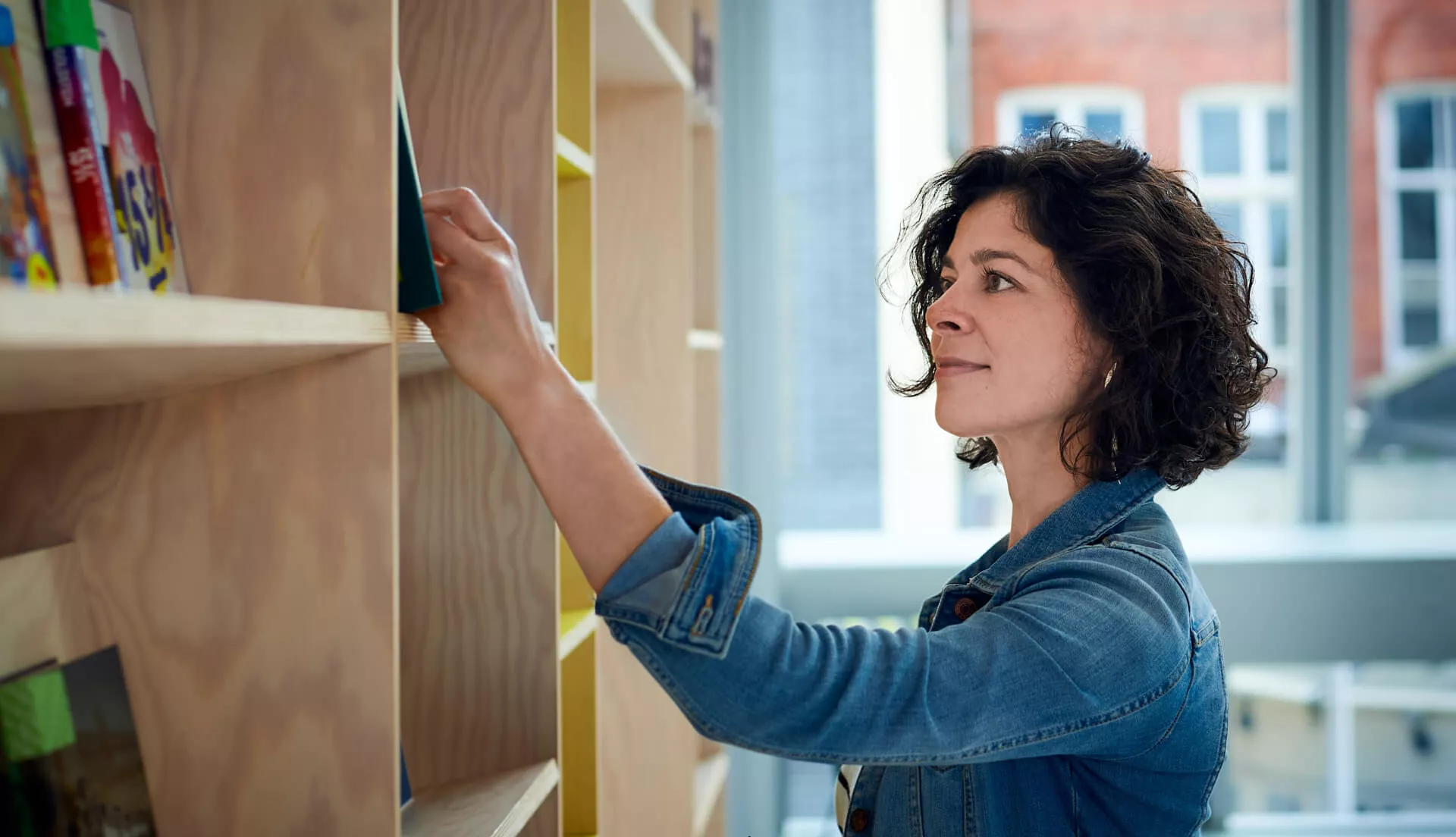 Read the full case study
We were deeply impressed with the quality of the work at each stage. Stfalcon performed admirably, even during high-pressure situations throughout their engagement.
The subsequent example is one of the largest food delivery companies in the world (project under NDA). A client approached us searching for experts to create a B2B ordering tool that restaurants and food suppliers could operate.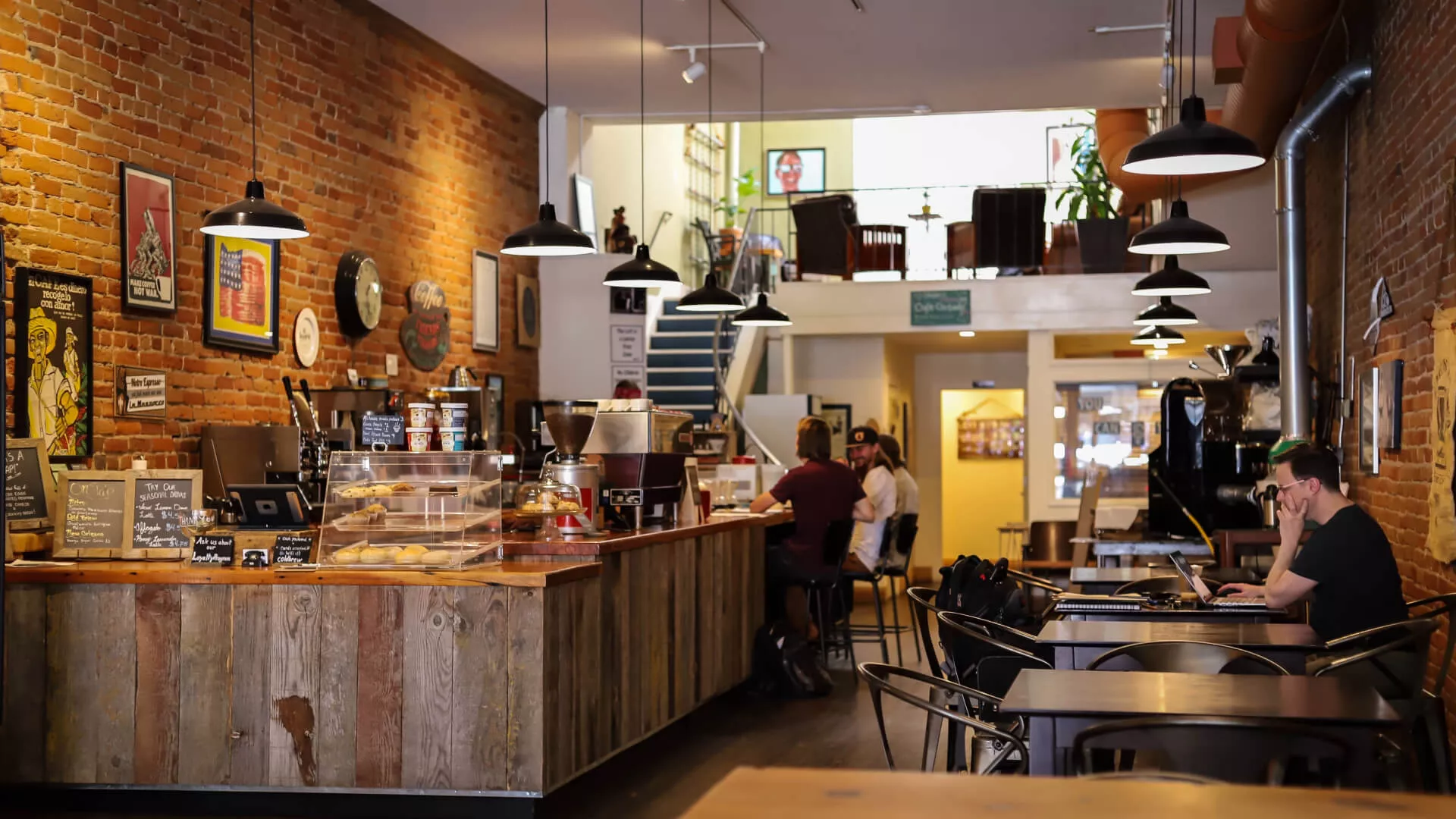 Read the full case study
A chat has been created with an expanded product catalog and the possibility to create both one-off and repeat orders with payment and delivery details. This chat was then integrated with as many popular services as possible for seamless interaction between the restaurants themselves and the suppliers.
For more information on why you should choose Flutter for mobile application development, read our article.
Final Thoughts
Today the major advantages of Flutter include incredibly quick development, tremendous performance, and extremely profitable. These benefits once again emphasize how in demand Flutter development specialists can be. Moreover, let's not forget the fact that interest in cross-platform only grows every year, which speaks of its relevance.
If you are looking for a Flutter app developer and still don't know where to turn, don't worry! Stfalson specialists are always ready to advise you on any issue if you have any further questions or doubts. Nowadays is the perfect time to take advantage of Flutter's cross-platform capabilities and create apps even better and faster. We hope for your decisive step and will be so glad for our further cooperation!