How to Make Your Own Cryptocurrency: 9 Steps to Consider

Just a few years ago, cryptocurrency seemed an unknown and mysterious word, as well as the notion of crypto trading. Hardly anyone knew about it, but the enthusiasts who dared.
However, between November 2019 and 2021, the number of cryptocurrencies worldwide demonstrated an outrageous growth of more than +250%, from 2,817 to 7,557. At present, the cryptocurrency market with its 541 exchanges is already an ordinary thing. More and more people are now jumping on the bandwagon to make their fortune, especially now in the light of the world's new circumstances. The market capitalization of Bitcoin only is over $835 billion.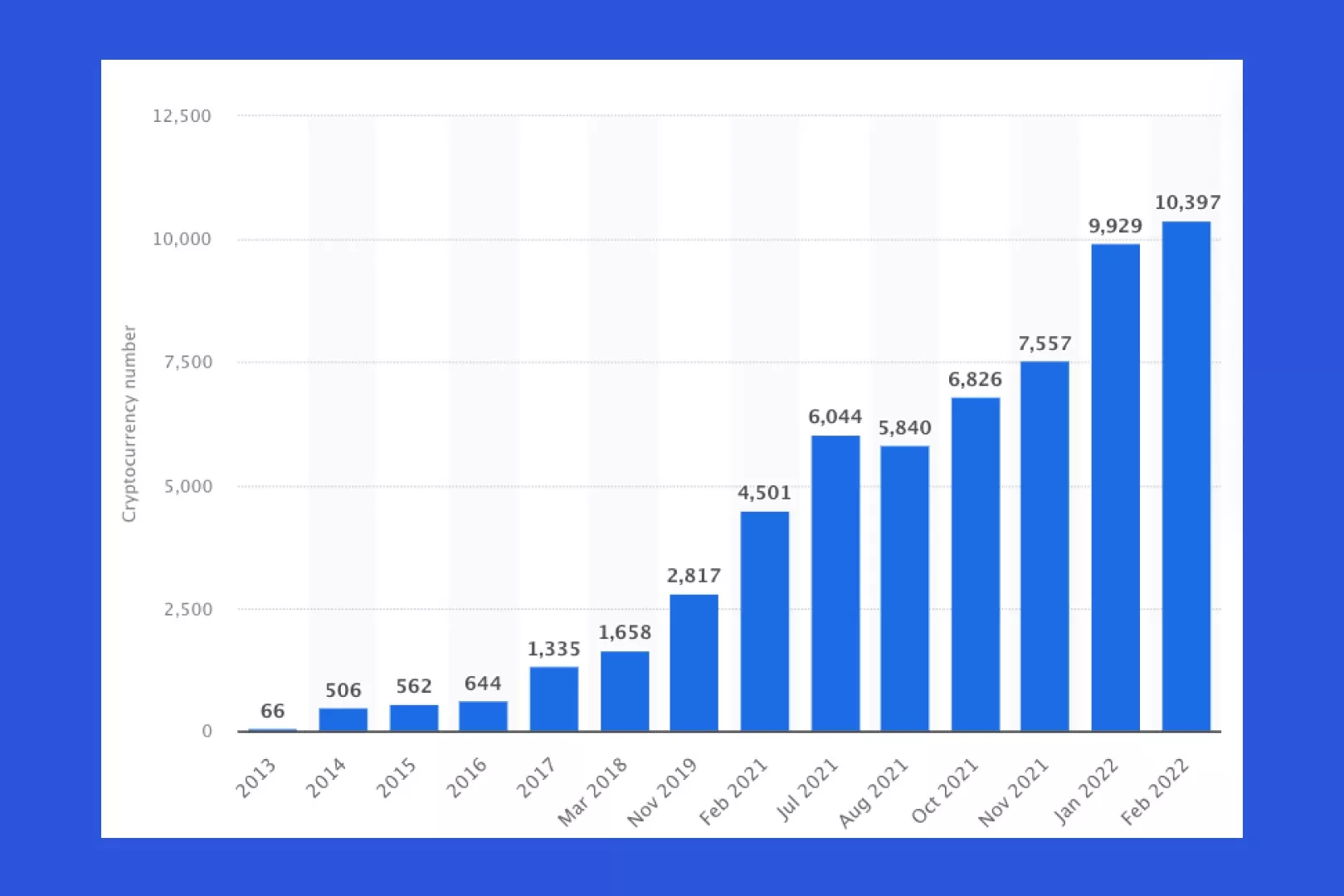 If you are still far from crypto affairs, just imagine that there are already over 300 million people using crypto worldwide. The confidence in digital money nears 100%. More than 18000 companies are already accepting cryptocurrencies.
More than that in 2021, Bitcoin was accepted as the official currency of El Salvador, Latin America, on a par with the US Dollar but not every organization allows it as a legal tender.
What Should You Know Before Creating Your Cryptocurrency?
Even though Bitcoin is a crypto giant that tops the market, everyone can now create an alternative digital currency to enter this market and take their chances. However, just cryptocurrency creation is the easiest part, you also need to know how to grow and maintain it over time. Let's find out what you should comprehend to succeed before you start to develop a cryptocurrency of your own.
First and foremost, check the regulations of the U.S. Securities and Exchange Commission, so as not to violate any security regulations by chance.
Now, let's start from the basics and answer the question – what is a cryptocurrency?
Broadly speaking, it's a currency existing in digital form. It consists of coins and uses cryptography for transaction security. Cryptocurrency is based on blockchain technology, which keeps data in separate secure blocks, stored on multiple devices and that's why it's impossible to manipulate. Blockchain technology makes the crypto assets well-protected and not subject to any third-party influence.
Here we come to the 2 often confused terms – coins and tokens. Let's find out the difference between them.
Understanding Coins VS Tokens
Coins and tokens are the 2 notions, which are often treated as the same. All coins are tokens, but not all tokens are coins.
While a coin was created as a money replica to store value and trade currency, it is native to a blockchain. Each blockchain has one associated coin. Tokens in their turn tend to utilize other blockchains, using the technology of smart contracts. Thus, a blockchain can host thousands of tokens.
So, if the coins are the medium of exchange as they are, then what is a token?
A token/tokens represent assets that can be held, traded, or staked for interest. Tokens provide more freedom to their owners, though some platforms may refuse to accept tokens.
When there is a token transaction, the token should be moved from one place to another, and the change of ownership is transferred manually. With a coin, you do not need to do so, since a transaction is recorded on a blockchain. It resembles a bank transfer when the balance is changed, but the real money is not moved.
Tokens are not limited to being used as currency only, they have other forms and play significant roles in Defi, DEXs, and gaming. The rise of the cryptocurrency industry has already attracted lots of people, investors, and ample users looking for opportunities to quickly make money. So, now, as there is no doubt that blockchain technology is going to expand and the overall usage of crypto coins and tokens will increase, let's proceed to the benefits of creating a cryptocurrency.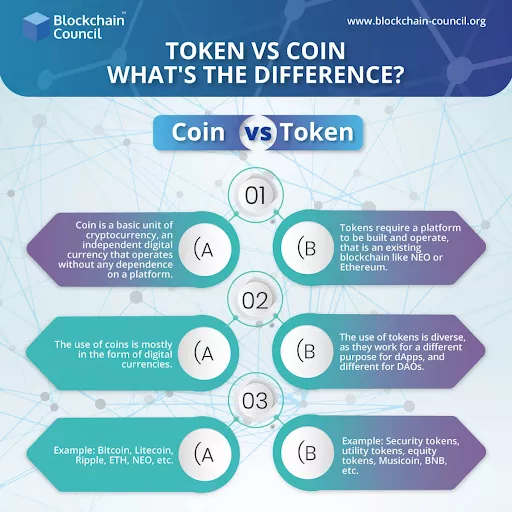 What Are the Benefits of a Cryptocurrency Creation?
In case you run your own business or plan to launch a startup, it's high time to consider crypto. Here are some reasons why.
Rapid crypto-industry growing - there are already about 16 500 different cryptocurrencies in 2022, and they continue to emerge.
Swift transactions– digital means facilitate easy value transfer and low cost since any smart device allows operations with crypto.
Topmost security- as we've mentioned above, blockchain technology is highly beneficial for secure operations with data and transactions.
Low fees–transactions with crypto assets are much cheaper than FIAT money.
Opening a way to the new demographic groups - crypto can open you to people who value transparency and security.
Access to new capital and liquidity pools - cryptocurrency provides your business with this, either through the new asset classes or traditional investments tokenized.
Programmable money may serve as an effective alternative asset and also assure smooth exchanges with stakeholders.
Ways to Create a Cryptocurrency
Now let's speak a bit about how to make a cryptocurrency - ways and options.

Figuratively, anybody can create their cryptocurrency, but it requires some coding expertise or hiring a blockchain developer. However launching a token, on some existing platforms, requires relatively little tech expertise.
So, there are minimum 3 ways how to develop a cryptocurrency:
Create a new digital currency on a new blockchain
This way is the most complicated, it requires a profound understanding of the technology of blockchain, technical skills, and coding expertise.
However, going this way, you are free to implement any idea and customize as much as you wish. You can experiment with your new native coin, different from any other existing, and the number of the coins issued won't be limited. It's totally up to you to issue the complete supply of coins in a single batch, or gradually increase it over time, adding new blocks to the blockchain.
So this is the option for those who are eager to create something new or innovative and not afraid of challenges.
Alter a cryptocurrency existing
This way is less complicated and much quicker due to the open-source codes that any developer can take, modify and create a new currency. It will still require some basic tech skills and development expertise, but with proper legal and auditing guidance, you are sure to succeed. The source codes of most blockchains can be found on GitHub.
Create a new cryptocurrency on an existing blockchain
To avoid the complicated process of new blockchain development from scratch, there is the simplest option of crafting a cryptocurrency on a platform that already exists.
Users can utilize blockchains to build their tokens or altcoins. They are called so because they are not native to the existing network. Though such tokens are less customized, they benefit from the established platform security measures, which adds trust to them. More than that, an association with a well-known platform also facilitates adding up credibility and value to such tokens. Being easy to create, they are rather popular in the crypto market of the present day. Even if your computer skills are quite average, you are sure to cope with the task with ease.
How to Develop a Cryptocurrency Coin: Steps to Follow
Now, as you see everything you should consider before taking the challenge to create your cryptocurrency, let's proceed to the common steps to follow. Even though you may skip some of them if hiring a third-party developer to create a coin for you, it's better to know the process from A to Z.
Define your use-case
To choose the right strategy, you should make up your mind as to the sphere of your business interests. Are they in the smart contract field, in the smart asset management sphere, or concerned with data authentication and verification? It will help you to create a really useful and effective problem-solving solution for your target audience to buy and invest into.
Settle on a consensus mechanism
Based on the objectives defined in step 1, you should choose a consensus mechanism that will become your ideal fit. This means, you need to find the protocol, in which the nodes would confirm the due transactions. You will also need a proper mechanism for the nodes to do it smoothly. To a great extent, the speed of transactions will depend on the type of smart contract chosen.
Choose a blockchain
Your new coin or token requires a place to operate in, so the next step should become selecting the environment for your currency to live in. First, you can check the cryptocurrency ranking and then ground your choice on your project goals, comfort level, and tech expertise.
Create the nodes
The backbone of blockchain is node structure, so it's necessary to determine how the nodes should operate and function in your blockchain and create them accordingly. It presupposes the choice of blockchain with the appropriate permission, as well as hosting and hardware.
Develop the blockchain architecture
As soon as you get 100% certain as to the features, functionality, and design of your nodes and blockchain, you can start creating the blockchain architecture. A sound idea is to first create a test net for the purpose since certain parameters can never be changed after you have launched your main net. The following aspects require your careful consideration: permissions, address and keys formats, key management, block signatures, multi signatures, asset insurance, and re-assurance, atomic swaps, Hand-shaking, inter-blockchain communication (IBC) protocol integration, and some more.
Integrate APIs
When considering what cryptocurrency platform to choose, make sure your new digital currency has API. It will help it stand out and be faster adopted. In case the API is missing, third-party blockchain API providers can help. So, it's not a big problem, but you should make careful consideration and the right choice.
Design the interface
To create a cryptocurrency that will gain popularity, you should ensure its smooth operation and the cutting-edge UX. Choose carefully the proper language of programming and the external databases to use. Make sure, your web, mail, and FTP servers are up-to-date and flexible enough to be adjusted and updated in the future.
Make the newly created cryptocurrency legal
Before 2018 digital currencies were somewhere in a gray area, that's why skipping this step could lead to great trouble, at minimum a fine or even criminal charges. So, now, before launching a new currency check the laws and regulations in this sphere, and possibly take a lawyer consultation to avoid unpleasant surprises in the future.
Grow and improve your blockchain
This is a bonus step. Do not lose your motivation after the cryptocurrency is launched. Think of the ways to boost it by future-proof technologies, like Machine Learning, the Internet of Things, Artificial Intelligence, Data Analytics, Bots, and other ground-breaking developments.
Should You Take the Challenge Yourself or Hire a Cryptocurrency Development Company
As we have already mentioned, nowadays, anyone can create a cryptocurrency, having some expertise in development and blockchain understanding. Automated tools allow doing it in a matter of minutes, though the proficient process can take up to several hours. However, the launch and maintenance of your cryptocurrency further on require time, money, and some other resources.
As a professional development team, Stfalcon always stands its ground in attracting specialized developers to work on your behalf. There are companies developing blockchains from scratch, and the ones using the infrastructures already existing. Anyway, experts in the blockchain industry can always come up with out-of-the-box solutions, helpful ideas, and advice on the unobvious drawbacks.
Depending on your choice, crypto coin creation can take up to some months, but you can influence its customization and manage the process. As a result, you will get a system fully in operation, with all the processes of auditing and ICO launching completed.
More than that, a cryptocurrency development company can also offer you a legal clearance and economic consultancy on the most cost-efficient way to implement it. It will ensure your newly developed currency compliance with all regulations and success in the market.
Final Thoughts
Now, as you see the prospects of the blockchain industry and the potential behind cryptocurrency, you can research some projects interesting to you and figure out the project you'd like to launch. Don't forget to consider the competitive advantage you can offer to your audience and just dare to bring it to the market right now.
With Stfalcon's professional team you can get not only the technical solution but also promotion, auditing, and legal issues settled. Contact us and let's discuss your new project and cryptocurrency together.