Logistics Software — The Major Key to Solve Your Supply Chain Issues

Modern logistics and supply chain processes are being continuously reshaped nowadays. Transformations taking place start from the very core and result in more refined and fast logistics procedures and the way they are managed.
The complexity of processes and constantly growing demand for logistics services determine the major factors influencing the approach to the supply chain issues. They are efficiency and speed, which are able to provide tremendous competitive and business advantages to the enterprises if properly organized. And it actually does not matter if it's a manufacturing corporation, a logistics company or some kind of a startup related the supply chain issues.
The freight management market growth is predicted from 10.76 billion USD in 2018 to 17.45 billion USD by 2023. It will be driven by the following business values: the necessity to reduce transportation time, wish to make the supply chain more visible and reach higher consumer satisfaction along with logistics low cost and optimization of cargo and transportation solutions safety and security.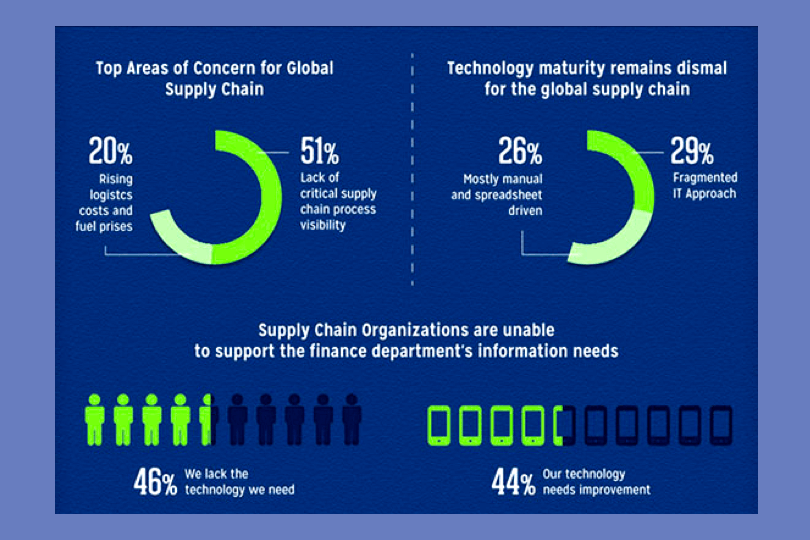 However, in the current economic landscape the supply chain management is full of challenges and if you manage to find a feasible solution which makes the right product to be delivered to the right client in the right time, you will get good end results with visible advances in procedures, operations, and delivery.
As you know, our company deals with software development and we have played already in the supply chain management software market a bit, that's why we can assure you that well-designed software may become the answer to your current problems and pains. Nowadays it's reasonable and wise to invest in logistics software development to stay afloat in the market, besides a proper end-to-end logistics and transportation IT product is able to take away the hassles from your logistics processes and ensure your greater productivity and profitability.
Challenges in logistics management
Let's deal a bit with the main challenges you may face in logistics management.
Planning
While planning is the initial step to any task accomplishing for logistic operations it's simply inevitable and vital. It includes various aspects, factors, and parameters to be well thought-out.
A supply chain operating manager has to create the flow chart for the entire operation, starting from goods purchase and storage to their loading, transportation, and delivery to the needed locality with the time, transport, and costs taken into consideration.
The aim of any planning is to make the work in the least time and to gain maximum profit at the minimum costs. However, in the case with logistics, any plan is incomplete if the unforeseen circumstances are not considered.
In order to stay efficient and effective supply chain planning solutions should be used to automatically work out the best transportation strategies according to the specified parameters indicated. Proper supply chain software is able to decrease transportation costs, minimize stops to warrant speed and quality of delivery, shorten lead-time, and more.
Besides, your logistics software should meet the customers' requirements meaning that an integrated CRM system is necessary both for inbound and outbound logistics. A robust CRM can always respond to the customers' queries and provide them with relevant details about the delivery along with the exceptional experience of the logistics services you offer.
So from the point of view of planning your perfect software:
matches you with the correct carrier;
selects the carrier, which offers the right mixing and loading strategies for particular types of freight;
finds the best shipper from service-price ratio point of view;
creates route maps for your cargo shipments;
automates load tendering, paperwork and load planning.
Coordination
A supply chain is a complex structure of entities, people, activities, information and resources, which are all involved in the delivery of a certain product to the customer. Just imagine that each supply chain manager should solve daily hundreds of tasks, as he has to take into consideration the products transported and their peculiarities, the supply volume and the loading point capacities, multiple carrier companies and their specifics, the priority of shipments, the statuses of the cargo, vehicles, inventory and the storage capacities, whenever they are needed.
It's not yet all, as the information is often missing, the resources are not used to their fullest, visibility is not comprehensive and unpredictable events often happen. To manage all these processes one should actually have some superpowers because facing any unscheduled event requires quick handling and the re-organization of the whole logistics process.
Below you can see a day in the life of a UPS fleet in simple figures. Can you imagine how much improper coordination can cost to the company, the services of which cover 220 countries world wide?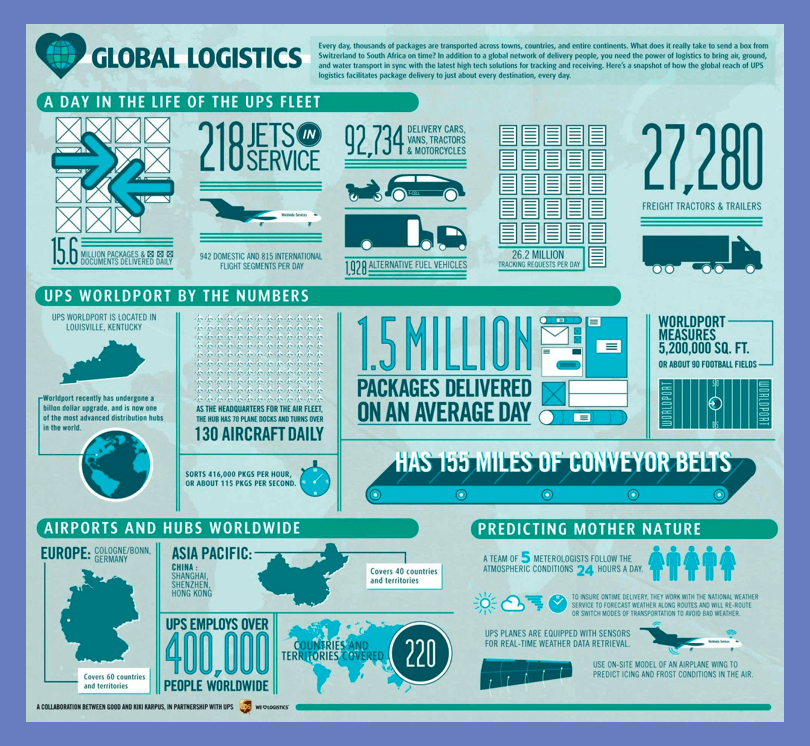 The most essential part of logistics technology is the coordination of all the supply chain related activities in the most effective way. Supply chain management should encompass multiple moving parts of the process, bring them to order and make work smooth and on time. This is the key to preserving the clients' and partners' credibility nowadays.
So to make all the moving parts work efficiently, the freight logistics solutions should have an integrated tracking system.
Today logistics app development allows implementing special applications for load tracking, vehicle tracking, and even drivers' activities monitoring.
Modern logistics routing software helps to create optimal routes with respect to road quality, traffic, and length.
In case of the trouble spots identification, the software can help you optimize your routings and create more accurate and achievable transport schedules.
Thus through a shipping logistics and tracking management software one can get real-time insight into the trucks, freight, and drivers location.
Such solutions may simplify and systematize search of shippers and decrease the number of bureaucratic formalities in the organization of transportation.
Stfalcon company has carried out the project, where it was sufficient for a cargo owner to indicate the places of freight's departure and destination, loading date, and type of cargo. All the other work, including the monitoring of load transportation, was done by the CSM software. You can find out more about the project here.
Documentation
Logistics processes presuppose dealing with large databases, numerous contacts with customers, partners, suppliers, multiple requests and consequently vast scope of documentation.
Business processes may suffer from poorly performed documentation maintenance.
That's why it's crucial for all the managers involved in logistic processes have quick access to data, besides, automation of certain operations may result in decreasing operational costs.
A proper CRM system is irreplaceable in creating and maintaining accurate databases and through the shared and secure access, it greatly simplifies and improves the logistics work and consequently the service.
With effective CSM software:
all accounts can be automated which will result in less time on paperwork, due to automated quotes, invoices, billing, and credit notes;
besides logistics app development can bring much benefit, allowing each participant of the logistics procedures fill in the due info and documents right in the mobile application;
more than that anyone can get the necessary reports and data whenever they are required.
The benefits of having corporate logistics software
Acquiring a logistics management solution, you can expect sensible benefits for your company.
Refined Transportation.Transportation is the most expenditure side of the logistics process due to energy, fuel, work, tolls, and shipping fees. The software can facilitate managing transportation means and data for process automation. Besides, it makes the analytics easier and consequently the company can take relevant decisions based on the reports to increase efficiency and decrease costs.
Faster Delivery. Logistics software can influence the delivery speed not only through the correct carrier selection but also by interfering in the manufacturing process if the company deals with the production of goods.
Human Errors Reduction. Manual analysis and coordination are extremely time- and effort-consuming tasks when it goes about the logistics sphere, thus it's prone to a certain number of human errors. The software solution, however, processes data without inaccuracy and pushes forward operations without any delays.
Automated Functions. Such functions as shipment routes creation, load planning, and assigning cargo to carriers can be easily automated and managed. Furthermore, paperwork is then eliminated and the processes are run in a better-organized and timely mode.
Reduced Costs. Savings are the result of the automatic comparison of various aspects and the choice of the most cost-effective solutions when it goes about shipping or transportation method, fuel price, agent services, etc. Besides the operational company costs go down due to the automation of document flow, reporting, estimations, and bookkeeping.
Conclusion
No matter what your company or startup is if you have to deal with logistics — effective supply chain management technologies are simply inevitable for your business. It automates the procedures, improves the product flow and inventory management, minimizing delays and allowing comprehensive traceability and visibility into the transit of goods from supplier to client.
In case you are eager to bring your business speed and product quality to a new level consider developing custom logistics software for your company. Stfalcon is at your arm's length, in case you need profound expertise and cutting-edge service in logistics solutions development.