Trends and Features that will be of use for Sports Apps Development in 2020

Sport has always been an important part of people's life, but nowadays it has much more influence in various spheres than ever before. Without any doubt, it's still important for entertainment, keeping fit and staying healthy, but big sports events go far beyond this domain.
The economic impact of the present-day sport is immense. It creates tourism, provides broadcasting and media rights, becomes a base for betting.
It's no surprise that sport-related digital products have not only gained much popularity but have become an integral part of our life.
Modern mobile apps for sports issues are manifold and variable, let's look at them in a bit more detail.
Types of Sports Apps
There are lots of applications for the so-called personal use. They can do everything from tracking your workouts, progress in training, monitoring calories and heart rate to managing your activities and gathering teams to play this or that game. The applications which help to find sports partners and nearby facilities to rent sports equipment together also belong here.
There are also technical solutions, which have penetrated the business side of sports. Such products help clubs and venues manage their resources, teams, and consumers, building stronger relations with the latters and generating more revenue.
Besides, the global sports app market includes multiple news, tournament, and live streaming apps. Such applications offer personalized news and score updates for the chosen sports, teams, and leagues, often allowing access to videos and expert analyses of the games.
One more app type worth attention is the one dedicated to some particular team, like Manchester United and FC Barcelona.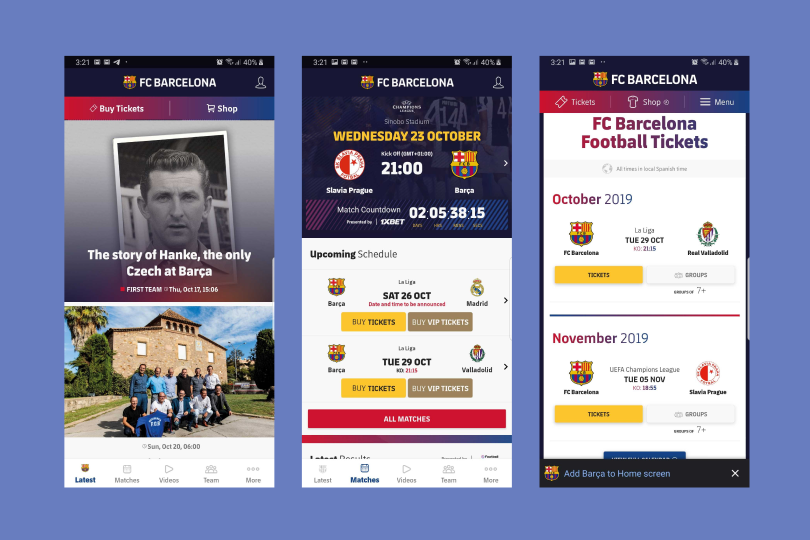 Such apps hit the target because they target fans of a certain team and are often supported by the organizers and sponsors of that team as well as promoted on the official websites.
Digital trends for sports apps
Wearables, Integrity and Social Media. Most of the fitness applications today interact with some external trackers or smartphones. GPS function, for instance, helps to define running distance and speed. Social sharing feature allows users to share their achievements right away.
Gamification. Sports activities and some elements of the game can be advantageously combined to increase fan engagement and user motivation. Besides, it helps to entertain and have fun during running workouts, playing or watching sports.
Key features for a sport application
In case you consider a sports app development, it's better to know the key functionality of such a solution. It will help you gain the upper hand over your competitors and therefore success.
User Account
Nowadays the users prefer having a personal account and more than that be able to customize it. So to increase the positivity of UX, consider creating such an option for your target audience. Registration/authorization should be integrated here via email or social networks.
Social media integration is the modern trend, which becomes already inevitable. Your users will definitely appreciate the possibility to share their achievements in sports, impressions about the games or feedback about their favorite teams.
A user profile is a feature, important to be developed accurately. A person should be able to edit certain info, and also to gain score or rating. The profile, depending on the purpose of the app, should reveal some personal info as well as the number of followers, people followed, activities organized, events scheduled, games played, no shows, etc.
The possibility to follow/unfollow others adds convenience. Besides, managing «friends» or subscribers list should be considered. Allow your audience to adjust the settings they want, the privacy of their profile, the list of followers, the events followed or created, etc. The possibility to create a blacklist is no less important, so implement this feature as well.
The newsfeed is one of the options to support your users' constant interest in the app. Moreover, notifications (PUSH, e-mail, or SMS) can be implemented to make sure the audience is aware of the most important events or news.
Chat is the feature, which will allow and enable communication between users. It's especially necessary for the solutions, which facilitate finding co-players or gathering teams.
Sending requests and join invitations will serve this purpose as well and will positively influence the interaction between users.
Payment integration. To facilitate in-app purchases take care of the payment options. The integration of ready-made solutions takes little time but benefits your app much.
Ticket booking or sale options can add up popularity to your app. The real fans can then track ticket prices and availability, and purchase them right away. Integrating a third-party service, you will also benefit from the fee provided by this service for the ticket sold.
A search bar always makes users' life easier. With just a tap they can find games, fields, teams, news, scores, co-players, whatever. Allow enough filtering options for their more convenience and quicker search results.
In case your app deals with game arrangements, you should allow groups, events, games or community creation and management. A calendar is a great tool here to set the date and check the availability of the facilities needed. The option of selecting a ground, players, time, date and adding notes for participants should be implemented. It's reasonable then to include catalogs of sports centers, grounds, fields, clubs, available for booking. Besides, a wall can be a valuable option to publish content, photos, and comments for those who take part in the game.
Offline mode is an extremely actual feature today, allowing your users access to some product functions even without connection to the internet. It's an additional advantage making the usage of the app more convenient to its users. Then the synchronization should be implemented to make sure the information is always up-to-date.
Besides a user part, an administrative panel or tool should be created to add, edit or delete sports facilities, create events, manage users and availability. Booking reports, reports on games and their details should be implemented for the better overview of user activity and the possibility to scale and improve the app.
In case your head goes round about all the functionality mentioned above and you wonder how much a sports app may cost, you can always estimate it on our interactive calculator.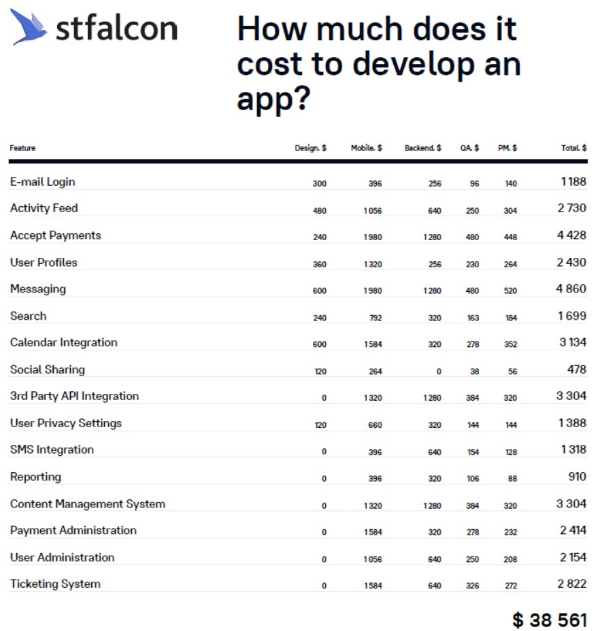 Conclusion
Sport is a global industry, a multi-billion-dollar one and if you can enter this market, you will benefit greatly. In case you consider promoting or arranging sporting events, think of a mobile solution. No doubt it will be advantageous for your undertaking. Having some doubts or looking for expert developers, come to Stfalcon. We are a development company able to offer you high-quality service. Matching each and every requirement and specification we'll create the best sports app for you and make your idea live.