7 Incredible Tech Solutions to Inspire Innovative Pet Startups

We often speak about new digital trends and technical innovations, but there are other trends worth mentioning. Interest in owning pets is one of them. The pet market is now expanding all over the world. It results in a larger amount of pet-owning households and more money spent in the sphere.
As the statistic goes the world's amount of pet dogs has already exceeded 250 million and cats 240 million, only Americans spend over $50 billion per annum on their pets. Such industry boosting could not but led to the growth of pet food, accessories, and supplies production.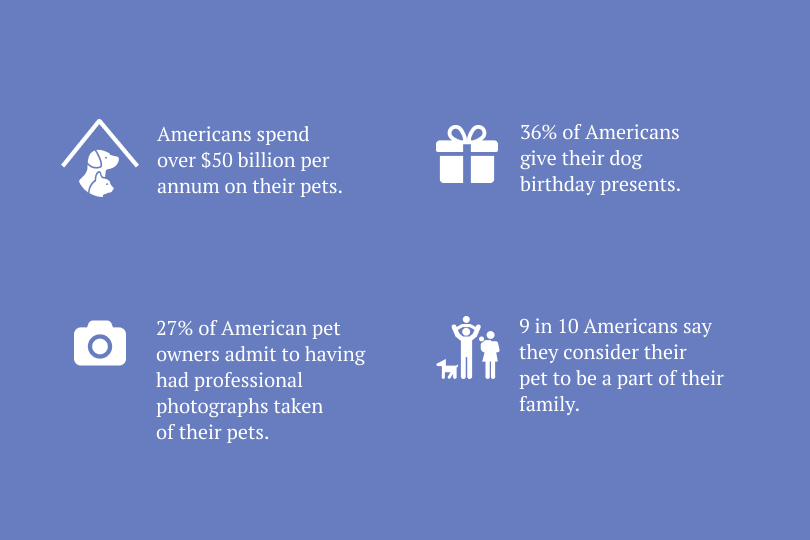 It's no brainer that the startup world did not stay indifferent to such changes in the industry, multiple digital innovations and pet startups of various kind emerged for loving pet owners.
Below we prepared some cutting edge tech startups intended for pet-lovers and those who are just planning to get one. It may help you see the perspectives of the market and hint you the way to move on.
Choosing a pet
The first step to falling in love with a new family member is choosing it. There are plenty of apps, which help in animal adoption, some of them are so good that simply tempt the users to take an animal in need home.
Still, the pet adoption game has changed recently. Modern people tend to make a careful and conscious choice of their new friend. So Petfinder app and WeRescue appeared and became some of the best solutions for the adoption of dogs, cats, and other fuzzy and scaly beings, like horses, rabbits, barnyard animals, birds, reptiles, fishes and small and furry creatures.
Using the solutions one can search through all this animal kingdom with more than 70 search filters available. The user can add and exclude categories in various combinations and restrict the area of the new friend search. Extensive animal details and full-screen slideshow photos and even video are available. The comprehensive information on animal adoption and care can also be found on the site.
However, such a detailed search is not always enough if you want your pet to be your perfect match. We guess someone from PawsLikeMe website developers knew the problem first-hand. Since it not only motivated him to create the algorithm to identify the most significant factors, which determine people and pets compatibility, but also to test it on more than 3000 users to achieve the accuracy exceeding 90%.
If you consider getting a pet and love personality quizzes this resource is for you. The site helps to create a complex matching score comparing 4 core personality quadrants for humans and dogs with the environment, special factors and specific needs considered. Besides, you can add up details about the dog you have already, if any, to choose the most well-matched new family member.
Veterinary Treatment
Modern people hang out with their pooches in purses, visit restaurants, and even take them to the co-working spaces sometimes. No wonder that vet on demand mobile app development became quite popular, providing pet owners with the opportunity to get professional consultancy as to their pets' health without the necessity to pay a visit to the clinic. A real time examination can be arranged through a video call.
Even if there is a need to come in person, an app for vet appointment booking or online consultancy with the veterinarian may come quite handy.
Stfalcon developed an app called Vethem for Sweden pet-lowers. It facilitates their visits to the veterinary practitioner bookings and provides the possibility of video calling between the client and the specialist.
The app got more than 10,000 downloads in the course of 6 months and 4.9 rating on both Google Play and App Store.
In April 2019 apps' total revenue exceeded 5 000 USD for iOS apps and 5000 USD for Android versions.
Pet Sitting
A good idea for a pet care startup is a pet sitting app. As long as people own pets they have troubles with finding shelter for them for some time. It may be an unexpected leave or inability to provide the due care at a certain period.
Pet sitting apps like Pawshake and PetBackers help people find a pet sitter for various purposes, like walking, sitting or boarding nearby. For enthusiasts and creators, the app development in this sphere is a good business opportunity. You can not only offer a pet owner a reliable dogbuddy full or part-time, but a trainer or even a special vacation plan with grooming and spa services.
Try to perfectly match the requirements of your target audience and make your product exclusive to gain their hearts.
Pet Transportation
Though initially, ShipHike was intended as a service for packages hitchhiking, it perfectly matched the pet care app industry. It was an application development project, which took into consideration routing, tracking, safety and security issues for shipments picked and delivered on the go by passenger vehicles going their own way to the desired destinations.
The market demonstrated the app creators a great interest and a tremendous demand in delivering pets and the absence of pet shipping services. So they seized the opportunity and introduced pet shipping services through their app. The price is negotiated, but is always quite advantageous for the pet owners.
Take Away
As you can see the field of pet-related app development is quite fruitful. A well-executed mobile app in this sphere can become a perfect match for the market and a good source of income.
With the pet industry opening perspectives for dog walking and pet grooming services, fashion clothes and accessories shops, pet care and spa facilities, it also makes mobile app development more than promising in this sphere.
In case you consider a pet-related startup to satisfy the needs and interests of pet-owners, find their major pains and match them with your unique selling proposition. The technical part is not a problem. Stfalcon is fond of innovations and is always ready to create an on-demand app for the new industry. More than that we have Vethem project expertise already and eager to discuss a new one. What will you suggest?