Useful Tips for Those, Who Sell Event Tickets Online

Digital presence, digital marketing, and digital sales are nowadays the core components of business success. In case you deal with events, their arrangement and ticket distribution, you cannot anymore do without the digitalized experience in this sphere. Tickets are actually the lifeblood of any event and to make it live and successful, you should find the best way to sell tickets online.
We have written already that the emerging online marketplaces have changed dramatically event tickets selling process in the recent decade. It means you have to harness all the might of modern ticket psychology and find some special tricks working for your very niche to establish your solid footing in the sphere. Today we are going to share some tricks and hacks which we hope will be useful and helpful for you.
Web-based Marketing
It's not an easy task to get a sold-up event. The first thing you should take care about is marketing. According to Google & Ipsos Media CT, 64% of users admit that the internet is the main source for live event information, so promoting your event is vital. Digital marketing goes now in various forms, but the general hint from the experienced marketers is to leverage the channel you get most leads from. However, diversification should not be underestimated as well.
Promoting some kind of an event and distributing tickets for it you can use social media marketing, online advertising, e-mail marketing or promotion through your email signature. The other effective hacks to sell event tickets online are to network with similar events, involve speakers or participants into promotion, and definitely to arrange social media gives away or special offers, like «plus 1 guest ticket», early bird price or vice versa «last-minute sales push».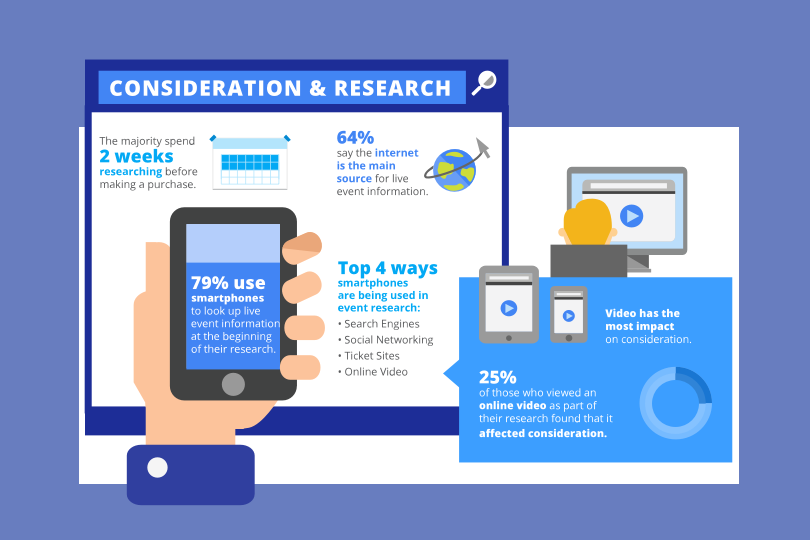 The Marketplaces for Selling tickets online
Nevertheless, digital marketing is not what we intend to focus on at present. We'd like to speak about the best way to sell event tickets online by means of special software solutions and marketplaces.
According to statista.com the revenue in the Event Tickets segment will amount to 71,717million USD in 2019 and will demonstrate the annual growth rate of almost 10% resulting in a market volume of 102,365million USD by 2023.
So, while the industry prospers, it's crucial to make the process of registration and ticketing easy and painless because this is the first impression the audience gets from your event. There is an abundance of ticket selling apps, services, and platforms on the web today, but you'd better read our tips below to make your ticketing process smooth and hassle-free for your audience.
Our team has developed a Events Ticket CRM and should admit this is the online platform which can meet the requirements of the majority of event organizers. It allows listing of the events of various kinds and can become a real personal guide and assistant for the concert, sports, and cultural events goers.
So the first thing to consider is what the best place to sell tickets online for your very event is, whether it's a concert, a sports occasion, a training or a conference. The choice of the place where you list tickets for sale will finally determine how quickly and efficiently they will be sold out. Then you will have much more peace of mind being sure that attendants are really going to visit your event.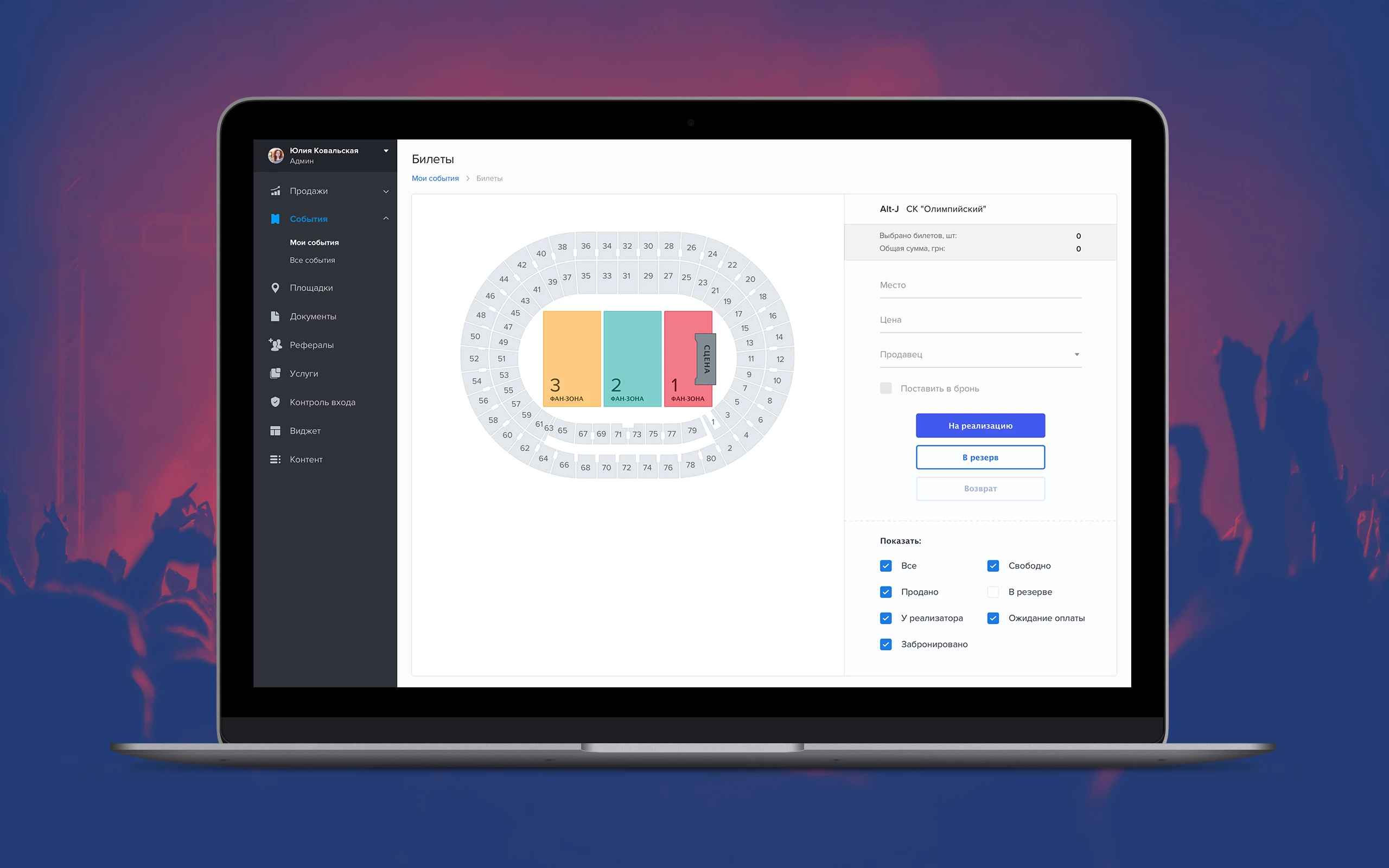 When dealing with an event registration site, you should pay attention to the following aspects:
the flexibility of the form building. As an event manager, you should be able to customize items and categories, add, move and modify buttons and text boxes.
proper data management. To follow your audience, make it regular and retarget, you should be able to operate with your customer data effectively, segment and organize it in accordance with your needs. Make this one of the main checking points for any online platform you deal with.
mobile application integration. Easy online registration via a mobile app will help you save your attendees' precious time and gain you more guests.
support service. Make sure it is available to the extent, that you can solve all problematic questions arising right away. The best site to sell tickets is ready to deal with your appeals 24/7, otherwise, you may consider another platform.
Best ticket selling software
The important aspect to think about for every event planner is ticketing software, that allows nowadays promoting events and selling tickets for them. You may find some ready-made solution or consider developing a customized app for your special needs. Anyway, you should be aware of the following details. The software solution, depending on its type, may allow ticket distribution across a number of options, such as web, kiosks, mobile apps, box offices, and social media. The best software systems of such kind support numerous sales channels.
The most usual features of the ticketing software often comprise:
Web-based point of sale: The tickets for the event can be listed online, offered in varied pricing tiers and packages. In case you use or develop software for ticket distribution - try to minimize the way to the client's checking out, thus including manifold payment methods to the web-based POS interface tied to the floor chart breakdown is a brilliant idea. The guest can choose the seat he or she prefers and pay for it right away.
Customer management: various automation, such as email reminders or push notifications for regular events and custom-made notices based on the user indicated settings belong here.
Analytics and reporting: data analysis arranged into clear charts and dashboards is essential for every event manager, allowing him to arrange and monitor performance against certain metrics.
So the key features of ticketing software can be manifested in such four functions as branding, promotion, ticketing, and reporting.
As a rule, it takes in tools for multi-event ticketing; repeated ticketing for regular occasions; and venue capacity management. Many up-to-date systems offer also corresponding mobile apps, which allow the buyers receiving barcodes or links to tickets on their mobile devices, while the event staff can simply scan them.
Helpful Auto Uploaders
In case you deal with multiple ticket sites, you are sure to know how difficult or cumbersome it is at times to get your tickets listed to all the sites you want. However, this process can be simplified and automated nowadays, bringing you some additional benefits at the same time.
Modern ticket auto uploaders are the software solutions, which can monitor the special folder on your PC, and automatically upload the up-dated inventory file to all the online marketplaces previously set up anytime a change in the file takes place due to the verified sales.
Thus you can avoid «double sales» and save much time.
Ticketing software benefits
The welfares of adopting or developing ticketing software are in fact multiple. The major of them are:
Potentially increased sales and profits. The attendees of your event can purchase or cancel tickets any time convenient for them round the clock. Due to the fact they only need their PC or mobile, but you can also provide them with promotional offers or special discounts through SMM or emails, thus increasing your selling potential.
Rapid feedback. As an event planner, you can get prompt feedback on your services through the online ticketing platforms and social media sharing. It will help you improve your services and build healthier relationships you're your customers. Besides, such tools enable the audience to discuss the events and make a buzz around them.
Reduced operational costs. Using the ticketing software, you do not need special staff and offices, so the costs are sensitively reduced.
The key consideration you should pay attention to is payment options. Obviously, more payment options result in more conversions, so to win the competition you should provide your customers with multiple opportunities to make quick and hassle-free payments.
Conclusion
Now, we are sure you know enough to save yourself from running backward and forward during the event you plan or organize to arrange and manage your audience' information, you can nowadays have it all in one place and benefit from the multiple digital options and possibilities in the event ticketing sphere. All you need is to choose the right solution or even to develop the one for your special needs.
That's where Stfalcon can help you a lot, whether you need a dedicated software, a customized app or even a new marketplace. Let's discuss and bring your idea into reality, in case you are ready.