Discovery phase for logistic company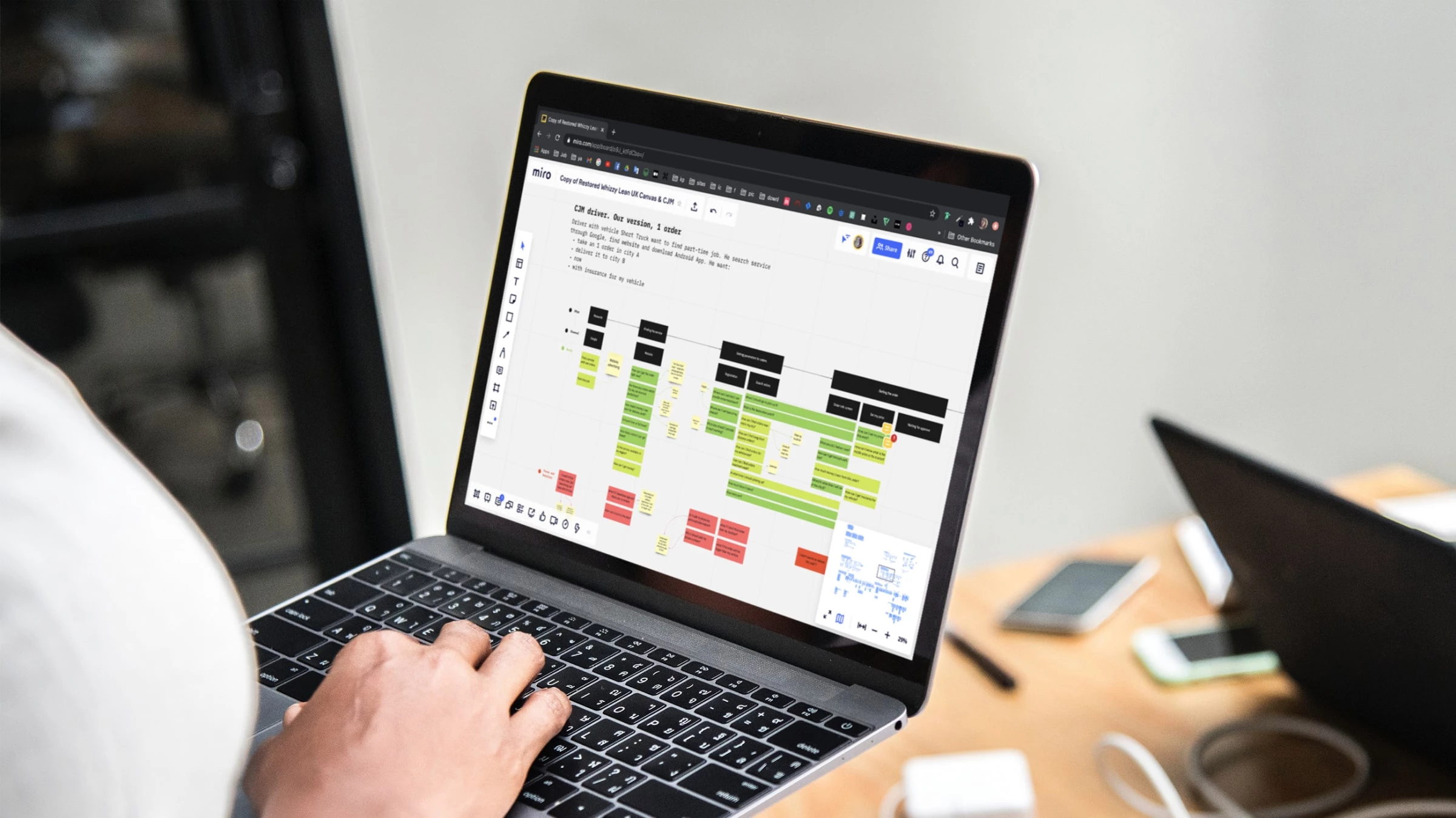 – While watching and chatting, we noticed that many different cars and trucks came and left, delivering food, moving furniture, or delivering packages and mail. We thought there had to be an easier way to move things than going to a zillion different places to get something transported. So we came up with the unfinished idea of creating a platform where anyone can transport anything with just a few simple clicks.
Task
Сlients came up to Stfalcon with the unfinished idea of creating a platform where anyone can transport anything in just a few simple clicks.
Solution
We proposed to start from the Discovery phase, because first of all we needed to collect and analyze all the information about the project, expected market, and potential segments of customers. It allowed us to get a well-rounded and in-depth understanding of the goals, scope, and limitations of the project. The Discovery phase consisted of:
Lean Model Canvas
CJM of main flow
Prototypes of main flow
Product vision
Non-functional requirements
User stories
Estimate
The communication with the client was arranged in the form of a workshop on an online visual collaboration platform — Miro. We explained our point of view and asked questions, the client answered them. We put the hypothesis forward, and the client supplemented more information to it or argued against it and vice versa.
Lean Model Canvas
Lean Canvas is a business model framework tailored for an early stage startup. We used Lean Canvas on the first stage of discovery to gain a deeper understanding of the product. It focuses on problems, solutions, key metrics and competitive advantages.
CJM
To understand a client, you should think and act like your client. CJM – is a way of the consumer product interaction, that helps to understand the aims, the motivation, the fears, and the needs of a user. Using Canvas, we defined the 2 key roles of the users: drivers and clients, and created a detailed scenario, which we then grounded on during CJM creation. CJM includes Steps, Channels, Needs, Fears and Barriers with Call to actions.
Client's main flow
Mark moves to another city, so he wants to deliver the sofa now from city A to city B (long distance). The sender and the recipient is Mark because he moves. Mark doesn't need help with manpower, because he will take the sofa with his father. Mark looks for the delivery services through Google, finds a Whizzy website, and downloads an Android App.
Driver's main flow
John has a vehicle, it's Short Truck, and he wants to find a part-time job. He searches services through Google, finds the website, and downloads the Android App. John wants now to take one order in a radius of 30 miles and deliver it to a long distance. Also, he wants to set his own price and insurance for his vehicle.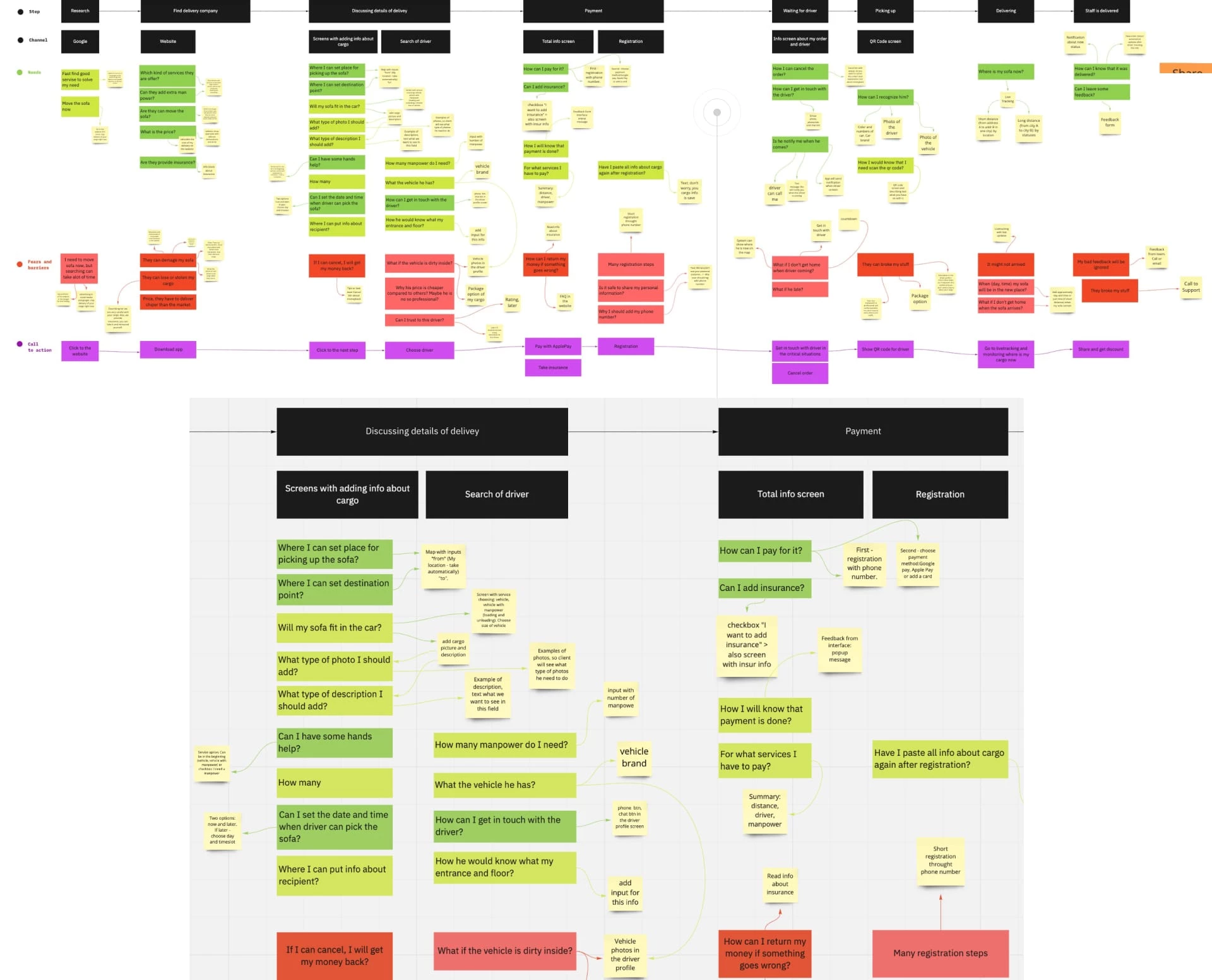 Prototypes
The next step it's a low fidelity prototype based on the CJM. We created two user flows: for a client and for a driver. Simultaneously, a manager was writing a product vision and user stories. At the stage of mock-ups creation a technical specialist involved in the process.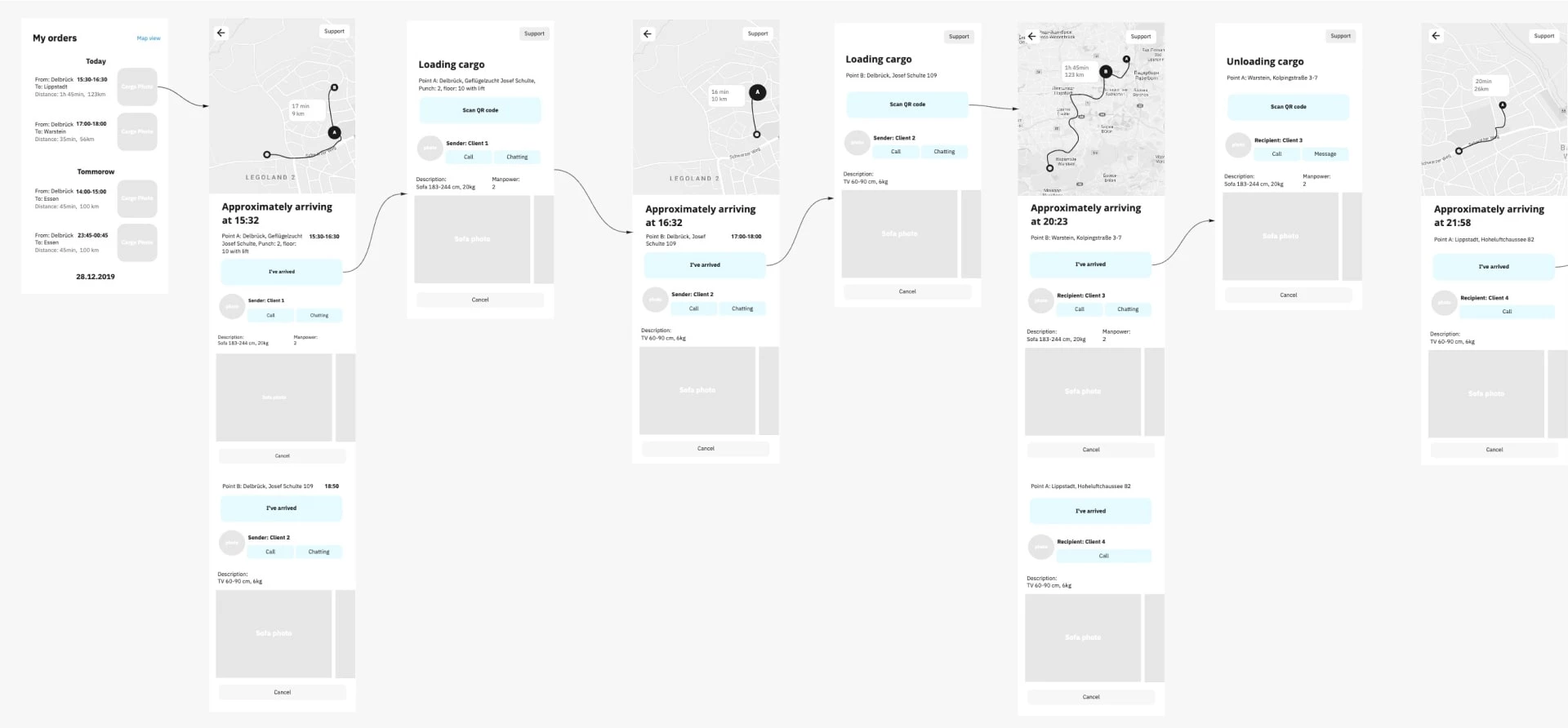 Result
We collected and analyzed the information about the project, the expected market, the audience and as a result, our clients received: product vision document; user stories separated into MVP and Release 2; estimated budget, and timelines for MVP and Release 2.