10 Best News Apps for 2023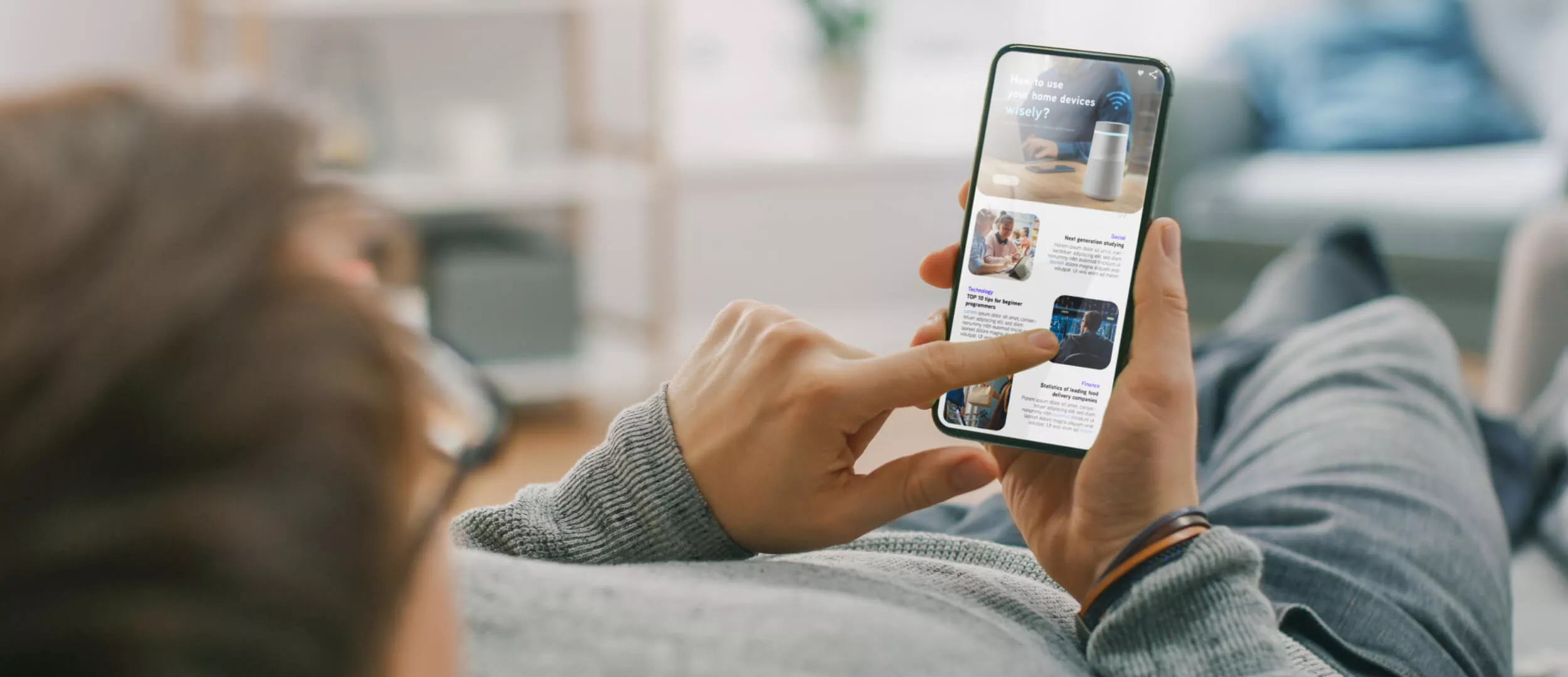 News aggregator apps available on Android and iOS have dramatically changed the way you keep up with the latest news. Newspapers and even television broadcasts are a thing of the past. We have moved forward in a world where news organizations don't need to rely on the approval of advertisers to deliver unbiased and unstable news.
On average, 62% of the first world population said they use free news mobile apps on Android and iOS per week. At the same time, 54% strongly agreed that they are concerned about fake news spreading online, especially on social media.
Types of News Apps
There are 2 types of apps for news: news aggregators (Flipboard) and single-publication apps (NY Times). If you are developing an app for a publication then, the second option is the right one for you.
But of course, you may start your publication app or create an aggregator. The first option is more complex as beginning a publication involves creating the original content while in the aggregator you just organize existing content.
Finally, there are always different creative ways for news mobile apps. You can build some new type, by combining both types or something totally different. And in the future, you would like to monetize your app.

10 Best News Apps for iOS and Android
Choosing new sources is as important as reading the news itself. Below, We have covered the best newsfeed apps for iPhone and Android and news apps reviews that provide you with quality content.
1. BBC News
Overview
BBC News provides the latest news and analysis from journalists worldwide and the human stories behind current events. Consider being the best daily newspaper app.
What We Like:
Stories are available and relevant, with news alerts within seconds.
A personalized feed with a choice of many topics.
Videos of the Day. You can watch the best footage.

For UK users, you can watch the BBC News Channel live.
2. Flipboard
Overview
The concept of the best news reading app is to create a digital magazine managed by you. There are stories, taken from your choice of blogs, news sources, or other sites you have plugged into Flipboard.
What We Like:
You can choose whatever you want with Flipboard: general topics like technology or health care, or specify your interests with one website, and Flipboard will mix it flawlessly.
The flow of the interface feels natural, no matter if you want to check out the top stories or dig deeper into information that wasn't widely covered.
You can collect stories in a Flipboard magazine to share with family or with others, helping to focus on what's important in certain sectors.
Flipboard price: It is free, but you can pay to view specific stories.
3. Google News
Overview
We all know that Google is big on aesthetics, and the modern look and feel of the Google News app helps create a more enjoyable news reading experience. Plus, it's been recently updated so you know they're working on keeping it fresh and it is the best online news app.
What We Like:
We especially like the Full Reach panels available in the larger articles, which allow you to see different sources of information about the latest events, as well as relevant tweets and videos, and even a timeline showing how events unfolded.
When reading an article, you can simply click on the full coverage icon to access more information on that topic. This makes it easy and quick to find similar stories without having to manually search for them. It also helps to get acquainted with different points of view on a particular topic, and not accept one point of view as the truth.
You can follow the topics and news sources that interest you the most, give individual stories a "thumbs up" or "thumbs down", and save the searches and stories that interest you the most.
4. Apple News
Overview
Apple News is great for Apple product users - the app is already installed on devices and you can enable Siri to suggest articles based on the apps you've used and the sites you've browsed in Safari.
What We Like:
Apple News is best used with the $9.99/month premium plan because many of the in-app articles aren't available to non-subscribers. While you can read articles from subscription-only sources in the other apps on this list, you'll end up having to subscribe to those titles after a certain number of articles, or worse, you'll be asked to pay on your first try.
With Apple News+, you not only get wall-free access to many of the world's most famous journalistic sources to subscribe to, such as The Wall Street Journal and TIME.
Audio stories are voiced by actors. This feature isn't available for all stories because Apple creates narration, but it's a nice feature: the actors' real human voices make news stories more fun.
Download for: iOS
5. The New York Times
Overview
The New York Times application helps you to understand the worldwide news with original reporting. It is one of the best free news apps. You can read expert coverage from 1700 journalists in 160 countries.
What We Like:
Wake up with The Morning - news to start your day with what's happening and why it is important
Live Briefings - actual updates on development, from professionals in the field.
For You - to discover interesting articles and guides based on your interests. You can save them on your device.
Beautiful graphics and data visualizations.
You can share articles with friends
You can also listen to original podcasts, "The Daily," 'The Ezra Klein Show" and "Hard Fork."
6. Ground News
Overview
Best news app for Revealing Political Bias. The look and feel of Ground News are a bit dull, but the app makes up for it in other ways. At the top of each article is a paragraph summary called Ground Summary. It gives you a little more information than the title before you decide if it's worth taking the time to read the article (which can be done by clicking on the source in the "Full Coverage" section). Ground News prides itself on presenting a wide range of viewpoints, and I saw that in its Across the Spectrum and Factuality features.
What We Like:
As you scroll past the "Full Coverage" section, you'll be greeted with three bars of varying lengths and colors. When you click on one of these bars, the app will automatically show you related articles from sources that match that mood.
Ground News also has a so-called "Bias Distribution" for political stories, which shows how biased a story or topic is towards a particular side of the political spectrum.
To access the full report, which reveals more sources and their political affiliations, you need to pay for a premium plan. Ground News Price: Free; premium plan starts at $3.99/month.
7. CNN News
Overview
CNN has correspondents across the world to keep you with relevant information on what matters the most. You won't miss breaking news or important stories again it is considered to be one of the best world news apps.
What We Like:
You can personalize your experience and choose what you want by category: Business, Politics, Health, Entertainment, and more.
A lot of stories are usually unbiased, but the biases you can spot at first glance.
8. Reuters
Overview
Reuters is a good source of world news. You can access the relevant worldwide news and follow what's happening around the world 24/7.
What We Like:
It is the largest and one of the most trusted news organizations with 2,500 reporters in 200 locations.
Global news worldwide coverage
One of the best free apps for news
9. Yahoo News
Overview
The Yahoo News app is very beautiful: the splashes of yellow and purple give the platform more personality. But it's not just about looks. Most apps bring articles from different topics together in one place, but Yahoo News organizes your feed so you see related articles together before moving on to the next topic. It makes the whole reading process less stressful.
What We Like:
What sets Yahoo apart the most is its ability to view news via video: there's a whole tab for video news.
If you have bad attention skills, you'll be grateful to be able to scroll the page while the video you're currently watching continues to play.
The app lets you see ads from time to time as you browse your feed and articles, but since all of the app's features are completely free. Yahoo News Price: Free
10. AP Mobile
Overview
AP Mobile is created by The Associated Press and runs on iOS. You will get all the relevant and breaking news stories. You can read global or local news on this platform. It is considered to be the best breaking news app.
What We Like:
AP Mobile allows you to customize it so you'll get the stories that are interesting for you. There is national and international coverage.
You can share breaking news alerts and keep a history.
You are also able to find sports, business, showbiz, world stories, and more
Download for: iOS
Must-have Features of Great News App
1. Great UX/UI Design
The interface is one of the most important things for users. UX/UI design is the users' primary interaction with the app. When developing apps for news, you need to think about user engagement in mind.
2. Breaking News must be on Top of Others
Some news can be more relevant than others and have to be on the top. That is breaking news must be shown at the top of the rest. This important feature must be included when you develop your best news app because it is keeping up potential users' attention.
It can be done through push notifications to ensure users won't miss any important news.
3. News Categorization
Add categories to news is one of the crucial features to implement in your app for news. Every user is different so enable users to browse from various categories such as technology, entertainment, sports, lifestyle, and science, allowing them to read their favorite news. With the help of categorization, users can edit the order.
4. Offline Access
If you want to give users a smart view experience, your business has to keep users' perspectives in mind and should implement the feature of offline news.
Users can access it later when saving the news for offline viewing. Implementing this feature will make the best apps for news attract attention.
5. Discover and Add Favorite Channels
The news domain is crucial, and users rely on several favorite news channels.
Provide the feature to discover and add favorite news channels for users. Users will have the opportunity to customize their list and add channels.
6. Sharing Option
Implement a feature for users to share the news with their friends, family, or their loved ones. Social sharing buttons are must-include features (Facebook, Twitter, Instagram, Pocket, or on email, WhatsApp, and others)
7. Personalized Settings
This feature was first introduced by the Apple News app. It attracted users.
Users can schedule their news timeline, font size adjustments, reading mode (day or night), and many other options. Adding such a feature can surely give your users a better experience and make your news app development top-notch.
8. Accessing All Types of Media Files
Keep your users engaged with appealing media files.
Implementing this feature in your mobile apps for news and convenient accessibility will result in increased customer engagement.
9. News in Audio Form
Reading a lot of news on the phone is not a healthy habit. But your news app can have the feature of audio news
Users will get the latest update on their news just by listening. More options to explore, resulting in higher customer engagement.
10. Ad-Free News
You have to get rid of unimportant ads that will help you to gain many users. Implement the ad-free news feature to avoid reading interruption of users.
How Do News Apps Make Money?
There are two monetizing approaches that top apps for news use:
Advertising
Subscriptions and in-app purchases
Advertising
Ads are one of the most popular ways to monetize your news app. Show targeted ads interesting to users. But, unlike other types of apps, news has higher indicators of the average time a user spends on an app and other user attention indicators. This means that you can expect higher income from a news app than from other types of apps.
You ou can sign agreements with advertisers or use an ad platform that involves advertisers and app makers. The first option is better for popular news apps while the second is better for projects which are just starting.
Subscriptions and In-App Purchases
The 2 other most popular monetization approaches are subscriptions and in-app purchases. You can make your app accessible with a subscription if it is popular or you can offer a premium that provides users with exclusive articles.
Types of Users in News Apps
There are 5 types of users that you need to know if you want your app to generate revenue.
The one-timers - this type of user gets to the news app website from a link somewhere, and their bounce rate is 99%. They won't remember or support the brand name, but The good thing is that they represent the publisher's short-term revenues, with clicks that convert into cheap RPMs.
The not ready to commit - these types of users will choose to consume news from the same news website because they trust the brand and its opinions; however, they don't believe in native apps.
The native app users -when the user downloads an app it is a great commitment, it means that the user chooses a particular brand.
The push notifications approvers - approving push notifications is a great step for users, which means they are trusting the brand and are loyal.
Willing to pay for the brand - users who agree to pay for the brand will support the brand against Adblock, and all the other barriers news publishers have to handle.
Bottom Line
An alternative to universal aggregators can be applications from news agencies such as AP Mobile, Reuters, or BBC News. All of them are at the top of Google's Play Market by the number of downloads.
In general, mobile applications for reading news are quite justified: if you take the time and adjust them to your tastes and needs, they perfectly perform the functions assigned to them. If you would like to develop your app for reading news, then contact us, free consultation is available.