5 Best Real Estate CRM Software for Agents and Realtors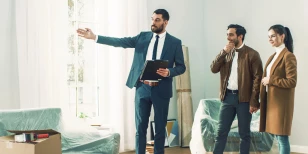 The trend for digitization has greatly influenced our lives in recent years. Besides, the real estate industry has also been greatly changed by technology. With online access to listings and marketing information, people became more informed and consequently rational in their searches. According to the National Association of Realtors, 98% of Older Millennials cited using the internet when looking for accommodation. Thus, the figure nears 100%, meaning real estate agencies and independent realtors should go with the tides.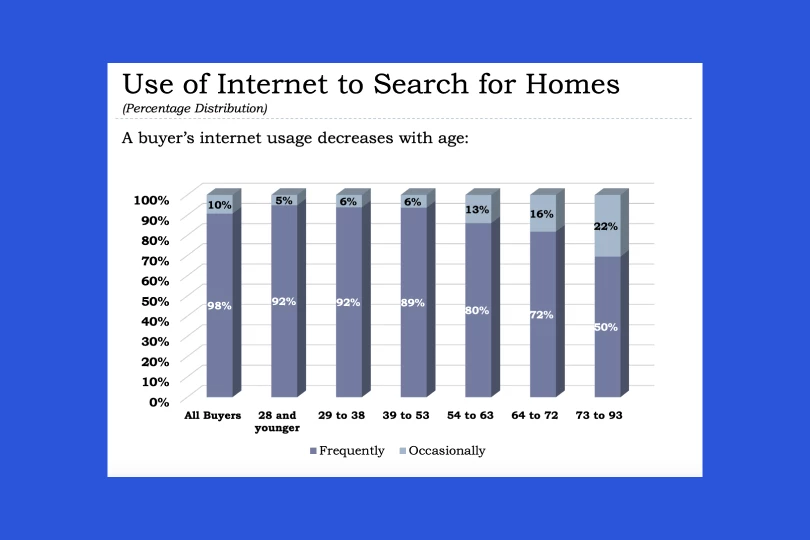 That's why real estate CRM software has become a key game-changer for the industry. At present, real estate experts account for the overwhelming 25% of all CRM users.
Let's check what a CRM for real estate agents is and why it's so beneficial for the business.
What is a Real Estate CRM Software?
A Real estate CRM is a digital tool that helps realtors seamlessly manage their property base, leads, contacts, inquiries from the clients, marketing campaigns, as well as after-sales services. In fact, a good CRM provides real estate agents with a complete picture of their inventory, marketing, and sales activities, and opportunities. All these aspects are managed through a single, centralized platform. The platform is accessible from any place where there is an internet connection since all the data is saved in cloud storage. Thus, agents can contact clients in a timely manner, wherever they are, and research properties on the go.
The best real estate CRMs allow realtors not only to improve the personalization of their communications but also stay on top of the up-to-date trends in the real estate industry providing seamless access to various real estate lead resources. So, CRM systems help real estate agents manage their business with minimal effort and wasted time, since they have a one-stop database at hand any time.
What is more, a real estate CRM for agents allows uploading contracts, managing transaction deadlines, and allowing access to certain categories of users to the particular documents. Thus, much paperwork is eliminated.
The advantages of realtor CRM software are more or less clear. When it comes to purchasing a software solution nowadays, there are two major options—buying a product that exists or develop a custom system to match your specific needs. Let's have a short overview of the best CRM software for real estate that is represented in the market today and that tops the lists 2021.
List of Top Real Estate CRM Software
Pipedrive
Pipedrive can be called a top CRM for real estate as of the beginning of the year 2021. Having a simple design, this real estate contact management software is nevertheless powerful and agile. What is more, being web-based, it's easily accessible from PCs and mobiles and integrable with multiple client management applications and other popular services. An agent then has full-featured access to Pipedrive round the clock and even on the go. It facilitates turning leads into customers because of the set-goal feature and the possibility to track progress for each deal and activity. FYI, the Essential plan is $14.90 per user/per month billed annually.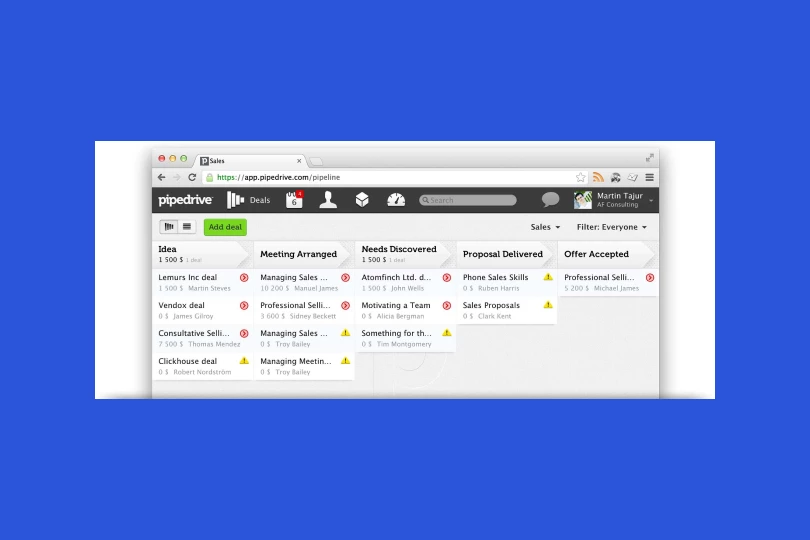 Nimble
Nimble is considered the second top crm for real estate agents according to popular ratings. It's notable for the possibility to create auto-enriched contact profiles based on data gathered from anywhere on the web.
The tool has a feature of quick scanning of the user's Sales Pipeline, Social Signals, Calendar Appointments, Sales Tasks Management, and more than creating a dashboard with the present-day set priorities. It helps real estate agents and whole agencies work with more efficiency and less effort. This mobile and browser solution allows managing teams as well as individual realtors.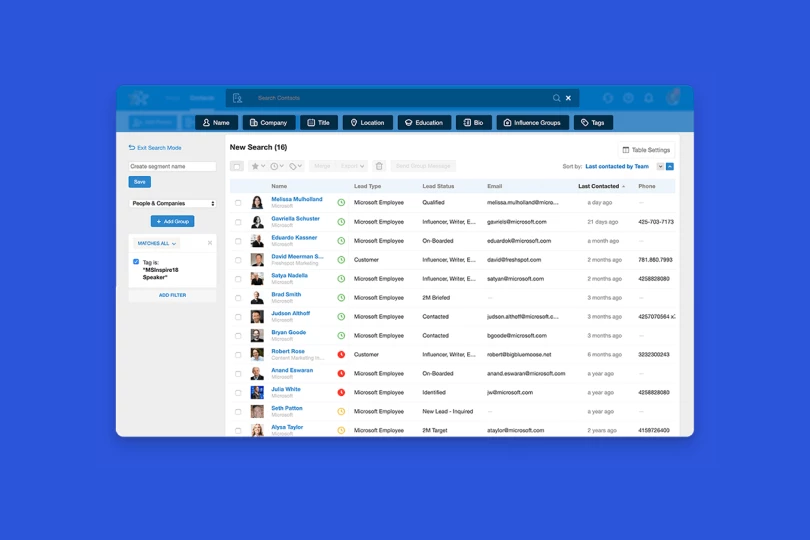 Freshworks
The Freshworks CRM (formerly known as Freshsales) serves a real estate business helping to manage a team and to create custom sales activities with their outcome tracking. In Freshworks, an agent can set appointments, create tasks and reminders, and get planned activities overview on the dashboard. What is more, the CRM has the feature of auto lead assigning to salespeople, based on lead-routing rules.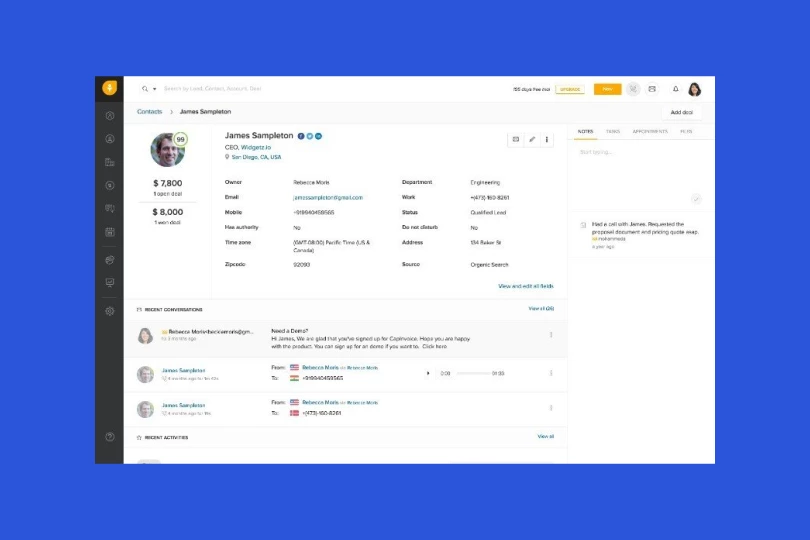 This software solution is able to capture additional details unique to the business processes of the user and also allows transactions and currency conversion automation. Lead generation bot and in-built AI help to close more deals and enhance the overall productivity of an agent or a team.
It's a real estate service that comprises CRM integration, ad management, and highly optimized mobile responsive websites for lead generation. User-friendly interface and modern technology are ideally combined to increase the conversion rate in real estate deals. Automated market reports and marketing tools help to generate, track and convert leads into customers. Interactive maps with street views and the possibility to save multiple searches and tag favorite properties along with a property valuation tool allow having a comprehensive overview of a real estate object right away.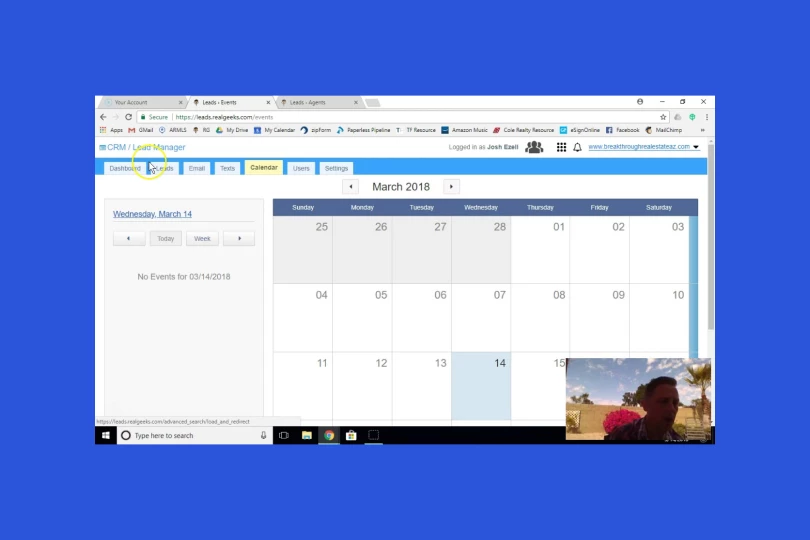 Contractually
This easy-to-use and navigate CRM focuses on relationship marketing and offers outstanding automation options and integrations to maintain those relationships easily, like, for instance, one-click calendar and e-mail integration.
With a Contractually dashboard, the current tasks recommended follow-ups, and upcoming calendar events are gathered all in one place. Social media accounts can be linked to the CRM to send and save messages through social media networks.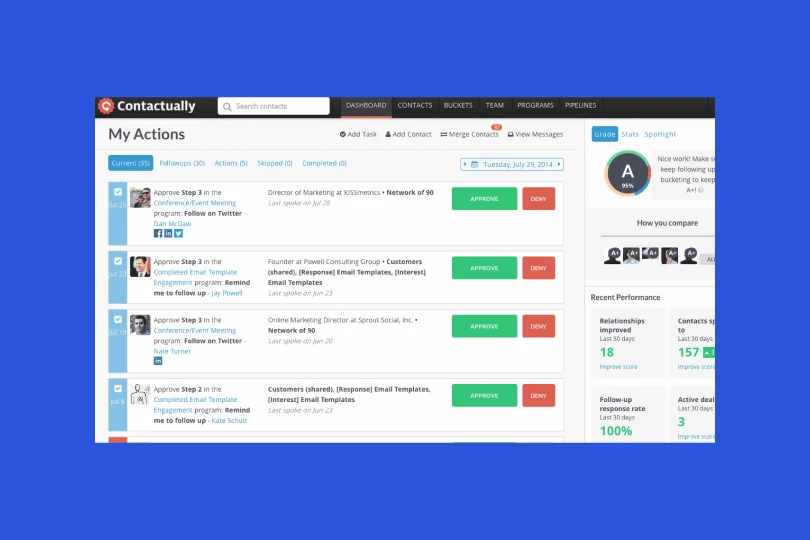 In a similar way, the entire team can be managed through a dashboard, filtered by a per-bucket basis, or broken down per individual agents. Team admins have access to hundreds of prospects, leads, and key contact persons. The notification system helps the users always stay up-to-date with their assignments.
Disadvantages of Existing CRMs for Real Estate Industry
In case you are a real estate professional, you should still bear in mind that even the best CRM for real estate agents that exist, will have certain drawbacks and may lack the very features you need.
The common disadvantages Of CRM systems to mention in general can be the following:
Increased costs for a company
As a rule, a CRM system requires corresponding hardware, improved infrastructure, and maintenance as well. It means that for a full-stack CRM software a company will need to increase its budget for IT. It's important to take into consideration the payments to a CRM vendor, whether it's a software subscription or purchase fees, premium upgrades, or certain adds-on you need for efficient work.
What is more, it's essential to always remember about the costs of data migration and business operations converting. Careful planning and accurate estimation of every potentially hidden cost should help a business set a realistic budget for the overall costs of a CRM system implementation.
Staff training
If a real estate agency purchases a CRM, it should provide on-boarding training for the employees. The smaller the company, the more sensitive this disadvantage will be from the viewpoint of costs. In big companies, the costs can also skyrocket if the training is supposed to be individual.
Loss of data
When it comes to CRM systems we should remember that the best CRM for realtors is the one providing detailed information about the property or the client accurate to the moment. The interruption of internet connection or disconnection at the provider's end can cause critical business losses. To avoid it, you should try to consider all the potential risks and take measures to avoid them to the maximum.
What is the best CRM for realtors?
The best CRM for realtors is a customer relationship management (CRM) system that helps manage all communications with both leads and clients. The best crm for real estate agency will be specific to the industry with features like email, lead follow-up tools, and click-to-call or click-to-chat capabilities. And it has to be customized to fit all needs of realtors.
Having read our article up to this point, you may start wondering what CRM system will become the best match for your business. As a software development company, we can't but advise you to consider building versus buying a solution.
The Best Real Estate CRM Software for Your Needs
Building a CRM from scratch you can take into consideration every slight detail of your real estate business, your staff and client base, commercial purposes and operations, specifics of the corporate document flow and team management, and much more. What is important, you can always make your own product scalable to meet the challenges of the currently unstable real-estate market. Thus, with CRM development, you get a custom software with only useful and workable features and do not pay for the functionality you never use.

It's essential to mention that the attempts to implement CRM at once as a full-stack solution is rather a risky undertaking. It's reasonable to break the integration of a new CRM system into manageable stages and set certain short-term milestones for setting first a pilot version for separate departments and groups and then integration of the software solution itself. However, each stage should be flexible enough to quickly adjust, improve, optimize, and scale functionality if it's required.
With CRM integration the volume of data your project generates may increase tremendously, you should be ready to manage what data to collect and store in time for your systems not to crash as well as expand them in case of necessity. It's simpler to do it with a custom product than with a ready-made solution purchased.
Our Experience in Real Estate Software Development

Due to the experience we have had, Stfalcon can in a way claim to be CRM software for real estate developers.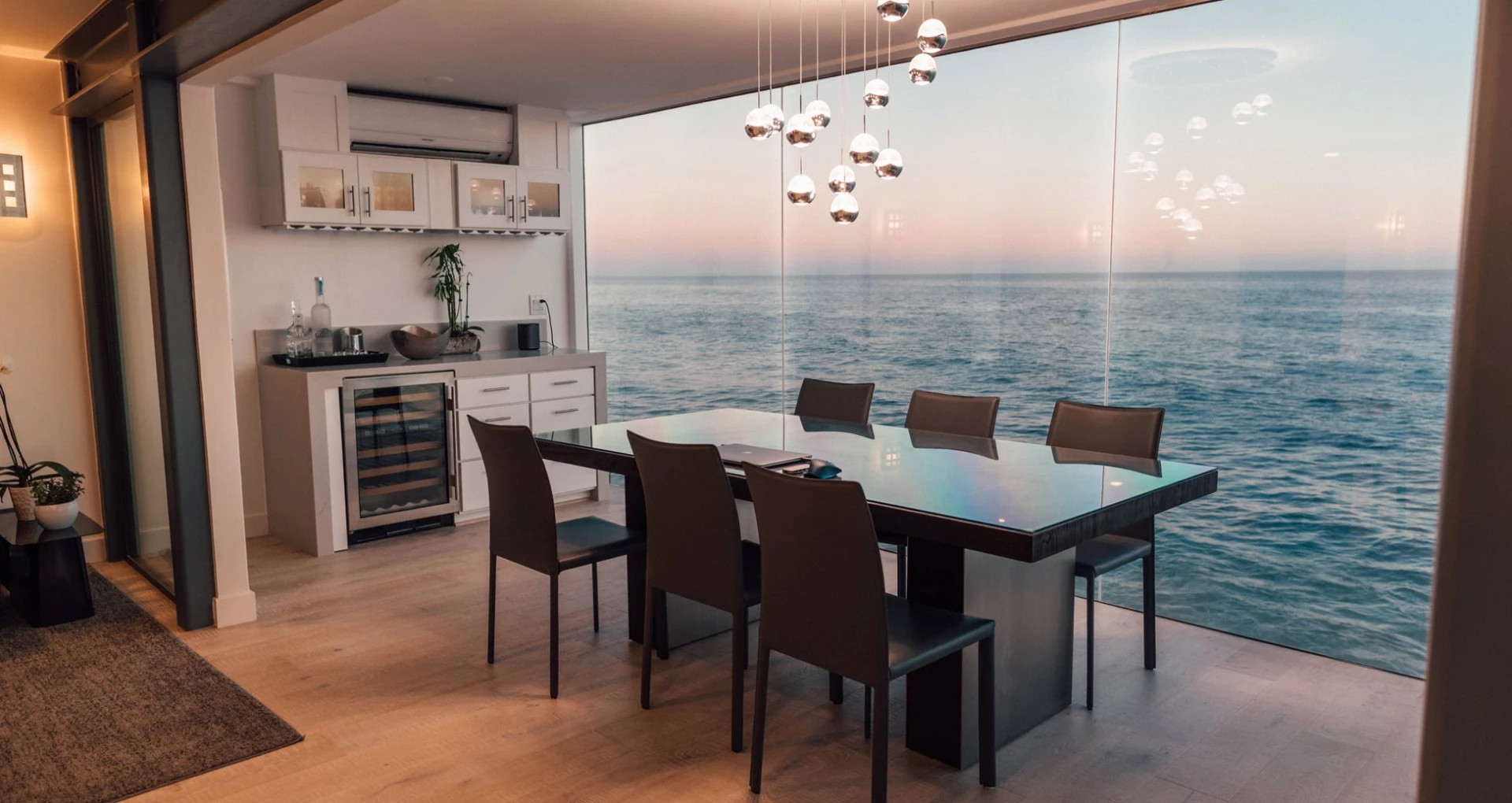 Read the full case study
One of our projects was to design an interface for a solution that will make it simple and convenient to manage numerous properties and real estate objects of various kinds. We had the challenge to integrate our solution with a certain API to make the synchronization of large amounts of data quick and accurate. Stfalcon team also integrated chat for messaging and custom calendar components to realize displaying of the reservations in the context of dates.
Moreover, we developed several systems to automate real estate agents' routine tasks, like messages, reviews, and task management.
In the second version of the product, Stfalcon developed an application for Android and iOS so that it does not duplicate the functionality of a web app.
The cooperation went smooth and the team was quite flexible in the process of development. The system features a streamlined and user-friendly interface and has met all technical requirements put forth by the internal team. Stfalcon is flexible and adaptable, facilitating a smooth collaboration between teams. The team is creative and hard-working.

We often get requests to realize just a discovery phase for our client to take the further decision as to his product. Some projects to mention are a Discovery Phase for a Real Estate Company, a client came with an idea to create an approachable management solution for small property owners and real estate agents. As a result, the client got a complex solution for both the MVP and the 2 release versions, including web and mobile apps. We created detailed prototypes, user stories, product vision, and a budget plan.
Read the full case study
Several more projects to mention are discovery phases for
A kind of US social network for real estate with a 360* review possibility,
A dashboard for Saudi Arabia property owners, managers, and agents to manage the real estate objects. CJM and Lean Modal Canvas are finished already.
Final Thoughts
Beyond doubt, a CRM system is one of the most powerful solutions for realtors and real estate agencies. It has multifaceted benefits for the business and multiple integration possibilities increase its strength manifold.
In a modern world, the accessible tools for processes streamlining are valued high. A CRM system allows you not only to have all the information at hand but seamlessly manage your properties, clients, contacts, leads, transactions, documents, and reports as well as marketing campaigns and sales funnel.
Having expertise in real-estate development, Stfalcon understands the heart of the key problems and the challenges real estate companies face. As an on-demand app development agency, we can develop a custom CRM solution that will change your life and business for the better. Just contact us and let's do it!