Custom Real Estate CRM Software Development 2023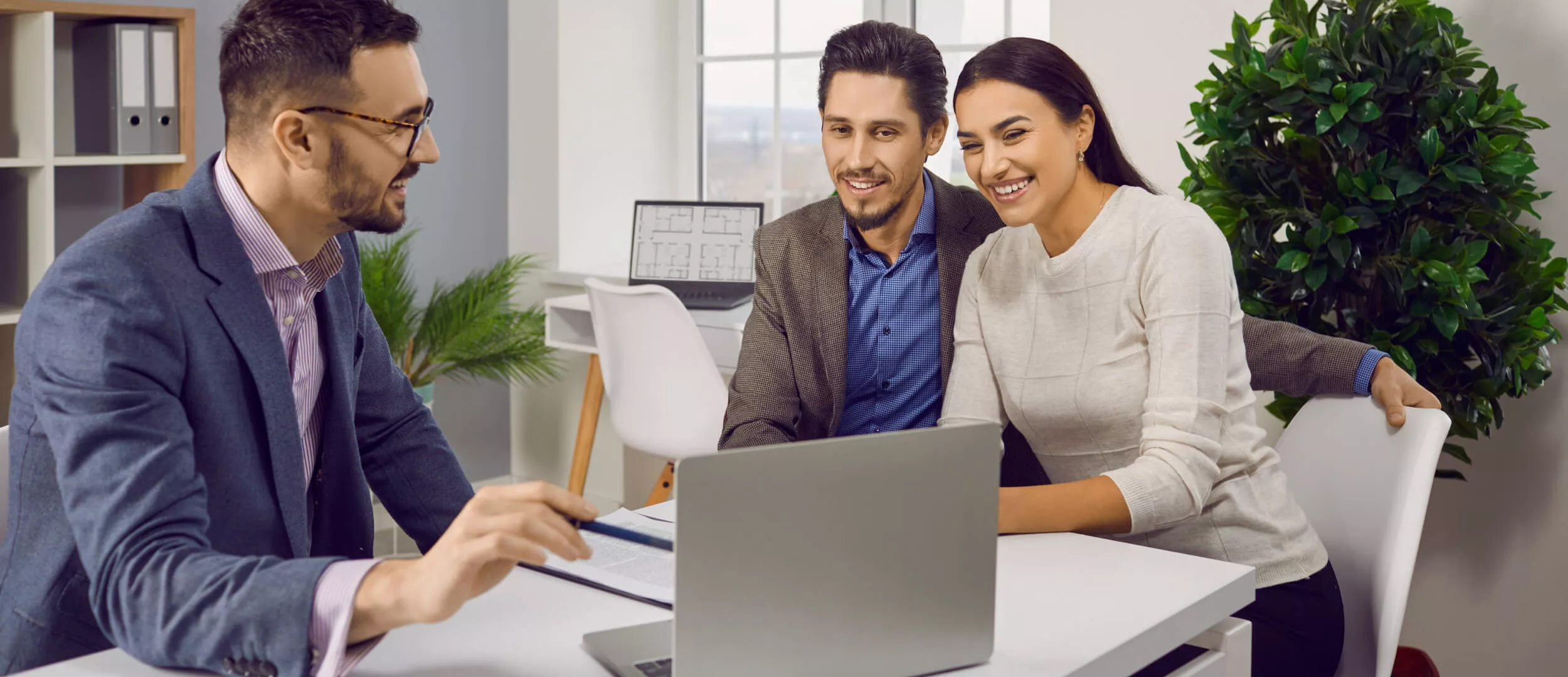 Real estate is an industry that thrives on personal relationships and the power of networking. If you are in the real estate business, you already know the importance of keeping track of your customers, leads, and deals. The statistic goes that more than 60% of real estate agents making above $100 000 a year use referral and customer service software. While about 65% of agents earning less than $35000 a year do not use such software.
According to a Fit Small Business survey, the average time for a house on the market is just 37 days. That's why to be competitive you need to be quick and effective. This is where a CRM (Customer Relationship Management) system comes into play.
So, let's delve into the importance and specifics of real estate CRM software development.
Why Do You Need CRM in Real Estate Business?
Real estate is a relationship-driven business. To be successful, you need to build and maintain relationships with your customers. One way to do this is by using a CRM system that helps you organize and manage your customer data. Customers' behavior and preferences can be tracked with the help of this too. This allows you to gain insight into their interactions with you, and respond to their questions and concerns. You can efficiently manage customers and leads by using a CRM. And ensure that you never miss an opportunity to engage with them. Make sure the information you provide is relevant and valuable.
So, with a CRM, you can:
Keep track of your customers and leads. One of the most important aspects of running a business is maintaining strong relationships with your customers and leads. Maintaining a record of the information and interactions with your customers is essential. You can identify trends and patterns that may inform your marketing and sales strategies. Your ability to provide personalized service depends on keeping detailed records of customer interactions. Additionally, it helps to build trust with your audience. So, make sure to invest in a robust CRM system that allows you to easily track and manage your customer and lead data.
Schedule follow-ups and reminders. This means you can stay on top of your interactions with your customers. And always provide them with the support and information they need.
Segment and target your audience. By organizing your customer data into different groups, you can tailor your marketing and sales efforts to the specific needs and preferences of each group. This can help you improve the relevance and effectiveness of your communications. Ultimately, it is leading to higher conversion rates and sales.
Analyze sales and marketing performance. By using a CRM system, you can gain insights into the performance of your sales and marketing activities. This is achieved by analyzing data on customer engagement and behavior. Through this analysis, you can pinpoint areas where your strategies and tactics need improvement. As well as make informed decisions about how to allocate your resources and efforts to drive your business forward. In essence, a CRM system enables you to make better-informed decisions and achieve better results.
Improve customer service and satisfaction. You can build stronger relationships with your customers by providing them with personalized and timely support. It also helps to increase their loyalty and advocacy for your brand. This can lead to higher retention rates and lower churn. As well as increased referrals and positive reviews from satisfied customers.

What Are the Must-Have Real Estate CRM Features?
When it comes to real estate CRM software development, lots of factors should be considered to gain success.
Contact management
A CRM system should provide a centralized database for keeping and managing contact information for clients, prospects, and other key stakeholders. This feature is vital in helping you manage your customer data. It allows you to store and manage data, including contact information, property details, and communication history. With this feature, you can quickly retrieve all the data required about a client and handle their details.
Lead management
This feature allows you to track your leads, assign them to agents, and move them through the sales funnel. An effective CRM system should allow agents to capture leads from various sources. These sources include website inquiries, social media, and third-party lead providers.
The system should also provide tools for tracking and managing leads. Go for features such as lead scoring, lead nurturing campaigns, and automated follow-up reminders. It helps you stay organized and ensures that you never miss a potential sale. It can also help you detect the areas where you need to improve your sales process and optimize your lead-generation efforts.
Marketing automation
Creating and managing email campaigns, social media ads, and other marketing materials can be quite time-consuming. With marketing automation, you can streamline your marketing efforts and save time. It allows you to create and schedule campaigns, automate lead nurturing, and track campaign performance.
Workflow automation
A CRM system should simplify the agent's workflow by automating routine tasks such as lead follow-up, appointment scheduling, and email campaigns. Workflow automation can help agents save time and focus on more important tasks.
Reporting and analytics
This feature is essential for measuring sales and marketing performance. It is a useful tool for tracking KPIs and generating reports. It allows you to gain insights into your business, identify areas for improvement, and make data-driven decisions. With this feature, you can also generate custom reports that provide a detailed view of your business performance. All these features work together to provide you with an effective real estate CRM solution.
Integration with other tools
Real estate agents often use a variety of tools and platforms to manage their workflow. These include email, calendar, and task management software. A CRM system should integrate seamlessly with these tools, allowing agents to manage all their data from a single interface.
Mobile access
Real estate agents are often on the go, so a mobile-friendly CRM system is essential. A CRM system should have a responsive design that allows agents to access their data and manage their workflow from anywhere, on any device.
A Nucleus Research report finds that 65% of companies, using a mobile CRM, achieve their sales quotas. While among those not using a mobile option, only 22% of reps reach the same targets.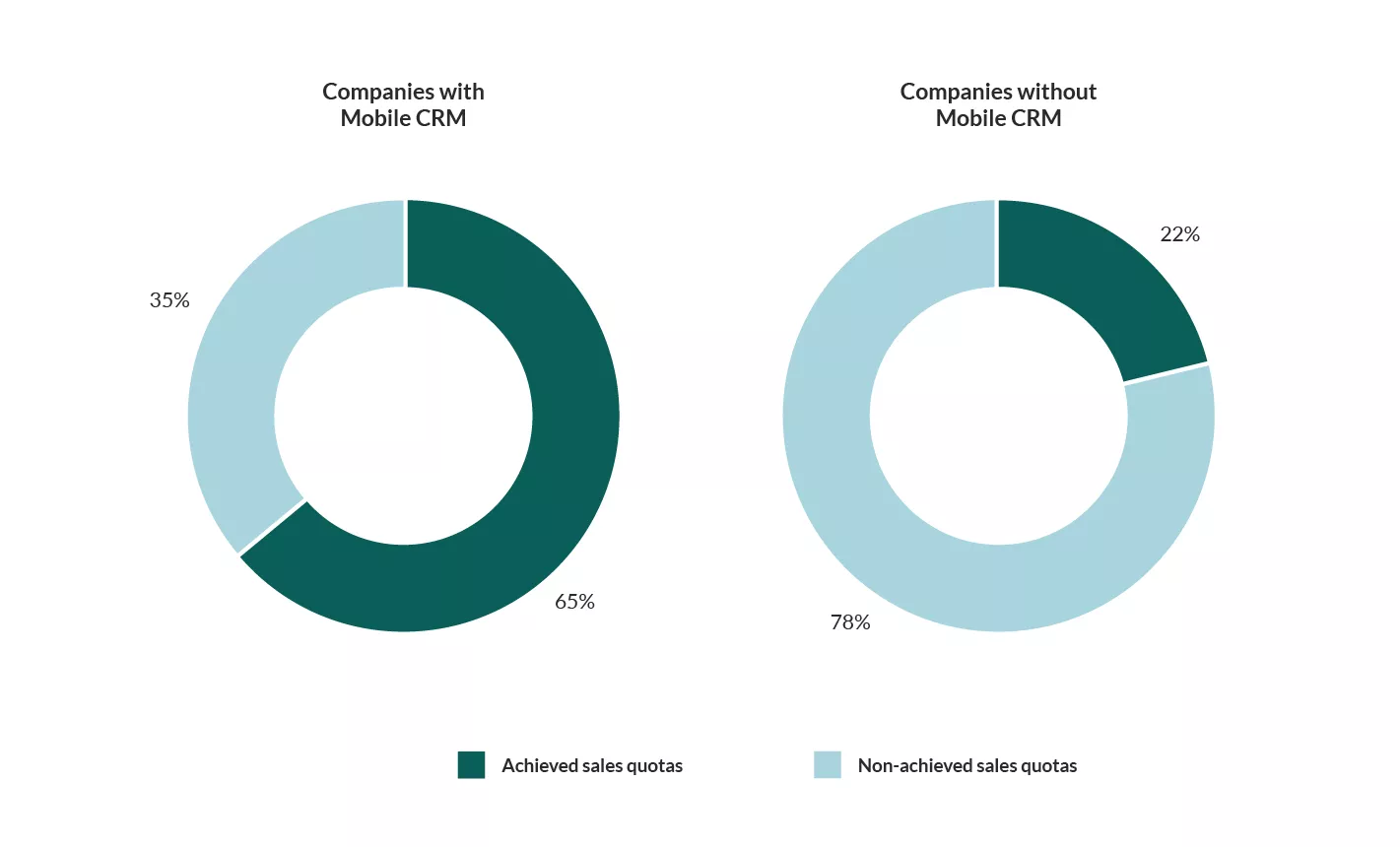 Should You Use an Existing System or Develop a Custom One?
If you're considering implementing a CRM into your real estate business, you may be wondering whether you should go with an existing system or develop a custom one. We'll explore the pros and cons of both approaches here.
An existing system may offer a faster and cheaper implementation. But it may not meet all your business needs. So, if you have a small business with a limited budget, then a real estate CRM software development service may be a good choice for you, but most likely you would choose a ready-made solution. However, if you have a larger business with more complex requirements, then a custom system is necessary to meet your needs.
You can choose custom real estate CRM software development. Such a CRM can be tailored to your specific requirements. It may involve more time and resources, but it also comes with several benefits. For example, a custom system can be designed to integrate with your existing business processes. It will provide a more seamless and efficient workflow. Additionally, a custom CRM system can be tailored to your unique business needs. Your organization can then prioritize features that are important to it.
On the other hand, developing a custom CRM system may require specialized knowledge and expertise. You may need to hire a team of developers to design and implement the system. At Stfalcon, we have a team of experienced developers able to create a custom CRM system to meet your specific business needs. Understanding your business processes and requirements is one of our top priorities. And we work closely with you to design a CRM system that meets your unique needs.
We also understand that time and budget constraints are critical factors in any project. That's why we work closely with our clients to ensure that the project stays within the timeline and budget. We believe in transparency and keep our clients informed throughout the development process.
In addition to system development, we also offer maintenance and support services on demand of our clients. This ensures that your CRM system continues to meet your business needs. Thus, your CRM system remains current and effective.
Ultimately, the decision to use an existing system or develop a custom one will depend on your business needs, budget, and resources. It's important to check your options and choose a CRM system that aligns with your long-term goals.
How to Choose the Right Contractor for the Development of Your CRM?
Developing a custom CRM for your real estate business can be a great way to streamline your operations and improve your bottom line. However, it's important to choose the right contractor to ensure that the project is realized within budget, on time, and to your satisfaction. Here are some tips to help you select the right contractor for your needs.
Look for experience
When choosing a real estate CRM software development company, it's important to select one with experience in the sphere. This will ensure that they have a deep understanding of the unique challenges and requirements of your industry. As well as can develop a solution that meets your specific needs. Stfalcon team, for instance, has real estate-related projects in their portfolio and 14+ years of development experience.
Check references
Before hiring a contractor, be sure to ask for references and check them carefully. This will give you a sense of their track record and the quality of their work.
Evaluate skills
In addition to experience, it's important to ensure that the contractor has the necessary technical skills and resources to complete the project successfully. This may include expertise in software development, management of databases, and project management.
Consider their project management skills
Ask about their project management methodology, and how they plan to handle the development process. Look for contractors who have experience in managing complex projects.
Define requirements
To ensure that the CRM meets your specific needs, it's important to clearly define your requirements and expectations upfront. As a result, the contractor will be able to create a solution that meets the unique business requirements of your organization.
Communicate effectively
Communication is crucial when working with a contractor. Check if they have good communication skills and if they can explain technical concepts clearly and understandably.
Throughout the development process, it's important to maintain open and effective communication. This will allow you to stay up-to-date on the project's progress, and provide feedback and suggestions. As well as address any issues or challenges that arise along the way.
Stfalcon's CRM Development Case
CRM system
Our team developed a CRM system for a construction company. The project aimed to solve the sales processes and customer service relate problems.
We created:
System design
UI design
Functional prototype
Visual language
Typography
The project was developed with Symfony2, one of the most popular frameworks, the main database was MySQL. The project uses a distributed client-service architecture for interaction with RESTful API.
We also created a Single Page Application that has fast action feedback in UI and used the Ember.js framework for developing the client application. Solutions created using this framework work fast, despite the complex design and large amount of data it processes, and are easy to expand and support.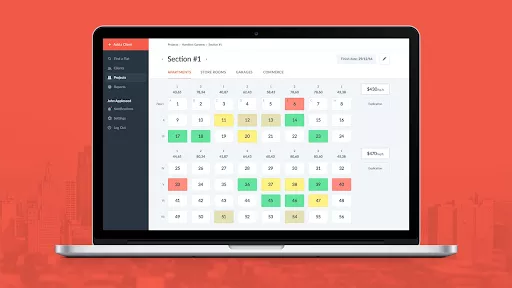 Read the full case study
We realized the features of planning and keeping customer contacts, real estate by interest selection, event notifications, and contract preparations.
Final Thoughts
A custom real estate CRM can help real estate businesses stay ahead of the game and provide their clients with exceptional service. By choosing to develop a custom CRM system that is specifically designed for your business, you make a larger investment upfront. It can ultimately pay off in increased efficiency and effectiveness. A custom CRM system can be designed to integrate with your existing tools and workflows, allowing you to seamlessly incorporate it into your daily operations. If you have some questions or doubts, want to continue with the tools you use already, but feel like you need to do a step forward and develop a custom CRM, contact us and we'll discuss it.