Real Estate Application Development Guide: How to Create and Development Cost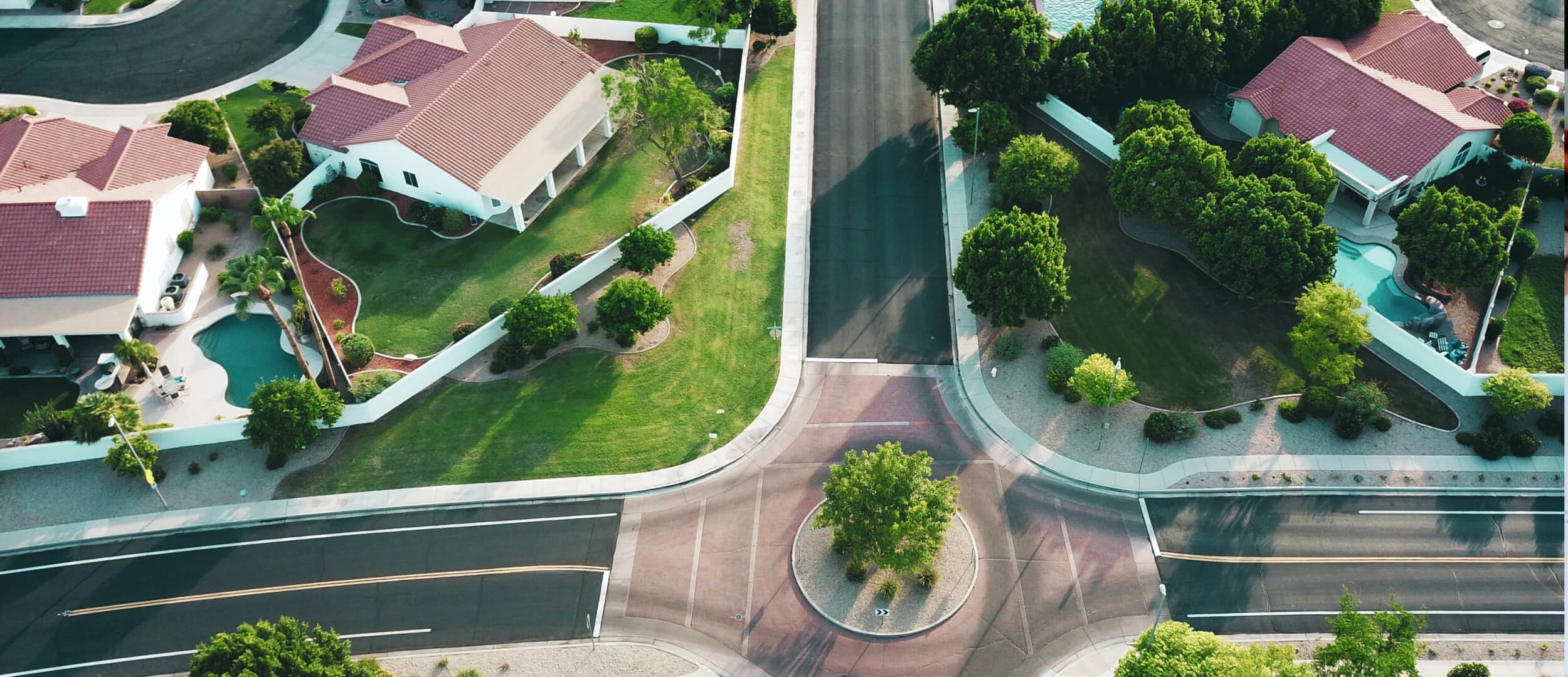 Have you ever looked for accommodation? How's an impression? Tiring, often frustrating, and at times disappointing. Is it familiar? Until recently you needed to hire a real estate agent, explain what you want, and keep in touch with him or her until the accommodation that meets your requirements is found.
Fortunately, real estate app development has helped to solve this problem to a great extent. More than that, there's already much speculation that real estate platforms, sites, and apps might once replace brokers and agents. If you are in the real estate business, you can not do without a digital solution anymore.
According to the Report by the Report by the National Association of Realtors in 2019, above 80% of Millennials and 78% of Generation X found their property on a mobile device compared to 68% of Younger Boomers.
Above 90% of real estate companies have their online listings, but mobile app development for real estate remains a promising direction for startups.
While everything goes digital professionals have to adapt to the changes to stay competitive. Digital presence can help agents and brokers with increasing loyalty of clients and growing sales at the same time. Building a real estate app is a surefire way to boost your real estate business popularity. If you still doubt whether it's a good idea for investment, let's see into the prospects in more detail.
Why Create a Real Estate App in 2021
It's a no-brainer that people do many things on the go, real estate agents and clients as well. In the case of real estate issues, both parties should be quick to make a good deal and that's why real estate app development solutions are an absolute must for modern property businesses.
Applications have already become principal earners and means of communication with customers, especially in the COVID-19's pandemic time. Even if your business is already present online, let's check the major benefits of making an app for a real estate website:
High customer loyalty through special offers and loyalty programs offered to app users. Such an approach can help to achieve really amazing results.
More successful deals due to superior customer experience, combined with quick and effective interaction with the agent in real time.
Real-time communication between agents and clients that allows them to stay in touch and quickly respond to their requests.
An accurate hit on the target customers. With an app you only get the audience that is interested in your service and ready to become your client.
Excellent marketing through in-app promotional activities. You can target your users with the ads based on their interests and behavior, thus providing them with only relevant advertising.
Reduced cost of advertising. Maintaining the interest of regular customers to the mobile application through interesting real estate app features, you can save on the advertising campaign and boost its effectiveness.
Advanced analytics. With a mobile app, you get an opportunity to collect data on user behavior and use it for a more personalized approach to every client and better business strategy.
Additional income through app monetization. For a big real estate agency, it will unlikely be a sensitive income, but any monetary bonus is a good and pleasant thing to have.
Brand recognition and awareness through the usage of the company logo, corporate colors, fonts, and so on.
Business processes optimization. An app can simplify many of the internal business processes, like task management, reporting, analytics, etc. It helps to increase efficiency along with saving staff resources and budget.

One more important question is who needs real estate applications. Let's think.
There are always 2 parties to every business: a seller or service provider and the consumers. In the real estate market providers are those who need digital solutions to a greater extent, to them belong:
Real estate agencies and agents,
City and state authorities,
Startups in the real estate market.
Types of Real Estate Apps
When considering a real estate application development, don't restrict yourself to just one kind of such a software solution. The real estate industry is variable with multiple players: homebuyers, sellers, renters, landlords, agents, etc. So, on-demand real estate app development can serve different purposes, and it's vital to define your focus before plunging in into the process. Let's check the most popular types of real estate solutions that exist in the market today and try to figure out the concept of an app that can become your most profitable investment.
Application for House Hunting or Renting
This is a kind of property listing apps that allows searching real estate objects for renting or buying based on location, address, state, or city, neighborhood, budget, or some other characteristics.
Mobile Solutions for Real Estate Agents
Real estate mobile application development can serve agents' different purposes as well: from communication within the agents' community and with clients to documents and property management. Such apps can reduce agent's legwork and to a great extent relieve them of the paperwork.
Property Management Applications
Working with a lot of property objects at a time, real estate agents often look for a real estate app development company to craft a solution that will help them manage their properties. Nowadays, it's crucial to have an opportunity to check the status of an object and to get insights into the listings of properties at any given time.
Real Estate Investment Software
Such solutions are created for real estate objects purchasing as a means of investment. They help the investors or agents monitor houses for sale and choose the objects according to specific criteria. That's why an ideal solution of such kind should be highly customizable.
The Real Estate Marketing Apps
Marketing solutions allow homeowners and agents to come up to the process of property selling in an unusual or creative way. It makes such applications popular and creates a demand for them. If you want to create an innovative solution, but need some guidance, being an experienced real estate mobile app development company, Stfalcon is eager to help you. Read further on, or contact us for a consultation.
How to Make a Real Estate App
To answer the question of how to make your own real estate app, you should first understand what functionality and features you need for your solution. Obviously, you need specific features for agents and clients and to separate them there are 2 ways to do it — either through separate apps or two user roles within one application. Besides, a good idea is to build a real estate web app for administrators of the whole service.
There are certain key features you need to develop anyway:
1. Onboarding
The process of registration and logging in should be as easy as possible and it's reasonable to implement social login along with signing in with an email or phone number. Also, allow unauthorized usage for the clients to get acquainted with your app.
2. Personal accounts
Both agents and clients should have their profiles. Real estate agents need to see and add properties descriptions and pictures, provide contacts, and manage schedules there. An agent should also have access to brokers' profiles database to check their credibility, properties, and ratings.
The clients should be able to fill in their personal data for getting unique personalized offers and also browse listings to look for the property objects they are interested in.
3. Database and listings
A core feature of your application is its database the more property cards you store in it, the more chances for success you have.
4. Property profiles
Make sure you have enough information and pictures for every object to provide a rough idea about it.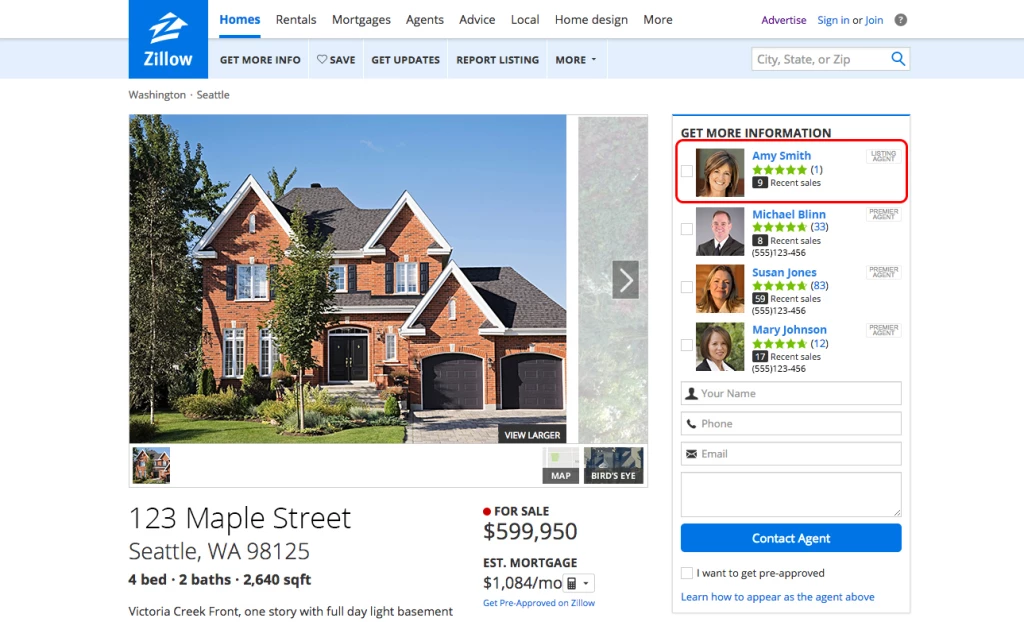 5. Agents listing
Agents' listings are vital for effective interaction, they should include a brief description with a picture, number of properties, location, rating, and sources of credibility.
When developing an application for the USA market you may face the challenge that we once faced already, the USA property listings do not have any standardized format and no single database. Even though MLS Listings are presented on a single platform, in fact, there are about 900 different MLSs all over America. So, creating a real estate app using an API of a single database is simply impossible.
However, now Stfalcon experts know the work -around.
6. Categories and filters
The search and choice of the right property seem to be the most frustrating part of the entire process, so you need to relieve this pain to your clients and provide advanced search and sort filters according to certain criteria for them.
7. Maps and geolocation
Maps provide valuable details to those who want to rent or buy an apartment. On the maps they can see the nearby objects and infrastructure, besides a good idea is to show statistics and specific data that counts, like crime rates, the risks of natural disasters, average incomes, etc. What is more, you can allow your users to pave the routes between the points on the map (home and office, house and school, etc.) for more convenience and faster decisions.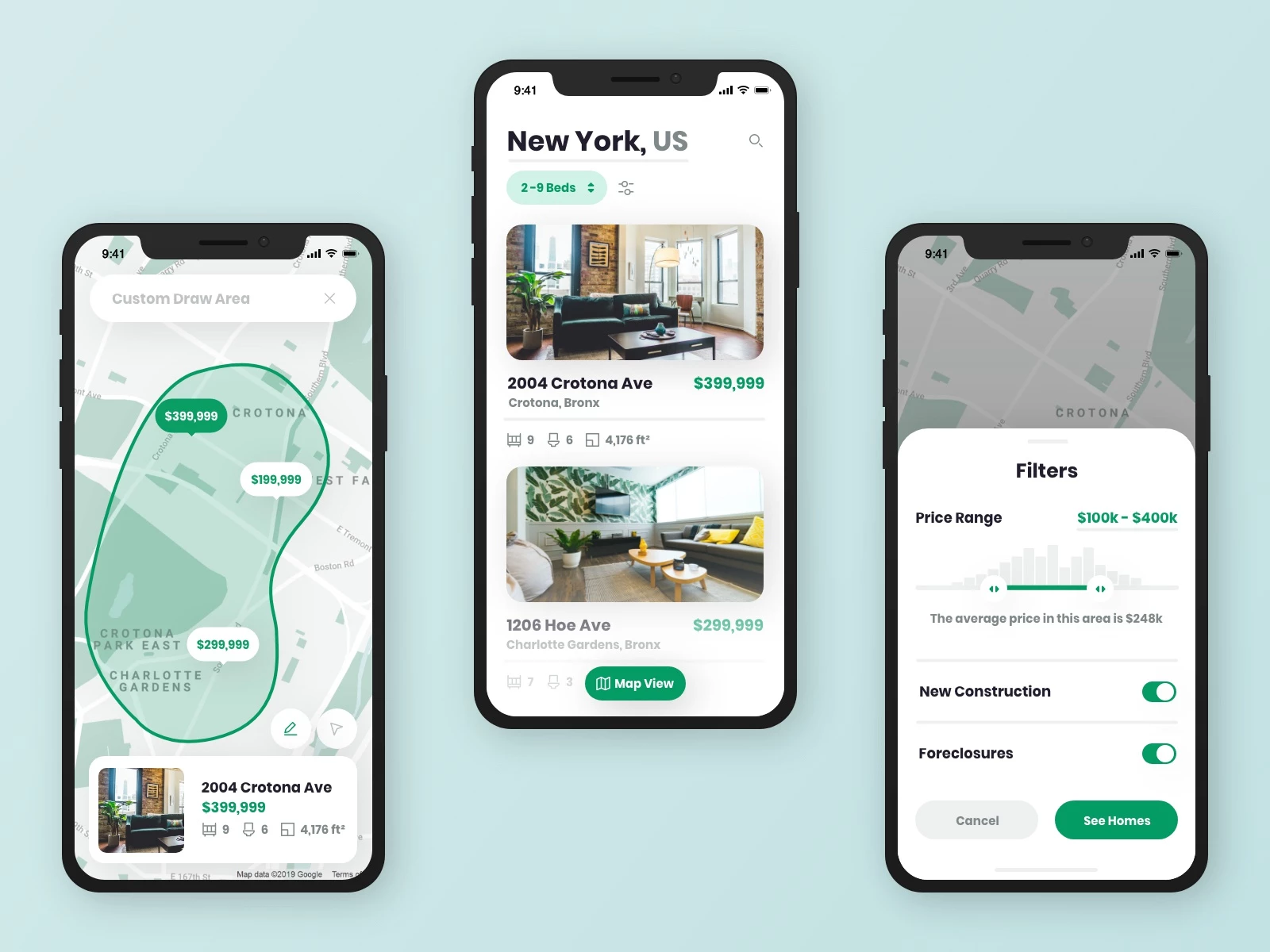 8. Favorites
To help your clients make well-weight and easier decisions, allow them to shortlist the objects they like and make this list visible in their profile or menu.
9. Price calculator
A detailed price calculator will give your users an immediate opportunity to make the necessary estimations and understand their options and financial capacities. Let the users find out not only the final price for the house but also an initial payment amount, loan interests in different banks, and repayment period options.
10. Calendar and scheduling
Calendar integration is vital for convenient appointment scheduling. This option should be available both for agents and clients and possible to link to a certain property object.
11. Push notifications
Push notifications are now a must-have feature for any app. They remind the users about the app and can be set to remind a client of some specific events, like
New real estate objects in a particular location,
Property updates,
Price changes, etc.
Yet make sure your messages are relevant, bring value to users, and can be modified to match their preferences.
12. Analytics
Any application needs an analytic feature to analyze the business processes, growth, pitfalls, and the reasons for them. A profound understanding of the things happening will help you optimize your work, service, strategy, and processes at the right time as well as improve your app performance.
To create an advanced real estate app, you can also offer your users the following features:
1. Virtual tour
Such tours give consumers a chance to look at interesting objects through a 3D visualization, in case they like what they see, they can proceed to real-world viewing. This feature can save much time for both parties, so it's worth consideration.
We recently worked on a research for a client who wanted to build a real estate app where a 3D video of a specific property object had to be packed into a stories format and contain also information about the object.
At the request of our client, we also managed to find the way to provide live 3D streaming which combined video, 3D tour, property information, comments, and reactions from the users. A third party service which provides 3D rendering on their servers came handy to realize it in the simplest way for us—all we needed is to implement a YouTube-like video service or player in the app.
2. Showings on demand
If the client is occasionally close to the property he is interested in, allow him seeing it without extra waiting through a showing on-demand feature—let him spot the realtors available nearby ready to show the object he likes.
3. Feedback and rating
Allowing users to leave feedback on the realtors and agents will increase loyalty and credibility to your app and service on the whole and motivate agents to work more efficiently.
To gain the maximum of the potential customers, make sure you offer them a perfect feature set, intuitive user interface, and plain yet attractive design.
How Much Does Real Estate App Development Cost?
Though the question about the cost to develop a real estate application is traditional, it does not have a universal answer. The total budget for real estate mobile app development is determined by the chosen set of features, device types, technologies implemented, overall project complexity, and developers' hourly rate.
In our company when going through all the 5 development stages:
Discovery Phase,
UI/UX design,
Frontend and Backend development,
QA,
we can offer a starting price for building real estate Android and iOS app from scratch of 100 000 USD.
With over 11 years of development expertise, we can craft a perfect product for you, answer all your questions, provide some useful tips, and dispel doubts if you still have any.
How to Make Money in Real Estate with an App
Even though app monetization is not a priority for the real estate sphere, you can always think of killing two birds with a stone and consider the following:
Basic and pro versions
This is what is commonly called a freemium model when you offer some basic app features for free and extended functionality or some subscription for money.
Advertising
It is the second way to monetize your app. You can either provide advertising for third parties or ask real estate agents who want to promote their service to the target clients for a fee. On paying it, they can be featured in your service more often to more clients.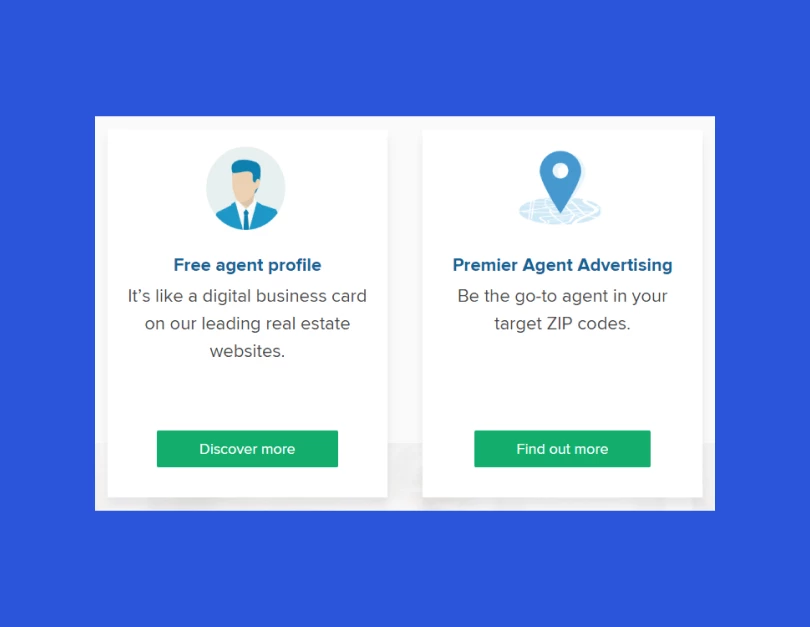 White label model
In case your digital product has really outstanding capabilities and may interest other developers, you can license your code and sell it to other entrepreneurs.
Our experience
Speaking about Real Estate Application Development services, we cannot but should mention mobile solution creation for Hosty. The key challenge laid in the integration our solution with the Airbnb API so that large amounts of data were quickly synchronized.

One of the most important tasks that the service solves is property reservation management. Before making a list of reservations, we took up a more complex task, to realize displaying of the reservations in the context of dates — in the form of a calendar. In the second version of the product, we have developed an application for Android and iOS.
The cooperation went smooth and the team was quite flexible in the process of development. The system features a streamlined and user-friendly interface and has met all technical requirements put forth by the internal team. Stfalcon is flexible and adaptable, facilitating a smooth collaboration between teams. The team is creative and hard-working.

Another case was a CRM system for a construction company. The project was supposed to solve some important problems related to the automation of sales processes and customer service. In particular, the preservation of the relations history and customer contacts planning, picking of real estate by interests, event notifications, contract preparations.

We often get requests to realize just a discovery phase for our client to take the further decision as to his product. Some projects to mention are a Discovery Phase for a Real Estate Company, a client came with an idea to create an approachable management solution for small property owners and real estate agents. As a result, the client got a complex solution for both the MVP and the 2 release versions of the future product, including web and mobile apps. We created detailed prototypes, user stories, product vision, and a budget plan.
Conclusion
As you can now see real estate app development can benefit everyone involved in the process of searching and selecting an ideal home to call it a castle.
To make your app creation hassle-free Stfalcon developers are ready to offer you a helping hand, we like the projects that make people happier and their lives easier. We always advise custom development since it allows you to implement the features you need and not be restricted to the functions of an off-the-shelf solution, and besides, you do not pay for the unnecessary features.
We like challenges, the process of growth with every challenging project we fulfill, and the fact that we can offer our expertise to even the most sophisticated clients. So, do not hesitate to start!