Overview of Top 10 Fintech Startups Worldwide in 2023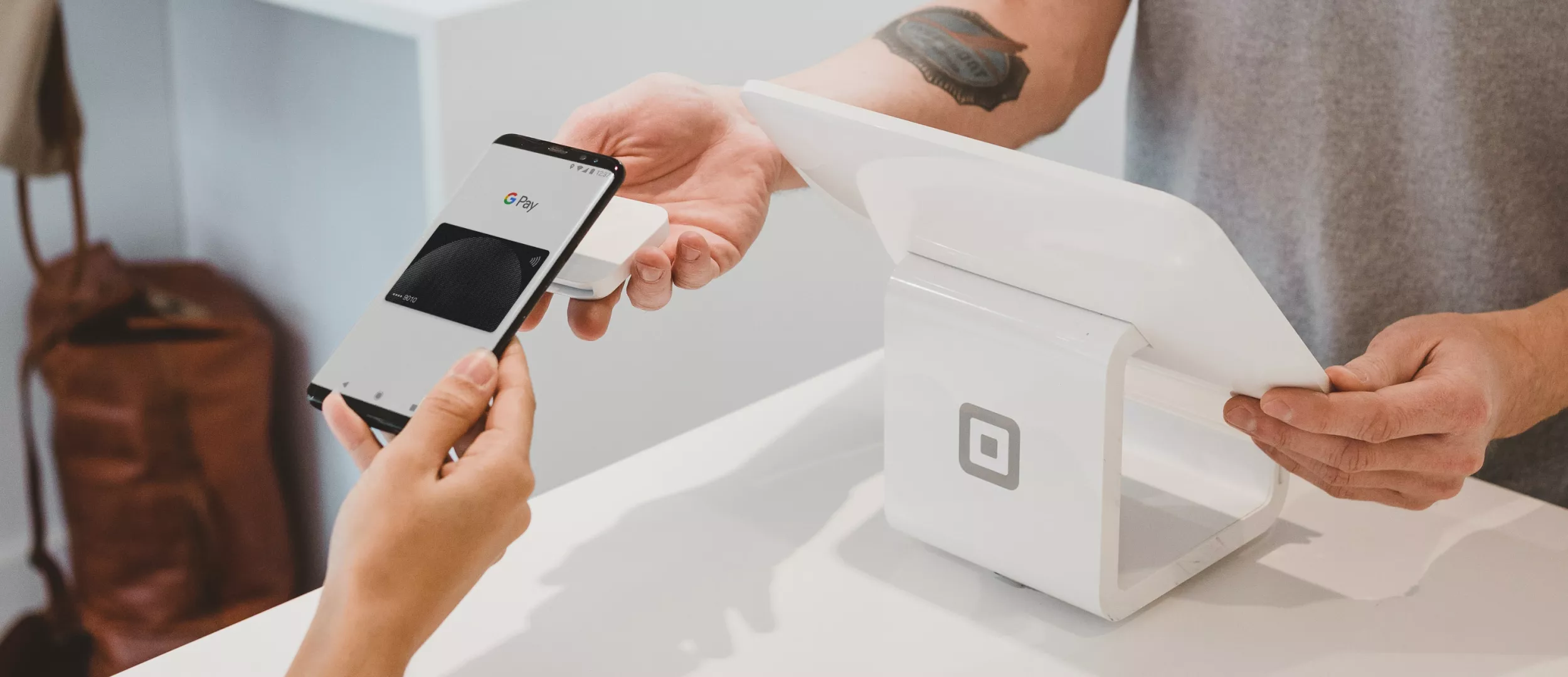 In today's reality, money moves at the speed of light. This is leading to a digital transformation of traditional banking. Welcome to the exciting realm of fintech, where finance meets technology in a whole new way.
Fintech is all about utilizing clever technology to increase everyone's access to and ease with financial matters. It includes services like payment apps, investment platforms, online banking, and more. You've probably used some FinTech services without even realizing it. PayPal, Venmo, and Cash App are all FinTech apps. They let you send money to friends with just a few taps on your phone. Let's take a closer look at the industry itself.
Between 2012 and 2019, fintech was on a rocket ride. More fintech startups, more money, more everything. However, 2020 hit like a curveball. Investments slowed down, and job cuts were everywhere. But don't hit the panic button just yet. Even though the investment party slowed down a bit, seed and early-stage companies are still catching the eye. When we look at sectors, RegTech led the way in investment value. And regionally, the Asia Pacific hit new investment peaks.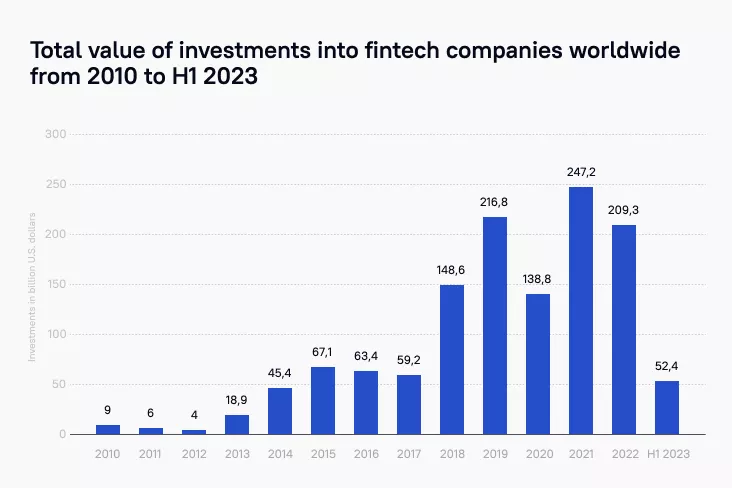 Fintech Startups That Top the List in 2023
So, what can you expect from this blog post? We'll introduce you to the top fintech startups that are reshaping the way we think about money. Join us as we take a closer look at these companies, their groundbreaking ideas, and the impact they're having on our wallets and bank accounts. Get ready to be inspired by the future of finance.
Revolut

CEO: Nikolay Storonsky
Year founded: 2015
Location: London, UK
Funding: $1.7B
Annual revenue: $1.5B
Revolut entered the financial services industry with a disruptive concept. With reasonable fees and advantageous exchange rates, it offered a mobile app that offered a variety of financial services, such as international money transfers, currency exchange, cryptocurrency trading, and more.
Revolut held the highest market valuation in Europe as of April 2023, reaching $33bln. With over 25 million customers in 2022, Revolut was also the most widely used neobank in Europe.
Here are some of the reasons why Revolut is making headlines:
Global spending. Traveling abroad? No problem. Revolut lets you spend in over 150 currencies at the real exchange rate. Say goodbye to those hefty currency conversion fees.
Budgeting is simple. Revolut helps you keep track of your spending effortlessly. You can set up budgets for different categories like groceries, education, or entertainment. The app will give you a clear picture of where your money is going.
Safety first. Your money's safety is a top priority for Revolut. They use state-of-the-art security measures to protect your account and transactions.
Invest and save. Revolut isn't just about spending – it's also about growing your money. You can start investing with as little as $1, and they offer features like Round-Ups, which automatically invest your spare change. Saving has never been easier.
Innovative features. The company constantly introduced new and innovative features, including the ability to hold and trade cryptocurrencies, budgeting tools, investment options, and even metal cards. These features kept users engaged and attracted new customers.
Stripe

CEO: Patrick Collison
Year founded: 2010
Location: San Francisco Bay Area, USA
Funding: $8.7B
Annual revenue: $1.6B
Stripe is the most valuable fintech unicorn in the world. Its motherland is the USA - a country with the biggest number of startups. Stripe is a payment processing platform that provides businesses with the tools and infrastructure needed to accept payments online
Stripe's emphasis on serving developers meant they received widespread adoption in the tech industry. Developers appreciated the clean and well-documented API, which made it easy to implement complex payment solutions.
The company didn't stop at payment processing. They introduced various new features and services over the years. They include subscription billing, fraud prevention, and support for emerging payment methods like mobile wallets and cryptocurrencies.
N26

CEO: Valentin Stalf
Year founded: 2013
Location: Berlin, Germany
Funding: $1.7B
Annual revenue: $362.1M
Another unicorn among the hottest fintech startups is N26. It is one of the largest digital banks in Europe, with over 8 million customers in 24 countries. N26 offers a variety of banking products and services. They include current accounts, savings accounts, credit cards, and loans.
One of the great things about N26 is that they're transparent about their fees. There are no hidden charges or surprise fees. You can see all the costs upfront, making it easy to understand and manage your finances.
N26 built a scalable technology infrastructure that allowed it to adapt quickly to shifting market conditions and customer demands. This agility helped the business stay competitive and meet the needs of customers as they evolved.
Chime

CEO: Chris Britt
Year founded: 2012
Location: San Francisco, USA
Funding: $2.3B
Annual revenue: $307.3M
Chime's journey to unicorn status can be attributed to its commitment to prioritizing the needs of its customers. Unlike traditional banks that often burden customers with fees, Chime took a different route. They eliminated many of the typical fees associated with banking. You won't see monthly maintenance fees, overdraft fees, and foreign transaction fees here. This customer-centric approach instantly resonated with users, leading to rapid adoption and loyalty.
Chime's "Get Paid Early" feature has become a hit among its user base. Through partnerships with employers, Chime allows customers to access their paychecks up to two days earlier than traditional banks. For people who depend on their paychecks, this offers a workable solution.
Klarna

CEO: Sebastian Siemiatkowski
Year founded: 2005
Location: Stockholm, Sweden
Funding: $4.5B
Annual revenue: $1.2B
Founded more than 15 years ago, Klarna is still considered one of the most successful unicorns. Klarna is best known for its "buy now, pay later" (BNPL) payment option. Consumers can buy items online and spread the cost out over a period of time, typically without interest. This approach not only improved the customer experience but also boosted conversion rates for e-commerce merchants.
Klarna has been able to acquire customers quickly through its partnerships with online retailers, its mobile app, and its online marketing campaigns.
Ant Group

CEO: Eric Jing
Year founded: 2014
Location: Hangzhou, China
Funding: $28.5B
Annual revenue: $2.1B
The fintech industry in China has benefited from strong government support and a rapidly growing middle class. This has created a large and growing market for Ant Group's products and services. But they didn't stop at online payments. They ventured into various financial services, creating an ecosystem. Key developments include:
Ant Credit. Ant Group introduced Sesame Credit. It is a credit-scoring system that uses user data from Alipay to assess creditworthiness.
Wealth Management. Ant Fortune offers a variety of investment products. Among them are mutual funds, insurance, and wealth management products.
Insurance Services. Ant Group collaborated with insurance providers to offer insurance products to users.
Blockchain and Emerging Technologies. Ant Group invested heavily in emerging technologies like blockchain. Transparency and security were their main goals.
Tickertape

CEO: Vasanth Kamath
Year founded: 2021
Location: Bangalore, India
Funding: $4.4M
Annual revenue: $13.4M
Tickertape opens a group of new fintech startups in this review. It is a wealth management platform that was incorporated in 2021. It is one of the fastest-growing startups in India. Tickertape provides a wealth of financial data and analysis tools. Users can access financial statements, historical data, real-time stock prices, and performance metrics for thousands of companies. Additionally, the platform offers technical and fundamental analysis tools, stock screeners, and charting capabilities.
Many investors prefer to manage their portfolios on the go. Tickertape has a mobile app that extends its user-friendly experience to smartphones. Thus, users can stay connected to the financial markets and their investments anytime, anywhere.
Alchemy

CEO: Nikil Viswanathan
Year founded: 2018
Location: San Francisco, USA
Funding: $39.3M
Annual revenue: $563.9M
Alchemy focuses on providing a developer platform for building dependable decentralized applications. Due to its distinctive approach to decentralized finance positions it as a key player and a disruptor in the industry.
Their journey to success has been marked by continuous innovation and refinement. Over the past four years, the company has dedicated itself to crafting customer and point-of-sale experiences tailored to various industries. Leveraging lending expertise and real-life implementations, Alchemy has honed its industry-specific underwriting algorithms, loan management functionalities, and workflows.
TRM Labs

CEO: Esteban Castaño
Year founded: 2018
Location: San Francisco, USA
Funding: $79.9M
Annual revenue: $37M
TRM Labs offers a platform for managing cryptocurrency compliance and risk. It is one of the leading FinTech startups in the cryptocurrency space.
TRM Labs recognized an acute problem in the cryptocurrency space: the lack of robust compliance solutions. As the control of digital currencies has become more restrictive from governments and regulatory agencies, businesses need reliable tools to ensure they remain compliant with the law.
The company leverages AI and machine learning to sift through vast amounts of blockchain data. Thus, it identifies potential risks and threats. This technology allows users to prevent illegal activities, such as money laundering and fraud, in real time.
Sardine

CEO: Soups Ranjan
Year founded: 2020
Location: Miami, USA
Funding: $75.6M
Annual revenue: $17.8M
The Sardine platform helps the digital economy stay compliant and prevent fraud. Sardine's founders and team have a deep understanding of fraud and compliance in the digital economy. This allows them to develop effective solutions that meet the needs of their customers. Sardine's platform can detect a wide range of fraud types, including identity theft, account takeover, and money laundering.
Sardine helps businesses to comply with a variety of regulations, including anti-money laundering (AML) and know-your-customer (KYC) regulations. Sardine is also committed to providing its customers with excellent customer support.
Our Experience
Stfalcon is a software development company with extensive experience in the fintech industry. We have helped a wide range of fintech clients develop and launch innovative products and services.
Our successful projects include:
Credit Agricole. We provide end-to-end banking software development services, from concept to maintenance. We offer expertise in UI/UX design, architecture planning, deployment, testing, and ongoing support.
Mobile SDK for Crypto Wallets. Stfalcon developed a Kotlin Multiplatform SDK for Android and iOS, streamlining business logic across platforms. This technology ensures consistent data handling, error management, and user interfaces, making your crypto wallet robust and user-friendly.
CopeCart E-Distribution Apps. Our expertise extends to e-distribution sales apps, designed to monitor performance and set goals. Using Clean Architecture with MVVM and Rx, we deliver efficient solutions that harness aggregate information from various sources.
If you are looking for a partner to help you develop your fintech project, Stfalcon is the right choice. We have the experience, expertise, and resources to help you succeed.
FAQ
What is a Fintech Startup company?
FinTech stands for Financial Technology. It's like mixing money matters with the power of technology. FinTech startups are on a mission to make your financial life easier and more convenient. They use fancy computer programs and apps to help you manage your money, invest, and even borrow.
What are the examples of Fintech innovations?
There are many examples of FinTech innovations that have changed the way we manage our money and conduct transactions. Here are some notable ones:
Digital wallets. Store your card information securely on your phone with apps like Google Pay, Apple Pay, and Samsung Pay. You can pay with contactless technology in shops or online without the need for physical cards.
Peer-to-peer (P2P) payment apps. Instant money transfers to friends and family are possible thanks to services like PayPal, Venmo, and Cash App. They make splitting bills or paying back loans a breeze.
Robo-advisors. These are automated financial platforms that use algorithms and AI to provide investment advice and manage portfolios for users. Thus, they make investing simpler, more efficient, and accessible to a wider audience. They often charge less than conventional financial advisors do.
Regulatory Technology. RegTech solutions help financial institutions comply with regulations more efficiently. They use automation and data analytics to track and report on compliance.
Neobanks. Also known as challenger banks, neobanks are fully digital banks. They often offer unique features like budgeting tools, high-interest savings accounts, and no-fee ATM access. Examples include N26 and Revolut.
What are the major sectors of fintech?
The major sectors of fintech include:
Digital payments. This sector focuses on facilitating electronic and mobile payments. It includes services like contactless payments, P2P payments, and digital wallets. Mobile payment apps are also in this category. Examples are PayPal, Venmo, Apple Pay, and Google Pay.
Lending and credit. Fintech lending platforms offer loans to individuals and businesses, often with quick approval processes. This sector includes online lenders, P2P lending, and alternative credit scoring models. Companies like LendingClub, SoFi, and OnDeck are prominent in this space.
Personal finance management. These solutions help individuals manage their finances. They include budgeting apps, expense-tracking tools, and financial wellness platforms. You may know Mint, YNAB, and Personal Capital.
Blockchain and cryptocurrency. These technologies gave rise to new financial ecosystems. Fintech startups in this sector explore blockchain apps for secure record-keeping, supply chain management, and decentralized finance (DeFi) services.
Conclusion
These are just a handful of the incredible fintech startups making waves in 2023. They're changing the way we handle money and investments, making things simpler and more accessible for all of us.
Keep an eye on these companies because they're likely to continue to shape the future of finance! In case you have an innovative idea, they are worth your attention to shape the best features in your product to disrupt the market. Stfalcon is open to cooperation. We are always eager to develop the newfangled software solution for our clients, just сontact us to discuss.