Top 10 Fintech Trends to Outlook for 2023
Being a combination of technology and financial services, Fintech has been transforming the global financial sphere, the way businesses operate, and the payments space for over a decade. Having emerged as alternative financial services providers after the global financial crisis in 2008, the fintech companies began to take over traditional banking institutions and wormed their way into the personal finance sector, banking, venture capital, insurance, loans, wealth management, etc.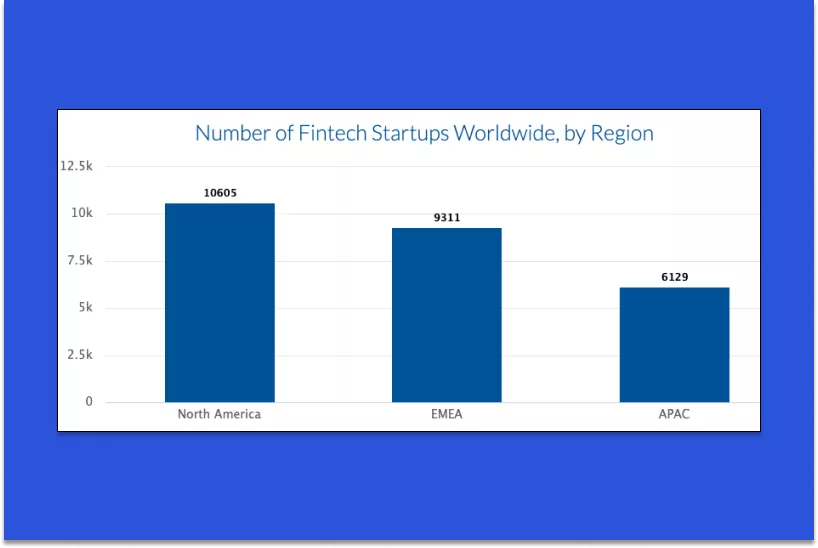 Being new players in the field of finance, they create new services and financial products that disrupt the modern world of finances and appeal to the present-day digitized society.
Nowadays, you need to go with the tide or you risk sinking. That's why modern brands enthusiastically adopt new trends in fintech. J.P. Morgan, PayPal, Amazon, Apple, Samsung, and some more brands, for instance, became the pioneers in the fintech sector.
All the innovative financial operatives require top-notch software solutions to implement all their innovations, like digital currencies, blockchain technology, AML regulations, and much more. So, we will share the biggest trends in fintech, but first, some statistics to support our argument that fintech is the thing of the future.
FinTech Industry Statistics
According to the PCW Global FinTech Survey, in 2019, more than 47% of financial service companies embedded Fintech in their future strategies. Just like any other sector, Fintech was changing and facing challenges in the times of COVID-19.
It resulted in the tremendous growth of interest in cryptocurrencies and blockchain in 2020. Businesses started to explore, test, and discover the new roles crypto can play in the modern financial system. Lots of financial services extended the range of their daily transactions through the implementation of embedded banking, financial products, and insurance.
2021 was also remarkable for the fintech market due to a record number of deals recorded in all major regions – in the EMEA, Americas, and the Asia-Pacific.
Fintech investments were incredible throughout the year. However, the solutions attracting investment further continued to emerge along with the growing interest in cryptocurrencies, blockchain, and cybersecurity.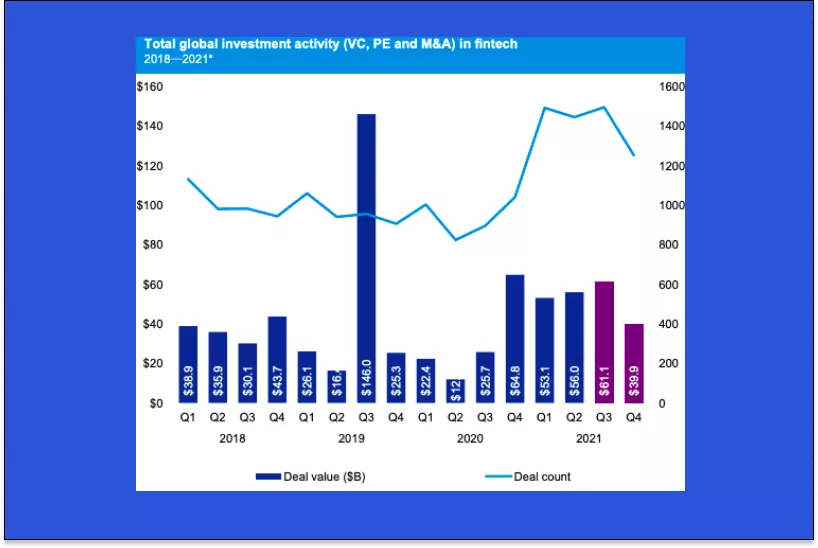 2021 brought a strong sense of renewal when various trends working together were driving both established companies and startups to recreate the modern world of financial services. By the end of 2021, fintech investment reached $210 billion.
By 2026, the Fintech market is forecast to exceed $161 billion, growing at an 8.7% CAGR from 2021.
Fintech startups raised $32.4B globally in Q1 2022. However, unicorns are holding on with PayPal, Ant Technology, and Stripe topping the list as of August 2022. Globally, there are now 473 fintech unicorns.
Contemporary consumer expectations can only be met with the best technology. So, we will speak about the top fintech trends of the coming year.
Trends in Fintech 2023
Fintech trends will impact everything money-related, from regular payments to banking, so let's look into each trend deeper.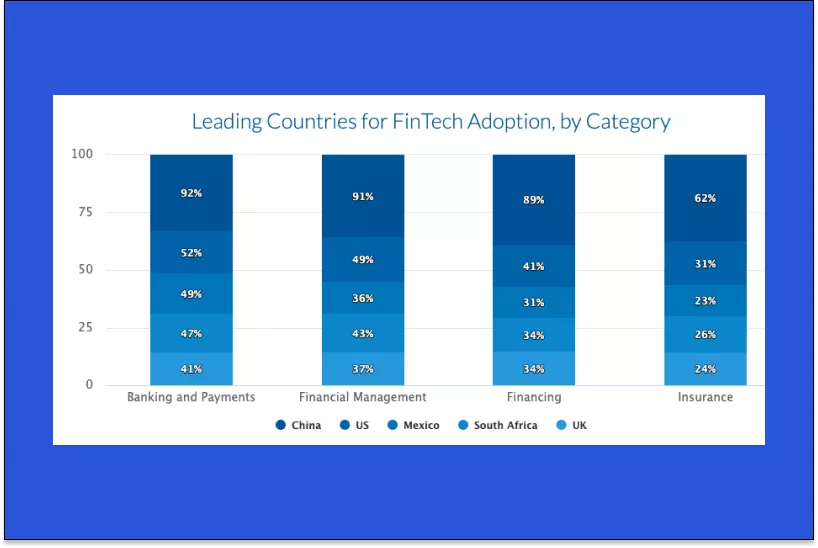 Digital-only banking
There are already banks that exist only virtually. Their clients are relieved of all paperwork and the necessity to visit brick-and-mortar institutions for account opening or getting a new card. They offer convenient tools for expense management and balance reviews, as well as global payments, contactless MasterCards, P2P transfers, and much more.

However, the possibility to purchase and exchange cryptocurrencies made a revolt quickly noticed in the financial world. Being one step ahead of the curve, digital banks already offer crypto-compatible payment services. So, digital-only banking grows in numbers and revenue all over the world.
Though the users may feel distrustful to face issues that can not be settled online, a partnership with traditional banks may solve the problem. So, digital-only banks may need some time to take their niche, but surely it will happen shortly.
Blockchain
Though it's not a new trend, it remains actual and continues to change the face of financial transactions globally. Blockchain technology is based on a decentralized platform not controlled by a single entity, so it is a highly secure way of storing data, which lowers the risk of identity and data theft to a minimum.
With over 10 million blockchain-based companies, the technology already has the potential to boost the global economy in the next decade and be adopted across economies worldwide. Nowadays, the highest percent of blockchain market value, 29.7% share, belongs to the banking industry, then follows process and discrete manufacturing, 11.4% and10.9% correspondingly. Dubai is even going to implement blockchain for government functions, meaning that even more financial institutions will follow this trend.
Artificial Intelligence
Nowadays, the revenues of banks in various countries exceed the income of nations. That's why they are the pioneers among the financial institutions that have embraced Artificial Intelligence. AI helps to analyze customer behaviors. That's why banks can personalize communication with their clients, advice, offerings, and AI-enabled payments.
Artificial Intelligence is effective against cybercrimes, money laundering, and financial fraud. Thus, it not only facilitates the automation of high-value complicated processes, faster transactions, and customer convenience but also spots the hacked data and data breaches, providing client info privacy and security. So, this trend will gain momentum, driving further adoption of AI in the sector.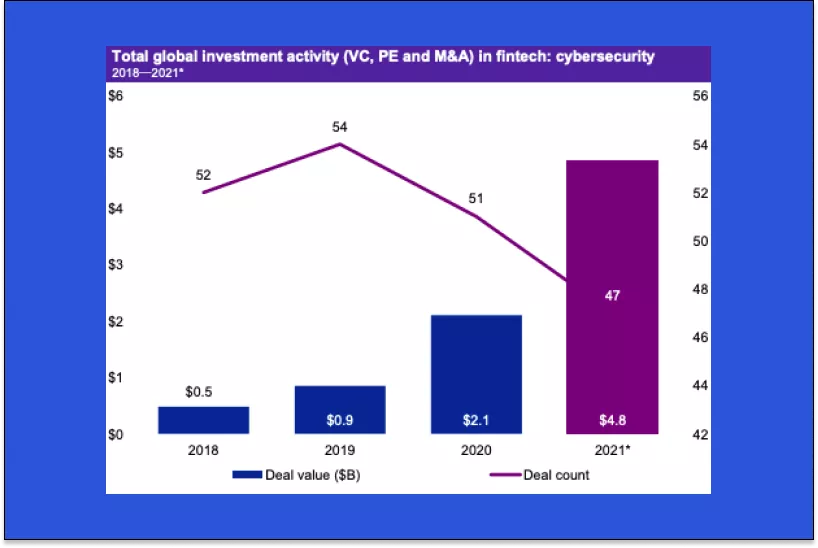 Payment innovations
Consumers are less and less reliant on cash and value fast and easy ways to pay for goods and services. So, banks and non-bank players, like retailers, tech companies, start-ups, and telecommunications progressively introduce value-add services in the sphere of payments.
Crypto card payments
Digital currencies have already become a form of payment in traditional card networks. Visa, for instance, has more than 65 cryptocurrency partners. In 2021, the last quarter only, it enabled cryptocurrency transactions for over $2.5bn.
Contactless Payments
The greatest trend in payment innovations was the rise of contactless payments during the COVID-19 pandemic when the majority of transactions shifted online concerning social distancing measures and health guidelines. Contactless-enabled credit and debit cards and mobile wallets became the primary forms of digital payments.
Apple Pay came as a revolutionary payment solution, allowing Apple lovers to pay for goods with their iPhones, and then Apple Watches easily. Then followed Google Pay and Samsung Pay.
The advances in fintech are likely to drive further changes with transit provider fees, educational institutions, government payments, and more.
Smart contracts
Smart contracts allow parties to sign agreements, encoded in computer language, using digital signatures, cryptographic keys to be precise. Smart contracts are guaranteed to be accurately executed and predictably.
The smart contract makes the authenticity of the contract breach impossible because numerous computing devices will get the same copy of the first digital contract. It's called a public blockchain, and it ensures the contract fulfillment of the letter. Most likely, this fintech trend will expand and go beyond national borders, making smart contracts accessible to virtually anyone.
SaaS platforms
Who does not know Stripe? It has become a fintech payments startup that demonstrated the fastest growth. In 2021, it was worth $95 billion already and served as a good example that the onramps into the payments sector increased.
The other giants among the online payment platforms like Shopify and Mind-body have also transformed. They turned into essentially operating systems, offering their users emerging and innovative financial services, payment cards, and loans. The platforms offer enhanced customer experience and faster product delivery, thus driving business growth.
This trend is likely to continue its development trajectory in 2023.
RPA
According to Gartner, 80% of financial leaders have implemented Robotic Process Automation, sometimes referred to as "software robotics", or at least have plans to. In such a way, they attempt to drive down costs and enhance their teams' efficiency. Through repetitive, rule-based, time-consuming tasks automation. Here belongs customer onboarding, account maintenance, and closing, security checks, credit card and mortgage processing, and much more. Digital workers can way faster cope with such tasks, while human workers receive the opportunity to focus on higher-value tasks.
The RPA market is predicted to grow at almost 40% GAGR till 2030, and much of the growth will come from the financial services, banking, and insurance sectors because they constitute almost one-third of the 2021 total market.
UiPath, one of the most respected RPA software companies worldwide, had automated 22 processes and saved 80k hours of manual labor.
By 2024, companies that will adopt and redesign their operational processes in such a way will be able to save up to 30% on their corporate operational costs.
Fintech super apps
'Super app' stands for a commercial application providing something above and beyond the ordinary services that are generally accepted. Nowadays, it's primarily banking super apps available to consumers. These ground-breaking platforms with all the bells and whistles provide their users with a fully-rounded experience in terms of financial services.
For the fintech sphere, spreading such applications could mean cryptocurrency trading with the possibility of managing several multi-currency savings accounts and cross-border payment tools.
Digital exchange and trading solutions
People's everyday lives circle the Internet today, no wonder, more and more financial services move online. The demand for digital exchange platforms is predicted to increase significantly because there is a demand for fast and hassles money exchange and transfer, often from one country to another.
The growing adoption of FinTech, along with users' migration online, results in the demand for digital platforms that will provide easy access and management of finances. At the same time, they are protected with highly secure blockchain technology. Therefore, digital exchange platform development is another fintech trend in 2023.
Peer-to-Peer finance and credit
Multiple fintech companies are now providing peer-to-peer finance and credit services already. Initially, P2P credits have become popular with millennials, such operations were at times carried out without any financial security.
However, technology is now used in financial institutions and P2P finance has become much more convenient because it often does not require a long application process or even identification. Small business owners, for instance, can apply for P2P credit for their business development. Businesses can apply for loans from credit unions and even non-financial companies. The loan decision is based on a member's credit history and worthiness.
The rise of P2P is another prominent trend for 2023.
Our Experience
Crédit Agricole payment kiosks development
Stfalcon carried out a project for Crédit Agricole, the largest bank in France and one of the French biggest companies.

We had to develop an interface design for payment kiosks, aimed to release the bank offices of queues and cashiers of some work. So, the solution had to be as simple as possible in operation, even for the most unsophisticated users, both the clients of the bank and the users who are not Crédit Agricole clients. More than that, the services for independent entrepreneurs should be listed separately.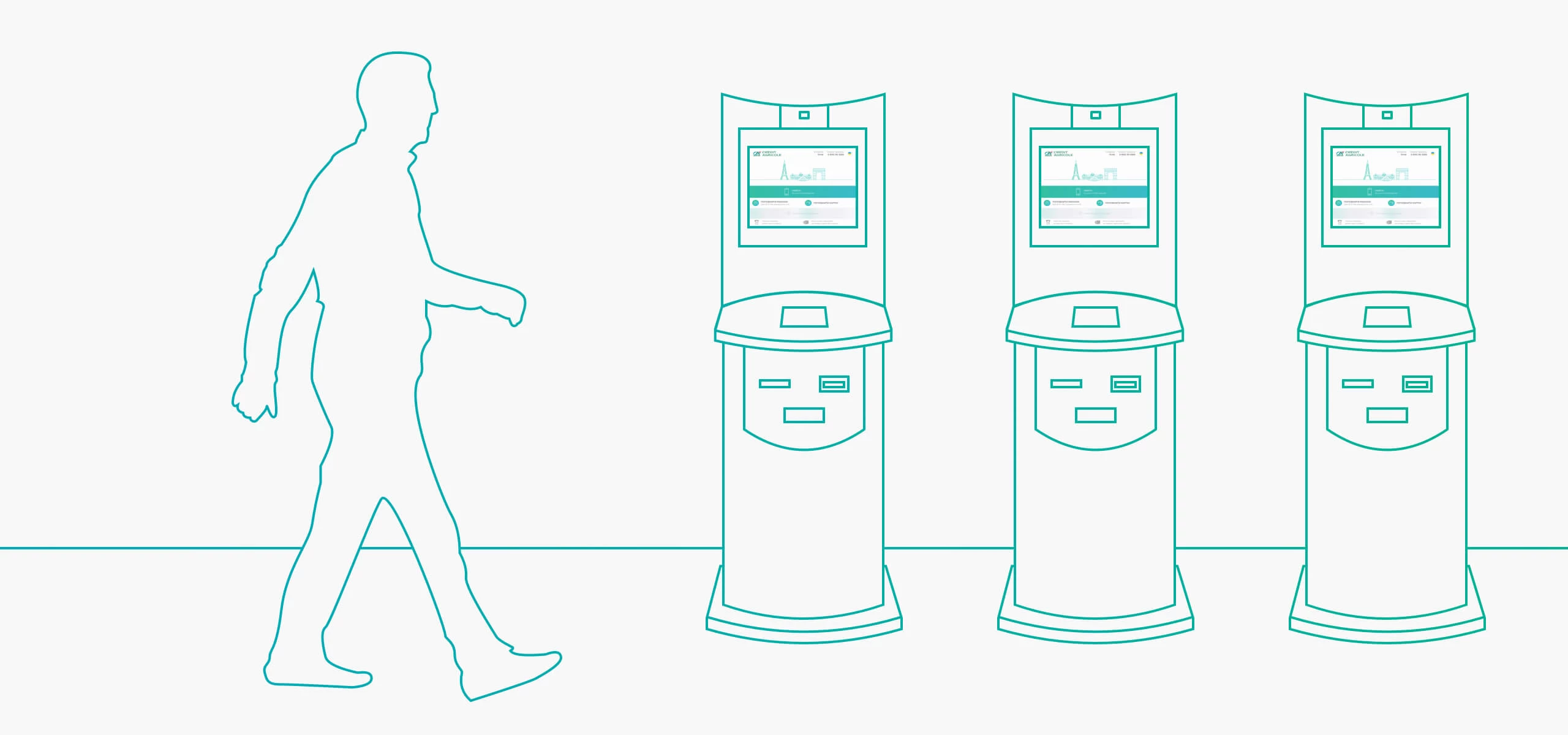 Read the full case study
Due to the relatively low-resolution capability of the touch-sensitive screens, the interactive elements had to be large for convenient operation with fingertips. At the same time, we had to strike a balance between the element's size and the content scope displayed on a single-screen page.
SDK for a crypto wallet development
Stfalcon's task was to create an SDK for Android and IOS mobile platforms based on Kotlin Multi-Platform for a crypto wallet. What was important, we had to combine business logic and use the same code base on different platforms.

Kotlin Multiplatform technology allowed us to use the same business models, processes, queries, internal data processing, and encryption on all target platforms. During the development, we implemented Clear Architecture with Interactors. We also developed interfaces to interact with UI apps.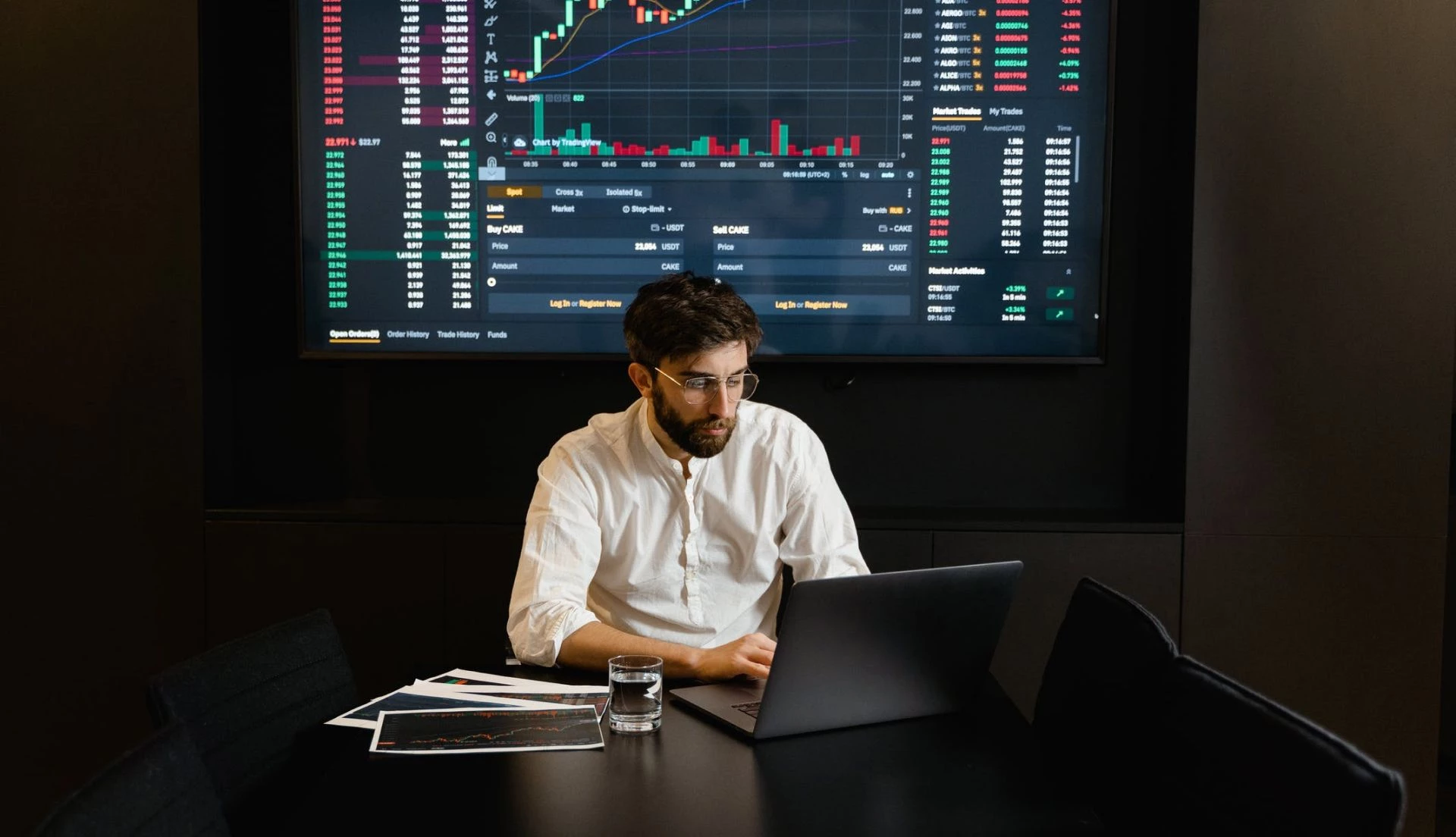 Read the full case study
Bottom Line
Fintech future trends predict significant disruption of the financial sector in 2023 in many ways, from increasing the payment options and expanding the scope of financial services to facilitating international businesses and no-fuzz transaction realization quickly and effectively. If you are engaged in the financial or e-commerce area or consider investing in a fintech solution, ensure you are aware of and follow the latest trends in this area!
As an expert in software solution development, we are ready to assist you in your project. So, you can contact us for consultation or put your project into our hands.