How to Get the Best Goal Tracking App and Not Lose Out

The modern world goes much busier than ever, a person now has dozens of daily tasks to manage and tens of goals to achieve either short- or long- term. The goals and tasks are in different planes: job, everyday life, health, beauty, fitness, nutrition.More than that, people are more ambitious nowadays and try to manage and balance all the spheres of life effectively struggling with self-discipline maintenance.
No surprise that a million and one productivity tools have appeared. Though a goal setting and tracking app may be quite handy, the choice becomes fairly difficult due to their abundance.
We've decided to relieve your choice and tell you about the best goal tracking applications, which top the list for 2022. Consider any of them to try out or think about creating a custom solution of your own. More about it a bit further.
Try out the DreamTrack app we recently completed for a US client.
Best goal tracking apps
To all those who struggle to stick to goals a smartphone or a tablet with a proper app may help stay always on track nowadays, no matter where they are and what they are doing. There are lots of productivity tools helping to set, track and achieve goals in various spheres of life. The top 5 you may find below.
Strides
The leader is Stride App — one of the most user-friendly yet very powerful apps. It allows tracking all kinds of things that matter to you — habits, goals, projects or average.
The goals in the application are set according to SMART methodology, being Specific, Measurable, Achievable, Relevant, and Timely, they are more defined. Besides, you can do it by day or week, month or year, set reminders and specify actions you want to become habits. The user account is constantly synchronized across all devices, so you can at all times check your latest statistics. The success is marked in green and the aims failed to achieve are shown in red.
The interface has 4 tracker types and a dashboard allowing to check everything at a glance, besides, it is flexible.
It should be noted, that the Strideapp is only offered on iOS and may seem a bit too complicated for beginners.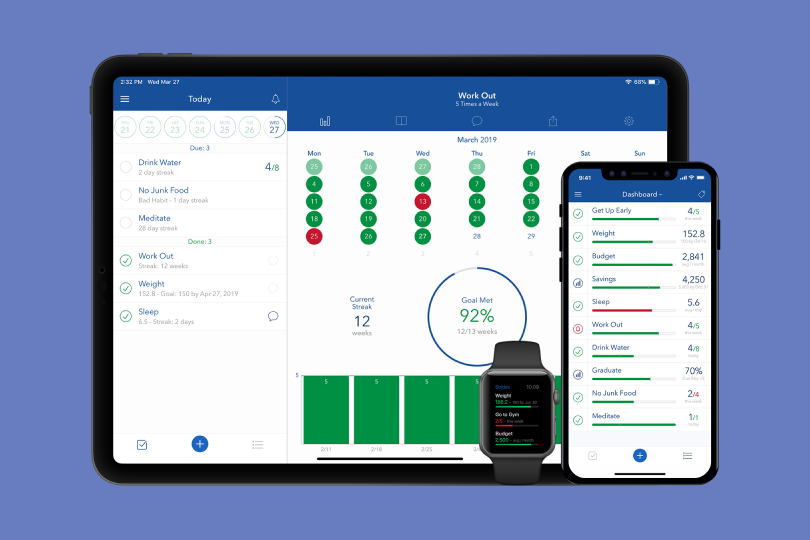 Way of Life
The tool will appeal to all those who like progress tracking in charts and graphs, yet the interface of the app is quite simple and intuitive. The product deals not only with good habits but addresses bad ones. The user indicates their types and gets daily reminders then about what was done or not as to the goal fixed.
This habit tracker works using a daily checklist approach and allows note-taking to provide some context to failing or achieving a goal at a specific moment. In course of time, the solution becomes even more useful accumulating data to track weekly, monthly, quarterly or annual progress demonstrated in chains and charts with trend lines, and many other nifty niceties.
Available on Android as well as on iOS Way of Life allows free tracing of only 3 goals.
GoalsOnTrack
It's a solution which can be used on the web and also has a mobile iOS version. The goals are set SMART and can be split into smaller subsets. This goal app offers unique animation and tracking offline.
Besides, the solution offers goal templates and journaling feature, so that the user can write down everything he wants about the goals and progress.
Unfortunately, this software does not offer a trial or free versions, but for high achievers, it's not a problem.
Coach.me
Former it was known as Lift Worldwide and now claims itself to be the leading habit tracking app. It allows setting goals and reminders, creation of the step-by-step plans and milestones checking.
Not only the application offers personalized coaching of your habits and leadership, which is a unique free offer among the apps of such kind but motivates to join the Coach.me community. Here you can get involved and ask questions to other members and even upgrade to getting a live coach for just 15USD getting real human support instead of a computerized one.
ATracker
ATracker is a task manager, facilitating in tracking routine tasks and time spent on them. With just a tap you can start and stop checking your repetitive actions and routines, getting ready in the morning, writing emails, commuting, being online, etc.
When using the tracker, you do not go distracted with the off beam things and then can check the breakdown of all your activities to evaluate and improve your efficiency. You can create productivity charts for a day, a week, a month, a year. The interface can be customized with colors and themes.
The application is available on iOS and Android, but the number of tasks is limited in the free version.
Features
When looking for or creating a goal tracking app, you should keep in mind the functionality of the solution. The registration or authorization in the app should be simple and can be realized via email or social networks.
On logging in into the app you should get into user personal account with the appropriate functionality: personal info storage and goal setting possibilities, they may be SMART, set step by step, be split into sub-goals, each of these features requires specific development. Besides clock and timer feature may be useful for tasks time tracking right in the app.
Without any doubt, such apps should contain and be integrated with calendars. The calendar will help to set timely goals and follow the progress. Besides, it's important to implement synchronization over all user devices, and it should better be real-time.
Goal dashboard is a feature, which will allow you to get the overview of your tasks, goals, habits and progress over time, thus task management and habit tracking features should also be present.
Besides, in course of the tracking goals app development, you may consider creating goal templates, account or goals customization, journal or note-taking features, visualization of the goals and progress on the board or in some other way, as you could notice above the best apps of such category even contain animations, but it all depends on the specifics of your product and the budget you have.
By the way, right now Stfalcon is working on the development of a goal tracking application, the approximate development time of an MVP is two months and a half, the overall cost is estimated as 36 000 USD.
Conclusion
In the multitasking world, we live today a goal tracking app can become a vital tool not only for boosting your productivity but also a means to decrease tension in your life and manage time in the most effective way. That's actually the main reason to use applications of such kind and to develop goal trackers. If you have some doubts or hesitations, let's discuss it together. Stfalcon will gladly assist you in creation, customization, visualization, or personalization of any solution you have in mind.