Best Healthcare CRM Software in 2024

Recently the global healthcare CRM market was valued at about 7.3 billion USD and by 2026 it is expected to quadruple, reaching 28.89 billion according to Stratistics Market Research Consulting.
What drives the market to grow at such an overwhelming compounded annual rate of about 16.6 % and how to get a piece of the pie right now? Let's see a bit closer in the matter.
People are in the very heart of a healthcare system, no matter if it's a private doctor practice or a government-owned body. That makes the industry extremely hectic at times, but nowadays special attention is given to the individuals and the services they receive. That's why Customer Relationship Management tools come in very handy.
Generally, healthcare CRM systems are intended for commercial use to keep the customers' and business data in order. CRM for the healthcare industry helps to understand the patients better and ensure you keep on top of the treatment cycle.
CRM for medicine can also be used by the companies which deal with pharmaceuticals, medical supplies, or health insurance, so to say by the entities more sales-oriented.
There are plenty of the ready-made healthcare CRM software solutions, but each has its own peculiarities and we have tried to rank them according to their best functions.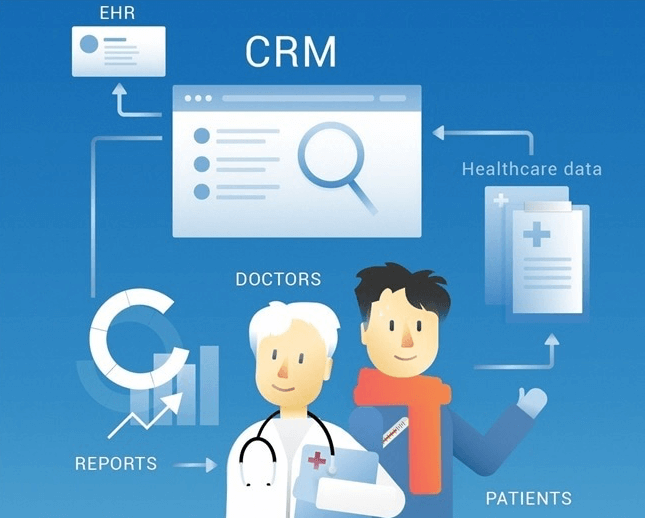 What is CRM in Healthcare
A healthcare CRM system is tailor-made for various medical institutions, including hospitals, laboratories, medical centers, public or private clinics, and more. By implementing a healthcare CRM, your institution can implement top-tier customer management practices while maintaining up-to-date client data, encompassing medical histories, visit records, medical billing, and more. Furthermore, you can establish an online medical portal to facilitate the creation and monitoring of medical appointments. CRM for the Healthcare industry also offers valuable reports and metrics for the daily analysis of clinic operations.
Patient Management
Due to the most sophisticated approach to patient management, the Salesforce Health Cloud has been acknowledged leading CRM in the industry. The system allows you to see the person behind every patient and craft personalized journeys for each individual. You have an opportunity to get a panoramic view of each patient connected all your healthcare community through by means of powerful analytics. The patient's health timeline shows data in a logical way and real-time reporting is possible.
The solution runs on any device, having a clear UI interface. The additional advantage of the product is hassle-free communication across the teams, and the possibility to prioritize the experiences of the individuals in your care. Your team members can concentrate on the patients and members of the community and keep them all engaged as well as acquire new.
Medication Management
Substance abuse and behavioral health industry has its own peculiarities. Medication management is the area, which is of special importance here. There are solutions, which allow simplified management of medicines. BestNotes is one of the best healthcare CRM software, it has an in-built e-prescription technology, which facilitates easy online sending prescriptions to the pharmacy.
The patient portal stores the contact details of the patients and their families, and the calendar keeps tabs on appointments and tracks no-shows. Besides, you can manage your clients anytime from anywhere with a mobile app. The task management tool is quite intuitive to easily assign work to yourself and your team.
Team Management and Sales
The team is always the backbone of any project, in case you manage your team properly, you have already a half success. Though Zendesk is not so customized for the healthcare specific, it can be as mobile and as flexible as you need it to be making team and patients management simple, fast and possible from any smartphone. The product has nice e-mail templates already integrated. So you can send e-mails, create email marketing campaigns and manage your deals right on the go.
Sales can also become absolutely hassle free with the Zendesk Sell solution. It's quite handy for those, who sell medical supplies on the road or online, or simply want to reach more clients for practice. Zendesk is the very CRM, which can give you the boost you wish. Moreover, it allows the integration of more than 400 apps for great business and management experience.
Medical Email Marketing
To provide the best possible service for your existing patients and potential customers, you should properly approach them and have some kind of a dialog. CRM medical systems can offer you a secure and industry complaint communication and the best one is Influx MD in our mind. It provides the cutting edge tools for creating dazzling, engaging emails as well as for distributing them. Besides, you can not only gain new clients in such a way but keep your current audience interested with targeted marketing. The smart analytics allows you insights into what has worked best and you can continue adopting the effective measures of engagement, while Facebook and email integration make it possible to manage all things from one place.
More than that Inflix MD is a HIPAA compliant CRM and has a self-service support portal, that's why even in not business hours, your clients can get what they need.
Getting the Job Done
One of the most important factors of any industry and healthcare, in particular, is being legal-compliant. HIPAA CRM may seem a bit scaled back, but from the point of view of plainness and ease of usage, it's the software that'll get the job done and help you stay in compliance with the right legislation. That's why you can focus in full on patients, sales, and customer relationships management.
The software product offers gorgeous reporting tools, which allow treatment staff monitoring and providing extra training whenever it's needed, medical sales managing, revenue, and figures analyzing in real time.
Customization for Unique Business Needs
As you can see from above, no matter what your healthcare corporate needs are, there is always a specific CRM option to take advantage of. However, your company is exclusive and your best CRM for healthcare purposes should meet your unique needs.
We believe for any entrepreneur it's reasonable to craft his own software product. In such a way the unnecessary expenses for unused modules can be avoided and the solution can be tailored specifically to match the interests of the business owner and management staff.
CRM medical systems can be created and customized integral with EHRs — electronic health records and EMRS — electronic medical records as well as other databases and care programs. A skilfully tailor-made healthcare CRM product may help to:
Provide personalized care to the patients
Build good relationships with existing and potential customers
Synchronize healthcare management with providers and third parties, like pharmacies or insurance agencies
Improve operational time and overall performance
Optimize expenses and time
Get real-time analytics and insights into the current state of things
Monitor sales pipeline
Provide seamless experiences across the entire client care lifecycle
Check customer service, etc.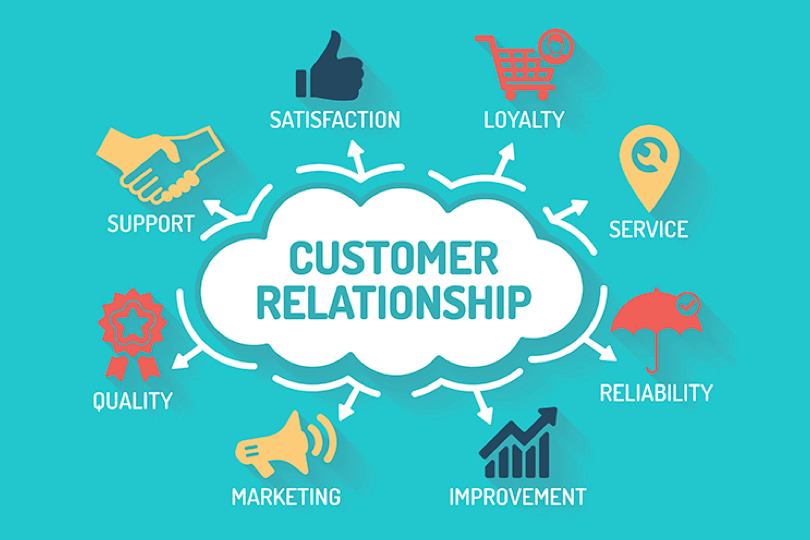 Our Experience
IsDocIn
The project's objective was to develop a mobile application that facilitates appointment scheduling with healthcare professionals. Doctors have the capability to establish profiles and receive notifications whenever a patient schedules an appointment with them.
Our team crafted the user interface (UI) for the mobile app, catering to the needs of patients. We designed both iOS and Android versions and subsequently constructed native applications in alignment with this design.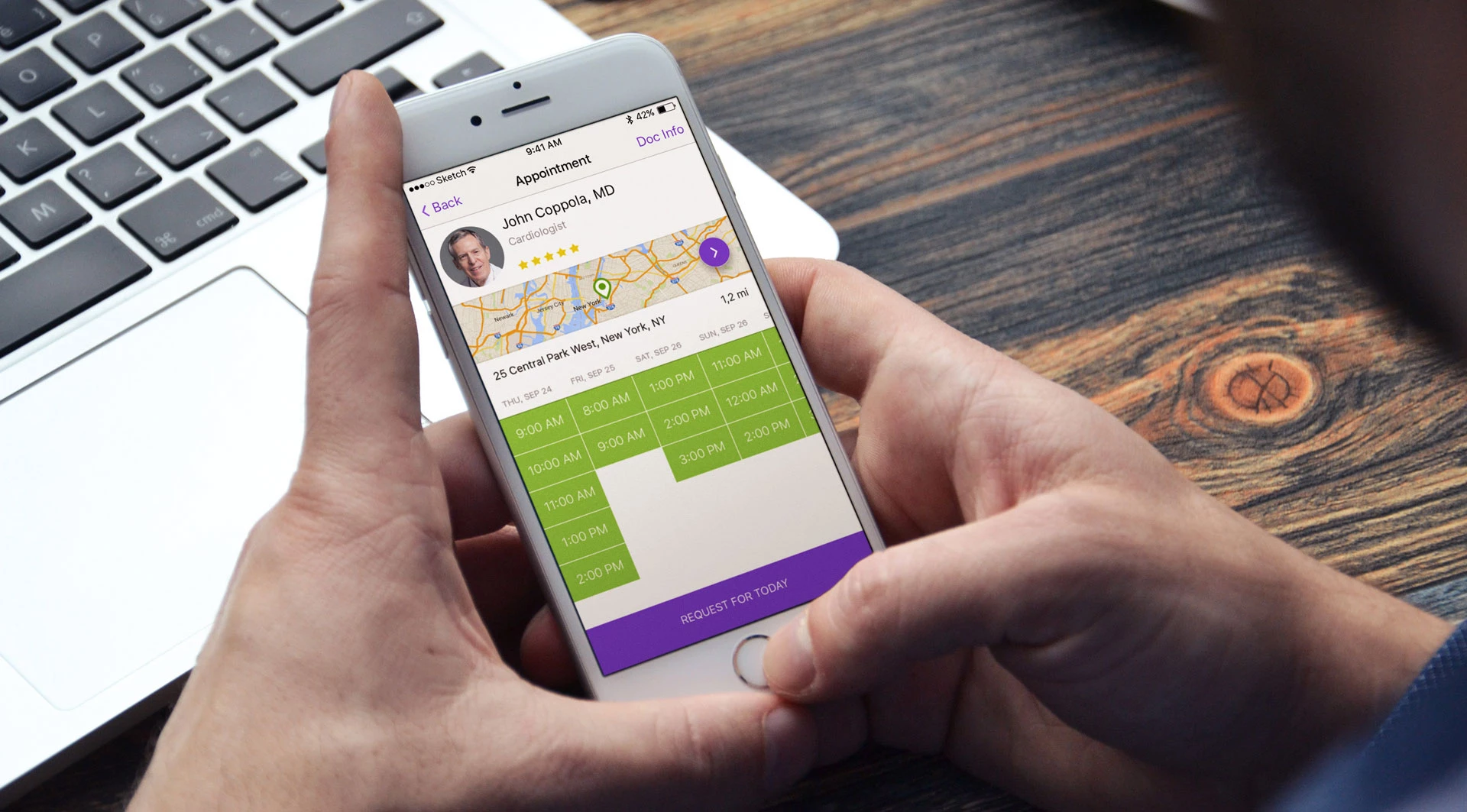 Read the full case study
HospApp
Our client's vision was to develop a novel mobile system fostering seamless communication among all employees within patient-related groups. This system allows for individual interactions, including messaging, file sharing, task assignment, and prescription management, all linked to a specific patient. The patient's information is maintained with the utmost security, ensuring it stays within the confines of the hospital.
The system's objectives are as follows:
Reduce patient waiting times to enhance service quality.
Enable swift response to emergencies, thereby minimizing risks for patients.
Automate documentation, streamline interactions and enhance staff management and control.
Provide a user-friendly, intuitive interface, akin to popular messaging apps, ensuring ease of use for both novice and experienced messenger users.
To address these needs, we developed a demo Android application encompassing key features for hospital staff. The Stfalcon team was responsible for user interface design, Android development, manual testing, quality assurance, and implementation.
While our work was limited to specific screens, the application included functionalities for messages, chat rooms/groups, and task management closely resembling chat features.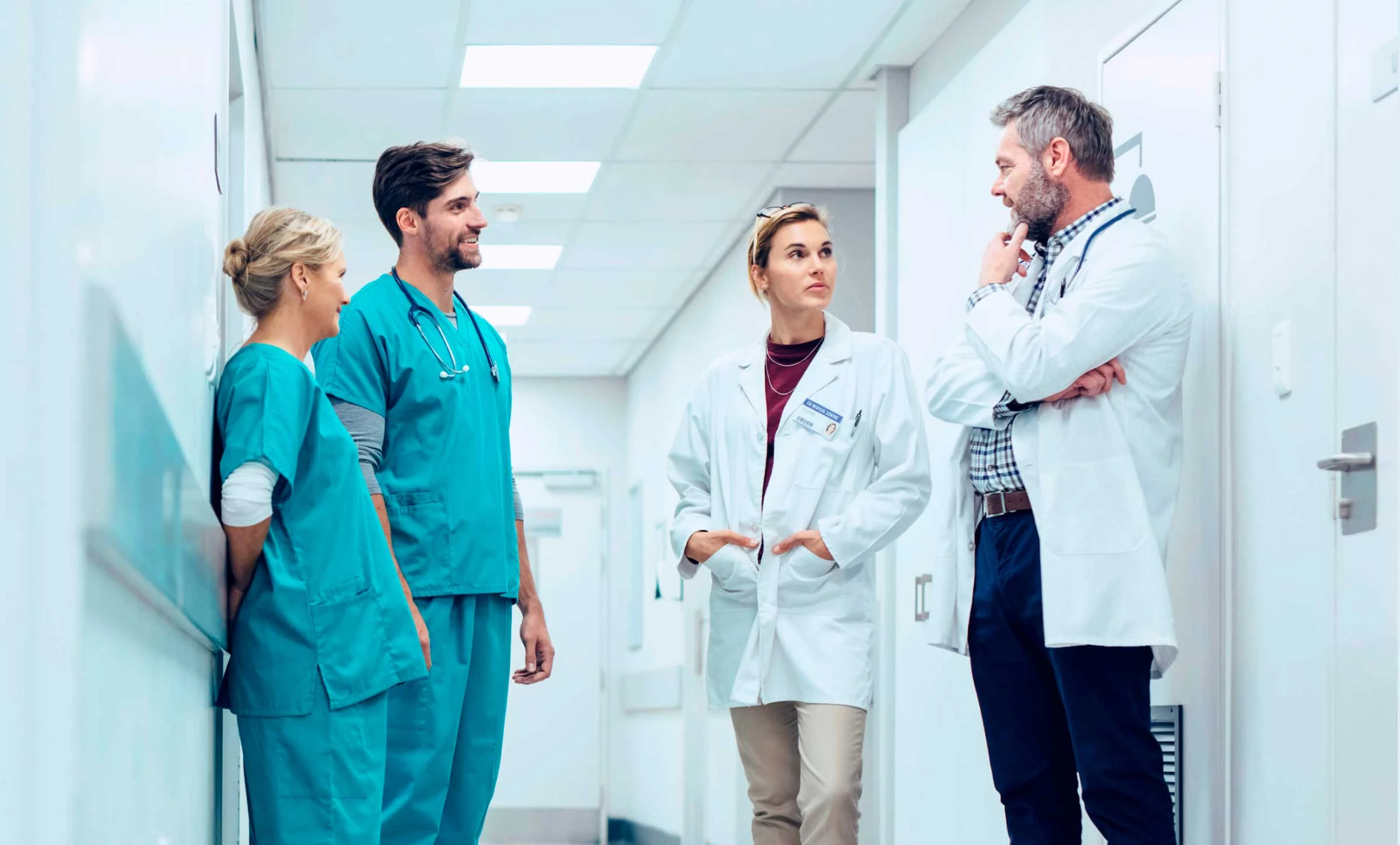 Read the full case study
Conclusion
The list can be quite long, but the main idea is that a well-built healthcare CRM solution can provide your medical team with superb information processing, and help to create measurable relationships between clients, patients, team members, and providers. All these at the same time may result in cost reduction, streamlined services, and improved customer experience.
We have already dealt with the healthcare-related software development and can help you get your best cutting edge product for the purpose. Contact us for more details.