7 Best Mobility As A Service Startups that will make you join the market right away

The industry of mobility demonstrates now multiple up-and-coming startups and technologies emerging. Lots of them are related to the new Mobility as a Service concept. We have already analyzed the trend in one of our previous articles and revealed the huge potential this technology opens. This article is to provide our audience with the live examples of the startups, which top the industry today.
The end goal of MaaS is to decrease the number of people using private transport and to get more people using public transport, still having round-the-clock access to it.
Present-day situation and the future of transportation
We can nowadays witness the appearance of intermediate transportation modes and the emerging interest to autonomous vehicles and connected transport technology. Being obviously steps forward these tendencies bring challenges to tech specialists, enthusiasts and startupers eager to change the modern cities transportation system.
The shift is also seen on the demand side, a push and pull relationship between technology and demand should be taken into consideration here. The shift to smart mobility solutions would potentially address a host of various concerns, however, opens wide opportunities. The transition has already started, enabled by digital platforms, trip planners, Internet of Things technology, and ticketing solutions, nevertheless, to achieving this shift in full requires the adoption of a new way of thinking and innovative MaaS platforms and systems integration.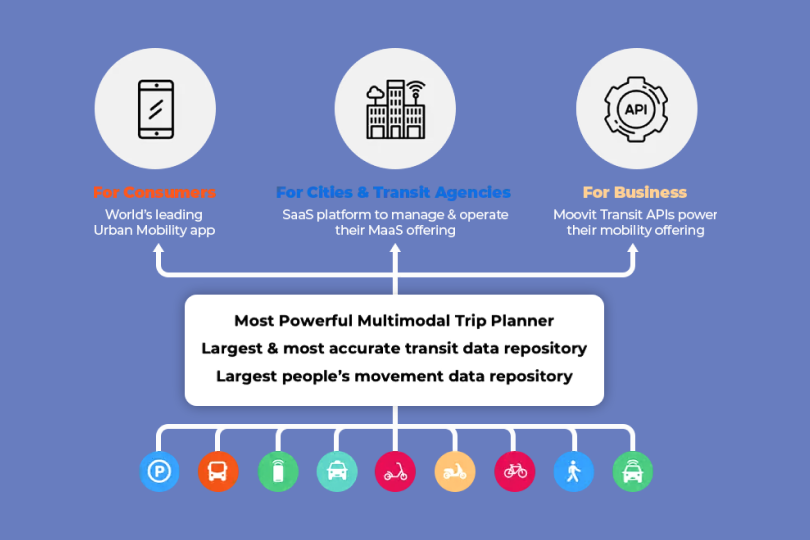 Successful mobility as a service startups of the present day
The fact that MaaS is more than promising ground for innovation is proven by the fact that more than 700 MaaS startups have been successfully launched. We'd like to look at some of them in more detail.
ISTmobil
The ISTmobil on-demand mobility solution offers a revolutionary way to be mobile in rural and suburban areas. Flexible, independent and without the need of an own car. ISTmobil operates without a schedule and only on demand in areas, where no — or insufficient — public transport services, closing existing gaps, exist.
Using the specially developed software ISTdis®, rides are routed intelligently and pooled according to economic and ecological criteria. The ISTmobil MaaS-Solution is part of the public transport system, as the existing public transport is integrated in real time. This is done by importing and comparing all existing timetable data. The passenger receives multimodal information about the entire route, including possible connections to public transport.