Salon Booking Software Development — a Means to Cope With Challenges in Customer-Focused Services

Everyone, who relies on client appointments in business, knows the trials and difficulties awaiting those who are in the sphere. It's a challenge to manage complicated schedules, which are often extremely changeable. As a rule, you do not only need to coordinate clients and specialists, but also slot in some emergency requests, reschedule somebody on short notice or compensate no-shows somehow. Such problems are typical and burning for the beauty industry. That's why salon booking software development is able to help business owners and managers in proper automation of that complex manual work.
The world Salon Software products market reached 340 million USD in 2017. By 2024 is expected to grow up to 690 million USD, increasing at a CAGR of 12.5%. The USA and Europe take about one third each in the market of Salon Software consumption in recent years.
The key suppliers on the world Salon Software market are Millennium, Salon Iris, Booker, Phorest Salon Software, taking up a bit more than 19% of the global market share.
Further on in our article, we are going to share our ideas and experience on how to manage a salon business with less headache and ease.
Appointment Scheduling Solutions
The speedy technological development has provided contemporary business owners with plenty of beneficial tools. Various kinds of salon management software and booking apps for business at present allow booking, rescheduling, canceling appointments in almost no time. However, if you run a salon and spa or beauty business, you need the solution, which works specifically for your industry. The up-to-date salon software products offer managing reservations, creating timetables, and scheduling staff and clients all in one place.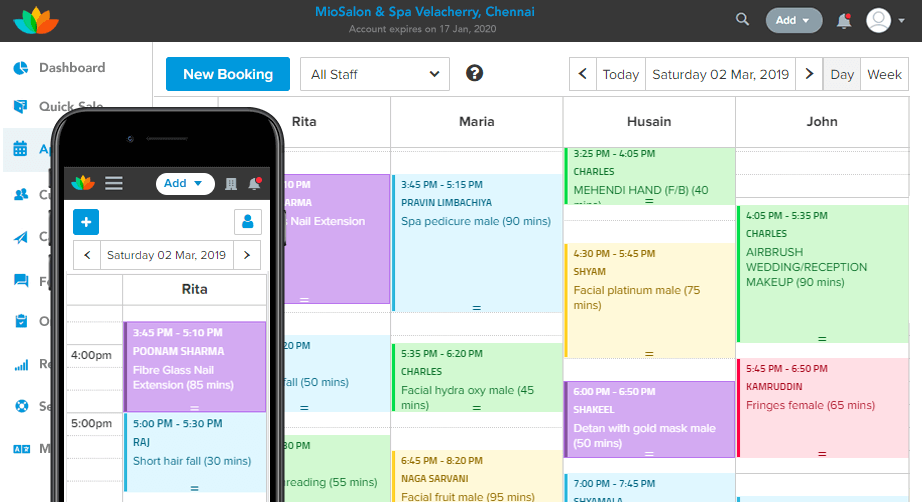 Admins are able to set the parameters when the clients can book the necessary services, based on business hours, times and dates when the staff or resources available, whatever. At the same time, software solutions prevent double booking and overbooking and provide the flexibility to block off times when this or that service is not available.
Let's find out what features, your ideal solution should have.
Salon scheduling software key features
Reservations from various platforms
For better business running and more clients gaining it's essential to get bookings from multiple platforms and devices, that's why you'd better have a mobile solution for the purpose which is synchronized with Google calendar.
CRM possibilities
Nowadays having a website or creating a scheduling app is definitely not enough to improve the workflow or run the client-related business more effectively. That's why CRM possibilities are inevitable to cope with the tasks mentioned above. Besides, it will help you keep the customers satisfied and advertise your services better.
The proper CRM system allows to avoid double bookings, to offer the choice of services in various locations, to keep the record of the customers' data and appointments scheduled as well as to send notifications to the clients and service providers as well.
As soon as your client is eager to schedule an appointment , you should offer him to sign up, login and check the available dates and rates. Consider providing the advanced search form with filters to allow any client to find exactly what he or she is looking for.
A good idea is to create a customized order form and to add time and money estimations into it, so that a client can see how much time the procedure would take and the payment due. Membership packages, loyalty and reward points applications can also be implemented into the booking process before checkout.
Payment systems integration
Integrate as many payment options into your solution as it's only possible to make the check-out process simple and hassle-free. Accept payments online either in full or as a partial deposit. It will help you gain more clients and keep them.
Admin panel
Without any doubt your business data safety and security should be your first priority, so make it your corner-stone.
Create an availability board and visualize your resources, statistics, and activities for more convenience, offer services in different locations and make it possible to put notes on bookings. Set team roles and provide access to your software solution to all your partners and staff members.
Salon booking software tools to run your business
As we already mentioned above, the salon booking app, as well as any other appointment scheduling software, should always be synchronized with the google calendar and allow you accepting online as well as offline bookings and adjust everything in real time.
The opportunity to support daily, hourly or custom interval rates, to indicate special dates, define and repeat pricing policies automatically is also a useful function worth implementing. It may help you save tons of time spent on manual work.
Create an interactive scheduler and manage all your appointments in a single place. Besides, it's a good idea to develop an electronic ticketing system with check in scan. You should also provide your clients with a booking confirmation, either with a booking number or QR code, or both.
Email, SMS or push notifications are also an important feature, which helps to keep the customers and staff informed at all times.
In case you belong to some network or cooperate with other agents and resellers, you can give them access with the opportunity of their data, catalogs, and availability import. Thus cross-selling can also be implemented and realized through your developed software solution.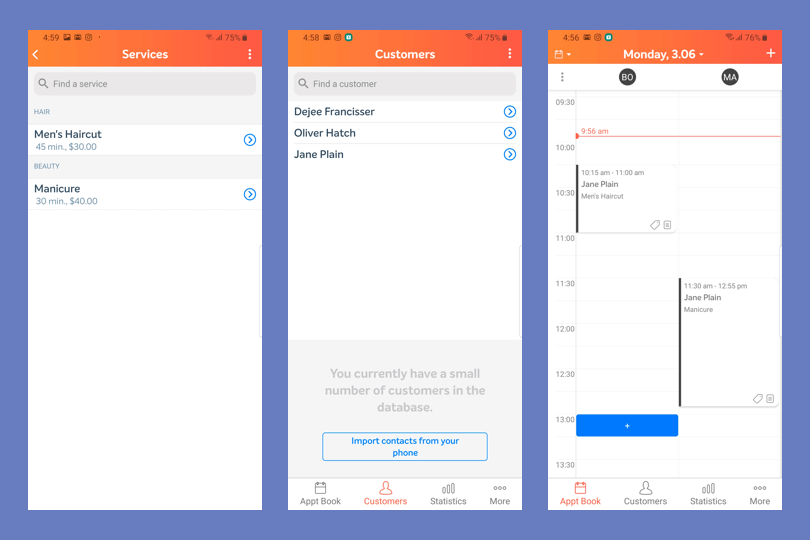 For proper and comprehensive carrying out the administrative functions, multiple data import, and export features are a must. It will help you stay in control of your business all the time. Be aware of the stock and personnel available and manage the resources you have at your disposal. For better financial management and accounting we advise you to make the issuing and editing of electronic invoices possible and keeping the database with the customers' details, orders history, and invoices given out.
The last, but not the least: listen to your clients. Let them provide feedback and reviews of your services, specialists, salons. It will help you improve your business continuously. At the same time, it will increase the credibility of what you offer in the eyes of your new and potential clients. Social feedback will help you have your finger on the pulse at all times.
Conclusion
As soon as you make the firm resolution to get a salon management software of your own, turn to Stfalcon team. Our experts will make sure that the product you are going to develop reflects the most current needs of your target audience and we will do our best to create a state-of-art product for you.