7 Benefits of Using Medical Appointment Scheduling Software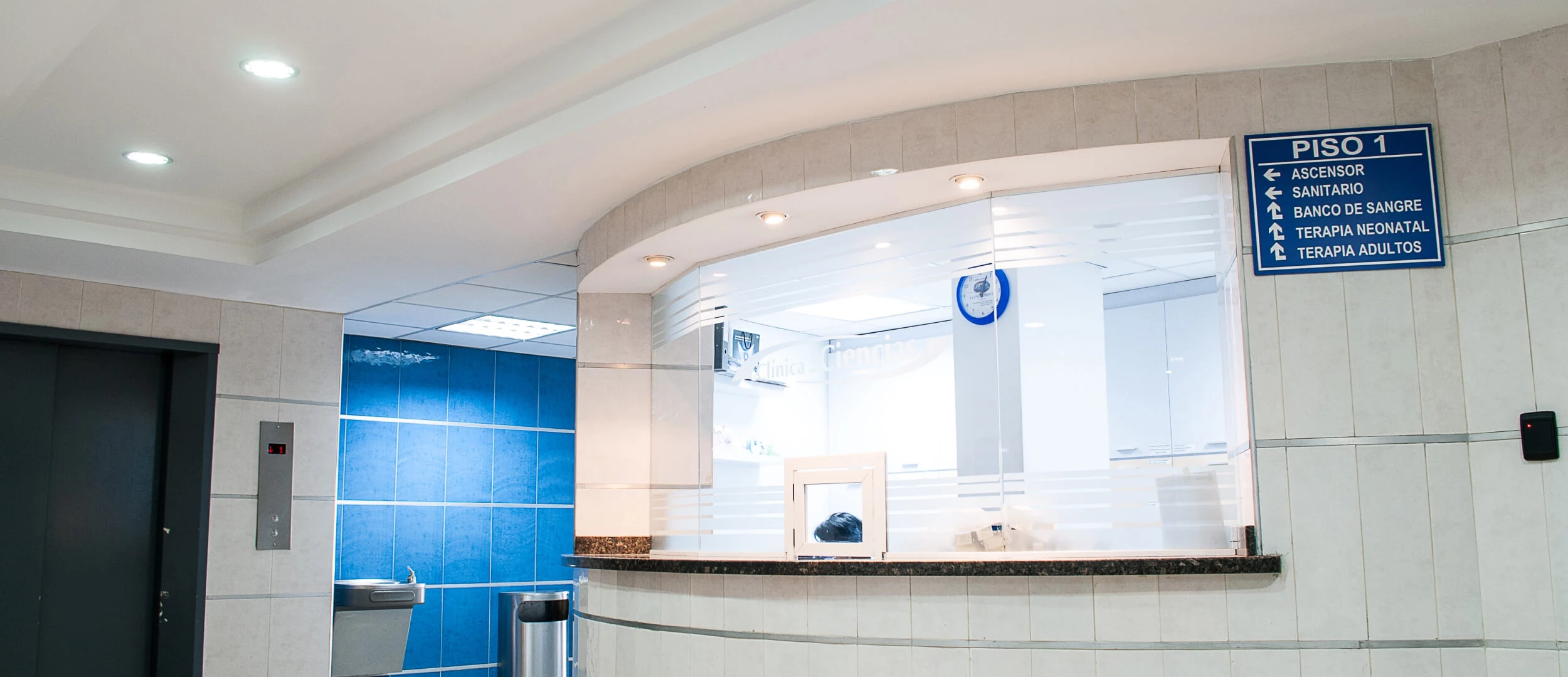 Patient no-shows result in hundreds of billions of dollars losses to the healthcare system every year and millions of dollars to separate clinics. According to NHS Digital data, in the course of only 6 months 2020 there were registered 7.8 million patients no-shows in England, it, on average, constitutes 42 822 no-shows a day.
The solution to this problem is now becoming medical appointment scheduling software. Thanks to the in-built reminders, alerts, and notifications, the cases of no-shows can be reduced by as much as 36%. Such software relieves the pains of appointment booking and schedule management not only for clinics, healthcare providers, and reception areas but what is more important for doctors and patients. Modern patients value convenience, over 50% list it as the key healthcare factor influencing their decision-making, even above insurance and quality of care.
So, there are no doubts anymore that if you are a medical practitioner and do not have a scheduling solution, it is high time to introduce it for your patients' convenience.
What is Medical Appointment Scheduling Software?
Hospital scheduling software is software to coordinate provider availability and patient requests for appointments, confirm available time slots, automate administrative workflows, and allocate medical staff. It is the primary point of contact between medical staff and patients. This patient self scheduling software includes algorithms that are meant to reduce patient wait time.
Why Healthcare Clinics Need Medical Scheduling Software?
Healthcare scheduling software helps keep track of everything related to patients' visits to a clinic or a particular specialist. No sphere can nowadays call itself efficient without automation. Automation in schedule management helps to avoid double-booking, and other mistakes which can be done by hand, making the overall scheduling process smooth to handle. With a software solution, you can oversee open appointment slots and cancellations and efficiently use every hour of a working day.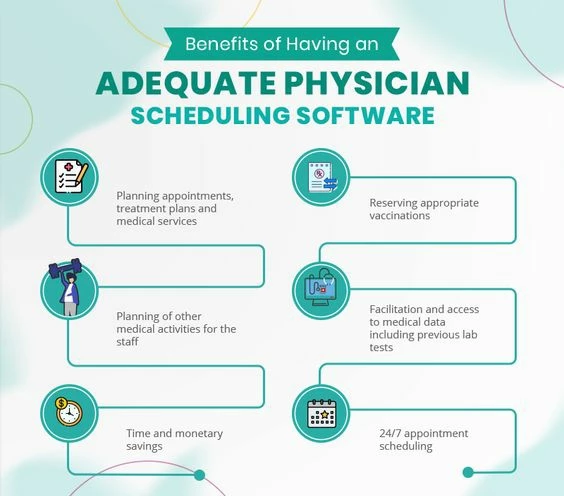 The system prevents you from being lost since you can see all the past, present, and future appointments and check the available time and resources for every patient. It is important that you can make the necessary adjustments with just a mouse click.
What is more, if you allow making appointments online, you allow your patients 24/7 access to your service. Thus, they can book the available appointments even when your practice is closed and choose the best time slot for their personal schedule. That is vital since it decreases the chances of visit cancellations due to a time conflict. The possibility to reschedule appointments brings those chances even more down, giving the patients more control.

Above 80% of clients admit they would like to schedule their own appointment through a secure web service, yet medical practices still often fail to offer such an option.
The reminders, the healthcare appointment scheduling software typically have, reduce this amount even more.
Thus, the major benefits of healthcare scheduling software systems can be defined as follows:
Better schedule management and appointments gaps filling,
Time saved for physicians, administrative, staff, and patients,
Administrative efficiency,
Better patient experience,
Fewer no-shows,
Improved billing,
Cut labor costs due to automation.
The Most Useful Medical Appointment Scheduling Software
In case you have not yet integrated any solution for booking doctor visits, you can start enjoying the advantages of clinic appointment scheduling software for free. Check the 5 best options that top the market today and possibly choose the one to try.
The software has a free solo option that offers unlimited appointments, a vast knowledge base, and unlimited email support. The users however mention a slight learning curve compared to other similar systems.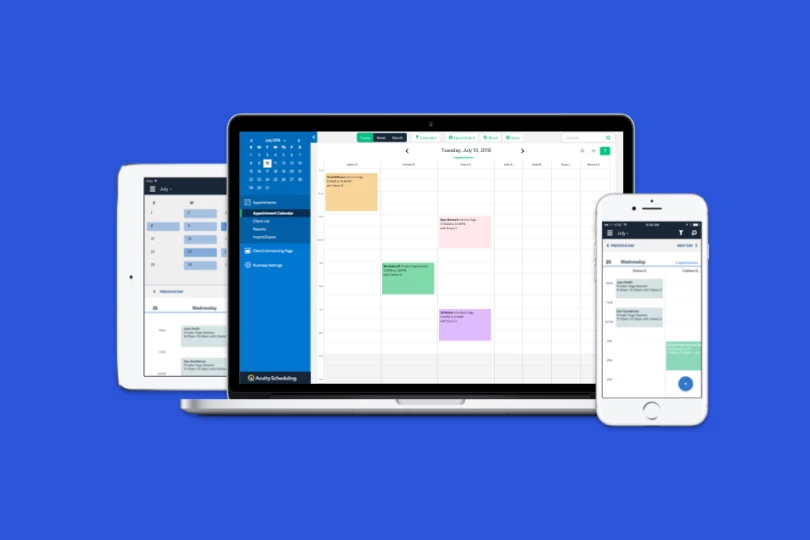 With a great client self-scheduling, the software makes booking appointments extremely easy for existing and potential clients.
However, the free version though feature-wise is rather stripped and even synchronization with Google Calendar requires a paid plan. The latter is offered in several versions, with «Growing plan» being the most popular. Among the other features, it allows text messaging and subscriptions.
Being an all-in-one web-based solution, Appointy easily integrates into a booking system or a website. What is more, the mobile applications for Android, iOS, and Windows 8 are offered.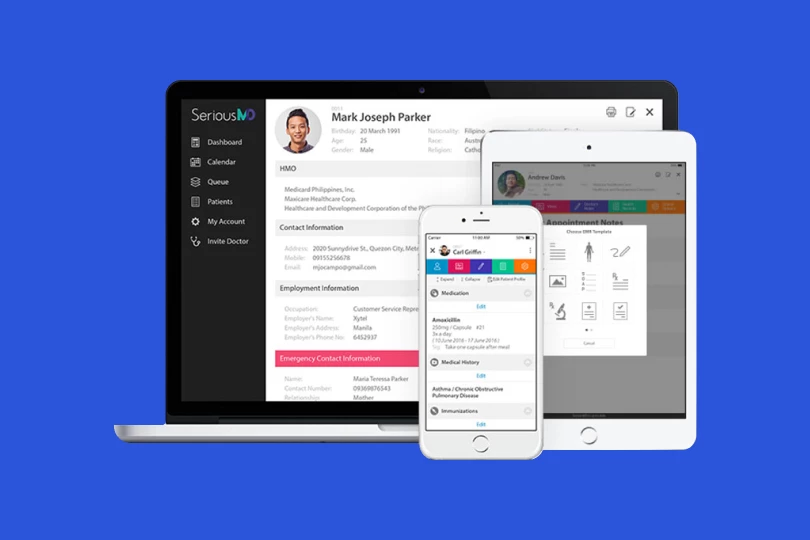 With a free version, a user gets a staff seat, 5 services, SMS reminders, a mobile version, and unlimited bookings.
Another free online option to learn all the benefits of automating scheduling appointments for clinics is DocMeIn. It was developed with medical clinic specifics in mind.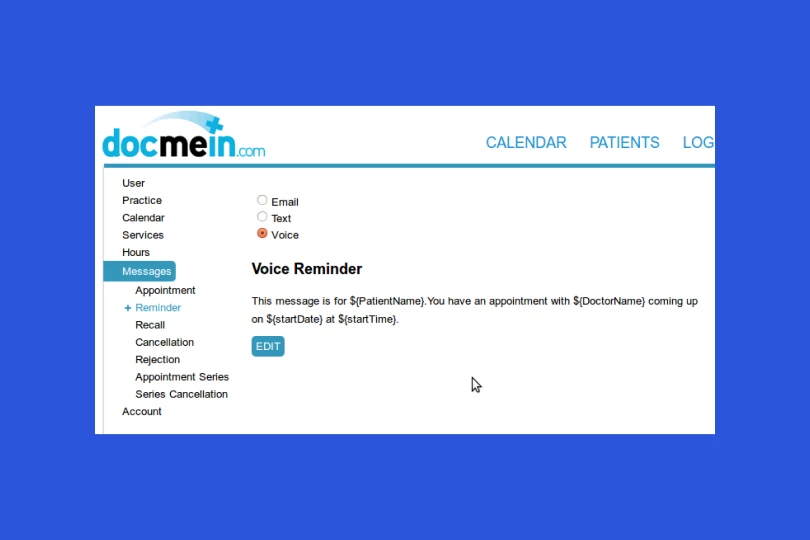 Being totally free, the solution does not limit the providers as well as patients, includes reminders, appointments, and recalls. For providers, there is a possibility of unlimited logins and adding schedules for each of them.
An introduction of a premium version on a pay-as-you-go model with text reminders is now under consideration.
PracticeSuite claims itself to be the most robust scheduling solution with multiple free features, like authorization, utilization tracking, basic practice productivity reports, and custom bills.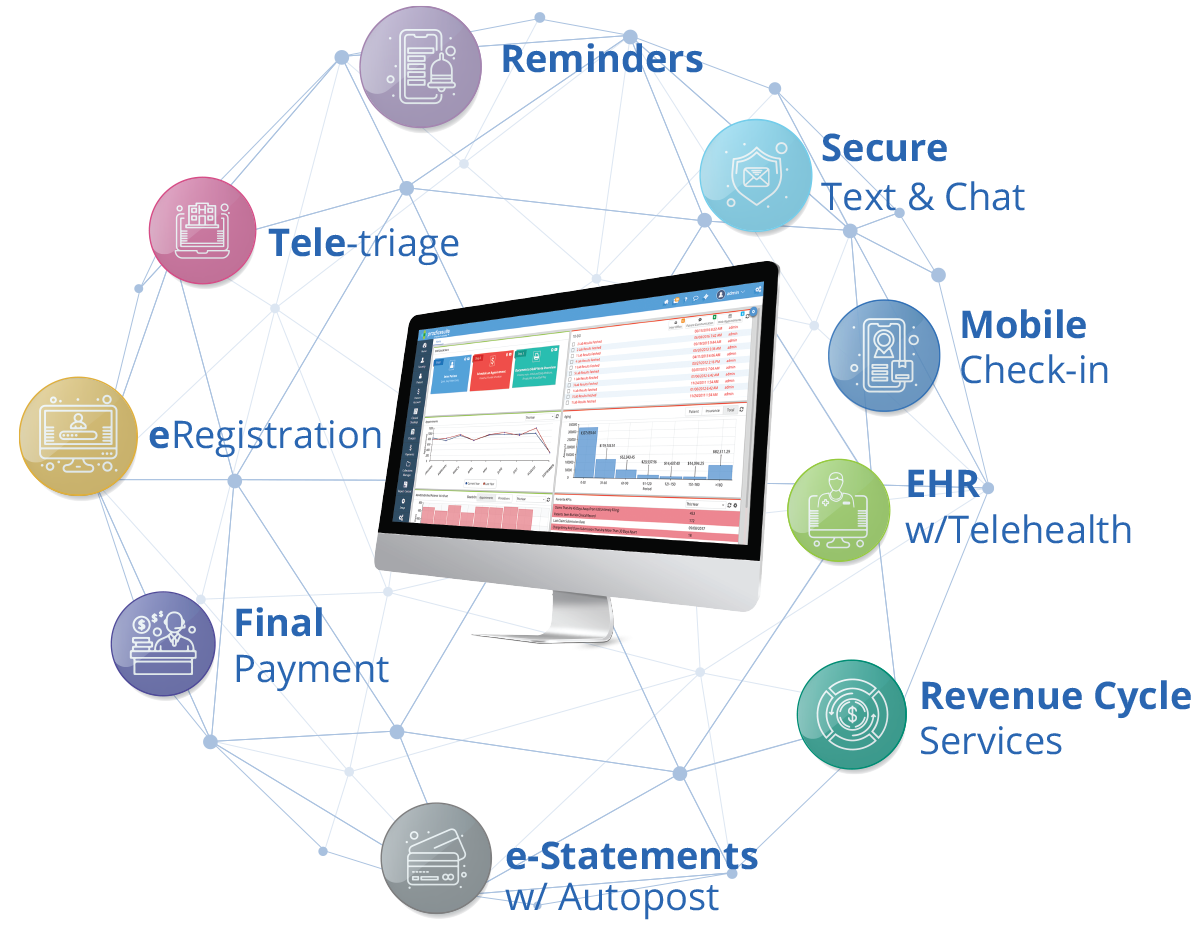 The software promises to preserve a free-forever business model and boasts the advantage of integration possibility with a billing and practice management system. It allows tracking insurance and patient payment posting.
A free online scheduler that can manage internal scheduling and also be integrated into a website you use. Though the software is not medical-specific, it's easy to sign up for and use. So, medical professionals can try it to find out the possible benefits and advantages of clinical scheduling software totally for free.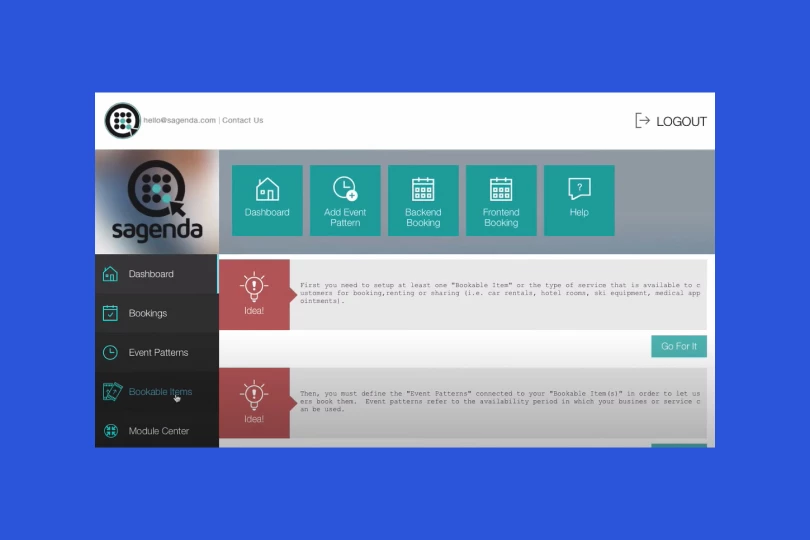 The solution includes unlimited bookings and the basic features necessary for booking creation and management as well as notifications via email, SMS reminder feature, and patient self-service. For some advanced features like SMS messaging and e-mail customization extra payment is required.
Essential Features of the Medical Appointment Scheduling Software
Registration and Login
It is essential for software to allow new and existing users to have personalized access to the software. You can enhance this functionality by allowing frequent users easier access.
Appointment Management
Both doctors and admin users of the software can manage appointment and booking slots. Without it, the software isn't effective at all. It will constantly need a tech expert to make changes to its ordinary settings.
Notifications
Both patients and doctors should get notifications for both confirmation and reminders for their appointments. These notifications can either be sent as an automated SMS, email or in-app message.
Exclusive Features as Per Different User Roles
Clinic Admin Role
Calendar management
With it, the admin has complete control and view access for all the doctors' appointments. They can also see which doctors have the most high-rated reviews and who have the most cancellations.
Finance Entries
Admin can access all patient entries who opted to pay upfront for their appointments. Patients, who do not opt to pay before the visit, can be sent reminders for payment. So, they will have a better means to manage the money flow.
Manage Settings
Users with admin access to the medical scheduling app may change how each user may access the data on the software and if the information itself needs to be migrated to some other server. ​​They can also see which doctors have the most high-rated reviews and who have the most cancellations.
Patient Role
Booking appointments
Patients can book an appointment in the least time with a clear and intuitive interface. Moreover, the necessary information should also be asked in an orderly fashion, so you do not overwhelm a new patient when all they may want at the moment is immediate help.
Managing Medical Records
Registered patients may upload their health history and medication on a platform. This will save them from repeating the details every time they make an appointment. The clinic can also opt to update the newer records on the software itself, giving patients a print copy.
Communication facilities
Frequently patients may face some confusion concerning the medication or might uncover unexpected symptoms. During such times, it becomes exceedingly inconvenient for them to book an appointment again to clarify their doubts. Having a messaging facility can relieve them of their doubts.
Doctor Role
Schedule Management
Doctors must be able to manage their schedules. With the schedule feature, they may log off for the days when they might not be accessible at a clinic. The software will take care of the time slots shown on the patient's end of the interface.
Access Patients Records
Having one platform with both doctors' and patients' records can play down the need for one more communication. Physicians can easily find out the health history of their subsequent patients right there on their dashboard. In one tap, they'll know the reason for the appointment, previous medication, and family medical history and can jump right into helping them with their present condition.
Patient Communication
The doctors can reach out to the patients through an in-built messaging facility for a follow-up, and the patients can respond to it as and when they want. So, giving an easy option for the doctors to communicate with the patients will bring ease and efficiency to the entire process.
Additional Features to Improve Online Medical Appointment Scheduling
Waiting list
Users who could not book an appointment at a given time can receive a notification if any of the booked slots reopens. With easy automation, you may send updates to these patients as soon as there's a cancellation on their appropriate dates.
Ratings and reviews
It helps patients search for the best experts and make better choices based on the user's feedback. Additionally, the best-rated doctors may be automatically shown first in the list of the ones available.
Telehealth solutions
For those patients who, either due to health or geographical restrictions, cannot visit the physician at your clinic, you can add the option for an online appointment.
The Pros and Cons of Medical Scheduling Systems
Even though the scheduling tools have grown a great demand throughout the doctors and patients' community, we are going to study not only the benefits of online medical appointment scheduling but also the possible downsides.
Pros:
Convenience,
Easier management,
Automation,
Better customer satisfaction,
Reduces costs.
Cons:
Impersonality,
Difficulties for some patients,
Need for calendars synchronization,
Reliable Internet connection required,
Security issues.
Convenience
Online appointment scheduling tools save much time on both ends — for doctors/administrators and patients. The clients receive the power to choose the option of how and when to book an appointment, no matter where they are.
Medics should then simply check the system to see the appointments added or canceled without the necessity to fill in the information into the calendar manually.
Impersonality
Scheduling automatically online eliminates the preliminary interaction between a doctor and a patient. Thus, it not only eradicates a personal touch in their relations but can also leave certain important details unattended.
Easier staff and resource management
The time that the medical office's staff earlier spent on appointments' records can be used by them now for more pressing areas and important issues. More than that, the all-in-one scheduler will store all the necessary data in one place, and it will greatly simplify the process of preparing for the appointments.
The doctor or the admin can at once see the patient's personal information, medical nuances, like allergies or chronic states, and requested services and preferences. Thus, the staff can go into each appointment with all the details and resources needed.
Difficulties for certain categories of patients
Though we live in the digital age, not everyone is yet computer-savvy, some patients might find it intricate to find or fill the appointment form out. So they can potentially be lost in the process. With the usage of social media plugin, you risk alienating those individuals who don't use social media networks, but you can avoid this if you additionally offer some other ways of appointment scheduling. On the whole, with multiple options available, you can prevent any sensitive frustration on the part of your clients.
Automation
It's not only scheduling along with convenient staff and resource management that you get with a web-based booking system. It will also provide you with a helpful means of automation for your business processes. It will free the valuable time of your employees and decrease the chances your patients cannot book an appointment because of all the staff members are busy scheduling other clients.
Need for calendars synchronization
With an automated scheduler, the doctors and the staff members should keep a close eye on the appointments made, canceled, and altered. So, all the scheduling calendars and tools should be synced and up-dated up-to-the-minute.
With multiple channels and self-service offered at a time, there is a risk of overlapping or double-booking, however, it can be easily solved, if handled in time.
Better customer satisfaction
A self-service option offered to the patients saves them from frustration since they can get the booking done anytime from anywhere. They not only get the possibility to make an appointment easily and quickly but can choose the time to fit their own schedule. So the patients save time and also understand their health on a more personal level. An online scheduling tool is a perfect alternative for those who have troubles with making a call or have language dysfunctions, for instance.
The need for reliable Internet access
When integrating an online patient scheduling system, make sure your doctor's office has constant and stable internet access. With properly adjusted synchronization, it will help you avoid missing new, canceled, or updated bookings. It's vital to constantly monitor your network performance, load, and usage, to avoid potential issues with appointments booked.
Reduced costs
Through streamlined patient appointment scheduling software, you can save money and time on certain administrative positions and operations. What is more, no-shows become less common due to the reminders sent or time slots quickly filled in, so you do not lose money due to this.
Security issues
Handling any data over the world wide web arouses concerns, your patients can be reluctant to share their personal details online. Last but not least are HIPAA concerns mentioned by the patients related to their communication with the doctors online. However, this issue of making the overall communication process HIPAA complaint can be solved through the proper inscription and security measures taken.
Our Successful Developments for Clinics
With over a decade of experience in web and mobile development, Stfalcon has carried out multiple projects related to online scheduling and scheduling doctor appointments in particular. To mention some, we've chosen Vethem.
Vethem was a multistep project for us. Initially, Stfalcon's team developed client applications for iOS and Android that allow booking a consultation with a veterinarian and having it later in the format of video or audio call. Later on, we redesigned the application's interface and improved the effectiveness of the outdated functionality. We also redesigned the admin site for:
better management of the veterinarians' workload;
improved schedule planning with workload and vacation plan considered;
effective management of doctors and clients' base.
Stfalcon delivered a polished product that is highly rated on the App Store and Google Play. Users appreciate the app's intuitive interface and convenient functionalities.

There were also some projects under the NDAs, so we can only share some slight details of them.
The first project was developing of an online booking system for making appointments with the doctors in the medical center with around 20 000 listed patients. The solution had to allow a new patient's registration and choice of a doctor. What is more, Stfalcon had to design a landing page for this system.
Stfalcon team provided a full-cycle solution development, including business analysis, user flows, user experience and user interface design, front-end development, backend development, manual testing, quality assurance, and implementation.
The booking system that was developed included the following key features of doctor scheduling software:
Login with banking ID,
Choosing a free time slot of the chosen doctor,
Choosing an interpreter if it's necessary,
Making a payment.
The final step then remains only to go to the clinic and meet with the doctor.
Another project we carried out under the NDA was to create the applications for a doctor and a patient with a home visit only service. The patients can describe their state and symptoms, choose a medical center, the date and time of the desired visit and get the service as a result.
Cost Of Appointment Medical Scheduling Software
A remarkable product development might cost a lot, especially in the healthcare sphere. No wonder, since not only technical details but also legal regulations influence the price tag in this case. Based on Stfalcon's experience, the price of creating Appointment Medical Scheduling Software will start from $60000 but the budget should always be discussed and estimated individually.
Final Thoughts
Nowadays online scheduling systems in healthcare are of vital importance for a profitable and client-friendly practice. The benefits of such a solution are obvious and enormous: while the medical staff and doctors can focus on what matters, the patients can receive better service and care they need.
Free software tools are out there to try them out, however custom development closes the pains of your specific medical practice. Even though it requires investments, Stfalcon highly recommends custom solutions, since we know for sure they are well worth the money spent. Our team is ready to develop such a painkiller for your administrative headaches and help you get rid of no-shows in your clinic.
So, let's discuss it and don't hesitate to take the advantage of developing such a solution, in times of the ongoing pandemic it's rather a burning issue.