TikTok App Popularity Secrets and Some Handy Tips for an App-Like-It Development

The era of social media networks seemed to set in about 15 years ago and by now the leaders have already been defined. Many of the developers consider the idea to launch an app which is able to gain popularity in just several months forlorn. However, it is not so, proven by TikTok. Once it hit mainstream it knew no restraint. Wonderstruck with the app's success we'd like to look a bit closer at the secret of its popularity and figure out how a similar application can be crafted.
Born as «Musical.ly» and rebranded as TikTok this music and video platform from China allows the users to make 15-seconds videos and share them online. At present, it seems everyone is familiar with TikTok, has used it many times and knows all its possibilities. Nevertheless, the app still holds sway.
The statistic goes like this: TikTok
is the sixth most downloaded app worldwide,
installed about 800 million times,
has approximately 500 mln active users,
gets around a million page views per day,
reached 150 million daily users.
Some people even believe it's addictive since people use it with pleasure regardless of their age. Besides Facebook and Instagram are also full of videos from TikTok.
What makes the application so fascinating?
The key feature which brings the app such tremendous popularity is its format, which combines video, musical and social media capabilities. The users called musers, mostly lip-sync well-known songs in it, record videos and interact with other networkers as well as their content. More than a hundred special effects and filters can be applied to the videos and amusing stickers used. The tools for editing are intuitive and simple allowing the users to create video clips fast and hassle-free. The videos are divided into various categories, thus motivating the users to demonstrate their knowledge, talents or simply precious moments.
How mobile apps like TikTok are made?
Those who are enchanted by the success TikTok gained and wish to replicate it should be extremely clear what application they intend to create. Both Android and iOS app versions development requires unique efforts, features, and approach. It's essential to consider the resources, features, and technological capabilities required for such mobile app development undertaking.
The distinguishing feature of TikTok is actually the AI, that facilitates customized streams' creation of user-and-partner-generated content tailored to each reader individually.
However, the application has certain 'must-have' features, which should be implemented during the mobile development and design of a similar product. Let's find them out.
Signing In and Up. The easier the procedures of registration and logging in, the more relaxed and pleased the audience is, so put your effort to make it a seamless experience.
UI and Navigation. The key criterion now for the interface as well as for the navigation function is being intuitive and user-friendly. TikTok shows the feed of trending and favored videos based on the muser's interests once he or she has logged in.
Settings. Each user should be able to manage the profile — choose a photo, set password, make the account private or public, adjust language, block certain users, and contact support.
Search. Advanced search is one more essential feature you should implement into your app; hashtags work perfectly for the purpose.
Comments and Hearts. The usual currency of many apps is now hearts, with TikTok the video may be saved in your profile or not if you have put it a heart with or without a double tab difference.
Sharing. It's a modern trend and with TikTok your video is easily shared to other networks, provide your new app users with such a feature and gain their loyalty.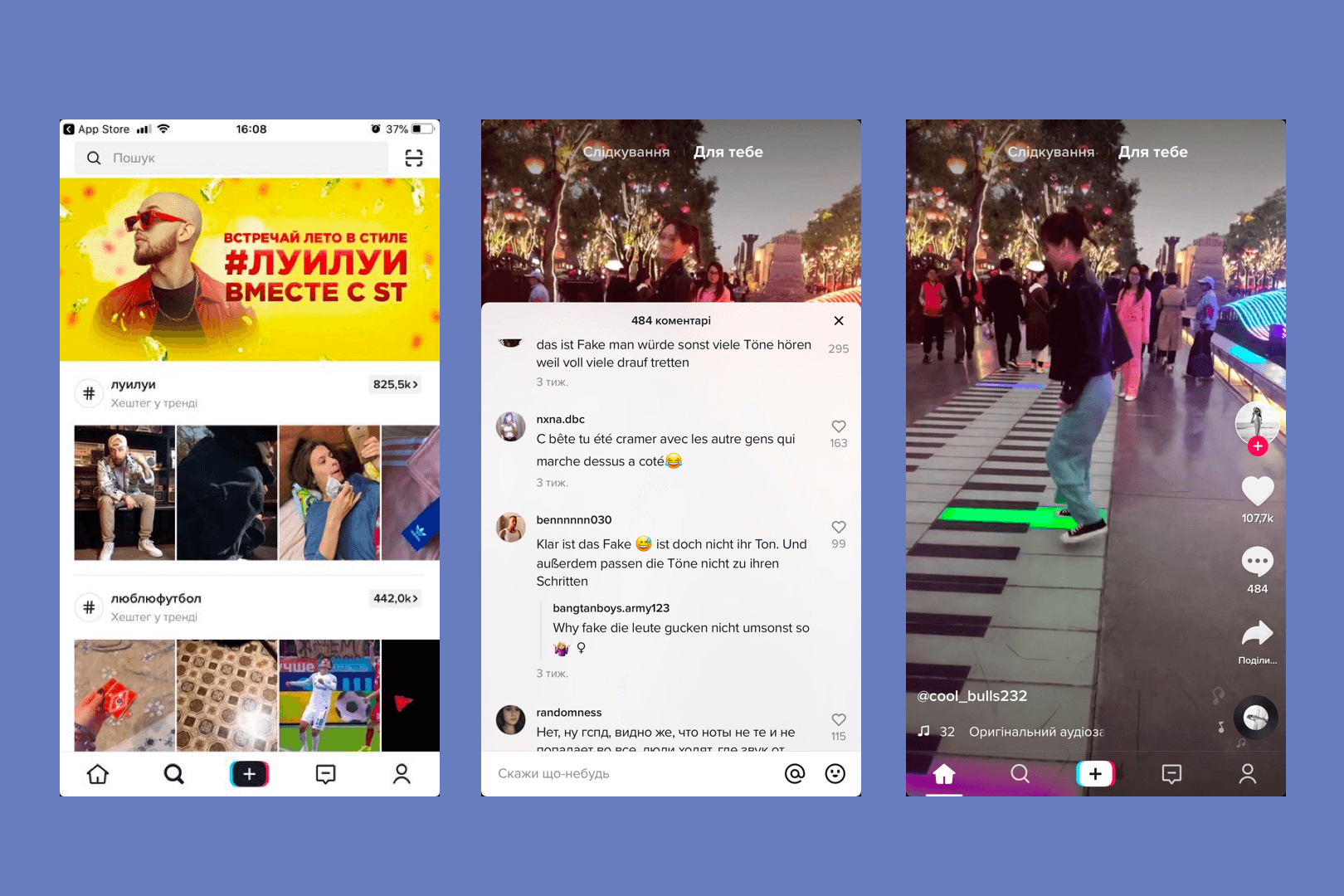 Audio and Video Upload. The secret key, which brought TikTok its success is the possibility not only to act out on the popular audio but to upload own videos and make things unique with voice.
Video Editing. TikTok allows video editing in no time and to everyone' individual taste, there are simple tools — filters and effects and also special possibilities — zooming, flashing, slow-motion or reversing.
Recording the reaction. A popular feature nowadays, which was perfectly integrated into TikTok and should be considered for the new social media app development. In just several instants, a reaction to any video can be recorded and published if the user feels like it's worth sharing it.
What advanced features will help a mobile app stand out?
Real-Time Analytics. The feature allows you to get insights up-to-the-minute and analyze previous data as well, thus taking reasonable decisions.
Video Streaming Architecture. It's a modern trend, and one of the goals of social media apps like TikTok. It's essential to implement all the necessary details for it — to arrange streaming from an external cloud server, to leave it there while the user watches it, to delete automatically after the broadcast is converted and transmitted to the application. Moreover, the option of saving videos in some external storage of the user's device should be provided.
Geolocation. The great feature, which will make it possible for the individuals to find and choose broadcasts by region to watch.
Push Notification. It's no brainer, they are handy for keeping the users informed of the current happenings (live broadcasts, new videos, events, trends, etc.) without the necessity to be on the app all the time. The flexibility to plan broadcasts and be notified about them makes the application extremely interactive.
What is the overall functionality required?
For crafting an innovative app like TikTok or even better, you will require a cloud storage, content delivery networks, database integration and management, artificial intelligence to filter and personalize data to multiple users, real-time analytics and push notifications, payment methods integration, audio and video transcoding, and a universal operating system.
How to earn money with the TikTok-like apps?
Let's be pragmatic app development has long ago seized to be just for fun, nowadays it's a good way of money making in various ways. We are eager to prompt you some simple options as well as how to monetize your application.
The first thing, which occurs is providing the users with light and pro versions, some paid subscriptions or opportunity to pay for certain features only (purchase stickers, effects, emoji, access to some special galleries, etc...)
Advertising — it's actually the easiest way to make a social media app bring benefit, so define the advertisers, which are interested in the clients from your target audience and start earning.
Conclusion
Being aware of all the modern trends related to the social media apps, popular features and the ways to make money with them, there may still be one question remained. Who can create a perfect app of such kind for you? The answer is quite simple — Stfalcon team is eager to do it on your request. Being recognized as the Top Mobile App and Web developer in 2019 by ThinkMobiles, we are sure to have enough expertise for bringing any of your ideas to life.