How to Create a Competitive Rideshare App in 2023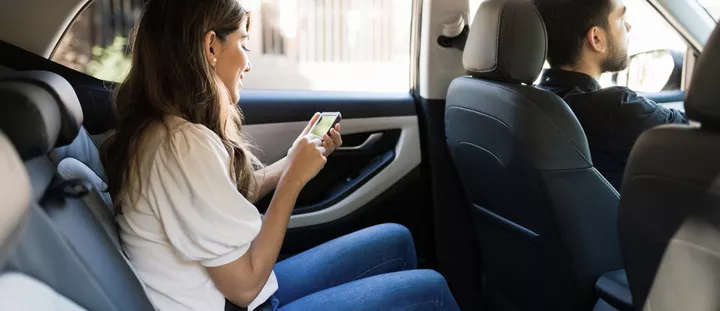 According to estimates, the global ridesharing market is forecast to grow by $86.33 billion during 2022-2027, accelerating at a CAGR of 17.45% till 2027. This means that the industry is on its way to recovering from the COVID-19 pandemic losses.
As the need for time-saving and cost-effective transportation increases, the Ridesharing market will grow. Government rules that encourage ridesharing services, rising car ownership costs, and the need to minimize traffic all contribute to ridesharing's global adoption. Don't waste an opportunity to prosper in this promising market.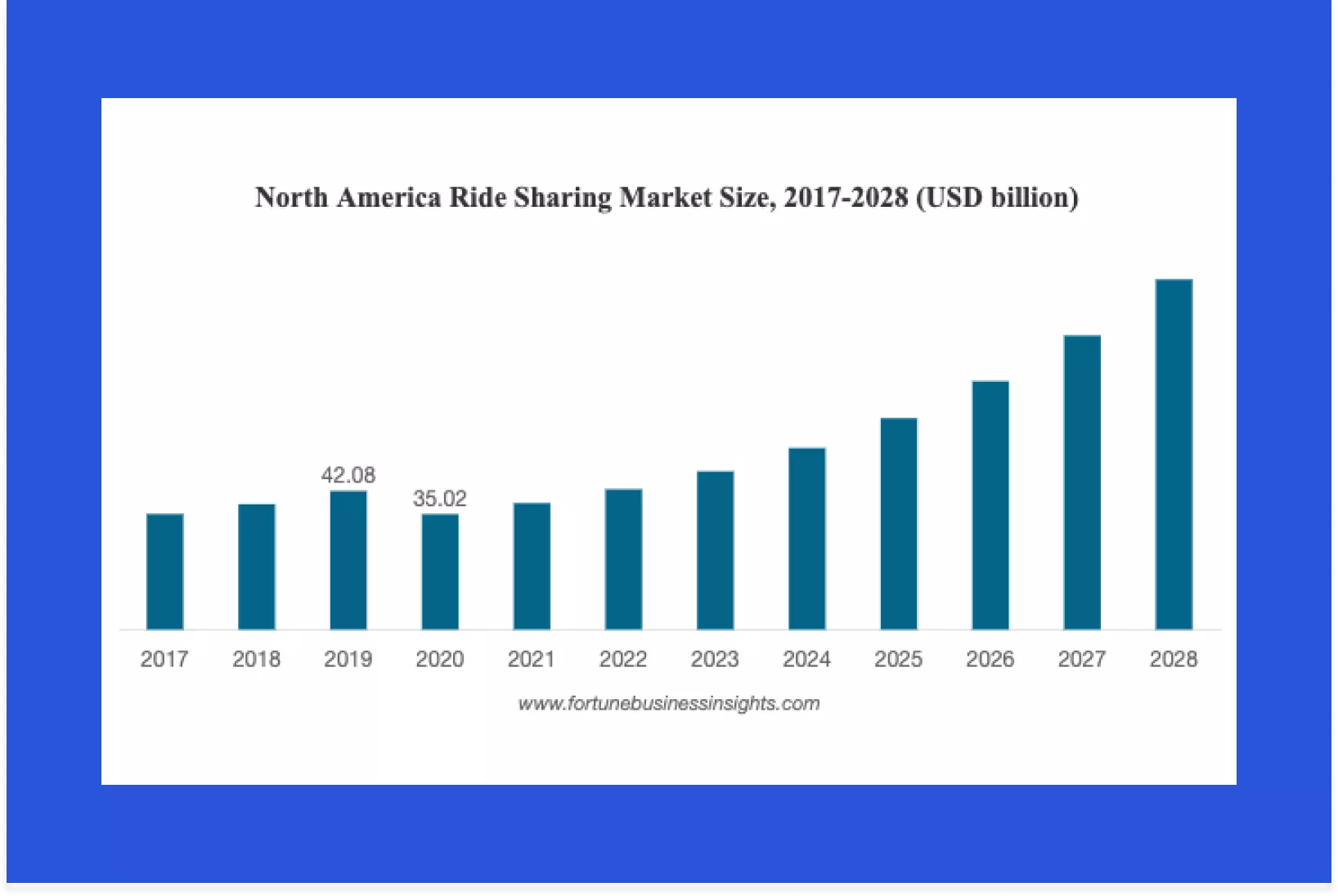 If you're looking to get into the rideshare industry, it's important to have a solid understanding of how to create a rideshare app and how they work. To help new drivers get started, we will walk through everything from the best rideshare apps and their models of work to the most essential features your application should have.
What is a Ride Sharing App?
A ride-sharing app is a mobile application that connects passengers with drivers. It can be used to find rides or to get paid for driving others around. Ride-sharing apps allow users to book rides from their phones via the internet, rather than calling a taxi company or asking drivers on the streets.
These apps are often used in conjunction with other services like food delivery and home cleaning services. But they're also popular among independent individuals who want an easy way to earn extra income by driving people around town.

Топ 5 Ride Sharing App List
Creating an effective ridesharing app is all about understanding what works best for your business and then doing research into other brands and trying similar approaches. Let's see what the app rideshare market has to offer and adopt the successful solutions of the best players in the market.
Uber

Of course, we will start with a giant that had a 71% share of sales in the US in 2022. Founded in 2009, it offers services in 900+ cities and 80 countries worldwide. This makes it one of the most popular and well-known cases in rideshare app development.
Uber has both driver-rated passengers and passenger-rated drivers, so a user knows what kind of experience they can expect from each person before getting into their car. All drivers must pass background checks for criminal records, driving history, and other criteria before being allowed on the platform. This helps ensure passenger safety during each trip.
So, Uber uses mobile technology to commoditize their existing service models. Some describe their business model as "Uberization." This company entered the food delivery app segment with its 'Uber Eats' application. It paved the way for the approach in which companies now provide services like food delivery, shopping, housekeeping, and others.
It is also known for a great bonus system for drivers.
Lyft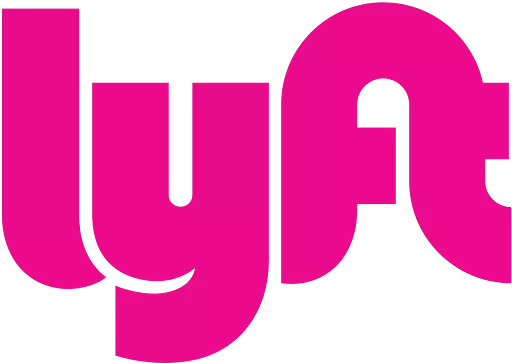 Lyft is a ride-sharing app that lets you share rides with other passengers in your area. The service started in 2012, and it's now available in over 650 cities across the United States and Canada. Lyft indicates cost, billing details, fares, additional fees, and more for customers, making them feel completely in the know about what they're paying for. They have a loyal customer base thanks to their brand positioning even though Uber seems to have an edge in terms of technology and coverage area.
The app allows riders to rate drivers after each trip, which helps maintain accountability among both parties and creates an incentive for better service overall. Riders can also tip their drivers through the app if they choose. It is a practice that's not common among other ride-sharing services.
GoJek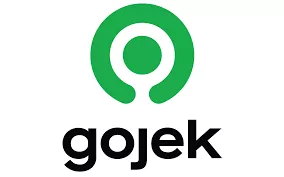 Providing access to transportation, food delivery, and logistics, Gojek is the leading on-demand platform in Southeast Asia. It provides service for moving heavy items, such as furniture and appliances, as well as for small items and packages. It is also possible for users to request driving in the backseat of the motorcycle.
The Gojek app today offers over 20 services in one place, connecting users with over 2 million drivers, 400,000 merchants, and 60,000 service providers – with over 130 million downloads.
Ola

Ola is an Indian ride-sharing company operating as a multi-product platform that includes carpooling, private rides, and food delivery services. The company works in over 250 cities across India, New Zealand, Australia, and the United Kingdom.
Ola uses a smartphone app to connect drivers with passengers. It uses technologies such as GPS tracking technologies to monitor routes and provide information about the driver's identity. Ola offers services in a lot of categories for different budgets. Ola Micro (an economy class service), Ola Mini (a mid-sized car), and Ola Prime (a premium sedan) are among them.
The company added features like a panic button and in-cab Wi-Fi to stand out in the market.
Gett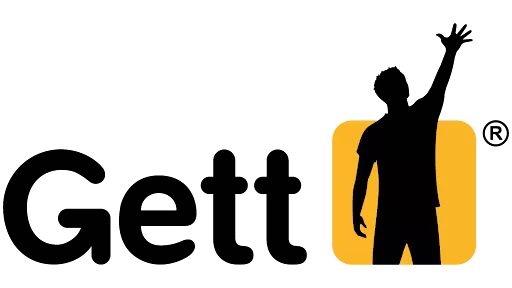 Previously known as GetTaxi, Gett is a ridesharing company operating in more than 100 cities with a huge user base. Besides operating in Israel, Russia, and Europe, it also partners with Lyft in the United States and Ola in the United Kingdom.
Despite Uber's undeniable popularity, Gett serves many European countries that don't have Uber. As a result, it has gained a lot of clients.
Main Features of Rideshare Apps
When you are thinking about how to make a rideshare app it is important to think well about the features you should include in your app.
Maps and location services
This feature is a must for rideshare driver apps. Map and location mean that users can see where they are on the map, as well as the route that the driver is following. The map shows what streets are ahead and how long it will take for your ride to arrive at each point along the way. Traffic or construction on a street is shown. Geolocation should be accurate so that passengers won't worry and drivers don't need to call their passengers to find out where they are.
Multiple payment options
To maintain the customer base, your app should offer various payment methods. The most common way is by credit or debit card. But several other options make it easy to pay your fare. It can include PayPal and Venmo (which is owned by PayPal). If a customer wants cash up front instead of using cards, they should have the option to pay in cash.
Payment and profile authorization
The first time a person uses the app, they need to enter their payment details and verify their profile. For example, the app will ask for a credit card number and billing address, email address, and phone number.
Split the fare
Rideshare apps allow passengers to split the fare with friends, family members, or co-workers. Credit cards are charged equally, plus a small transaction fee.
Multiple drop-off points
In the booking process, users should have the option of adding multiple locations along the route to which the driver must make stops. In addition, they can add or change drop-off locations on the go. These changes are automatically accompanied by a change in fare.
The app should automatically suggest the best route based on traffic conditions and other factors, such as estimated cost and travel time.
Reviews and ratings
Rideshare apps require to have rating systems for both drivers and passengers so everyone knows who they're dealing with before getting into the car together. This is a must-have feature as it ensures safety for both parties. And ridesharing apps are all about safety.
Customer satisfaction surveys are another great way to get valuable information from customers who have used your app before so that you can improve your services based on what people liked best.
In-app chat or call option
The ability to chat or call with a person is another important feature of rideshare apps. It is useful in cases when geolocation or internet connection is not working properly. Thus, a passenger and a driver can have a way to communicate.
SOS feature
To ensure immediate action against emergencies, drivers and riders should be able to report them in real-time. In addition to this option, contacting a friend or family member through the application can be a plus. Thus, users will feel safer.
Rideshare App Development Cost
An important aspect when you are thinking about how to develop a rideshare app is its cost. The cost of a rideshare solution development depends on the tech stack of your app. If you want to build a simple ridesharing platform with all the essential features, it will cost around $80000. For more complex solutions, expect to pay more.
The complexity of your project also affects its overall cost, as well as the time taken for the development process and the specialists involved. The geographical location of developers also influences the cost of rideshare app custom development. Professionals from the USA, Canada, and the UK charge more than those from India, Poland, or Ukraine.
Rideshare App Development Case from Stfalcon
A startup came to Stfalcon with an idea of a service that would help split taxi expenses from the airport between fellow travelers found through it.
Our team had to develop an Android application, that had:
To be intuitive
To have a bright and attractive design
To be convenient to use on the go in a hurry

We implemented an extremely simple registration and fellow-travelers search by language criteria.
What is more, the search is realized among the people with the app installed and at a certain distance from the user, possible to indicate. We implemented the opportunity of looking at the users' profiles and send out requests. The fellow traveler can either reject the request or start a chat. We used our own Android Library — ChatKitFor UI realization.
Stfalcon's team had to fulfill the project in the shortest possible time and with a minimal budget. That's why we chose Firebase BaaS (Backend-as-a-service) and the Firebase Realtime DB as a database. It allowed us to create a backend without complicated API development and get content updates in real time. It was beneficial to the app's stability as well as to the overall cost of development.
We always try to go with the tides, that's why we used Kotlin and followed the principles of Clean Architecture. It provides flexibility in the process of development and design or business logic changing, in case of necessity.
For the loading screen, we realized the animated version of the logo.

Final Thoughts
If you are finally eager to get into the rideshare market and enter the fray for time-saving and cost-effective transportation, we are eager to take the challenge.
With 13+ years of development expertise, we like to скае new cutting-edge solutions for our customers and to the users' consent.
So, do not hesitate to contact us, and let's do this.