Tinder Clone App Development: How Much Does It Cost to Make an App Like Tinder

Modern life is very dynamic and full of challenges since people are trying to balance career, friends and relationships. With smartphones always being available in their pockets online dating is again on the rise and Tinder with its 50 million users is probably the most popular app for meeting new people nowadays. How is it made and how can your startup learn from Tinder and find its place under the spotlight? We share details on how to develop an app like Tinder and how much does it cost.
You may learn E-commerce Services and Marketplaces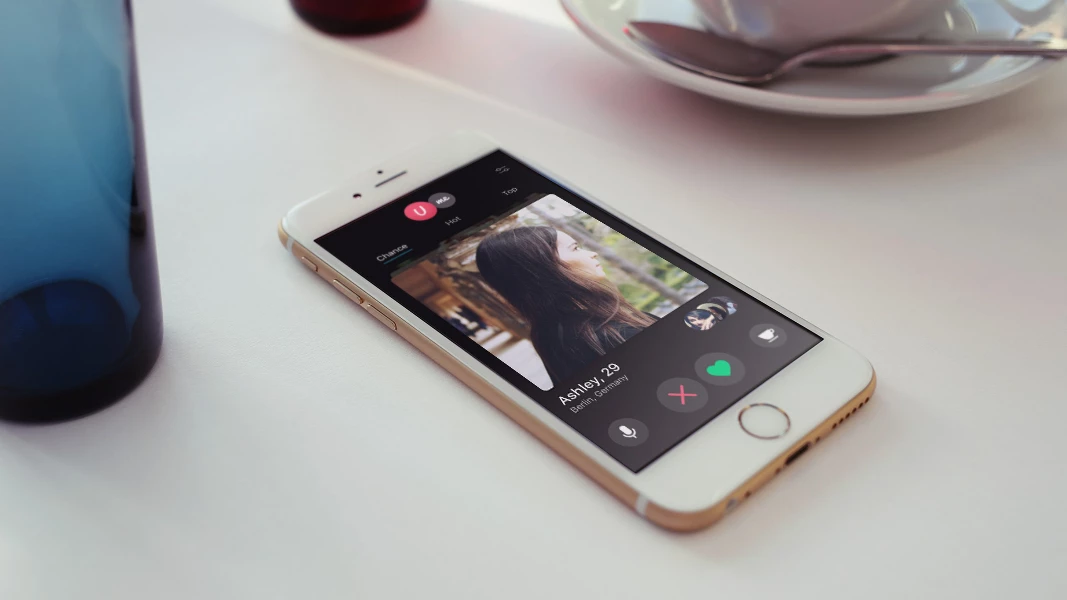 Of course, with plenty of dating and social apps being available out there, the very first thing you should care about is the original idea behind your Tinder alternative dating app. You can think about:
Target audience. It shouldn't be too wide or too narrow. Tinder itself was targeting tech-savvy millennials which is a little bit too broad but the app was a pioneer in the field of reimagining online dating. Apps similar to Tinder like She and Grindr focus on sexual minorities and Pure is one of the straightforward hook up apps.
A twist of an already existing idea. Don't limit yourself to online and mobile world only! For example, Hinge dating app is based on a practice people used for years to find partners — asking friends to introduce you to someone. To become better than Tinder you've got to do what it does, only better and with original twist.
Monetization. While thinking of startup monetization is something you definitely can't avoid, you can also start with it and brainstorm your ideas from here. What users will be willing to pay for? Calls? Changing their mind? Date with a celebrity? We are sure there're plenty of ideas for app similar to Tinder you can utilize to make your solution stand out.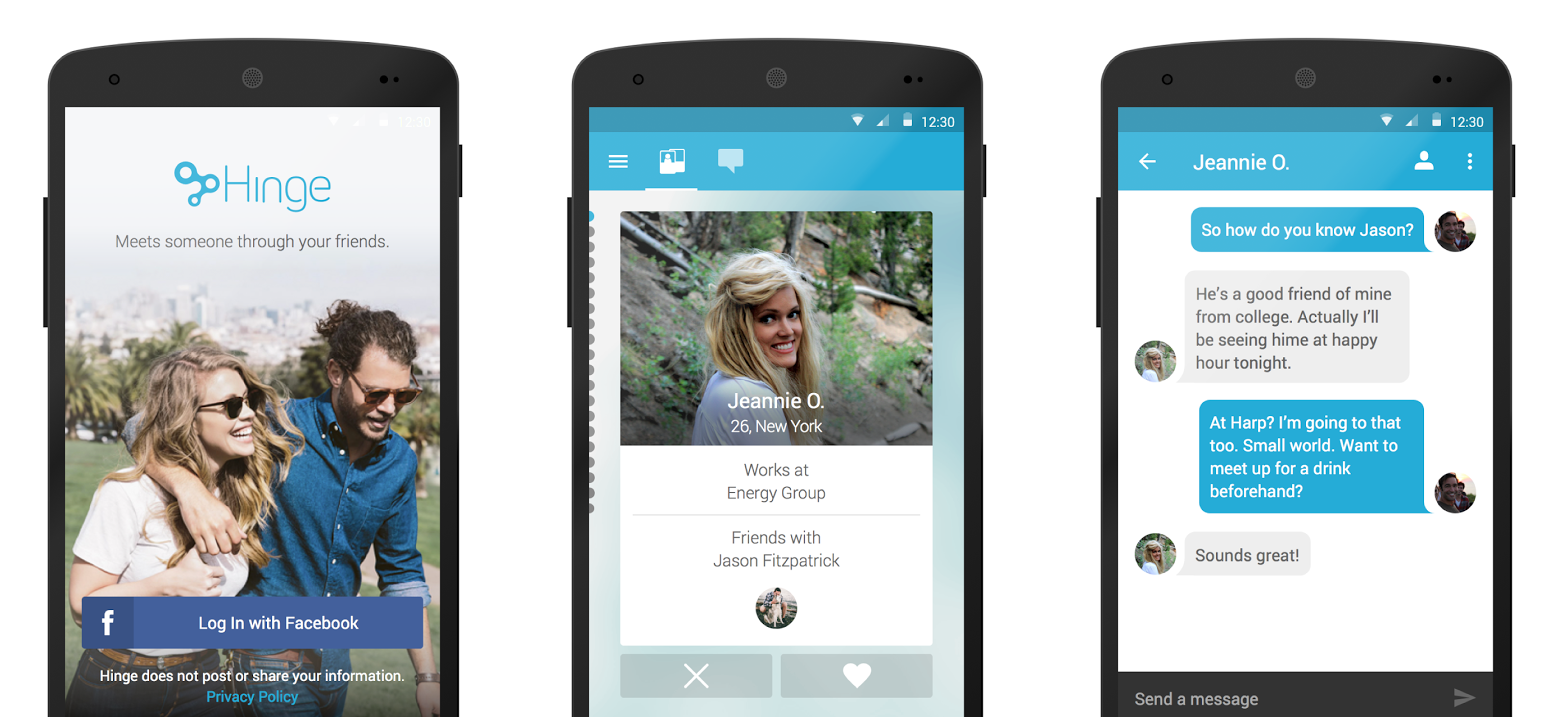 Have a great idea for a Tinder-like application mind? Let's learn what next Tinder development process looks like:
Essential elements of dating apps like Tinder
When downloading app from Google Play or App Store you see it as single product, but Tinder making actually involves three main components, each created by a separate professional or a group of them:
Design
App itself (iOS, Android or both)
API
Prior to their development a sit-down or Skype call with your remote development team is required to clear all the details and discuss the structure of the app. Based on this information technical documentation is prepared. For example, UME, a new Tinder-like app we've created has two sections U and Me, Search with various filters, Hot and Top lists, rating screen, date invites, text and voice messages available to users who swiped right on each other.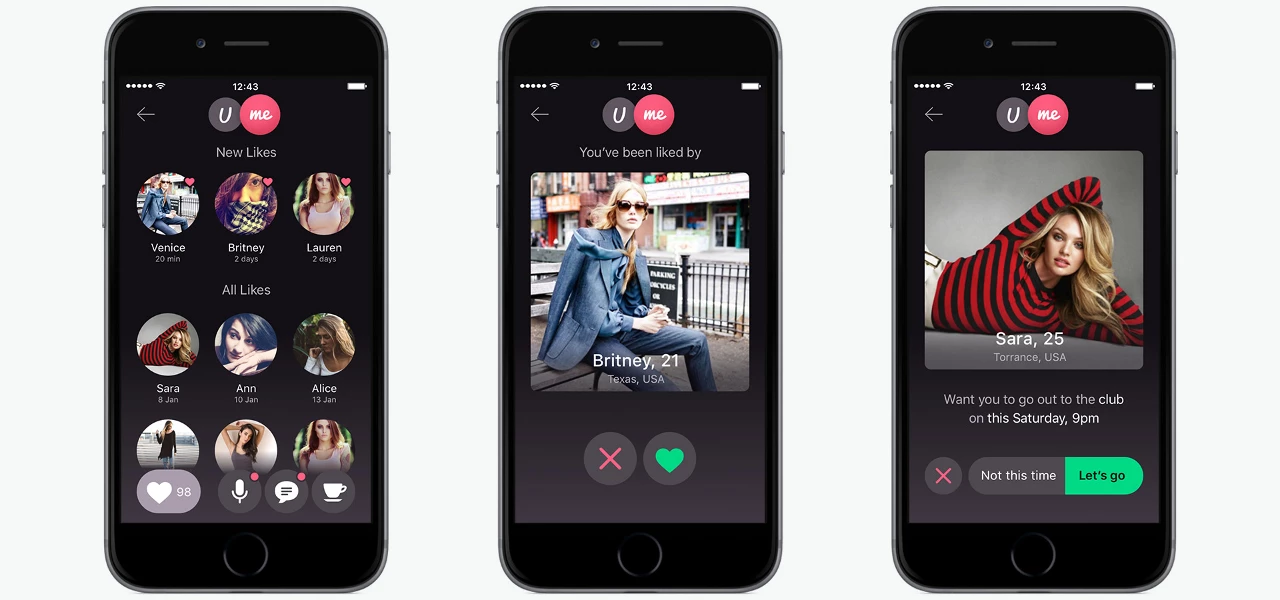 After you decide on the app structure, a designer steps in and creates a mock-ups for all the screens of your app. Those mockups are then given to mobile developers who turn them into an actual app. Since every app is working with data, constantly saving, changing and deleting it, an app also needs a server part (API) which is handled by back-end Tinder developers.
Speaking about essential features, Tinder-like app should have:
Registration
User profiles
Filters
Matching
Realtime events
Paid features
Registration
Facebook,Twitter and Google have already become three most popular quick registration options for many websites and apps for Android and iOS. Since people looking for a partner are interested in finding other genuine people, Facebook or other similar network popular in your country is a the best choice here. In Tinder alternative called UME we used both Facebook and VK (Russian Facebook) registration options. But most Tinder like apps for Android and iOS offer Facebook as a single registration option. Only OkCupid app relies on email registration.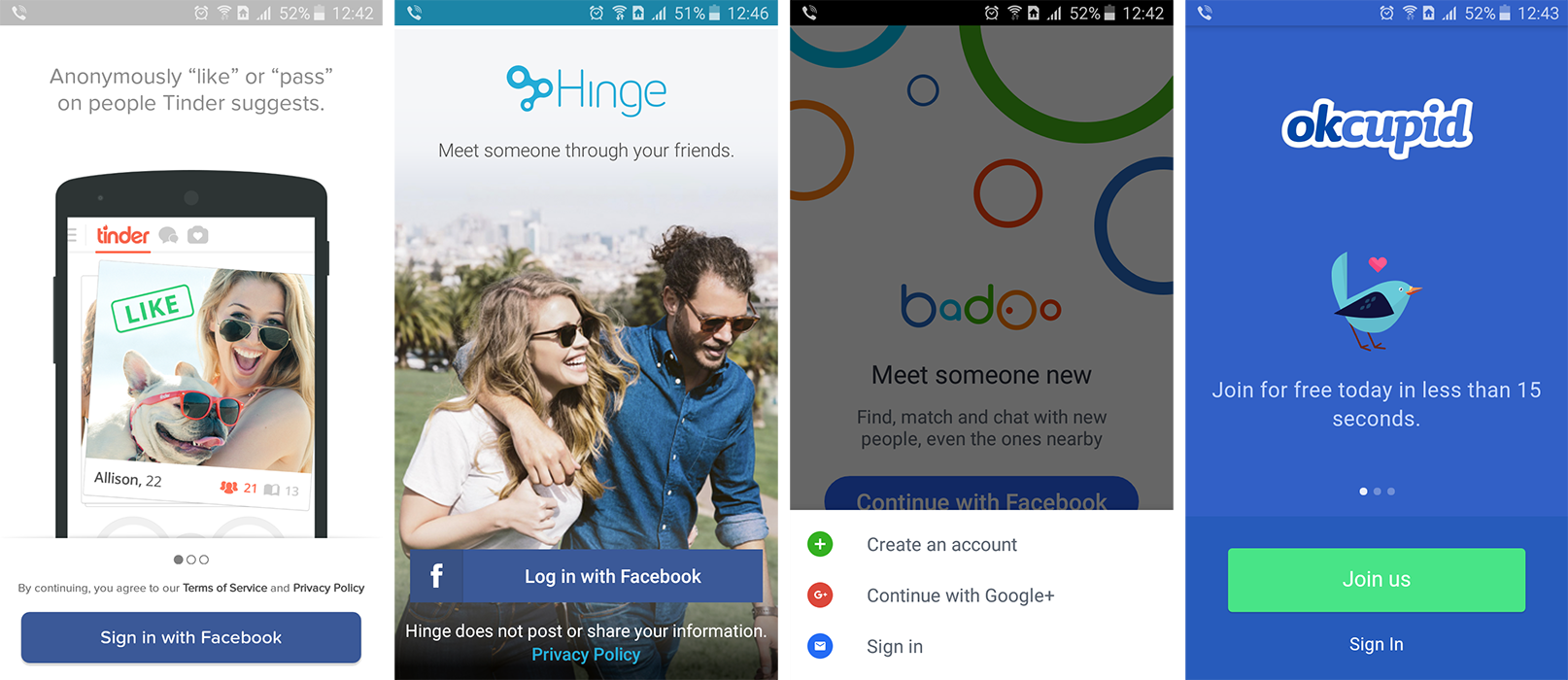 Our Android team has developed a handy SocialAuthHelper library for implementing registration via social networks.
User profiles
In the beginning of the online dating era such websites as Match.com, Plenty of Fish and OkCupid offered long questionnaires and a lengthy user profiles specifying everything from astrological signs to yearly income range. But nowadays, people read less and less, plus web has become more visual. So three main components of a user profile in a Tinder-like app would be:
User photos
Age
Location (identified using GPS or data received from the Wi-Fi network)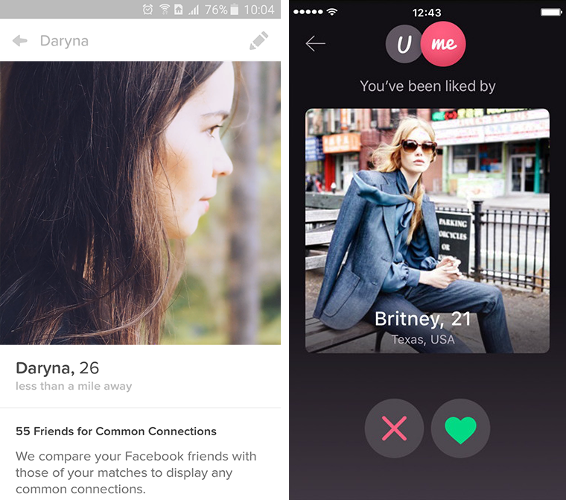 Filters
Instead of manually searching for potential dating material Tinder clones provide users with very simple filters (location, sex, age) and show you only candidates who match them. While users might not be able to find people who are into their favorite movies this way, they are enough for initial screening: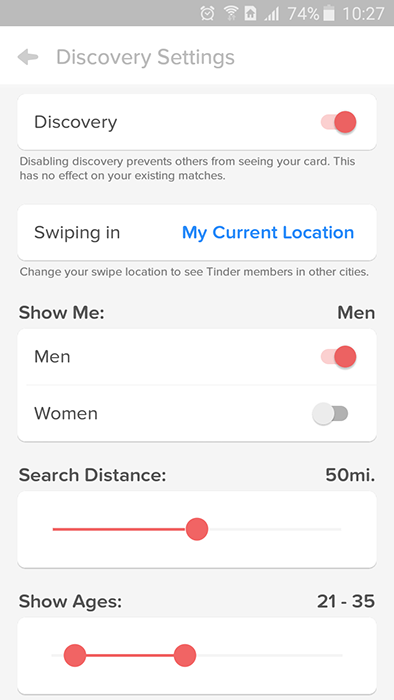 Since starting using Tinder-like apps is so easy, they have a lot of potential to become a habit.
Matching
We decide whether a person is attractive or not in seconds and Tinder used that common knowledge to create a simple algorithm: swipe left if you don't like person's photo and swipe right if you are into it. As simple as that, your mind decides and your fingers swipe. Only after two people have swiped right on each other's photos, they can chat. This approach eliminates a confusion when you are messaged by someone you're absolutely not into and provides more safety and privacy.
Here's how swipe looks like in our UME Tinder-like app:
Realtime events
Era of email-like communications is long gone. FoMO or not, people want to be notified if something important happens. That's why realtime-events are a must-have for a Tinder-like app. When user gets a new match or message, a server is notified and depending on whether a user is online or offline, he or she instantly gets a push-notification or email.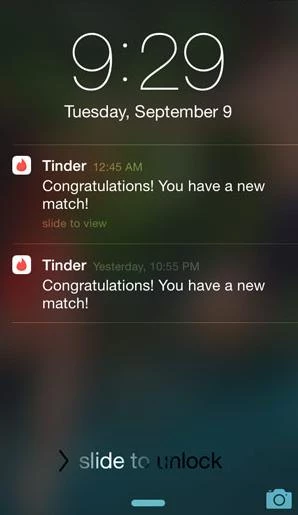 Check out UME dating app case study from our portfolio to learn more about realtime.
Paid features
Different Tinder like apps provide different features to paid users. For example, Tinder offers:
No-ads experience.
Rewinding your last swipe if you accidentally swiped left on somebody you actually like.
Changing your location if you want to meet somebody from another city or country.
More likes (free users have about 100 swipes per 12 hours).
If your Tinder-like app has a rating feature, you can monetize it as well by either providing means to stay on the top of the list. Other apps like Tinder make messaging top users a paid feature.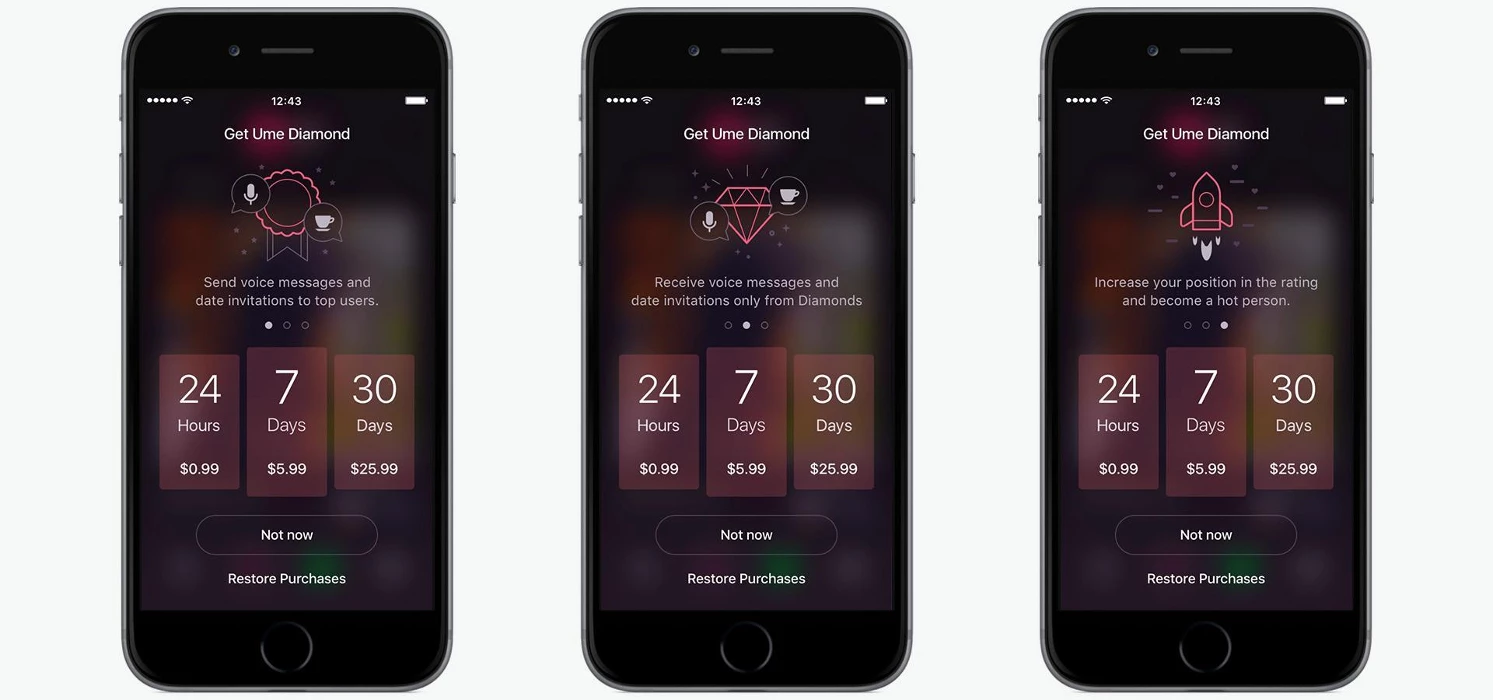 Tinder-like development cost
Now that you've learned more about the essential features, let's look at how much does it cost to develop an app like Tinder:
Design — about 200 hours, $3.5–5К
Mobile app for one platform (Android or iOS) — about 350–500 hours, $10–15K
API — 350–400 hours, $10-12К
Total cost for creating Tinder-like app for one platform would be about $25-30K. Of course, these are approximate calculations and the final Tinder app development cost will depend on the scale and specifics of the project.
Studio stfalcon.com has experience in developing impressive MVP for startups and will be happy to help your product go viral.