Top 7 Open Banking Platforms in 2023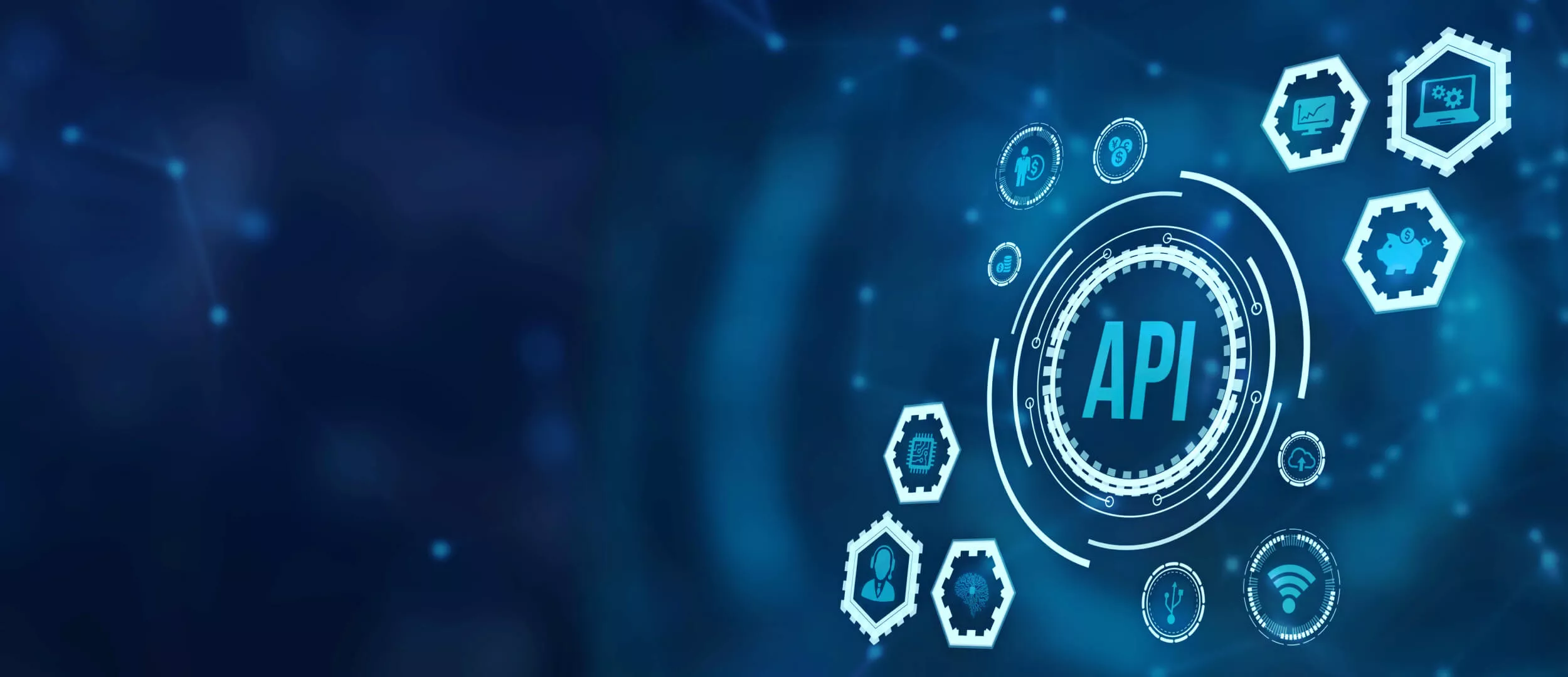 The financial services landscape has undergone a seismic transformation with the advent of open banking. This revolutionary approach empowers customers to wield greater control over their financial data while unlocking a plethora of cutting-edge financial services apps.
Traditional offline banks have evolved into feature-rich service platforms, catering to the dynamic needs of modern consumers.
At Stfalcon, we are at the forefront of fintech software development, equipped with proven expertise to assist you in creating a groundbreaking financial services app. Whether you're embarking on a new venture or seeking insights into the potential of this banking trend, this article is a must-read. Join us as we explore the fundamentals of open banking and delve into eight innovative open banking solutions that are reshaping the market. Prepare to be inspired by the limitless possibilities of open banking!
What is Open Banking Platform?
Open source mobile banking platform is a transformative practice that redefines the payment landscape by granting authorized third-party providers (TPPs) access to a customer's banking data through secure application programming interfaces (APIs). This access is only permitted with explicit consent from the customer, giving them full control over their data-sharing preferences.
The mechanics of open banking involve TPPs acting on behalf of bank customers to offer two primary services:
Account Information Services (AIS): This service enables customers to access and consolidate information such as account balances and transaction history from all their bank accounts in one centralized platform.
Payment Initiation Services (PIS): With PIS, customers can make online payments seamlessly without the need to manually input credit card details. Instead, they authorize secure payment transactions directly from their bank accounts.
For a clearer understanding, let's consider a money manager app as an example. In a non-open banking scenario, users must individually interact with each of their banks, logging in and manually transferring relevant data to the app. This process can be time-consuming.
With open banking app, the user experience is simplified. Customers grant the TPP permission to access their banking data, and the TPP then uses open banking APIs to retrieve information from all the user's accounts, consolidating it into a single, accessible interface. As a result, users can effortlessly view their transaction history, account balances, and spending with just a few clicks.
Open banking apps also revolutionize payment procedures. When merchants collaborate with PIS providers, customers can make online payments with ease. Instead of entering personal card details, users simply click on a payment link or scan a QR code on the merchant's website. They are then redirected to their bank app to confirm the payment, without exposing their sensitive bank information to the merchant.
Overall, open banking empowers customers with greater convenience, enhanced security, and control over their financial data, making it a game-changer in the payment landscape.
Existing Solutions in the Market and Key Trends
Open banking has witnessed rapid growth, with various existing solutions gaining popularity among consumers and businesses. Some key examples of solutions available in the open banking market are as follows:
Payment Initiation Services: This solution enables consumers to make direct payments from their bank accounts to merchants without the need for card payments.
Account Aggregation Services: These services allow consumers to view and manage all their financial accounts, regardless of the institution, from a single unified platform. It simplifies financial management and provides a holistic view of one's finances.
Personal Financial Management (PFM) Tools: PFM tools offer personalized insights into a consumer's spending patterns and overall financial health. They provide recommendations on how to save money, reduce debt, and improve financial planning.
Lending Platforms: Leveraging open banking data, lending platforms provide access to a diverse range of lending products with competitive rates and terms for both consumers and businesses.
The open banking industry is still in its early stages, but it is rapidly advancing and expected to bring transformative changes to the financial services sector in the near future. As open banking gains wider adoption, we anticipate the emergence of innovative solutions and services that will enhance the ease, convenience, and security of financial management like never before. With consumers and businesses embracing open banking's potential, the landscape is set to witness significant growth and improvements in managing finances efficiently.
How Do Open Banking APIs Work?
Open banking APIs (Application Programming Interfaces) play a crucial role in facilitating secure access to customer data and transaction initiation by third-party providers. Let's delve into how open banking APIs work:
Customer Authorization
Before a third-party provider can access a customer's data, explicit consent from the customer is required. The third-party provider's application redirects the customer to the bank's authorization page, where the customer logs in to their bank account and grants permission for the third-party provider to access their data.
Data Sharing
Once the customer provides consent, the bank shares the customer's data with the third-party provider using an API. This API enables the secure and standardized retrieval of specific data, such as transaction history and account balance, from the customer's bank account.
Transaction Initiation
In addition to data access, open banking APIs allow third-party providers to initiate transactions. For instance, a third-party provider can utilize the API to directly initiate a payment from the customer's bank account without requiring the customer to log in to their online banking.
Security
Open banking APIs employ robust security measures to safeguard customer data. These measures include encryption, two-factor authentication, and access controls that limit the data accessible to third-party providers, ensuring the protection of sensitive information.
Open banking APIs establish a secure and standardized pathway for third-party providers to access customer data and initiate transactions. This fosters increased competition and innovation within the banking industry while empowering customers with better control over their data and services.
Top 7 Open Banking Solutions
Open banking has led to a rapid transformation in the financial services industry, and as we enter 2023, several open banking apps are poised to make a significant impact. Here is a review of some prominent open banking apps across various categories:
Plaid
Plaid is an open banking digital platform offering APIs that connect financial institutions and fintech companies. With access to over 11,000 US financial institutions, Plaid allows businesses to securely access customer data and build innovative financial services and products. Plaid's key features encompass transaction data, account balances, and authentication. Renowned companies such as Venmo, Coinbase, and Robinhood leverage Plaid's services, leading to its acquisition by Visa for $5.3 billion in 2020.
Tink
Swedish-based open banking platform Tink connects financial institutions to over 3,400 banks across Europe. Tink's APIs enable businesses to access account data, initiate payments, and verify customer identity. The platform offers account aggregation, payment initiation, and personal finance management tools and has partnerships with major financial institutions like PayPal and BNP Paribas. Visa acquired Tink for $2.15 billion in 2021.
Yapily
Yapily, a London-based open banking digital platform, offers businesses APIs to access banking data spanning the UK, Europe, and beyond. Through Yapily's single API, businesses gain the capability to access bank account data, initiate payments, and verify account ownership. This streamlined solution simplifies the process and enables seamless access to essential banking functionalities for businesses of all scales.
It serves over 2,000 businesses in Europe and has raised over $69 million in funding.
Coconut
Coconut is an open banking platform that transformed a neobank into a banking hub, offering more options to customers. It caters to the self-employed community, providing a freelance accounting companion app. Sole proprietors can manage income, expenses, and taxes by connecting their bank accounts to the app, streamlining accounting procedures, and allowing them to focus on their work.
Basiq
Basiq serves as an open banking API provider, granting businesses access to analyze financial data sourced from various banks and institutions. Having processed over 2 billion transactions and analyzed data from more than 100 financial institutions, Basiq's services span across Australia, New Zealand, and Southeast Asia. The platform offers a robust and reliable solution for businesses seeking comprehensive insights into financial data for their operations and decision-making. Businesses leverage Basiq's APIs to offer personalized financial advice and real-time services, enhancing value and convenience for customers.
Bud
Bud, a personal financial management app based in the UK, consolidates users' financial accounts into a single platform, providing personalized insights and tailored recommendations. Through this app, users can conveniently access and manage all their financial information in one place, gaining valuable guidance and support to make informed financial decisions. The app uses open banking APIs to securely connect to users' accounts and provide tailored advice on saving money and optimizing spending. Bud's machine learning algorithms analyze financial data to offer personalized product recommendations.
Mint
Launched in September 2007, Mint has gained over 15 million members. This popular personal finance app links users' bank accounts, credit cards, and other financial accounts in one place. Mint provides a comprehensive dashboard to help users stay on top of their accounts, invoices, and subscriptions. It aids in budgeting, expense tracking, setting savings goals, and monitoring credit scores.
These open banking apps are transforming the financial landscape, empowering users with better control over their finances and offering innovative services for improved financial management.
Our Experience
SDK for a crypto wallet based on Kotlin Multiplatform
Stfalcon.com was tasked with creating an SDK for Android and iOS mobile platforms to develop a crypto wallet using Kotlin Multiplatform. To achieve the goal of sharing business logic and code across different platforms, they utilized Kotlin Multiplatform technology. This approach enabled them to employ the same business models, processes, queries, internal data processing, and encryption on both Android and iOS platforms seamlessly.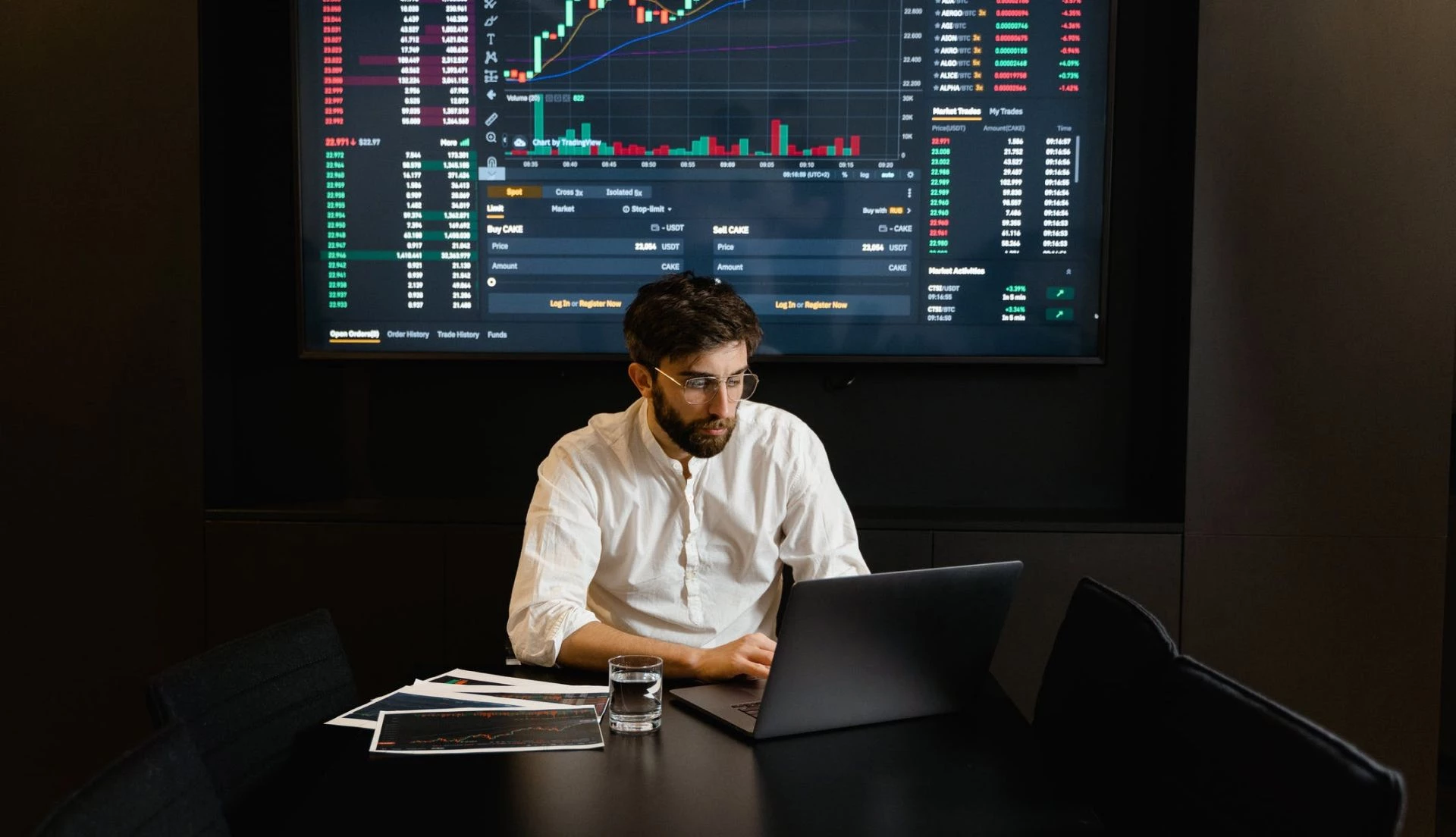 Read the full case study
By leveraging Kotlin Multiplatform, they successfully built an SDK that provided a unified and efficient development experience for the crypto wallet application across multiple mobile platforms.
Interface design for Credit Agricole payment kiosks
Our team was assigned the responsibility of designing the interface for Credit Agricole payment kiosks. The primary objective of these kiosks is to reduce queues at bank offices and ease the workload of cashiers. Therefore, the design of the kiosks needs to be incredibly user-friendly, catering to even the most inexperienced users.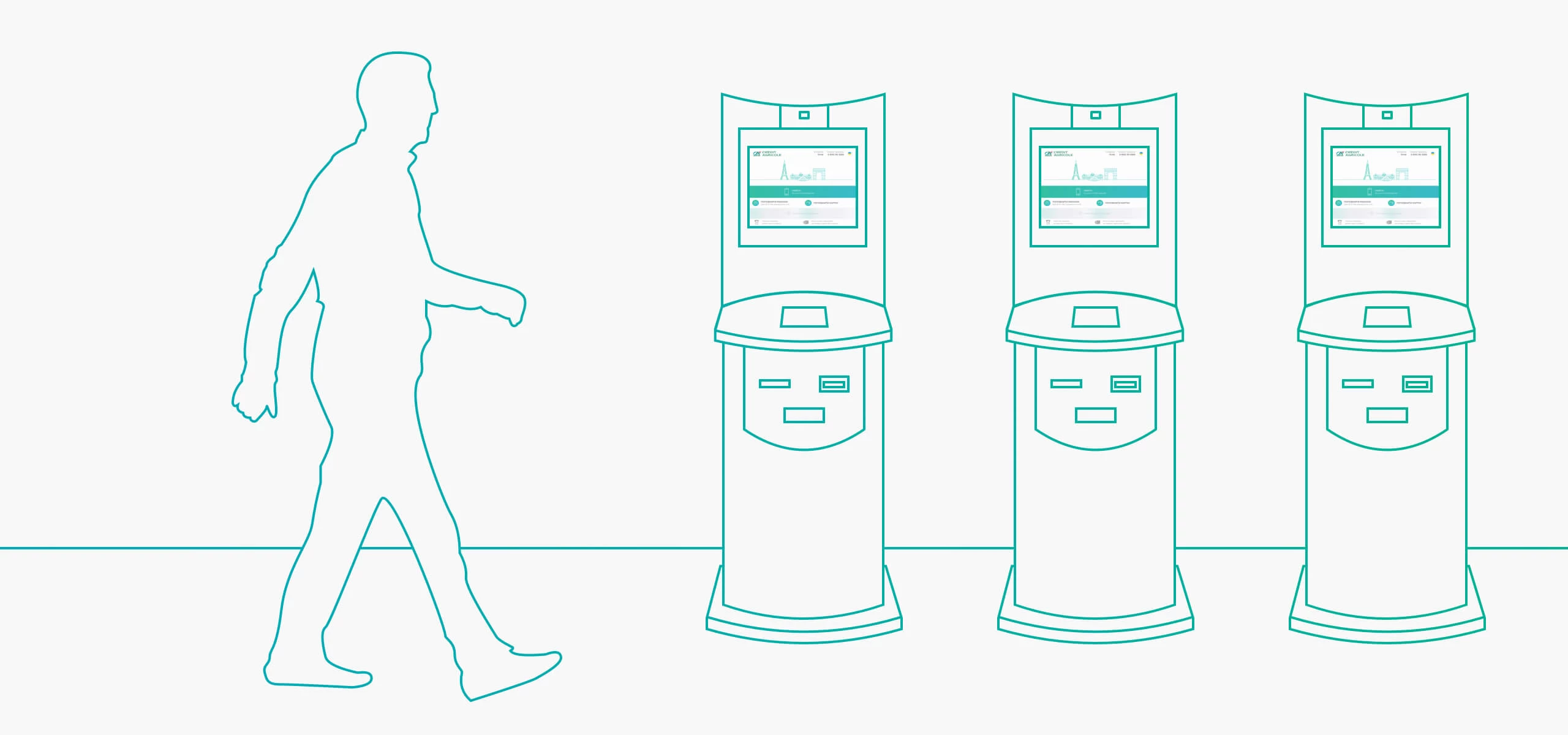 Read the full case study
The focus is on simplicity and ease of operation to ensure a seamless and hassle-free experience for all users, regardless of their level of technological expertise.
Conclusion
Open banking apps are not a distant technology anymore; they are already present and actively evolving. As it continues to connect more banks and fintech businesses, it fosters increased competition and facilitates the development of novel products and services.
Selecting the right software development company to build your open banking app can be a challenging task. Prior to hiring a dedicated development team, it is crucial to assess their expertise and the technologies they employ, as well as review successful cases in their portfolio.
At Stfalcon, we are fully prepared to assist you with fintech software development and open banking adoption. Our team of experts can:
Offer guidance on open banking implementation and regulatory compliance
Craft the UI/UX design for your online payment solution
Select the most appropriate tool stack tailored to your specific requirements
Assist you in building your personalized software payment solution or integrating a payment gateway into your application
Whether you have plans to develop your own fintech app or platform, integrate open banking into your existing services, or simply seek consultation, don't hesitate to reach out to us.