In Switzerland, there is a cult of financial economy. But it doesn't mean that people tend to open their wallets as little as possible. It is important to use money wisely and understand what is more efficient to buy or order. That is why car owners often choose a petrol station that offers the most attractive prices. However, it is impossible to know the pricing of every station right at the moment.
BenzinPreis24 is continuously updating base of petrol stations with their prices. Service shows the most profitable place for buying fuel using geolocation and taking into account the distance to the specific station. It helps users to save their money per every liter of petrol.

Problem
Main task was to completely redesign the obsolete website, refresh branding and make layout adaptive. Also it was necessary to design and implement new functions such as search of petrol stations by location, route search and price calculation considering distance to petrol station.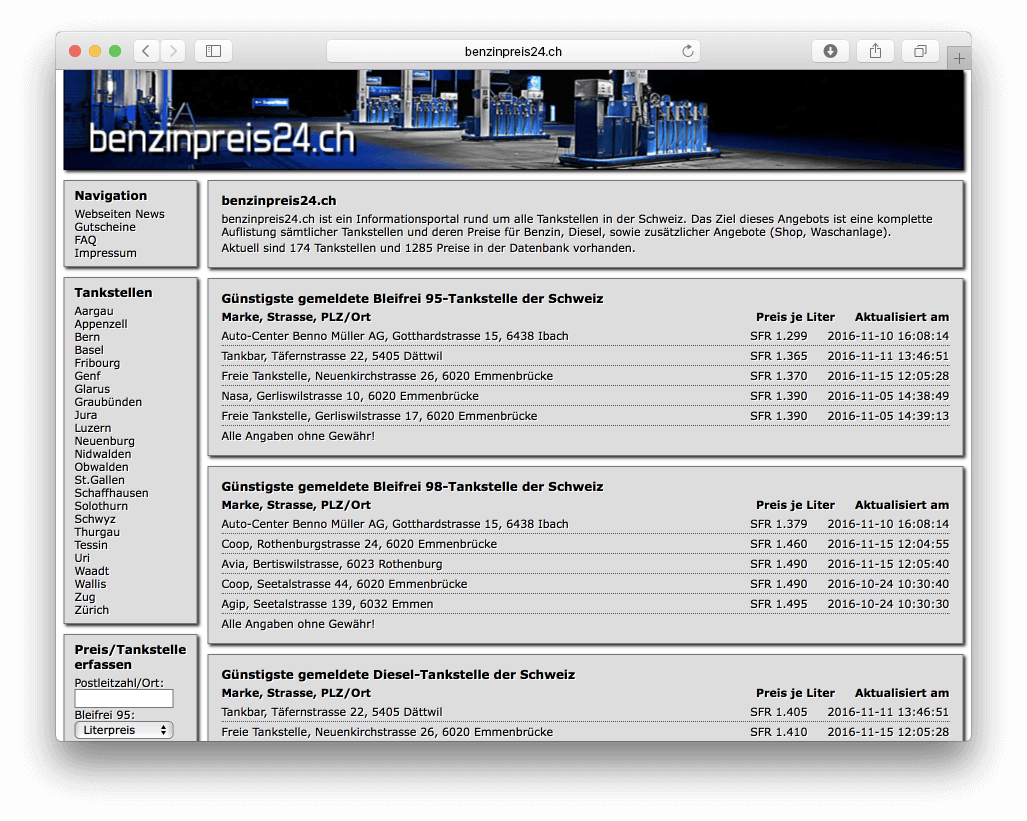 Design solution
We were developing design considering the fact that website would be mostly used from mobile devices, that is obvious since mobile phones can provide more precise GPS-location for route calculation. On the main page user can find the list of the cheapest petrol stations according to fuel type. Then after receiving information about user's device location we show petrol stations in precise region of Switzerland. All prices on the website are shown in Swiss francs and include 3 digits after the decimal point for greater accuracy.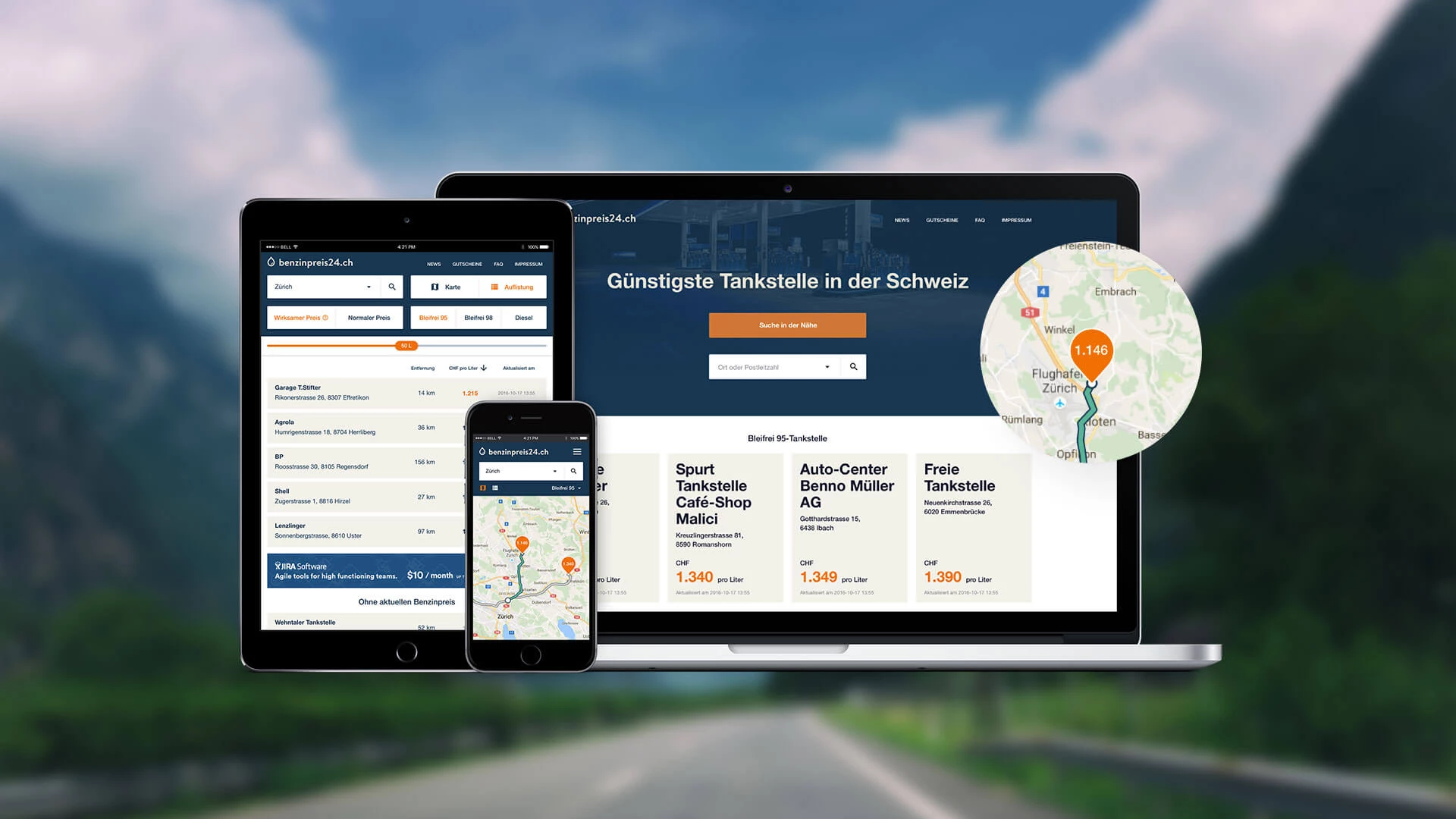 Search results
The most important section of such service is the page with search results. It has the biggest value. Search works as follows: we receive user's location, look for the closest petrol station and create routes to reach them. The route to the station with the cheapest price is marked with color.
By default the results are shown as interactive map, but petrol stations also can be shown in list view.
The key feature of Benzinpreis24.ch is the calculation of so-called effective price. This function allows to see the price of 1 liter of petrol considering the way to station and extra expenses — user just has to input total fuel volume he is planning to fill up.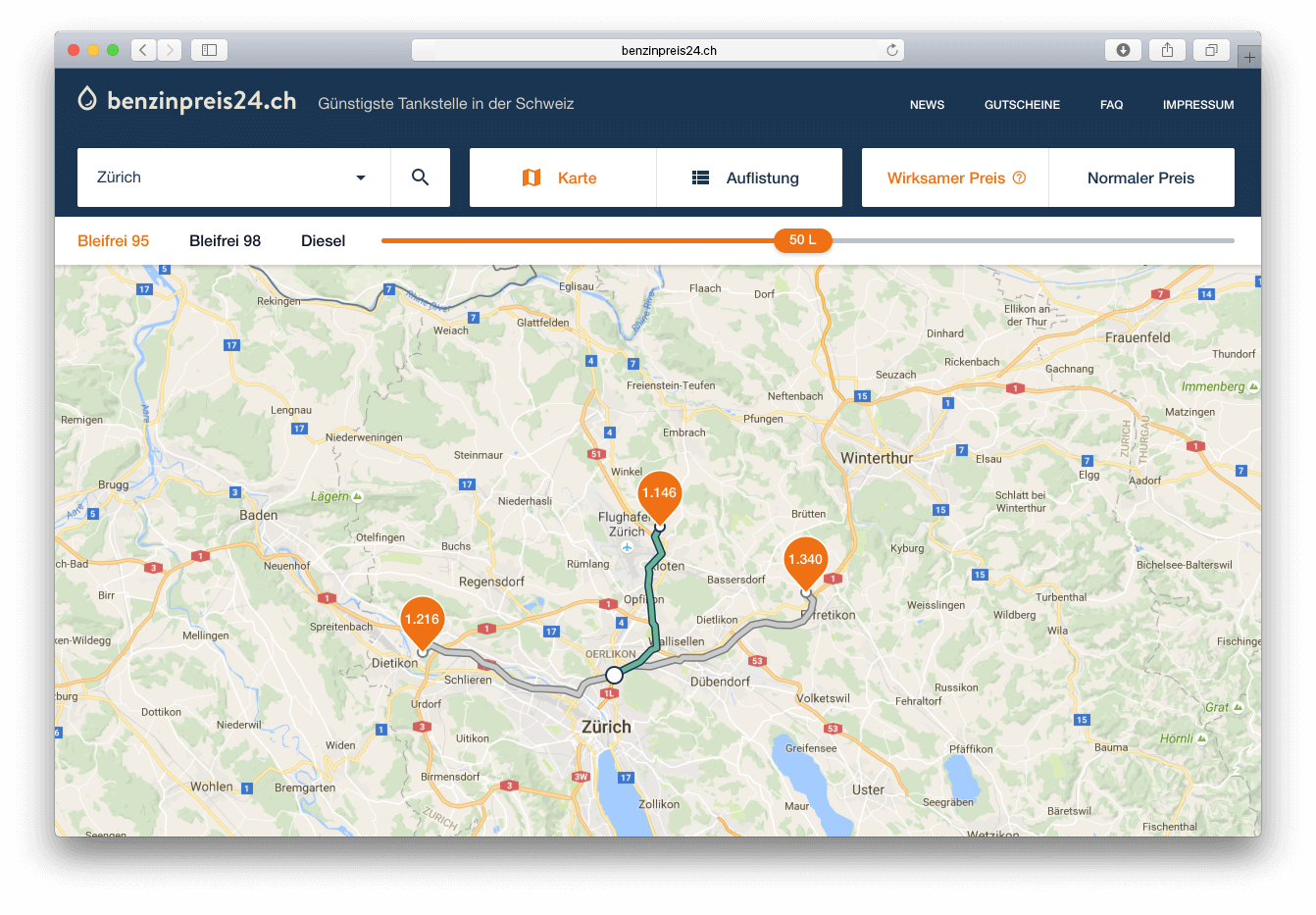 Price change chart
On the petrol station page we show all the useful information about station (working hours, phone, website, precise address, information about extra services like car wash or market). Also we suggested and implemented saving of price change history for all types of fuel and its graphic viewing on the petrol station's page.

Conclusion
We helped our customer to re-create very useful online tool that helps people to cut fuel expenses and buy it with profitable price. It completely excludes the necessity of search of the lowest prices in the Internet and waste of precious time.
Simply by pressing one button user can get information on where to buy fuel with most attractive price. User can chose between best options and go to prefered petrol station. This is amazing service that contributes to effective economy.
Cast:
Yulia Kondratyuk

Project Manager

Ruslan

Front End Developer