Foursquare was probably the first entertainment startup to introduce location-based services to the mass-market customer. Today, with Pokémon GO fueling a wave of augmented reality game app ideas, startups with a location-based touch got back into the spotlight. What location-based ideas can be used to enhance your app or fuel your startup? Let's find out!
You may use our calculalor to estimate the approximate cost of app development
What are location-based apps
Location-based apps/location-aware apps are apps that offer various services depending on user's location as identified using GPS or data from the cell tower and Wi-Fi. There're several types of this kind of services out there:
1. Location-based search for various services and places: restaurants, time tables for public transport, health professionals. For example, Zomato location app lets you view menus, photos and reviews for restaurants nearby which is handy if you're looking for a place to eat in a new city: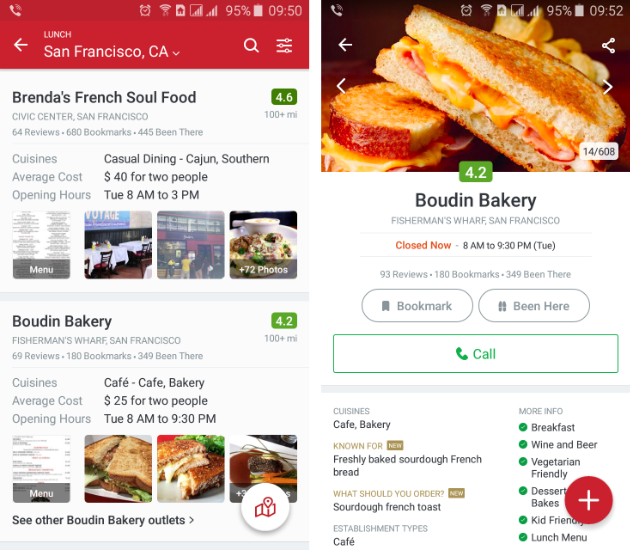 2. Sending push-notifications (sometimes called drop-messages): various loyalty program apps and apps that allow to earn points that can be exchange for discounts or gift сertificates. It's almost like location-based messaging app Momo from China but for brands.
For example, Shopkick location-aware app gives users points (kicks) when they enter certain shops and while at the shop people are more likely to buy something since they're already there. Shopkick successfully partnered with over 270,000 retailer locations — quite a number! Apart from geolocation, large services are also using BLE marks technology. It allows them to get more precise data on user location like a shelve stand a customer is standing by.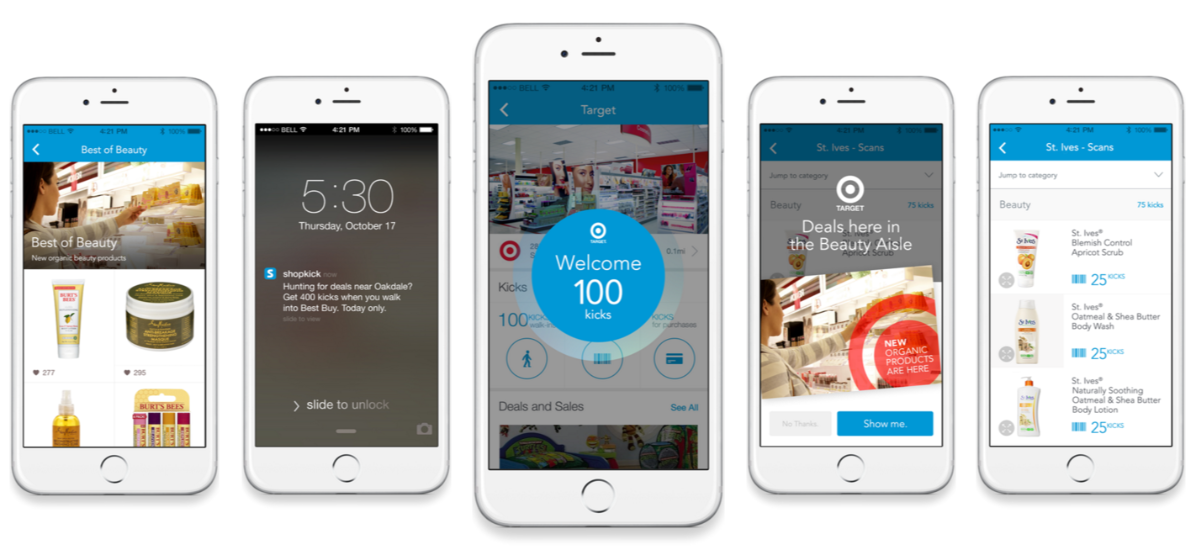 3. Location-based apps for finding people: apps for tracking geolocation of family members and friends or safety apps, dating apps and communication apps for joining others in sport activities, hobbies, trips and the like. Tinder-like dating apps are probably the most obvious example here.
And Hppn app took an idea of making friends with people nearby to a new level: it shows you user profiles of people you've been physically nearby with this day (like somebody who drove the same bus or sat with you in the same café). And you can connect with this people.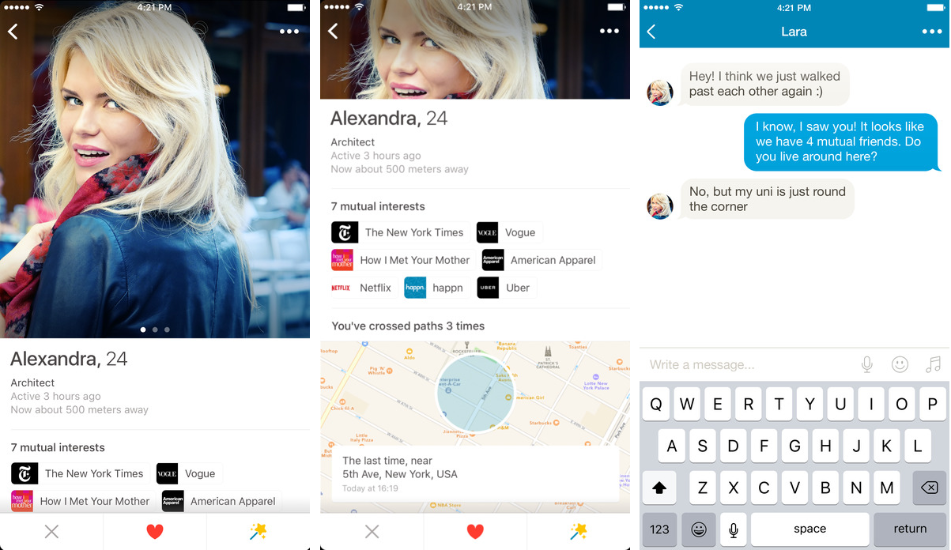 Location-based games like Ingress and Pokémon GO have also been getting a lot of attention recently. Learn more about Pokémon GO development and cost.
And now let's take a look at some Android and iOS app ideas using location-based services:
Ideas for your own location-based apps
Using very basic types of location-aware apps specified above you can expand an idea further and build the following:
1. Location-based app for content available only in certain locations (SnapChat + Pokémon GO). Users and brands can write personal messages, add photos or offer discounts which their followers can only see when visiting a certain location.
For users it is an opportunity to recommend interesting spot to their friends or remind about a memorable event. Brands can use it to attract more visitors to their less popular venues by offering on-the-spot discounts or notify about special time-limited offers when users are downtown.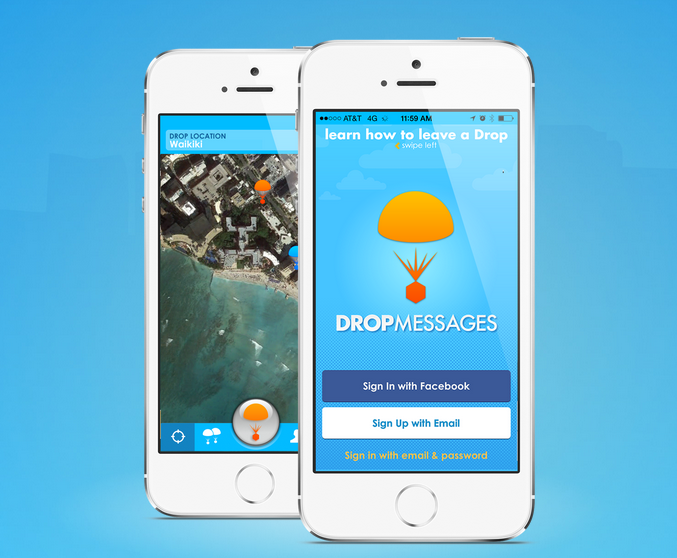 Drop Messages startup is doing something similar but with focus on photos from Instagram and getting alerts when you friends are nearby making it a location based social app of its own kind.
2. Location-based app for task automation. People love when somebody (or something like app) completes a boring tasks for them. And a lot of tasks are actually location-based (don't forget to notify a loved one you're running late, grab that cookies from the store on the corner, etc.).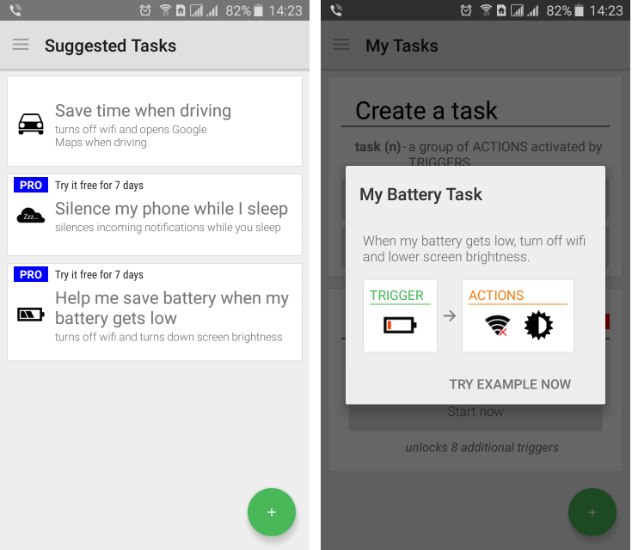 IFTTT service can trigger tasks for Android and iOS based on your location but IFTTT recipes aren't very easy to grasp for a casual user. Trigger app allows you to notify people when you're leaving your workplace. It is more user friendly but is currently available only for Android. An ultimate location-based app is still to come, maybe you will be the one who offers one?
3. Location-based app for locating products in malls and stores. Modern retail stores are full of products and not everything worth of attention can be put upfront. With this app idea brands can:
point out products to consumers based on what they've bought before
remind about recurring purchases
point out special offers and items that are on-sale
When visiting a store a lot of users are looking into their smartphones (since they keep their shopping lists there) and that's exactly the moment you can get their attention. BLE will also help here since when you come inside the building, the signal is available mostly near the windows.
4. Location-based app for notifying users about threats nearby. Unfortunately, a modern world is not as safe as we'd like it to be with acts of terrorism, natural and various human-instigated disasters happening daily. This kind of app can provide users with crucial notifications based on the automated analysis of local online newspapers while spare them the overwhelming flow of bad news from around the world.
LastQuake (France) and FEMA (USA) offer information about a limited types of events, quakes and weather-related respectively, but the world still lacks a sophisticated solution in this field.
5. Location-based app for planning a weekend. We surely have a lot of mobile travel guides and apps for finding a place to eat, to sleep and to hang out at. But all trip planning is still on us. A location based app for Android and iOS that could offer decent weekend planning (tickets, hotel, sightseeing, clubbing) based on user's budget and type of leisure they prefer will get a lot of hype. Plus, there would be a clear profit for brands: you could prioritize or advertise activities they offer for a fee.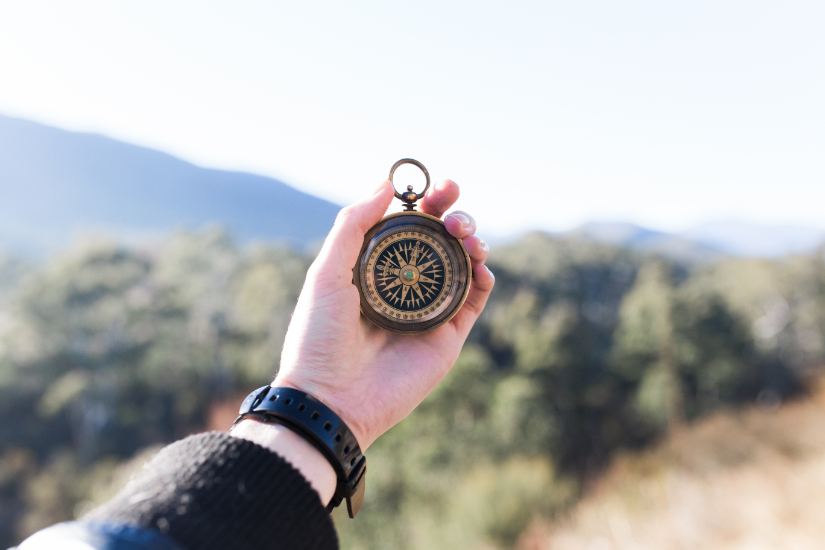 Conclusion
Geolocation technology have something to offer beyond suggesting popular restaurants nearby and yet another location based dating app. You just got to think what activities are location-related and where would people love to see a little bit of automation.
Retailers and cafes quickly understood how they can offer goodies for Pokémon GO players to gain more customers which is awesome. But it's the channel they aren't controlling so chains got to come up with their own mobile app ideas for actively interacting with consumers where they are — and currently it's smartphones.
Need MVP development, iOS and Android apps or prototyping? Check out our portfolio and make an order today!