7 Goals All Early-Stage Startups Should Consider to Be Backed

As soon as you have made up your mind to launch a startup and found the groundbreaking idea for it, the next step should be to define the main business goals you set. Unlike the companies which are already mature, early-stage startups often fail to have clear goals set.
This article is for those entrepreneurs, who seek some advice or inspiration in this issue. Hopefully, we'll help you figure out a kind of a roadmap for your project.
Further on we'll refer to the business goals for startups as to some milestones and markers, which will help evaluate the project growth and the overall state of things. That's why we'll also refer to them as to certain points of the startup development timeline.
Besides such points are crucial for fundraising, since they may disclose the potential of the undertaking to the investors. If the goals are accomplished to the set date, it has a strong showing for investors to provide startup funding.
Early-stage startup business goals examples
Goal 1: MVP
Just as you've taken up setting the startup goals, you should list creation of the Minimum Viable Product first. The sooner your early-stage startup can get it, the more fast and timely feedback you will receive to improve and optimize it further.
The main thing you should not sacrifice in your MVP is functionality, design and operations, may be a little rough at this stage. Launched and tested it will help you understand through the users' feedback what direction to move further on.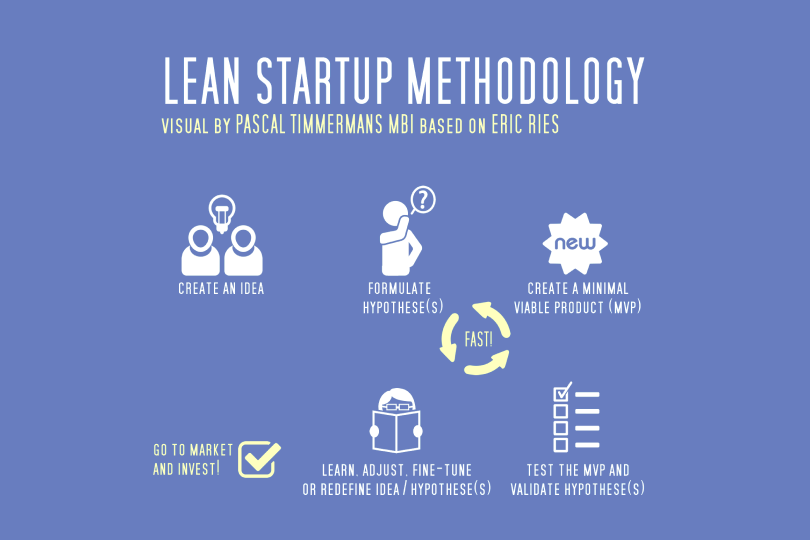 Goal 2. Beta Launch
The private beta is a perfect way to get feedback and this point should go second in your business goals list. Don't shelve it! On the timeline, it should be immediately after the Minimal Viable Product creation. Through the beta MVP launch, you'll get the core group, additional testing and the feedback all in one.
Goal 3: Key Hire
In case you are a forward-looking person, you've taken this step initially. It's always important to find people as enthusiastic about your idea as you are and better from the very beginning. That's why it's reasonable to outsource your product development initially and after the first iteration of it and the positive feedback on part of the core group, the time for a contracting company comes to expand the team with more people, who are eager to make your startup business ideas happen. Otherwise, it's the point where you should look for professional developers to involve into your project and it may be quite challenging.
Anyway, it's the next great step forward since it brings your undertaking to a new level and things will go much faster. Besides, people are as important as an idea for any business and for a startup in particular.
Goal 4: Optimization
In fact, the intermittent periods of redesign, feedback and new iteration should ongo through the whole life of a startup. In such a way it will be constantly improving and scaling. However, it's after the first iteration and testing the shift of goals and focus is possible. The feedback from real users at this stage will disclose their real pains and they may differ from the vision put into your initial idea.
Goal 5: Public Beta Launch
Your public beta should go live in approximately half a year after your start. The major thing you should keep in mind here: your product is not perfect and is never going to be. Ensure you've done enough testing of the solution and the technology so that it can cope with a bunch of new users and start your public beta.
Goal 6: Major Milestone
After approximately a year or so have passed since the public beta introduction, consider the new optimization of your product.
By this time a certain milestone set before by either you or your company should be reached. It may be related to the number of users, clicks, downloads or revenue, whatever. When the set marker is reached and your metrics is proven, you may try to raise funding.
Very often the initial startup investments are raised from the founders or angel investors, but it's the time to offer your idea to external shareholders or to search for the new ones. As soon as you feel you can do it, persuade investors to provide you with funding. You should make certain you have enough data and argument by that time to persuade other people that the idea they hear is compelling and useful, the opportunity is real and you can realize it.
Keep in mind that people who invest in startups want to see the market opportunities, the demand and their own benefit from the undertaking. On condition you can back all these with proper arguments, you'll get the funding.
A bit of psychology of investors
It's no brainer any investor will do his best to minimize risk, but at the same time not to lose the opportunity. That's why any shareholder will wait till the least risky point for funding one startup or another.
Where these points are?
The best time for fundraising is either before the major milestone or after it's completed
In case you apply for support before the product is launched for public usage, the investor should be convinced that the startup is on the right track to hit the next milestone. He will then realize that even after the initial success in the market, the company will be much more valuable. That's why he will readily provide the necessary means for development. So you should instill confidence in a potential shareholder with sufficient data and argumentation.
There are investors who prefer to fully de-risk the investments and then they will want to make sure the company is completed and has enough users and potential. However, in this case, more potential investors may be attracted and the stakes may be higher.
Startup business goals examples may be variable, but you always have to be careful about defining what is meaningful and what's not. Any milestone is moving from one risk level to another.So while attempting to raise funding, make sure you are aware of the milestone your startup hits and that the strategy you plan is beneficial for your business goals.
Besides, it's important to take into consideration the fundraising challenges, which depend on the region you try to get them in. There are countries where the funding primarily comes from individuals, states where corporate investors prevail, regions with access to many institutional investors, and the locales where the mix of individual and institutional investors possible. But to raise really substantial amount go to the corresponding geography, yet keeping in mind that the running startups costs are higher there.
Sometimes, when realizing that the appropriate amount is impossible to raise, you may show your investors what you can do with smaller budget. For proper estimation of your startup software product, you may use Stfalcon interactive calculator. To know what can be done with less funding — turn for consultancy and we'll discuss it together.
Conclusion
Though all early-stage startups are different like snowflakes, and no strict rules as to the startup goals setting exist, you should always keep in mind the priorities you go after. The important key to success is to identify and complete the tasks that align with your major goal.
Setting business goals as milestones you can not only use them as markers for your accomplishments and references for future adjustments of your product but also as arguments for your potential investors.
Keep in mind that Stfalcon is always ready to support startup ideas and provide expert evaluation of the possibilities as to the MVP and the product development as well as create a custom solution for your idea to go live. Let's do it together.