Technology Trends in Healthcare to Consider in 2024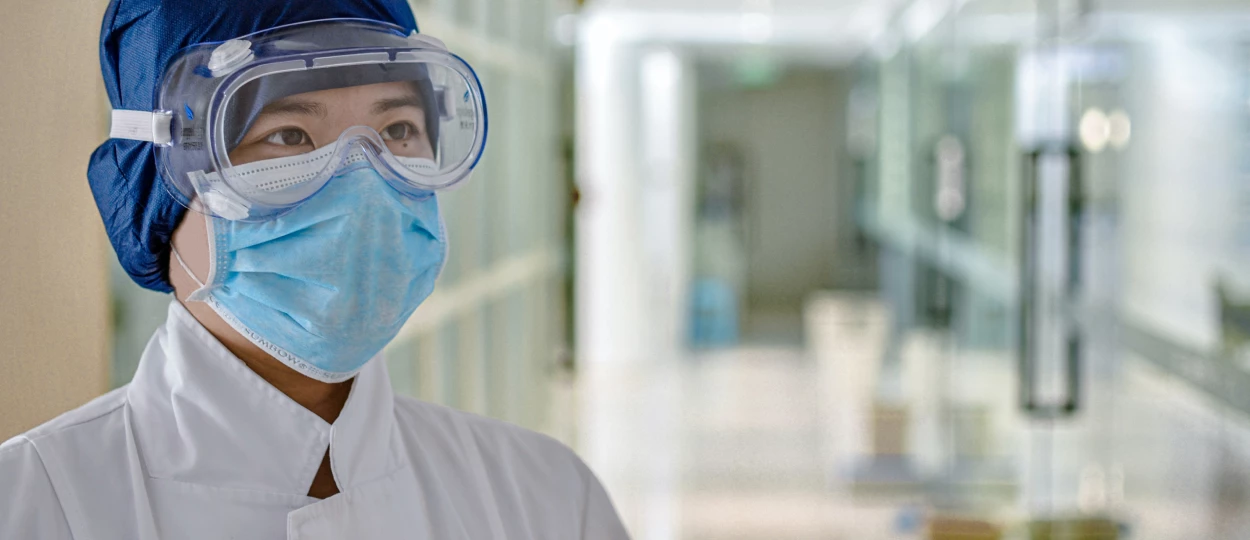 Post-COVID times have irreversibly changed the attitudes towards digitization in healthcare. The things previously seen just as a feasible way of gradual modernization – reduction of staff burden, fast and faultless decision-making, and shift to home-based medicine – have suddenly become urgent technology trends in healthcare.
In the post-pandemic, and in its aftermath, the healthcare industry encountered unparalleled pressures and difficulties. Technology introduced novel prospects and resolutions to address concerns such as staffing shortages, disruptions in the supply chain, and the enhancement of patient care. Simultaneously, consumers exhibited a heightened interest in enhancing their health and demanded increased personalization in their healthcare experiences. Consequently, this scenario has spawned opportunities for emerging medtech and medical device companies to fulfill these evolving needs.
Which is good news for technology startups and investors. Customers' expectations today stretch far beyond electronic medical records or online registration services. According to Jabil, 92 % of healthcare solution providers are admitting increasingly pushing consumer demand for digitization. This is the ideal moment for investment in digital healthcare trends. In which case the comprehensive picture of the sphere and its leading innovations is crucial.
To give our readers some food for thought, here are 5 top digital healthcare trends:
artificial intelligence,
big data and analytics,
the internet of medical things,
telemedicine,
virtual / augmented / mixed reality.
1. Artificial Intelligence as Healthcare's New Nervous System
The use of AI in medicine and healthcare is gaining momentum. Costly at first sight, this technology, according to Accenture, can save up to $ 150 billion annually in the USA only by 2026. The applications of AI in the medical sphere are so numerous nowadays that Collier and his colleagues from Accenture even called this current trend in healthcare industry its new nervous system.
In one of our previous articles, we told how AI robotics is used in caregiving and nursing . Other applications of AI in healthcare include chatbots, virtual health assistants, robot-assisted surgery, precision medicine, medical dosage, diagnosis, workflow optimization, cybersecurity, etc. The number of AI startups is constantly increasing.
Read about our new healthcare product
An interesting implementation of artificial intelligence in diagnosis is AI-based image recognition. Such devices track dermatological and optical deviations intrinsic to diabetes and other diseases that cause appearance changes. Image recognition is also used in cancer detection and treatment where the analysis of the numerous images of affected organs helps to make decisions about the type of tumor and treatment plan.
Artificial intelligence is being promoted in medical product development. The process of research and development of new drugs is very slow and expensive. Pharmacists need to take into account hundreds of variables. Today, AI is used to safely explore chemical and biological interactions in the drug discovery process. Among the most prominent examples are IBM Watson and GNS Healthcare AI system used in the search for cancer treatment.
And what about overcoming epidemics? It may come as a surprise to you, but here AI digital healthcare trends also widely used. AI technologies and tools have played a key role in the Covid-19 outbreak response and have become one of the top technology trends in healthcare.
More examples of the use of AI in healthcare are in this fascinating video:
2. Big Data & Analytics for Prevention and Intervention
Technological advances of the last years have led to dramatic growth in the amount of medical and health data. These massive figures show patterns and tendencies that can transform into insights and new opportunities for health organizations. They lower the rate of medical errors, facilitate preventive measures, and help hospitals and clinics with more accurate staffing.
The most widespread application of big data in healthcare is Electronic health record systems (EHR). EHR allows keeping digital documentation such as medical history, demographics, laboratory results, diagnoses, etc. Each record is saved in one modifiable file. It rescues doctors from the devastating paperwork and serves as a valuable statistical source. EHR can also be used for intervention. It provides warnings and reminders when a patient needs new medical examinations or procedures. 94 % of hospitals in the USA are in the process of adoption of EHRs.
Data analysis helps to discover warning signs of future epidemics on an international scale. It predicts the spread of the disease and helps to create preventive plans. A precise risk assessment which data analysis provides ensures the development of smart selective quarantine measures in contrast to blanket isolation and shutdowns. This might save billions for national economies. Such initiatives are being developed, for example, in MIT and Harvard , but there is still a wide remit for startups.
3. The Internet of Medical Things and Wearable Devices
The Internet of Things (IoT) refers to devices connected with each other via the Internet – such as wearables, connected inhalers, smart beds, ECG, EKG monitors, and other facilities. This digital trend in healthcare has seen significant growth recently. In 2019, wearables and IoMT market accounted for $ 24.4 billion, and by 2029, experts expect the growth up to $ 285.5 billion.
IoMT tools help clinicians to monitor patients at home or on the go from any corner of the world. Connected devices ensure users take medication; they measure vitals, set reminders and alerts. Among the most developed spheres of their application are glucose, blood, sweat, oxygen, and pressure measurement, cardiac and healthy lifestyle monitoring, fitness tracking, and weight control.
Another perspective field of IoMT application is geriatrics. The population of the USA and Europe is aging. According to the United Nations forecast , one in six people on Earth will be over the age of 65 by 2050. This will create a huge burden on healthcare systems. The need for medical devices that track health and take care of the elderly in distance will be growing. Not to mention the recent situation with COVID-19 when many people were either unable to visit their parents on a regular basis because of the lockdown or just tried not to put them at extra risk. What a relief it was to know that situation was more or less under control due to mobiles and wearables.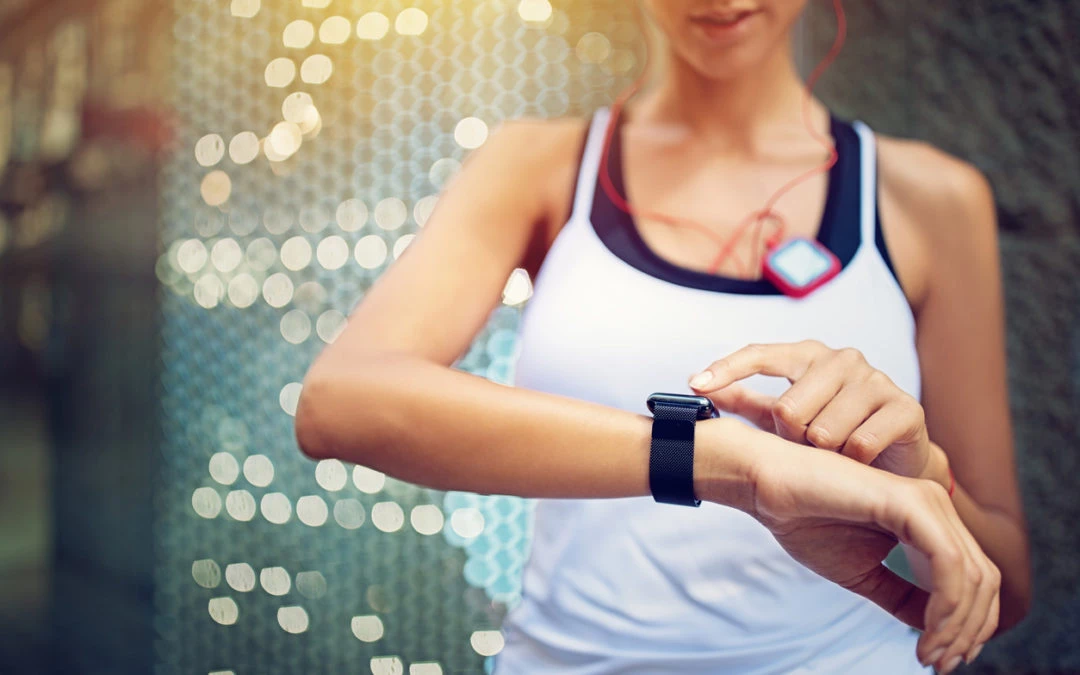 Apart from personalized patient care, such new trends in medicine as wearable tools enhance inventory and optimize workflow within hospitals and clinics. With RFID tags, for example, hospital management can monitor the activity of employees and identify important changes in operational efficiency. It also helps to target insurance pricing and provide insurance incentives.
4. Telemedicine as New Healthcare Reality
Telemedicine has already contributed to the development of the healthcare industry by making it easier for people from rural areas to get access to specialists and saving hours previously spent in traffic jams and waiting rooms for urban residents. In the post-COVID time, the role of this new trend in healthcare has become pivotal. No wonder companies are actively investing in the development of this sphere. The global telemedicine market is expected to be worth $113.1 billion by 2025.
So far, the sector is dominated by video chat platforms. Patients have video calls with the physician over the internet. It allows them not only to describe but show visible symptoms. However, this is far from being the only use of telemedicine. In tandem with IoMT, and therapeutic apps, TeleHealth provides better conditions for treating and monitoring chronic illnesses. It reduces stress for all parties involved and is convenient and cost-effective.
A good recent example of telemedicine in action is Southwest Medical. Their NowClinic service is a 24/7 opportunity for clients to have a virtual appointment with a doctor, with a wait time of less than 10 minutes. This technology allowed SMA to enroll over 30,000 patients within a short period.
Businesses also benefit from telemedicine. Thus, putting into practice telemedicine services for staff saved Adecco, a global staffing company, as much as $ 230,000 just in one year.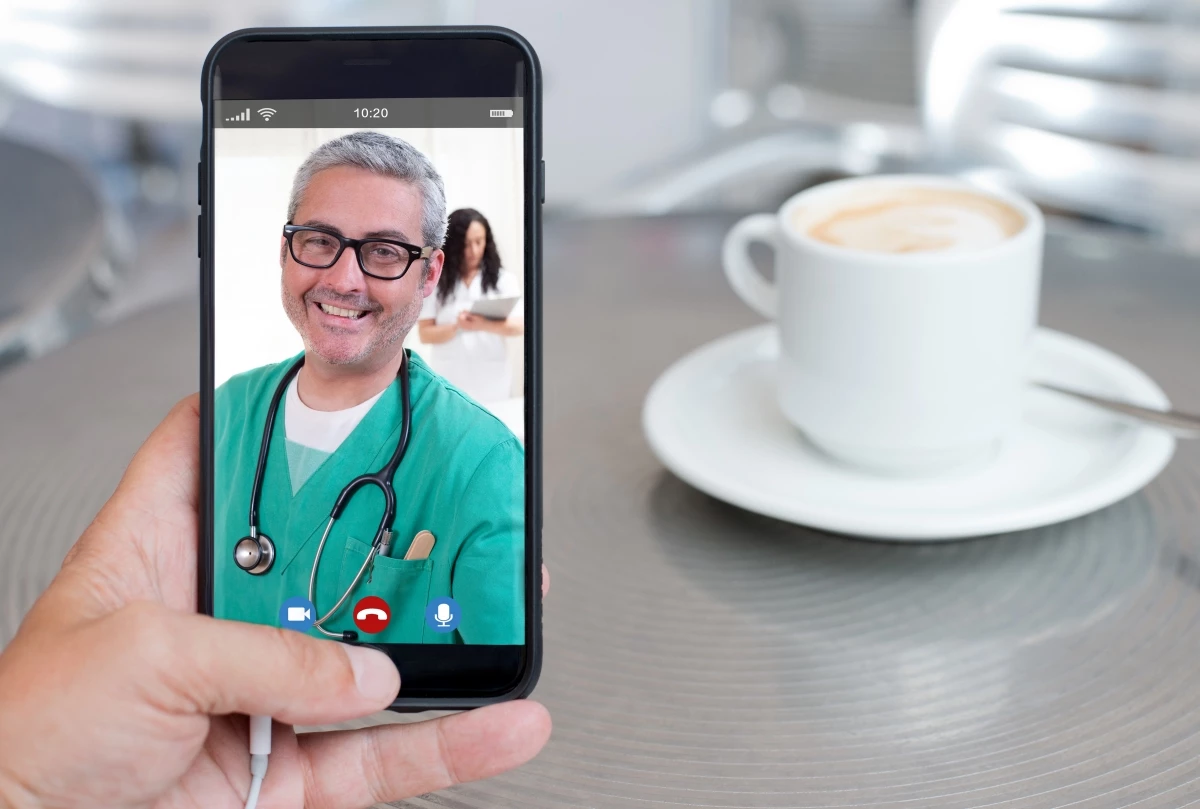 5. Virtual / Augmented / Mixed Reality in Medicine
Virtual, augmented, and mixed reality have become technology trends in healthcare, from diagnosis to medical education. While with virtual reality, the person emerges in artificially created surroundings, augmented reality generates images layered on the top of real-world objects and mixed reality anchors virtual objects to the real world so that you can manipulate with both virtual and physical objects simultaneously. In all three cases, the user can see the created imagery or text with the help of VR/AR glasses.
VR / AR / MR trends in digital healthcare are the key enablers in technological advances nowadays. No wonder the market is to reach $ 5.1 billion is to reach $ 5.1 billion by 2025. The major applications of VR/AR technology today are:
Emergency response. Emergency responders allow finding necessary information without wasting time on search. Medical staff can record details about the patients yet before they arrive at the clinic.
Prevention and diagnostics. VR/AR allows for modelling different conditions. Doctors manipulate the camera in order to compare the existing examination data with the examples from the database or replicate the effects of treatment.
Surgery. Here, VR's most significant impact is in 3D reconstructions of organs in motion. The technology is especially useful when the surgeon needs to work in small spaces or under complicated conditions.
Education. VR/AR digital trends in healthcare transform medical education. Surgeons, for example, can rehearse the procedures and exercise precise steps so that they accomplish real operations quicker and with minimal damage to tissues. Microsoft HoloLens is a great example of using VR in medical education:
Rehabilitation and emotional recovery. VR applications are used to treat anxiety and post-traumatic stress disorders. VR headsets motivate children with autism to safely navigate the world.
Pain management. Millions of people all over the world suffer from chronic or postoperative pain. VR/AR has a soothing effect in case of heavy pains and allows reducing the use of opioids and other painkillers.
Treatment of dementia and cognitive impairments. In some clinics, like Maplewood Senior Living, VR headsets are applied to recreate experiences and relieve specific memories for patients with Alzheimer's, which improves neuroplasticity and slows down dementia.
Our Experience in the Development of Technology Trends in Healthcare Solutions
Reading about these current healthcare trends is inspiring. On the other hand, people who are thinking about launching a medical startup may feel somewhat downhearted by their seeming complicacy. To cheer you up, here are some examples from our experience that show that even ultramodern healthcare digital trends may be realized in a really wide range of products and solutions – from small and nifty to large-scale and robust.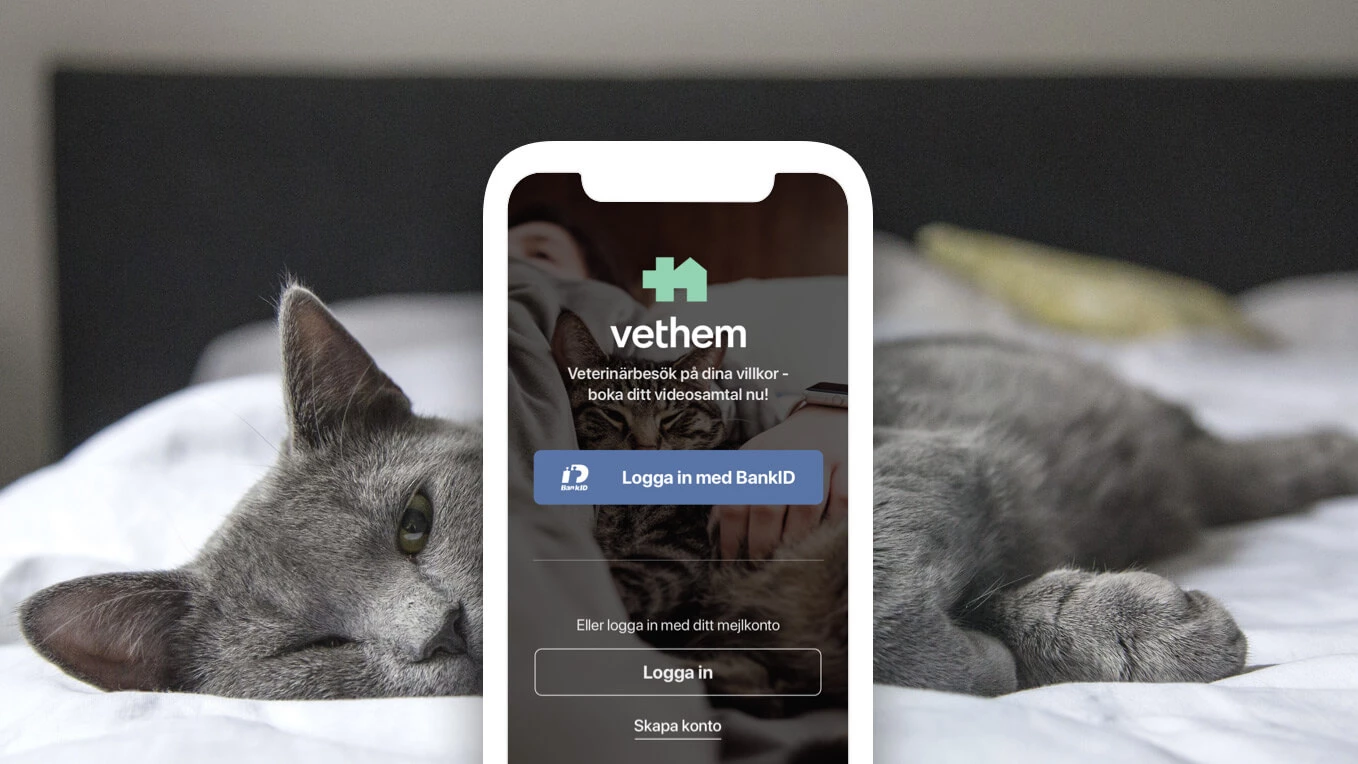 Case Study: Vet Appointment Booking App

Stfalcon.com has participated in the development of several TeleHealth solutions for European hospitals and clinics, such as appointment apps, online booking system for meetings with the doctor, and task managers for hospitals. These mobile systems help members of the medical staff effectively interact with each other and with clients, decrease the waiting time, quickly react to emergencies, and automate records. When carefully considered, these tools are a huge support for medical organizations.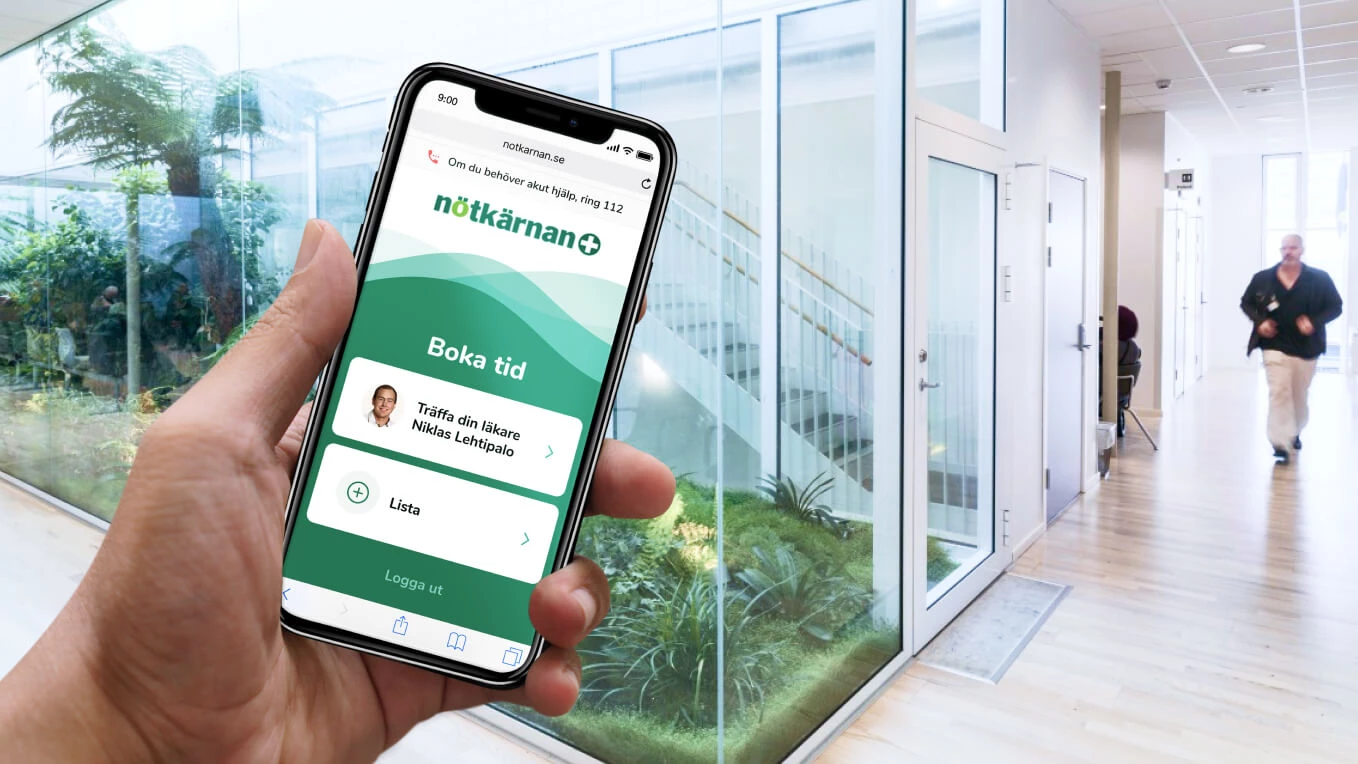 Case Study: Online booking system for meetings with the doctor
Our other mobile apps are based on the on-demand model and help doctors and patients to find each other. For example, IsDocIn app developed by our team allows people to figure out a necessary specialist and make an appointment quickly and easily. We also had an opportunity to participate in the development of VR app for eye disease diagnostics. Apart from obtaining much more precise clinical data, its implementation helped to reduce the burden on support staff due to automation of diagnosis.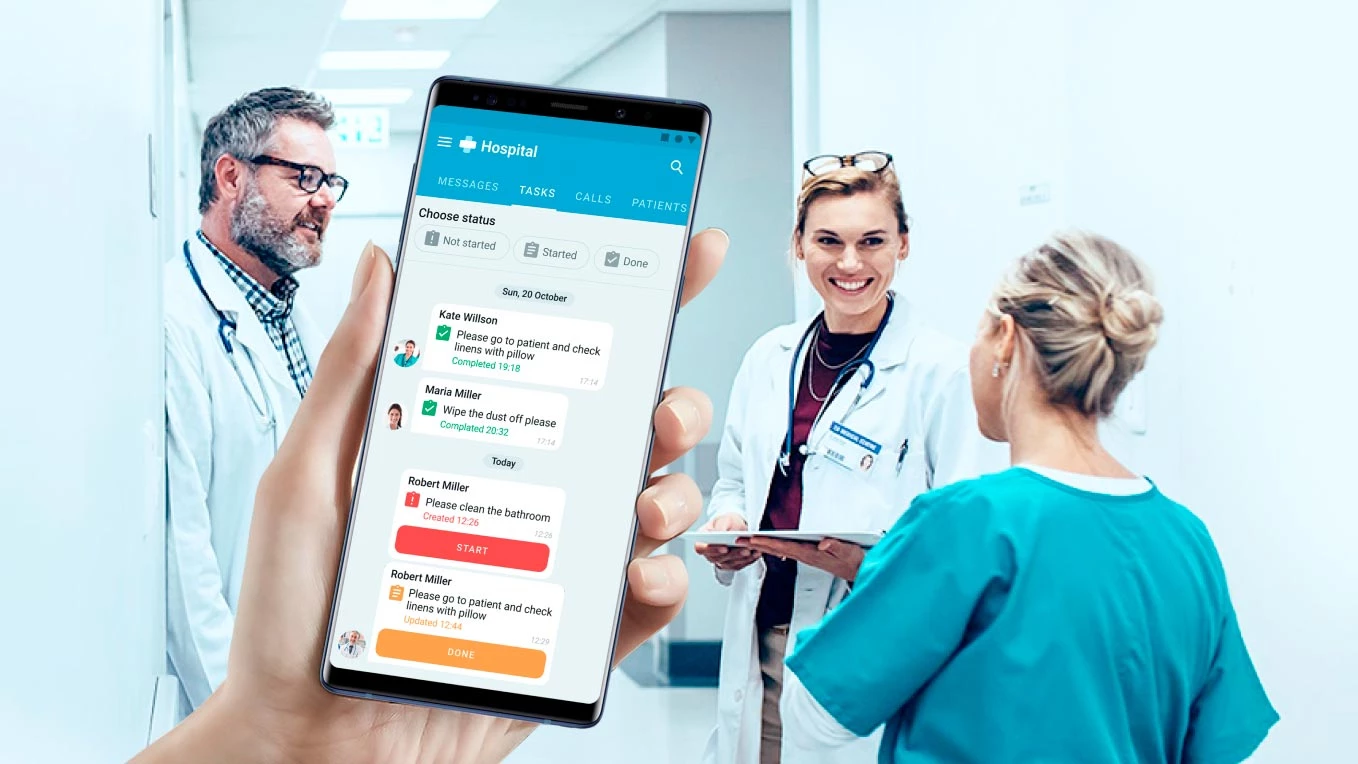 Case Study: Task manager for hospitals
So, as you can see, there are dozens of different opportunities and you don't need to start from something large-scale in order to get on board of the medical innovations market. Even the most ambitious and newfangled digital trends in healthcare industry are not necessarily massive and involve huge teams and enormous spendings.
Yet, the development of healthcare technology solutions does imply a well-considered approach and acquaintance with regulatory standards, such as HIPAA Compliance, for example. To be aware of the major obstacles and difficulties you may face while launching a healthcare startup, read our latest whitepaper "Breaking Barriers in Healthcare Startups".
Use the Opportunity to Make a Timely Investment in Healthcare Digitization
The analysis of emerging technology trends in healthcare brings us to a conclusion: digitization is and will be the dominant concept in the transformation of this industry in the forthcoming decades. To stay relevant, health systems need to implement innovative technical solutions. This makes healthcare technology one of the most promising spheres for investment.
Ready to start and in search of professional team? Contact us, Stfalcon.com always holds a hand on the pulse of innovations and current trends in healthcare. Take advantage of the favorable moment and develop effective healthcare technology solutions with us today.