What a PSP Is, How It Works and Who Tops the Industry

Generation Z seems to have already revolutionized much in the modern flow of life and the digital world in particular. Almost half of the active consumers belong to this age group nowadays and they are characterized as «view now, buy now customers».
The statistic shows that:
About 70% of Generation Z consumers use mobile banking apps daily or weekly
Above 80% of Gen Z-ers shop online via a smartphone and are influenced by Social Media
Less than 20% of Generation Z representatives use cash.
So these screen addicts crave immediacy in everything and online payments as well. Besides, they demand highly-relevant and extremely personalized experience.
This actually determines the development of the online payments sector, making it dynamic and rapidly developing. The internet payment providers are obliged to constantly up the ante to meet the consumers' requirements.
More and more often payment cards, cheques, and cash sweep past the payment space nowadays, while the new era comes with one-click online payments, e-wallets, and cryptocurrencies dominating.
The challenge for every modern online payment provider is great. Yet, new products streamlining online transactions manage to meet contemporary demands.
Still, to stay competitive companies and e-commerce sites should adopt the latest innovations from payment service providers and configure their systems and services accordingly.
Payment systems differ from country to country, however, having experience with different countries and regions, we may assure you that almost any PSP is possible to integrate.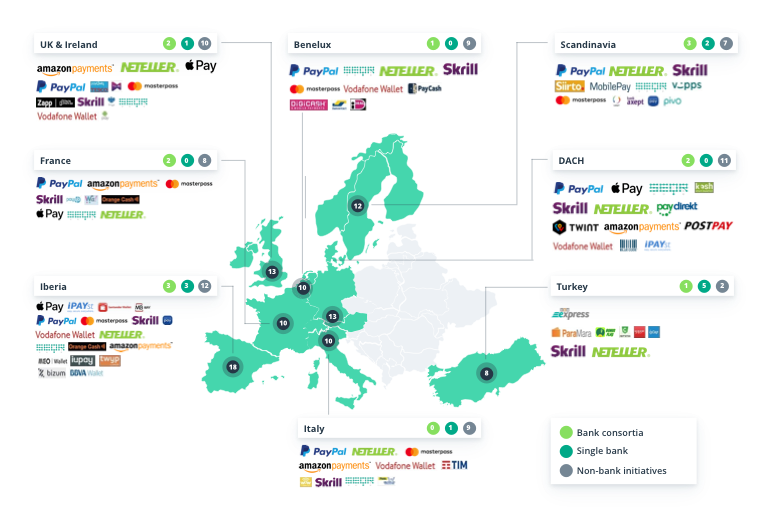 Nowadays to run a business anywhere and to accept transactions from all over the world you should use the service of an online payments provider. It allows you to accept digital payment done with a credit card or through bank transfer and to manage transactions. Let's look at the types of PSPs, their work and finally the top ten payment service providers list a bit closer today. Hopefully, it will help you make the right choice of a payment service provider model for your digital solution when you face the necessity.
How PSPs Work
To comprehend the process of a payment system work, one should be aware of its participants and the major of them are a processor (a payment distributor or gateway), a merchant, a dealer.
The main function of a payment gateway is to authenticate payment info and transfer it securely between various groups and banks. As a rule, gateways are provided by financial service operators or banks and are extremely advantageous being available 24/7.
It allows the merchants to process payments of various kinds (credit cards, bank transfers, debit and credit operations).
Dealers receive payments directly from financial institutions while payment service provides act as distributors. However, there are several types of PSPs and you should choose the one most suitable very carefully. The technical aspect is one of the most important things that matters here.
Technical aspects of choosing an online payments provider
When choosing the PSP you should, first of all, keep in mind the following aspects:
Locale
Depending on the type of goods and services sold, you should either choose a local payment system provider or a global one.
Mobility
Besides, modern consumers require efficient and simple solutions to use on the go. So the PSPs which offer Check-out, especially possible to adapt to mobile mediums have priority.
Technical compatibility
When choosing a PSP for an online solution, which already exists, you should pay attention to the service modules offered by it. Consider the systems which offer iFrame, forwarding (redirect) or API connection options.
Security
All the payment systems you offer your customers should have the due certification and meet the Payment Card Industry Data Security Standard (PCI DSS). It will ensure that your clients' financial details are protected from fraud or theft.
Extra services provided by the PSP
Nowadays online payment providers offer various services, which are not the same. That's why it's essential to have a clear understanding of what services are significant for your business. For instance, subscription management matters for new and growing businesses and recurring customer functions for food and media retailers.
For certain areas, the availability of customer support plays a decisive role and here one should keep in mind the scope of support offered, the language it is offered in, availability and cost.
Risk protection from missing payments — you can choose it or certain additional modules of fraud prevention as well as checking ща the customer address, credit, and blacklist.
Certain service providers also offer billing options, payment monitoring, debt collection notices, as well as business accounts and currency conversion management.
Contracts and fees
PSPs' cost models are variable, often including both fixed and varying fees. Besides, the cost may depend on the sales revenues and the number of transactions. Besides, there may be setup or monthly fees, currency conversion rates and cancellation fees. All these aspects should be carefully studied and analyzed according to the state of things in your business and well-weight decision taken in the end.
Top online payment service providers of the present day
PayPal
This Payment service provider seems to be the best-known one worldwide, the number of active users already exceeds 250 mln and the number of merchants utilizing it 17 million. PayPal claims that setting its button on an e-Commerce page increases sales by 30% on average.
The PSP is transparent and easy to set up and use. It offers a great number of integration possibilities, the least of which are with the shopping carts, and accounting or shipping software. A customizable checkout and mobile are offered for the users.
The fee is standard — 3.4% and £0.2 per transaction.
PayMill
The major advantage of this PSP is that it is fully customizable. Every merchant can design a personalized checkout for the best customer experience and increased conversions. The system accepts debit and credit cards of all kinds and local payment methods, like, for instance, China Union Pay, Carte Bleue, JCBCartaSi, etc. The fees a percentage for transactions, no setup or monthly charges are presupposed.
The PSP was developed by Google to allow the users to pay through a Google profile-connected account. It facilitates the purchase of goods and services for millions of Google account users, making payments simple. The fees for the service are the percentage based on monthly sales volume.
Amazon Payments
The popular system allowing payments through Amazon API. The fee is based on percentage, the larger the sum the less is the percent.
Stripe
A widespread PSP, which facilitates easy online payment acceptance and administration. Besides, it can be integrated with a great number of mobile solutions and used for subscription management and revenue recurring. Stripe's robust API allows storing clients' cards on file and it's easy to implement its complex payment functionality. Being a merchant account for its providers, it handles all the due compliance and approvals.
There are no setup or monthly fees, but a percentage per transaction.
Skrill
Being around for already 20 years, Skrill supports over a hundred payment options around 200 countries in almost 40 currencies. It allows accepting payments from all over the world securely and quite hassle-free. The fees are somewhere between 1,5% and 4%.
GoCardless
This PSP uses a direct debit system for as little as 1% per transaction but not exceeding £2.00. This is a quick and easy way to make payments online, either one-off or recurring.
Klarna
This PSP seems to be perfect to deliver best-in-class user experience, containing Identification, Shipping, Payment selectors and a number of customizable modules. Connecting 60 million consumers to 100,000 merchants across 14 countries, it comprises all major payment methods and allows payments with a card, bank transfer or any of the options to pay later. What is important Klarna takes the full credit and fraud risk on all purchases.
FastSpring
This solution is notable because it's not only a PSP but a means to create an online store from scratch. It allows crafting a customizable order page to match the design of any existing site. Besides, the customers are displayed prices in their local currency and language. Being a premium solution, FastSpring thus charges about 9% per transaction. Merchants receive payments bi-monthly.
Square Register
The software is designed for Android and Apple mobile OS. It deals with digital receipts and sales reports and provides analytics as to the payments received, which helps in business optimization. Even though the solution supports 130 currencies, it is only now available in the US, Canada, and Japan.
Recurly
The system is designed so that you can grow your subscription business. It supports automatic email notifications about discounts, promotions or price-hikes. It claims to be the «leading recurring billing platform» and handles metered billing. Pricing varies from about a hundred dollars per month to 300 USD and a percentage.
Conclusion
Choosing a payment system provider is not always an easy task. To make a fully informed and reasonable choice you should be aware of the specifics of each PSP and your business needs. PayPal may, for instance, be the most popular, however, fail to have all the answers for your very needs, while FastSpring may be the most expensive, but solving all your problems at a time. Consider the 4 major factors security, simplicity, support, and price or take the consultancy of our experts. We are always ready to help our clients stay abreast of the industry and find the best solution for their specific requirements.