How Technologies are Facilitating Defense Sector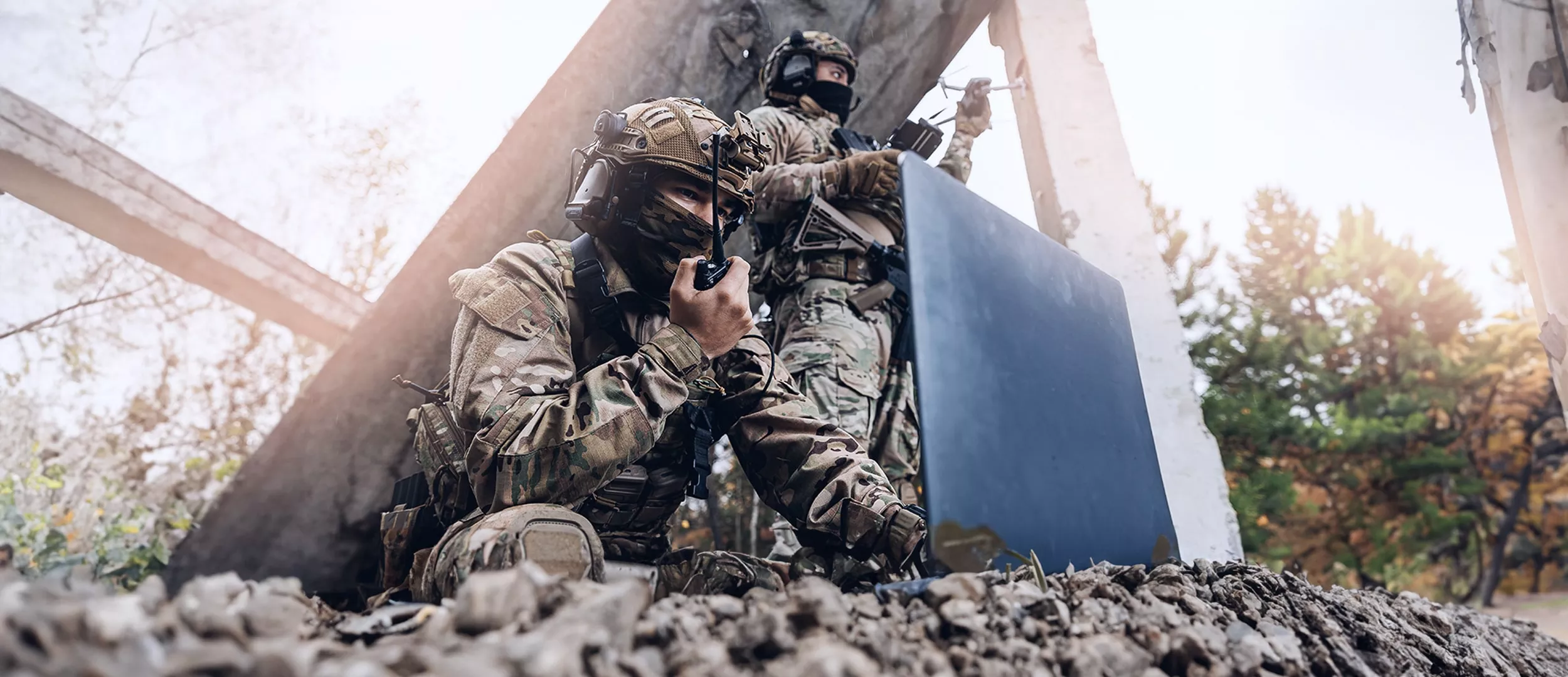 In today's technology-driven world, the defense sector is actively embracing technological advancements to enhance its capabilities. The use of AI, robotics, and the Internet of Military Things (IoMT) is enhancing military efficiency. Military technology encompasses a wide range of weapons, equipment, structures, and vehicles designed for warfare. Communication systems help to coordinate armed forces, and sensors are detecting and guiding weaponry. Let's delve deeper into how technology shapes the defense sector's future.
7 Trends in the Defense Sector
The global military landscape is undergoing significant transformations as technology trends are harnessed to enhance capabilities. Key trends such as artificial intelligence (AI), robotics, and the Internet of Things (IoT) are being embraced to optimize defense operations and bolster military efficiency. Traditional approaches to warfare are being supplanted by hybrid strategies that incorporate cyber warfare and other emerging frontiers. These informational technology in defense trends are reshaping the battlefield across four key dimensions: connectivity, lethality, autonomy, and sustainability. Connectivity solutions address the challenges of detection, location, communication, and operational coordination. Advancements in missile and weapon technologies enhance lethality, elevating the effectiveness of battlefield operations. Startups are leveraging robotics and AI to introduce autonomy, enabling decision-making with minimal human intervention. Additionally, sustainability is being prioritized in the defense industry through technologies like additive manufacturing and electrification. These trends collectively contribute to the evolution of the global military apparatus.
Artificial Intelligence in Defense
The use of artificial intelligence in the defense industry plays a pivotal role in strengthening the sector. It empowers sensors, the fundamental strength of defense systems, and provides robotic assistance on the battlefield. AI enhances the multi-layer capabilities of military forces, enabling them to handle diverse and undefined war situations. It facilitates rapid decision-making in dynamic and information-rich or sparse environments.

Axon Vision Empowers AI-based Situational Awareness
Axon Vision, an Israeli startup, specializes in the development of an AI-based decision-making engine. Their flagship product, edge360, leverages computer vision technology to provide ground vehicles with complete and automated situational awareness. Featuring an intuitive user interface (UI) and customizable alert mechanisms, the system detects, classifies, and accurately estimates the location of threats in real time. Axon Vision's solution enables tactical teams to navigate through potential threats and obstacles effectively in the field.
Rebellion Innovates Mission-focused AI Products
Rebellion, a startup based in the United States, is dedicated to creating mission-focused AI products for the defense and security sectors. Harnessing the power of machine learning and data, Rebellion's offerings are designed to deter threats and achieve successful mission outcomes. Their subscription-as-a-service model software products support comprehensive battlespace awareness, autonomous mission execution, and cyber readiness. With user-centric designs built on an open architecture, the software seamlessly integrates with existing hardware and software systems, ensuring compatibility and scalability.
Advanced Defense Equipment
The defense industry is developing sophisticated equipment to counter emerging threats. Innovations like hypersonic flight, directed energy weapons, and space militarization are being pursued. Additionally, there is a focus on achieving net-zero emissions by investing in battlefield electrification and exploring hydrogen fuels. Research in biotechnology and nanotechnology is advancing for the creation of self-healing armor and advanced equipment.
Hermeus Innovates Hypersonic Aircraft
Hermeus, a startup based in the United States, specializes in the development of hypersonic aircraft. Their flagship product, the Quarterhouse hypersonic jet, is designed to achieve speeds exceeding Mach 5, equivalent to 3000+ miles per hour. Powered by a proprietary turbine-based combined cycle (TBCC) engine, this technology holds immense potential for both military and commercial applications. The Quarterhouse jet can support air force missions involving intelligence, surveillance, and reconnaissance, offering unprecedented speed and capabilities.
Epirus Advances Directed Energy Weapons
Epirus, a startup headquartered in the United States, is at the forefront of developing directed energy weapons systems. Utilizing solid-state, software-defined high-power microwave technology, their solutions enable counter-electronics effects for a wide range of use cases. The lightweight pods developed by Epirus can effectively disable drones by targeting and destroying critical electronic components.
Robotics & Autonomous Systems
Robots in the military perform various combat roles, from rescue tasks to reconnaissance and logistics support. They reduce casualties during heavy artillery fire and excel in search and rescue missions, even in hazardous environments. Soldiers can operate these robots remotely from command centers, enhancing their effectiveness and safety.
Anduril Innovates Unmanned Aerial System (UAS)
Anduril, a startup based in the United States, specializes in the development of autonomous Unmanned Aerial Systems (UAS) for intelligent air support. Their flagship product, Ghost, is an advanced drone system powered by edge AI algorithms. Ghost is designed to be man-portable, and waterproof, and possesses a high payload capacity, making it adaptable for various missions in any environment. It provides real-time surveillance, intelligence, and reconnaissance capabilities, significantly enhancing the common operating picture for informed military decision-making.
Spear Creates Tactical Drones
Spear, an Israeli startup, focuses on the production of instant action drone-based systems for tactical purposes. Leveraging computer vision, swarm computing, and mesh algorithms, their tactical drones offer a strategic advantage on the field. These drones are capable of instant launch from both stationary and mobile platforms, whether on land or at sea and boast a payload capacity of up to one kg. With user-friendly operation and minimal training requirements, Spear's drones empower ground and special forces with a tactical edge in various operational scenarios.
Internet of Military Things (IoMT)
The Internet of Things in the military is increasingly relevant in defense, enabling military intelligence and command and control systems to acquire situational awareness in diverse conflict zones. Sensors worn by soldiers and embedded in equipment gather biometric data, providing valuable insights for decision-making.
Espre Technologies Empowers Network in Network (NIN) Communication
Espre Technologies, a startup headquartered in the United States, specializes in providing sensor products for Network in Network (NIN) communication. Their chipsets offer wireless digital encryption capabilities and support up to 10 simultaneous transmissions, significantly enhancing data security. The technology at the core of their offerings incorporates embedded artificial intelligence, enabling intelligent threat detection and efficient allocation of spectrum resources.
Geosite Delivers Military Intelligence
Geosite, a startup based in the United States, offers comprehensive military intelligence solutions by aggregating data from diverse sources for analysis by both humans and machines. Leveraging satellites, Internet of Things (IoT) devices, and field sensors, Geosite's collaborative military system constructs a unified operational picture. Through data visualization and management dashboards, the platform empowers users with superior information to effectively plan and execute operations. It assists military forces in achieving comprehensive intelligence for enhanced situational awareness, threat tracking, range delineation, and target area mapping.
Cyber Warfare
Cybersecurity is crucial in the defense sector to protect against enemy cyber-attacks. Military networks are safeguarded, and offensive cyber warfare capabilities are developed. Defense agencies focus on securing connected military equipment, cyber protection for critical institutions, and nuclear security.
HarfangLab Delivers Endpoint Detection & Response (EDR)
HarfangLab, a startup based in France, specializes in providing Endpoint Detection & Response (EDR) solutions. Their cyber defense technology is specifically designed to safeguard critical infrastructure environments for national defense purposes. Built on a foundation of ultra-robust programming, their technology offers a combination of high computing speed and enhanced security. The EDR software facilitates supervision, automatic detection, investigation, and neutralization of cyber threats. With an open-by-design structure, the software seamlessly integrates with existing cybersecurity solutions within any organization.
Cyber Forza Introduces Unified Cyber Defense Platform
Cyber Forza, a startup headquartered in the United States, offers a comprehensive unified cyber defense platform. Their product combines defender and interceptor capabilities to address both external and internal threats. The platform incorporates AI-based distributed denial of service (DDoS) protection, real-time monitoring, defense against phishing fraud, and safeguards against ransomware and malware attacks. It provides organizations with a holistic approach to cyber defense, ensuring comprehensive protection across various threat vectors.
Immersive Technologies
Augmented and virtual reality (AR/VR) are leveraged to create immersive training experiences for flight and combat scenarios. These technologies enable warfare simulations, tactical augmented reality, situational awareness, weapons targeting, and more, enhancing training effectiveness and operational readiness.
GOVRED Facilitates VR-based Training
GOVRED, a startup based in the United States, specializes in developing virtual reality (VR) training solutions for military applications. Leveraging HTC Vive headsets and custom code, the startup creates immersive scenarios that run smoothly at a rate of 90 frames per second. This technology enables users to freely navigate a 25 square meter area while engaging with multiple training scenarios. With their proprietary training technology, GOVRED offers a comprehensive range of firearms training and combat simulators tailored for military use.
Red 6 Introduces AR-based Combat Training
Red 6, a startup based in the United States, pioneers the Airborne Tactical Augmented Reality System (ATARS), a cutting-edge solution for augmented reality (AR)-based combat training. By combining AR and artificial intelligence, the system is specifically designed for air combat military training applications. It seamlessly integrates virtual and constructive assets into the real world, enabling pilots and ground operators to visualize threats in real time, even in outdoor and high-speed environments. The technology is scalable for multi-domain operations and supports squadrons in elevating their readiness and effectiveness, enhancing overall lethality.
Blockchain
Blockchain technology has emerged as a powerful tool for enhancing data security and revolutionizing process management in the defense industry. Startups are actively developing blockchain-based solutions to protect confidential military data, counter cyber threats, and optimize various operational processes. Beyond data security, blockchain finds applications in device tracking, procurement streamlining, and supply chain security. The use of smart contracts further mitigates the risk of fraud and corruption when engaging with defense contractors.
Taekion Ensures Military Data Protection
Taekion, a startup based in the United States, specializes in developing cutting-edge technology for military data protection. Their solution leverages the security benefits of blockchain to establish tamper-proof storage for defense data. With a UNIX-style distributed file system, Taekion's technology incorporates compression, encryption, and deduplication, seamlessly integrating with existing infrastructure. It offers military-grade information security at all levels, ensuring the utmost protection for sensitive data. Additionally, the digital box feature enables efficient forensic investigations following cybersecurity incidents.
3IPK Streamlines Blockchain Process Management
3IPK, a startup from Slovakia, offers a comprehensive process management system tailored for the defense and aerospace industries. By combining blockchain with data analytics and artificial intelligence, their solution automates supply chain and maintenance processes. The integration of blockchain enables the implementation of smart contracts, enhancing traceability and transparency throughout the system. This leads to efficient process management, improved quality control, and streamlined operations, ultimately benefiting defense organizations and their stakeholders.
5G
5G technology provides several benefits to the military, including improved data speeds, lower latency, and the ability to connect distant sensors and weapons into a resilient battlefield network. It enhances command and control, logistics, maintenance, training, AI, augmented/virtual reality, and ISR systems, enabling instant situational awareness and strengthening battlefield capabilities.
Niral Networks Built Private 5G Infrastructure
Niral Networks, an Indian startup, specializes in building private 5G infrastructure to establish last-mile connectivity. Their network operating system, NiralOS, is an open and disaggregated platform that supports 5G and edge computing solutions. NiralOS seamlessly integrates with commercially available white box hardware, offering a flexible and adaptable framework. This private 5G infrastructure is particularly beneficial for the defense sector, enabling swift and cost-effective digital transformation across various fronts.
WiGL Introduces Wireless Electric Charging
WiGL, a startup based in the United States, has developed a wireless electric charging solution utilizing targeted energy transmission through the air. Their patented technology relies on a mesh network of wireless transmitters, converting any wall outlet, vehicle charger, or power source into an intelligent electric power router. Devices communicate with each other using either 5G or Wi-Fi connections. With wireless charging capabilities, IoMT (Internet of Medical Things) devices no longer rely on batteries' availability, offering greater convenience and flexibility.
Our Experience
Together with Ajax Systems, Stfalcon developed an app "Air Alert"
During the onset of the war in Ukraine, the air raid notification system posed a significant challenge. Numerous districts in different cities and villages faced difficulties in receiving air alert signals. Additionally, constantly monitoring the Regional State Administration messages on platforms like Telegram and Viber proved to be highly impractical.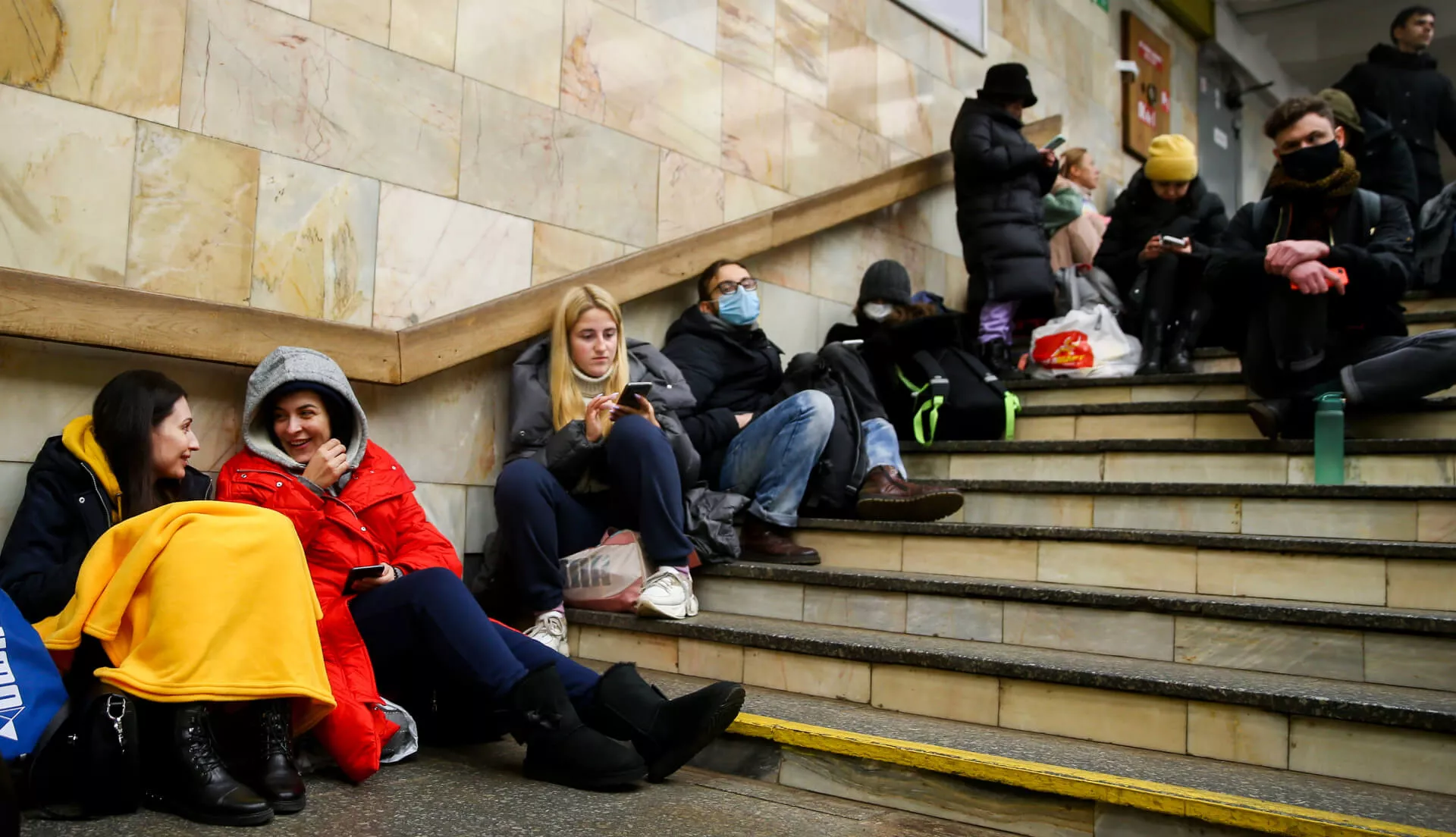 Read the full case study
Consequently, we devised an innovative solution: a dependable alternative tool capable of instantly dispatching alerts from the civil defense system across all regions of Ukraine, effectively warning people of imminent danger.
To bring this concept to fruition, we collaborated with Ajax Systems and received invaluable support from the Ministry of Digital Transformation. In a remarkable feat, we developed the Air Alert app within a mere day. The application is available for download on Google Play for Android devices, the App Store for iOS devices, and the AppGallery for Huawei devices.
Device for remote control of street sirens
During the war, the Stfalcon company persevered in its operations and prioritized saving people's lives in Ukraine. During the full-scale war with Russia, the Khmelnytskyi regional military administration approached us in the second month with a crucial task: automating the activation and deactivation of street warning sirens that notify the population of potential threats.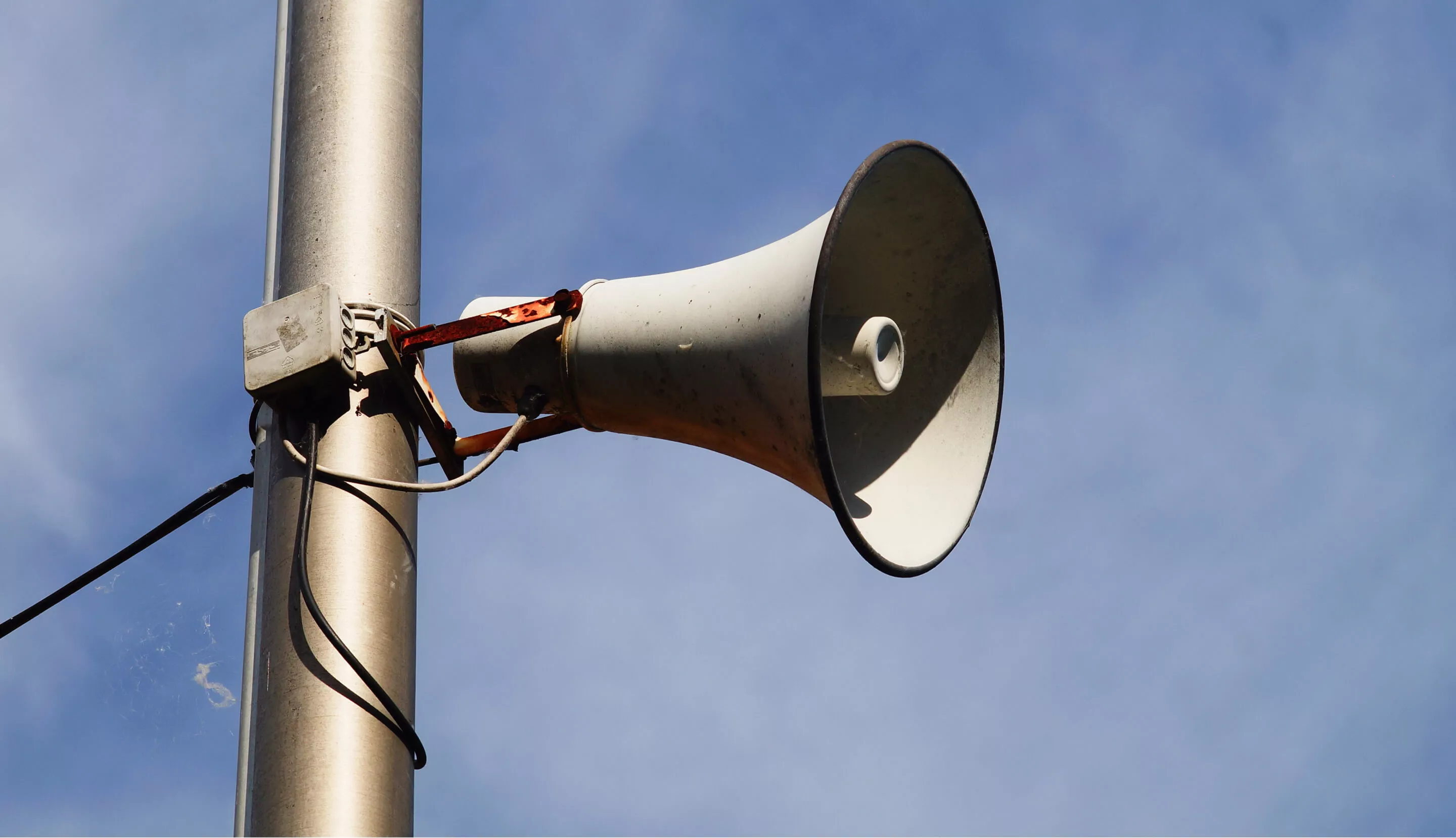 Read the full case study
After evaluating the available technological solutions in the market, we selected the GSM alarm controller developed by the Ukrainian company OKO as our foundation. Building upon it, we successfully created a device that effectively addressed the given objective.
Our IT development team initiated a central server that autonomously transmits alarms and outage signals to the devices. Additionally, we designed a web interface for convenient online management of these devices. This interface allows users to monitor device statuses, manually toggle the sirens on or off, and delegate control permissions to on-site contractors. If a device loses communication with the server, an SMS notification is promptly dispatched to the administrator.
Bottom Line
It is crucial to acknowledge that the dynamics of warfare are undergoing rapid and exponential transformations due to the emergence of disruptive technologies. Lethal autonomous weapons, intelligent systems, and artificial intelligence (AI) are significant catalysts driving advancements in both defensive and offensive military capabilities. The integration of hyper-converged and secure connectivity facilitated by 5G and blockchain ensures resilient and protected military communications. The ongoing advancements, ranging from hypersonic jets to directed energy weapons will profoundly impact military operations. Consequently, defense startups persistently strive to develop solutions for military modernization, including dual-use technologies that offer advantages to both the military and civilian sectors, if you are interested, just contact us, free consultation is available.