7 Mistakes to Avoid When Hiring IT Outstaffing Company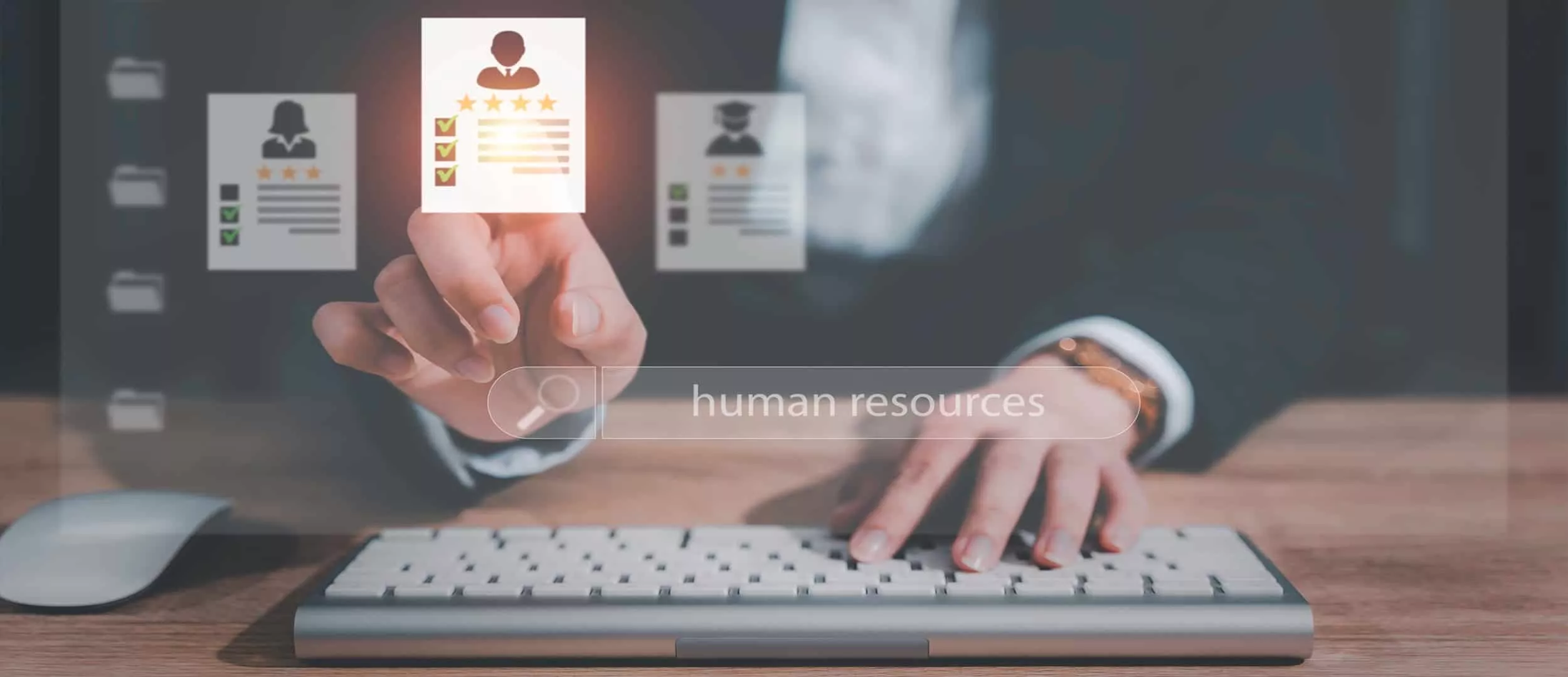 Global digital transformation accelerates IT outsourcing. Businesses increasingly go digital and require variable IT services from programming and application development to maintenance and technical support.
Businesses that don't revolve around IT search for opportunities to outsource entire IT departments, meaning they are looking for an outstaff team of developers for their tasks.
Companies having in-house teams also need their extension from time to time or for specific tasks, so IT services outsourcing has grown immensely.
According to Statista, the revenue in the Segment of IT Outsourcing is projected to show an annual growth rate (CAGR) of 8.26% in the nearest years, resulting in a market volume of $587.30bn by 2027.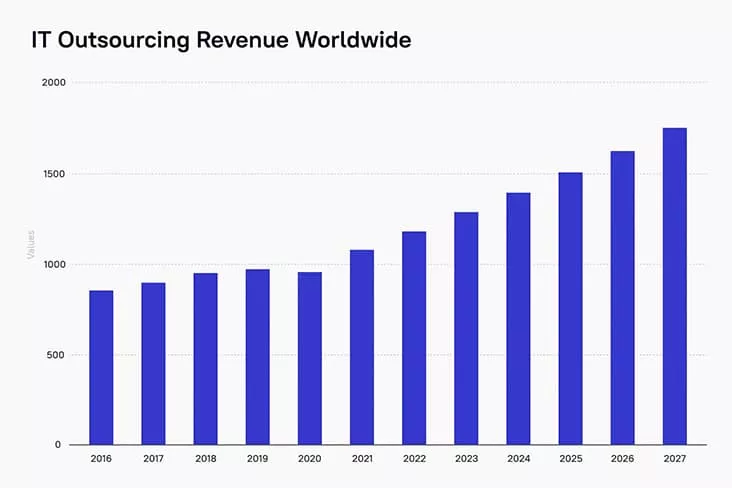 The most reasonable cooperation model nowadays is IT outstaffing, used by many businesses to keep costs low and at the same time increase business efficiency. So, let's revise the outstaff meaning.
What is IT Outstaffing?
Software development becomes increasingly complex, so to provide cutting-edge solutions to their clients, businesses face the challenge of hiring talents for their successful creation.
Outsourcing the task to a competent offshore development team has become a natural choice and a routine practice for lots of companies.
Hiring an outstaff team is an ideal combination of project outsourcing, yet preserving full control over the development process by the client. Turning to an outstaffing agency, the customer gets an expert or a fully-formed team for software development working on his project offshore.
So, a dedicated team is formed for a special project, but the management of this team is on part of the customer. At the same time, the client avoids all the recruiting and HR-related problems, as well as office and IT infrastructure costs.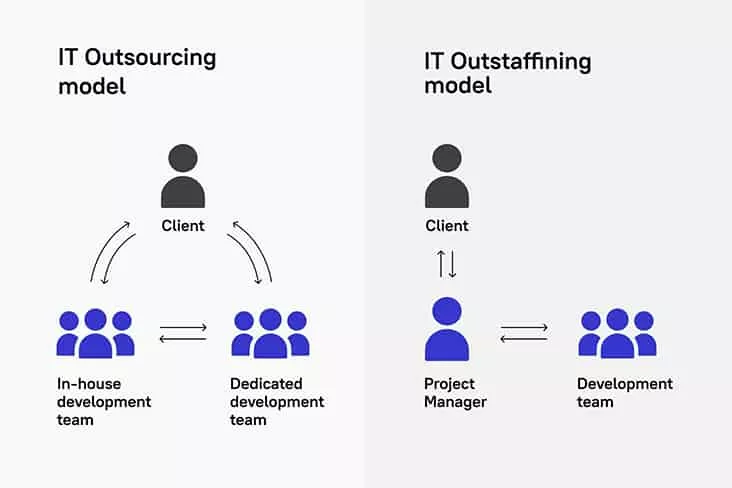 What is more, the team is formed of specialists with the knowledge and expertise exactly needed for the project, because an experienced IT outstaffing company always has a vast talent pool and access to experts with unique expertise, if they are needed.
Being able to offload the software development and tech functions to the dedicated team, business owners or managers can focus on what matters the most – core business strategy and business growth.
So now, as the benefits of IT services outsourcing are clear, let's speak about the challenges and the mistakes to be aware of when turning to an outstaffing company.
Mistakes to Avoid when Hiring an Outstaffing Company
Unfortunately, many companies have had unpleasant experiences when turning to external IT services they got chaos instead of value, project delay instead of a quicker time to market, misunderstanding and communication bottlenecks instead of smooth interaction. To avoid an unpleasant experience like this, avoid the following mistakes.

1. Lack of profound knowledge about outsourcing companies
If you consider software solution development, you should be well-informed and up-to-date about the IT companies you consider for your next project. The right choice of vendor determines the success of your project, so make sure you are doing a careful choice.
Shortlist the top outstaffing companies, evaluate their strengths and weaknesses, and measure the advantages and disadvantages each of them has.
Avoid hiring a team with a limited skillset if you aim to create a really sophisticated solution. Thus, you should check the companies' portfolios and the experience their specialists have, as well as their expertise across various technologies and platforms.
A sound idea is to hire a tech expert, who has sufficient knowledge of the pros and cons of the development companies and the way they influence the project. Such individuals can be helpful through the selection among the plethora of companies and also the hiring process.
It's highly advisable to choose vendors who quote a price based on the precise technical requirements and project challenges. Going for fixed price development, you risk not getting a really rich custom solution, but rather a сut-and-dried one.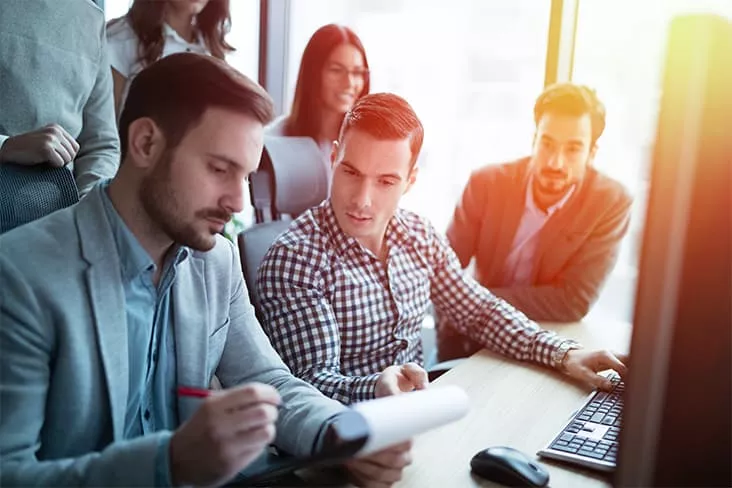 2. Ignoring management gaps
This is the most common faultline in the process of IT services outsourcing. Project managers and project management tools are essential for effective project fulfillment.
The latters allow taking care of multiple tasks in a comprehensive manner, making the project run more smoothly, effectively, and transparently.
When an outstaffing company builds a team for you, make sure you have project managers both on the vendor's site and on yours, their role is extremely important for you to stay in full control and awareness of the project's progress.
A kick-off meeting is vital before the contract is finalized, all the roles, responsibilities, milestones, deadlines, and payments should be detailed and defined. It's also essential to care about minimizing discontent and misunderstanding between you and your contractor. If you want a really top-notch software solution, introduce frequent follow-ups and get to the root of every problem, discuss and find the resolution to every problem.
3. Hiring a vendor without firsthand industry experience
Gauging a service provider's tech skills level is without any doubt essential, however, it's not sufficient. Your vendor should have experience in your particular industry to thoroughly comprehend the specific challenges and cope with them effectively. The contractor should also have a profound understanding of your objectives and typical problems unique to your industry.
So, ensure that the vendor has a proven track record in your vertical, and cross-check the references from their clients about the projects covering your niche. It can save you lots of time and means in the long run, – and avoid a tiresome onboarding process, undelivered goals, or unclear communication.
4. Outsourcing to contractors falling behind on modern trends
Developers can ascertain their excellence by prior experience references, their tech stack, skills, knowledge about platforms, etc. You should not only pay attention to the experience in the respective niche but also ensure they are technologically advanced and aware of the industry standards best practices, latest technology trends, and know-hows. You don't want an irrelevant and outdated product, do you?
If you aim to reach more clients, you should consider the cross-platform knowledge of your development team. Otherwise, you will be constrained by only one platform's users as your target audience.
Software solution development is not a one-time process, as a rule, it's a continuous one. So, hiring contractors give importance to the product life cycle and the future of your software, its maintenance, bug fixes, and upgraded functionality. Keep in mind to ensure full ownership of the source code, it will help to switch to another vendor in the future in case of necessity.
5. Ignoring a proper hiring process
Not following the proper hiring process may become a serious roadblock on your way to successful project fulfillment. As we have already mentioned, it's vital to study portfolio and credentials: what software they have developed, which technologies used, how many solutions, in what niches and much more details should be meticulously assessed.
When turning to an outstaffing company, you get a preliminary formed development team, but interviewing the candidates is essential. You should know to who you trust responsibilities for your project. The requirements for candidates in different countries may vary, that's why you should ensure each worker is a good fit for your project work.
It's also vital to evaluate the developers' communication manners and personal qualities, it will help you understand if you are on the same page and share the same values.
Be careful with hiring specialists from different countries and different cultures, each of them will have certain cultural and communication specifics. It's vital to ensure your virtual team can interact smoothly and effectively and get messages across clearly, report and discuss problems, and much more. It will help avoid additional cost factors in the future. What is more, if you form your team from specialists located in different time zones, make sure project managers take the responsibility to arrange a smooth collaboration with the corresponding work schedule adjustment.
6. Not taking cost considerations
The major aim of outsourcing is cutting costs. So, naturally, the temptation is high to choose the cheapest provider. However, you should put quality as your key priority and keep in mind that cheap service may mean a low-quality outsourcing team. That may later result in piling on additional costs over the initially planned budget for outsourcing.
So, look for the right balance of high-quality work and cost-effectiveness, and go for realistic and market-validated expectations. Also, ensure that the vendor is reliable, experienced, and flexible to understand your requirements. Check that the developers deliver improved quality software for you to get a higher return on investment.
What is more, pay attention to the tech stack, Microsoft development suits are for instance expensive. So, many promising startups and small IT companies opt for non-Microsoft products for development. Consider both Microsoft and non-Microsoft development to widen your choice, and allocate expenses for product launch and marketing!
Allocating the whole budget for development: spending the entire budget on development is a serious mistake. You need to make provisions within the app budget for launch and marketing in phases.
7.Insufficient strategic planning for the transition
The common mistake of lots of outsourcing businesses is getting rid of their in-house specialists or overestimating the vendor's ability to adapt to the business systems.
Remember about strategic planning, plan well ahead of the transition, and set up a well-thought-out business process outsourcing scheme to avoid impacting your company's bottom line.
The options are – assigning a project manager for supervision on your part, or arranging teamwork of your in-house experts in tandem with your vendor specialist for the first few weeks. It will help your outstaff workers comprehend the systems and values your business has in place.
Stfalcon Outstaffing Services
Being an experienced IT outstaffing company in Ukraine, we'd like to share the nuances of our candidate hiring process.
We aim to complete projects quickly and efficiently, so we always look for qualified specialists to provide high-quality development services for our clients. It allows us to cover our customers' talent gaps, whether it's a single expert or a whole team, quickly and efficiently. Implementing the best projects in various niches, we have excellent references and rank high on the Clutch.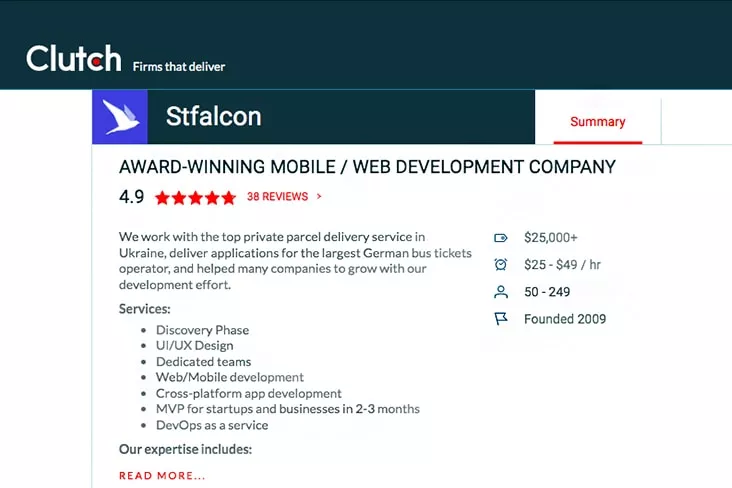 How do we manage to do it?
On getting job descriptions of the staff needed from our client, our recruiter checks the technical requirements, business aims, and values of the team.
The recruiter shortlists suitable candidates and interviews them. Then, if the project requires, the English level of each candidate is checked and after that, the tech lead evaluates the potential employee's technical skills and level of expertise.
We guarantee confidentiality to all our clients because signing NDA is obligatory in our company. Providing comfortable working conditions and all the necessary hard-and software facilities, we ensure the quick and effective work of our employees.
The code is reviewed by the team lead, and it provides additional quality guarantees to our customers.
Being a leading IT outstaffing company in Ukraine, Stfalcon is able to provide dedicated IT professionals in any sphere: web and mobile development, UX/UI design, DevOps services, and many more. Our clients can always interview the candidates in person if they feel they want to.
We have teams that work together on a number of projects and can form a technical department to meet your specific needs.
Stfalcon supports its client at all development stages and makes sure the outstaff team creates the software solution that is fully complied with our customer requirements. So, you can rest assured your technical sphere is well-handled and take care of business processes.
Wrapping Up
IT services oustaffing is a wonderful way to cut costs and get a professionally developed custom software solution. However, to get a really cutting-edge product and not come across the pitfalls and unpleasant issues, follow our advice above.
To make this process even more effective, get in touch and a Stfalcon specialist will help you find out even more details about outstaffing and effective cooperation, looking at the process in the context of your specific niche and business.