Main Startup Stages Of Development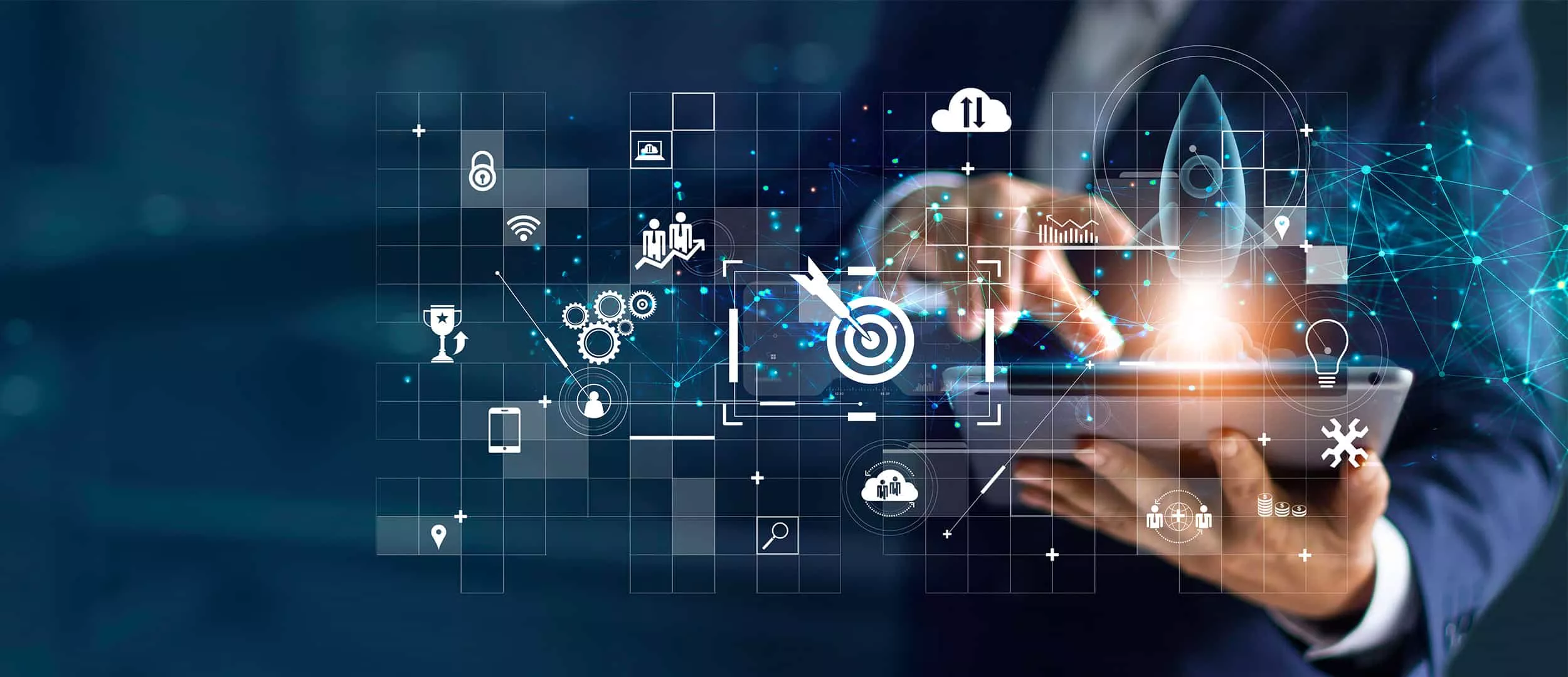 Launching a startup is a challenge in whatever light we view it. The process of startup development is in fact the evolution from the birth of a business idea to the actual usage of the final solution.
This is a long and complicated way, that requires careful and detailed preparation and implementation of every stage. As soon as you've made up your mind to dive into a startup, you need to deal with a variety of processes: marketing, raising funds, looking for a team, learning the principles of product and the basics of MVP development, and much more.
It's not a coincidence that we've mentioned marketing first. According to the statistics, marketing mistakes were the most deadly, 69% of them were admitted fatal by the interviewed startupers, who failed. Lack of product-market fit exceeds 50% of marketing mistakes.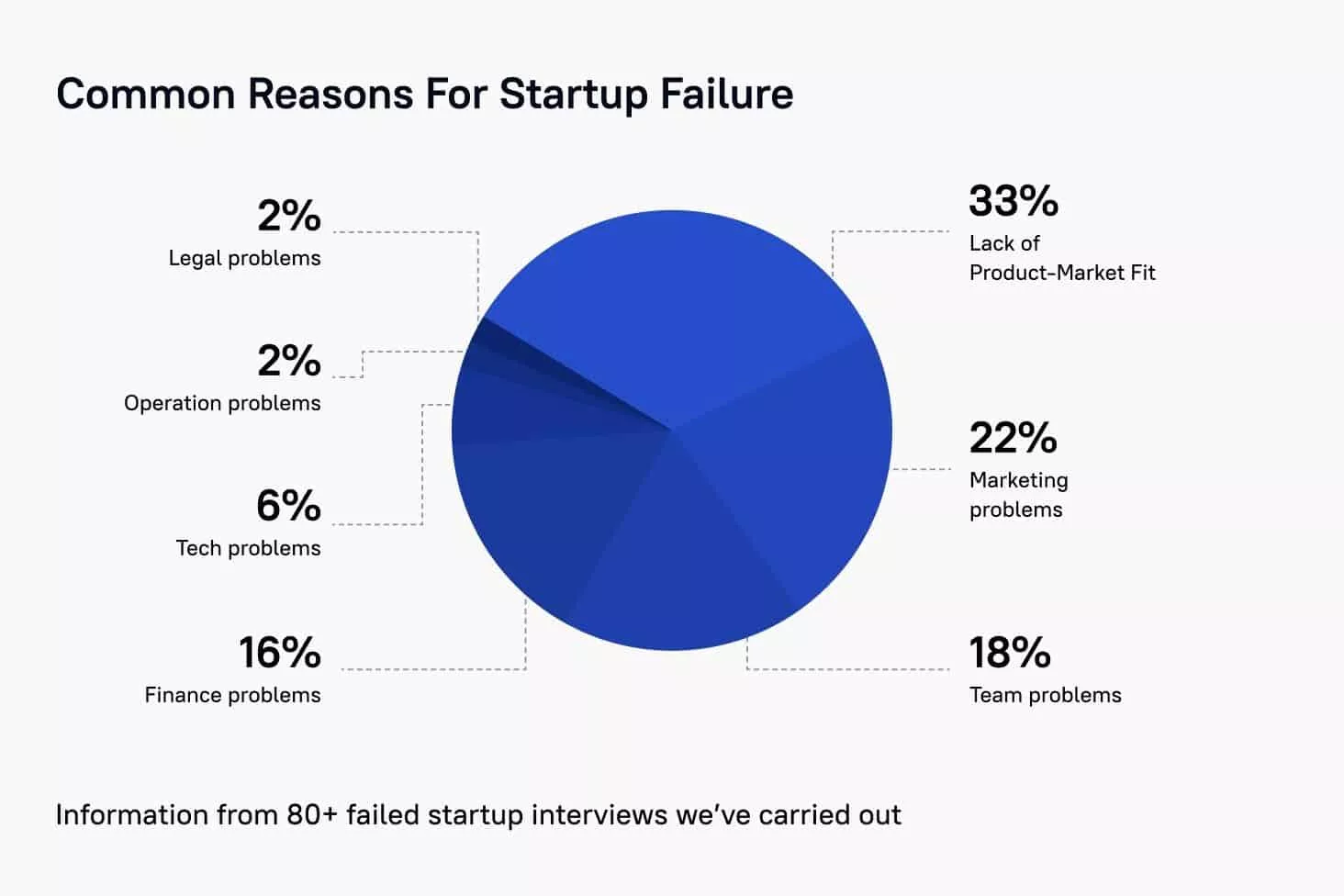 This article is intended to share the major aspects and the possible pitfalls of startup planning and launching with our readers. So, stay tuned, and let's proceed.
Key Stages of Startup Development
A startup makes sense and state of play when it solves a certain pain point in a particular industry. You can see above, that the failure rate is overwhelming. However, you can increase your prospects for success by going through all the startup stages of development carefully. Excluding the chances for a fiasco at each of the stages, you are sure to enter the market with a state-of-the-art solution in great demand.

Startup Planning Stage
A trivial phrase "Everything starts with an idea", however, it's really so. Once it comes to you, either in a brainstorm or in a simple conversation, or hits you up out of the blue, but you get infatuated and obsessed with it. That's where your startup is begetting.
However, the idea is good, yet you should ensure, you are lancing a product that is needed in the market, wanted by its potential users, and will make a difference. So, you start to figure out the killer features you are eager to offer and check the viability of your product idea. To ensure all these you need thorough research of the market, potential users, and competitors.
Having answered the questions:
Is your solution really something that your audience needs or wants?
Why will your idea work?
What are the essential features it still lacks?
What resources do you need and which are available?
And some more, you will as a result, get a business plan that will help you to achieve the goals you set.
Seed Stage
Having a business plan in your hands, you now need to validate your business model, determine the methodology to follow, make some more important decisions, and materialize your startup in some way. Developing prototypes may help you validate your initial idea and hypotheses. The prototypes should not yet be functional or viable. They should be experiments and iterations to gather evidence for your project. If your initial hypothesis is invalid, you should proceed with new assumptions until all the criteria are satisfied.
This is the stage when you spend your time, resources, and money, usually without any external help. This is also when you start looking for the outer investments to attract — family, friends, and angel investors are the first to come to mind.
Startup Early Stage
The early startup stage is the period when the initial idea is evolving to become a product or service entering the market.
It's time to build an MVP (a Minimum Viable Product) a representation model of your product with all the necessary features to satisfy early adopters. Released as the first version with only the most basic functionality, the MVP allows gathering the results and feedback for analysis. You can now gain an overall understanding of your undertaking potential, and spot the bottlenecks and potential changes to make. Find out what works well and what needs some more effort and attention.
If the users' needs are not satisfied, then improvements are required and made in the new versions. This stage is about testing the terrain and gaining more audience through constant tight contact with customers.
MVP development is a proven means to test your product, finalize your business model, and form a team involved in the process.
As you have something tangible to present, crowdfunding can become available to you at this stage, and more potential investors and funding agencies are ready to help you.
Startup Growth Stage
In case you have passed all the previous startup stages and reached this one, you've managed to meet a strong market demand already. So, your figures go up in terms of customers and billing, and not to lose the profit you need to expand your team. It may become a challenge for a growth stage startup to find the experts who will be able to share your approach, vision and enter the project that is already ongoing.
This stage is known for the highest risk of failure. It's because you come to the point when you need to adjust to new demands, expand your target audience and enter the new spaces, you did not plan to go to first.
Needless to say, that funding is crucial at this stage. But, here you get a broader choice – investors, venture capitals, corporate venture capitals, private equity investors, or bank loans. The latter becomes available to you due to your potential that has grown.
Late Stage of a Startup
This phase is also known as an expansion stage, and some startups are known to become scale-ups. To become one, a company should meet certain parameters: to have grown at an annual rate exceeding 20% in terms of employees or turnover for the last three years.
What is a startup company characterized else by this moment? – We can speak of more ambitious goals – entering foreign markets, expansion to new sectors, or expanding teams with new experts. Business model proven, the company moves forward with the consolidation of its growth in both staff and revenue.
Agreements with larger partners are often required at this stage to get the financing and support that are required for expansion, either geographically or in terms of the audience.
Exit Phase
By this time, your company is likely to have several offices and not in one country, your product has a strong position in the market and the users can't anymore imagine their lives without it.
The exit stage is not something fixed, because some startups become high-value businesses that live long.
Still, a more common scheme is to sell a startup, thus realizing an exit. It can take various forms – selling the shares of founders to another business, purchasing by another company, or entry into a sale through IPO (Initial Public Offering) – making corporate shares available to the public for acquisition. The latter option allows for attracting long-term investments, boosting your company's status, and gaining new high-profile partners and clients. It's up to you to go for this option or not, because, if you have arrived at this point, you are sure to have high potential, might, and opportunities for growing your business further.
What Are the Most Time-Consuming Stages of a Startup
With so many success stories about raising funds in the media, one might mistakenly believe it's a simple thing to do. Unfortunately, nobody will provide you with funding just by hearing your idea alone. Even though research, concept development, and implementation are important, fundraising is proven to be the most challenging and time-consuming phase of a startup.
Depending on the startup stage and funding round the process can go in various directions, while at an early stage you should look for the connections ready to believe in your success, when applying for series A funding your product or service should be already recognizable among the fund managers. Funding then will depend on product feasibility rather than an idea.
The expected timeline of the startup's fundraising comprises the following major steps.
Presentation Preparation
It's the initial step when you reach out to your close connections and try to find some professional references. The latter may expedite things for you, but you will still require research funds.
The pitch deck you present to the investors is no less important. It should answer all the important questions while also allowing for further investigation.
Besides the product itself, pay attention to your business model, market approach, value proposition, team and its credibility presentation.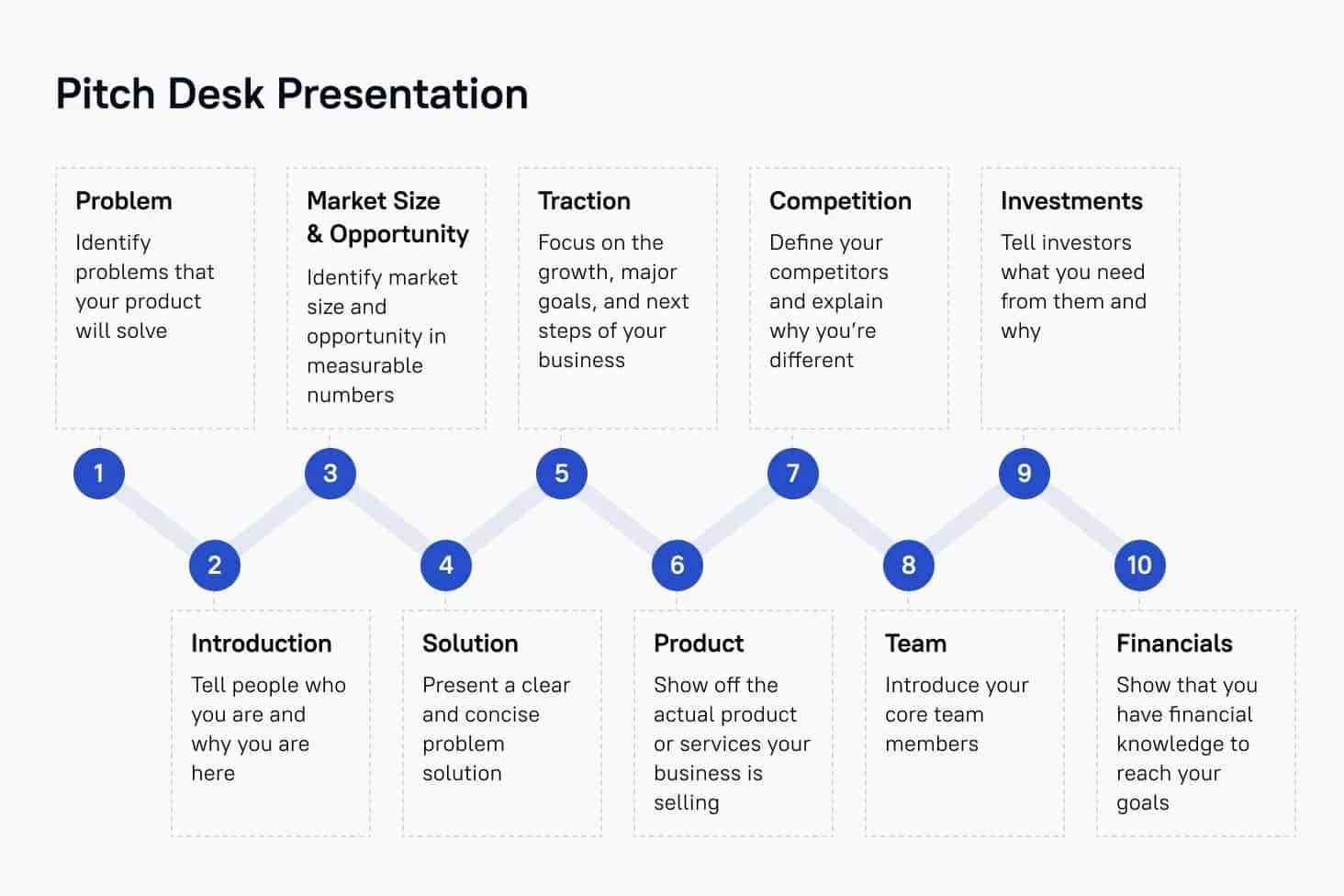 Meeting with the Junior Associate
Before reaching the fund manager in person, you'll most likely have to talk to a junior associate. Get ready to answer all the questions that may concern your team, financial data, product stage, and much more. The associate usually decides whether your startup is worth the angel investor's time; if the answer is positive, then upon the meeting, the decision will be almost immediate.
Due Diligence & Deal Structuring
In case the investors are ready to move further with your venture, they would want to perform due diligence first. If you are at the ideation stage, it will concern your company. Technical parts and ownership rights may be checked if your product is complex. Certain special tasks may be a part of the due diligence, like getting the first paying customer.
Another aspect of due diligence is the deal structuring part, and it's the most time-consuming one because the overall deal structuring process may take from 2 weeks to 5 months. Keep in mind that the more parties, the more complicated the process.
Agreement Signing
Once all the due diligence formalities are completed, the investment agreement is signed. However, the time of the money transfer may vary, some investors have funds at hand, and others call means from the investors on a case-by-case base.
Conclusion
With over 13 years in the market, Stfalcon has a strong background in startup product development. However, progress is moving forward, and to be on the wave, you should always go with the tides, which is what we are doing. So we can always provide our clients with practical, up-to-date advice on their projects. Welcome to consultation, and let's develop your startup together.
About the Author
Vitalii is a Project Manager with extensive knowledge and experience in fields that matter for a project's success. He has a proven track record of coordinating large-scale projects from idea to deployment. Currently, he is working with Stfalcon .