What Is Threads, Key Features, and How to Catch the Hype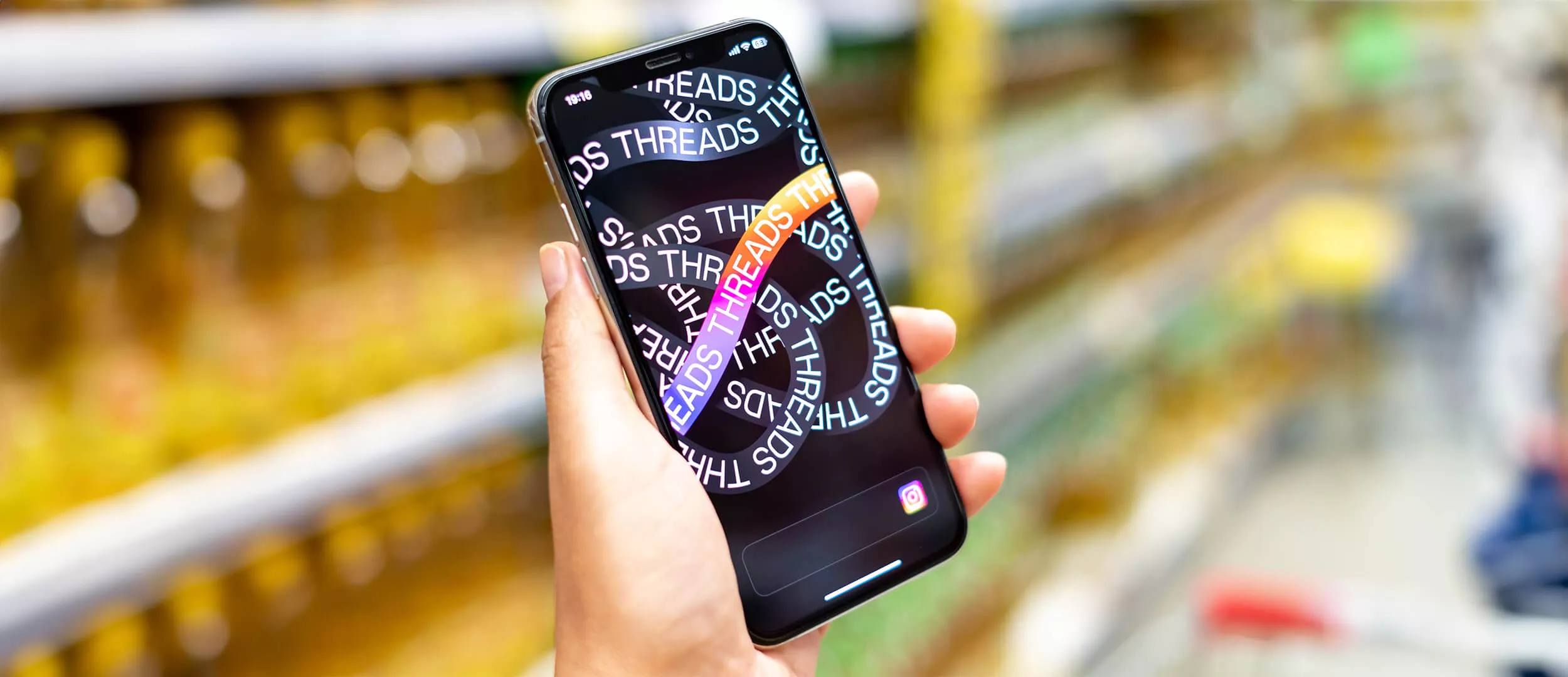 In a digital world where brevity and connectivity go hand in hand, Meta, the company that developed Facebook and Instagram, has unveiled Threads. It is an app that aims to fundamentally alter the way we communicate in public and share text updates. With its roots in Instagram and a refreshed approach, Threads is an exciting new alternative to existing microblogging services.
To put Threads' accomplishments into perspective, let's compare its user growth to other popular platforms. ChatGPT, the widely renowned language model, took 2 months to surpass the 1,000,000-user mark. TikTok hit Generation Z and achieved this feat in nine months. Instagram, the behemoth in the photo-sharing realm, took 2.5 years.
With its unexpectedly rapid growth to an impressive 100 million users, Threads has undoubtedly made a splash in the social media world. Threads' exponential growth is a testament to its appeal and the seamless integration it offers to exist Instagram users.
Let's dive into what makes the Threads app unique and why it might be the next big thing.
What Is Threads?
While Threads was initially announced in 2021, it remained somewhat under the radar until now. The recent revamp and relaunch have breathed new life into the app. This reinvented version promises an improved experience, building upon the lessons learned from the app's earlier iteration.
Threads by Instagram serves as a digital canvas for expressing yourself through concise and engaging text updates. Share your thoughts, experiences, or insights with your network and join the public conversations that spark your interest.
With the Instagram team behind the wheel, expect an intuitive and polished UI, which makes navigating Threads a breeze. Though it's worth noting that the app's recent release felt somewhat rushed. You can experience a lack of features and a somewhat flawed design. We will discuss them later in this post. But don't give up on this application. Meta works on refining and expanding the app's features. A big update is on its way.
Threads' Features
Let's explore what features made Threads the app with the highest download rate.
Posting
Posting on the Instagram Threads app is intuitive, allowing you to express yourself in the most authentic way possible. Your posts can be quite diverse and include a variety of media. You can include:
photos and videos that capture your experiences;
GIFs;
web links that provide more information or context about what you're discussing.
Engagement features
There is more to social interaction than just sharing content. There are a range of engaging features that foster meaningful connections within the app. From the ability to like, comment, and reply to posts.
You will find a like button, enabling you to express appreciation for posts that resonate with you. Additionally, the comment tool allows you to share your thoughts, and opinions, or simply engage in lively discussions with other users.
The Activity tab within the Insta Thread serves as a central hub for monitoring your engagement metrics. Here, you can see your followers, likes and other interactions with your content.
Unfortunately, it does not offer a selection of posts you have liked. This design choice prioritizes the focus on conversations and interactions. In contrast to consuming content passively, users are encouraged to actively engage with the content. But it also means that you can't save posts you like.
Reposting
Threads understands the importance of sharing and amplifying content that resonates with you. With the reposting feature, you can easily reshare posts from other users. Thus, you showcase your appreciation and spread the word to your followers.
This creates a ripple effect of discoverability, allowing exceptional content to be found by more people. It also encourages collaboration and support among users.
Seamless Instagram integration
One advantage Threads enjoys is its close association with Instagram. With a staggering 1.6 billion Instagram users, Threads has benefited from a significant user base since its launch. By linking Threads with existing Instagram accounts, Meta has made it effortless for users to sign up and start using the app with an already interested audience from the first day. A comfortable and familiar user experience is guaranteed thanks to the seamless switch to Threads from Instagram.
Instagram's account-blocking feature seamlessly extends to Threads. This ensures that any accounts you have blocked on the former platform remain blocked on the latter.
Threads' Positives
Below, you can see what we liked while using Threads from the Instagram iOS app.
A Haven of positivity
Unlike many other SM platforms, Threads boasts a positive and pleasant environment. Users tend to engage in lighthearted banter and share amusing memes and clever puns. This refreshing departure from negativity, trolls, and bullying makes Threads a haven where you can connect with others respectfully and enjoyably. But who knows how long it will last with the growing audience?
Media carousels
The way how it handles posts with multiple media files differs Threads from Instagram app. It can be called one of its most notable features. Instead of cluttering your feed, the app presents them in an elegant horizontal carousel. You can swipe through up to ten images and videos with this sleek design.
Enhanced focus
Threads promotes a focused approach to social media engagement. Focusing on close friends, it narrows down the content to what matters most to you. This reduced noise and distraction, enabling users to connect more deeply.
Downsides of Threads App
While Threads offers some benefits and unique features, it's essential to consider the downsides.
Missing functions
The app lacks a couple of important functions that users may expect from an app like Twitter. These include:
Search. The absence of a search function makes it challenging to find specific content within the app. With Facebook Threads app, you can only search for accounts. There is no functionality yet to use keywords to find what's interesting for you.
Hashtags. Without the ability to use hashtags, users miss out on the opportunity to explore and discover relevant content.
Following Feed. Threads does not provide a dedicated feed, limiting the social experience. Content from trending posts and followed accounts is mixed into a single feed.
Graph Syncing. Users are unable to synchronize their activity with other social media sites. It results in limited cross-platform integration.
Messaging. Surprisingly, it also lacks a comprehensive messaging function. The best way to contact a Threads user is via Instagram direct messages.
Privacy issues
When it comes to privacy, Threads raises some concerns that users should be aware of. The application tracks your in-app activity extensively. This includes monitoring the content you post and interact with and the advertisements you engage with.
Moreover, Threads collects personally identifiable information (PII). This is your name, location, and email address. In addition, the Threads app Instagram tracks data related to third-party apps that integrate with it. The collected information also includes:
IP address;
software;
device details and identifiers;
financial information;
signals from device settings.
The collected data by Threads mirrors the information gathered by Meta's other apps, such as Instagram and Facebook. Meta already has these personal details if you use Instagram.
Account management limitations
Threads falls short when it comes to managing multiple accounts. This can be frustrating for users with various profiles or business needs.
Inability to delete Threads account
If you decide to discontinue using Threads, you'll face an unexpected limitation. Meta does not permit users to delete their Threads accounts. Deleting it means losing Instagram as well. This may not be desirable for those who wish to retain their Instagram presence.
Threads vs Twitter
Twitter and Threads have emerged as popular platforms for having discussions and sharing content. While they both serve as channels for communication, they have many differences.
Community Guidelines
Threads' dedication to keeping up with Instagram's Community Guidelines is one of its key advantages. These rules promote an accepting and respectful environment and guarantee that posts are suitable for a wide range of readers. Hate speech, degrading content, and the shaming of private individuals are strictly prohibited.
The purpose of Twitter's Community Guidelines is to foster an environment that is welcoming to all users while preserving their right to free speech. These guidelines are less strict than those of Threads.
Media limitations
Threads surpasses Twitter in terms of character limits and media versatility. Twitter currently only allows 280 characters. Tweets from Twitter Blue subscribers, however, can have up to 10,000 characters. So you can share your short poems with this subscription.
Threads, in turn, allows messages of up to 500 characters. Furthermore, it permits the sharing of photos and 5-minute-long videos. In comparison, Twitter's limit is four items in one post.
However, zooming photos on Threads is not convenient. Like on Instagram, you need to keep your fingers on the screen to "hold" the image.
Content discovery
Twitter and Threads offer very different methods for finding content. Users on Twitter can customize their post feed by selecting the "For you" or "Following" feed. The first option shows not only followed accounts but also popular tweets within the user's interests. The second option displays tweets only from people the user follows.
Instagram's main feed combined with the Discover page is how Threads looks. Users can view what's trending and posts from followed accounts in a single feed. However, Threads currently offers limited control over content discovery. It has the option to block accounts and muffle unwanted words.
Twitter excels at search functionality. It allows users to look up recent and relevant posts using keywords or phrases. Threads, however, restricts search capabilities solely to finding accounts. As a result, Twitter continues to be the preferred website for learning about current events and hot topics.
Messaging
While users of Twitter can message each other inside the app and share different types of media, Threads lacks such a messaging platform. To share a post with someone, the primary option is to tag them in the comment section. Now, only Instagram's direct messaging allows Threads users to contact each other.
Account management
Threads users can sign in only with their Instagram credentials. The app imports profile details and followed accounts from Instagram. Twitter, in contrast, is a standalone platform that lets users sign up with their preferred information. When you delete a Threads account, you will also lose your linked Instagram profile. Users of Twitter, however, can close their accounts without having an impact on other social media sites.
Premium options
You can download Threads for free. The app has no hidden features or advertisements as for now. However, Instagram, the parent platform, has a significant presence of ads and shopping features.
Twitter, on the other hand, offers a premium subscription. Twitter Blue gives its subscribers access to exclusive features.
Verification
Musk made Twitter's verification system more intricate. One of the exclusives that Twitter Blue provides is verification. So, with this premium subscription, users can buy the badge.
Threads verification aligns with Instagram's guidelines. Threads will verify users who are verified on Instagram.
App-like-Threads Development Costs
If you want to catch the hype wave and develop an app like Threads, the cost will start at $45k. If you want to get ahead of your competitors, you need to offer the features that they don't have. But expect that the price of such application development will increase. Remember that the development of a successful app takes time and effort, but the rewards can be enormous.
Conclusion
Threads has expanded exponentially despite some early design flaws and missing features. Grab popcorn to see how the Twitter Thread app battle ends. Or join the rivalry by developing your app. Stfalcon, having strong expertise in social media app development, is here, by your hand, to bring all your ideas to life. We like challenges and we like to be the pioneers, so let's do something new together. Contact us to discuss details.