How to Hire Android Developers: Guilde for 2023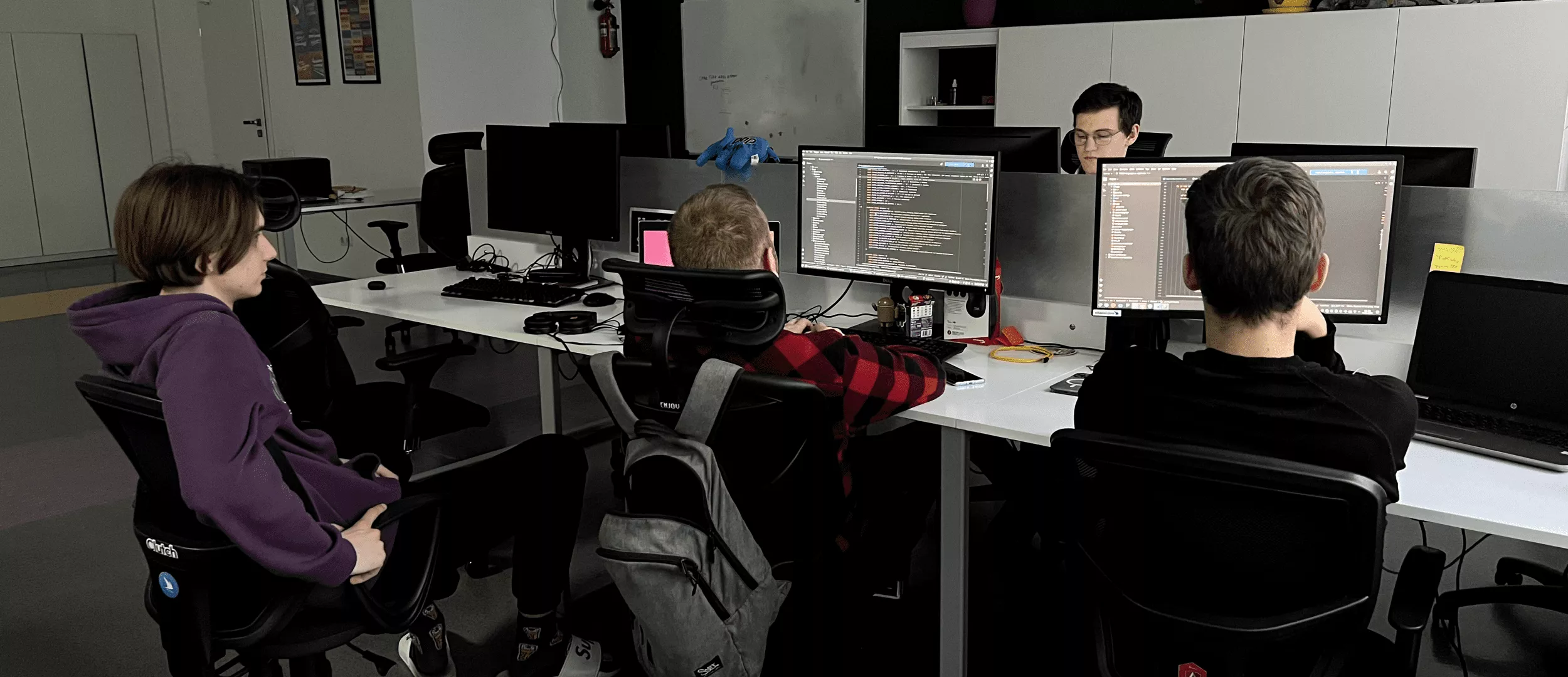 The mindblowing statistic reveals that smartphone users spend 92.5% of their time on various apps. So, these mobile devices are no longer just phones, they are the entryway to the outside world. In 2021 the global mobile app market size amounted to USD 187.58 billion. It is projected to grow at a CAGR of 13.4% till 2030.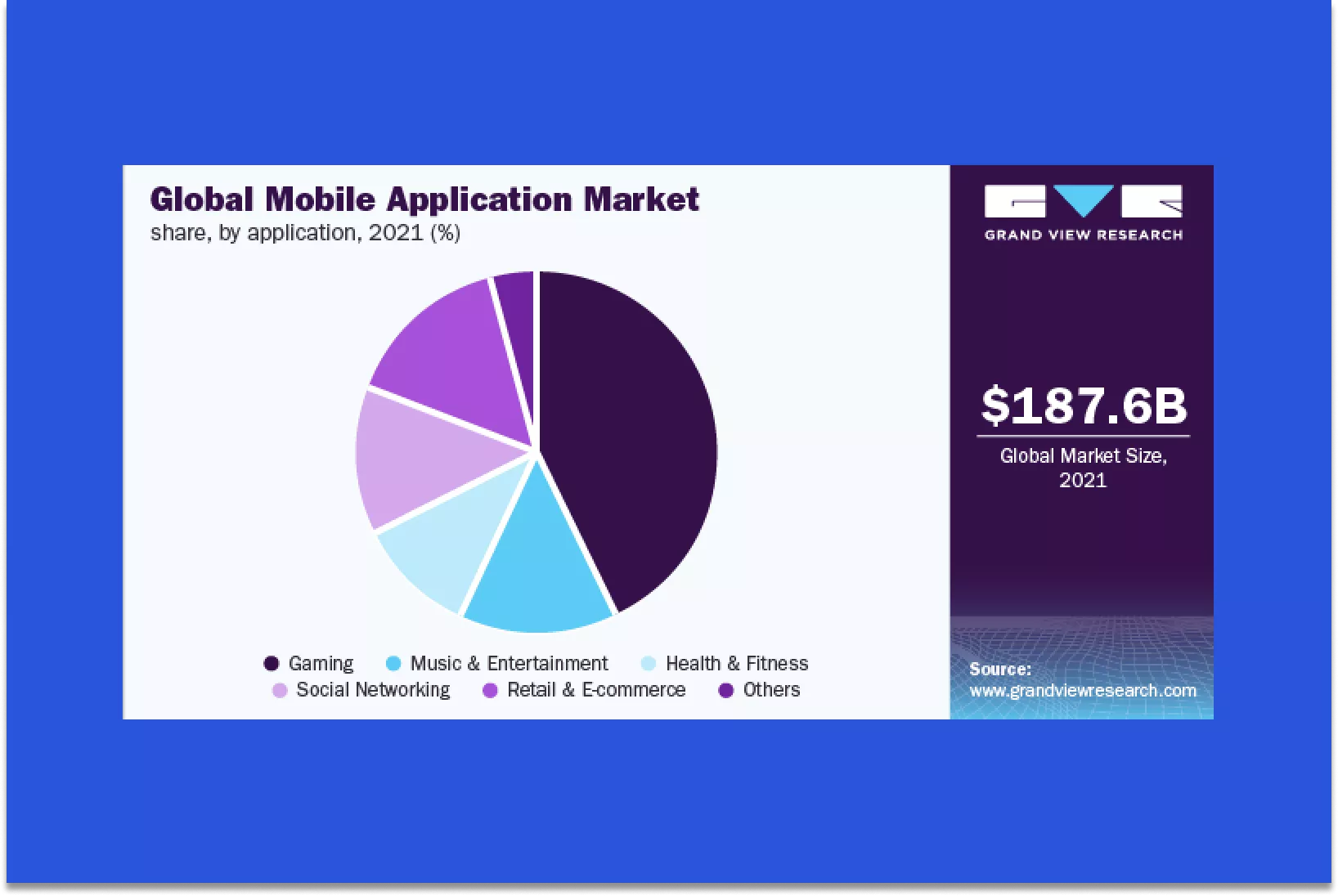 Thus, the omnipresence of smartphones, growing internet usage, and the use of technologies in mobile apps lead to the increased demand for the latter. Logically, businesses nowadays aim to reach their customers via mobiles and look for android app developers for hire. So, our article today is a kind of guide on how to find and hire Android developers in 2023.
The Rise in The Demand for Android App Development
In 2021 the number of downloads in the Google Play Store exceeded the ones in the App Store. To a great extent, it's due to the Android smartphone sales' massive growth over the past few years. Many new competitors and, Xiaomi Corp tops the list, are now challenging the leading players of the mobile market, such as iPhone and Samsung.
As per Statista, in 2021, 87% of respondents in the development market favored Android development. While only 60% of respondents indicated iOS, making it the second on the list. At the beginning of 2022, Android held around 70% of the mobile operating system market share, while iOS accounted for just about 25%. No surprise that Android app creation is one of the most in-demand services, and the need for professional developers is only growing.
Businesses can remain competitive, cost-effective, and reach new clients and customers through mobile solutions that leverage the latest technologies. So, the app market is growing with supersonic speed. In the digital world, it is considered as significant as the internet explosion.
Top development categories in the Android segment besides Gaming, are Entertainment, Business, Education, Marketing and Advertising, Media, Real estate, Food and Drink, Shopping, Lifestyle, etc. Giant companies, medium businesses as well as small firms and startups hugely contribute to the development market and are active in Android developer hiring.
For anyone eager to break into the field, now is a great time to invest in mobile solution development. However, it's not always easy to choose the right candidate, go on reading to know what to pay attention to while hiring.

Essential Skills To Consider While Looking For an Android Developer for Hire
An Android developer is a specialist that handles lots of tasks. He should focus on many aspects to create an app that is easy to use, intuitive and user-friendly. However, the work does not stop, and after the deployment comes debugging. The Android developer is also accountable for this part of the work.
So, when choosing an Android developer, you should look for an expert ready to take responsibility for several things.
A knowledge of programming languages, like Kotlin and Java, and a good grip on the up-to-date frameworks, libraries, and SDK are obligatory. Here belong Android Support Library, Firebase, Google Play Services, Android Studio, etc.
But let's also look at the list of the most essential skills crucial for an expert. An android developer should be able to:
Create and maintain high-performance code that can be reused
We've mentioned above that an Android developer needs to be proficient in Kotlin, Java, JavaScript, and some other languages. However, it's crucial that he can create the code and keep it in a reusable and understandable environment. So that making changes and debugging is smooth and simple, as well as the due updates of the application in the future.
Understand the basics of material design
Your ideal candidate should understand and desirably have real-world experience working according to Google's Material Design guidelines and principles. It helps to craft appealing and user-friendly interfaces. The modern set of material design guidelines allows an effective form of the app's UI/UX design with little effort.
Comprehend business processes and SDLC
Modern development projects require business processes and software development life cycle understanding. If a programmer can identify potential difficulties and problems in the process of development, it can save you time and money in the long run.
Identify and fix bugs
When the code is ready, the developer is accountable for eliminating the bugs that are spotted and anticipating the potential ones. When the application is deployed, troubleshooting also remains the responsibility of the developer.
Stay updated
The tech world is fast to develop, new tools and technologies emerge in the market now and then, and the existing tools are regularly updated. All these make it possible to use new knowledge and supplement software solutions with new features. So, when you hire an android app developer, make sure he goes with the tides of the most innovative technologies and can help you stay ahead of your competitors with the most up-to-date solutions and interactive features.
Work with various APIs
An API (application programming interface) enables quick communication between computer programs. Programmers communicate with a variety of services and use various APIs for the purpose. It enables the fast operation of different programs that open simultaneously. So, APIs should be the strength of a good Android developer.
Put priority on user's requirements during an app development
When crafting an application, the focus of the Android developer should be laid on the needs of the user. He should build a solution that satisfies users, provides their comfort and appeals to them.
Ensure the top-notch quality and performance of the solution
Software that is long to respond to is immediately hated by users. Just remember your irritation when an app opens too long, and ensure your Android developer can create a solution that is fast and intuitive.
Work with various databases
Nowadays, almost every app handles a massive volume of data. It's crucial to synchronize this information between the internal storage and the outer database when the application is offline. Thus, a good command of various databases is critical for an Android developer you hire for your product development.
Android Developers' Salary
Android developers' salary differs around the world. Indeed data states that the average Android developer salary in Australia is $137863, a little below the salary of developers in the USA - $117607, on average. The European averages are $72K annually in the UK and around $67K in nearby Ireland. Germany demonstrates a similar level of Android developer pays. However, there are countries where the programmer's salary is very low, like India. It's only $7435 per year.
Anyway, it's already well-known worldwide that outsourcing development to Eastern Europe is the most cost-effective option. The countries like Ukraine provide top-quality development at reasonable prices.
In December 2022, DOU, a well-known Ukrainian IT portal, conducted research on IT specialists' salaries. According to it Android developer salaries in Ukraine range between $1000 per for juniors, to $5200 for seniors per month.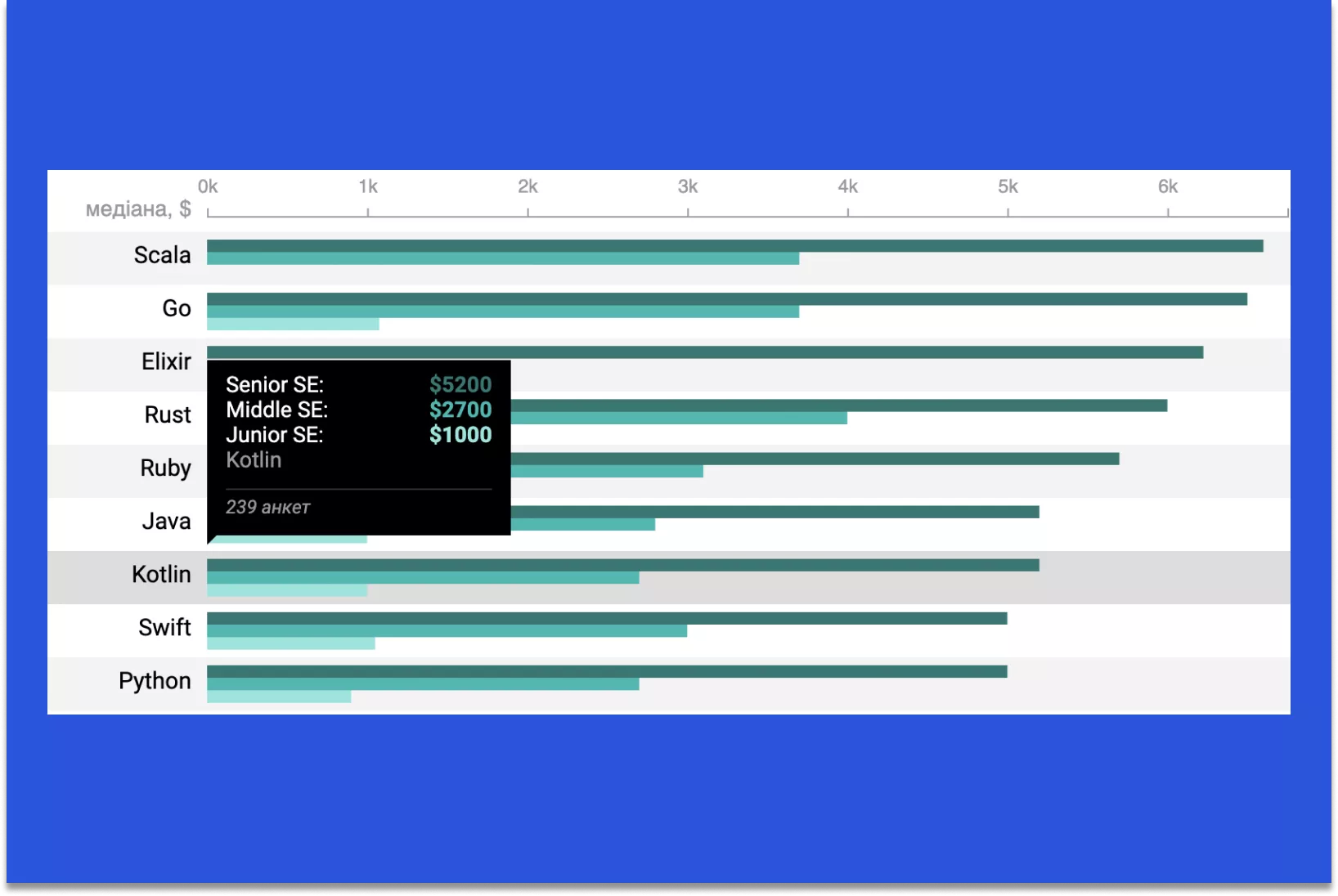 So, you can hire an app developer for Android in Ukraine, and not only get an application that will stand out but support the country that needs it most right now.
What's Better: Hiring a Freelancer, Outsourcing, or In-House Development Team Formation
The 3 key options for an android developer hiring are freelancing, outsourcing, or in-house.
Freelancers
Freelancers can be considered for small projects, stiff budgets, and not strict deadlines. The advantage is that you have direct contact with a programmer, who is usually eager to get accustomed to your inclination.
However, it's difficult to find the precise match for your project, and if you are not a tech specialist, you may fail to estimate the expert correctly. Freelancers are also reputed to be not very reliable in terms of constancy, also the product quality risks are high.
In-house developers
We'd call it the other extreme of freelancing. By hiring workers in-house, you get specialists under the roof of your company, fully involved in the process of solely your product development for a more extended period. It also means issues with source code ownership or intellectual property rights. The advantages you get with all these are – full control over the team and the process, modifying and reinventing the app in real time whenever necessary.
The key drawbacks of this option are cost and time. An in-house developer needs a proper working space, equipment, software, and testing devices. As an employer, you have to pay him a salary, all the due taxes, and cover his vocation-leave as well as operational and office expenses. Forming and onboarding a good team is time-consuming because, with the increased demand, capable experts in Android development are difficult to negotiate.
Outsourcing
The prevailing majority of companies nowadays outsource their development projects. We carry out projects for our clients for over 13 years, and we advise outsourcing as the most efficient option. There are various types of outsourcing, and we have described them in detail already. However, a dedicated team can effectively solve a client's task with optimal costs and in a reasonable time. What's important, responsibility for the proper project delivery is on the outsourcing company.
By hiring developers from a high-end IT company, you may be sure to get proven experts, experienced in your industry and your field working dedicated to your project without any long-term obligations required on your part.
The rivalry for clients is high. It means greater professionalism and high-end quality software if you choose a vendor carefully. You also save time and money on operational costs, employment formalities, training, management, infrastructure, and equipment.
The disadvantages which may be mentioned are confidentiality and potential property rights issues, but they are easily solved through properly signed agreements. You may experience some difficulties in establishing communication, but since development is always mutual work, hire the android programmer you are on the same page with and make everything transparent from the very beginning.
They also mention quality tracking and checking as a disadvantage of this type of cooperation, but the right choice of a reputable vendor eliminates it.
To dispel your doubts even more, let's look at how we choose our specialists so that you are sure you get the best experts when hiring our team.
The Process of Candidate Selection at Stfalcon
We are cautious when choosing people to work with because we value professionalism, yet we are sure the comfort inside the team matters. That's why the first thing our recruiter checks is the values of the team. The second step is checking the English proficiency if the project requires it.
The third step is checking by the tech lead, where the skills, talents, and proficiencies are found. We sign an NDA (non-disclosure agreement with every employee), so we guarantee confidentiality to our clients.
Stfalcon bears full responsibility for the comfort of every employee, so our developers work quickly and efficiently. The code is obligatory checked by the team lead, to ensure quality. At Stfalcon, we have specialists of all kinds, so we can easily form any team to meet our client's needs, or you can choose the one that already works together.
As a business owner, you must be crystal clear about what type of application you need. As soon as we have a clear vision of your product, including the features it should have, we can advise on the best way of its development and form the team. We have lots of successful cases in our portfolio. Read on to learn one of them and consider hiring the Stfalcon Android development team.
Android Development Case from Stfalcon
The client came to Stfalcon with a ready-made application, where the posters ordered services, and the executants carried the tasks out. However, the users complained about the problems and failures of the app and the admin panel.

Stfalcon made a detailed project audit, cost, and risk estimation. We decided to recreate the project from scratch, using the most advanced modern technologies.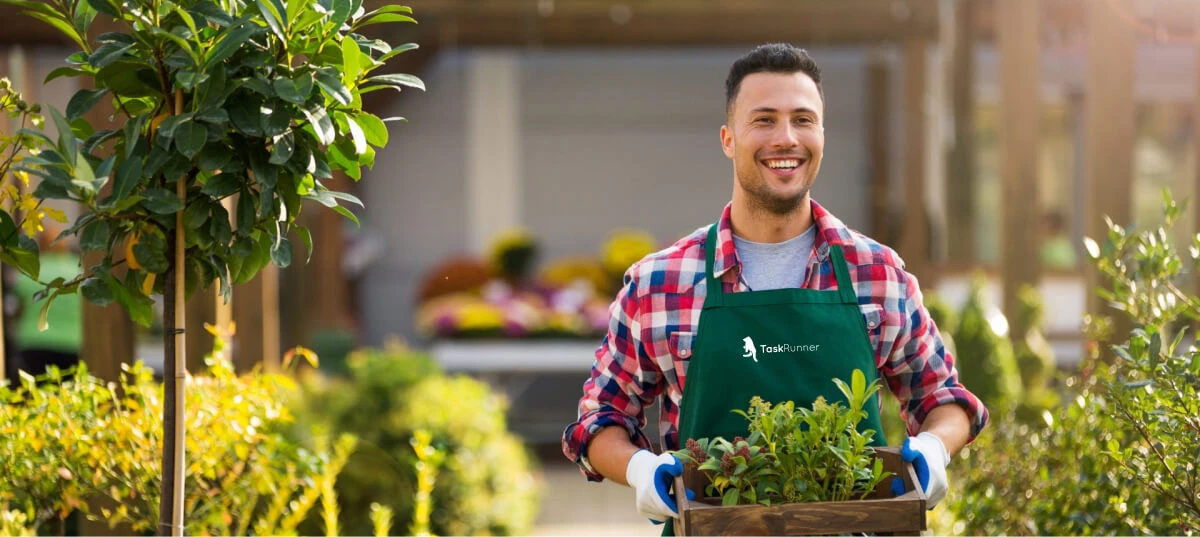 Read the full case study
So, we reinvented the platform consisting of:
A mobile app for posters
A mobile app for the executant
Admin Panel (Web)
Android apps are built according to the principles of Clean Architecture. The project has 4 independent modules: poster, executant, domain, and data. Domain and Data are the modules common for both apps — the executants and the posters'. It helped us avoid business logic duplication in both solutions, and save time in the process of development.
As a result, we have a cutting-edge solution and a client happy about the collaboration.
We've rebuilt the project from scratch. I'm very happy about the collaboration. Work is really well: reasonable prices, good communication, and good quality of the deliveries.
Final Thoughts
With the growing demand for Android developers, you should be careful with the choice of a vendor for your project. Stfalcon is ready to offer you 13+ years of experience in mobile development, expertise in all modern technologies, and well-tuned teams that have worked on projects of different sizes and for different industries.
Contact us for a detailed discussion and let's see how we can translate your app idea into a groundbreaking reality.