10 Best On-demand Food Delivery Apps WorldWide in 2023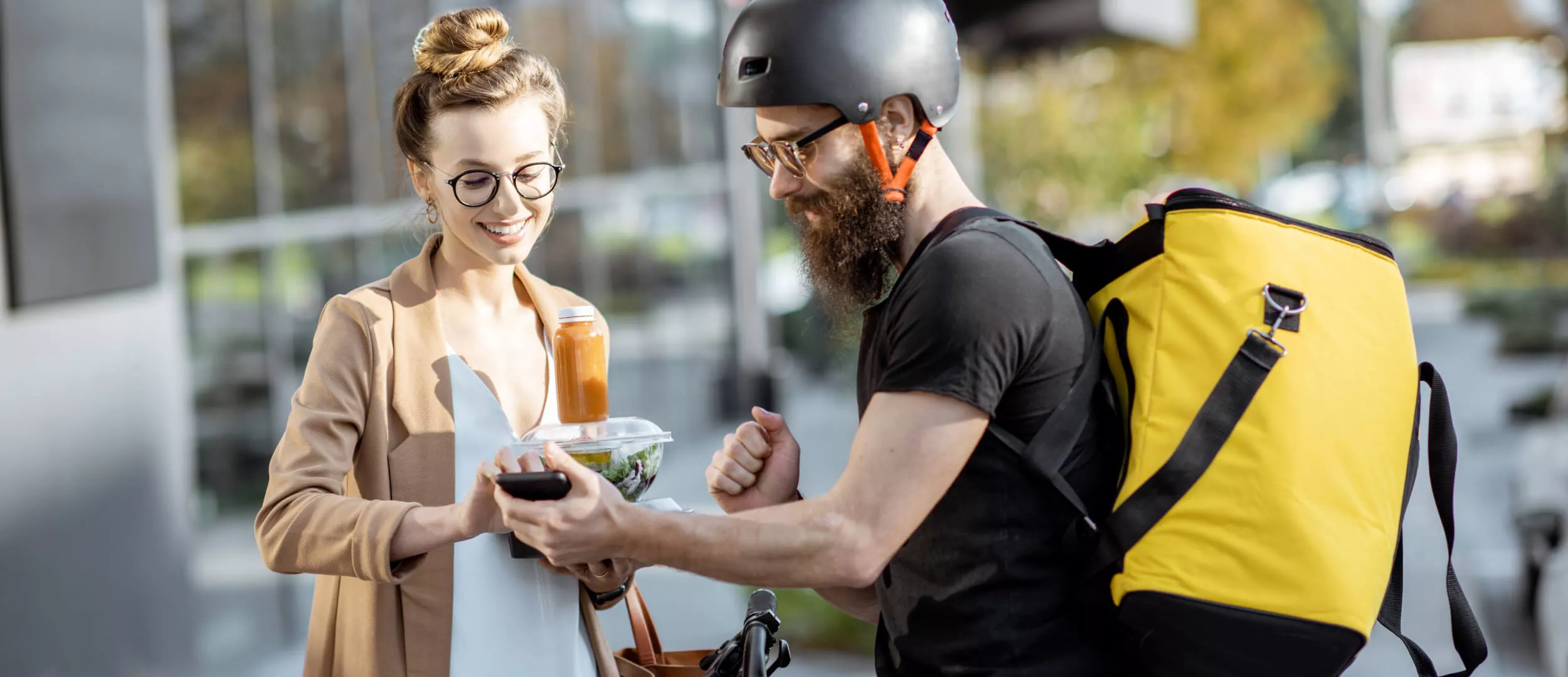 Every business sector is now being impacted by digitization. Not excluded from its scope is the food delivery industry. Globally, online food delivery apps have grown in popularity over the past 20 years.
Customers can select from a wide range of options with the help of apps for food delivery, which also list each restaurant's ratings and recipes. As a review, one can present their experience to the other users. You can find the top-rated food delivery services from around the world by using the information in this article.
Food Delivery Apps Market
With a market size of $27.3 billion in 2021, China will be the largest market for food delivery. About 90% of the nation's food deliveries are under the control of Meituan and Ele.com.
By 2029, $320 billion is anticipated to be generated by the food delivery sector. In 2020, the coronavirus pandemic caused it to experience its fastest growth in five years. a market size of $27.3 billion in 2021, China will be the largest market for food delivery. About 90% of the nation's food deliveries are under the control of Meituan and Ele.com.
By 2029, $320 billion is anticipated to be generated by the food delivery sector. In 2020, the coronavirus pandemic caused it to experience its fastest growth in five years.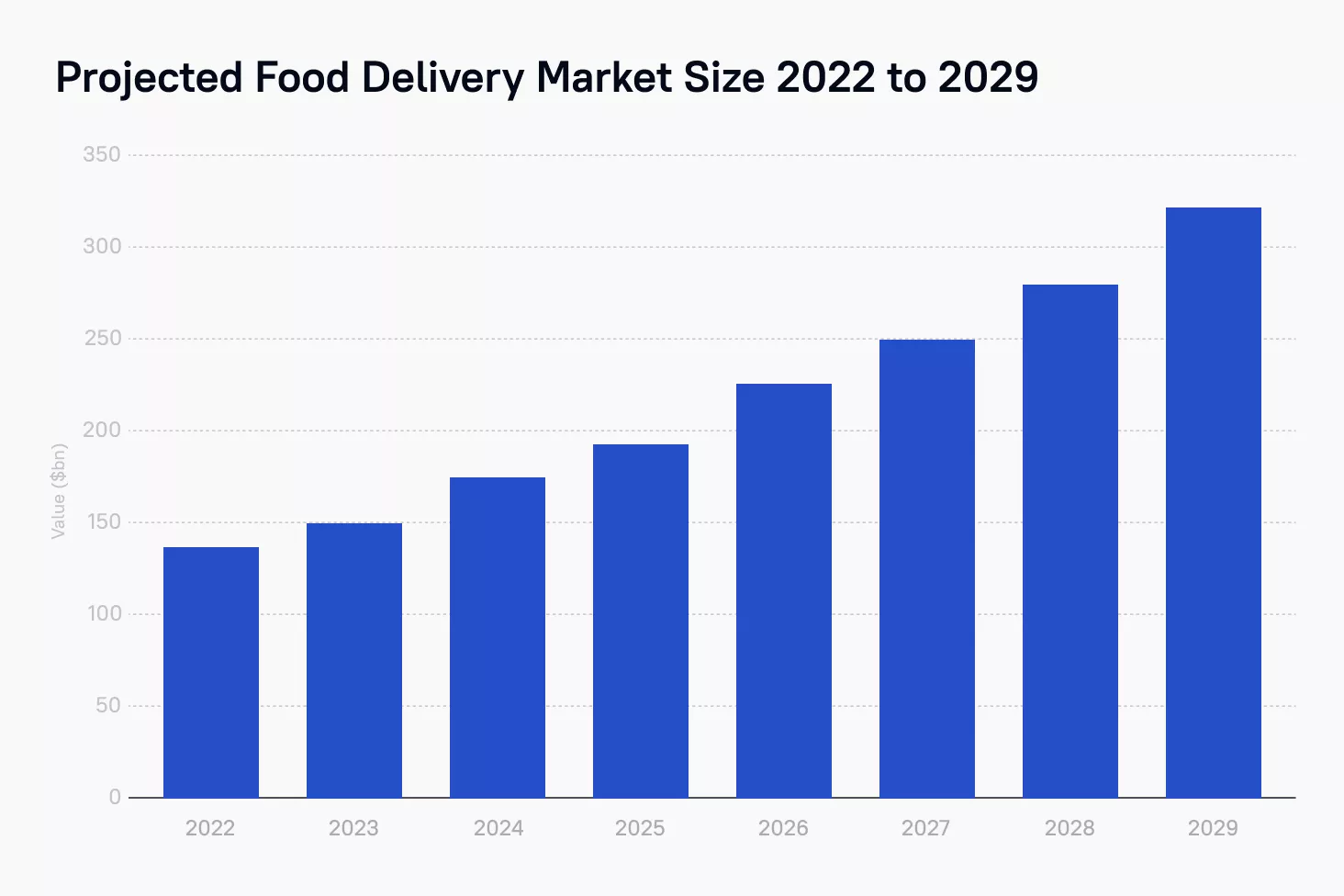 What is an 'On-demand Food Delivery App'?
You can get your food delivered to your door whenever you want by tapping on a mobile application. Restaurant chains and on-demand food delivery services are both expanding these days quickly. You can order food on-demand from various mobile applications, including UberEats, Zomato, Swiggy, and others.

Each delivery company has three different apps. Together, they enable the delivery business to expand smoothly and methodically.
Customer-driven app.
Vendor-driven app.
Driver Partner app.
Dashboard for administrators.
Key Features of the On-Demand Delivery Application
Every one of these apps offers attractive features and services. The potential for improvement never goes away, though.
Wallet System: Service providers can incorporate the wallet system to make an app engaging and efficient. Refunding and rewarding can be made much simpler by it. Even though many apps have this feature, new users tend to avoid it.
Premium Plans: Choosing premium plans and their price can increase user engagement. Key features and discounts in a more affordable plan can draw in new customers.
Contact Information: These days, it's also necessary to provide the contact information for the delivery agent, so it must be included.
Tracker: Customers also prefer a system that allows them to follow their orders after they have been placed. Therefore, including it is a wise step in the direction of growth.
How Does a Food Delivery Application Work?
So, let's take a step-by-step look at ordering and delivering food through the application.
1. First, a customer registers with the food delivery service. Following registration, the user begins scrolling through the various restaurant menus.
2. The customer places the dishes they need to order in the shopping cart. Coupons or other discounts can be applied before the payment is made.
3. The customer decides which payment method is best for him or her.
4. The order notification is audible on the restaurant owner app. The customer is informed when the vendor accepts the order, along with the vendor.
5. Using the foods app dashboard, the customer can view the time it takes to prepare their order.
6. The restaurant's owner contacts its food delivery partner and informs them about the order.
7. After the food is prepared, the courier takes the order.
8. The food delivery application, on the other hand, alerts the client that the food is on its way.
9. Using the same delivery app, customers can rate the food's quality, taste, and delivery after it has been delivered.
Food Ordering and Delivery Models
Food ordering and delivery apps were destined to follow when smartphones swept the globe, and they did so in various ways. The newest trend in food delivery and order is based on monthly subscriptions.
There are three standard methods for ordering and delivering food.
The Aggregator Model
The aggregator model comes in first. A company like Doordash, Grubhub, or Uber Eats would create a comprehensive food ordering and delivery solution. They would provide customers, drivers, and business owners with a website, Android and iOS apps. The only drawback to this business model is that owners must give the aggregators a sizable portion of their overall revenue. This could be as much as 40%.
The Owner Model
This business model entails hiring a mobile app development company to create custom iOS and Android mobile apps for restaurant or food establishment owners. For the same purpose, they also maintain a website. They don't have to give anyone a single cent of their revenue, which is a benefit of this model. They can also permit the use of their software by other owners.
SaaS-based solution
There is a third model — monthly subscription-based food ordering and delivery solution (SaaS)—to address the issues with these models and combine the best features of both. In this model, all that business owners need to do is sign up for a plan that suits their needs and budget. The SaaS-based solutions provider company already has all the required mobile apps and a website.
Why Food Delivery Apps are So Popular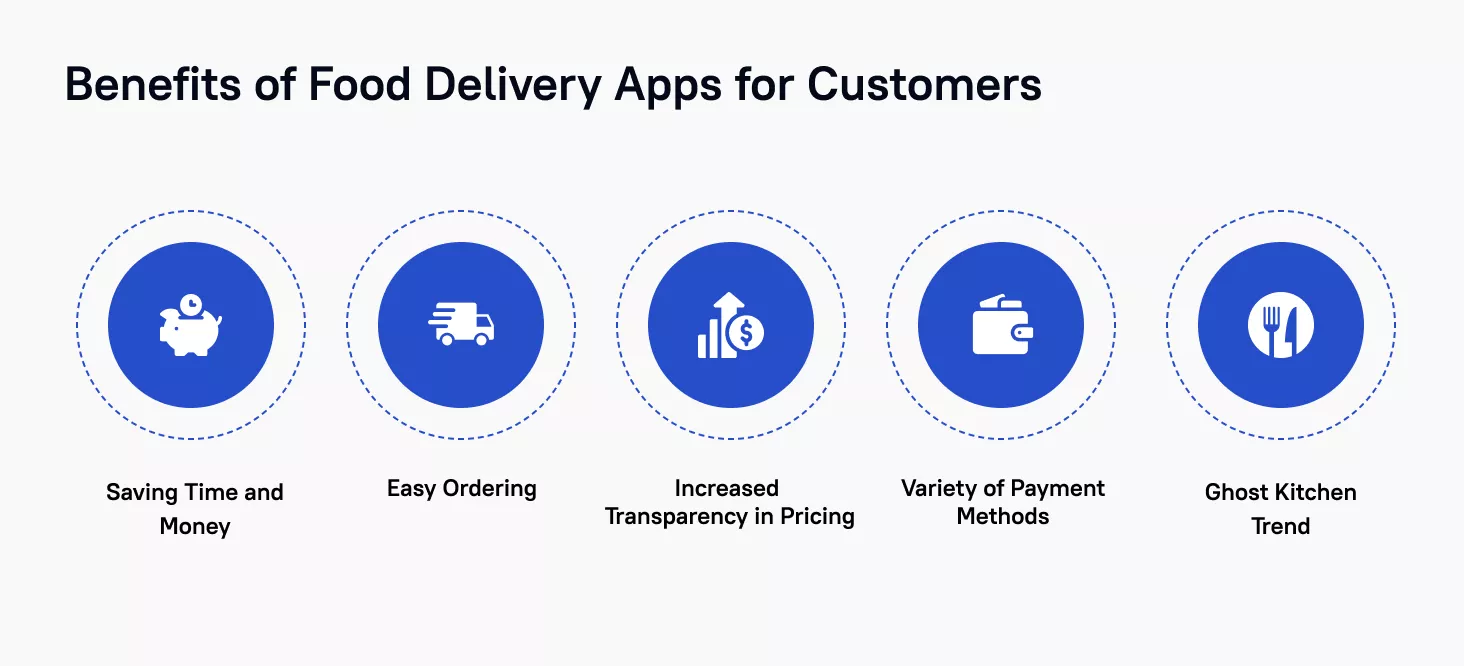 All you need to do to order food online from any nearby restaurant is download and install a food delivery app on your Android or iOS device. So, let's figure out the secret of the popularity of food delivery apps.
Time-saving
Due to how much time can be saved by ordering meals through a mobile device, food delivery apps are growing in popularity. You can easily switch between tasks and have food delivered to your business.
Wide Selection of Payment Methods
The flexible payment options offered by apps for food delivery make the payment process more straightforward. Therefore, customers are free to select their preferred method of payment. Paying with a debit or credit card, online banking, or paying upon delivery are all possible options.
Ghost Kitchen Trend
The number of food delivery apps has increased dramatically due to the rise in virtual restaurants. A virtual restaurant also referred to as a ghost kitchen, is a food service establishment that only accepts phone and online orders for delivery and pick-up. A particular food vendor business runs out of an established restaurant's kitchen.
Ghost restaurants have emerged to capitalize on the high demand for online food delivery to make money, following the growing trend of restaurants offering best food delivery services.
Less Expensive
Many players are developing better offers to compete in the fiercely competitive food technology market. While some apps charge a small delivery fee to users, many now provide free food delivery services.
Another factor that attracts many customers to the food delivery sector is coupons and discount offers.
10 Best Food Delivery Apps Worldwide
The profitable businesses created their food ordering and delivery applications with both businesses (brick-and-mortar eateries) and customers (people who order sushi and pizza) in mind. Instead of just being a B2C or B2B model, it is now a B2B2C model.
Designing an app that makes it simple for businesses to manage orders, provide for their customers, and interact with your brand is essential if you want to succeed in this cutthroat industry. They'll collaborate with you if you can increase their sales, reduce expenses, and expand their market.
Explore the top 10 food delivery services listed below, and contact Stfalcon for assistance when you're ready to launch your app for food ordering.
1. Uber Eats
More than a thousand large cities worldwide offer UberEats services. Due to their market dominance, many restaurants eagerly collaborate with them. Customers will have a wide range of options, fostering a positive feedback loop for growth. UberEats is one of the most popular food delivery apps in the USA.
What is the strength of Uber?
Let's be sincere. Although the Uber app occasionally has bugs and is only sometimes the most user-friendly for millions of people, it is still the preferred app for food delivery. The strength of brand recognition lies in that.
However, a few app features stand out, such as:
Group orders make it easier for friends and coworkers to split the bill.
The "Schedule Later" function lets customers hold off on delivery until they're ready to eat.
Simple re-orders make it easy for users to place orders for their preferred meals.
Available on Android and iOS.
2. Just Eat
Just Eat is a European online food order and delivery brand. More than 82,000 restaurants collaborate with it, and commissions are how it makes money. Just Eat has 60 million daily users.
Users of the Just Eat app have the unique choice to place orders for pick-up. Additionally, the business allows restaurants to use their delivery personnel. Its food categories come in a wide variety, including vegetarian, gluten-free, and even halal options.
What does JustEat Takeaway do well?
Simple and user-friendly interface.
Excellent search capabilities.
There are many coupon codes.
Just Eat is available on iOS and Android.
3. Doordash
DoorDash is one of the oldest and most well-known food ordering app. The app is active in over 800 cities and has many restaurant partners.
Customers can order from national restaurants or even local ones through Doordash. The delivery scheduling function is available on the app for users. Through the app, it is also possible to track the delivery.
What excels at DoorDash?
Serving high-quality food.
Timely delivery.
High customer satisfaction.
DoorDash is available on iOS and Android.
4. Deliveroo
London-based startup Deliveroo offers food delivery services in more than 200 cities. The most widely used food delivery app in Europe allows users to order food online from well-known restaurants and eateries without a typical dining environment. The business serves more than 800 cities across 12 nations.
What is it that Deliveroo excels at?
greater variety due to its compatibility with restaurants outside the norm.
access to discounts and coupons.
Deliveroo is available on iOS and Android.
5. Foodpanda
FoodPanda is a popular online food-ordering app that is accessible in 41 nations. With nearly 40,000 nearby restaurants as partners, the Berlin-based business can deliver food on time. Foodpanda's largest market is Asia.
Wallet, order history, and multiple addresses are just a few features offered to users by the app. The app also has an order tracking system to allow users to keep track of their food.
FoodPanda advantages:
numerous dining options;
rebates and discounts are simple to find;
easy payments.
The FoodPanda app is available on Android and iOS.
6. Swiggy
Swiggy is a popular food delivery app in India. Swiggy has been ranked as the No. 1 app on Google Play, with almost 1,500,000 downloads. Nearly every city in India has access to the No. 1 online food delivery app that has partnerships with 1,40,000 restaurants.
The app is quite simple to use. By choosing the restaurant, it displays ratings, reviews, costs, and other crucial data. The app also includes sections for appetizers, entrées, and desserts.
What does Swiggy excel at?
Seamless GPS to assist users with restaurant ordering in the area.
It targets the Indian market.
A wallet feature enables users to save money and use their saved funds to pay for purchases.
Android and iOS users can install the app.
7. Zomato
Zomato is an Indian food delivery company that operates in 25 countries. If someone wants to eat out, the app offers food delivery and recommends the best restaurants.
The app is well-known for its use of social media to promote itself. Zomato's marketing strategy and high-caliber services have helped it gain a following among Indian customers. The Zomato Business Model is distinct and effectively engages users.
Why do people like Zomato?
Simple information sharing—almost like social media for foodies.
Comprehensive, user-friendly search tools.
Simple sorting according to user preferences.
An intuitive knowledge base to address customer issues.
Simplified features for reviews.
A thorough user profile.
The Zomato app is available on Android and iOS.
8. Domino's Pizza
Domino's is a popular pizza delivery service with a top-notch app. You will not find a better user experience when customizing and ordering a meal than with this app, which unlike the other apps on this list, delivers food only from its restaurant.
Clearly displayed images of the available orders for users.
The capacity to change toppings, alter orders, and completely personalize a meal.
Order tracking displays each procedure stage, including preparation, baking, order pick-up, and delivery.
The IOS and Android apps are available.
9. Talabat
Kuwait-based food ordering company Talabat operates in seven Middle Eastern countries. Over 2 million people actively use the app, which offers more than 10,000 restaurant options.
The app has a clean and uncomplicated appearance. Until it is delivered, one can track an ordered item. The app supports online payments as well.
Talabat app is available in the App Store and Google Play.
10. Glovo
Glovo has accelerated its growth since its launch in Barcelona in 2015. Currently, Glovo operates in 200 cities across 26 countries, providing fastest food delivery.
More than 20,000 restaurants are connected to the app. The number of active users is over 10 million.
Why do people like Glovo?
An easy-to-use interface.
Top-notch search capabilities.
Prompt delivery.
High levels of customer satisfaction.
The Glovo app is available on both IOS and Android.
Food Delivery Downloads by Apр
The food delivery sector will be expanding quickly. Any food delivery company can grow by looking closely at the trends serving as its boosters.
Hiring outside delivery partners: Due to high demand, restaurants can only independently meet some delivery needs. Third-party delivery partners are therefore welcomed in the industry to boost customer satisfaction.
Use of apps: Delivery apps are easy to use and offer users many benefits. For instance, order tracking, payment, and rating or review can all be mentioned. Restaurants are collaborating with these apps and utilizing their delivery options.
Premium subscription: Apps for food ordering offer significant savings and benefits for their most valuable users. People must pay for the premium version of the apps to use them as premium customers.
Drone delivery: In recent years, machine-driven delivery has become commonplace in the US. Drones handle deliveries.
Eco-friendly mode: Because people are now actively working to protect the environment, eco-friendly delivery is gaining popularity. Delivering food using bicycles or electric vehicles is earning praise.
Bottom Line
Customers will always be drawn to an app with essential features. It's an excellent time to enter the booming market for food delivery apps. However, given the level of competition, having your app is crucial, and it should have a unique selling proposition (USP) to stand out from the crowd.
By collaborating with other brands and offering consumers exclusive discounts on buying particular foods, food delivery services can benefit more. Both parties can make more money as a result. If you would like to create a food delivery app, just contact us, a free consultation is available.