What Should You Know For Effective Restaurant App Development

Modern people will soon forget the days when appointments or reservations were made by calling, even the simplest operations are now done with just a button click. Three-quarters of the American population have smartphones and use mobile applications for every possible need.
This is the fact which makes apps a crucial factor for any business success, the restaurant business belongs here as well. So if you want your restaurant to succeed, you should reach your existent and potential clients via their smartphones.
Restaurant app development benefits for business owners.
If you doubt whether mobile app development is a reasonable investment for your business, let's look at the benefits it offers.
Better competitiveness through increased convenience for the customers.
Gaining customers through app integrated loyalty and rewards programs.
Possibility to gather information about the client's preferences and consequently make service more personalized.
Efficient monitoring of the shares and special offers efficiency.
25% increased basket size due to in-app ordering options.
Increased brand awareness.
Extra advertising possibilities.
To say it simple without a dedicated mobile solution you minimum miss 20% of sales in your establishment.
Top restaurant reservation apps to use in 2020.
When it comes to choosing a table or booking a restaurant consumers have a wide choice of solutions to facilitate it. Though it's not an easy task to name the best restaurant reservation app we've tried to find out the top 3 solutions most preferred by the clients.
Yelp Reservations
Though more known as the platform for checking businesses online, Yelp software solution does good for restaurant reservations as well. It has thousands of users, who enjoy hassle-free and quick table availability checks and reservations in over 4000 restaurants with just a couple of clicks. The guest can check user reviews, enter reservation details and time, apply filters by cuisine, rating, pricing and more, even check menus of some of the restaurants.
Providing contact details ensures keeping you up-to-date as to any changes in your reservation.
As a business owner, you can enjoy a set of standard features, which help you gain more customers, give them accurate waiting times, accept booking right on your business page or set up a widget for the purpose. From any place and device you can track your floor and service activity, turning it into profit.
OpenTable
Being around since 1998, this solution has the status of the biggest and the best-known restaurant booking app. The service is available in the USA and worldwide, having the base of 50000+ restaurants. The users have the opportunity to filter their search according to the cuisine, location, price and much more. Entering the desired time and details is enough and mentioning that you celebrate some special occasion will bring you even more pleasurable experience.
Being free for the users, OpenTable benefits from the restaurants and the latters benefit from it. The solution helps establishments connect with their clients, get feedback, demonstrate loyalty and tailor the personalized experience to their guests. Besides, the app facilitates managing crowds and tables, setting accurate time of waiting and utilizing analytics for even better service.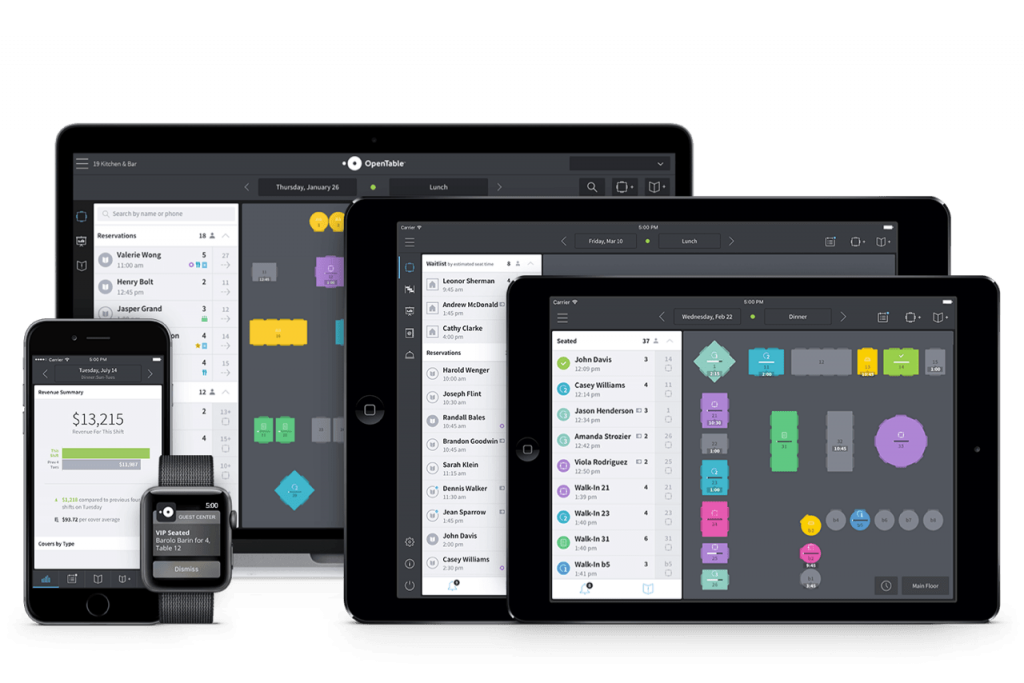 Allset
Allset is the restaurant table booking app which is aimed to streamline the whole process of eating out. The experience starts from a simple booking, goes on with ordering and paying and finally, the user gets the table served right in time picked for a meal. Through the app a client can see the menu of the chosen restaurant, order food, and even pay.
The benefits of this app to make reservations for the restaurants are also obvious, the tables can be filled according to the reservations several times a night and standard procedures make the process hassle-free and smooth.
Essential features to consider for restaurant mobile app development.
Though the above-mentioned giants facilitate the restaurant business growth, still developing a custom app for your business brings much more benefit. Depending on your business range, the solution developed may be consumer- or business-facing or both. The latter, by the way, may become quite a comprehensive solution for your business management as well as customer service.
So, in case you consider creating an application for your own restaurant, see below the essential features to integrate.
Personalized user accounts
The users should be able to register and authorize in the app for their more convenience. In such a case they will be able to save their preferences in the account and accumulate bonuses and rewards. The registration/authorization will require personal credentials — name, phone, email, login, password or social login option. Besides, personal financial details may be stored in the user profile for quick payments online.
Restaurant info, better with the image gallery
Through the app the clients should be able to access the restaurant data, like working hours and contact details and actually be able to contact the manager.
Remember, that it's always better to see, so include a photo gallery to showcase your restaurant's interior, exterior, and possibly dishes.
Interactive menu and food ordering
The feature will help your guests make their dish choice in advance and avoid waiting in lines. Besides ordering food either for a certain time or for delivery should be proposed.
Table booking
Offer your clients the possibility to reserve tables, save their time and get more loyal customers as a result. A floor chart and calendar should be integrated here for more convenience.
Coupons, rewards, and discounts
Implementation of such a module will add up the loyalty of your customers and will help them earn rewards in-app and you increase sales.
News
The clients should always be kept up-to-date as to the restaurant news, special offers, and menu novelties, so include the news section to your app.
Notifications push/sms/email
The two above-mentioned sections will work even better with notifications, however, you should be careful with this feature. The safest way is to ask your users which notifications they prefer and at what time. Then you'll be able to comply with the notifications accordingly, anyway they should be of real value to the customer, not a mere advertisement.
Feedback and reviews section
Such a feature helps to get to know the clients' opinions as to your service, their preferences, and besides adds trust to your establishment since modern people tend to believe real people reviews more than official ones. Besides, this option will help you make necessary changes in your app and service, on the whole, to gain the upper hand over competitors.
Integration with social media
Nowadays, this feature is already a must for any app and for restaurant business it's a perfect opportunity to tie the loyalty programs to the social networks activity and attract new customers.
Online chat/chatbot
Providing customer support, better round the clock demonstrates your care to the customers and the fact you value them. Chatbots can be used in non-business time.
Payment online
Such a feature takes clients convenience one step ahead and people nowadays value quick and easy payments, which can be done on the go. Integrate as many payment options into your app to gain more customers eager to pay online.
Multiple platforms
Depending on the audience, you target you may develop your app for Android or iOS, but naturally, it's better that more people notice it. So make sure it's available on different platforms. Still, you should not compromise the quality of any solution and that is why it's reasonable to turn to the professional restaurant mobile app developers, who are able to cope with the challenge and provide consistent quality.
As a business owner, you would most likely want to have the following features as well:
Analytics
The analytics integration allows business owners and managers to monitor user behavior and better plan the efficient development strategy for the future.
Staff management
Such a module will help you track your staff performance and make the necessary changes whenever it's required. You can, for instance, hire new employees, optimize shifts or the workload.
Kitchen management
To avoid miscommunication between the chefs and waiters, implement this feature. It will not only carry the orders out sequentially but increase productivity with less time spent.
Some more hints on how to make a perfect restaurant app.
To make a real state of art product you should keep in mind the following simple rules.
3 clicks rule.
The user should make minimum clicks for the desired result — table reservation, food order, or pre-payment.
Laconic interface.
Your restaurant application design should be plain, laconic, and modern. Avoid overloading it with unnecessary details.
Simple and convenient navigation.
A user-friendly interface is the key to smooth food or table ordering and consequently customer loyalty. Make navigation easy and intuitive.
High speed.
People value their time, so they don't like to wait long, make your app quick and efficient to satisfy any busy client.
Without any doubt you are interested in the restaurant app development cost, we anticipated it and though each project needs careful and detailed estimation, the approximation can be done on our calculator.
Conclusion
No matter if you are a restaurant owner or an investor enthusiast of the restaurant business, crafting a mobile app will help you improve sales, gain new customers and retain old clients, bringing your business at a totally new level at the same time.
If you have questions or doubts as to the app development for the restaurant sphere, let's discuss it together and find the best solution to meet your needs and expectations.